New Age Islam News Bureau
28 Jan 2018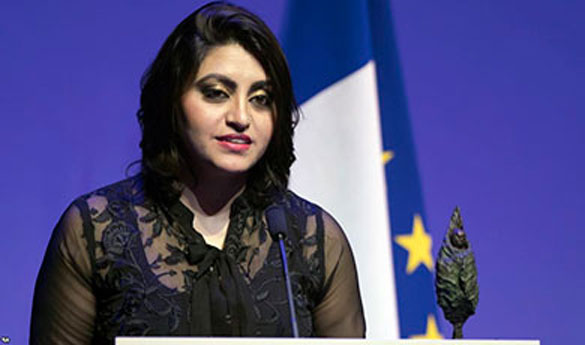 Photo: Pakistan's Gulalai Ismail delivers an acceptance speech after being awarded the Prize for Conflict Prevention for the work of her organization Aware Girls promoting women's issues and equality in Pakistan, during the award ceremony of the Jacques Chirac Foundation in Paris, Nov. 24 2016.
----------
• 1000 Women Athletes to Take Part in Arab Sports Tournament in UAE
• Beirut Protest after Spate of Violent Deaths of Women
• Sikh Girl Converts To Islam for Planning To Join ISIS in Syria; Jailed
• Meet the Woman Challenging Arab Notions of Disability
• Women in MENA Happier In The Workplace Despite Enduring Gender Inequality
• An American Looks At a Mandatory Hijab
• UAE- Participation of Women in Sports Pillar of Community Development: Jawaher Al Qasimi
Compiled by New Age Islam News Bureau
URL: https://www.newageislam.com/islam-women-feminism/female-pakistani-activist-pushes-back/d/114079
---------
Female Pakistani Activist Pushes Back Against Blasphemy Charges
January 27, 2018
WASHINGTON — A female Pakistani rights activist has broken with tradition and set a precedent by seeking legal action against the person who accused her of violating the country's anti-blasphemy laws.
Gulalai Ismail, founder of the Pakistan-based, nongovernment organization Aware Girls, was accused of insulting the religion of Islam, a charge she denies.
Hamza Khan, 23, a student from Khyber Pakhtunkhwa province, started a social media campaign against Gulalai, accusing her of "insulting religion and Pashtun culture." He seemingly was unhappy with her role as an activist.
Khan, who claims to be the president of Mardan Youth Parliament, uploaded a 12-minute video on his Facebook page, November 20, 2017, in which he called for a mob to attack Gulalai for her alleged acts of blasphemy.
Fears for safety
Fearing for her security, Gulalai filed a case against Khan on November 21 with the country's Federal Investigation Agency (FIA), which led to Khan's arrest this week after a Peshawar court issued a verdict against him.
Pakistani authorities intervened, and Facebook removed the video, in which Khan is heard saying that Gulalai must be "eliminated" to safeguard Islam.
Gulalai told VOA she wants to be a voice for those who have been wrongly accused.
"I wanted to set a precedent so that other human rights activists and other young women can speak out and can use their right to freedom of expression without the fear of being silenced in the name of religion," she said.
Additional Sessions Judge Ayesha Arshad in Peshawar dismissed a bail application for Khan.
Seen as 'daring' decision
Some see the order that led to the arrest of Khan as a bold move by Arshad.
Noreen Naseer, a professor of political science at the University of Peshawar, credited Arshad for her "daring" decision.
"It has set a precedent that if anyone tried to malign, threat[en], or use any other mode to harass and scare the women activists, then the consequences will be of serious nature," Naseer said.
Gulalai's actions were also celebrated by other activists.
"I think she did the right thing and took a big step that most women don't, because harassers are the majority, especially if they belong to political parties," Nadia Khan, a social media activist, told VOA.
"I think Gulalai has given hope to women who go through this and are convinced by men to let it go because of the consequences," Nadia Khan added.
Gulalai's Aware Girls organization, which is based in Peshawar, has been working for gender equality, education and female empowerment in the border regions of Afghanistan and Pakistan. Her work as an activist has brought other cases of harassment as well.
Her organization is also cooperating with the Malala Fund, a global organization that works to provide education for girls in countries around the world. The fund is named after Malala Yousafzai, who won the Nobel Peace Prize in 2014 for her activism in education and her resilience against the Taliban.
Gulalai founded Aware Girls at the age of 16 and has since received international recognition for her activism, including being given the Anna Politkovskaya Award, established in the name of a slain Moscow journalist.
Abuse of blasphemy laws
The anti-blasphemy law remains a controversial issue in the Muslim-majority country where anyone labeled as blasphemous faces dangerous consequences.
The laws are strictly enforced in Pakistan, and punishment for those found guilty is harsh.
In some cases, when courts have not charged suspects, ordinary Pakistanis have taken the matter into their own hands. A simple accusation that someone has committed blasphemy can lead to threats against the suspect. At times, it can mean death.
Last week, a student of Charsadda New Islamia College killed a principal after accusing him of blasphemy. The video of the accused killer went viral. In it he bragged about his actions and said he had no remorse.
@IhsanTipu
Killing in the name of religion continues in Pakistan.College student in Charsada, Khyber Pakhtunkhwa killed his principle over alleged blasphemy. In the video the killer proudly confesses his crime.
8:10 PM - Jan 22, 2018
4 4 Replies 18 18 Retweets 13 13 likes
Last year, a Hindu man was rescued by police from a mob in Hub, Balochistan. The man had been accused of posting blasphemous content on social media.
And in April 2017, Mashal Khan, 23, a journalism student of Abdul Wali Khan University, Mardan, in Khyber Pakhtunkhwa province, was beaten to death by fellow students. He had been accused of posting blasphemous content online.
Hamza Khan, the person who accused Gulalai of blasphemy, organized a protest against her in the same area where the protest was held against Mashal Khan.
Gulalai wants her case to set a precedent for those who use religion to incite violence.
"In Pakistan, it has become very easy to use religion for silencing people, especially human rights defenders. We have seen how, in the past, blasphemy has been used as a political tool," she said.
She said she would also file a case against Hamza Khan under the country's anti-terrorism act, because she says he has terrorized her with these baseless charges.
State support
Gulalai blames what she calls Pakistan's flawed education system, which has been focused on creating patriots and "good Muslims," she said.
"It's not the fault of Hamza Khan or his friends. The real perpetrator is the state that intentionally indoctrinates our children and youth in education institutions," she added.
Last year, Pakistan's government formed a regulatory body to monitor and block blasphemous content online in an effort to further extend the enforcement of the country's anti-blasphemy law into cyberspace.
Rights groups charge that the state's commitment to enforcing the anti-blasphemy laws actually contributes to an environment where some feel empowered and emboldened to take matters into their own hands.
voanews.com/a/pakistani-activist-gulalai-ismail-pushes-back-blasphemy-charges/4228239.html
-------
1000 women athletes to take part in Arab Sports Tournament in UAE
ARAB NEWS | Published — Sunday 28 January 2018
LONDON: One thousand female athletes will be taking part in the fourth edition of Arab Women Sports Tournament scheduled to kick off in the UAE on Feb. 2, the Supreme Organizing Committee.
Those competing come from 69 clubs across the Middle East and North African countries, making it the largest participation in the tournament to date, Egypt's daily Ahram Online reported.
Saudi Arabia will participate in most of the activities, including table tennis, athletics, basketball, fencing and Karate.
"Seeing Saudi sportswomen participating underscores the dedication and commitment of all sporting organizations across the Arab world and the importance of developing female athletes in all competitions," Nada Askar Al Naqbi, Deputy Chairperson of AWST Supreme Organizing Committee said.
Other participating nations include Bahrain, Lebanon, Morocco, Yemen, Palestine, Libya, Jordan, Egypt, Algeria, Somalia, Djibouti, Kuwait, Oman, Sudan, Iraq and host nation the UAE.
The tournament is being held under the patronage of Sheikha Jawaher bint Mohamed Al-Qassimi, wife of the ruler of Sharjah and chairperson of the Sharjah Women's Sports Foundation.
Under the title "The World is Your Court, Together Victorious", the 11-day event will run until 12 February at 10 new sports facilities in Sharjah.
arabnews.com/node/1234411/sports
-------
Beirut protest after spate of violent deaths of women
AFP | Published — Saturday 27 January 2018
BEIRUT: Dozens of people protested on Saturday outside the Lebanese parliament against violence against women, denouncing inaction by the authorities after eight women have been killed since early December.
The demonstration was organized by civil society groups including the feminist association Kafa, which wants legislative reforms to protect women from domestic violence.
Red wooden cut-out silhouettes representing victims including the eight were set up in the square outside parliament.
Demonstrators brandished placards bearing slogans including "Anger is no excuse" and "No funeral before justice."
Since early December, eight women have died violently in Lebanon, including a wife shot dead by her husband on Monday in Beirut.
Also among the dead were a 15-year-old who killed herself over an early marriage and British embassy employee Rebecca Dykes who was strangled by a taxi driver who tried to rape her.
"Women are dying one after the other because of inaction by the legislative, executive and judicial powers that don't consider this to be a priority issue," said a statement signed by several NGOs.
In 2014, Lebanon passed a law that for the first time set down penalties for domestic violence after an unprecedented campaign sparked by the murders of several women by their husbands.
However, the Kafa group is demanding that the law be amended to lay down more rigorous penalties for conjugal violence and to ensure that cases are dealt with faster.
"We want justice — justice for Zahraa and all the girls. We want the criminals to be punished," said 50-year-old Ali Al-Qabbout, referring to his daughter who was killed more than a year ago by her ex-husband.
arabnews.com/node/1234476/middle-east
-------
Sikh girl converts to Islam for planning to join ISIS in Syria; Jailed
January 28, 2018
London: A British Sikh girl who converted to Islam as a teenager and tried to travel to Syria to join the Islamic State (ISIS) was on Friday sentenced to three and a half years in prison for terrorism offences by a UK court.
Sandeep Samra, 18, who claimed she wanted to work as a nurse in war-torn Syria, had pleaded guilty to engaging in conduct in preparation for terrorist acts by attempting to travel to the region between June 1 and July 31 last year.
However, she denied intending to carry out acts of violence, claiming that she had wanted to leave the UK after members of an anti-extremism team informed her family about her conversion to Islam.
Judge Melbourne Inman at Birmingham Crown Court found her guilty of the charge, saying she had been "deeply radicalised".
The teenager was arrested by the West Midlands Counter Terrorism Unit (WMCTU) in June last year.
"Samra's phone was examined and officers found evidence of her support for ISIS and her intent on travelling to Syria or other areas controlled by ISIS. She dismissed warnings of the dangers for women in the conflict and even declared her intention to seek her own death," said Chief Superintendent Matt Ward, the head of WMCTU.
"The contents showed she was developing an active interest in ISIS and jihadi ideology," he added.
The police found several conversations on messaging apps which referred to the fact that her passport had been taken off her and sought help in getting a false one or even fake documentation that she could travel on. Samra also had conversations regarding ways in which she could be smuggled out of the country, how she could then make her way to Syria and the routes available to her.
WMCTU also uncovered conversations with a man, who appeared to live in Egypt, during which they declared their love for each other and a desire to get married and travel to Syria to take part in 'jihad'.
Samra applied for her first passport in September 2015 but it was handed to the police by her father a month later after teachers became concerned and reported her. The schoolgirl then applied again in June last year and tried to trick her schoolteacher into counter-signing it for her.
The prosecution had claimed that her social media messages showed that she was "going for death" and intended to die for ISIS.
siasat.com/news/sikh-girl-converts-islam-planning-join-isis-syria-jailed-1307953/
-------
Meet the woman challenging Arab notions of disability
Zena Tahhan by Zena Tahhan
2 hours ago
Reem Alfranji lived in a second-floor apartment with her husband, Mohammad, and two sons - five-year-old Aboud and Amro, a toddler.
During glass-shattering uninterrupted bombardment, the family would stay at her uncle's downstairs, where the vibrations were less aggressive.
"The children were petrified," she says. "There was no electricity, and everybody would be scurrying around."
By the time the three-week assault was over, Aboud had stopped speaking entirely.
It was the end of two conflicts: one physical, another deeply personal.
The 27-year-old mother had already spent years trying to understand why her son could only utter a few simple words - "mama" or "teta", meaning grandma in Arabic. The child could not sit still for more than a few minutes and kindergartens refused to accept him, claiming he was "too naughty".
In Gaza, to say that you have a child with a disability is very shameful. They see it as something humiliating.
REEM ALFRANJI
Frantically searching the internet had led her nowhere. There were few studies on child development in Arabic.
Doctors in the resources-strapped enclave had told her many children start speaking at the age of six. A typical child, however, starts forms sentences between two and three.
"They told us he was developing very well. They said a lot of kids experience delays in speech," she says.
After the Israeli assault, she sought further opinion from a doctor she had recently heard of.
That doctor, the head of a public children's hospital, confirmed her worst fears - that Aboud had difficulties.
Disbelief washed over her when the doctor said Amro, too, needed special care.
"He told us that both my sons have developmental disabilities," she tells Al Jazeera.
Finding resources in the Arab world, where disability is taboo, proved challenging. There were no occupational therapists in Gaza; no schools wanted to take Reem's children in.
Disapproving looks and rigid minds added to her burden, making her uneasy and defensive.
"In Gaza, to say that you have a child with a disability is very shameful. They see it as something humiliating. During large gatherings, they would blame my kids whenever something went wrong or something was broken - they would tell them 'stay away!'
"I started to feel as though I was in a warzone."
Social stigma
Abandoning dreams of living in Gaza near relatives, the family packed their bags in 2010 and moved to Amman to start a new life in the hope of better treatment.
In the Jordanian capital, a community of mothers with disabled children welcomed Reem as one of their own.
Reem with her husband, Mohammad, and two children, after moving to Amman [courtesy of Reem Alfranji]
She enrolled Aboud and Amro in a special-needs school, forged relationships with specialists, and joined a support group for parents of disabled children, offering guidance to mothers across Jordan - including the poorer areas.
But the more involved she became, the more she realised how much work needed to be done.
One billion people worldwide, or 15 percent, are estimated to have a disability. Meanwhile, three percent of the Arab region's 407 million people are estimated to be disabled.
But Charlotte McClain-Nhlapo, global disability adviser for the World Bank, says government-conducted surveys often narrow the definition of disability - considering only those with severe impairments.
There is very little understanding that disability is something you have to deal with for life. You learn to adapt to it. It is not an illness and it is not contagious. I think we are living in a society that's very judgmental.
SERENE QUBAIN, MOTHER OF A DISABLED CHILD
Social stigma can also affect statistics.
"People don't want to disclose that they have a child with disability. To some people in many countries, it's still sensitive," McClain-Nhlapo tells Al Jazeera.
"There remains serious lack of knowledge and awareness among parents in society and … people are afraid - they don't know what to do when they have a child with disability, they don't know who to turn to. They do not see people with disabilities in the mainstream. For them, it is a very shameful situation."
In rural areas, where illiteracy is high, access to information is further limited, says McClain-Nhlapo.
'Do you want to embarrass us?'
Reem met several women in Jordan's rural areas who had been ostracised.
"One of the mothers here, when she posts photos with her [disabled] daughter, the family tells her: 'why do you keep sharing her pictures? Do you want to embarrass us?' says Reem.
"The worst is when it is a combination of ignorance, disability, and poverty. It is very common for communities in those areas to blame the mother for her child if they have a disability - and the men often file for divorce".
Serene Qubain, a Jordanian mother, believes there is a common misconception in the Arab world.
"I think the typical understanding is that if you are disabled, you are sick," she tells Al Jazeera.
Her nine-year-old son, Rakan, has the intellectual ability of a one-year-old, and cannot speak.
"When people see him in public, they say 'May God heal him - I hope he recovers' to which I respond: 'He's not sick'.
"There is very little understanding that disability is something you have to deal with for life. You learn to adapt to it. It is not an illness and it is not contagious. I think we are living in a society that's very judgmental."
Having settled her children in a supportive environment, Reem wanted to focus on raising awareness.
In 2013, she teamed up with a film producer, Khalid Abusharif, to create Team Hero - a cartoon about children with disabilities. The show will be the first of its kind in the region.
"I decided to feature their lives in a positive way," she says.
The first season, expected to air on a major Arab broadcasting network in March, was made possible with funds from organisations including UNICEF and the Jordanian investment NGO Abdul Hameed Shoman Foundation.
The show is based on Aboud and Amro.
'We are all heroes' is the motto of Reem's cartoon show, which is in the Arabic language [Courtesy of Reem Alfranji]
"We made it about two brothers. One of them, Waseem, has the same disability as my kids. The other, Rashed, is a typical child.
"They move to a new neighbourhood and meet other kids who are curious about Waseem. They start to think - why does he not speak like us? Why doesn't he act like us? How does his brother understand him? Are they from another planet?
"In the first episode, they start to understand what it means to be a child with special needs; that their minds work differently, but that they also have hobbies and special skills.
"They go on adventures and meet other children - a boy with Down's Syndrome, a girl with learning difficulties. We included other topics such as children's rights, racism and bullying, to show that we can live in an inclusive society - whether kids have disabilities or not."
Reem and volunteers recording the cartoon show's theme song in the studio [courtesy of Reem Alfranji]
Working with disability specialists, Reem crafted the script to accurately portray various disabilities.
Hala Ibrahim, a developmental disability and autism specialist in Jordan, explains that children with developmental disabilities "are innocent in their understanding of others - you have to teach them about how people may be intending to harm you or take advantage of you".
Education is largely geared towards teaching the child to survive in their community as independently as possible, she tells Al Jazeera, adding that social exclusion is particularly damaging.
"Society does not need to always make them to conform to our norms and our expectations," she says."We also have to make allowances [and understand that] we're making it harder on them by expecting them to behave and function in society like any other person."
'I realised I love them even more than before'
Frustrated by the lack of information online, Reem and her husband have also launched an Arabic-language website that she hopes will become the go-to resource for Arab parents of disabled children.
Named "Habaybna" or "Our loved ones", the website offers short videos by specialists providing tips and guidance to parents. A directory of institutions and doctors in Jordan is also planned, which she hopes to expand to other countries in the region.
One article headline on the Our loved ones website reads: 'Tips for easier travel with children with developmental disabilities' [Screenshot from Our loved ones]
"We chose 'Habaybna' because we believe that our children - regardless of their capabilities - are still our loved ones.
As parents, you go into denial when you first find out. You are shocked. You start to ask: Why me? Why did this happen?' You start to think only about the challenges.
"But now, after I received all this support - and when I developed all these new skills on how to cope with my kids - I realised that I love them even more than before. They are so pure."
aljazeera.com/indepth/features/meet-woman-challenging-arab-notions-disability-180125140800672.html
-------
Women in MENA happier in the workplace despite enduring gender inequality
Gender inequality remains a major concern in the region.
Middle East Online
By Samar Kadi - BEIRUT
BEIRUT - Working women in the Middle East and North Africa (MENA) region say they are more satisfied with employment conditions as employers become better engaged and committed to workplace equality, a survey by Middle East job site Bayt.com and global online market research company YouGov indicated.
However, gender inequality remains a major concern in the region, which has the lowest female economic participation in the world (27% of females in the region participate in the workforce, compared to a global average of 56%). The International Labour Organisation (ILO) underlined that even though women's education in the Arab world has increased dramatically, this has not led to higher levels of employment.
While this is partly due to women being primary caregivers in their families, it is more a result of policies that have not provided women with opportunities and incentives to enter the labour market. Laws, regulations and economic and fiscal policies pose obstacles to realising Arab women's full economic rights, the ILO said.
While educated women in the Arab world are seeking more employment opportunities, they have their reservations about working conditions, which in many contexts fail to include a safe environment and protection from harassment.
Despite the challenges, the Bayt.com and YouGov "Working Women in the Middle East and North Africa" survey indicated that an increasing percentage of working female respondents said women and men are treated equally in the workplace across a variety of areas, including working hours (68%), training and development (68%) and receiving advice and support (60%).
"By comparing the findings of this year's Bayt.com 'Working Women in the Middle East and North Africa' survey with last year, we can note several areas of improvement that may suggest the region's progress on workplace gender equality," said Ramy Labaky, Bayt.com director in Lebanon and the United Arab Emirates.
"For instance," Labaky noted, "56% of respondents said female [and] male treatment in the workplace regarding recruitment and selection is equal, up from 44% in 2016."
"A similar trend was noted for several other factors such as career progress, with 51% in 2017 versus 38% in 2016, advice and support, 60% in 2017 versus 50% in 2016, training and development, 68% in 2017 versus 58% in 2016 and benefits, 55% in 2017 versus 44% in 2016," Labaky said.
There are many areas in which women say improvement needs to be made. When it comes to salary, 46% of women asked said they perceive that they are on a par with their male counterparts. "A similar trend but with lesser skew is observed for promotions and career progression, where 29% perceive they have a lower chance of being promoted than their male counterparts," the report noted.
The survey said Lebanon ranked highest in the Middle East in terms of women's integration in the workplace.
It showed that 88% of respondents in Lebanon reported having a mix of men and women in the same workplace, the highest in the region. A large majority (82%) said they were comfortable working in a mixed-gender environment, with two-thirds (66%) claiming to be extremely comfortable; 15% were neutral and 2% said they were uncomfortable.
The top three challenges cited by working MENA women in the survey were "less opportunity for job promotions — 44%, stressful work environment — 37% and insufficient training & coaching — 30%."
Working women in MENA cited top five reasons for seeking employment as seeking financial independence (59%), being able to support and financially contribute to their households (50%), broadening their perspectives on life (46%), making use of their education (42%) and securing a future for their family and children (40%).
"It is a given that women play a vital role in the workplace today and we are glad to see that in the MENA region, organisations are doing much more to accommodate women and promote workplace equality," Rania Nseir, director of business development at Bayt.com, said in a statement.
Data for the "Working Women in the Middle East and North Africa" survey were collected online from 4,053 female respondents in Algeria, Bahrain, Egypt, Jordan, Kuwait, Lebanon, Morocco, Oman, Qatar, Saudi Arabia, Syria, Tunisia and the UAE from October 26 to November 26.
Samar Kadi is the Arab Weekly society and travel section editor.
middle-east-online.com/english/?id=86967
-------
An American Looks At a Mandatory Hijab
January 28, 2018
If Hijab is an important symbol of identity for Iran's Islamic government, is it a GOOD, effective symbol? And I mean by "good" does it help Iran to portray itself as the society it really and truly is (one of the best in the Middle East at least) to the West, which seems to have insanely seized on mandatory Hijab as a symbol of gross repression, which in fact it probably is not, even though one imagines that many Iranian woman might prefer it not be mandatory?
Javad Zarif is an impressive diplomat and a wise man, it seems, who supports the rights of Iranians to protest internal policies that some at least find uncomfortable.
However, a young Iranian woman objects to having to wear her Hijab, takes hers off, and is arrested. What happened to this rebellious young woman, I know, is not uncommon in the Islamic Republic. And it's worth a response from an American, even from one who has never been to Iran.
A couple decades ago, teaching at a college in North Carolina, I had a 20-year-old Iranian woman in one of my classes. She was not only a very good and attentive student, but also a delightful person, and even while she was studying and living in the US she wore the Hijab, even though she did not have to. I once asked her what the Hijab meant to her, why she bothered with it in the US? Her answer was clear, rational and unequivocal. And she was clearly quite beautiful, too, one could discern, despite the Hijab, as Iranian females are almost universally claimed to be, at least outside of Iran. "I want people to pay attention to me as a person, a whole person," she said, "and not merely to how I look, as some kind of object. Besides, it's mandatory in Iran and I'm used to the Hijab. I find it affords a sense of protection from unwanted attention."
Fair enough, and a superb answer, I thought, she gave.
The entire question of mandatory modest dress is rather fascinating, from an American distance. In the Qu'ran, inasmuch as I am familiar with its magnificent revelations, there are just a few verses related to dress, and they endorse modesty in attire for females, that it is highly desirable. There seems to be no specific mention of the Hijab for women out and about in public, as required since after the Iranian revolution in 1979. There was warranted euphoria about the revolution, but few at the time ever imagined having to worry about the implementation of compulsory Hijab. It is an alleged fact that when Ayatollah Khomeini decreed mandatory Hijab, many Iranian women protested, but Iranian men did not offer them much support because the focus was primarily on solidarity with the new government in order to show a united front for and with the nascent revolution. It has been claimed, I have noted, that the woman question was not initially a part of the revolutionary political agenda. But since 1979, Iran has apparently made Hijab an emblem of its religious identity, a visual symbol of both the government and the ideal type of Iranian woman.
What's even more interesting is that in the West or at least in Europe, some countries are forbidding Muslim women from wearing the Hijab, at least in public, suggesting that they are preserving Western culture by denying Muslim women freedom of expression – their freedom to wear Hijab if they want to. This makes no sense, and seems highly hypocritical. Here in the US I see Muslim women frequently wearing Hijab, many of them, and one must be pleased to know that the US at least is not telling anybody what they have to wear, as long as they are clothed in public. This is not the case at all in what one ought to consider the deeply repressive, undemocratic societies in the Arab world, such as in Saudi Arabia, which quite embarrassingly is a US ally.
Indeed, compared to some Arab countries, Iran is a bastion of tolerance and multiculturalism and religious freedom, relatively. It is utterly disgraceful that Iran is not fully portrayed as such a society, particularly in the US, and that the US ever supported terrorists like ISIL and other groups aiming to bring down secular Syria, to cite just one country targeted by US, Israeli and Saudi hypocrites, to name three. Women under ISIL control have rarely been treated so badly by anyone, anywhere ever in history, and we did not see the US protest. In fact, the US government has supported ISIL and lied about clearing them out of most of Syria to date. It is a fact that the Syrians, Iran and allies such as Russia and Hezbollah defeated ISIL, not the US Well, anyway, Iran is not a secular country, but it is damn closer to being one in practice than some odious Arab countries I have visited and written about, such as Saudi Arabia.
But there is still a nagging question over mandatory Hijab from this American's perspective.
If Hijab is an important symbol of identity for Iran's Islamic government, is it a GOOD, effective symbol? And I mean by "good" does it help Iran to portray itself as the society it really and truly is (one of the best in the Middle East at least) to the West, which seems to have insanely seized on mandatory Hijab as a symbol of gross repression, which in fact it probably is not, even though one imagines that many Iranian woman might prefer it not be mandatory? It's neither mandatory nor forbidden in the US But still, Muslim women in the US often prefer Hijab in public, for reasons similar to those of the young Iranian woman whom I taught two decades ago. It's a way of expressing personal, even religious, identity and maybe even offers some sense of protection for those preferring to wear Hijab.
In the long run, of course, I prefer as an admirer of Iran and Islam that Iran presents NO ammunition whatsoever to Western and especially insane US critics of Iran and Iranians. These critics know nothing, it seems, but we do know what that criticism really is: political. Because Iran opposes US meddling and imperialism, for one thing, in the Middle East. And rightly so. However, there may be other more effective, more important ways to celebrate and portray a Muslim and Islamic identity, and one may very well be giving half a country's population at least some leeway to choose whether to don Hijab in public and not literally arrest them if they strip it off. These are perilous times, and many Western societies, including US society, are falling apart, at least not looking so good with all the sabre rattling and hegemonic political demands, as if that offers some salvation, when in fact it offers nothing good for anyone at home or abroad.
en.abna24.com/news/article/an-american-looks-at-a-mandatory-Hijab_879543.html
-------
UAE- Participation of women in sports pillar of community development: Jawaher Al Qasimi
1/27/2018
SHARJAH, 27th January, 2018 (WAM) -- H.H. Sheikha Jawaher bint Mohammed Al Qasimi, wife of H.H. the Ruler of Sharjah, Chairperson of the Supreme Council for Family Affairs in Sharjah and Chairperson of the Sharjah Women Sports Foundation, has called on officials, government bodies and private establishments around the world to strengthen their efforts in supporting women and young girls in the field of sports.
Her Highness' call came during a recent follow-up on the final preparations of the upcoming fourth edition of the Arab Women Sports Tournament (AWST 2018), to be organised and hosted by the Sharjah Women Sports Foundation, SWSF.
The call is part of her vision that women play a significant role in promoting a more positive environment, productivity and performance for a nation's economy, culture, education and social values.
Slated to be held on February 2nd-12th, 2018, the 4th edition of the event will gather 70 teams from 17 Arab nations competing across 9 games that include Fencing, Basketball, Show Jumping, Table Tennis, Karate, Archery, Volleyball, Athletics and Shooting.
Highlighting the key role AWST played for the Arab region, H.H. Sheikha Jawaher Al Qasimi highlighted that the tournament was more than just a regional women sports event, with trophies and medals. AWST is a call for Arab nations and their communities to dedicate their investments and support to women and female athletes, and develop a modernised community that invests in women for exceptional and professional athletic experiences.
"The topic of women in sports promotes an endless set of initiatives thanks to the bandwidth of social opportunities and business sectors it is normally tied to. When promoting women in sports, we are also promoting a healthy lifestyle, one that is founded on the principles of building a wellness community capable of creating positive impacts across various elements in our society for the long run," Sheikha Jawaher Al Qasimi said.
menafn.com/1096395559/UAE--Participation-of-women-in-sports-pillar-of-community-development-Jawaher-Al-Qasimi
URL: https://www.newageislam.com/islam-women-feminism/female-pakistani-activist-pushes-back/d/114079