New Age Islam News Bureau
10 September 2020
• Canadian Judge Apologizes to Muslim Woman for Hijab Ruling
• Voices from The Arab Press: Give Kuwaiti Women the Rights They Deserve
• UN: Houthi Rebels in Yemen Recruited Teenage Girls
• Prominent Women Attacked As Afghanistan Eyes Peace
• Saudi Rights Body Empowers Women, Youth Through Partnerships, Workshops
• Two Kurdish Women Start Hunger Strikes in Women's Ward of Evin Prison of Iran
• How Beijing Targets Uyghur Women
• Tabuk Emir Congratulates Al-Khamis, First Woman Head of Regional Council
Compiled by New Age Islam News Bureau
URL: https://www.newageislam.com/islam-women-feminism/female-journalist-nada-sabouri-sentenced/d/122829
--------
Female Journalist Nada Sabouri Is Sentenced To 3.5 Years in Prison in Iran
4 September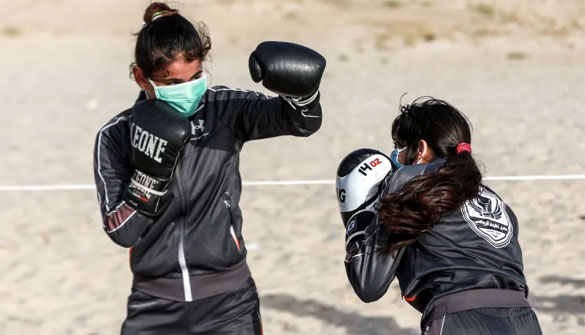 Female Journalist Nada Sabouri
-----
Tehran Province's Revision Court upheld the sentence of 3 years and 6 months of imprisonment for a female journalist on the charge of "assembly and collusion." Female journalist Nada Sabouri has been serving her sentence since August 7, 2020 in the women's ward of Evin Prison.
In April 2014, female journalist Nada Sabouri accompanied the families of political prisoners in their protest gatherings outside the mullahs' parliament, the Prosecutor's Office and the office of the mullahs' president. The gatherings were in protest to the brutal beating of political prisoners in Ward 350 of Evin Prison. Ms. Sabouri and six others were arrested during these protests.
On April 14, 2014, the special guards of Evin Prison raided Ward 350 and viciously brutalized the political prisoners detained there. A number of political prisoners were wounded and subsequently taken to solitary confinement. One of these political prisoners, Gholamreza Khosravi, was subsequently executed.
On August 31, 2020, intelligence agents in Tehran apprehended civil activist Shakila Monfared as she was leaving home. They took her to an undisclosed location and by the time this report is being prepared, there is no information available on her conditions and whereabouts.
In another development, the 2nd Branch of the Public and Revolutionary Prosecutor's Office of Sanandaj extended the detention of Faranak Jamshidi for another month, presumably for continued investigations by the Department of Intelligence. Ms. Jamshidi is held in the detention center of the Department of Intelligence of Sanandaj during the day. She spends the nights in the Correctional Center of Sanandaj, the capital of Iranian Kurdistan.
Faranak Jamshidi is a civil and environmental activist. She was arrested and detained on the charge of "propaganda against the state" and "acting against national security."
https://women.ncr-iran.org/2020/09/04/female-journalist-nada-sabouri-is-sentenced-to-3-5-years-in-prison/
--------
Canadian Judge Apologizes to Muslim Woman for Hijab Ruling
September 9, 2020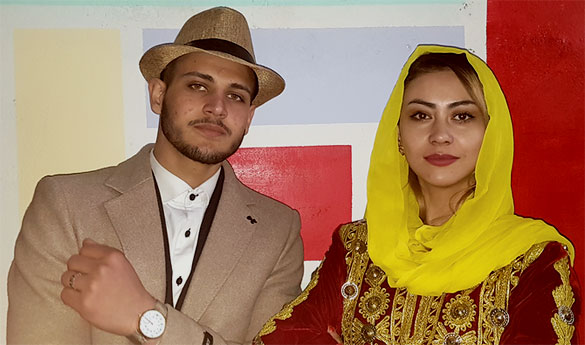 Muslim woman whose hijab was compared to wearing a hat and sunglasses in court, finally received an apology Tuesday from a Quebec judge
----
A Muslim woman whose hijab was compared to wearing a hat and sunglasses in court, finally received an apology Tuesday from a Quebec judge.
But the apology was five years in the making after Judge Eliana Marengo refused in 2015 to hear the case of Rania El-Alloul, who was seeking to have her impounded car returned, unless she removed her hijab.
The apology was ordered by the Quebec Council of the Magistrature, the body responsible for disciplining judges. The judge admitted she was wrong to ask El-Alloul to remove her hijab and comparing it to other items.
"My reference to hats and sunglasses was simply meant to exemplify how the rules of decorum are generally applied in the courtroom and was most certainly not meant to disrespect either you or your beliefs," the judge said in a statement read at a hearing. And she admitted she was wrong not to hear the case.
Dozens of complaints were filed after Marengo refused to hear the case unless El-Alloul removed her hijab. The case was suspended and El-Alloul eventually had her vehicle returned.
While the judge apologized and admitted she was wrong, Marengo challenged the Magistrature's authority to act on the complaints.
She tried to appeal to the Quebec Supreme Court, but it refused in 2018 to hear the case and that led to the apology in exchange for no further disciplinary action against Marengo.
"I accept her apology," El-Alloul said in response the apology. "This is what my faith teaches me."
https://www.globalvillagespace.com/canadian-judge-apologizes-to-muslim-woman-for-hijab-ruling/
--------
Voices from The Arab Press: Give Kuwaiti Women the Rights They Deserve
SEPTEMBER 10, 2020
Two weeks ago I posted a tweet that quickly went viral. In it, I demanded that Kuwaiti women be allowed to choose their own life partner while preserving the right, currently granted only to men, to reside in Kuwait.
Truth be told, I didn't expect the tweet to become so prolific. This made me happy but also sad. Happy, because it received the attention it deserved. Sad, because I realized just how many women in Kuwait suffer from social or political norms that negatively affect them and their family. It is a shocking paradox that nearly 20,000 Kuwaiti women who are married to non-Kuwaiti men cannot get their children to be recognized by the state as legitimate residents.
All of this happens while three million expatriates from around the world enjoy residency even though they have no real connection to the country. Driven by curiosity, I looked into the number of countries that grant women the right to naturalize their children even if married to a non-citizen. I found that the number of these countries is large and growing, even within our region: It is true for Bahrain, the Emirates, Saudi Arabia, Qatar, Iraq, Egypt, Algeria, Tunisia, Yemen, Mauritania, Iran and many Western countries far away from us.
Kuwait remains alone. Kuwaiti women are not even asking for citizenship for their children – just residency. But their pleas fall on deaf ears. The National Assembly and its members are spending their time taking care of their own electoral interests. Therefore, my advice to Kuwaiti women is to join forces and form an electoral bloc; only then will your voices be heard and will political representatives care about your struggles. My dear Kuwaiti sisters, let us speak in the language that politicians understand. Let us express our power now, with parliamentary elections around the corner.
Our demand for equality is our basic right, protected by the Kuwaiti constitution. As women, we have to organize and advocate for our rights. Only then will we achieve change.
– Modhi Abdul Aziz Al-Hamoud
The coronavirus pandemic has made the world feel large again. The ban on international travel has separated countries and split continents, leaving people confined to their own home nation.
Thankfully, one of the big blessings of this situation has been technology, which enables employees to work from home, students to take classes virtually, and families to stay in touch through video calls. However, it is clear to all of us that these remote, virtual solutions are merely temporary. This is because human relations cannot, over time, exist at a distance. This is also true of "distance travel," a phenomenon I recently stumbled across. Some tourism marketing companies have begun offering virtual reality packages that seemingly transport users from one country to another in an effort to mimic the experience of international travel.
Even if the technology were ripe and the experience entirely authentic, such services would still be problematic. In travel, people look for a change of place, a change of pace and a change of mindset. People want to hail a cab and talk to the local driver. They want to walk down the narrow streets of old quarters. They want to hear the local language. They want to taste local foods and explore local cultures. They even like the breakfast buffet served at their hotel. These and more cannot be achieved from afar.
The truth is that we can all put travel aside until the time and circumstances allow us to fly again. Indeed, far more important things have been disrupted in light of COVID-19. If nothing else, this is a unique opportunity for all of us: a chance to explore the tourist attractions in our very own countries and hometowns. There's plenty of rich history and culture in our own environment yet we often rush to get on a plane and explore faraway places elsewhere in the world. The coronavirus pandemic is forcing us to rediscover the beauty in our own backyards.
– Youssef Al-Qablan
NO CELEBRATION WITHOUT HOPE FOR A BETTER FUTURE
Al-Mada, Iraq, September 2
Fifty-five years ago, the Republic of Singapore declared its independence. It turned from a land of mosquito-infested bogs into a land of innovation, boasting one of the most important and influential economies in the world. What's even more impressive than this tremendous achievement is the fact that every year, on the occasion of Singapore's Independence Day, the country's prime minister delivers a speech in which he promises the public to accelerate the growth rate of the economy even more in the year to come.
One can't help but think about the stark contrast between Singapore and Iraq. We in Iraq gained independence 33 years before Singapore and yet we're far from an industrialized country. We are plagued by corruption and the creeping menace of bureaucracy. We turned down offers of foreign investment for the fear of "jeopardizing" our values. Unlike Singapore, our country is plagued by armed militias, separatist movements and foreign mercenaries. We can't even afford to distribute face masks to the public without taking donations from Turkey and the United Nations.
More than half a century ago, the late Lee Kuan Yew, the first prime minister of Singapore, stood in parliament and apologetically announced that his government could no longer afford to pay salaries to state employees. He expressed his deep remorse but then proceeded to articulate his vision for the future, promising to build a society that would not only be just, but also prosperous. Although Lee passed away five years ago, recent figures published by the Economist show that Singapore ranks first in Asia, and fifth in the world, in citizen prosperity. Lee's vision was fulfilled.
Here in Iraq, we continue to hope for visionaries of his kind. And in the meantime, we can't really celebrate our National Day. To do so, you must be free from poverty and fear. There is no real national celebration without a belief in a better future for one's country.
https://www.jpost.com/middle-east/voices-from-the-arab-press-give-kuwaiti-women-the-rights-they-deserve-641750
--------
UN: Houthi rebels in Yemen recruited teenage girls
10 Sep 2020
UN-backed investigators have found evidence that rebels in Yemen recruited nearly three dozen teenage girls - some said to be survivors of sexual violence - as spies, medics, guards and members of an all-female force.
The findings came in the third and latest report on Wednesday by the "group of eminent experts" commissioned by the Human Rights Council to investigate alleged rights violations by all sides in the war since September 2014. The devastating conflict in the Arab world's poorest country has spawned what the United Nations calls the world's greatest humanitarian crisis.
"The parties to the conflict continue to show no regard for international law or the lives, dignity, and rights of the people of Yemen, while third states have helped perpetuate the conflict by continuing to supply the parties with weapons," said the report.
The United Kingdom, Canada, France, Iran, and the United States continued their support to the warring sides, the UN panel said.
"This year we added Canada because there has been an uptick in arms sales by Canada in 2019," said panel member Ardi Imseis, adding Spain, Poland, and Italy had also sold arms.
"We therefore reiterate our call for states to stop transferring arms to the parties to the conflict."
Female force
The report, based on more than 400 accounts and focusing mainly on a period from July 2019 to June this year, highlighted how a generation of Yemen's children have been "immeasurably damaged through child recruitment, abuse, and deprivation of their most basic human rights, including education".
Overall, the group documented 259 cases of children who had been recruited and used in hostilities by several sides.
It said the Iran-aligned Houthi rebels recruited boys as young as seven years old from schools, poor urban areas, and detention centres through monetary incentives, abduction, recruitment by peers and indoctrination.
"The group also received credible reports regarding Houthi recruitment of 34 girls [ages 13-17] between June 2015 and June 2020 for use as spies, recruiters of other children, guards, medics, and members of the Zainabiyat," the report said, referring to the female force created by the rebels - an unusual phenomenon in a conservative society such as Yemen.
"Twelve of these girls allegedly survived sexual violence and/or a forced and early marriage directly linked to their recruitment," it said.
'No clean hands'
The group underlined the governments of Yemen, Saudi Arabia, the United Arab Emirates, and the separatist Southern Transitional Council were also responsible for human rights violations.
The warring factions - in particular Saudi Arabia and the UAE - have committed "acts that may amount to war crimes", it said
For the second year in a row, the three UN-backed experts were denied access to Yemen by the Saudi-led coalition, which is allied with the internationally recognised Yemeni government. The rejection came despite repeated requests, said the report, which is to be considered by the 47-member-state rights council, which starts its autumn session next Monday.
Overall, the experts insisted there are "no clean hands" in the conflict, which has involved rights abuses and violations, including arbitrary killings and detention, rape and sexual violence, torture and other "cruel, inhuman or degrading treatment" - all possibly involving war crimes.
The experts also faulted the Saudi-led coalition air raids, saying it has failed to do enough to avoid civilian casualties at times.
"Individuals in the coalition, in particular Saudi Arabia, may have conducted air strikes in violation of the principles of distinction, proportionality, and precaution," said the group.
Kamel Jendoubi, who chairs the expert panel, said: "Yemen remains a tortured land with its people ravaged in ways that should shock the conscience of humanity.
"The international community has a responsibility to put an end to this pandemic of impunity, and should not turn a blind eye to the gross violations that have been committed in Yemen."
The Houthis took over the capital Sanaa and most cities in 2014 after deposing the Saudi-backed government of President Abd-Rabbu Mansour Hadi.
The Western-backed coalition intervened in Yemen in 2015 to try to restore Hadi's government to power but the war, which has killed an estimated 100,000 people, has been deadlocked for years.
https://www.aljazeera.com/news/2020/09/houthi-rebels-yemen-recruited-teenage-girls-200909141254180.html
--------
Prominent Women Attacked As Afghanistan Eyes Peace
10 September 2020
Just minutes after Saba Sahar had left her home in Kabul, her husband heard gunshots ring out. The actress, film director and senior police official had received warnings of threats to her life in the past, so Emal Zaki frantically called his wife.
"She answered the phone and told me to come as soon as possible. She said she had been shot," Mr Zaki told the BBC.
He was the first person on the scene and found his wife crouched down by a wall where she and her bodyguards had been trying to fend off the attackers. She had been shot multiple times but was still alive. He bundled her into a car and rushed to hospital.
Ms Sahar is one of Afghanistan's first female film directors. Fiction and real life have interwoven for her at times, as she has starred in and helped produce a TV series about the Afghan police, and also holds a high-level role with the police force and Ministry of Interior.
She is now recovering in hospital, and is gradually starting to walk again. Her husband believes she was targeted for her work promoting women's rights.
"Those who raise women's voices are always at risk of being targeted," Mr Zaki told the BBC, before adding defiantly, "but I think these attacks will never succeed in silencing the voices of the women of Afghanistan."
Under Taliban rule in the 1990s women were not allowed to attend school or work. Since the hard-line group were overthrown in 2001, fragile progress has been made in bringing more Afghan women back into public life, though challenges remain.
The Taliban now say they don't oppose women's education, or them working. But some remain sceptical.
The attack on Saba Sahar is one of a number of assassination attempts that have taken place in Kabul in recent months, often targeting prominent figures.
In many instances, including the shooting of Ms Sahar, the Taliban has denied being responsible, but no other militant group has admitted involvement either.
The spate of attacks - targeted shootings or blasts caused by small magnetic bombs attached to moving cars - come as other forms of militant violence in the Afghan capital have decreased. Since the Taliban signed an agreement with the United States in February, there have been far fewer large-scale suicide bombings, though violence in more rural areas has continued.
With talks between the Taliban and Afghan officials due to begin in the coming days in Doha, there are fears the attacks are attempts to marginalise vocal figures and intimidate civil society.
Victims include a senior Ministry of Education official who had participated in informal discussions with the Taliban in the past, while on Wednesday, First Vice-President Amrullah Saleh, who has been a staunch opponent of the militants, survived a roadside bomb blast that targeted his convoy.
Women have also been repeatedly targeted. The killing of Fatima Khalil, a bright young employee of the Afghanistan Independent Human Rights Commission, in June caused particular outrage and despair.
Last month, politician Fawzia Koofi, who is part of the negotiating team due to meet with the Taliban, was shot whilst returning to Kabul from a neighbouring province. She survived, with injuries to her arm.
She told the BBC the shooting would not deter her from her work or from attending the talks when they begin.
"In fact, it has given me more strength," she said. "I could see that the whole public stood by me. Even those who have views that are different from my views condemned this attack."
Ms Koofi, who has been a vocal proponent of women's rights, believes she may have been targeted both because of her political stance, and in an effort "to spoil the peace talks".
So far, no-one seems clear exactly who is behind the attacks. Could the Taliban be responsible, and deliberately not claiming them publicly? Or could other militants such the Islamic State group, or even regional intelligence agencies be trying to play a disruptive role?
The targeting of prominent female figures is also, however, feeding into wider concerns about what the outcome of the peace process will mean for Afghan women, and whether there could be a rolling back of the progress made in the last two decades.
Ms Koofi says she worries in the coming weeks and months that more women will be targeted.
"We will, unfortunately, have to pay a bigger price before peace."
https://www.bbc.com/news/world-asia-54084848
--------
Saudi rights body empowers women, youth through partnerships, workshops
September 09, 2020
JEDDAH: The Saudi Human Rights Commission (HRC) and the charitable group Alwaleed Philanthropies will work to promote human rights through the empowerment of women and youth following a partnership agreement between the two organizations.
Under the memorandum of cooperation (MoC) signed by Awwad bin Saleh Al-Awwad, head of the HRC, and Princess Lamia bint Majid, secretary-general of Alwaleed Philanthropies, people with special needs, along with women and children, will be supported in accordance with international agreements and standards.
Support will also be directed at women who have suffered psychologically, socially or economically in the Kingdom as part of the foundations' initiative, which also includes training lawyers of the Waeya program in partnership with the UN.
Al-Awwad said that the commission hopes to have partnerships with all agencies involved in protecting human rights, and praised the Alwaleed Philanthropies' efforts in humanitarian services.
"This MoC is one of the bases of the foundation regarding the empowerment of women and youth and the development of societies. We need to work together to support the empowerment of women in the Kingdom, and to address all the challenges they face in economic and social development, as well as reduce violence and the oppression of young and special-need people's rights," said Princess Lamia.
Meanwhile, the HRC has highlighted the important role that civil society institutions have in protecting human rights by expanding their capacity to deal with international UN human rights' mechanisms in line with the sustainable development goals, the Saudi Vision 2030 and their role during the Kingdom's presidency of the G20.
This came during Al-Awwad's inauguration of a training workshop, titled "Promoting the capacities of the civil society institutions in dealing with UN international human rights mechanisms," held by HRC as part of a technical cooperation program with the Office of the UN High Commissioner for Human Rights (OHCHR).
The workshop's first day of sessions will focus on the international human rights system and the role of civil society institutions in protecting and promoting human rights. An overview of the recommendations and remarks elaborated by UN mechanisms to the Kingdom will also be offered.
On the second day, sessions will discuss the role of civil society during the Kingdom's G20 presidency and the activation of its role in the human rights work in line with the sustainable development goals and the Saudi Vision 2030.
Al-Awwad said that protecting human rights is a religious and national duty, and efforts should be combined in order to develop and encourage those rights and respect fundamental freedoms.
Cooperating with the relevant authorities is a central pillar for work in the area of human rights, he added.
https://www.arabnews.com/node/1732131/saudi-arabia
--------
Two Kurdish Women Start Hunger Strikes in Women's Ward of Evin Prison of Iran
3 September - Two Kurdish women, political prisoners detained in the women's ward of Evin Prison, went on hunger strike on September 1, 2020.
Mojgan Kavousi and Sakineh Parvaneh deprived themselves of food to protest the authorities' refusal to grant leave to political prisoners during the coronavirus pandemic.
One of the other demands of the two Kurdish women is to stop gender discrimination with regards to prisoners' right to use the telephone. All male detainees in Evin Prison have unlimited time in using the telephone, but the women detainees can use the telephone for only half an hour a week.
Kurdish writer and researcher Mojgan Kavousi was arrested in November 2019 in the city of Nowshahr, in northern Iran. She was transferred to the detention center of the IRGC Intelligence organization in Sari, capital of Mazandaran Province, northern Iran.
In December 2019, she was returned to the Prison of Nowshahr. The Revolutionary Court of Nowshahr subsequently sentenced her to 5 years and 7 months in prison, and set her free temporarily on a 100,000-toman bail. Her sentence was later increased to 6 years and 3 months by the Revision Court of Mazandaran Province. On May 19, 2020, she was arrested and taken to the Prison of Nowshahr to start serving her sentence. She was later transferred to Tehran and to Evin Prison on June 22.
Sakineh Parvaneh was born in 1988 in Kermanj in Razavi Khorasan Province. She arrested on February 7, 2020, and taken to the Intelligence Ministry Ward 209 of Evin Prison. She was detained for 10 days in solitary confinement and then transferred to the women's ward of Evin. In March 2020, she was sent to Qarchak Prison as a punishment for writing graffiti on the walls of Evin.
She was brutalized in the course of this transfer and was held in solitary confinement while her limbs were in cuffs. Then to increase pressure on this Kurdish political prisoner and break her, the authorities of Qarchak Prison sent her to the Psychiatric Hospital of Aminabad in Tehran. After 25 days, she was returned to the quarantine section of Qarchak Prison.
The Revolutionary Court of Tehran has sentenced Sakineh Parvaneh to 5 years in prison and deprived her of membership in any political group for two years. She did not have access to any legal representation during her court proceedings.
Sakineh Parvaneh went on hunger strike on June 18, 2020, to protest her own and her family's harassment, and demanded to be returned to Evin. In early July, her demand was granted and she was sent back to Evin from Qarchak Prison
https://women.ncr-iran.org/2020/09/03/two-kurdish-women-start-hunger-strikes-in-womens-ward-of-evin-prison/
--------
How Beijing targets Uyghur women
AYJAZ WANI
SEP 10 2020
Uyghur Muslims of Xinjiang and their rich cultural ethos are on the verge of excision as Beijing has started its state-sponsored campaign against Uyghur women through forced sterilisation, abortion and implanting contraceptive devices. This "demographic genocide" of the most supressed ethnic minority was restarted by Chinese Communist Party (CCP) with full vigour after Chinese President Xi Jinping made his first visit to the restive Xinjiang region in 2014. During his visit, Xi stressed on the integration of Uyghurs with the dominant Han culture. Soon after his visit, Zhang Chunxian, a top official of Xinjiang Party Committee stressed on implementation of family planning regulations according to Article 15 of Chapter 3 of the Xinjiang Uygur Autonomous Region to stabilise birth rates. The integration of Uyghur's through family planning regulations has served Beijing's agenda to bring about demographic change, erosion of rich cultural identity and subjugation of the ethnic minorities of the region.
Historically, the women of Central Asia including Xinjiang were the powerful symbols of cultural identity and considered the guardians of the same. After the communist regime established its control over Xinjiang, China implemented its policy of homogenisation of culture to introduce communist doctrine of "togetherness" of all societies into a "whole unit" in the 1960s. Xinjiang, because of its unique cultural identity and centrifugal tendencies, became the main target and their culture, customs, ideas and habits were attacked. Mao's wife, Jiang Qing, considered the native Uyghurs as "foreign invaders and aliens". Qurans were burnt, mosques were closed, destroyed or used for pig breeding, circumcision was banned. For example, 29,545 mosques in the whole of Xinjiang in 1949 were reduced to just 1,400 after the Cultural Revolution.
During the Cultural Revolution, the Uyghur women were at the forefront of resistance against Beijing's onslaught, upholding the native traditions and customs alive by safeguarding culture and religion within families. They also kept these traditions intact by production of traditional handicrafts such as doppas (a white soft cap on with embroidered designs). Uyghur women used these doppas and head scarves and even veils as a symbolic resistance to Chinese culture and Sinicisation. Furthermore, the brave Uyghur women retained the stable birth rates even during the horrific cultural onslaught on this particular minority group by using traditional painful methods at the time of child delivery.
In 1955, Beijing created the Xinjiang Uyghur Autonomous Region (XUAR), which was granted autonomy in theory but not in practice. In 1979, the Chinese Communist Party (CCP) made one child policy mandatory under the Article 12 of its new Marriage Law. Xinjiang authorities issued the provincial regulations under Article 15 of Chapter 3 of the Xinjiang Uygur Autonomous Region for family planning in 1981 that was implemented on minorities from 1983. Under this autonomous law, the minorities who are living in urban areas can have two children, while those living in rural areas are entitled with having up to three. This minority family planning policy led to riots in Xinjiang. Protests erupted in Beijing, with Uyghur students, fearing further demographic alteration of their land, demanding scrapping of the repressive family planning regulation.
However, in practice there was no autonomy even in family planning. The fate of the new born babies in Xinjiang under this minority family planning law was decided by the CCP officials at the county level and broken down to township, village and group levels. Uyghur women and their families were forced to pay fines (2,000 to 6,000 yuan) and subjected to forced abortion at any stage of pregnancy even if it was a third child under the provincial regulations. Uyghur women and their families paid the fine and kept the increasing Han population under check. All of this was done to change the demography of Xinjiang and assimilate Uyghurs into the mainstream Chinese population. The Uyghurs women braved the CCP and kept the birth of their babies outside of the quota system a secret. This was done by not availing access to modern health services and preferring the option of traditional midwives. Most women chose to go to their parental homes or their relatives in other administrative divisions for their deliveries.
The geo-strategic importance of a restive Xinjiang increased manifold in the second decade of the 21st century, especially after the inauguration of the much-hyped Belt and Road Initiative (BRI) in 2013. Three out of six major BRI land corridors run through Xinjiang, where mass influx of the Hans led to further alienation, which in turn led to the advent of militant separatism, like the knife attacks at Kunming railway station in 2014. Soon after the attack, President Xi in his maiden visit to region, demanded tough action against the civic unrest and announced measures for greater integration and economic growth. The CCP started repressive Sinicisation, hi-tech surveillance, re-education camps and the socio-economic exploitation of the indigenous Uyghur population with increased Han migration to alter the demography of the region.
China abolished its one child policy in 2016 with some provinces even announcing financial rewards to encourage people to have more children. However, to check the Uyghur population, much more stress was given on forced sterilisation, abortions and forced implant of intrauterine devices of Uyghur women. The CCP has poured in hundreds of millions of dollars for this campaign. Women were detained in re-education camps where they were forcefully fitted with IUDs and sexually humiliated. Some were given medications that stoped menstruation cycles, especially in southern Xinjiang. Between 2015 and 2018, in two of the famous cities of southern Xinjiang – Khotan and Kashgar, the natural population growth rate fell by 84 percent, from 1.6 percent to 0.26 percent. While Xinjiang accounts for only 1.8 percent of the Chinese, but 80 percent of IUDs in whole of China were fitted among Uyghurs women.
The CCP's targeted campaign in Xinjiang, which has gained momentum after the visit by President Xi in 2014, is not only aimed to contain the population growth of Uyghur's, but supress the custodians of Uyghur culture. The way the CCP has gone about implementing its programme since last four years shows that Beijing will never be the rules-based benevolent hegemon globally neither for its neighbours nor for the Muslim countries who, under the politico-economic influence of China, have endorsed it policies in Xinjiang. Most of the major Muslim countries have endorsed the policies of CCP against the minorities of Xinjiang at global forums from time to time. When 22 democratic countries, including Japan, wrote a letter to close down re-education camps, 37 Muslim countries including Saudi Arabia, Pakistan and the UAE defended the Chinese hegemonic policies in Xinjiang and commended China's efforts in "protecting human and promoting human rights through development".
Furthermore, after reports of forced sterilisation and abortions of Uyghurs women broke, the USA came down heavily on the CCP. The US Secretary of State Michael Pompeo said, "We call on the Chinese Communist Party to immediately end these horrific practices". However, some Muslim countries like Pakistan even after these horrific tales of Uyghur women have reaffirmed their firm support to China "on affairs concerning China's core interests and issues of major concern, such as those related to Xinjiang" during the second round of China-Pakistan Foreign Ministers' Strategic Dialogue.
Till date the increased pressure on CCP to end the cultural repression of Xinjiang from democratic world of Europe, the US, Japan and so on has failed to achieve results. However, after the recent increased onslaught on Uyghur women, authoritative Muslim world should give up its economic elite interests and join hands with western democracies to save the last guardians of the Uyghur culture.
https://www.orfonline.org/expert-speak/beijings-aggression-by-design-towards-uyghur-women/
--------
Tabuk emir congratulates Al-Khamis, first woman head of regional council
September 9, 2020
TABUK — Prince Fahd Bin Sultan, the emir of Tabuk and chairman of the Regional Council, chaired the opening session of the council at the emirate office here on Wednesday.
Speaking on the occasion, the emir congratulated Dr. Khulood Al-Khamis on assuming charge as the secretary-general of the Tabuk regional council. She is the first Saudi woman to hold the position of secretary-general of a regional council at the level of the Kingdom.
Prince Fahd stressed the role and position of Saudi women in the Kingdom's construction and development process. She has become a shining face of her country where women are actively participating in all walks of life, he said while wishing her every success.
On behalf of the council members, the emir expressed his sincere thanks and appreciation of the tremendous efforts being made by workers in the health sector and all other sectors to stem the spread of coronavirus.
For her part, Dr. Al-Khamis highlighted the Kingdom's great success and the wise handling of the coronavirus pandemic under the leadership of Custodian of the Two Holy Mosques King Salman and Crown Prince Muhammad Bin Salman. She noted that the measures taken by the state have contributed significantly in mitigating the effects and consequences of the pandemic.
The council reviewed the reports of the field committees that toured various governorates of the region to follow up the projects implemented in various parts of the Tabuk region. It discussed the reasons that led to stalling some of the projects. The meeting stressed the importance of taking care of private museums and providing assistance to their owners as part of the initiative to preserve the region's heritage.
https://saudigazette.com.sa/article/597745/SAUDI-ARABIA/Tabuk-emir-congratulates-Al-Khamis-first-woman-head-of-regional-council
--------
URL: https://www.newageislam.com/islam-women-feminism/female-journalist-nada-sabouri-sentenced/d/122829
New Age Islam, Islam Online, Islamic Website, African Muslim News, Arab World News, South Asia News, Indian Muslim News, World Muslim News, Women in Islam, Islamic Feminism, Arab Women, Women In Arab, Islamophobia in America, Muslim Women in West, Islam Women and Feminism