New Age Islam News Bureau
28 Feb 2019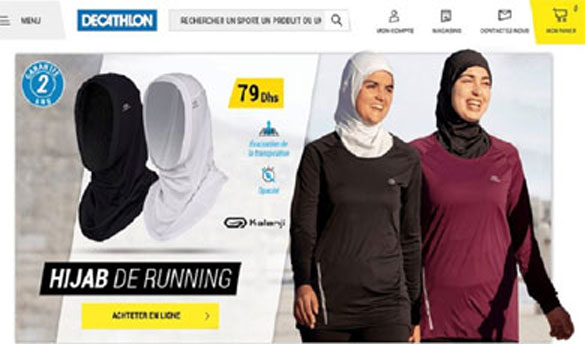 Source: Decathlon Morocco Website/Screenshot via REUTERS
------
• Malala Urges Pakistan, India to Engage In Peace Dialogue
• Bahrain Court Upholds Jail Term against Female Activist
• Saudi Sisters Hiding In Hong Kong Face Imminent Deportation
• UK Woman Setting Up Fitness Class for Muslims Threatened To Death
• Underage Pakistani Girl Accuses Father, Uncle of Forcing Her into Marriage
• French Sports Brand 'Decathlon' Drops Plans for Selling Runners' Hijab after Backlash
• After 'caliphate' debacle, wives of militants cling to their children
• Female Nurses In Iran Entangled In A Web Of Damaging Problems
Compiled by New Age Islam News Bureau
URL: https://www.newageislam.com/islam-women-feminism/female-islamic-preachers-call-womens/d/117880
--------
Female Islamic Preachers Call For Women's Rights, Contraception In Niger
27 February 2019
MARADI, Niger – The preacher Malama Ouani may seem like an unlikely advocate of sexual and reproductive health and rights. She teaches women about Islam and family welfare during study groups, known as "madrassas," in her conservative community in southern Niger.
But her lessons explore aspects of family that are seldom discussed in religious circles – including domestic violence, family planning and visits to the gynaecologist.
At one recent session, dozens of women gathered in a dusty courtyard, many bouncing babies or carrying toddlers, eager to hear Ms. Ouani's lessons for the day.
And Ms. Ouani had something urgent to discuss: a girl in Niger had been married off to an abusive man. She suffered serious injuries, and her case had made headlines.
This man's actions, Ms. Ouani asserted, are forbidden. Islam requires that husbands uphold the health, dignity and rights of their wives, she said.
And women, too, must seek to uphold their own health, dignity and rights – as a matter of religious obligation. Too often, society neglects women's welfare.
"How do you want to be consistent in your religious practice and your adorations if you are sick all the time?" she asked.
Preaching about family planning
Niger can be a dangerous place for women and girls.
According to a 2012 survey, 76 per cent of women were married before age 18, one of the highest known child marriage rates in the world. And the average woman has 7 children, the world's highest fertility.
The early and frequent pregnancies can take a serious toll on women's bodies. So, too, does the lack of health care – fewer than half of births are attended by skilled health personnel. Today, women in Niger face one of the worst maternal death rates in the world.
Contraception could help save lives, enabling women to avoid or delay pregnancy and allowing their bodies to recover between births. Yet fewer than one in five married women use contraception.
Ms. Ouani says this is because of widespread misperceptions about religion. "Most women thought that Islam was not in favour of spacing births, whereas it is quite the opposite," she said of her students.
She teaches them that planning one's family and spacing births is part of maintaining their health, which is essential for the health of their families.
A gateway to human rights
Ms. Ouani's lessons about health often veer into broader discussions about women's and girls' rights.
"We asked women to take care of their health because the Muslim religion banned everything that could harm the faithful," she recounted after a recent lesson. "It is therefore a duty for women to get closer to health facilities and to ensure that they receive medical advice and follow-up. Especially when they are pregnant."
But when women expressed embarrassment about visiting health facilities because most health staff are male, Ms. Ouani turned the lesson to girls' education.
"If you want your daughters to avoid this fate, then keep them in school. They will be more likely to become gynaecologists, midwives or nurses," she said.
There is no reason knowledge should be the preserve of men, she insisted. "The quest for knowledge is an obligation for every Muslim."
Sparking change
In 2018, UNFPA launched a campaign with female preachers like Ms. Ouani, dedicated to raising awareness of reproductive health and rights issues.
"There were 50 schools affected during this campaign in Maradi, each numbering between 50 to 100 people," said Dr. Zalha Assoumana of UNFPA. "During this campaign, we saw in some places more than 200 participants attending the courses."
Preachers and UNFPA staff have seen women's views and behaviour change since the campaign's launch – in some cases right away. In Ms. Ouani's class, women announced their intention to visit health centres and to enrol their daughters in school.
In other classes, women showed a keen interest in using contraception. "At the end of some sessions, we show them the different methods of family planning," Dr. Assoumana said, "and even preachers showed their sisters their [contraceptive] implants."
https://www.unfpa.org/news/female-islamic-preachers-call-womens-rights-contraception-niger#
--------
Malala Urges Pakistan, India to Engage In Peace Dialogue
Feb 28, 2019
Pakistani Nobel laureate Malala Yousafzai voiced concerns over the recent escalation of tensions between India and Pakistan, urging leaders of both countries to settle the long-standing Kashmir issue through dialogue.
In a statement sent out to her 1.4 million followers on Twitter using the hashtag #SayNoToWar, Malala appealed to both Pakistani Prime Minister Imran Khan and Indian Prime Minister Narendra Modi to "sit down, shake hands and settle the current conflict".
"As a Nobel Laureate, UN Messenger of Peace, a citizen of Pakistan and a student, I am alarmed by the escalation of tensions between India and Pakistan – and concerned for people living on both sides of the border," she said.
She said that all those aware of the horrors of war "agree that retaliation and revenge is never the right response – once started, it rarely ends."
"Millions of people are suffering today because of existing wars – we don't need another. Our world cannot even care for all the people currently in peril," she said.
"I ask the Prime Minister of Pakistan lmran Khan and the Prime Minister of India Narendra Modi to show true leadership in this difficult time: to sit down, shake hands and settle the current conflict and long-standing issue of Kashmir through dialogue," she added.
She further asked the international community to support talks between the two nations in order to "help prevent loss of lives and homes".
"Citizens of both countries know that the true enemies are terrorism, poverty, illiteracy and health crises – not each other," she concluded.
https://www.pakistantoday.com.pk/2019/02/28/malala-urges-pakistan-india-to-engage-in-peace-dialogue/
--------
Bahrain Court Upholds Jail Term against Female Activist
Feb 27, 2019
A Bahraini court has upheld a one-year jail sentence against a female anti-regime activist and confirmed revocation of her citizenship.
The Bahrain Supreme Criminal Court issued the ruling against Zainab Makki on Tuesday, Arabic-language Manama Post online newspaper reported.
Bahrain's Fourth High Criminal Court sentenced Makki to one year in jail on November 29, and stripped her of Bahraini citizenship.
Her husband was also sentenced to seven years behind bars in the same case and his citizenship was revoked as well.
Zainab is the second female Bahraini political dissident to be stripped of her citizenship.
Bahraini regime officials revoked Maryam Sayyed Ibrahim Hussein Reza's citizenship in 2012.
Thousands of anti-regime protesters have held demonstrations in Bahrain on an almost daily basis ever since a popular uprising began in the country in mid-February 2011.
They are demanding that the Al Khalifah regime relinquish power and allow a just system representing all Bahrainis to be established.
Manama has gone to great lengths to clamp down on any sign of dissent. On March 14, 2011, troops from Saudi Arabia and the United Arab Emirates were deployed to assist Bahrain in its crackdown.
Scores of people have lost their lives and hundreds of others sustained injuries or got arrested as a result of the Al Khalifah regime's crackdown.
https://www.presstv.com/Detail/2019/02/27/589739/Bahrain-court-rejects-appeal-activist
--------
Saudi Sisters Hiding In Hong Kong Face Imminent Deportation
28 Feb 2019
Rawan and Reem are watching the clock. At the end of the day on Thursday the sisters, who escaped from Saudi Arabia almost six months ago, could be deported home where they face prison, beatings, and possibly death.
The women, who are using aliases out of fear of retribution by members of their family, have been in legal limbo since landing in Hong Kong in September after an aborted attempt to reach Australia where they hoped to get asylum. Their "tolerated overstay" in the city as visitors ends on Thursday, according to their lawyer. They risk arrest, prosecution and possibly removal.
Their options are limited. They are hoping to be granted emergency visas to travel to a third country where they have a chance of being given asylum – Hong Kong resettles very few refugees. In the meantime, they have applied for an extension of their stay in Hong Kong.
If that is not granted they are not sure what will happen. The sisters, who have renounced Islam, fear the worst if returned to their family in Saudi Arabia.
"Death. We fear from honour killings," said Rawan. The sisters, wearing T-shirts and torn jeans, with their hair and faces uncovered, are in a hotel room where they believe it is safer to meet.
The consequences are severe for Saudi women who attempt to run away. They can go to prison, be beaten and in some cases killed by their family members.
"It's just really bad stories, daily, every week," said Rawan. "We can't even count them," Reem added. She says such cases are kept quiet, barely covered up. "They will say she had a heart attack, even though she was only 20."
Years of violence, verbal abuse, and being controlled in everything from what they wore to their tone of voice and who they would marry pushed the sisters to escape from their home last year.
"Our rooms were the prison cell and our fathers and brothers were the prison keepers. Saudi Arabia is one big prison," Reem said.
On 6 September, after two years of planning and squirrelling away money earned from memorising verses of the Qu'ran, Rawan and Reem fled while on a family holiday in Sri Lanka. They had visitor visas for Australia, a destination they chose because of its electronic visa application and because they believed it was committed to human rights.
In the middle of the night, they stole their passports from their parents' room, took a cab to the airport in Colombo and boarded the first leg of their journey to Melbourne, with a two-hour layover in Hong Kong.
By the time they arrived in Hong Kong about five hours later, Saudi officials were already waiting. According to the sisters, a Saudi consular official tried to pressure them into taking a flight to Dubai, first telling them they had an issue with their passports and then that their mother was ill.
But the sisters refused. They knew what had happened to Dina Ali Lasloom, a Saudi woman who in 2017 also attempted to get to Australia to seek asylum. She was caught in Manila and forced onto a plane to Riyadh, reportedly bound and gagged.
"They thought we are idiots, " said Rawan. "They think I am just teenager and I will believe him. They didn't know I've been planning for two years. They didn't know I know what they did to Dina Ali... but I knew what I was doing."
The women grabbed their passports from the official and ran to the gate of their Cathay Pacific flight for Melbourne only to discover their tickets had been cancelled. They tried to book another flight, this time on Qantas, but a Saudi official appeared again, telling airline staff and an immigration official the girls' mother was ill and that they had stolen money.
Thwarted again, the sisters decided to enter Hong Kong and make a new plan. A few days later they received a notice that their Australian visas had been revoked. It has now been almost six months of hiding and waiting.
"I feel that all this time has been wasted, just like I wasted my life in Saudi Arabia. I feel like I haven't started my life yet, like it's zero. My entire age is zero," said Reem.
They were disappointed their visas to Australia were cancelled but not surprised. "I take a tourist visa, but I am going to seek asylum … so I was disappointed but I understand that," said Rawan.
The Australian government has been approached for comment.
A pattern of desperation
The case is the latest example of women attempting to escape from Saudi Arabia, emboldened by examples of others before them and aided by social media and access to resources online.
In January, Rahaf Mohammed, 18, barricaded herself in a hotel room in Bangkok to prevent being deported back to Saudi Arabia. She pled online for help and was eventually granted asylum in Canada. Rawan and Reem, hopeful Mohammed's case will prove a positive precedent for theirs, have been posting on Twitter.
Activists say hundreds of women try to escape the kingdom each year.
"We have received an increasing number of accounts of Saudi women attempting to flee Saudi Arabia for various reasons, which include escaping systematic discrimination in Saudi Arabia under the male guardianship system as well as fleeing domestic violence or threats of violence," said Adam Coogle, a Middle East researcher for Human Rights Watch.
Coogle said the organisation has worked with seven or eight similar cases. "The real number who attempt to escape is likely much higher," he said.
In Hong Kong, the sisters still do not feel free. They move from safe house to safe house and go outside only when accompanied by people they trust. In some ways it is similar to their old life in Saudi Arabia where they were stuck at home, watching movies and television shows about life elsewhere.
One thing that is different is the opportunity to express themselves. "One of the freedoms we have is that we can speak loudly," said Rawan. "We can speak freely about what we think, what we love, without fearing we could be punished by what we say," Rawan said. Sometimes it feels strange, she admits.
What does not feel strange, Reem says, is no longer wearing an abaya. "The moment I took off the abaya, I didn't feel strange. I felt normal," she said.
"The first time I stepped into Hong Kong with my sister, I was amazed. I felt the air touch my face and hair and I breathed without the niqab. I walked without someone watching my steps and I talked to my sister without someone watching how loud my voice is," she said.
https://www.theguardian.com/world/2019/feb/28/saudi-sisters-hiding-in-hong-kong-face-imminent-deportation-australia
--------
UK Woman Setting Up Fitness Class for Muslims Threatened To Death
Feb 27, 2019
A female sport trainer in Britain has received death threats and other racist and abusive messages after she initiating a fitness class for Muslim women.
The state-funded BBC reported Wednesday that Bianca Jade, a non-Muslim fitness coach, had been threatened to death after she put up posters for her Muslim women fitness class showing a woman in a hijab holding a pair of weights.
The 30-year-old Jade, from Nottingham in central England, said she had notified the police about racist slurs and messages she received telling her to "watch her back."
"I've had messages calling me racist names... telling me to go back to my own country, telling me to watch my back... saying they're going to kill me," she said, adding, "It makes me feel paranoid... I'm always looking behind me."
Jade has said non-Muslim women were welcome to join the fitness class, which she said is meant to allow Muslim women to "get fit in a comfortable environment".
Nottinghamshire Police said they were investigating the threats which they branded "utterly disgraceful" and "shocking".
Chief Inspector Suk Verma said the "unacceptable" abuse portrayed a "sad element of society where hate is prevalent".
"She's providing a service to a specific part of the community, but she said anyone is welcome," said the police commander.
Hate behavior against Muslims have significantly increased in the UK, a country home to close to three million members of the religious community. Experts believe segments of the British media and some politicians have spurred hate crimes against Muslims by trying to pander to the far-right and extremist groups.
https://www.presstv.com/Detail/2019/02/27/589716/UK-hate-Muslims-fitness-class-women
--------
Underage Pakistani Girl Accuses Father, Uncle of Forcing Her into Marriage
Munawer AzeemU
February 28, 2019
ISLAMABAD: An underage girl and her brother have gone into hiding after the girl accused her father and uncle of forcing her into a marriage.
Police said the girl registered a case with the police against her father, her uncle and the man they tried to force her to marry for threatening her.
The case was registered with Koral police under PPC sections 506(ii) and 498(b).
The girl, 15, is a 10th grade student who was living with her family in Koral. She alleged that her father forced her to marry a 45-year-old man who was already married and has four children.
She told police the man drives a taxi and peddles drugs, and owns a number of properties.
Police quoted her as saying her parents were forcing her to marry the man, and called a maulvi to the house to arrange a nikkah on Jan 13.
She said she refused to sign the marriage certificate, after which her elder brother took her to his home in Sara-i-Kharbooza the same day.
The next day the man, his sibling and his mother came to her brother's house and told him to hand over his 'wife'.
When her brother refused, the man's family threatened them.
The girl was then brought to the women's police station by her brother, and the police took her to Darul Aman.
Her father visited her at the Darul Aman a few days later and assured her he would not force her to marry the man. She returned home with her father on Jan 23.
Police said four days later, her father tried to forcefully send her to the man, telling her that he married her to the man "as Wali".
The girl again sought her brother's help, and they went into hiding as their relatives and the man were searching for them.
Police quoted the girl as saying they had threatened the siblings and tried to kidnap her and take her out of the city.
When contacted, Koral Station House Officer Saifullah said the girl was safe and sound with her brother. He said she had alleged that her father sold her to the man for a significant sum of money.
The SHO said both the girl's father and the man he forced her to marry were from Khyber Pakhtunkhwa. He said they had left their homes as, when the police approached them as part of the investigation, their houses were locked from the outside.
https://www.dawn.com/news/1466544/underage-girl-accuses-father-uncle-of-forcing-her-into-marriage
--------
French Sports Brand 'Decathlon' Drops Plans for Selling Runners' Hijab after Backlash
February 28, 2019
French sports goods chain Decathlon won't sell a runner's hijab in France after plans to commercialize the veil caused controversy in the deeply secular country.
Decathlon head of communications Xavier Rivoire told RTL radio on Tuesday that the chain won't be selling the runner's veil in France until further notice after the announcement of its marketing sparked a social media backlash.
Several French politicians called for a boycott of Decathlon products and Health Minister Agnes Buzyn said she would have preferred that a French company refrained from promoting the veil.
Decathlon initially said the runner's hijab responded to the needs of some runners.
Three years ago, an all-encompassing swimsuit known as the burkini and worn by a small minority of Muslim women caused controversy in France after some French mayors banned it.
The news was met with disappointment and outrage on social media who slammed Decathlon for balking under pressure.
France, the agressively secular country, has had an uneasy relationship with the hijab over the years which deepened in 2010 after it banned the wearing of face-covering headgear including helmets, balaclavas, masks, hijabs, niqabs or other kinds of veils in public places.
In 2016, the French had been in the news for banning the 'burkini' a piece of clothing made by amalgamating a burqa and a bikini to essentially create a swimsuit that agrees with the Islamic religious sensibility of clothing. Many reports of officers publicly harassing Muslim women wearing burkinis on beaches went viral.
https://www.news18.com/news/buzz/french-sports-brand-decathlon-drops-plans-for-selling-runners-hijab-after-backlash-2051141.html
--------
After 'caliphate' debacle, wives of militants cling to their children
2019-02-27
By Emmanuel Duparcq
THE motley crew of foreign militant wives held at the Al-Hol camp in northeastern Syria are united by at least one thing: the fear of being separated from their children.
Penned in a special section of the camp and huddled in rudimentary tents, most of them are tight-lipped about the lives they led in the Daesh (the so-called IS) group's "caliphate".
Kenza, from Morocco, is one of the few who agreed to talk, as a swarm of children of various origins ran around her tent to collect water for their mothers.
She slipped out of Baghouz two weeks earlier, as Kurdish-led forces closed in on the riverside hamlet where holdout Daesh fighters are making their very last stand.
The 38-year-old, fully veiled in black like nearly all other women in the camp, sums up her four years under Daesh rule in a few laconic words.
Her husband brought her to Syria, he never worked for Daesh "because he brought his own money" and then he died in a bombardment.
When asked why she and her three children followed him all the way to the hell of Baghouz, she says: "The jihadists prevented us from fleeing."
She is now sheltered in a large UN tent which she shares with dozens of other families.
Kenza, who would not give her full name, says she hopes Morocco will take her and her children back and sees no reason why she should be detained.
How long?
In the camp's dusty alleys, a black child who says he is American stops every adult he sees and asks them in a soft, plaintive voice: "Hey, my father is dead. Do you know how much longer we're going to stay here?"
Nobody answers him because nobody knows.
Some of the foreign suspects held at Al-Hol have been there, in the custody of the Kurdish forces administering the area, for two years.
Their countries of origin are not in a hurry to repatriate radicalized citizens and claim the legal framework for any returns is too weak.
A few yards away, two young French women are wondering if France will allow them to return with their children.
France, which has one of the largest Western contingents among jihadist ranks in Syria, has hinted it may take back children but without their parents.
"Being separated from our children is not an option. They are all we have left," says one of them, who would not give her name.
Most women in the camp have the same reaction but relations between the dozens of nationalities represented in the foreign women's section are not always easy.
Tension in the camp
Besides those who hail from Syria and Iraq, the two countries the "caliphate" once straddled, the largest groups are from Russia, the former Soviet republics, Turkey and Tunisia.
One British woman says she would rather not talk to reporters for fear of retaliation from her more radical "sisters" from central Asia.
"The situation is bad here. There are quarrels between sisters," says one woman from Trinidad and Tobago.
Tension is also rife between the foreigners and the Syrian and Iraqi families who were displaced by the conflict and resent the jihadists.
"There have been attacks against foreign women" at the camp's main market, camp manager Nabil Hassan said. — AFP
http://saudigazette.com.sa/article/560080/World/Mena/After-caliphate-debacle-wives-of-militants-cling-to-their-children
--------
Female Nurses In Iran Entangled In A Web Of Damaging Problems
Feb 27, 2019
Female nurses in Iran are entangled in a web of damaging problems.
The quality of nursing services and the working conditions of nurses are categorized under social protection systems and access to public services, both significant themes taken up by the 63rd session of the UN Commission on the Status of Women (CSW).
Female nurses in Iran are stuck in an entangled web of social and economic problems created by 40 destructive years of the mullahs' theocratic rule.
78.5% of Iranian nurses are women and they face a plethora of problems: shortage of work force, alternating shifts and particularly night shifts, difficulties in attending to their families like the lack of kindergartens in a number of medical centers especially during the night shifts, low salaries compared to the services they provide, difficulties for pregnant nurses, restrictions on retirement, skeletal-muscular illnesses, past due arrears, not implemented tariffs on nursing services, the miserable state of hospitals caused by privatization,… And the list goes on.
By September 22, 2017, the total number of nursing personnel employed by the medical sciences universities, including the personnel for operation rooms, anesthesia, and medical emergencies, amounted to 117,639 persons which included 92,442 female nurses. The average income of female nurses is presently around 2.4 million tomans (approx. $178) but many work for 500,000 tomans ($37) without having any insurance.
Asghar Dalvandi, the president of the National Nursing Organization, says discrimination and injustice against the nursing community in Iran has aggravated in the past five years. He acknowledges that the situation of nurses in Iran is worse than the situation in Kenya and Iraq. "We need at least another 150,000 nurses. The world standard of the ratio of nurses to hospital beds is 1 to 8 (12.5%), while in our country this ratio is 0.7% (less than one nurse for every 100 beds). This shows we are way below the standards." (The state-run Mehr news agency – January 12, 2019)
On January 12, 2019, the state-run ILNA news agency reported, "The Secretary General of the Iranian House of Nurses, said last month that due to financial restrictions and the policy of not granting new licenses, there are 30,000 unemployed nurses in Iran. He added, "To provide adequate nursing services, we must have four nurses for (every 1000 persons in) the population. Of course, the world's average is six nurses for every 1000 persons in the population. So, if we want to have the minimum number of nurses for the 80 million population (of Iran), we must have at least 240,000 nurses working across the country, whereas right now, there are only 160,000 nurses who provide medical and health services."
Nurse shortages have led to an increase in the number of patient companies. It has also led to overtime work and mandatory work shifts for the existing nurses. This is a problem that the regime's officials have essentially not paid attention to.
The latest example is the new fiscal year budget allocation for recruitment of new nurses which has been turned down. The responsibility of recruiting new nurses is constantly being passed from one government agency to the other. This while half of the nursing graduates remain without jobs. In some provinces, 2500 persons have graduated in recent years but only 450 of them have been recruited.
Abbas Eskandari, head of the Nursing Organization of Isfahan, has also complained of the shortage of nurses in this province. He said, "Shortage of nurses creates additional pressure at work, causing professional distress, increasing the possibility of nurses making mistakes, and consequently increasing the possibility of deaths in hospitals." (The state-run ILNA news agency – January 12, 2019)
Female nurses in Iran are not only missing their monthly salaries but are enduring great pressure at work. Since in the end, they cannot respond to everyone's needs, they become directly face to face with the patients and their companies, and are often insulted and even brutalized. Twenty-eight nurses were brutalized in 2017, and 20 nurses have lost their lives in the past three years.
Eleven years after the mullahs' parliament, Majlis, announced in 2007 that they have passed an Act for Implementing Tariffs on Nursing Services and Balancing Nurses' Commission Fees, there has been no news of its enforcement. This is one of the reasons for nurses' low wages, forcing them to work consecutive shifts of a difficult job. In this way, those who provide more than 80 percent of medical services at a hospital do not receive their fees, when no tariffs are defined by government officials.
Such chaotic situation has caused increased immigration, growing discontent, and repeated protests by nurses without receiving any response from relevant authorities.
Mohammad Sharifi Moghaddam, the General Secretary of the House of Nurses says, "Iran is badly in need of nursing services. The government must invest in this field and recruit its graduates in both public and private sectors. When their salaries and commission as well as their working hours comply with international standards, our nurses will not have to leave the country for Germany, Australia, Canada, the U.S., and even the Persian Gulf countries." (The state-run ILNA news agency – January 12, 2019)
Nurses' salaries in the said countries used to be three times greater than their salaries in Iran even before the value of Rial plunging so much.
https://women.ncr-iran.org/2019/02/27/female-nurses-iran-entangled-web-damaging/
--------
URL: https://www.newageislam.com/islam-women-feminism/female-islamic-preachers-call-womens/d/117880
New Age Islam, Islam Online, Islamic Website, African Muslim News, Arab World News, South Asia News, Indian Muslim News, World Muslim News, Women in Islam, Islamic Feminism, Arab Women, Women In Arab, Islamophobia in America, Muslim Women in West, Islam Women and Feminism