New Age Islam News Bureau
8 Oct 2018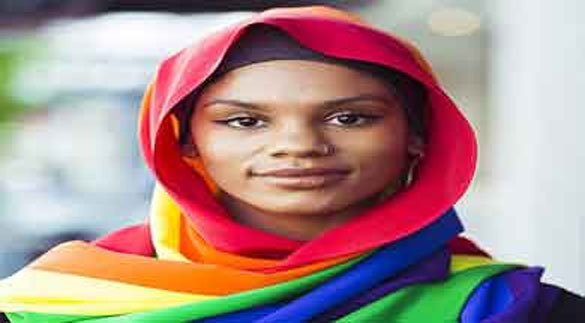 Photo: A burqa-wearing Muslim preacher who covers up her face in public has criticised Islamic woman who wear the hijab as a fashion statement (Muslim fashion label MOGA's rainbow hijab to promote same-sex marriage)
• Iran's Supreme Leader Ayatollah Ali Khamenei says hijab is the solution to end sexual violence
• After Malala and Bilquis, Salman Sufi to be presented with Mother Teresa Award in India
• 87th Du-ba-Du program held: Zahid Ali Khan highlights how dowry hinders girls' marriages
• Ghaziabad: Minor girl's body found on mosque rooftop
• When an Alawite man and a Sunni woman put love to the test
• More data needed to spur child marriage reforms, says SIS
• Women's university to allow male researchers into its library
• Female student with exceptional design skills gets full scholarship
• Two Emirati women among homeland security graduates
• The real boss women taking over Pakistan's e-commerce
• Peshawar women chamber planning to motivate female entrepreneurs
• Female Teachers' protest gatherings in various cities of Iran
• Nadia Murad and Denis Mukwege won the 2018 Nobel Peace Prize
Compiled by New Age Islam News Bureau
URL:https://www.newageislam.com/islam-women-feminism/female-islamic-preacher-slams-muslim/d/116582
--------
Female Islamic preacher slams Muslim women for wearing 'sexualised' designer hijabs to look pretty
8 October 2018
A burqa-wearing Muslim preacher who covers up her face in public has criticised Islamic woman who wear the hijab as a 'sexualised' fashion statement.
Umm Jamaal ud-Din, a convert from western Sydney, railed against colourful headscarves designed to make someone look pretty.
'When you look at the new hijab fashion industry that's come out, we can see that the concept of hijab is becoming very distorted,' she said on Friday night.
'We're finding that the hijab is actually becoming sexualised now.'
The fundamentalist Sunni religious instructor, a former Christian previously known as Mouna Parkin, told her female audience the hijab went from being an item designed to conceal a woman's beauty to being 'reduced to a piece of cloth'.
'It doesn't have the same meaning behind it,' she said.
'We are actually making the hijab into something which is all about how pretty you are.'
Her 49-minute sermon, titled 'Are We Losing Our Concept Of Hijab?', criticised Muslim women for failing to be sufficiently submissive to Allah in their choice of clothing.
'It's going away from being like that to becoming more of an expression of identity,' she said.
'Now the problem when you do that is that it's no longer about doing it for Allah but ... it's more about myself.
'It's more about who I am and who I identify myself as.'
Under Islamic Sharia law, women are required to be dressed modestly and covered up so men aren't sexually aroused by them.
Last year, the woman who wears a niqab covering her face and ears, declared it was a 'major sin' for women to pluck their eyebrows because this displeased Allah.
Her morals crusade continued on Friday as she slammed Muslim women who wore high heel shoes and skirts to go with their designer hijabs.
'They're dressed but they are like naked,' she said.
'And when they walk, they walk with a swinging gait - maybe wearing high heels.
'It's sad to say, you see it. Maybe they're wearing a bit of cloth on their head.
'You can see her bottom with the new hijabi fashions, they're actually cut to show her shape and she's walking and you can see her bottom moving from side to side.'
Several high-profile Muslim women do not share her view, with London-based, Brisbane-raised Muslim youth activist Yassmin Abdel-Magied regularly wearing colourful headscarves.
She even hosted an ABC television program earlier this year called Hijabistas, exploring stylish interpretations of the Muslim religious attire.
A Muslim fashion label, MOGA, last year created a rainbow headscarf to show their support for same-sex marriage, which fundamentalist Sunni and Shiite Muslims reject.
They made more of the colourful hijabs in February in the lead-up to Sydney's Gay and Lesbian Mardi Gras.
https://www.dailymail.co.uk/news/article-6250881/Burqa-wearing-Sydney-preacher-slams-designer-hijabs-sexualised-making-women-look-pretty.html
--------
Iran's Supreme Leader Ayatollah Ali Khamenei says hijab is the solution to end sexual violence
October 7, 2018
Iran's Supreme Leader Ayatollah Ali Khamenei says that he has found the answer to end sexual violence against women – the hijab.
In a speech published on the leader's official Twitter account, Mr Khamenei said that Islam could have prevented the string of sexual abuse cases in the US and other western countries that have inspired the global #Metoo campaign.
The leader used the #MeToo movement to voice what he described as the virtues of hijab against the "immodest" attire of women in Western societies.
The use of hijab for women became compulsory after the revolution in 1979 and the establishment of the Islamic Republic of Iran.
"By introducing hijab, Islam has shut the door on a path that would pull women towards such deviation," he said. "Islam does not allow this [sexual abuse or violence].
"You might have heard, a few months ago, that a large number of western, female, politicians announced one right after another they had been subjected to abuse, harassment or violence at times when they were working in government offices," he said against a backdrop of images including the Larry Nassar trial and the Hollywood film producer Harvey Weinstein.
The tweet sparked a flurry of criticism, as people took to Twitter to voice their anger against the Iranian leader's comments.
"Hijab is not Islam's proposal. That is a forced burden you put on women. To say the victims were abused because their head was not covered is shamefully disrespectful, just like your role as the self proclaimed 'leader' of Iran. Do not pass the blame to the victims!" said one Twitter user.
Hijab is not Islam's proposal. That is a forced burden you put on women. To say the victim's were abused because their head was not covered is shamefully disrespectful, just like your role as the self proclaimed "leader" of Iran. Do not pass the blame to the victims!
— Radin (@radinyad) October 4, 2018
Others mocked Mr Khamenei for his proposed solution to a problem that has no geographical, social or religious boundaries. "This is definitely the funniest Tweet today," said one man.
It did not end sexual violence. The latest publicised case was that of Zeinab Sekaanvand, a female victim of domestic and sexual violence who was convicted of killing her husband when she was a minor, according to Amnesty International. The 24-year-old was hanged in Urumieh central prison in West Azerbaijan province.
The video also comes after protests against the compulsory hijab by dozens of women.
"[Khamenei] is trying to take the moral high ground. But within Iran, the government and hardliners' views towards women has very much not been in the defense of women," Hadi Ghaemi, executive director of the Centre for Human Rights in Iran, told the Los Angeles Times. "He's been calling for policies that roll back the rights women have gained on their own. He is being opportunistic."
The disaster of countless sexual assaults on Western women—including incidents leading to #Metoo campaign— and Islam's proposal to resolve ithttps://t.co/ocpv1cUHPI pic.twitter.com/TV1TzFcra4
— Khamenei.ir (@khamenei_ir) October 3, 2018
https://www.thenational.ae/world/mena/iran-s-supreme-leader-ayatollah-ali-khamenei-says-hijab-is-the-solution-to-end-sexual-violence-1.778148
--------
After Malala and Bilquis, Salman Sufi to be presented with Mother Teresa Award in India
Haider Ali
OCTOBER 8, 2018
LAHORE: Chief Minister's Strategic Reform Unit former director general Salman Sufi has been nominated for the prestigious Mother Teresa Award 2018 in India, based on his extensive services for women empowerment and social uplift of marginalised masses in Pakistan.
This award will be conferred on him in Mumbai on October 21.
It is the only award in the name of Mother Teresa recognised by the Missionaries of Charity.
SRU former DG Salman Sufi joins Dalai Lama, Malala Yousafzai, Priyanka Chopra, Mahathir Muhammad, Bilquis Edhi, Neerja Bhanot and Abdullah Bin Zayed Bin Nahyan, who have previously received this award for their services to promote peace, harmony and social justice around the world.
According to details, this year's other nominees are Shirin Ebadi, Tawakkol Karman, Rula Ghani, Yeonmi Park, Oby Ezekwesili, Nadia Murad and Dr Nashwa al Ruwaini.
Salman Sufi is also the founder of South Asia's first survivor centric Anti Violence against Women Centre. The Mother Teresa Awards by Harmony Foundation honour those individuals and organisations that promote peace, equality and social justice and aim to encourage the cause of justice and peaceful coexistence, while providing an impetus for society to imbibe these values.
They are an initiative of Harmony Foundation, an organisation created by Abraham Mathai in Mumbai.
Sufi's reforms were widely supported by the previous government led by Pakistan Muslim League-Nawaz but have been placed on back burner by the new administration. He was asked to leave his post due to his close working coordination with former Punjab CM Shehbaz Sharif and his projects which gained worldwide recognition are facing trouble at home in Pakistan. Sufi said that he dedicates this award to all the women in Pakistan that face harassment and violence and hopes to continue providing justice to them. He credited the political support of Shehbaz Sharif that made his work possible in Punjab.
He initiated the movement for passage of Pakistan's first comprehensive women protection legislation which had its own implementation mechanism called VAWC, which is a one stop survivor centric model providing police, prosecution, medical, shelter and post trauma psychological rehabilitation under one roof to survivors of violence. The legislation was passed in 2016 and received fierce criticism from the religious right wing. Sufi was attacked and pressurised to withdraw the legislation but with the support of Sharif, the legislation survived. Sufi went on to establish the first VAWC in Multan in 2017 which just in a year resolved over 2,200 cases of violence against women and is a model that gained international recognition for its ability to provide victims of violence the immediate support and justice they need.
Sufi is also credited with adding chapters against violence against women in Punjab text books and starting Pakistan's first and highly successful women's mobility movement called Women on Wheels, under which Sufi trained over 4,000 women in a highly conservative society on how to ride motorbikes so they could be economically and socially independent. The former government of Sharif supported the movement and provided 3,000 pink subsidised motorbikes to women. Sufi went on to legislate Punjab Women Protection Authority, first of its kind authority in South Asia which was solely created to implement pro women laws and establish VAWC throughout Punjab.
Sufi said that he is concerned about the future of his landmark projects under the new administration as they have been facing difficulties and wants the new government to continue this work which is benefiting abused women of Punjab.
https://dailytimes.com.pk/307681/after-malala-and-bilquis-salman-sufi-to-be-presented-with-mother-teresa-award-in-india/
--------
87th Du-ba-Du program held: Zahid Ali Khan highlights how dowry hinders girls' marriages
Oct 08, 2018
Hyderabad: Mr. Zahid Ali Khan, Editor of Siasat Urdu Daily while addressing Du-ba-Du program told that by imitating the western culture, the Muslim community is facing serious problems. The only way to get out of this is that parents and guardians should make themselves obligatory to train their children according to Islamic principles.
We should thank Allah (SWT) that due to employment opportunities in the Middle East and the West, Muslims have become prosperous. The parents are spending their hard-earned income in trivial things.
Mr. Zahid Ali Khan was addressing the 87th Du-ba-Du program organized by Millat Fund of Siasat Urdu Daily at SA Imperial Garden, Tollichowki.
Continuing his address, Mr. Zahid Ali Khan told that education sector had become very expensive these days. For getting admission into medical college, the candidate has to shell down Rs. 1-2 crore but the fortunate thing is that due to the hard work of Muslim boys and girls, they are able to get seats allotted by the convener.
He lamented on the extravagant expenditure in marriages. He quoted a survey conducted by Siasat in 1980's in which it was found that more than 30000 girl remained unmarried since their parents could not fulfill the dowry demands of the grooms. He mentioned that in and around Tollichowki, there are many NRIs. If they come forward, many Muslim girls could get married.
Mr. Mohammed Moinuddin, President of Tolichowki Colonies Federation told that many parents are uneducated but their daughters are highly educated. They find it difficult to get qualified grooms. He applauded the efforts of Siasat and said that due to Du-ba-Du program, many marriage alliances are being settled.
The program began with the recitation of the Quran by Mr. Chand. Ms. Farheen Begum recited Nath-e-Shareef. Mr. Zahid Ali Khan and Mr. Zaheeruddin Ali Khan, Managing Editor of Siasat Urdu Daily met parents and guardians at various counters and offered suggestions. Many persons who attended the program, congratulated Siasat for telecasting the program.
The program started at 11 a.m. which continued till 3 p.m. The registration of 200 girls and 150 boys took place. Mr. Shahid Husain conducted the program and thanked the audience and guests.
https://www.siasat.com/news/87th-du-ba-du-program-held-zahid-ali-khan-highlights-how-dowry-hinders-girls-marriages-1417596/
--------
Ghaziabad: Minor girl's body found on mosque rooftop
October 7, 2018
Ghaziabad (Uttar Pradesh) [India], Oct 7 (ANI): The body of a seven-year-old Muslim girl was found on the rooftop of a mosque situated at Murad Nagar here on Sunday.
Prima facie investigation revealed that the girl was strangled to death, according to Ghaziabad's Senior Superintendent of Police (SSP).
The suspect, as alleged by the deceased girl's kin, also belongs to the Muslim community.
Superintendents of Police (SP), Circle Officer (CO) and Station Officer (SO) rushed to the spot to look into the murder. (ANI)
https://www.india.com/news/agencies/ghaziabad-minor-girls-body-found-on-mosque-rooftop-3368449/
--------
When an Alawite man and a Sunni woman put love to the test
YASMINE MEREI
8 October 2018
I was not aware of sectarianism in its theoretical sense when I moved from Qalaat al-Hosn to the mostly-Alawite Al-Zahraa neighbourhood in Homs City to begin my university education. I had never experienced love in its true meaning either. It was not until 2003 that I came across both feelings.
The situation appeared simple. On one side stood a Sunni girl (19) who was extremely polite, obviously raised the Syrian mothers' way we know so well. On the other, there was Ibrahim (23). He was a joyous, generous and surprising person.
I had never met anyone like him. Ibrahim had golden skin, green eyes and a smile I thought was the prettiest I had seen.
"I love you" is an expression many girls dreamt of and its impact on me was much greater than any evening prayer.
I decided to keep my Sunni belief and that declaration of love that my Alawi boyfriend repeated completely separate.
Ibrahim, for his part, also tried to overlook the strictness of his religious teachings and focused instead on the features of his Sunni girlfriend's face. He would systematically avoid any talk about religion when we met and would try to distract us both from thinking about the future.
A few months into the relationship, he took me to visit his parents in one of the villages of eastern Homs countryside. His father who was in his 70s and had lived in the shadow of sectarianism did not make an appearance. He could not stand to see me in his house. Still, he allowed the visit and left. The rest of the family—his seven brothers and their wives and children as well as his mother—gathered to witness the utmost audacity of the veiled Sunni girl who had come to meet them. This encounter went down in the annals of family history: a young Alawite man and his Sunni girlfriend.
We spent the next few months walking in Akrama in Homs discussing our future naively. How will an Alawite man and a Sunni woman continue down this path? Ibrahim would say he was ready to convert to Sunnism if he had to. I was convinced he would, based on my conviction that the right religious conversion is into Sunni Islam, whatever someone's initial religion may be!
I set plans for Ibrahim's conversion into Sunnism in motion by collecting prayers and supplications in an elegant notebook and repeating them daily. In my mind, Ibrahim's facial expressions were always constant. But, when I gave him the notebook as a present, our sectarian upbringing manifested itself for the first time. He asked me to take back my gift and never offer him something of that nature again. The notebook only contained daily prayers and glorifications, but it was the first trigger for an endless discussion about the identities of Mohammad and Ali, and the nature of their relationship, all based on what each had heard within their religious community.
I accepted the situation and thought only about love. To maintain our relationship, I had to manoeuvre on another front—that of my family, which was made up of conservative Sunnis (at least when it came to social norms). My mother was devastated by the shocking news that her daughter (a university student) had fallen in love and was "going astray."
My father's opinion was quite different. My love story did not unsettle him that much, but my boyfriend's sect did. I still remember his words, "An Alawite, you bitch?"
He said it with an anger and condemnation I had never seen in him before. I let my father down with this brazen openness to a sect we fear and whose authority we dread. We repeat stories of thuggery, theft and corruption about many of its followers. We know the limits to our citizenship alongside them, and we know that on a scale of importance, they always beat us.
We are part of a subdued Sunni community that feels national inferiority not only relative to Alawites, but also to all other sects, especially the wide Christian entourage in Wadi al-Nasara [Valley of the Christians, an area in western Syria that is part of Homs governorate, near Lebanon].
Until the age of 19, sectarianism took a more benign form in my mind. It was limited to noting the differences between us and our Christian neighbours in the western countryside of Homs. As a minority demographically, we always felt inferior to Christians (who were cleaner, smarter, more polite, richer and backed by the regime). Oh, how we felt we were treated unjustly! Many of us were convinced and insisted that the afterlife was ours and ours alone. Everybody else was astray.
I even remember the first time I entered Saint George Monastery [Deir Mar George] in the village of Al-Mishtaya during a field trip. I was eight years old at the time. My cousin approached the walls of the monastery and, together, we started reading the fatiha [the first chapter of the Quran] because we had heard so often that the stones of churches get nostalgic when hearing the Quran and the name of God!
The stories relating to Christianity and Christians did not end there. We were told that when the priest drew the cross sign on the foreheads of all teachers, they spent the next two days suffering from a strong headache. One notorious teacher got off the hook, however, as she refused to let the priest continue with this fake ritual.
Recalling such situations brings to mind the proverbs my grandmother and other women in the family would repeat. For example, "Let him be a muazzen [Muslim prayer caller] in Zgharta! [a Christian region in Lebanon]", in reference to a person who stands out in a uniform environment; or "Mobilize oh Aisha" when a woman generates sedition or is treacherous [Aisha was a wife of the Muslim Prophet Mohammad]. My half-Lebanese grandmother who lived in a Shiite neighbourhood in Lebanon would repeat this proverb, even though, had she thought about it from a Sunni perspective, she would not have said it.
I also remember my repeated visits to my sister who lived in the military homes of Tafas, in the southern province of Daraa. I recall seeing clear signs of that "hidden" sectarianism that spread fear in the Syrian public sphere. Privilege was determined by one's sectarian affiliation, and at the top of the pyramid were Alawites. Sunni and Ismaili women who were married to officers had more in common. They knew their value, and they acted accordingly. Even so, their relations with their Alawite neighbors represented a hard-earned privilege and went as high as the ranking of their husbands.
And I cannot forget one of my sister's neighbors who loved my sister to the extent of considering her house "the house of God. In other words, a place so pleasant she wanted to visit or "perform pilgrimage to daily". Still, she did not flinch when scolding her daughter in front of us and telling her "Damn that ominous face, just like Abu Bakr's!" [Abu Bakr was the first Muslim Caliph after the death of the Prophet Muhammad].
All this proves how deeply ingrained sectarianism is inside us. Even if we choose to ignore this reality by not talking about it or naming it, remembering our fellow Syrians proves how ingrained this feeling is and even opens the door to freeing ourselves from such slogans as "The Syrian People are One". Instead, we should opt for a more genuine and balanced approach to identity, beginning with acknowledging differences and their importance for our social composition. We should ultimately realize that, indeed, there is a Syrian-Syrian conflict stemming first and foremost from sectarianism, and it can only be resolved by accepting sectarian differences, socially at least.
https://www.opendemocracy.net/north-africa-west-asia/yasmine-merei/when-alawite-man-and-sunni-woman-put-love-to-test
--------
More data needed to spur child marriage reforms, says SIS
Ainaa Aiman
October 8, 2018
KUALA LUMPUR: Muslim women's rights group Sisters in Islam (SIS) has called for the collection of new data and evidence to spur effective reforms on the issue of child marriage.
The group's executive director Rozana Isa said the only data on marriages involving young girls was based on the census by the Department of Statistics, the next of which is due in 2020.
This data showed that there were 82,000 girls between the age of 15 and 19 married in 2010, compared to 53,000 in 2000.
In 2000, 6,800 girls below the age of 15 were married.
Rozana said new information would play a significant role in educating the public, including conservative groups who accept child marriage.
"If we don't look at the reality, we can only have discussions based on abstract or anecdotal evidence. Evidence-based research is very important," she told FMT after a panel discussion on SIS' campaign "Students Are Not Brides" or "Pelajar Bukan Pengantin".
The campaign was launched in July in an effort to bring about a ban on child marriages. It is supported by Deputy Women, Family and Community Development Minister Hannah Yeoh, Permatang Pauh MP Nurul Izzah Anwar and Klang MP Charles Santiago, among others.
Rozana said the elements that should be studied included whether children would continue attending school once they were married.
"There should be efforts to see how many married, school-going teens stay in school after getting married," she said, adding that many young wives or mothers ended up dropping out of school.
Other elements that should be studied include the rate at which young mothers bear children, their employment practices and family-planning decisions, she said.
https://www.freemalaysiatoday.com/category/nation/2018/10/08/more-data-needed-to-spur-child-marriage-reforms-says-sis/
--------
Women's university to allow male researchers into its library
October 08, 2018
RIYADH —2 Princess Noura University has announced that it will allow male researchers and visitors into the university's library on Saturdays.
The university's Dean of Library Affairs Hanan Al-Saqiyah said the university cares about serving every layer in society and its library "is a beacon of knowledge in various fields".
"The library will be open for male visitors on Saturdays from 10:00 a.m. to 04:00 p.m. The Kingdom's Vision 2030 aims to offer every layer of society accessibility to knowledge. The university supports national research and men and women alike to pursue higher education and to publish research papers to become important contributors to the academic sphere," said Al-Saqiyah.
She added the male visitors will have access to all of the library's services including borrowing books, photocopying, and access to its digital data, publications and halls.
http://saudigazette.com.sa/article/545044/SAUDI-ARABIA/Womens-university-to-allow-male-researchers-into-its-library
--------
Female student with exceptional design skills gets full scholarship
2018-10-07
JEDDAH — After Shahad Sari, who possessed gifted design skills, gave up hope on completing her undergraduate studies because her admission application was rejected by the only university that offers a fashion design program in her city due to limited seats, Dar Al-Hekma University has offered her full scholarship to study on its campus after seeing her creative designs on Twitter.
Sari's biggest surprise happened after her friend posted her designs on Twitter and posted a link to the designs on Dar Al-Hekma Twitter account.
Dar Al-Hekma responded and showcased her works to Dr. Suhair Al-Qurashi, the university's president, who liked the designs and even recommended that the student get full scholarship.
Al-Qurashi said the university attaches great significance to fostering talented young women, encouraging them to hone their skills and creating conducive environment to nurture their talents.
"Shahad is definitely a gifted student. I saw some of her works and was impressed. We, at Dar Al-Hekma, strive constantly to attract talented young women and give them creative opportunities and prepare them to be future leaders and entrepreneurs. Our aim is to build their capacities so that they can play efficient roles in social and economic development and serve the country in line with Vision 2030," she said.
In recognition of her fashion design talent, the university has granted her the Talented Students Scholarship. The conditions of the scholarship require a candidate to have at least 85 percent marks in the qualifying exam and be talented in her field of study. Sari met all these conditions.
Thanking Dar Al-Hekma for this scholarship and Dr. Al-Qurashi, Sari said, "Dar Al-Hekma is a prestigious educational institution with an innovative vision aiming to build Saudi leaders, hone their skills and graduate students who are capable of making a positive social and economic change." — SG
http://saudigazette.com.sa/article/545046/SAUDI-ARABIA/Female-student-with-exceptional-design-skills-gets-full-scholarship
--------
Two Emirati women among homeland security graduates
October 7, 2018
Abu Dhabi: The first batch of 133 students have graduated from Rabdan Academy of Abu Dhabi to take up jobs in policing, intelligence, criminal investigations, natural and man-made disasters and homeland security sectors.
The students received their certificates at a graduation ceremony at Emirates Palace hotel on Sunday. Shaikh Mansour Bin Zayed Al Nahyan, Deputy Prime Minister and Minister of Presidential Affairs, presented the certificates to the graduates.
Students at the academy are trained and prepared in different programmes that include safety, security, defence, emergency preparedness and crisis management sectors.
More than 500 fulltime students currently study at the academy. The academy aims to build a generation of UAE nationals who can execute any challenging assignment pertaining to homeland security.
Speaking to Gulf News on the sidelines of the ceremony, James Anthony Morse, president of Rabdan Academy, said: "The idea is to prepare young people of the country for the challenges of the future. Not just training them for today, but for the coming four to five years when they have to take charge in intelligence, police and security sectors of the country. So educating young generation is key."
He added: "Our programmes cover policing, security, emergency management, business continuity, a new programme - homeland security - and the master's-degree-level programmes in intelligence analysis."
The batch includes the first two Emirati female graduates to receive the certificate from the academy in crime scene investigations.
Sana Abdullah Salem, 33, who completed a two-year diploma in crime scene, said: "I am the first local [Emirati] woman who completed this course from the academy and I feel very honoured. We were taught how to collect, protect and investigate the criminal evidences, which include pictures and fingerprints. For that we have to carry out investigations in the field," Salem said.
Another Emirati woman, Aysha Al Baloushi, who also did her diploma in crime scene, said: "Completing this course with excellence is an honour for me. We are trained in-house and in the field."
The programmes, in which the students graduated on Sunday, include integrated emergency management (how to work in case of natural and man-made disasters), business continuity management, and comprehensive police station management.
"We have a new master's programme in intelligence analysis and at the bachelor level, homeland security. We are really looking across homeland security issues, which require the government and the private sectors to work together to keep the nation secure," Morse said.
A graduate in the integrated emergency management, Mohammad Al Mazrouei, 28, said: "My course is about natural and made-made disasters like hurricanes, tsunamis, earthquakes, and [man-made disasters] terrorism, war and human failures. We are trained about promptly and effectively responding to any disasters whether it's natural or made-made."
Al Mazrouei aims to continue his masters in the same field at the academy.
Rabdan Academy
It is a government-owned educational institution established to coordinate and enhance learning outcomes for organisations and individuals in the safety, security, defence, emergency preparedness and crisis management sectors. The academy was officially established under Law No. 7 for 2013, issued by President His Highness Shaikh Khalifa Bin Zayed Al Nahyan in his capacity as Ruler of Abu Dhabi. It is accredited by the UAE's Commission for Academic Accreditation (CAA) of the Ministry of Higher Education and Scientific Research.
https://gulfnews.com/news/uae/education/two-emirati-women-among-homeland-security-graduates-1.2287322
--------
The real boss women taking over Pakistan's e-commerce
By Kashif Hussain
October 8, 2018
KARACHI: Half of Pakistan's potential is in its women. Harnessing this potential is essential for economic growth and social prosperity. While women have traditionally contributed to the economy, especially in the agriculture sector, they are often restricted from entering into other fields due to cultural and social taboos. With the innovative use of technology, however, many skilled women are now discovering their full potential.
The internet has allowed women to earn a livelihood from the comfort of their homes. One such platform that facilitates these activities is Sheops.
Sheops is a women-only marketplace that allows women to buy and sell products without the fear of harassment. It began as a Facebook community and proved to be such a hit that the business set up its own website. Here, women can now open shops to sell food, fashion, beauty, lifestyle, jewellery, cosmetics, clothes and handicraft items. When they receive orders, they have to simply prepare them and a courier service representative collects the order from their house and delivers it to the customer. After the order is delivered, the amount is transferred into the bank accounts. More than 100 women started their business from scratch and are now smoothly running their businesses and supporting their families.
It is important to note that to use this website, women must have their own Facebook profiles. Sheops Facebook page has more than 103,000 members from all over the world, including Britain, Canada, Gulf States and UAE, and while their site handles most of the business, the page is still used by many. Also, the online community ensures that only women operate in the community.
Balochistan's karhai
Another noteworthy initiative that has helped to empower women is Doch, a company run by Deedar Mengal. It is an online company from Balochistan that sells handcrafted products.
Doch sells bags, shirts, waistcoats, jewellery and other items prepared by women that promote Baloch culture within Pakistan and helps Baloch women make a living.
According to Mengal, Balochistan's karhai[embroidery] and small mirror work is well known across the world. Doch has embedded the embroidery in fashion, selling these handmade products online to rich buyers who are willing to pay the price. Doch also organises workshops and training camps to promote the Balochi embroidery. Cities like Mastoong, Qallat, Khuzdar and Dera Bugti are famous for the embroidery. These products are sold in Karachi, Lahore and Islamabad.
The company was founded in 2006 and now has over 3,000 regular customers. Around 120 Balochis are involved in preparing these products. They earn up to Rs15,000 on a monthly basis. CarAndaaz has donated a grant of Rs10,000,000 which they used to buy machinery and other goods to expand their business.
Improving living standards
Another initiative that aims to improve the living standards of households is Fine Traders. The founder, Shabana Jamshed, saw her father struggle to raise his eight girls and saw the people around her struggle to buy even the most basic items. She was adamant to find a solution.
Jamshed tried raising the amount for her business through small committees and gathered items to sell. Just a year ago, she started selling dinner sets, fans, water coolers, bed sheets, quilts and other items via a Qingqi rickshaw in the poverty-stricken neighbourhoods of Lahore. These items are usually worth up to Rs7,000 to Rs8,000 so that they can be easily paid off in six months' time. Also, keeping in mind the income of her customers, instalments are collected on daily or weekly basis. Jamshed charges a mark-up to keep her business running. So far, 99% of her customers have paid on time.
Jamshed started her business from Rs500,000 and has now sold items worth Rs1,000,000. Her business has become structured and now serves over 2,300 customers. Her successful business model attracted the attention of an American company, Storm Harbour, that offered to invest, but the deal did not work out. However, negotiations with local investors are still ongoing under the umbrella of another entrepreneurship-encouraging organisation called CarAndaaz. If successful, services will be made available in nearby areas of Lahore and other smaller cities across Punjab.
https://tribune.com.pk/story/1820550/1-real-boss-women-taking-pakistans-e-commerce/
--------
Peshawar women chamber planning to motivate female entrepreneurs
October 8, 2018
PESHAWAR: The newly elected President of Women Chamber of Commerce and Industry (WCCI) Azra Jamshed said she was aiming to provide exposure to women entrepreneurs.
Talking to The News, Azra Jamshed said she wanted to encourage skilled women to market their products and generate income. She said the WCCI would help women to increase their income by improving their skills. Azra Jamshed urged the women artisans to come forward and avail the opportunities being offered by the government.
"The objective of the WCCI is to connect, support and empower women to bring prosperity," she added. Azra Jamshed pointed out that the State Bank of Pakistan, First Women Bank and other institutions supported women entrepreneurs to start their businesses. She added that recently WCCI and Tourism Corporation Khyber Pakhtunkhwa jointly arranged market linkage convention in Gilgit-Baltistan.
"The event aimed at exploring the beauty of the country and encouraging women entrepreneurs belonging to various areas of Khyber Pakhtunkhwa," she added. Azra Jamshed said they would welcome the tribal elders and seek their support and cooperation to encourage women from the erstwhile tribal areas to set up their businesses.
However, she noted that the recent one percent increase in interest rate by State Bank of Pakistan affected the business community and increased inflation. She asked the government to adopt business-friendly policy for the small entrepreneurs.
Azra Jamshed informed that WCCI had trained many womenin cooking, baking, sewing and online businesses and was now planning to start driving classes for females.
WCCI Founder Fitrat Ilyas Bilour said the Women Chamber of Commerce and Industry was established in 2010 to safeguard the interests of women entrepreneurs in the province. She added that currently WCCI had 400 members.
Fitrat Bilour said that for potential women entrepreneurs, the chamber aimed to provide one-window facility. "For established businesswomen, the chamber would provide a forum for debate and discussion and opportunity to interact with local and international counterparts," she added.
She said although women were very enthusiastic about every sector of life, they cannot move without the support of male family members. She said WCCI had made a plan to encourage tribal women and support them to utilise their abilities.
Fitrat Bilour said tribal women were talented but they were restricted to their houses and had no platform to utilise their abilities. She claimed there was no concept in tribal region to make national identity cards for women.
"The WCCI members have decided that they would convince the tribal elders to allow the women to have identity cards," she added. She mentioned that there were 12 women chamber all over the country and all were linked with each other.
https://www.thenews.com.pk/print/377994-peshawar-women-chamber-planning-to-motivate-female-entrepreneurs
--------
Female Teachers' protest gatherings in various cities of Iran
07 October 2018
On Friday, October 5, 2018, female teachers participated in protest gatherings in Tehran, Kazerun and Alborz Province on the occasion of the International Teachers Day. The role of female teachers in these gatherings was prominent.
In Tehran, teachers and educators gathered in Goftegoo Park on Gisha Ave. where teachers held up posters of imprisoned teachers Esmail Abdi, Mohammad Habibi, and Mahmoud Beheshti Langroodi, demanding their immediate release.
Mrs. Khadijeh Pak Zamir, the wife of imprisoned teacher Mohammad Habibi, told the gathering, "I hope that all teachers, freedom-lovers and justice-seekers will soon be released from prison."
Mohammad Habibi is a teacher and a human rights activist who is currently imprisoned in the Greater Tehran's Central Penitentiary.
The International Teacher's Day ceremony in Alborz Province was held with the participation of male and female teachers along with the family of Esmail Abdi, an imprisoned teacher and leader of the Iranian Teachers' Trade Association (ITTA).
In Kazerun, a group of teachers and educators gathered outside the Department of Education in this city. Female teachers were active in this protest.
On Saturday, October 6, and Sunday, October 7, 2018, a group of employees of the Edalat Stocks Cooperative gathered in front of the building of the Ministry of Economy and Finance in Tehran and held a protest rally against the uncertainty about their job status and wage arrears. In this gathering, the active presence of women was impressive.
At the same time, a group of male and female students of the Farhangian-e Kowsar University in Yasuj held a protest rally opposite the Yasuj Governorate, in protest to the deplorable sanitary conditions of the dormitories.
In another protest gathering on Friday evening, October 5, 2018, a crowd of women and youth in Kermanshah, who witnessed the arrest of a young person and the acts of violence by law enforcement officers, chanted out their protest with slogans of "Shame, Shame!" and forced the police to flee the scene.
Iranian women have actively participated in more than 430 protests between March and September 2018.
https://women.ncr-iran.org/iran-women-news/5510-female-teachers-protest-gatherings-various-cities-iran
--------
Nadia Murad and Denis Mukwege won the 2018 Nobel Peace Prize
07 October 2018
Nadia Murad, a young Yazidi woman from Iraq, and Denis Mukwege, a physician from the Democratic Republic of Congo, won the 2018 Nobel Peace Prize.
The two winners have been recognized for their efforts to end the use of sexual violence as a weapon of war and armed conflict.
The head of the Nobel Committee said the two played a crucial role in the fight against such crimes.
Nadia Murad, 25, a young Yazidi woman who managed to escape the Islamic State (ISIS), is now working to end human trafficking and sexual violence.
Nadia Murad along with thousands of other Yazidi women were kidnapped and used for sex slavery by ISIS in 2014. Her six brothers and mother were murdered.
Nadia eventually became the face for telling the story of Yazidi women. Her being awarded the Nobel Prize can once again bring back attention to the Yazidi community, which, like many elsewhere in the areas released from ISIS, is struggling with the bitter aftermath of the war and the presence of that group.
The day after she fled from Mosul, Nadia Murad went to her brother's house in a village near the Duhok of Iraqi Kurdistan. Until that day, no one had not heard of the story of the Yazidi women who had fallen into the hands of ISIS. But Nadia did interviews and told her story publicly, saying she wants everyone to know what happened to them and that her story to reach every woman.
Denis Mukwege, a gynecologist and surgeon from the Democratic Republic of Congo, specializes in the treatment of victims who have been raped by rebel forces. He has treated close to 300 thousand victims of rape and sexual violence.
The 63-year-old physician has won a number of international awards, including the UN Human Rights Prize in 2008. He was also named African of the Year in 2009. According to The Globe and Mail, Mukwege is likely the world's leading expert on repairing injuries of rape.
https://women.ncr-iran.org/iran-women-news/5509-nadia-murad-and-denis-mukwege-won-the-2018-nobel-peace-prize
--------
URL: https://www.newageislam.com/islam-women-feminism/female-islamic-preacher-slams-muslim/d/116582
New Age Islam, Islam Online, Islamic Website, African Muslim News, Arab World News, South Asia News, Indian Muslim News, World Muslim News, Women in Islam, Islamic Feminism, Arab Women, Women In Arab, Islamophobia in America, Muslim Women in West, Islam Women and Feminism