New Age Islam News Bureau
7 Aug 2016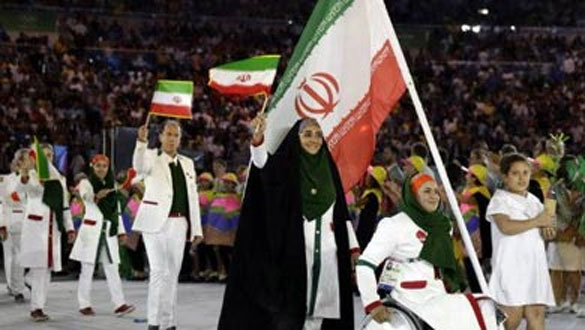 Photo: Team Iran arrives during the opening ceremony for the 2016 Summer Olympics in Rio de Janeiro, Brazil, Friday, Aug. 5, 2016. (AP)
-------
• 23-Year-Old Pregnant Woman Burnt Alive In Pakistan
• Rio Olympics: Syrian Refugee Mardini A Winner in the Water
• Muslim Woman Fired From Work for Wearing Hijab in US
• Muslim American Women Kicked Off American Airlines Flight
• Muslim Fencer Ibtihaj Muhammad Set To Make U.S. Olympic History in Rio
• Protecting Women from Crimes of 'Honour'
Compiled by New Age Islam News Bureau
URL: https://newageislam.com/islam,-women-and-feminism/new-age-islam-news-bureau/female-flag-bearer-an-olympic-breakthrough-for-iran/d/108204
-----
Female flagbearer an Olympic breakthrough for Iran
THE ASSOCIATED PRESS
Published August 6, 2016 - 11:22am
Last Updated August 6, 2016 - 11:28am
RIO DE JANEIRO — When archer Zahra Nemati carried the Iranian flag into the Maracana Stadium on Friday, she broke new ground for the Islamic country.
Never before had a woman led Iran's team into the parade of athletes in an Olympic opening ceremony.
In Iran, where strict interpretations of Islamic norms are enforced, female fans are traditionally barred from attending male-only sporting events.
Arriving in the stadium in a wheelchair, wearing a green head covering, Nemati was the flagbearer for a team made up overwhelmingly of men.
It's quite a way for the 31-year-old Nemati to make her mark on her first Olympics.
She had hoped to represent Iran at the Olympics much earlier in life, and in taekwondo rather than archery.
A car accident as a teenager set the former black belt on a new sporting path after leaving her paralyzed.
She picked up archery a few years later simply because, "I wanted to do some sport."
Unlike most athletes, Nemati won't just be spending part of August in Rio de Janeiro. She'll be pulling double duty and will be back next month for the Paralympics, where she's the defending gold medallist in the individual recurve W1/W2.
Nemati started her ambitious journey to a first Olympic medal ahead of Friday's opening ceremony during archery's qualifying round at the Sambadrome. She shot 72 arrows and accumulated a score of 609, good for 49th position. The results from the qualifying round are used determine the seedings for the bracketed tournament next week.
"I want to make my goal and get the best result: to make my family and the people around me happy and let them know I'm OK and I'm strong," she said.
There's no questioning her talent in archery. Over the last few years, Nemati has turned in a few top-10 finishes at World Cup events. Just last year she was ninth at a tournament in Poland.
At the 2012 London Paralympics, she captured gold to become the first woman from Iran to do so, according to the Rio Olympics website.
Nemati earned her spot at both the Olympics and Paralympics with a strong performance at the 2015 Asian Championships and Asian Para Championships.
"I had a dream to be in the Olympics as I was doing taekwondo before my accident,'' she said. ``Now, this dream came true through archery."
Nemati is hoping others in a similar situation will follow her path and has been named a United Nations ambassador for her role in empowering women through sport.
"For me, it means a lot to make the people who have big problems in their lives happy," Nemati said.
thechronicleherald.ca/rio2016/1385888-female-flagbearer-an-olympic-breakthrough-for-iran
-----
23-Year-Old Pregnant Woman Burnt Alive In Pakistan
PTI | Aug 7, 2016
LAHORE: In a horrific incident, a 23-year-old pregnant woman was burnt alive by her former fiance in this Pakistan city after she married his younger brother.
Sidra was previously engaged to Waris Ali, but when he left for Saudi Arabia last year for work, her family married her off to his younger brother Waqas, police said.
"Waris worked in Saudi Arabia and learnt about the marriage only when he returned. The suspect had developed a grudge against his former fiancee for marrying his younger brother," senior police officer Muhammad Naveed said.
He said that the accused had business dispute with his younger brother.
On Saturday, Sidra was sleeping in her room while the other family members were away. Ali came there with a container of petrol and set her on fire. He locked the room and fled.
Police said neighbours alerted firefighters who reached the spot and put off the fire and recovered her charred body.
Sidra's family told police that she had been pregnant for few months.
A murder case has been registered against Ali and his other family members on the complaint of Sidra's father.
Police are conducting raids to arrest the suspect.
Some family members of Ali have also been taken into custody for interrogation.
timesofindia.indiatimes.com/world/pakistan/23-year-old-Pregnant-woman-burnt-alive-in-Pakistan/articleshow/53585585.cms
----
Rio Olympics: Syrian refugee Mardini a winner in the water
Reuters | Aug 7, 2016
RIO DE JANEIRO: It was what Yusra Mardini left unsaid, rather than the conventional words of excitement, that made the bigger impression after the teenager's debut in the Olympic pool on Saturday.
"I was only thinking about water and the last competitions and where I am now," the Syrian, swimming for a refugee team at Rio Olympics+ , told reporters when asked what went through her mind ahead of her 100 metre butterfly heat.
The first of the refugees in action, she had looked down briefly before stepping on the platform.
"I left swimming for two years so now we are working to get back to my level," said the 18-year-old, who won her heat of five swimmers but finished 41st overall, when asked how her time compared to previous ones.
There was no need to explain the two-year break in her career, or indeed what kind of water might have been on her mind.
Rio is a life away from where she started.
To get to the point where she could discuss simple strokes and times involved fleeing Syria, making a treacherous sea crossing from Turkey to Greece and arriving in Berlin with her sister last year.
She swam part of that crossing over to the island of Lesbos, helping other refugees who were in the water and were unable to swim.
"It was quite hard to think that you are a swimmer and you might end up dying in the water," she said later.
A competitive swimmer in Syria, she is now part of a refugee team backed by the International Olympic Committee (IOC). She has met the Pope and been feted in Rio.
"It was really cool and everything was amazing and everyone welcomed us," she said of the opening ceremony, speaking as reporters crowded around.
"It was really amazing and an incredible feeling to compete here in the Olympics and I am happy and glad for that...I'm really happy to be here and to see all of the champions and other swimmers here."
She shrugged off a suggestion that all the attention around her might have prevented her from just enjoying the experience of the Games.
"This is not difficult because all of those people want to show everyone what I'm doing...and that we didn't stop our refugee trip and it continues," she said. And then it was back to sport again.
"I'm really excited for the 100 freestyle and I hope I'm going to swim better."
timesofindia.indiatimes.com/sports/rio-2016-olympics/news/aquatics/Rio-Olympics-Syrian-refugee-Mardini-a-winner-in-the-water/articleshow/53583847.cms
-----
Muslim woman fired from work for wearing hijab in US
PTI | Aug 7, 2016
WASHINGTON: In a case of alleged discrimination in the US, a young Muslim woman was fired from her job at a dental clinic for wearing a hijab as her employer wanted to keep a "neutral environment" in office.
Najaf Khan, who was hired as a dental assistant at Fair Oaks Dental Care in Fairfax County, Virginia, said she was fired from the new job because she wore a Muslim head scarf to work.
"I was really upset. The day that it happened, I was devastated," Najaf told NBC Washington.
She did not wear the hijab for her interview or on the first two days of employment. On the third day, she chose to wear it because Najaf felt that she would stay at the job and wearing it was part of her spiritual journey.
At work that day, she said the owner of Fair Oaks Dental Care, Dr Chuck Joo, told her to take off the hijab.
Joo told her that they wanted to keep a "neutral environment" in office. The employer asked her to remove it because the Islamic head scarf would offend patients and he wanted to keep religion out of the office.
Khan said Joo gave her an ultimatum, she could continue wearing the scarf and be fired or work without it.
"When I said that I would not compromise my religion for that, he held the door open for me and I walked out," Khan said.
Joo was quoted as saying that open displays of religion are not allowed at his business because he wants to keep it neutral. If his employees want to wear a hat, it must be a surgical hat for sanitary reasons, Joo said.
Reacting to the case, the Council on American Islamic Relations (CAIR) said, "No employee should face termination because of his or her faith or religious practices. We call on Fair Oaks Dental Care to reinstate the Muslim employee and to offer her reasonable religious accommodation as mandated by law."
Najaf said she would likely refuse an offer to return to the dental office.
"I was astonished because he (boss) had been saying I had been doing so well. I received an email Friday morning (July 29) saying how much positive enthusiasm I was bringing into the dental office," she told Fox News.
timesofindia.indiatimes.com/world/us/Muslim-woman-fired-from-work-for-wearing-hijab-in-US/articleshow/53584520.cms
-----
Muslim American Women Kicked Off American Airlines Flight
August 6, 2016, by WGN Web Desk, MIAMI — A Muslim American woman says she and her friend were ordered off an American Airlines plane after one of them complained about the lack of service on a delayed flight.
Voice of America journalist Niala Khalil posted on her Facebook page earlier this week that she and the woman with whom she was traveling were ordered off the plane in Miami following a bizarre incident involving multiple flight attendants. Khalil added they were met by armed air marshals and police officers once off the plane.
Khalil said she and the other woman, whom she does not identify, were stuck on the tarmac for five hours when a "white male passenger" struck up a conversation with her friend about the lack of food and water.
"Suddenly, a male flight attendant walking by singled out my friend and stated, 'If you have a problem, you can get off the plane.'" Khalil wrote. "My friend replied, 'I have no problem–I am simply stating facts. We were given one glass of water in 5 hours.' The attendant responded by once again threatening my friend, 'Well, I can have you removed for instigating other passengers.'"
The flight attendant was not wearing a name badge and did not identify himself, according to Khalil. She said a female flight attendant asked her who the male attendant was. Khalil's friend then took a picture of the man in hopes another crew member could identify him. But a third flight attendant told them that taking the picture was a "federal offense," Khalil said.
"Yup, the only two apparent Muslim girls on the plane got kicked off," Kahlil wrote. "Not sure if it was my friend's statement "evil-eye" bracelet, the fact that I was watching a Pakistani drama on my iPhone, or our obvious Muslim last names that made him uncomfortable, but here's the kicker, we both work for the United States Federal government."
About 10 minutes later Khalil and her companion were ordered off the plane because the male flight attendant felt "threatened."
"Waiting for us at the ramp were several armed Air Marshalls [sic] and Miami-Dade police officers," Kahlil wrote. "When asked why we were being removed, we were informed that it was because 'Rog' felt threatened by us. However, the white male passenger my friend was speaking to was ironically not removed from the plane with us."
A spokeswoman for American Airlines told the New York Times the women were removed for "noncompliance." She also denied that religion factored into the airline's decision.
"It got a little heated," said spokeswoman Aran Coello. "Passengers were getting restless, and they started taking it out on the flight attendants."
Added Coello, "Religion never, ever came up getting them off the plane."
Khalil wrote that the police officers later took a lighthearted picture with the two women. A photo posted to Facebook shows two men in uniform outside Khalil and another woman. Only Khalil's face is visible.
Khalil's account has been shared hundreds of times on Facebook. It also sparked a social media hashtag: #FlyingWhileMuslim.
wgntv.com/2016/08/06/muslim-american-women-kicked-off-american-airlines-flight/
-----
Muslim fencer Ibtihaj Muhammad set to make U.S. Olympic history in Rio
Posted 12:26 pm, August 6, 2016, by Nikki Ferlaino and CNN Wire, Updated at 12:30pm, August 6, 2016
Ibtihaj Muhammad's parents wanted their daughter to participate in sports, but it was a challenge.
They wanted to find something that wouldn't hinder her from participating because of her Islamic faith.
Muhammad wears a hijab, a veil or headscarf worn by some Muslim women to cover the hair and neck. What sport could she do while still fully covered and without having to alter the uniform?
One day, Muhammad's mom found an answer.
"My mom just so happened to discover fencing," Muhammad told CNN. "She was driving past a local high school and saw kids with what she thought was like a helmet and like long pants and long jacket. She was like, 'I don't know what it is, but I want you to try it.'"
Muhammad started épée fencing the following fall, when she was 13. She switched to sabre fencing at age 16. Fast forward to now, and the 30-year-old from Maplewood, New Jersey, will represent Team USA in sabre in the Rio Olympics. She clinched a spot on the U.S. team when she won bronze at the Fencing World Cup in Athens, Greece, earlier this year.
With that comes history: She's the first woman on Team USA to compete while wearing a hijab. That's also motivation.
"When I heard that there had never been a Muslim woman on the U.S. team to wear the hijab, that is when I made this conscious decision to go for 2016," Muhammad told CNNMoney. "I knew that I had it in me to qualify for the Olympic team, and I wanted to hopefully be that change, that other minorities could see that with hard work and perseverance, anything is possible."
Muhammad says she is comfortable in her own skin, but it's not always easy being different. However, in a fencing uniform, where an athlete is covered from head to toe, there's no sign of race or religion.
"I saw that my skin color, my religion, made other people uncomfortable," Muhammad said. "I always looked different from my teammates and had a really hard time with that. Once I discovered fencing and I looked like my teammates, I really was afforded the opportunity to not just look like my teammates but also have that sense of camaraderie and uniformity that a uniform allows."
Muhammad was ranked as high as No. 7 in the world during the 2015-2016 season. She has won individual and team medals on the World Cup circuit, including team bronze at the Senior World Championships in 2015 and team gold in 2014. She also was a three-time NCAA All-American when she competed at Duke.
A torn ligament in her hand kept Muhammad from trying to qualify for the 2012 Olympic Games in London.
"It means a lot to me to be able to represent the United States and be an ambassador not just to the sport but also to our country and show the diversity," Muhammad said. "One of the special things that I hold near and dear to my heart at being an American is how diverse our community and our society is."
Muhammad, who graduated with a dual major in international relations and African studies and a minor in Arabic, has embraced her role as an ambassador. She serves in the U.S. Department of State's Empowering Women and Girls Through Sport Initiative and has had speaking engagements on sports and education. She also won't shy away from race, politics and religion.
Through it all, her message is clear: Believe you can do anything.
"I remember as a kid, people telling me as a kid that black people didn't fence," Muhammad said. "I remember people telling me that Muslims didn't fence. Without that belief and that drive in having strong athletes like Muhammad Ali or like Serena (Williams) and Venus (Williams), without having strong people to look up to when I was a kid and to really face adversity head on, I wouldn't be where I am today, so I'm really appreciative of that."
kfor.com/2016/08/06/muslim-fencer-ibtihaj-muhammad-set-to-make-u-s-olympic-history-in-rio/
-----
Protecing women from crimes of 'honour'
Home / Today's Paper / Opinion / Protecing women from crimes of 'honour'
By Asad Jamal
August 07, 2016
The recent high-profile murder of Qandeel Baloch, allegedly killed by her brothers to vindicate their 'ghairat' or 'honour', has led to the approval of a government-sponsored bill. The proposed draft bill aims at dealing with crimes of 'honour'. This draft is different from an earlier bill which was introduced by former PPP Senator Sughra Imam and passed by the Senate of Pakistan in March 2015. Both suffer from inadequacies.
A similar effort was initiated in 2004 by the then opposition led by the PPP. The initiative led to the passing of the Criminal Law Amendment 2005 (Act no 1). The 2005 Amendment Act was said to be a watered down version of the bill introduced by the opposition. In similar fashion, the current government sponsored bill weakens in some critical respects the Senator Sughra Imam bill, while offering slight improvement in other respects.
The main criticism of the 2005 Amendment Act was that it left the possibility of waiver and compounding of the offence of crimes of 'honour' (compromise between the private parties) open to the extent that it could be read to give the court the discretion to accept or reject such a compromise and acquit the offender. This was either due to ambiguity in how it was drafted, especially the amendment to section 311 when read with section 338 E of the Pakistan Penal Code (PPC), or otherwise where it clearly left the crimes of honour including murder in the name of 'honour' compoundable under section 345 read with the second schedule of the Code of Criminal Procedure (CrPC).
In both conditions, private parties – legal heirs of the victim in case of murder or the victim herself in case of attempted murder or hurt – could reach an out of court settlement/compromise. However, it could be argued that in the case where section 311 of the PPC (post-2005 amendment) became applicable 'honour' killing must be awarded a minimum sentence of ten years of imprisonment. This has happened in some cases decided by superior courts.
Another criticism of the 2005 Amendment Act included, but was not limited to, that the 2005 Amendment Act did not offer a clearer and broader definition of crimes of 'honour' and that the definition of 'fasad-fil-arz' included the offence of murder in the name of 'honour' only.
The Sughra Imam bill focused on removing the possibility of compromise between private parties and turning the crime of 'honour' killing, and not all crimes of honour, a crime in which the state would not allow compromise of any kind – neither secular nor Islamic. The bill did not touch the questions of broadening the scope of fasad-fil-arz to all crimes of honour; and the definition of the offence committed in the name of 'honour' (section 299 PPC) was left untouched.
The current amended form of the bill sponsored by the government does two or three important things.
It defines fasad-fil-arz to include all crimes of 'honour' but it does so without providing a clearer and broader definition compared to the circular definition of the crime committed in the name of 'honour' as is currently provided in the penal code.
Further, it changes section 311 of the PPC which prescribes consequences when parties reach a compromise in cases where qisas becomes applicable, to the effect that it raises the punishment for 'honour' killing from minimum imprisonment of ten years to imprisonment for life as taazir (secular punishment). And while it seems to make the enhanced punishment mandatory when this amendment is read with proposed changes to sections 345 of the CrPC, a related amendment to column 6 of the second schedule for section 311 of the PPC is not proposed. This is ambiguous and may lead to conflicting decisions by the courts.
The punishment of imprisonment for murder in the name of 'honour' is raised to imprisonment for life in all circumstances. The death penalty remains a possibility, though. However, it is questionable whether prescribing imprisonment for life as the only option in the category of imprisonment (for murder in the name of 'honour') without an alternate lesser imprisonment for cases where there may be compelling mitigating circumstances, including non-availability of direct evidence, is the right approach.
The bill keeps other forms of crimes of 'honour' such as all hurts and attempted 'honour' killing compoundable. This is a dimension which seems to have escaped serious consideration.
There is another issue that is very likely to crop up at some point. In the current framework for proof of crimes committed in the name of 'honour' the motive of 'honour' must be proved; this is an extraordinary condition as proof of motive is not necessary in ordinary cases. Proving motive is not easy in all cases. Proof of the commission of an offence, murder or others, and the intention, per se, to do so is considered to be enough.
In 'honour' related crimes intention would be proved through the proof that the offence is committed in the name of 'honour'. In complex cases, where the reason/motive is not easy to establish, the offenders may raise a motive different from 'honour'. This problem will persist unless the provisions relating to qisas and diyat are completely eliminated and the state restores to itself the space ceded on the pretext of Islamisation of criminal law.
The issue of amending the law to provide protection to women from crimes of honour is a complex one. It may not be done in one stroke, and it may require many minds to wriggle out of the complexity. Some of the recommendations which may be made in light of the foregoing analysis may include.
If the current broader framework of qisas and diyat must stay for the time being, any proposal to amend the law must provide a clearer and broader definition of 'honour' crimes to include a range of offences against women. The definition may be phrased in such a way that it is considered by courts to be inclusive rather than exhaustive.
Ideally, all offences against women – especially all bodily hurts, attempted murder, and murders by close relatives – should not be allowed to be 'waived' and/or 'compounded' by close relatives/survivors. The Islamic concept of fasad-fil-arz may be applied to all such crimes which give courts the power to disregard waiver and compounding on behalf of close relatives or the victim herself.
Further, compounding of offences punishable under taazir (secular punishment) should not be an option and no discretion should be vested with the courts in this respect.
The state must prosecute all such crimes, and such prosecution must necessarily result in conviction and sentencing instead of compromise between private parties.
The framework of punishments needs to be such that in the absence of compelling evidence where maximum punishment cannot be awarded, courts have the discretion to award lesser punishments. But such discretion should be narrowly and strictly prescribed so that it may not be used to the disadvantage of the victims – who are mostly women.
The current bill is being kept under wraps by the government for fear of backlash from retrogressive elements within and outside the ruling party, including the Council of Islamic Ideology. But if the government is serious about liberating the women of this country from the fear that afflicts their lives, it must allow a fearless debate to take place. Appropriate changes in the legislative framework to provide protection to the women of Pakistan will be just one of the many small steps that need to be taken.
The writer is a lawyer. He claims to have no final word on the issue of crimes of 'honour'.
thenews.com.pk/print/140704-Protecing-women-from-crimes-of-honour
URL: https://newageislam.com/islam,-women-and-feminism/new-age-islam-news-bureau/female-flag-bearer-an-olympic-breakthrough-for-iran/d/108204
New Age Islam, Islam Online, Islamic Website, African Muslim News, Arab World News, South Asia News, Indian Muslim News, World Muslim News, Womens in Islam, Islamic Feminism, Arab Women, Womens In Arab, Islamphobia in America, Muslim Women in West, Islam Women and Feminism