New Age Islam News Bureau
2 Sept 2014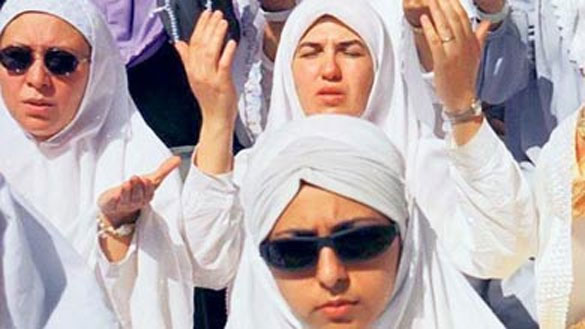 Violating female pilgrims will be denied entry and sent back on the same flight. (Reuters)
----------
• British Girl Who's Now a 'Celebrity Jihadi', Calls On Muslims to Join the Terror Group
• UK-Born Private School Girl Joins Syria Militants
• World Hijab Day: Kashmir Jama'at Says Women Must Adhere To Islamic Values
• Saudi Arabia: Fine for Flying in Female Pilgrim with No Male Guardian
• Ecuador Women Turn To Boxing to Fight Sexual Violence
• Iranian Official: Employing Women 'Not a Priority'
• 44,000 Visas for Indian Domestic Helpers in One Month
• Iranian Women's Monthly Under Pressure from Hard-Liners
Compiled by New Age Islam News Bureau
URL: https://newageislam.com/islam-women-feminism/female-fighters-making-life-hell/d/98858
-------------
Female Fighters Making Life Hell for IS Terrorist Organisation in Iraq
2 September 2014
KURDISH female fighters clad in camos and make-up and brandishing AK-47s have emerged as a potent weapon in the bloody fight against Islamic State in Iraq.
Australian defence personnel will provide weapons to the women of the Kurdish Peshmerga, who present a major psychological threat to IS since the Muslim terrorists believe they won't go to heaven if they are killed by a female fighter.
As a result many of the militants are believed to be avoiding combat with the warrior women.
Almost a third of the Kurdish resistance is believed to be female, including an all-female battalion of the Peshmerga which has been fighting on the front line against IS.
IS also has female ­fighters, who are used to torture other women.
The Kurdistan Workers Party (PKK), which is regarded as a terrorist organisation, has female fighters, although they are reportedly fighting alongside the Peshmerga against IS.
One four-month pregnant woman said pregnancy would not stop her joining the fight: "This is my duty, no matter if I am bearing a child or not.''
http://www.dailytelegraph.com.au/news/nsw/female-fighters-making-life-hell-for-islamic-state-terrorist-organisation-in-iraq/story-fni0cx12-1227044419975
-------------
British Girl Who's Now a 'Celebrity Jihadi', Calls On Muslims to Join the Terror Group
2 September 2014
She grew up in Lewisham, south London, and only converted to Islam as a teenager, but Khadijah Dare is now said to be seen as a 'top priority' for British intelligence services.
Two years ago, Dare swapped her 'comfortable life' in Britain, where she was known for her dimples and her love of her mother's home cooking, for the horror of Syria, where she has joined the terror group ISIS.
Now, after appearing in an ISIS recruitment video calling on British Muslims to 'stop being selfish' and give up their families and studies to join the front line in the Middle East, Dare - a pseudonym - is said to be top of MI6's list.
A security source said: 'Her notoriety has evolved so rapidly that she has achieved a celebrity-like status among jihadists fighting in Syria and those who are thinking of travelling abroad to join ISIS.'
The source told the Mirror: 'Dare has now become a top priority.'
Dare, a mother of two young boys who is married to Swedish Jihadi Abu Bakr, is believed to be one of the British-born Muslim terrorists that will be targeted by new anti-terror measures to be announced by the Prime Minister this afternoon.
Among the measures expected to be unveiled include more stringent controls on British-born Jihadis who board flights back to the UK from Turkey and Germany, and plans to strip suspected terrorists of their passports.
But Dare appears to have no wish to return home just yet.
In a video posted online calling on Muslim extremists to leave Britain and fight, she extolled the virtues of her adopted religion, saying: 'I'm not oppressed; if I was oppressed I wouldn't be a Muslim right now.
'If I thought Islam was an oppressive religion, I would have left Islam.
'Islam has made me free.'
In an attempt to stir up racial hatred in a video that speaks of Muslim children being 'slaughtered', she added: 'These are your brothers and sisters as well and they need our help, so instead of sitting down and focusing on your families or focusing on your studies, you need to stop being selfish because time is ticking.'
Hours after the beheading of American journalist James Foley at the hands of a British jihadist, Dare gloated on social media at his execution and vowed that she would be the first British woman to kill a US soldier.
Dare was gleeful that the 'UK must be shaking up' after the execution and from her home in the Syrian scrub she tweeted: 'Any links 4 da execution of da journalist plz. Allah u Akbar. UK must b shaking up haha. I wna b da 1st UK woman 2 kill a UK or US terrorist!'
Dare's Twitter account is already notorious – not least because of the photograph of her then four-year-old son Isa, meaning 'Jesus', holding an AK-47 rifle.
Her Twitter feed, which is currently suspended, was littered with images of dead bodies and Islamic State propaganda, juxtaposed with pictures which belie the normal young girl she once was.
The irony of the images she has posted of 'beautiful' sunsets, baby seals and a kitten in a teacup alongside those of extremist horror are apparently lost on her.
She was a bit of a tomboy with braces and dimples - she was very cute
Childhood friends of Khadijah Dare – one of her many post-conversion pseudonyms – told the Evening Standard that she was 'very endearing and sweet.
'She was a bit of a tomboy but sometimes at weddings I'd see her wearing tight jeans and platforms. She also had braces and dimples and was very cute.'
She liked to watch football on TV as a child, and loved Chinese food and her mother's home cooking. When she was older she went to a local college to study media studies, film studies, psychology and sociology, and was a popular young girl.
But at 18, four years ago, she converted to Islam and began worshipping at the Lewisham Islamic Centre – which has links to both the Woolwich killers of Lee Rigby and radical cleric Abu Hamza.
She admitted in a Channel 4 report last year that when she began wearing the full face veil in Lewisham people on the street told her to 'go back to her country', to which she replied: 'I was born round the corner'.
In the same footage she urges other Muslims to 'stop being so selfish...focusing on your families or studies' and implores them to join her in Syria and join the holy war.
Dare allegedly became radicalised online and moved to Syria in 2012, before marrying her Swedish Muslim jihadist husband Abu Bakr, arranged by his mother.
Bakr is fighter with the Sunni Jihadi militia known as Katiba al Muhajireen - the battalion of migrants – which joined forces with Islamic State and wants to create an Islamic caliphate.
The Londoner has admitted that her parents are unaware of her new life, and as well as the pseudonym Khadijah Dare she goes by 'Umm Isa' meaning 'mother of Isa' and Muhajirah fi Sham, meaning 'Immigrant in Syria'.
As her toddler sons Isa and Abd ur Rahman stumbled about her gun-littered living room floor last year, Dare was unrepentant of her decision to move to Syria and of her departure from the girl-next-door who traded her promising British life for one of violence and hatred.
Muslims at the Lewisham mosque where Dare used to worship have insisted it was not a breeding ground for terrorists.
One woman, who asked not to be named, said: 'I know Khadijah. She attended the mosque a couple of years ago.
'She's a very nice girl, a good person, I had no idea she was fighting in Syria. I'm shocked to hear it, it seems so unlike her.'
http://www.dailymail.co.uk/news/article-2739705/White-British-girl-s-celebrity-jihadi-Mother-two-priority-MI6-calls-Muslims-join-terror-group.html#ixzz3CChsaynz
-------------
UK-Born Private School Girl Joins Syria Militants
2 September 2014
A Scottish-born private schoolgirl who travelled to Syria has joined Islamist militants there and urged Muslims in Britain to bring the "battlefield" home, the British Daily Mail newspaper reported Monday.
The case of Glasgow-born Aqsa Mahmood, 20, surfaced as Prime Minister David Cameron announced plans to give police more powers to curb the rising phenomena of Britons joining militants in the Islamic State of Iraq and Syria.
The British daily said Police Scotland and security services confirmed they were aware of the case of Mahmood, who in 2013 abandoned a university course to join militants fighting in Syria.
Since leaving to Syria, Mahmood has got married and been tweeting on a variety of subjects including descriptions of her routine life of cooking, cleaning and looking after children.
Her tweets also contain radical messages, including a call for others to copy the September 2014 murder of British soldier Lee Rigby, the April 2013 Boston Marathon bombing in the United States and the deadly April 2014 shooting at the Fort Hood U.S. Army base in Texas.
"Follow the example of your Brothers from Woolwich, Texas and Boston etc. Have no fear as Allah swt is always with the Believers," Mahmood, who tweets under the name Umm Layth, says in one tweet.
"Jihad is not limited to Shaam [Syria], Khurasan, East Africa, Yemen etc. It is a worldwide battle against Kufr [infidels]," Mahmood, whose profile carries a picture of the black flag of the Islamic State of Iraq and Syria (ISIS), says in another tweet dated June 27.
"If you cannot make it to the battlefield, then bring the battlefield to yourself," Mahmood says in another tweet on that date.
About 500 British citizens are believed to have gone to Syria to join militant groups such as ISIS and the recent execution of U.S. journalist James Foley at the hands of suspected to be a Britain-born ISIS militant has increased pressure on London to do more to protect the country.
The Daily Mail said Mahmood's family and friends were stunned about her involvement in radical Islam.
Her father moved from Pakistan to Scotland where he built up thriving businesses, the paper said.
Mahmood studied at the exclusive Craigholme School where friends remembered her as a Westernized girl who loved make-up and clothes and liked to gossip with fellow pupils, the daily said.
Her most recent tweet dated Aug. 26 reads: "Read up on how many people reverted to Islam after 9/11. You can plot and plan but you will never extinguish the Light of Islam."
http://english.alarabiya.net/en/News/middle-east/2014/09/02/Scottish-private-school-girl-joins-Syria-militants.html
-------------
World Hijab Day: Kashmir Jama'at Says Women Must Adhere To Islamic Values
2 September 2014
Jamaat-e-Islami Jammu and Kashmir, one of the largest religious groups in the state, Tuesday stressed upon the Muslim women to adhere to the Islamic values in their life so as to 'defeat the satanic designs of anti-Islamic forces'.
A spokesperson of the group said the use of Hijab is in no way against their basic rights and causes no hurdle in their development but it protects them from being a victim of the anti-social and criminal elements present in every society and safeguards their social status too.
The Muslim world is celebrating 4th of September, every year as "The Hijab Day" on international level to highlight the importance and utility of the Hijab (Body Cover) for the Muslim woman.
"The human value of modesty (Haya) is also discussed on this occasion and the Muslim women are in particular made aware of the basic teachings regarding the subject," he said.
On 3rd September, 2003, the French government headed by the then President Sarkozi banned the use of Hijab by the Muslim Women in France without assigning any cogent and just reasons. "And this step transgressed all the basic values of human freedom and also violated the individual right to profess, practice and propagate one's religion and faith," he said.
On the end of the same year, an international conference of more than 300 expert Islamic Scholars was convened in London under the guidance of the world famous Islamic Scholar and Jurist Dr. Yousuf-al-Qardhawi and in that conference amongst other steps, it was decided to celebrate September 4 as the international (Protection of) Hijab day yearly to convey to the world that the Muslims will not yield before the vicious propaganda of anti-Islamic forces and will protect the Islamic values of life at all costs and will also prove by the sound arguments that the use of Hijab is in no way detrimental to the development of women folk but instead is one of the best means to protect their rights.
http://www.kashmirdispatch.com/headlines/020926227-world-hijab-day-jama-at-says-women-must-adhere-to-islamic-values.htm
-------------
Saudi Arabia: Fine for Flying in Female Pilgrim with No Male Guardian
2 September 2014
The Saudi General Authority of Civil Aviation (GACA) warned airlines against transporting female pilgrims under the age of 45 without a legal guardian.
GACA said that violating airlines will be fined SR50, 000 ($13,331), according to a report published in a local daily.
Violating female pilgrims will be denied entry and sent back on the same flight.
The airline will be fined and will bear the expenses for any violating passenger's stay at the airport's transit area until they are returned home.
According to a source, these warning instructions are issued annually by GACA to organize the operation of transporting pilgrims.
GACA aims through these instructions to provide care for the pilgrims and ensure their safety, starting from their arrival to the Holy Sites until they are to depart to their homes.
Saudi Gazette interviewed an executive manager at a Hajj company in Jeddah who said the problem is created by Hajj agencies from outside the country.
He said they break the rules issued by the Hajj Ministry.
He added, "Many of these agencies list on the official papers of women with no legal guardian the name of any male member in the group.
"It is a common practice by these agencies and it is hard to prove the relationship between them.
"These agencies aim to earn more money and they will do anything for it.
"They increase the cost of the trip for female pilgrims with no legal guardian and fix them with any name as a legal guardian and most of them agree.
"This is out of our control."
http://english.alarabiya.net/en/News/middle-east/2014/09/02/Saudi-Arabia-SR50-000-fine-for-flying-in-female-pilgrim-with-no-male-guardian.html
-------------
Ecuador women turn to boxing to fight sexual violence
2 September 2014
QUITO — After surviving a harrowing rape attempt, Any Hurtado took up boxing -- and found herself surrounded by other Ecuadoran women using their fists for protection in a country torn by sexual violence.
Statistics paint a disturbing picture of the threats women face in the South American country: six out of every 10 have been the victims of gender-based aggression, and one girl in 10 suffers sexual abuse before the age of 18.
Hurtado, a 17-year-old nursing student, lived through her own horror story last year.
She was walking home when a group of men surrounded her and tried to rape her.
"They started grabbing me and trying to assault me," she told AFP.
"As I was struggling against them I thought I wasn't going to be able to get away. But I found the strength somewhere. I hit the one closest to me and managed to run away."
After the incident, Hurtado, who lives alone since her father emigrated to Spain four years ago, went to a gym in La Tola, a neighborhood in central Quito, and began learning to box.
There, she found a cohort of other women with stories similar to her own donning gloves and learning to use their fists to defend themselves.
One of them is Tania Lara, a 27-year-old domestic worker whose ex-husband used to beat her.
"Sometimes I wish I could go back in time. I think about what it would have been like then if I were the way I am now, a boxer. I'd have hit him hard," she said.
Another boxer, Maria Vega, a 30-year-old who sells potatoes at a market in the capital, said she trains with even more passion ever since she first put her boxing to use on the street.
"A guy grabbed my cell phone and I took off running after him. I beat him to the ground until he gave it back," she said with a grin.
The women put their gloves on, then got into the ring -- Vega with no protective headgear.
"There it is Tania! Harder, no fear, don't let her get you," yelled Segundo Chango, a local boxing coach who gives free lessons to the women.
Lara and Vega traded hooks and jabs for 15 minutes, moving around the ring gracefully as other boxers looked on.
"You think a woman can't last a week (boxing), but when you see them in there you realize they're tough," said Eric Bone, another of Chango's trainees.
The La Tola gym began offering training for women boxers 10 years ago. Since then, a growing number have taken advantage of the classes -- about five a day currently, said Chango.
That reflects a natural response to the dangers women face in Ecuador, said Santiago Castellanos, a psychologist at the Latin American Social Sciences Faculty who specializes in gender studies.
"We live in a society where the public space is often safer for men than women. So women turn to self-defense... when society sees them as weak objects," he said.
These boxers reject the notion held by some that boxing may make them less feminine.
Amarilis Carbos, a 26-year-old office worker, took off her heels when she entered the gym, stored her purse in a locker and removed her make-up.
"My parents never let me box because obviously it was a sport for men," she said after changing into her workout clothes.
But now Carbos not only practices the sport, she even teaches it to her eight-year-old daughter.
"She has to learn to defend herself too," she said.
http://www.saudigazette.com.sa/index.cfm?method=home.regcon&contentid=20140902216666
-------------
Iranian official: employing women 'not a priority'
2 September 2014
The Iranian government is facing a dilemma in encouraging social participation among women. While officials boast about the number of intelligent and educated women in Iran, they are also concerned because these women are not so easy to placate compared to previous generations.
The Iranian administration desires to maintain the pride associated with producing a large number of highly educated women. By the same token, however, keeping these women sufficiently employed is difficult due to the fragile state of the economy. Thus, a sizable proportion of the budget directed toward higher education for women practically goes to waste. Along with the weak white-collar job market, the conservative nature of traditional families adds to the chances of a woman being (and remaining) unemployed.
The issue of dissatisfaction among Iranian women clearly demonstrates the paradox. Highly educated girls tend to aim higher and expect more from suitors. Married, well-educated women are generally not as readily contented with their life and certainly not as timid as their mothers were. Meanwhile, the Iranian administration wants a spurt in population growth, which is less likely to happen with a high rate of divorce.
Women's higher education and working outside the home are, according to some officials, contributing factors to increased marital problems and higher divorce rates. On top of this, most professional women who are married and are willing to have children are inclined to have only one or two kids, which does not meet the administration's preferences.
ISNA, Iran's official student news agency, reported that 40% of all Iranian women with higher education degrees are jobless. Public universities are free in Iran, so it is alarming that the government spends so much in resources and money on higher education for women without getting anything in return. Rather than attempting to redirect societal thinking toward employing more women, however, according to FARS, the official news agency, an Interior Ministry official said that the government's goal is not to encourage additional employment among women.
Fahimeh Farahmandpour, recently appointed adviser of women's affairs at the Ministry of Interior, has voiced concern about "the correlation between women's education with less satisfaction in life and higher expectations." This is why, she said, "Our priority is not trying to put educated unemployed women to work." Farahmandpour further explained, "The prioritizing is done based on the supreme leader's priorities, which he has announced."
Nastaran, a 28-year-old accountant living in northern Iran, told Al-Monitor, "My family and my ex-husband's family both blamed my dissatisfaction and eventual desire to divorce on my education." During a telephone interview, Nastaran said that she married at 19 and later decided to pursue a college education.
Nastaran said, "College opened my eyes. I no longer longed to be the quiet, obedient, smiling wife who only cooks and cleans. I expected more respect. And I certainly wanted to start working, because I didn't want all those hours of hard work during five years of studying to go to waste. That was why I refused to get pregnant right after completing college. I wanted to wait a few years. But my husband didn't want that. He's an educated man, but didn't want the same for his wife. He wanted to stick to the traditional norms, and both my parents and his supported him. Life is tough as a single woman in a small city. But I had the right to choose. We didn't have a premarital agreement that I should not pursue school or work. So I opted out of my marriage."
The MEHR news agency reports that the number of unemployed educated women stands around 1,300,000 higher than unemployed men with the same caliber of education, while ISNA reported that official statistics issued this year show that the number of unemployed female graduates of Iranian universities is twice the number of men. That appears to be of concern to the administration, dismal for the economy and displeasing to unemployed or underemployed women in a society where jobs are generally scarce, even for men.
Maryam, a government social worker specializing in women's affairs, told Al-Monitor in a phone interview, "It's complicated. Women are generally after higher education. Naturally, they want to participate in society and work while studying, and especially after graduation. Some men prefer their wives to be homemakers. Some women change once they complete their education. Many men dislike that."
Although Maryam has worked as a social worker for more than 20 years in Tehran, she has a lot of knowledge and prior experience on issues related to women's education and work outside the capital. "The issues I mentioned are more serious in smaller cities and more traditional types of families," she said.
http://www.al-monitor.com/pulse/originals/2014/08/iran-women-employment-jobs.html#ixzz3CCfhjMcf
-------------
44,000 visas for Indian domestic helpers in one month
2 September 2014
RIYADH — Saudi authorities have granted more than 220,000 visas to Indian domestic helpers and laborers in one month, according to a senior official at the Labor Ministry.
"Since we resumed bringing in Indian domestic workers at the end of Ramadan, the number of visas has reached 220,000," said Ahmad Al-Fehaid, undersecretary for international affairs at the ministry.
"Around 44,000 visas were for domestic helpers while the others were for workers in the public and private sectors," he said in remarks published by Al-Eqtisadiah newspaper on Monday.
He, however, said the arrival of the helpers and workers into the Kingdom could take some time.
"There are several procedures to be followed including security and medical checks and proper qualification and training," he said.
Al-Fehaid denied reports that Saudi Arabia would be bringing in workers from Thailand to work in the private sector. "There are no contacts whatsoever with the Thais over bringing in labor from their country," he said.
He added that labor accords are being considered with Vietnam.
"A draft agreement has been signed and we are looking forward to the final agreement being signed soon," he said.
Al-Fehaid said a Labor Ministry delegation would visit the Indonesian capital Jakarta to help remove obstacles to recruiting domestic workers from the country.
Saudi Arabia and Nepal are also working on a draft covering Nepalese workers in Saudi Arabia.
http://www.saudigazette.com.sa/index.cfm?method=home.regcon&contentid=20140902216717
------------
Iranian Women's Monthly Under Pressure from Hard-Liners
2 September 2014
A newly launched women's monthly run by a prominent female editor has irked Iranian hard-liners, who have accused her of promoting "obsolete" feminist views and ideas that are un-Islamic.
Iran's semi-official Fars news agency reported last week that Shahla Sherkat , editor of "Zanan-e Emruz," will be put on trial by Iran's Press Court on September 7. Fars, said to be close to the Islamic Revolutionary Guards Corps (IRGC), did not provide details about the charges against Sherkat.
The report has led to concern that action could be taken to shut down the monthly devoted to women's issues.
Sherkat, whose previous publication was shut down under the administration of former President Mahmud Ahmadinejad, has not publicly commented on the report.
A Tehran-based journalist who used to work with "Zanan-e Emruz" confirmed in an interview with RFE/RL that the Fars report was accurate.
The journalist, who requested anonymity, said that the case against Sherkat appears to be based on a complaint related to the monthly's first issue, which came out in May.
Previously, Sherkat published Iran's leading women's magazine "Zanan" (" Women") for 16 years. Authorities revoked the magazine's license in 2008 for offering "a somber picture of the Islamic republic" and publishing "morally questionable information."
In a 2009 piece, Sherkat wrote that the work of "Zanan" journalists reflected the problems and needs of women, with the aim of trying to build awareness and find solutions.
"To prevent our revelations about women and their issues from disturbing the public's consciousness, 'Zanan' was closed," she wrote.
Sherkat has been accused by hard-liners of continuing her work through "Zanan-e Emruz" and of spreading feminist ideas, which they believe are contrary to Islamic principles.
Even before it hit the newsstands on May 28, the monthly came under criticism from conservative websites and media outlets, which blasted its existence as a "failure" by the government of President Hassan Rohani.
Rohani has called for gender equality and promised Iranians more freedom, and the publishing of "Zanan-e Emrouz" had created hope for women's rights advocates in the Islamic republic.
"While feminist views are in clear opposition to the Koran, the government has given license for the renewed publishing of a banned feminist magazine under a new name," Hezbollahpress.com said in a report.
When "Zanan-e Emruz" was launched, Iran's state-controlled television asked whether granting a publishing license to Sherkat was in line with Iran's interests, given her "background and deviant views."
"Seven years after the closing down of the 'Zanan' magazine managed by a woman with feminist and Western views, a magazine with a different title yet run by the same woman has today been authorized for publication," said the state television report.
'Assault' On Women's Rights
The attacks by hard-line media have continued, including by the influential "Kayhan" daily, which claimed Sherkat works on feminist issues with groups opposed to the Islamic establishment.
Another conservative outlet, mashreghnews.ir, said Sherkat's background and past work is the main reason for the objections to "Zanan-e Emrouz."
The report said the worldview of Sherkat and other editors of "Zanan" were shaped by Western views of women, which, the website said, differ significantly from Islamic teachings.
"Because of the influence from feminist movements in the West, religion is being cited as one of the obstacles to achievement of women's rights," the June 3 report said.
The website also published an old photo of Sherkat sitting next to self-exiled Iran's Nobel Peace Prize winner Shirin Ebadi, who's come under fire from hard-liners for her human-rights activities.
Susan Tahmasebi, a well-known Iranian women's rights activist, says Sherkat has always been very mindful of the many red lines in the Islamic republic, especially with regard to female civil liberties, which have always been a sensitive issue.
She says "Zanan-e Emrouz" covers the issues and problems of concern to women in a "moderate manner."
"'Zana-e Emruz' has become a space for Iranian women to discuss and reflect on women's issues," she says. "It reflects the concerns of half of the country's population."
Tahmasebi believes the outcry over Sherkat and her publication are "an assault" on women's rights.
"The men who try to stifle her or others similar to her should really keep in mind that these are demands and issues that their family members, their wives, their mothers, their sisters, and their daughters are dealing with, and just suppressing them is not going to make them go away," said Tahmasebi, who lives in the United States.
Among stories the monthly has covered since its launch are an interview with Indian American novelist Jhumpa Lahiri, a discussion with Iranian author Goli Taraghi, a report about Iran's ban preventing women from entering sports stadiums, and an interview with prominent human-rights defender Emad Baghi regarding a campaign to end executions.
RFE/RL's Radio Farda broadcaster Roozbeh Bolhari contributed to this report
http://www.rferl.org/content/iran-womens-monthly-under-pressure/26561137.html
-------
URL: https://newageislam.com/islam-women-feminism/female-fighters-making-life-hell/d/98858