08 July 2022
• Female Crowd Management: Saudi Women Step Up To Command Crowds during Hajj
• Muslim Women 'Break Barriers' By Experiencing Golf In East Kilbride, South Lancashire, For The First Time
• Women-Only Media Start-Up Wants To Fight Stigma in Somalia
• Ons Jabeur First Arab Woman Ever In the Wimbledon Final
• Footballer Hajra Eager to Return Pakistan after 8 Years
• From 'Get Married' To Getting Elected – Women A Record One-Third of Candidates in Japan Poll
• China Offering Benefits to Women for Having More Babies Amid 'severe' Demographic Crisis
Compiled by New Age Islam News Bureau
URL: https://newageislam.com/islam-women-feminism/female-crowd-management-saudi-hajj/d/127437
--------
Female Crowd Management: Saudi Women Step Up To Command Crowds during Hajj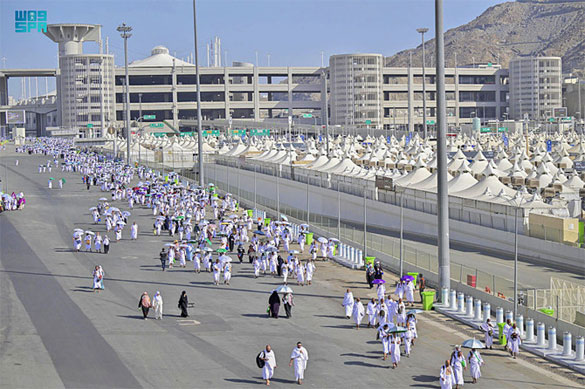 The Kingdom has become a world leader in crowd management due to its handling of the annual pilgrimage, where millions of Muslims flock to Saudi Arabia to perform Hajj and Umrah. (SPA)
-----
Tareq Al-Thaqafi
July 07, 2022
MAKKAH: Saudi women are at the forefront of female crowd management during this year's Hajj for the first time, as per the directives of the General President for the Affairs of the Grand Mosque and the Prophet's Mosque Sheikh Abdulrahman Al-Sudaia.
Nouf Qahl, the undersecretary for the Assistance Agency for Women's Grouping and Crowds, told Arab News that the Kingdom has become a world leader in crowd management due to its handling of the annual pilgrimage, where millions of Muslims flock to Saudi Arabia to perform Hajj and Umrah.
"Crowd management is one of the most difficult management sciences that requires the (cooperation) of dozens of other administrative agencies of various services. The difficulty of crowd management lies in how to deal with crowds from different cultures, languages and behaviors," she said.
Crowd management is one of the most difficult management sciences that requires the (cooperation) of dozens of other administrative agencies of various services. The difficulty of crowd management lies in how to deal with crowds from different cultures, languages and behaviours.
She said that its top objective, as part of the General Presidency for the Affairs of the Grand Mosque and the Prophet's Mosque, was to "facilitate pilgrims to perform all their rituals with ease and peace, and enrich their experience in the land of the Two Holy Mosques."
Qahl added: "Our mission at the agency is to assist and smoothly lead women's crowd to designated areas for women to pray and perform their rituals in a safe environment such as to ensure grouping (and leading) women coming for Umrah and Hajj to the Mataf to perform the circumambulation, to vacate the women's prayer area after the prayers, and preparing to receive other groups of women around the clock. Working to serve pilgrims is a great honour that we take pride in."
The agency is prepared to receive female pilgrims daily until 9 p.m. at the Grand Mosque in Makkah. Most women will come after the Asr prayer, to break their fast, and pray Maghrib and Isha.
"We will ensure the integration of efforts with the administrations concerned with crowd to complete the grouping phases for Tawaf Al-Ifadah and Tawaf Al-Wada," she said.
Crowd management expert Akram Jan said that the Kingdom's practitioners are playing a leading role in discovering and implementing the latest best international practices.
He added that Saudi Arabia has become a pioneer in organizing crowds. It has managed to provide the best services and facilities and ensure a smooth flow of movement in the circumambulation space around the Kaaba, its upper floors, roof, and all of the masa's floors.
He noted that there are technological ways to analyze the crowds and determine the optimum numbers based on calculating the available space. This method is also used for organizing crowds in large squares in Europe. It calculates with high precision, allowing observers and analysts to predict the numbers.
Source: Arab News
https://www.arabnews.com/node/2118491/saudi-arabia
-----
Muslim Women 'Break Barriers' By Experiencing Golf In East Kilbride, South Lancashire, For The First Time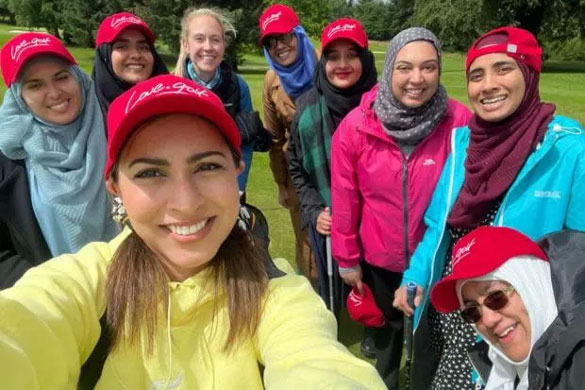 Photo: Yahoo Sports
----
By Kirsty Feerick
08-07-2022
Over 30 women attended a taster experience at East Kilbride Golf Club on Sunday.
Events, hosted by Muslim Golf Association (MGA) and love. Golf, have proved a hit with more than 1000 women signing up.
Participants were welcomed and soon taken onto the picturesque golf course to try their hand at a new skill, with refreshments and the opportunity to socialise afterwards.
Sumra, a participant from Whitecraigs, said: "I felt a bit nervous coming into the car park but there was a really nice reception when I walked through.
The MGA was founded in 2020 by Amir Malik, and is the world's first dedicated golfing platform that caters for the modern, professional, Muslim male and female golfer.
Love.golf, supported by Syngenta Golf, is an empowering group coaching experience for women which replaces traditional golf instruction with the freedom to explore, discover untapped potential and bond within a supportive, like-minded group.
Amir Malik, who attended the event, commented: "We did sense some nerves to begin with but all the women soon threw themselves into it and were laughing and cheering each other on.
"This series is about making the game safe and accessible to Muslim women. All they need to bring is a smile and a pair of trainers."
Advanced PGA Professional at host venue East Kilbride GC, Karyn Burns, and West Kilbride GC PGA Professional Linzi Dye were on hand to lead and support the women.
Linzi added: "We've got to include everyone in golf. For such a long time it's been a really male-dominated sport, and as female coaches we know how tough it is to break into that."
Alastair Spink, founder and head coach of love.golf, said: "Muslim women in Scotland, just like in other parts of the UK, immediately embraced the love.golf philosophy of getting out on the golf course and discovering what they are capable of.
"They have truly caught the golf bug and we look forward to seeing how they progress in the coming weeks and months."
Source: Glasgow Times
https://www.glasgowtimes.co.uk/news/20263136.muslim-women-break-barriers-experiencing-golf-east-kilbride-first-time/
-----
Women-Only Media Start-Up Wants To Fight Stigma In Somalia
AFP
July 08, 2022
MOGADISHU: Armed with mobile phones, tripods and laptops, the crew at Bilan Media, a Somali start-up staffed entirely by women, is on a mission to break the silence around gender violence in the troubled Horn of Africa nation.
A rarity in the conservative predominantly Muslim country, Bilan (meaning "beauty" in Somali) is funded by the United Nations Development Programme and operates out of the offices of Dalsan, a popular television and radio station based in the capital Mogadishu.
Two female journalists working for Bilan Media, a Somali start-up staffed entirely by women, file a report from a market in Mogadishu on May 22, 2022. (AFP)
This includes profiles of prominent Somali women and coverage of issues often considered too sensitive for public broadcast in Somalia, including subjects such as domestic violence and rape.
"About 80 percent of the program will focus on stories which people may find shameful. Society must be informed about these stories," said Bilan editor-in-chief Nasrin Mohamed Ibrahim.
"Normally you have male involvement in the production of programs in other conventional media but for us, we write the script, do interviews, edit the videos, and present the program," 21-year-old Ibrahim said in an interview with AFP.
Fathi Mohamed Ahmed, deputy chief at Bilan Media, a Somali start-up staffed entirely by women, is photographed at their headquarters in Mogadishu on May 22, 2022. (AFP)
The biggest challenge lies in persuading Somali citizens to share their stories, Ibrahim said, pointing out that having an all-female team has proved to be an unexpected advantage in this regard.
"The information I can manage to get from a mother whose daughter was raped may not be available to male journalists because that mother will trust female journalists more," she said.
"Many women wish to tell their stories to seek justice," she said, recalling a case she covered in 2020 involving the alleged gang rape and murder of a young woman in a Mogadishu neighborhood.
"Her parents decided to talk about it — I myself interviewed her father and as of today her case is in court," she said, rattling off other examples where families refused to let the stigma surrounding sexual violence stifle their voices.
"If these parents had not decided to talk about it publicly, the victims would have been buried with no justice served," said Ibrahim.
"We have recently done a story about a 16-year-old single mother... she returned to school to continue with her education after a gap and we have presented the challenges she has and ambitions for the future.
Hafsa Abdulaziz, a mother-of-two who lives in Mogadishu, told AFP she had watched some reports on Bilan's Facebook page following its launch in April.
"There are so many harrowing stories about the lives of shattered families which you don't see normally or hear conventional media covering, so this is something special," she said.
University graduate Abdullahi Adan told AFP: "Frankly speaking, I doubt the motive of this Bilan Media, all the journalists are female, and they only do programs... about women."
"There is no task that comes without challenges so when you discuss (producing) programs like this you must get ready for the challenges," she said.
Source: Arab News
https://www.arabnews.com/node/2118666/media
-----
Ons Jabeur first Arab woman ever in the Wimbledon final
By The Brussels
7 July 2022
Tunisia's Ons Jabeur (WTA No. 2) on Thursday secured a place in the final at Wimbledon, becoming the first Arab tennis player to do so.
Third-seeded Jabeur defeated Germany's Tatjana Maria (WTA 103) by 6-2, 3-6 and 6-1 on Center Court, in a match that lasted 103 minutes.
That was Maria's best showing in a Grand Slam. Until now, the mother of two had never made it past the second round.
Jabeur, for her part, reached the quarterfinals at Wimbledon last year, her best performance thus far.
The Tunisian, who is the first African player to reach the semifinals of the London tournament, had stopped Elise Mertens (WTA 31) in the fourth round.
Jabeur will compete in the final against Kazakhstan's Elena Rybakina (WTA 23) who beat Simona Halep (Romania – WTA 18).
Source: Brussels Times
https://www.brusselstimes.com/belgium/251407/ons-jabeur-first-arab-woman-ever-in-the-grand-slam-final
-----
Footballer Hajra eager to return Pakistan after 8 years
By Zarish Sajid
Jul 8, 2022
KARACHI: The Pakistan women's football team has been missing from international competition for an agonizingly long time. And probably no player has felt this agony as intensely as star striker Hajra Khan.
The last time the national team competed, Hajra was 20 years old and had a great career ahead. Her prime as a player may have passed eight years ago, but she is nevertheless looking forward to Pakistan's participation in the SAFF Women's Championship in Nepal this year.
Due to infighting inside the Pakistan Football Federation, Pakistan's football has been in a state of crisis since 2015, and while the men's national team has seen intermittent play since then, the women's game has suffered the most.
In 2014, Pakistan hosted the SAFF Women's Championship, the last time the women's squad participated in an international competition.
Hajra is hopeful that women's football in the Philippines will rebound strongly now that the FIFA-appointed PFF Normalization Committee is back in charge and the 15-month suspension placed on it by the world's football governing body has been removed.
"It's been a long time," Hajra told Dawn on Thursday. "For the past eight years, we've lost out on many tournaments and qualifying for AFC competitions. So it is fascinating to know that we will play in our first competition in less than two months after the ban has been lifted."
The 2018 SAFF Women's Championship will be held from August 29 to September 10 in Nepal, and the PFF National Committee must submit their entry by Friday. According to sources in the NC, the entry will be offered, and the national team will participate, as reported by Dawn on Thursday.
The NC has also had discussions regarding the location of the team's event-related training camp. Abbottabad has been mentioned as a potential venue due to its altitude, which would help players acclimate to the conditions in Nepal. However, there is strong support for Lahore, where the Pakistan Football Federation (PFF) is headquartered, to host the camp, as football is returning to the country after a lengthy absence.
Hajra stated, "I think it means a lot just to return to the FIFA women's rankings, regardless of outcomes, because eight years is a long time to be inactive in international events."
"Once we prove our present and, ideally, the desire that the girls have to change the game and finally play, it will be a tremendous morale booster for the upcoming months, if not the next year that the Normalisation Committee is in control.
"Hopefully, this will pave the way for more international events in the future, so I believe it will be excellent, and I have no doubt that the girls will be working extremely hard after being absent for so long."
Pakistan was suspended by FIFA in April of 2016 when a group of officials led by Ashfaq Hussain Shah, who was elected president of the PFF in elections conducted by the Supreme Court but was never recognized by FIFA, seized control of the PFF offices from the NC.
The National Women's Championship, which was in progress in Karachi at the time of the takeover, was abruptly terminated. However, the authorities of Ashfaq's group attempted to continue the competition, with Raheela Zarmeen, then the PFF's director of women's development, asking teams if they wished to continue competing.
She stated that they had not yet approached her. After NC's announcement that they had taken possession of the PFF's offices, neither party has taken me on board.
Dani Limones, the technical director of the PFF at the time of the takeover, has been contacted by the PFF National Committee, although it is not yet known if he will return to his previous position.
Source: Baaghi Tv
https://en.baaghitv.com/footballer-hajra-eager-to-return-pakistan-after-8-years/
-----
From 'get married' to getting elected – women a record one-third of candidates in Japan poll
Justin McCurry
7 Jul 2022
Less than a year ago, voters in Japan had to look very hard to find a woman's name on ballot papers for the lower house election. But as the country prepares to go to the polls again this weekend, they are comparatively spoiled for choice.
About a third of the candidates in this Sunday's upper house election are women – the highest proportion since Japanese women won the right to vote and stand for parliament in 1946.
A record 181 female candidates will be vying for 125 seats – up 77 from the previous upper house election in 2019 – a trend that has given hope to women campaigning to break the male stranglehold on Japanese politics. Women comprise 33.2% of all candidates, a level close to the government's target of 35% by 2025.
The increase is an apparent attempt by Japan's political parties to honour a commitment to select similar numbers of male and female candidates, although only a tiny number took part in recent elections for the more powerful lower house.
The optimism could be short-lived however. Japan's ruling Liberal Democratic party (LDP) – which is expected to win more than half the seats on Sunday – has increased the proportion of female candidates since the last upper house elections three years ago, but only to 23.2%.
The LDP candidates include Arfiya Eri, a former UN official of Uyghur heritage who told a recent live stream event: "The more visible different lifestyles are to us, the more capable we are of imagining other people's lives and other people's needs."
Akio Igarashi, a professor emeritus at Rikkyo University in Tokyo, said targets should be set to increase the number of female candidates.
"It's essential for political parties to make efforts to appoint women to appropriate posts, such as those that allow them to select candidates," Igarashi told the Yomiuri Shimbun. "The parties should also help deepen voters' awareness that female candidates will have a positive impact on policies, which, in turn, will benefit the whole of society."
The world's third-biggest economy fares poorly when it comes to women in politics, ranking 163rd out of 190 countries, according to the Inter-Parliamentary Union. Women comprise just 9.9% of lower house MPs and 23% in the upper house. In its 2021 gender gap index, the World Economic Forum placed Japan 147th in political empowerment out of 156 countries.
Most of the female candidates in this weekend's election are running for opposition parties that analysts believe will struggle to make a dent in the LDP's comfortable position in the upper chamber.
Just over half of candidates for the biggest opposition group, the Constitutional Democratic party of Japan, are women. The Japanese Communist party has the highest proportion, at 55.2%. "We believe that by getting female candidates to win, Japanese politics will really change," the CDPJ's secretary general, Chinami Nishimura, told reporters ahead of the election.
While the upper house election is a vast improvement on last October's lower house poll, when just 186 – or less than 18% – of candidates were women, parties are under mounting pressure to address widespread harassment of female candidates.
A survey conducted last year by the cabinet office found that female politicians and candidates encountered "rampant" sexual harassment, including inappropriate touching and verbal advances by male voters, and online abuse based on their age, marital status and private life.
In response, the cabinet office released a video in April re-enacting scenes of harassment based on testimony from younger lawmakers while on the campaign trail and after being elected.
The survey results will come as little surprise to Ayaka Shiomura, who was subjected to sexist taunts during a debate on childcare in the Tokyo metropolitan assembly in 2014.
The incident sparked a national debate after unidentified male assembly members verbally abused her for questioning the city's commitment to pregnant women and single mothers.
"You should get married as soon as possible," several shouted as Shiomura, who went on to represent an upper house constituency, spoke, before asking if she was incapable of having children.
In 2017, Yuka Ogata, an assembly member in the city of Kumamoto, was forced to leave the chamber after colleagues objected to the presence of her seven-month-old child.
Two years ago, Shoko Arai, then the only female member of a Kusatsu town assembly, was voted out of her seat after accusing the mayor of sexual assault.
Source: The Guardian
https://www.theguardian.com/world/2022/jul/07/from-get-married-to-getting-elected-women-a-record-one-third-of-candidates-in-japan-poll
-----
China Offering Benefits To Women For Having More Babies Amid 'severe' Demographic Crisis
By Anwesha Majumdar
08-07-2022
China is now offering incentives including tax and housing credits, educational benefits and even money to encourage women across the nation to have more children in a bid to expand its population and improve the country's labour force. According to an ANI report, some would-be parents find it challenging to start a family because of the restrictions over childbirth and the oppression of women's rights. Meanwhile, as a part of its one-child policy, the Communist regime forcibly sterilised and aborted women for many years. And due to this, the country is currently undergoing a demographic crisis and wants women to have multiple children, ideally three.
As per a Global Times report in January of this year, the Chinese mainland had 1.413 billion people by the end of 2021, and there were 10.62 million fewer infants there than there were deaths.
Meanwhile, currently, Chinese government authorities have been offering tax and housing credits, rewards for schooling and even financial incentives to convince women to have more children, as per a New York Times report. However, it is pertinent to note that only married couples are eligible for the aforestated benefits.
Despite this, Beijing continues to restrict who is allowed to have children and discriminate against single women, minorities, and other groups through harsh family planning laws.
According to the New York Times report, single-parent babies in China have traditionally had difficulty accessing social services like schooling and health insurance. Public health care, as well as insurance that provides maternity leave, are frequently refused to pregnant single Chinese women. If their employers terminate them because they are pregnant, they are not legally protected.
Sarah Gao, a single parent who is 46 years old, said, "Many people think that being a single mom is a process of confrontation with public opinion, but it's not". Gao had to tell her doctors a lie, by saying that her husband was abroad when she discovered she was pregnant in order to be hospitalised, New York Times reported.
Gao continued by describing how she was terminated from her job in 2016 after giving birth to a daughter, which prompted her to file a complaint charging the corporation with employment discrimination. As per media reports, her unmarried birth "did not conform to China's national policy," the Chinese court had ruled.
In the meantime, media reports state that Wuhu, a city in eastern China, has seen an abnormally low level of births. As the number of young people in China is decreasing, if birth rates keep falling, the labour force will likewise drastically shrink in the following years, ANI reported.
In addition to this, Beijing passed a new Population and Family Planning Law last year, reportedly in response to Chinese couples' reluctance to have more children owing to escalating costs. This law permits Chinese couples to have three children.
Source: Republic World
https://www.republicworld.com/world-news/china/china-offering-benefits-to-women-for-having-more-babies-amid-severe-demographic-crisis-articleshow.html
-----
URL: https://newageislam.com/islam-women-feminism/female-crowd-management-saudi-hajj/d/127437
New Age Islam, Islam Online, Islamic Website, African Muslim News, Arab World News, South Asia News, Indian Muslim News, World Muslim News, Women in Islam, Islamic Feminism, Arab Women, Women In Arab, Islamophobia in America, Muslim Women in West, Islam Women and Feminism