New Age Islam News Bureau
1 May 2018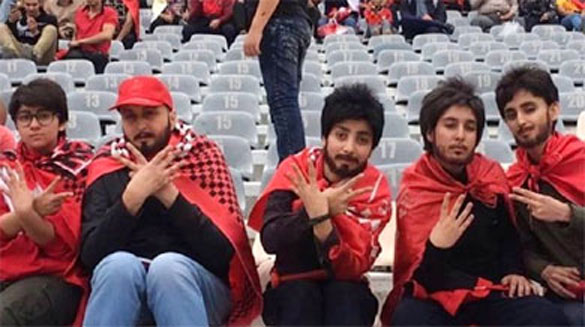 Some female football fans donned fake beards and wigs to attend a major match in Iran.( Instagram)
----
• Cairo Women Take To the American Football Field
• Female Lawyer on Hunger Strike over Killing of Shiites in Quetta
• Muslim Women Excluded From Islamic Centre Groundbreaking
• Saudi Arabia Apologizes For Showing Images of Scantily Clad Women Wrestlers
• 44 Saihat Women Trained In Car Inspection, Maintenance
• Two Men on Trial For Selling Woman Via WhatsApp In Dubai
• Needy Women Receive Sewing Machines in Dubai
• A Battle of Several Fronts: Afghan Women in the Security Forces
• Former Afghan Air Force Pilot Niloofar Rahmani Granted Asylum in the United States
• Iran: Women Demand Freedom of Prisoners, Permanent Employment
• Language Remains Main Barrier for Syrian Female Refugees
Compiled by New Age Islam News Bureau
URL: https://www.newageislam.com/islam-women-feminism/fearless-iranian-women-defy-stadium/d/115108
--------
'Fearless' Iranian Women Defy Stadium Ban with Fake Beards and Wigs
APRIL 30, 2018
BEIRUT, April 30 (Thomson Reuters Foundation) - Female football fans who donned fake beards and wigs to attend a major match in Iran in defiance of a ban on women spectators were hailed as fearless by activists on Monday.
Photos and video of the fans sitting in Tehran's Azadi Stadium disguised as men as they watched their team Persepolis crowned champions on Friday have gone viral on social media.
The Islamic Republic has long barred women from attending male soccer matches and other sports fixtures, based at least partly on the theory that women should not hear fans swear.
"I am very proud of them and impressed that they can be so fearless, because it is a huge risk that they do that," Melody Safavi, Iranian women's rights activist and singer told the Thomson Reuters Foundation by phone from New York.
Safavi is in the Iranian reggae band Abjeez, whose song "Stadium" calls on Iranian men to support women in their fight to be allowed into sports fixtures. She lives in self-imposed exile in the United States.
"They are trying to break a lot of lines and taboos," said Shadi Amin, an Iranian women's and LGBT rights activist.
"For other people it is a small step, but for us it is a big step, because the cost of this action is not small. They risk being arrested," she told the Thomson Reuters Foundation by phone from London.
The Iranian group OpenStadiums, which is campaigning for the right of women to attend sports fixtures in the Islamic Republic, said that some women were arrested near Azadi stadium in March during the Esteghlal-Persepolis match.
Saudi Arabia last year overturned a ban on women watching sporting events, one of a series of reforms in the deeply conservative Sunni Muslim kingdom. (Reporting by Heba Kanso @hebakanso, Editing by Claire Cozens
https://in.reuters.com/article/iran-women-football/fearless-iranian-women-defy-stadium-ban-with-fake-beards-and-wigs-idINL8N1S73R4
--------
Cairo Women Take To the American Football Field
May 01, 2018
CAIRO: It's a sight that few would imagine in Cairo — an American football field full of Egyptian women.
From humble beginnings in 2016 with only three teams, Egypt's all-female informal "flag football" league now has eight clubs vying for supremacy in the capital.
The version played by women here is non-contact, with players seeking to snatch flags tucked into opponents' waistbands.
Egypt became a member of the International Federation of American Football in 2014. The federation is leading a drive to register teams outside Cairo and expects several new clubs will be up and running in time for next season.
But the game "is not new in Egypt, where it was initiated among men in 2007," said Asmaa Marie, a spokeswoman for the Egyptian Federation of American Football.
For the young women who have taken up the game, which faces stiff competition for attention in a nation mad about soccer, it's a chance to escape the many pressures of city life.
Habiba Mohammed, 19, says her friends and parents were surprised about her new passion.
"When I told them at home I will practice American football, my father and mother told me: 'How is this possible? You need to be careful,'" she says.
Mohammed is kitted out in the green-and-yellow jersey of her team, Gezira Thunder, which is playing rivals the AUC Titans at the Maadi Olympics Center, a stadium that normally functions as a soccer venue.
It proves a good day for her, as Gezira storms to victory, albeit in a largely empty arena, save for a smattering of cheering friends and family.
A teammate is keen to emphasize the non-contact nature of flag football.
"My friends thought it was a violent sport but it is not, as I have told them, and when they came to watch the games, they liked the sport a lot," says 20-year-old quarterback Yara Tawheed.
"The level of violence in this sport is similar to that in ballet," she adds.
But some would prefer to play the full contact version. Alia Haytham, 22, a student at Cairo's American University, says she hopes to play the undiluted game, to help her release anger and energy.
"But this does not detract from flag football being fun," she says.
"All of us here have problems at university and at home, but as soon as we enter the pitch we forget everything that preoccupies us."
The coach of another female team, the adventurously named Hell Hounds, is proud of his players.
"If you see how hard these girls work, I think you would really admire what they put into it," said 30-year old American Matthew Kershey.
Games have even been organized against teams in other countries.
Last year, Cairo Warriors, another of the capital's teams, played a Moroccan outfit in a friendly, and early this year they took part in a tournament in the US.
Marie believes that "the game's popularity in Egypt will surpass that of many team sports, like volleyball and handball."
"The American football community in Egypt has grown, and we feel that we all know each other," she says.
http://www.arabnews.com/node/1294316/offbeat
--------
Female Lawyer on Hunger Strike over Killing of Shiites in Quetta
April 30, 2018
A lawyer in Quetta has gone on hunger strike to bring attention to the killing of Shiites in the city.
Jalila Haider said Monday that she will continue the strike she began the day before until the army chief visits the city and details concrete steps to bring the killers to justice and protect the religious minority.
Haider says Gen. Qamar Bajwa should come and console the thousands of widows and orphaned children left by the killing of Shiites in Pakistan over the past two decades. Sunni extremists view Shiites as apostates and have carried out scores of attacks since 2001.
In recent months, at least 30 Shiites have been gunned down in Quetta. Police have yet to arrest any suspects.
https://nation.com.pk/30-Apr-2018/female-lawyer-on-hunger-strike-over-killing-of-shiites-in-quetta
--------
Muslim Women Excluded From Islamic Centre Groundbreaking
April 30, 2018
HUDSON — A Hudson Muslim woman is calling on city Islamic leaders to be more inclusive after she said Muslim women were excluded from Sunday's groundbreaking ceremony of the Hudson Islamic Centre.
Over 200 people celebrated the new centre to be built at 35 N. Third St. after nearly 20 years since the organization was founded. The new $1.5 million a community centre will consist of a library, separate prayer rooms for men and women and classrooms to be constructed at the site, according to the centre's website.
Hudson Islamic Centre Executive Committee members invited 150 male center members to the ceremony, said Hudson Islamic Centre president Mohammed Hannan. About 50 members of Hudson's Islamic Centre were in attendance Sunday, but none were Muslim women.
The flier promoting the event was addressed to "Brothers and Sisters," but male members of the Islamic Centre told their female counterparts not to attend the event because of a lack of space, centre member Jabin Ahmed said.
Ahmed wrote a post about the issue on social media Sunday, which received dozens of reactions and comments.
"The board did not think it was necessary or important to include more than half of the Muslim community, which consists of women and young girls," Ahmed said. "During the planning process of this gathering, it was announced that the men in our community cannot accommodate for the women… The men were explicitly told that women are not a part of this gathering."
No female Muslim worshippers attended Sunday's ceremony because it's Islamic tradition for women to worship in a separate space, and the center couldn't accommodate that, center volunteer Shershah Mizan said after the ceremony.
"We don't have enough room in here for a separate room," Mizan said.
In recent years, spaces for women have been constructed in mosques so men and women are separated during religious observances, according to the Oxford Islamic Studies website.
Ahmed contacted Hannan before the groundbreaking to discuss the issue, but her phone calls and voicemails were not returned, she said.
The ceremony had limited seating, so women and children were asked not to attend, Hannan said Monday.
"There is no discrimination allowed in our mosque or religious ceremonies," he said. "People, men and women, can worship together."
Several non-Islamic female community members were invited and attended, including 2nd Ward Alderwoman Tiffany Garriga and 4th Ward Supervisor Linda Mussmann.
Mussmann was not aware Muslim women had been excluded from the event until after it was underway, she said.
"I was under the assumption that this was a public event," Mussmann said. "I was taken aback to find women of the community, particularly women of the Islamic Center community, were excluded from the event.
"As a humanist and a feminist, I certainly don't condone discriminating against women," she added. "Women should be included. Women should have been invited."
Garriga reached out to the Islamic Center's leadership Sunday to arrange a meeting with Ahmed, Garriga said.
Garriga was unsure if she would have attended the ceremony if she knew Islamic women were excluded, she said.
"I am not 100 percent educated with the Muslim faith and how they conduct their practices," Garriga said. "But, being that these concerns are being brought to their [the Islamic Center's Executive Committee] attention, maybe this is an opportunity for the men to include the women during these important events because they are a part of it, but, I respect their religion and whatever they decide.
"Hopefully, their decision is to accommodate all people in their religion — men and women."
This is not the first time women have been excluded from events at the center, said Ahmed, who is also co-founder and president of the nonprofit Hudson Muslim Youth.
The center is supposed to be a space for everyone regardless of faith, age, gender or nationality, Ahmed said, but it has become a place predominately for Bangladeshi-American men ages 40 and older.
Half of the center's members are women and they regularly contribute financially to the center, Ahmed said, but they remain to be excluded from serving on the center's executive committee and have not been allowed to host events at the center.
Ahmed is concerned exclusion will continue when the new center is complete.
"Our faith encourages women in leadership and says women are an essential part of society," Ahmed said. "When men don't include women members, they are going against our faith."
There is no restrictive worship in the mosque, Hannan said.
"Any man or woman can come to they can serve on the [executive] committee," Hannan said.
A gathering is planned for men, women, children and families in May for the month of Ramadan, Hannan said.
"It explicitly says women are equal to men in the Quran," Ahmed said. "Our faith allows and empowers women to be involved."
Ahmed had not heard from Islamic Center leaders about the meeting Garriga requested as of Monday afternoon, but is looking forward to having an open dialogue, she said.
As part of her goals for the meeting, Ahmed said she wants to see women in leadership positions at the mosque, to add more women members to the center's executive committee, to change the structure of the leadership so different ethnic groups are represented and to add younger people to the board and the committee.
Ahmed is speaking for many Muslim women in the community who are afraid to, she said.
"I ask my fellow community members to question, ask and demand that Muslim women be at the forefront of this establishment," Ahmed said. "I ask that the women who were invited, who were respected and seen as equal, speak for the women who were not seen at all."
https://www.hudsonvalley360.com/article/muslim-women-excluded-islamic-center-groundbreaking
--------
Saudi Arabia Apologizes For Showing Images of Scantily Clad Women Wrestlers
May 01, 2018
Sports officials in Saudi Arabia apologized over the weekend after "indecent" images of women wrestlers were shown on a big screen during a WWE event held in the kingdom.
Television viewers said the broadcast of WWE's "Greatest Royal Rumble" was cut off for a few moments Friday as the promotional images played. The Wall Street Journal reported that the images drew "hoots and cheers from the mostly male audience" at the event in the city of Jeddah.
The Saudi General Sports Authority apologized in an online statement Saturday and added it would not show matches involving female wrestlers.
Despite those prohibitions, Friday's show was notable for allowing women and children as spectators. A previous WWE event held in the ultraconservative kingdom in 2014 was for men only.
One female fan, 27-year-old May Omar, wore an XXL T-shirt featuring the wrestler Triple H in place of her traditional abaya, a cloak-like garmend.
"It's flowy and black, so really, what's the difference?" Omar told the Journal, adding that she was a longtime fan of the sport even though her teachers frowned upon it.
"[They] considered it indecent and inappropriate to look at male wrestlers," Omar said.
WWE is wildly popular across the Middle East. The organization has an Arabic website and has held events in other Gulf Arab nations. The Journal reported that eight WWE events had previously been held in Saudi Arabia, but none had been televised and only male fans were allowed.
Friday night's event -- which featured WWE stars John Cena, Shinsuke Nakamura, The Undertaker and others -- is part of a series of social changes pushed by the kingdom's assertive 32-year-old Crown Prince Mohammed bin Salman. Those including allowing women to drive and join the military, as well as the lifting of a 35-year ban on movie theaters.
http://www.foxnews.com/world/2018/04/30/saudi-arabia-apologizes-for-showing-images-scantily-clad-women-wrestlers.html
--------
44 Saihat Women Trained In Car Inspection, Maintenance
May 01, 2018
DAMMAM — A female committee in Saihat, in Qatif region, has qualified 44 Saudi women on the periodic inspection of cars and other mechanic aspects in addition to the best methods of choosing the cars most suitable to them.
The women support committee of the educational services said during the training session, the instructors answered all the questions raised by women trainees regarding driving, repair and other technical aspects.
Fatihiya Al-Madlouh, committee member and coordinator of the activity, said the women trainees raised a number of questions regarding car driving and maintenance which were all fully answered by the instructors.
She said more such sessions will be held to enlighten women about the after-sale services including visits to the car insurance companies to be acquainted with the best type of insurance which may suit the needs and requirements of every car driver.
Meanwhile, as many as 1,470 Saudi women have completed their training on driving in the Eastern Province under a program executed by Imam Abdul Rahman Bin Faisal University in collaboration with the department of traffic.
Abdul Hameed Al-Moajil, chairman of the university's safety driving chair, said three sessions were held on traffic safety which were attended by about 110 supervisors in girl schools in addition to training sessions for about 720 women who plan to obtain driving licenses.
He said about 25 car companies presented lessons about driving on simulators while two companies trained women in practical driving.
Moajil said women were also trained on parking their cars in the special parking lots assigned for them in the university's premises.
http://www.saudigazette.com.sa/article/533868/SAUDI-ARABIA/44-Saihat-women-trained-in-car-inspection-maintenance
--------
Two Men on Trial For Selling Woman Via WhatsApp In Dubai
April 30, 2018
They are also facing charges at the Court of First Instance of running a flat as a prostitution den.
Two Bangladeshi men, aged 25 and 28, have been charged at a Dubai court with human trafficking after they allegedly tried to sell an Indonesian absconding maid for Dh5,500 via WhatsApp.
Two other Bangladeshis, aged 36 and 31, are accused of aiding and abetting them in helping sell the victim and driving her to the 'buyer'.
They are also facing charges at the Court of First Instance of running a flat as a prostitution den, facilitating prostitution by bringing men to have sex with the victim in their place, and sexual exploitation.
Three of them allegedly had illicit consensual sex with the victim. The latter had been subject to a deportation order.
The arrest was made on February 5 in Al Muraqqabat.
The investigating chief prosecutor referred the defendants to court with a plea they received the stiffest legal penalty possible.
The 41-year-old victim, an Indonesian maid, who has been placed at the Dubai Foundation for Women and Children, said she was a divorced mother with three children. "I arrived in Dubai on January 4, 2017, and worked for an Emirati family in Abu Dhabi. I got in contact with a countrywoman and told her I was not happy at work because the sponsor's wife was very demanding. That woman introduced me to another compatriot (a wanted runaway) who promised me a part-time job on a Dh1,500 salary."
The maid had run away from her sponsor's house on January 20, 2018. "At 3pm, I took a bus to Dubai. I was picked up later by a man who took me to a house. The runaway woman told me I would work as a prostitute and that I had to accept as I had no other choice," the maid recounted.
She was taken later to a room-partitioned house where she had paid sex with men.
The runaway woman would always tell her by WhatsApp to not make trouble or she would be taken to other houses. "Around 10pm on February 5, I was told to pack my bag as I would be taken to another house. Few minutes after I rode in the first defendant's car, the police raided the place. I had no idea I was being sold," the victim told the prosecutor.
"I was tipped-off by a secret source that a woman was put for sale for Dh5,500. We verified the information to be true. After obtaining a public prosecution warrant, we sent the informant to meet the defendants as a potential buyer in Hor Al Anz. After the main defendant collected the money, which belonged to the police, from the informant, we raided the car and freed the victim after arresting the two suspects," a police lieutenant said.
https://www.khaleejtimes.com/news/crime/two-men-on-trial-for-selling-woman-via-whatsapp-in-dubai
--------
Needy Women Receive Sewing Machines in Dubai
April 29, 2018
The initiative was carried out as part of 'Year of Zayed' activities.
It was an emotional moment for a few women from low-income families who had gathered at the Dar Al Ber Society office in Bur Dubai to receive free sewing machines.
Hisham Al Zahrani, deputy director, Dar Al Ber Society, handed over the sewing machines to a group of women including widows, mothers of special needs children and the women whose family income is insufficient to support their livelihood.
One of the recipients, Amna, had tears in her eyes when she said: "I have been wanting to get a sewing machine for a very long time but was not able to afford it. I have three boys of which two are determined ones. I don't have enough to fulfil their requirements and so I had been thinking of using my sewing talent to get some additional income. It was a dream for me to have a machine. "
Sajida, a widow, said: "By giving this sewing machine to me, they are helping me stand on my own feet."
Talking about how the charity selected the needy women, Al Zahrani said: "It was so difficult for us to shortlist the recipients. Sometimes people don't need help in the form of money and things, they just need a chance to get back on their own feet. We hope this will not only support their family income but also be the first step on their way of being self-reliant," said Hisham Al Zahrani.
"If anybody would like to contribute in our initiatives of distributing sewing machines, etc. please get in touch with us on zakat@daralber.ae," added Al Zahrani.
In addition to the sewing machines, the women were also given 40-yards fabric, perfumes, shoes and other stuff. The initiative was carried out as part of 'Year of Zayed' activities.
https://www.khaleejtimes.com/nation/dubai/needy-women-receive-sewing-machines-in-dubai
--------
A Battle of Several Fronts: Afghan Women in the Security Forces
By Jawad Zawulistani
April 30, 2018
Although the Afghan government and its U.S.-led NATO allies have strived to make joining the Afghan National Defense and Security Forces (ANDSF) an attractive offer for Afghan women, these efforts have fallen far behind achieving any set target. In 2010, the Afghan government and its NATO partners set out to have women make up 10 percent of Afghan security forces by 2020. Realizing their failure, instead o f looking deeper for the causes and correcting them accordingly, they simply chose a new target and a more relaxed deadline. According to the revised plan, it is expected that 5,000 women will join the National Army and 10,000 women will serve in the Afghan National Police by 2025.
According to the latest report by Special Inspector General on Afghanistan Reconstruction (SIGAR) on U.S. reconstruction funding for Afghanistan security, there are roughly around 4,500 women in ANDSF. They only comprise 1.4 percent of ANDSF personnel. The report that presents records as of August 2017, notes that women in the Afghan Special Security Forces (ASSF), which numbered 120, saw the greatest decrease since the previous quarter, losing 20 personnel. Replacing the coalition's female only unit, these forces are considered to play a crucial role in counterterrorism efforts, especially in operations involving women.
In Afghanistan, of course, security is the biggest challenge. However, there are other hurdles that need to be addressed at the same time. Women's feeling of insecurity in the public sphere in general and in male-dominated institutions in particular, traditional patriarchal norms, lack of or weak support mechanisms for victims of violence and harassment, and women-unfriendly bureaucracy bar Afghan women from fully assuming their desperately needed role in Afghan society. To tackle this problem, however, the Afghan government needs to take a more comprehensive approach that addresses the broader and deeper social and structural problems.
Enjoying this article? Click here to subscribe for full access. Just $5 a month.
Start with the education system. Though there have been significant achievements in education in terms of quantity compared to the pre-2001 era, the quality of education, however, remains poor. One of the Afghan education system's serious shortcomings is the way women are portrayed in school textbooks. The education system indoctrinates children with gender biases from early on and reinforces stereotypical gender roles. Unfortunately, as far as I can recall from my own experiences at Kabul University, gender (mis)perceptions are never challenged even in Afghanistan's higher education institutions. To foster women's participation in public life sustainably, the country's education system needs serious reform. After a thoughtful revision of school textbooks, gradual countrywide co-education is the first step to make male-female interactions happen with a normal attitude inside Afghanistan.
Promoting women's overall participation in the labor force in general will also increase women's presence in the security sector in particular because it will ease the overall social and family pressures related to work outside of the home. According to a 2017 World Bank estimation, women make up slightly above 17 percent of the Afghan labor force which is the lowest in the region. One might argue that this is due to weak government control, or in some cases a complete a lack of control, over Afghanistan's territory. This is true about some provinces. But, unfortunately, the story is not very different in big cities with relatively few security incidents, such as Mazar-e Sharif and Herat and highly peaceful provinces such as Bamyan and Daikundi. Effective implementation of the Eradication of Violence Against Women (EVAW) law, raising awareness on sexual harassment and gender issues among all segments of society and stopping mullahs from using public platforms, such as Friday sermons and media, against women through the Ministry of Hajj and Religious Affairs could help open more spaces for women.
Finally: let women lead. Although the current National Unity Government has supported more women in some semi-leadership roles, the country needs more women leaders, especially in the security sector. Having more women leaders will help in generating more gender aware policy development and program implementation as well as more understanding of female employee and constituent concerns. Moreover, studies show that women contribute to honest government more than men while the adverse effects of corruption are greater on women. Afghanistan has one of the most corrupt governments in the world, according to Transparency International's Corruption Perceptions Index 2017. Doesn't it sound plausible for the Afghan government to have more women both to fix itself and alleviate the suffering of Afghan women?
https://thediplomat.com/2018/05/a-battle-of-several-fronts-afghan-women-in-the-security-forces/
--------
Former Afghan Air Force Pilot Niloofar Rahmani Granted Asylum in the United States
May 01, 2018
A trailblazing female Afghan Air Force pilot has been granted asylum in the United States after a tense 16-month wait for the Trump administration to make a decision on her case.
Captain Niloofar Rahmani, 26, joined the Afghan Air Force in 2012.
Inspired and encouraged by her father, she became the first female fixed-wing pilot in a country that is considered to be one of the most dangerous in the world for women.
While attending a training course in the US in 2016, she applied for asylum, citing death threats against her and her family.
The Afghan Government responded by calling her a liar.
"We're very thrilled this has happened," Kimberley Motley, Captain Rahmani's lawyer, told the ABC.
Captain Rahmani had urged the Obama Administration to grant her asylum before Donald Trump took office, fearing his proposal to ban Muslims from entering the US would affect her case.
When asked on CNN about Captain Rahmani and her efforts fighting extremism as part of the Afghan Air Force, then-presidential candidate Mr Trump said he did not know who she was and went on to speak about the dangers of Islamic extremism.
"It's been very nerve-racking to be honest," Ms Motley said.
"Because of the changes in immigration in the US and, frankly, a lot less people are being granted asylum in the US than back under the Obama Administration — so it has been very stressful for her."
Captain Rahmani found out the good news on the same day three suicide bomb attacks killed at least 25 people in Afghanistan, including 11 children and nine journalists.
"She is always concerned about her family. She just wants to make sure her family remains to be safe because they are in Afghanistan but overall she is happy she has been granted asylum," Ms Motley said.
After being unable to find work while awaiting her asylum application, Captain Rahmani is now looking forward to getting a job flying in the US, according to Ms Motley.
"She is focused on her dream — she is a young lady, very intelligent, very motivated and very ambitious and so she is going to try to continue her dream of being a pilot," Ms Motley said.
"She wants to continue to encourage other Afghan women to go into the field of aviation, she wants to support her Government where she can and she wants to continue to fly.
"Knowing her as I do, she will make her dreams come true."
http://www.abc.net.au/news/2018-05-01/afghan-air-force-pilot-niloofar-rahmani-granted-asylum-in-us/9713680
--------
Iran: Women Demand Freedom of Prisoners, Permanent Employment
30 April 2018
A group of families of the men and women arrested in recent protests in Ahwaz, SW Iran, gathered outside the city's court on Sunday, April 29, 2018.
More than 400 protesters including a number of women are presently held in detention.
Participants in this protest gathering, most of whom were women, demanded determination of the status of their children.
Judiciary and security officials had previously promised that all the arrested protesters were going to be released. However, only five have been temporarily freed from jail, so far, until their sentences are issued. The bailbonds set for the detainees are very high and the families do not afford to provide the necessary property documents to deposit as bail.
Ahwaz is the capital of the oil-rich Khuzistan Province, in southwestern Iran.
Also in Tabriz, NW Iran, a group of women who have worked on temporary contracts for the city's municipality staged a picket line outside the building. They have not received any benefits for years and demand to be officially employed by the municipality. https://women.ncr-iran.org/iran-women-news/5022-iran-women-demand-freedom-of-prisoners-permanent-employment
--------
Language Remains Main Barrier for Syrian Female Refugees
May 01, 2018
Turkey's leading women's nonprofit organization, the Women and Democracy Association (KADEM) released the results of what activists called the most comprehensive field survey on the state of female refugees from Syria. The survey's results, released during a "Culture Meeting" event bringing together Turkish and Syrian women, indicate that language is the main barrier for female refugees to integrate more into social life in Turkey and make new friends.
The country hosts more than 3.5 million refugees from war-torn Syria. It is the largest Syrian refugee community in the world where millions displaced by the ongoing conflict that began in 2011 seek shelter in regional countries.
At a press conference with Turkish academics who served as the authors of the survey, KADEM President Sare Aydın Yılmaz said the survey sought to assess the problems women who live outside refugee camps in the border cities encounter. Only a small fraction of refugees live in camps set up by the state-run Disaster and Emergency Management Authority (AFAD), which also sponsored the survey. The rest live on their own in houses they rent or bought all across Turkey or in housing units provided by charities.
Yılmaz says the survey showed that the female refugees are mostly young, between the ages of 19 and 24. A total of 5,150 women living in Istanbul and the capital Ankara were interviewed for the survey that consisted of 93 questions regarding life in Turkey. "Istanbul and Ankara are cities with a dense population of Syrian refugees," Yılmaz said on the reasons for choosing the two locations for the survey. The cities also provide ample opportunities for work and education for refugees, according to 60 percent of the interviewees.
A question on if they have Turkish friends revealed how language remains an obstacle for their better integration. Only one in every four refugee women says they have Turkish friends. A total of 79.7 percent of women say it is because they "don't speak Turkish" that they could not make friends, while 10.4 percent say their immediate circle of acquaintances are entirely Syrian and they can only communicate with people of their own ethnicity. Some 10.4 percent say Turkish and Syrian culture are not different.
Turkey has so far spent more than $30.2 billion on the well-being of this displaced population, but integration remains a key issue to be addressed. Experts say refugees have to overcome the language barrier for better integration. A recent survey by another nonprofit organization has revealed that refugees were reluctant to use health services offered to them due to a lack of Turkish knowledge and were uninformed about free services offered by Turkey because of the language barrier. The same barrier also discourages Syrians from enrolling their children into schools in the country. Ankara cooperates with international and local nonprofit organizations to spread Turkish education among the refugees and training qualified ones among the refugees, such as doctors and nurses, for work in hospitals and clinics serving the refugees.
The survey also offers an insight into the married life of female refugees. A total of 74.1 percent have both a civil marriage and religious marriage not recognized by the state. Religious marriage is quite common in Syria and Yılmaz said properly informing refugees that religious marriage does not have a legal basis in Turkey helped the rise in civil marriages among the refugees.
According to the survey, 94.4 percent of interviewed women did not work in Syria and only 22.7 percent expressed willingness to join the labor force in Turkey. However, the survey also shows women have a lack of knowledge on how to join the labor force in the country. Turkey introduced a work permit program for refugees a few years ago on a limited basis. A total of 58.1 percent of women interviewed said they could not receive a work permit while 23.4 percent said they do not have information on employment conditions in Turkey. Only 9.4 percent have proper jobs.
More than half of the women say they wanted their children to live in Syria in the future while majority say they are satisfied with the education opportunities for their children in Turkey. A total of 87.7 percent say they are satisfied with health services offered by Turkey.
https://www.dailysabah.com/turkey/2018/05/01/language-remains-main-barrier-for-syrian-female-refugees
--------
URL: https://www.newageislam.com/islam-women-feminism/fearless-iranian-women-defy-stadium/d/115108
New Age Islam, Islam Online, Islamic Website, African Muslim News, Arab World News, South Asia News, Indian Muslim News, World Muslim News, Women in Islam, Islamic Feminism, Arab Women, Women In Arab, Islamophobia in America, Muslim Women in West, Islam Women and Feminism