New Age Islam News Bureau
16 Aug 2020
• Fawzia Koofi: Afghan Negotiator and Campaigner Shot by Gunmen
• Pakistan Women Entrepreneurs Complete Training On Exporting Their Products
• Masjid al-Haram in Mecca and Al Masjid an Nabawi in Medina Appointed 10 Women To Senior Leadership Positions In The Authority
• Heeding Mom, Tennessee Lawmaker Helped Women Gain The Vote
• Army Organizes Arms Training Camp for Women In J-K
Compiled By New Age Islam News Bureau
URL: https://www.newageislam.com/islam-women-feminism/fawzia-koofi-afghan-negotiator-campaigner/d/122641
-------
Fawzia Koofi: Afghan Negotiator And Campaigner Shot By Gunmen
16-08-2020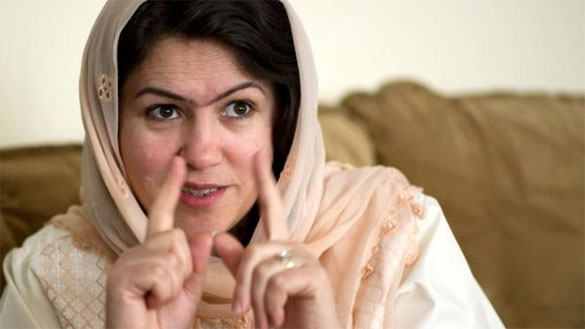 AFP/GETTY IMAGES
Fawzia Koofi is one of the few Afghan women to have attended talks with the Taliban
-----
An attack on one of the only women taking part in negotiations with the Taliban was a "cowardly and criminal" attempt to disrupt the Afghan peace process, the US envoy has said.
Zalmay Khalilzad said he was "relieved" that Fawzia Koofi had escaped Friday's shooting "without serious injury".
Ms Koofi was shot in the right arm while travelling with her sister.
The Taliban have denied they were behind the attack, which came as the two sides prepared for talks.
The militant group has previously refused to negotiate directly with the Afghan government, but agreed to take part in the talks aiming to end almost two decades of conflict after reaching an agreement with the US in February.
As part of the agreement, the Afghan government had to release 5,000 Taliban prisoners. On Thursday, it began releasing the last 400 militants. Talks are expected to start in Qatar after the final prisoner is released.
Fawzia Koofi: The woman who negotiated with the Taliban
'We can't go back': The Afghan women determined not to lose
But there are concerns the attack on Ms Koofi, an outspoken critic of the Taliban who was returning from a meeting in the northern Parwan province when she was attacked near the capital Kabul, could undermine the process.
"Worrying pattern of targeted attacks that can negatively impact confidence in peace process," the chief of Afghanistan's Independent Human Rights Commission, Shaharzad Akbar, wrote on Twitter.
Mr Khalizad also took to Twitter, saying he wanted "all sides who seek peace to not only condemn the attack but to accelerate the peace process and start intra-Afghan negotiations ASAP".
Media captionIs peace with the Taliban possible?
The attack, which no one has claimed, was also condemned as "cowardly" by President Ashraf Ghani and Abdullah Abdullah, the head of the High Council for National Reconciliation.
Ms Koofi is one of the few women to have taken part in dialogue with the hard-line Islamist group, which ruled Afghanistan until they were removed from power in Afghanistan by a US-led invasion in 2001.
They have fought to regain territory since. Last year alone, more than 3,000 civilians were killed in the conflict, according to United Nations figures.
However, the deal reached with the US has proved controversial. On Saturday, France objected to the release of some of the remaining 400 prisoners held by the Afghan authorities - some of whom it says were involved in the killings of French nationals.
https://www.bbc.com/news/world-asia-53795870
---------
Pakistan Women Entrepreneurs Complete Training On Exporting Their Products
Afshan S. Khan
August 16, 2020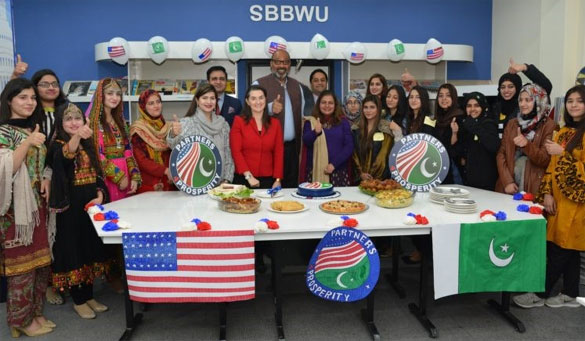 More than 100 Pakistani women recently completed a virtual training on how to export their products
-----
Islamabad: More than 100 Pakistani women recently completed a virtual training on how to export their products and explore new international markets as part of a collaborative program conducted by the United States Agency for International Development (USAID) and several Pakistan Women Chambers of Commerce and Industry.
Under this first phase of the programme, 115 women from various business and industry sectors completed five online training sessions on "Export Processes and Documentation." Participants increased their understanding of formal export procedures, the role of key stakeholders, export documentation, and international standards. In the second phase, businesses exhibiting strong export potential will receive logistics support to participate in international trade exhibitions, technical assistance to improve export potential and international market access, and mentoring from industry experts. "Owning your own business is a brave and noble endeavor, and for a woman, it can be even more challenging, especially during this devastating pandemic," stated USAID/Pakistan Mission Director Julie Koenen.
https://www.thenews.com.pk/print/701192-women-entrepreneurs-complete-training-on-exporting-their-products
----------
Masjid al-Haram in Mecca and Al Masjid an Nabawi in Medina Appointed 10 Women To Senior Leadership Positions In The Authority
Aug 16,2020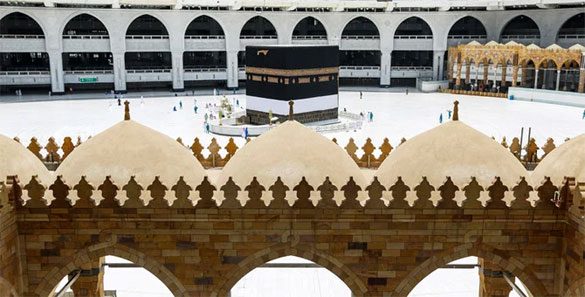 This picture taken on July 24, 2020 ahead of the annual Hajj pilgrimage season in Saudi Arabia's holy city of Mecca shows a view of the Kaaba, Islam's holiest shrine, at the centre of the Grand Mosque complex. (AFP)
-----
The General Presidency for the affairs of the Grand Mosque (Masjid al-Haram in Mecca) and the Prophet's Mosque (Al Masjid an Nabawi in Medina) appointed 10 women to senior leadership positions in the authority, reports local media in Saudi Arabia.
Announcing the appointments, the presidency said that 'empowering women to assume leadership positions is an important subject that will reflect on development and the economy.'
The appointees 'will support the process of creativity and achieving the principles of quality and the highest standards of excellence in order to achieve the generous aspirations of the wise leadership,' according to Saudi Press Agency.
Arab News reports these appointments cover all specialisations and services provided in the Two Holy Mosques, whether guidance, directive, engineering, administrative or supervisory services.
'They are also included in the departments of the King Abdul Aziz Complex for Holy Kaaba Kiswa (cover), the Two Holy Mosques Building Gallery, the Holy Mosque Library, and other areas with the aim of empowering youth and investing their energies and capabilities in the service of the pilgrims,' Arab News quoted Kamelia Al-Daadi, assistant undersecretary for service and administrative affairs at the General Presidency for the Affairs of the Two Holy Mosques
https://www.newagebd.net/article/113631/10-women-get-senior-positions-in-muslims-two-holy-mosques
---------
Heeding mom, Tennessee lawmaker helped women gain the vote
AUGUST 15, 2020
One hundred years ago this month, women in the United States were guaranteed the right to vote with ratification of the 19th Amendment secured by a 24-year-old Tennessee legislator's decisive vote, cast at the bidding of his mother.
Harry T. Burn's surprise move set the stage for decades of slow but steady advances for American women in electoral politics. Two years ago, a record number of women were elected to Congress. On Tuesday, Democratic former Vice President Joe Biden selected Sen. Kamala Harris as his running mate making her the first Black woman on a major partys presidential ticket.
Burns, from the small town of Niota in eastern Tennessee, joined the Legislature in 1918 as its youngest member. The following year, Congress approved the 19th Amendment, touching off the battle to win ratification by the legislatures of 36 of the 48 states.
The process moved quickly at first: By March 1920, 35 states had ratified, while eight states, mostly Southern, had rejected the amendment. Of the states yet to vote, Tennessee was the only one where ratification was considered possible under prevailing political conditions.
So all eyes turned to its Legislature, where lawmakers had the power to grant the womens suffrage movement a victory it had sought for more than 70 years or deal it a painful setback.
At that time, women in more than half the states could vote in presidential elections. But they had no statewide voting rights throughout the South and several other states.
Thousands of activists on both sides of the debate poured into Nashville ahead of the special session. The posh Hermitage Hotel became a hotbed of lobbying and political gossip.
The amendment was approved 25-4 in the state Senate and sent to the House, where sentiment was divided as its turn to vote came on Aug. 18, 1920.
Anti-suffragists believed they had the votes needed to table the amendment, but that failed in a 48-48 tie. Burn was among those supporting the motion to table.
Next came the decisive vote on whether to ratify. Onlookers expected another tie, which would have doomed the measure.
But when Burns turn came, he switched sides. His aye was so unexpected that many onlookers were unsure what theyd heard, according to various historical accounts. The amendment passed 49-47.
Some wondered if Burn had been bribed. But the next day, addressing the House, he offered an explanation.
He had received a letter from his mother, urging him to buck the anti-suffragist sentiments of many of his constituents and instead support the amendment.
Dear Son, Hurrah and vote for suffrage! she wrote. Dont forget to be a good boy and help Mrs. Catt put the rat in ratification. Your Mother.
That was a reference to Carrie Chapman Catt, a leading suffragist who had come to Nashville to campaign for the amendment.
Burn told the House: I believe in full suffrage as a right. He added: I know that a mothers advice is always safest for her boy to follow, and my mother wanted me to vote for ratification.
It took decades after 1920 to reach some significant milestones. For example, no woman was elected a state governor in her own right as opposed to succeeding her husband until Ella Grasso in Connecticut in 1975. Even now, women hold only nine of the 50 governorships and about one-fourth of the seats in Congress.
Yet womens commitment to voting has deepened over the decades. According to the Center for American Women and Politics at Rutgers University, American men had higher turnout rates than women in presidential elections until 1980, while womens turnout rate has been higher ever since. In the 2016 election, according to the center, votes were cast by 73.7 million women and 63.8 million men.
The womens suffrage movement in the United States is widely considered to have been launched at the Seneca Falls convention in New York state in 1848. At the time, many Southerners were wary of the movement because key leaders also were engaged in anti-slavery campaigning.
By the 1910s, many Southerners were viewing the proposed 19th Amendment through a racial prism, said Marjorie Spruill, an emeritus professor of history at the University of South Carolina.
The attitude was, If you ratify the 19th Amendment, youre not a good son of the South,' Spruill said. 'These white radical women from outside are going to insist that Black women get the vote.'
That opposition continued right through ratification. A few states on the periphery of the former Confederacy Kentucky, Arkansas, Missouri, Texas had preceded Tennessee in passing the amendment. But in the core of the South, opposition was solid.
Even after ratification, Black women, along with Black men, were frequently disenfranchised in Tennessee and other Southern states by Jim Crow laws with requirements for voters such as paying a poll tax, owning property and passing a literacy test.
Black women had to continue their fight to secure voting privileges, for both men and women. … The 19th Amendment was a starting point, wrote Sharon Harley, a professor of African American Studies at the University of Maryland.
For white women as well, ratification did not lead swiftly to political equality. Tennessee, for example, has never elected a woman as governor, and Marsha Blackburn became its first female U.S. senator just two years ago.
Wanda Sobieski, a lawyer who led campaigns to erect suffrage memorials in her hometown of Knoxville, said women are now well represented as judges in Tennessee, including holding three of the five seats on the state Supreme Court.
But she says its been difficult for women to raise the funds needed to win statewide elections.
Spruill said theres a similar pattern across the South, where only a few states have elected a woman as governor and most have opposed recent efforts to resurrect the long-derailed Equal Rights Amendment.
Mississippi, Tennessees neighbor to the South, was the last state to ratify the 19th Amendment, waiting 64 years before taking that step in 1984.
https://www.news18.com/news/world/heeding-mom-tennessee-lawmaker-helped-women-gain-the-vote-2791025.html
----------
Army Organizes Arms Training Camp For Women In J-K
16 August, 2020
Reasi (Jammu and Kashmir) [India], Aug 16 (ANI): The Indian Army has started an orientation and familiarisation programme for women who have expressed their desires to join security forces in Reasi district of Jammu and Kashmir. These women are being trained in academics, physical fitness, and handling of weapons.
The training programme aims at empowering women of south of Pir Panjal Ranges at Mahore Subdivision of Reasi District.
With this, young women of the area have realised their true potential and want to contribute to nation-building.
The Indian Army is also running various Women Empowerment Nodes (WEN) to enable, educate and empower women for employment and various other jobs, both civil and government. One such activity is training of the women for enrollment into the Indian Army, Police and BSF.
Speaking to ANI, Mamtaz Kouser from Gulab Garh said, "This is very good initiative and we are very thankful to Indian Army which is educating us. Earlier we were not allowed to go out but due to Indian Army our parents are supporting us and we are progressing."
During this training, which is being conducted with full COVID-19 protocols in effect, the girls are made aware of terms and conditions of service.
"We are being trained in handling weapons and are being given physical training. Girls are coming from far flung areas to take this training. Inspired by the soldiers in the valley, our parents are sending us here to the training centres," Gulnaz Akhter told ANI.
A female J-K Police constable said that girls are learning to handle weapons for the first time and they are being imparted every tiny knowledge about the academics and weapons.
"Kashmiri girls are taking training in handling weapons for the first and are being imparted every knowledge about the academics and weapons. I would like to thank our Indian Army for training our girls in this way. They are being provided every facilities and they are also being informed about the vacancy and procedure of filling the form for the same," J-K Police constable told ANI.
http://www.businessworld.in/article/Army-organizes-arms-training-camp-for-women-in-J-K/16-08-2020-309197/
----------
URL: https://www.newageislam.com/islam-women-feminism/fawzia-koofi-afghan-negotiator-campaigner/d/122641
New Age Islam, Islam Online, Islamic Website, African Muslim News, Arab World News, South Asia News, Indian Muslim News, World Muslim News, Women in Islam, Islamic Feminism, Arab Women, Women In Arab, Islamophobia in America, Muslim Women in West, Islam Women and Feminism