New Age Islam News Bureau
12 Feb 2013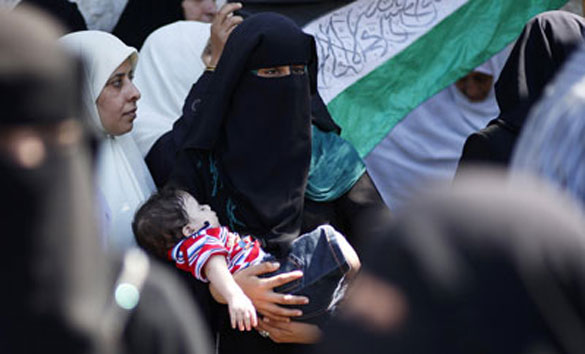 • Islamist Shura MPs Fault Protesters for Tahrir Square Rapes, Sexual Harassment
• Adelaide Islamic School Warns Even Non-Muslim Teachers to Wear Hijab or Face Sack
• Israel Cops Hold 10 Women for Wearing Men Prayer Shawls at Holy Site
• Young Indian Teacher in Maldives Hospitalised In "Very Serious Condition" After Rape
• No Honeymoon for These Newlyweds of Karachi, Afraid Of Being Killed
• UK Non-Muslims Endorse Modest Burkini, a Head-To-Toe Swimming Suit
• Iran Detains Daughters of Reformist Opposition Head
• Women's Presence in Shura Delayed by Logistics
• Violence on Women Common in Patriarchy in Bangladesh
• Women Protesters during Zia Regime Remain Undefeated
• Afghan Women Face Grim Future
• 'One Billion Women Victims of Violence'
• Literary Fest in Pakistan to Bring Together Eminent Women Authors
• Dar Al Islam Mosque Adding Funeral Home, More Prayer Space From Woman
• How Ukrainian Women Saved the Samaritans of Mount Gerizim
Compiled by New Age Islam News Bureau
Photo: Fatwas Allow Artificial Insemination for Wives of Palestinian Prisoners
URL: https://www.newageislam.com/islam,-women-and-feminism/new-age-islam-news-bureau/fatwas-allow-artificial-insemination-for-wives-of-palestinian-prisoners/d/10377
--------------
Fatwas Allow Artificial Insemination for Wives of Palestinian Prisoners
By: Naela Khalil for Al-Monitor Palestine
February 12, 2013
In the Specialized Arab Hospital in the city of Nablus, four women stood in front of dozens of local Palestinian and international cameras to announce that they had been impregnated by their husbands via sperm smuggled out of Israeli prisons.
These are the two things the wives have in common, women who differ in age and hail from different cities in the West Bank: They are in the first few months of pregnancy by their imprisoned husbands, who are serving long sentences, and their husbands are affiliated with different Palestinian movements, including Fatah, Hamas and the Popular Front.
"I never expected that I would be able to become pregnant by my imprisoned husband. The occupation forces have banned me from visiting him for six months. I am now two months pregnant, and the doctor informed me that everything is going well," said Salam Nazzal, the wife of Ali Nazzal, who has been imprisoned since 2006 and is serving a 20-year sentence.
Like the other three women, Salam obtained sperm from her husband that had been smuggled out of the prison. For security reasons, all of the women refused to go into any detail regarding the circumstances of the smuggling.
One of the pregnant women, Rimah Silawi, said, "I do not think that the issue of how we acquired the sperm is important; what is important is that we are wives who have become pregnant through artificial insemination. This is what we have come to say today to everyone and to the world at large."
Osama Silawi, Rimah's husband, is serving four life sentences plus 55 additional years. He was detained in 1993 and has three daughters.
This is the second time that the Razan Infertility Center has announced the success of artificial insemination via smuggled sperm. The first time was last year, when in August the center announced the birth of the first test-tube baby of a prisoner named Amer al-Zabin. At the time, the announcement shocked Palestinian society, with Palestinians unsure of whether to believe the news.
Yet the presence of young Muhannad al-Zabin and his mother Dalal at the press conference served as a glimmer of hope for the four pregnant women. He is the "ambassador of freedom and hope" from within Israeli jails, as he is referred to by the families of prisoners.
Razan Center director Salem Abu Khaizaran said, "On Aug. 13, 2012 we celebrated the arrival of Muhannad, the ambassador of freedom from within Israeli jails. In a few months we will celebrate the arrival of four new ambassadors, who will bring joy and hope to the lives of their mothers, and bring a smile to the faces of their fathers inside the occupation prisons."
Abu Khaizaran said, "The Razan Medical Center now has preserved sperm samples from approximately 50 prisoners. We are waiting for some procedures and decisions on the part of the mothers before carrying out artificial-insemination procedures."
While these procedures are typically very expensive, the Razan Center offered to perform them for prisoners pro bono, provided that the prisoner is serving a long term. This is so that these women will not miss the chance to get pregnant and have a child, something that gradually decreases as a woman enters her 30s, according to Abu Khaizaran.
Given the formidable task of smuggling sperm and keeping it from becoming damaged, and given religious and traditional considerations in Palestinian society, these women spent months and years in deep thought before taking this step.
Salam Nazzal said, "I spent two years thinking hard about this. My husband expressed his desire for artificial insemination through his family, who visit him in prison. I was afraid of people's reactions; how would they interpret a prisoner's wife becoming pregnant?"
Salam, wearing a full-face veil, went on, "After a lot of thinking I decided to try. I was very encouraged when I heard about the birth of Muhannad al-Zabin. I talked with my three daughters and they all welcomed the idea. I also talked with my family and they were not opposed.
"I'm not asking for much. I want a son that will carry my husband's name and be a help to his sisters. I know that the pregnancy will be hard, given that two years ago I went back to university to complete my education. However, my family will help me with household affairs," noted Salam in a tired voice.
Dalal al-Zabin, the first wife of a prisoner to become pregnant from smuggled sperm, said, "This was my husband's desire. It took me six years to agree. I consulted clergy, my family, his family and many friends. I can say that today I regret having taken all this time to decide."
Many Palestinian religious scholars, such as Mufti Ikrima Sabri and Hamas leader Hamid Bitawi, issued a fatwa years ago permitting the wives of prisoners to become pregnant through their husband's sperm smuggled out of Israeli jails.
Zabin says with a big smile, "This is a new kind of resistance that reflects a passion for life."
She continues, "When my husband saw his new baby boy Muhannad during my recent visit to the prison, his joy was indescribable. He was crying with joy, and said that the pain of prison was bearable after seeing the sparkle in Muhannad's eyes."
Zabin, who had been in prison since 1997, is serving 26 life sentences plus 25 additional years.
One of the four wives, that of prisoner Rafaat al-Qirwi, was absent from the press conference. Her mother-in-law attended in her place, and couldn't finish a single sentence without wiping her tears.
Rafaat's mother said, "My daughter-in-law did not want to attend the press conference in Nablus. We live in Ramallah and the trip here takes about an hour. I was afraid of any accident that could cause her to miscarry."
She continued, her voice trembling, "I have realized my lifelong dream of seeing Rafaat have a child. I thought I was going to die before I saw the day that his wife became pregnant."
The mother wiped tears of joy mixed with sadness, and said, "When Rafaat married, he was wanted by the occupation forces, and the days he spent with his wife were limited. Seven years ago, he was arrested and sentenced to 15 years. The occupation forces do not allow his wife to visit him."
She continued, "When they first told me about smuggling sperm, I told him that I would do anything to see him have a son before I die. His wife is now 30 years old, and is entitled to have a child, given that she decided to wait for her husband."
She asks angrily, "Why are Rabin's killer and his wife entitled to have children, while our imprisoned sons are denied that right? They are opposed to freedom, and this is criminal in the view of their state. What is this racist law?"
According to Tamara Aslan, an official at the Razan Center, "The wives of prisoners manage to bring samples in a variety of ways. For example, one of them brought a sample in a small packet of table salt after having wrapped it up in clothing, to maintain a high temperature for fear of damage."
She said, "The samples arrive to the center after nearly 12 hours on the road. Some are in good condition whereas others are not, causing these women great sadness."
The families of prisoners coordinate with the Razan Center weeks before the visit. Sometimes they fail to get smuggled sperm, but when they do, they call when they arrive at the nearest checkpoint in any city of the West Bank. There are branches of the Razan Center in these cities, and a team from the center assists them regardless of the time of day.
Samples of sperms are subjected to high standards at the center. Two members of the prisoner's family hand over the sample to the center in the presence of two specialists from the laboratory, so that everyone can confirm that the name of the prisoner and the received date is written on the sample. The center even keeps the packages that the smuggled samples arrive in as a kind of additional documentation.
In regards to the security response that will come about as a result of announcing the successful artificial insemination of wives of prisoners, Abu Khaizaran said, "We recognize that Israeli prisons will resort to more complex and tighter procedures, but this conference is designed to appeal to international human rights organizations to put pressure on Israel to allow the prisoners to give sperm samples to their loved ones in a normal way, or through the international Red Cross. It is not reasonable to deprive hundreds of prisoners of their right to procreate."
Lydia Rimawi, the wife of Abdul Karim, a prisoner sentenced to 25 years, said: "My husband was arrested 12 years ago and I have one daughter. I know that time is not in my favor if I want to have more children, for I am 35 years old. I want a big family as compensation for being kept apart from my husband for the remaining years of his sentence."
According to Aslan, "We can use these smuggled samples more than once. The laboratory divides up the samples before freezing them, allowing prisoners' wives the chance to undergo artificial insemination more than once."
Dalal al-Zabin concluded by saying, "Whether the occupation wants it or not, we have children conceived through sperm smuggled from our husbands. We will have more children in the future. This is resistance; they cannot try us on our love of life."
Naela Khalil is a reporter for the Palestinian daily newspaper Al-Ayyam. She was a reporter for the UN humanitarian news and analysis agency IRIN (2005-2006), the UAE magazine Al Maraa el-Muslema (2003), the Jordanian daily Al-Dustur (2002-2003), and the An-Najah Office for Media and Journalism (2001-2002).
http://www.al-monitor.com/pulse/originals/2013/02/palestinian-women-impregnated-smuggled-sperm.html#ixzz2Kg0bbBjc
-----------
Islamist Shura Mps Fault Protesters for Tahrir Square Rapes, Sexual Harassment
Gamal Essam El-Din
Monday 11 Feb 2013
At a Monday session of the Shura Council's human rights committee, Muslim Brotherhood deputies asserted that Tahrir Square – Cairo's foremost protest venue – had become "a hotbed" of prostitution, rape and sexual harassment.
According to Brotherhood MP and committee deputy chairman Ezzeddin El-Komi, "as many as 24 incidents of rape have been reported in Tahrir Square in recent days."
"No one has made any effort to fight this disturbing trend," El-Komi added, pointing out that one recent rape victim in Tahrir Square had been a female correspondent for Sky News TV.
He went on to wonder "why local media isn't mentioning this phenomenon after focussing so intently on the protester who was beaten and stripped [by security forces] outside the Presidential Palace last week."
Ahmed El-Khatib, deputy chairman of Alexandria's Appeal Court, agreed, asserting that "anti-government rallies have become fertile ground for incidents of sexual harassment and the proliferation of vice."
"The growing phenomenon of sexual harassment puts the onus on the political forces that are calling for these demonstrations," said El-Khatib. "If these forces aren't strong enough to secure their rallies against acts of rape, they should stop calling for them."
He urged the government to expedite the drafting of a new anti-protest law while toughening penalties against convicted sexual offenders.
Abdel-Fattah Othman, deputy interior minister for public security, meanwhile, confirmed that Tahrir Square had become "the scene of collective rape incidents in recent weeks."
According to Othman, the total number of reported acts of rape in Egypt last year stood at 129, while incidents of sexual harassment reached 9,468 for the same period – with Cairo accounting for the lion's share.
"Police should not be blamed for the proliferation of rape and sexual harassment incidents in Tahrir Square, since protesters there are generally peaceful and only interested in chanting political slogans," said Othman.
Mervat Ebeid, for her part, a female Brotherhood MP, urged women "to think twice" about participating in political demonstrations "so as not to become prey to sexual offenders and armed thugs who commit rape."
However, non-Brotherhood MPs, such as Nabil Azmi, argued that increasing incidents of rape and sexual harassment should not be used as justification for attacking political demonstrations, asking women to refrain from joining them, or issuing draconian anti-protest laws.
"Some MPs are not so concerned with combating rape and sexual harassment as they are with tarnishing the image of anti-regime rallies and scaring women from joining them," argued Azmi.
He added: "I'm afraid that security forces are only concerned with arresting peaceful demonstrators and torturing them rather than rounding up armed thugs who commit rape."
Mona Makram Ebeid, an appointed Coptic member of the Shura Council (the upper house of Egypt's parliament, currently endowed with legislative powers), told Ahram Online that "by engaging in debates on rape and sexual harassment, Muslim Brotherhood MPs are trying to score political gains by tarnishing the image of democratic protests."
"I'm also afraid that these reactionary forces are trying to impose their code of conduct on women in Egypt, which includes intimidating them from participating in political activity," Ebeid added.
Committee members concluded the debate by recommending the establishment of "fixed places for female demonstrations." Members also rebuked female protesters "who insist on demonstrating with men in unsecure areas."
http://english.ahram.org.eg/NewsContent/1/64/64552/Egypt/Politics-/Shura-MPs-fault-protesters-for-Tahrir-Square-rapes.aspx
--------------
Adelaide Islamic School Warns Even Non-Muslim Teachers to Wear Hijab or Face Sack
Feb 12 2013
Sydney: An Islamic school in Adelaide has warned its teachers, including non-Muslim, to wear the Hijab during school functions and outings or they could be sacked.
Furious debate has erupted; with many people raged over what they called were double standards in the school's stance, claiming the ruling is religious discrimination.
According to telegraph.com.au, there have also been repeated calls for an end to any government funding to the school.
Up to 20 non-Muslim female teachers, who do not wish to be named, have been told they will be sacked from the Islamic College of South Australia's West Croydon campus after three warnings if they do not wear a headscarf to cover their hair, the report said.
If a female Muslim teacher working at a non-Muslim school was ordered to stop wearing her Hijab at school functions and outings then that school board and principal would be before the Anti-Discrimination Commission before you could say 'hypocrisy', wrote 'Sir Loin of Lamb'.
Many readers asked whether it was appropriate for non-Muslims to wear the religious garb.
According to the report, Concerned Citizen of Aberfoyle Park wrote that the warning was blatant discrimination against a non-Muslim's beliefs to force them to wear an Islamic religious garment.
JaneAd of Adelaide said that 'the Hijab is a highly visible outward sign of one's faith. What is the point of forcing non-Muslims to wear it?
Mike of Australia of Brisbane added that 'the wearing of scarves in Muslim countries differs from country to country. There is no standard. Why should the teachers be made to wear a scarf if they are not Muslim?'
Others argued that the school had the right to set its own dress rules.
According to the report, many pointed out that church-run institutions often had rules based on religious values and said strict rules were not unique to Muslim schools.
Earlier it was reported that the order, from the school''s governing board and chairman Faruk Kahn, contradicts the policy of the Australian Federation of Islamic Councils.
Australian Federation of Islamic Council assistant secretary Keysar Trad said the policy was at odds with the national federation, but it was powerless to intervene.
One long-term teacher at the Islamic College of SA said a new school board was now 'forcing teachers to put hijabs back on', the report added.
http://www.indianexpress.com/news/adelaide-school-warns-even-nonmuslim-teachers-to-wear-hijab-or-face-sack/1073090/
---------
Israel Cops Hold 10 Women for Wearing Men Prayer Shawls at Holy Site
11 February 2013
JERUSALEM: Israeli police detained 10 women at one of Judaism's most sacred sites on Monday for wearing prayer shawls, which Orthodox tradition sees as solely for men, a spokesman said.
The incident at the Western Wall in Jerusalem's Old City highlighted the divisions between the more liberal streams of Judaism and politically powerful Orthodox groups that traditionally limit the role of women in prayer.
The Western Wall is administered under strict Orthodox ritual law, which bars women from wearing prayer shawls or publicly reading from the Holy Scriptures.
Among those held was Susan Silverman, a reform rabbi who is a sister of US comedian Sarah Silverman. Two other American citizens and Israeli members of "Women of the Wall," a group that campaigns for gender equality in religious practice, were also detained.
The group routinely convenes for monthly prayer sessions at the Western Wall, revered by Jews as a perimeter wall of the Biblical Temple in Jerusalem. Some of its members have been detained by police in the past for wearing prayer shawls at the site and released without charge.
Susan Silverman, who immigrated to Israel from Boston, said police escorted the group, including her 17-year-old daughter, to a station after they refused to remove prayer shawls.
The rabbi said in a telephone interview from the police station where the group was held that they had been among more than 100 women attending the hour-long prayer session.
"They (police) said 'take off your prayer shawls', and we said 'no'," Silverman said. Once the prayers were over they were escorted away, she said.
Micky Rosenfeld, a spokesman for national police, said the women had acted "against regulations set by the High Court," citing a decision of a decade ago upholding Orthodox rules at the site to avoid friction between worshippers.
Silverman said the Orthodox tradition barring women from wearing prayer shawls amounted to "spitting on Sinai," naming the site where the Bible says God handed to Moses the 10 Commandments.
http://www.arabnews.com/israel-cops-hold-10-women-wearing-prayer-shawls-holy-site
--------------
Young Indian Teacher in Maldives Hospitalised In "Very Serious Condition" After Rape
By MinivanNews | February 11th, 2013
A young Indian teacher working on the island of Dhangethi in Alif Dhaal Atoll has been hospitalised after a group of people broke into her home on Sunday night and allegedly raped her.
The 25 year-old women is in a "very serious condition" following the attack, said the Island Council President Azim Adam.
"They broke in [to her house] around 2:15am. I came to know about it at 4:00am and I instantly reported it to the police. The girl is now in the atoll hospital in a very serious condition," Adam said.
A source close to the victim said she was in the hospital's intensive care unit but was "bleeding uncontrollably."
Full report at:
http://minivannews.com/society/young-indian-teacher-hospitalised-in-very-serious-condition-after-alleged-rape-52707
--------------
South Africa's Anene Booysen gang-rape: Second man charged
12 February 2013
A second man has been charged in a South African court with the brutal gang rape and murder of 17-year-old Anene Booysen in a case which has shocked the nation.
Jonathan Davids hid his face after the court ruled that the media should not show his face, or that of Johannes Kana, who was charged earlier.
Parents with prams were among some 100 anti-rape protesters outside court.
South Africa has one of the highest rates of sexual violence in the world.
Police figures show that 64,000 cases were reported last year.
Ms Booysen was gang-raped, murdered and mutilated at a construction site in Bredasdorp, a rural town some 130km (80 miles) from Cape Town, on 1 February.
Full report at:
http://www.bbc.co.uk/news/world-africa-21428377
--------------
No Honeymoon for These Newlyweds of Karachi, Afraid Of Being Killed
By Naeem Sahoutara
February 12, 2013
KARACHI: Nazeer Ahmed and Razia tied the knot by tying a thread at the shrine of a saint but two months into their marriage, the matrimonial bliss has taken back seat to the constant fear of being separated by death.
"We liked each other and wanted to marry. But our parents were not happy with this union and so we fled our homes and married in court," Nazeer told the judges recently. "This infuriated my wife's family, who have declared us as karo and kari (liable to be killed under the custom of honour). Now they are out to kill us and we need protection."
Full report at:
http://tribune.com.pk/story/505984/no-honeymoon-for-these-newlyweds-only-trips-to-court/
--------------
UK Non-Muslims Endorse Modest Burkini, a Head-To-Toe Swimming Suit
10 February 2013
CAIRO – Designed originally for Muslim women to practice their favourite sport, the Burkini, a head-to-toe swimming suit, is gaining more popularity among non-Muslims in Britain.
"The first few years were a hard struggle but, over the past two years sales have grown between 300 and 400 percent," Ismail Sacranie, sales and marketing director at London-based company Modestly Active, told The Daily Mail on Sunday, February 10.
The Burkini, a two-piece swimsuit incorporating a head covering, a loose-fitting chemise and leggings, was originally designed for Muslim women to help them practice swimming.
The outfit was originally imported from Turkey and Morocco.
Full report at:
http://www.onislam.net/english/news/europe/461284-british-non-muslims-endorse-modest-burkini.html
--------------
Iran Detains Daughters of Reformist Opposition Head
11 February 2013
DUBAI, United Arab Emirates: An Iranian opposition website says authorities in Tehran have detained the daughters of reformist leader Mir Hossein Mousavi, who has been under house arrest for nearly two years.
The detentions could signal stepped-up crackdowns on opposition figures ahead of June's presidential election to pick a successor to Mahmoud Ahmadinejad.
Full report at:
http://www.arabnews.com/report-iran-detains-daughters-opposition-head
--------------
Women's Presence in Shura Delayed by Logistics
Jumana Al Tamimi Associate Editor
February 11, 2013
Dubai: The commencement of the new Consultative Council in Saudi Arabia, which for the first time will have 30 female members, is still awaiting the completion of modifications in the building to segregate women and men, according to Saudi women activists.
The segregation is expected to be one of the obstacles facing the new women members, who were allocated 20 per cent of the 150-member advisory body in the conservative kingdom last month, activists added.
Full report at:
http://gulfnews.com/news/gulf/saudi-arabia/women-s-presence-in-shura-delayed-by-logistics-1.1145016
--------------
Violence on Women Common in Patriarchy in Bangladesh
12 Feb 2013
The overarching superiority complex of men in patriarchal societies triggers constant violence against women and children, observed National Human Rights Commission Chairman Dr Mizanur Rahman at a discussion yesterday.
The discussion on preventing oppression and violence on women and children was organised by Human Rights International Bangladesh at Supreme Court Bar Auditorium in the capital.
Mizanur Rahman said no matter how tough the laws are, violence against women will not stop unless the rule of law is established in the country.
Condemning the court procedure of dealing with rape cases, he said, "Why does the rape victim have to prove that she was raped?" Rather the accused should have the responsibility to prove that he was not guilty, he opined.
http://www.thedailystar.net/newDesign/news-details.php?nid=268790
--------------
Women protesters during Zia regime remain undefeated
By Sehrish Ali / Maha Mussadaq
February 12, 2013
ISLAMABAD: Few know that February 12 – officially declared National Women's Day in Pakistan – commemorates a march by women three decades ago, which marked the "beginning of democracy".
Exactly 30 years ago, a group of women suffered the brunt of police action for defying Section 144 (which bans public assembly) to protest against the proposed Evidence Bill during former ruler Gen Ziaul Haq's regime.
The protesting women had planned to march to the Lahore High Court to submit a petition against the bill, which reduced the legal status of women by proposing that the evidence of two women should equal that of one man.
Full report at:
http://tribune.com.pk/story/506070/women-protesters-during-zia-regime-remain-undefeated/
--------------
Afghan Women Face Grim Future
02/11/2013
The thin, blue burkas hanging on pegs in a sad little row indicated the diminished status of women in the northern Afghan city of Faisabad.
About 200 Afghan girls and boys who had completed the local high school were trying to learn computers and English at this private school endowed by an Afghan diplomat. But to walk through the frozen, grimy streets of this mainly ethnic Tajik city near the Tajikistan border, the girls had to walk a gauntlet of male lust.
After all, no Afghan men had the chance to simply socialize with young women. They were kept apart by tradition and also by the fear that grips the women and has forced them to put on the burka.
Full report at:
http://www.huffingtonpost.com/ben-barber/afghan-women-face-grim-fu_b_2649070.html
--------------
'One Billion Women Victims of Violence'
Feb 12, 2013
HYDERABAD: One in three women on the planet is likely to be beaten or raped during their lifetime and with the world population pegged at 7 billion, the numbers of victims add up to more than one billion women, said representatives of the 'One Billion Rising Collective', a global campaign to end gender violence.
The brutal gang-rape and subsequent death of Delhi girl Nirbhaya last December has firmly put the spotlight on the rising crime against women in India and has brought together activists to campaign for stronger laws.
Full report at:
http://timesofindia.indiatimes.com/city/hyderabad/One-billion-women-victims-of-violence/articleshow/18456208.cms
-------------
Literary Fest in Pakistan to Bring Together Eminent Women Authors
By Xari Jalil
12 Feb 2013
LAHORE: The Lahore Literary Festival, Feb 23-24, will bring together some of the most eminent women scholars, poets and writers.
Some of these women have strode into the world of literature with some of the biggest contributions that continue to be translated and sold worldwide such as works of Bapsi Sidhwa.
From the perspective of a Parsi child, she wrote about the partition in Ice Candy Man, and the painful tale of a woman in The Bride. Her passionate writing and painful observations led to these excellent novels in English. At the Lahore Literature Festival Sidhwa will be re-launching The Crow Eaters, this time in Urdu titled 'Jungle Wala'.
Full report at:
http://dawn.com/2013/02/12/literary-fest-to-bring-together-eminent-women-authors/
--------------
Dar Al Islam Mosque Adding Funeral Home, More Prayer Space From Woman
12 Feb 2013
The Islamic Foundation of Greater St.Louis held a ground breaking ceremony Feb. 8 to begin construction of the first Muslim-operated funeral home in Missouri.
The funeral home and additional prayer space from woman will be built at Dar Al Islam Masjid in West County near Manchester. A Masjid is a mosque.
Adil Imdad will be the director of the new funeral home at the masjid, 517 Weidman Road. He said he's pleased the community can have funerals according to Islamic traditions, adding that the new facility will give both Muslims and non-Muslims a cheaper alternative to the costs of a traditional funeral.
Full report at:
http://www.stltoday.com/mosque-adding-funeral-home-more-prayer-space/article_8a7fcf5d-7ab6-537f-92e4-722b3256d3d1.html
--------------
How Ukrainian Women Saved the Samaritans of Mount Gerizim
The Samaritans of Mount Gerizim were a rapidly dwindling religious community facing extinction. Then a handful of young Ukrainian brides made the journey to the West Bank, bringing with them fresh hope
Harriet Sherwood
11 February 2013
For decades, it seemed as though one of the world's smallest religious communities was doomed. Dwindling and insular, the Samaritans of Mount Gerizim were struggling to survive as inbreeding produced generation after generation of children with serious disabilities on an isolated hilltop in the biblical landscape of the West Bank.
Full report at:
http://www.guardian.co.uk/world/2013/feb/11/ukrainian-women-samaritans-mount-gerizim
--------------
URL: https://www.newageislam.com/islam,-women-and-feminism/new-age-islam-news-bureau/fatwas-allow-artificial-insemination-for-wives-of-palestinian-prisoners/d/10377