New Age Islam News Bureau
5 Jul 2013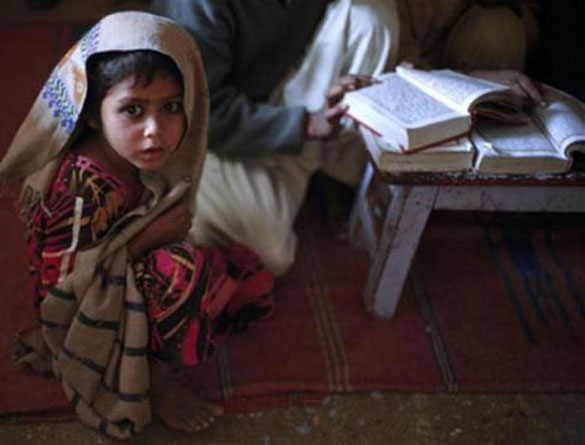 Study shows a literate girl enhances siblings' knowledge. PHOTO: REUTERS
------------
• Mother of Five Stabbed to Death in Pakistan in the name of Honour
• 69 Guilty Of Sedition, 25 Cleared As All Accused Women Walk Free From Court in Abu Dhabi
• Burqa Reinvents Itself, Makes A Global Fashion Statement, Indian Women Keeping Apace
• Prominent Turkish Women Call For Freedom to Wear Headscarves
• Chicago-Area Muslim Women Shun Repeat Mammograms
• FEMEN topless activist protests Turkish PM
• Egypt's Regimes May Change, But Not the Plight of Women Protestors
• Female Education: For Better Childcare, Educate the Elder Sister: Study
• Muslim Convert Terrorist's Wife Ayan Hadi Pleads Guilty
• Nigeria: '65 Percent Girls Lack Access to Basic Education in North East'
• Government of Canada Supports Action in London to End Violence against Women and Girls
• Don't Skimp: Dubai Malls Enforcing Ramadan Dress Code
Compiled by New Age Islam News Bureau
URL: https://newageislam.com/islam-women-feminism/fatwa-make-up-islamists-target/d/12443
-----------
Fatwa for make-up: Islamists target women in rebel-controlled Syrian territories
July 5, 2013
Syrian rebels have issued a ban on women using make up or wearing "immodest dress" in a neighborhood in the city of Aleppo. Critics have blasted the move as another attempt by Islamists to impose Sharia in rebel-controlled territory.
The fatwa (an order based on Sharia law) was issued by the Islamic law council in Aleppo's Fardous neighborhood.
"Muslim women are banned from leaving the house in immodest dress, in tight clothing that shows off their bodies or wearing makeup on their face. It is incumbent on all our sisters to obey God and commit to Islamic etiquette," the statement on the Fardous council's Facebook page says as cited by Reuters, which reports that Aleppo residents have confirmed the news.
Some of the comments showed support for the ruling, arguing there was nothing wrong in requiring that people follow "certain etiquette in public". Critics lashed out at the Islamist-led rebels for abusing their power.
The women's clothing fatwa has been viewed as the latest example of Islamic radicalism growing within rebel-controlled Syrian areas.
A video released a few days ago features public beheadings of alleged Assad loyalists.
The executed men were Christians according to some media reports, with one of the dead being a priest. Various local sources have accused Jabhat al Nusra – the Al Qaeda-affiliated radical Islamist group opposed to Syrian President Bashar Assad– of carrying out the killings.
At the beginning of June a teenage boy in the northern city of Aleppo was allegedly executed for blasphemy in front of his family by an al-Qaeda-affiliated opposition group.
But European MP Nick Griffin, who was in Damascus with a fact-finding delegation in June, argues Syrians are not going to accept the implementation of harsh Sharia laws.
"We've been able to talk with ordinary Syrians at all sorts of different levels. Something that comes out from all those people who we speak to is that Syria wasn't perfect, but it was a secular and tolerant state where no one even cared if someone was Sunni or Shia or Christian or Jewish," Griffin told RT after his visit.
Imposing Sharia could backfire against the anti-Assad forces as the most recent events in Egypt suggest. The 2011 revolt saw Islamists come to power in the North African state and attempt to push through a Sharia constitution. The move eventually sparked an even greater uprising, with millions now in the streets protesting the "islamization" of their country.
"All [Morsi] has done is introduce or he tried to introduce that fundamental constitution that would turn Egypt into a Sharia state. Most Egyptians don't want that. They want to have their religion in private, but not to have the state dictate to them exactly what it is going to look like," political analyst and author William Engdahl told RT.
http://rt.com/news/syria-rebels-fatwa-women-523/
-----------
Mother of Five Stabbed to Death in Pakistan in the name of Honour
5 Jul 2013
LAHORE: A woman was stabbed to death by her husband in the name of honour in Faisal Town police area on Thursday.
The deceased was identified as Kosar, mother of five, resident of Kotha Pind Faisal Town. The victim's husband, Muhammad Tufail, belongs to Baseerpur Okara and had shifted to Lahore's Faisal Town area with his family a few years ago and is a cobbler by profession.
Police investigator claimed the victim had established illicit relations with Qasim, a resident of the same locality, after which her husband warned her of dire consequences. Accused Tufail initially tried to stop her, but she continued with the relationship. "At last, in the early hours of Thursday, he stabbed her while she was sleeping," he added. Later, the suspect arrived at the concerned police station with a sharp-edged weapon and confessed to the murder. Police reached the spot immediately and moved the body to the city mortuary for autopsy. Police registered a murder case against the arrested on the complaint of the deceased's relative.
In another incident, a youth was shot dead in the name of honour in the jurisdiction of Race Course police.
The deceased was identified as Ali Hassan, a resident of Kachi Abadi police Qurban line. Police said the victim and his brother belong to Basserpur Okara and had shifted to Lahore a few years ago. Police said the victim lived in a rented house and also ran a milk shop in the same area. Police said that the victim allegedly had developed a relationship with a local girl and entered her house in the wee hours of Thursday. Upon being informed, the house members caught him and later, fired shots at him, resulting into his instant death. Police reached the spot after being informed and removed the body to city mortuary. Police investigator said that initially the incident seemed one of "honour killing" but police is also investigating other aspects. Police has registered a case against the accused Haji Munwar and his two sons but no arrests have taken place so far.
Meanwhile, a 16-year-old was gunned down over minor a issue in the limits of Garhi Shahu police.
The deceased was identified as Ghulab Khan, a resident of Peshawar. Police said the victim had worked at a local teashop near a petrol pump located at Chwok Ghari Shahu. Investigators said that accused Mumtaz Khan, who served as security guard on petrol pump ordered a cup of tea. When the arrived with the order, both quarrelled over the delay. Mumtaz Khan got infuriated and shot Gulab Khan. The injured was taken to a nearby hospital where he succumbed to injuries. Police removed the body to city mortuary and arrested the culprit. Police did not register a case till the filing of this report.
Also, at least 12 people including women and children received injuries when a motorcycle rickshaw turned turtle near Suggian Bridge.
Police said that a rashly driven motorcycle rickshaw turned turtle when the driver lost his control due to overloading and over speeding. As a result, 12 passengers received injuries. The injured were rushed to hospital where their condition was said to be out of danger. The injured were identified as Asif Ali, 10, Saeed, 12, Shazia, 30, Bushra, 35, Ghulam Fatima, 40, Tufail, 30, Ashraf, 40, Abid, 24, Raheel, 25, Basharat, 35, Muddasir, 16, Asghar, 25, and Amir, 26.
http://www.dailytimes.com.pk/default.asp?page=2013\07\05\story_5-7-2013_pg13_3
---------
69 Guilty Of Sedition, 25 Cleared As All Accused Women Walk Free From Court in Abu Dhabi
Ayesha Al Khoori
July 5, 2013
ABU DHABI // Sixty-nine of 94 Emiratis on trial for sedition were found guilty today and sentenced to jail terms of up to 15 years.
Judge Falah Al Hajeri acquitted 25 accused, including all 13 women. Eight men tried in their absence were sentenced to 15 years in prison. Of the others, 56 were jailed for 10 years to be followed by three years' probation and five men were jailed for seven years.
State Security officials were ordered to seize financial assets from some of the guilty men, including Dh1.1 million from a front company used by the group, and a farm and two buildings.
The judge also ordered the closure of three educational centres run by the group and five websites, including that of Al Islah.
The State Security Court was packed with relatives, human-rights organisations, media and bailiffs awaiting the verdict.
The hearing began at 10.07am, and was over within 20 minutes, with the judge first reciting a Quranic verse: "Indeed, we have revealed to you, the book in truth so you may judge between the people by that which Allah has shown you."
He said the ultimate goal of the judicial system was to "endorse truth and dispel falsehood, taking into account the constitutional legitimacy of the laws and regulations … as well as the religious and moral customs and principles that are the bedrock of civic life in Arab Gulf society at large, and Emirati society in particular."
He said the trial had been held in accordance with the Constitution, and defendants and lawyers had been able to make requests to the court, provide witnesses and evidence "in all transparency" and give evidence orally.
The 94 were accused of being members of a secret political organisation whose goal was to undermine the nation's rulers and ultimately lead to the downfall of the Government. The organisation was said to be linked to the Muslim Brotherhood.
All 94 – most of whom were former teachers, professors, lawyers, judges and writers – had denied the charges. Some had admitted affiliation to the organisation, but insisted it was not linked to the Brotherhood and sought nothing more than "reform".
"I think the UAE judicial system is independent and has integrity. Defendants, in addition to their lawyers, got the chance to defend themselves," Mohammad Al Hammadi, editor-in-chief of Al Ittihad, Arabic-language sister newspaper of The National, said after the verdict.
"The UAE cannot tolerate such secret organisations, even if the defendants and the organisation do not accept the verdict. It is in the country's benefit today to turn this page which almost caused a fissure in Emirati society."
Sultan Souud Al Qassemi, a commentator on Arab affairs, said the case had taken the public "out of their comfort zone".
"The reaction is definitely relief as they can now go back to live their lives," he said. "The sentence is a major blow to the Brotherhood at this critical time when they are losing their foothold in Egypt – not only for the group members and affiliates in the UAE but on a regional level since the UAE is an important banking and business centre they could have exploited."
Professor of political science Dr Abdulkhaleq Abdulla said the community's overriding emotions were of relief. "I think this was, for this country, the trial of the century," he said. "Overall, we are relieved the trial was as transparent as possible and that the verdict was not severe, it is balanced."
The UAE Journalists Association cautioned Emirati youth "against destructive thoughts and trends promoted by outlawed malicious groups that disrespect the achievements of the UAE, and are masked by religion or politics."
"Freedom enjoys a space as widely open as the desert and the sea of the UAE," the association said, "guaranteed by the constitution and the inherited customs at the majlises of our rulers."
http://www.thenational.ae/news/uae-news/courts/uae-sedition-trial-69-guilty-25-cleared-as-all-accused-women-walk-free-from-court#ixzz2YD4KRIPM
-----------
Burqa Reinvents Itself, Makes A Global Fashion Statement, Indian Women Keeping Apace
July 5, 2013
NEW DELHI | BANGALORE: For nearly 1,500 years, Muslim women have worn the Burqa as a symbol of modesty. But it is no longer just black, boring and behind the times - the Burqa is fast transforming into a global fashion statement and Indian women are keeping apace.
While still a subject of hot debate - with some Western countries banning women from wearing a Burqa in public - the garment has widened its appeal by reinventing itself. Even pop star Lady Gaga recently wore Burqa-inspired designer wear.
For their part, Indian women are experimenting with its form and are fashioning office and party wear that are chic and sophisticated. Some Burqas even come studded with Swarovski crystals and other precious gems that have matching accessories - from footwear to brooches and bags - to go with them.
Bangalore-resident Mariam Raza picks up designer Abayas - a long flowing garment that is often worn with a headscarf - from the Gulf. "I recently bought one from Dubai that cost over 1 lakh," says the 32-year-old who has a rich collection with a variety of embroideries, cuts and designs, costing upward of 50,000 apiece. "They are both stylish and modest."
Jabeen Farook, also from the same city, loves donning the stylish Burquas. "With the attire becoming more fashionable, even the youngsters find it exciting to wear them," says Farook, who shops for Burqas in Dubai, France, Morocco and Egypt. "Wearing an abaya is not a burden anymore."
It's for customers like Raza and Farook that retailers and designers are setting up "burqa boutiques" in India.
Reza Khan, owner of Reza Burqa in Mumbai, says he recently dispatched over 60 Swarovski-studded garments to a client in Ahmedabad. He also exports to clients in the United Kingdom, the United States and Africa.
"Some of them have around 15,000 pieces of the Austrian crystals and are really sought after by clients from business families in Mumbai and Ahmedabad," says Khan, who gets about 20 orders a month for such expensive pieces.
The demand is even drawing international designers to look at this market. Dubai-based designer Mona Fares first came to India in 2009 on five-day visit, when she went to typical touristy places in and around Delhi, including the famous Chandni Chowk area. Impressed with the embroideries and intricate designs that she saw, she decided to produce her first collection of abaya from India, which flew off the shelves in Dubai.
Now she is considering launching her label in India. "I see a huge potential in India for my designs and see it working," says Fares.
Some are even thinking big. Bangalore-based chain Islamic Boutique is now working with Franchise India for finding partners to expand nationally. Junaiz Kizhakkayil, who owns the chain that currently has stores in Bangalore and Erode, said he is keen to bring a few international labels from Dubai to India.
"Women in India are also experimenting with other styles of clothing like loose pants with long Irani tops and a hijab (headscarf) that are not only modern but also ensure modesty," says Kizhakkayil, who imports high-quality fabric from Dubai, Korea, Japan, Indonesia, China and Iran. "Even Muslim swimming suits that cover the entire body from head to toe are in demand."
Gaurav Marya, president of Franchise India Holdings, says Islamic clothing as a product category has been long ignored in Indian retail. He points out that in the Middle East about 15% of the total mall area is usually occupied by brands selling traditional Muslim attire for both men and women. "Though the category is small in India, given the considerable Muslim population, there is room for growth."
Also, Indian designers are taking part in international events showcasing burqas and other related attire. Mumbai-based designer duo Rajesh and Anirban (no second names) presented their collection recently at the Islamic Fashion Festival in Kuala Lumpur along with a few other designers from India. "We have also done clothes for the queens of Malaysia and Riyadh," says Anirban, who points out that most trends in Islamic fashion come to India from Pakistan or the Middle East.
vijaya.rathore@timesgroup.com
http://economictimes.indiatimes.com/news/news-by-industry/cons-products/fashion-/-cosmetics-/-jewellery/burqa-reinvents-itself-makes-a-global-fashion-statement/articleshow/20920277.cms
-----------
Prominent Turkish Women Call For Freedom To Wear Headscarves
July 5, 2013
Fifty-seven prominent Turkish women including journalists, artists, academics and politicians who do not wear headscarves have signed a statement calling for complete freedom to wear a headscarf in Turkey.
The statement published by the Today's Zaman newspaper on Tuesday said that "the biggest victims of the politics that marked Turkey's last 20 years on the Muslim-secular axis, have always been women. We oppose every kind of practice that creates inequality for women who wear headscarves. We demand the removal of all legal and non-legal obstacles that impede headscarf-wearing women's employment in the public-sector and election into general and local offices. We don't make any distinction between those receiving a public service and those offering one."
Some circles fear that headscarf wearing women in public service could cast a shadow over her impartiality. Hence, headscarf ban should remain for public servants.
Journalist Amberin Zaman, sociologist Nilüfer Göle, and academic Yasemin Inceoglu were among the signatories to the statement.
Turkey's ban on headscarf dates back to the 1980s. After the 1980 coup, a regulation clearly defined the permissible clothing and appearance of staff working in state offices, including the stipulation that the hair of civil servants must be uncovered. Women who wear headscarves were then denied the right to serve in state institutions.
http://www.rttnews.com/2144809/prominent-turkish-women-call-for-freedom-to-wear-headscarves.aspx?type=gn&utm_source=google&utm_campaign=sitemap
-----------
Chicago-Area Muslim Women Shun Repeat Mammograms
July 4, 2013
A new study shows a significant number of Muslim women in the Chicago area are shunning repeat mammograms, which could be jeopardizing their health given that breast cancer is the most common form of cancer among all U.S. women.
The University of Chicago study finds that while 77 percent of Muslim women responding to a survey reported getting a mammogram at least once in their lifetime, and 37 percent said they have not gone back for another in the past two years — despite health experts' recommendations that they do so.
The study by Dr. Aasim Padela, assistant professor of medicine and director of the Initiative on Islam and Medicine, a project under the U of C's Program on Medicine & Religion, also found that women who use so-called positive religious coping — those who say they rely on God and prayer for internal healing, were five times less likely to report having a mammogram in the past two years. Women who said they believed they are discriminated against as Muslims were 25 percent less likely.
Full report at:
http://www.suntimes.com/news/metro/21122818-418/u-of-c-survey-chicago-area-muslim-women-shun-repeat-mammograms.html
-----------
FEMEN topless activist protests Turkish PM
July 5, 2013
One suspected FEMEN activist flashed her breasts at Istanbul's Sabiha Gökçen Airport to protest Turkish Prime Minister Recep Tayyip Erdogan.
She also unfurled a banner reading "Erdogan from Istanbul To Kabul."
She was immediately detained by police.
http://www.hurriyetdailynews.com/femen-topless-activist-protests-turkish-pm.aspx?pageID=238&nID=50094&NewsCatID=341
---------
Egypt's regimes may change, but not the plight of women protestors
Apoorva Dutt Jul 4, 2013
The rape of a female Dutch journalist in Tahrir Square last week was déjà vu of the worst kind. A year after the brutal rape of Lara Logan, a CBS journalist, in Tahrir Square by over a hundred men made news, violence against women in the streets of Egypt is again part and parcel of the narrative of public protest in Egypt.
Gang rape, sexual assault and threats of violence are a daily occurrence in the country's rallies and protests. Since last Friday, over a 101 cases of sexual assault have been reported, some of which have required surgery and hospitalisation. Mobs of men have routinely attacked women, stripping them naked, raping, assaulting and attacking them with weapons, and in some cases even filming the attacks.
Full report at:
http://www.firstpost.com/world/egypts-regimes-may-change-but-not-the-plight-of-women-protestors-928979.html
-----------
Female Education: For Better Childcare, Educate the Elder Sister: Study
July 5, 2013
ISLAMABAD: Investing in an elder sister's education has a far-reaching impact on a household, increasing the learning outcomes of her younger siblings and improving childcare in the family, suggests a study.
"Investing in the elder sister's education has bigger and better implications in the long run," said Dr Javaeria Qureshi from the Department of Economics, University of Illinois, Chicago. She was presenting the findings of her study, "Returns on Investing in Female Education: Impact on Younger Sibling Human Capital" at the Sustainable Development Policy Institute (SDPI) here on Thursday.
Full report at:
http://tribune.com.pk/story/572725/female-education-for-better-childcare-educate-the-elder-sister/
-----------
Muslim Convert Terrorist's Wife Ayan Hadi Pleads Guilty
5 Jul 2013
The wife of a convicted terrorist has pleaded guilty to failing to provide information that might have helped in his arrest and prosecution.
Ayan Hadi, 31, is the wife of Muslim convert Richard Dart. He was jailed in April along with two other men for preparing acts of terrorism.
The London-based trio discussed targeting the town of Royal Wootton Bassett as part of their plans.
Hadi, from Acton, west London, will be sentenced on 16 August.
She had been charged with having information that she knew or believed might be of assistance in securing Dart's apprehension, prosecution or conviction for an act of terrorism.
It covered the period between 1 July and 6 July 2011.
Full report at:
http://www.bbc.co.uk/news/uk-23193763
---------
Nigeria: '65 Percent Girls Lack Access to Basic Education in North East'
BY AHMED MOHAMMED, BAUCHI, 4 JULY 2013
A non-governmental organisation, Nigeria Northern Education Initiative (NEI), funded by the United States Agency for International Development (USAID) has said that about 65.5 percent of girls lack access to basic education in The North East region of the country.
Education expert Hajiya Bintu Abba Ibrahim made the statement during a public presentation on gender assessment findings on basic education and living conditions of orphans and vulnerable children organized by Bauchi State Ministry of Women Affairs and Child Development in collaboration with NEI. She explained that the percentage of boys that attend primary school is 49% while that of girls' attendance is 37.1% in the region.
Full report at:
http://allafrica.com/stories/201307041547.html
-----------
Government of Canada Supports Action in London to End Violence Against Women and Girls
July 5, 2013
LONDON, ON, July 4, 2013 /CNW/ - On behalf of the Honourable Rona Ambrose, Minister of Public Works and Government Services and Minister for Status of Women, Susan Truppe, Parliamentary Secretary for Status of Women, today announced Government of Canada support to the Muslim Resource Centre for Social Support and Integration for a project in London to address violence against women and girls committed in the name of so-called "honour".
"Our Government is committed to protecting women and girls from all forms of violence, and holding offenders accountable for their actions," said Minister Ambrose. "That is why we are supporting projects like this that address acts of violence committed in the name of so-called "honour" across Canada."
Full report at:
http://online.wsj.com/article/PR-CO-20130704-905673.html?mod=googlenews_wsj
-----------
Don't Skimp: Dubai Malls Enforcing Ramadan Dress Code
July 5, 2013
Dubai Mall security staff is cracking down on shoppers dressed in skimpy outfits and being overtly affectionate as Ramadan approaches.
This pocket-sized flyer is being handed out by security guards to visitors who are dressed inappropriately in a bid to step up awareness of the mall's courtesy policy.
Guards told the Dubai-based news orgainsation 7DAYS that although the information has been available for a long time, it is only in the past month they have been instructed to politely distribute the leaflets to violators. "If we see someone who is not following the policy, it is part of our job to inform them by giving them the card," one of the guards explained.
The text on the card states: "Please wear respectful clothing. For example, shoulders and knees should be covered. No kissing or overt display of affection in the mall.
Full report at:
http://www.albawaba.com/editorchoice/dont-skimp-dubai-malls-enforcing-ramadan-dress-code-504257
-----------
URL: https://newageislam.com/islam-women-feminism/fatwa-make-up-islamists-target/d/12443