New Age Islam News Bureau
8 Apr 2018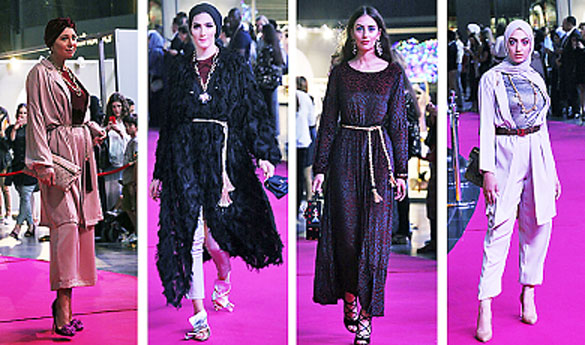 Photo: Models present modest fashion outfits in Dubai, United Arab Emirates, March 28. The Islamic Fashion and Design Council is hosting a six-day fashion show for modest clothing, showing the growing market for the clothes
--------
• Dubai Hosts First NRI Summit on Women
• Parachinar Woman Hopeful Opens Poll Office
• Islamophobia in Texas: A Muslim Nurse Attacked By Violent Racists While Returning Home
• Clothing Designer Seeks To Fill Need for Muslim Women
• $5K Reward for Information On Man Who Attacked, Yelled Anti-Muslim Slurs At Woman
• Rihanna's 'Fenty Beauty' arrives in Saudi Arabia
Compiled by New Age Islam News Bureau
URL: https://www.newageislam.com/islam-women-feminism/fashion-show-without-catwalks-promotes/d/114859
-------
Fashion Show Without Catwalks Promotes Modest Wear In Dubai
April 8, 2018
DUBAI, United Arab Emirates (AP) – A weeklong fashion event in Dubai is being held without catwalks, models or skin-baring designs.
Instead, around 30 designers of fashionable modest wear – some Muslim and others not – from nearly two dozen countries showcased their long-sleeved and floor-length pieces on large screens. Buyers could see and touch the collections up close in one of Dubai's newest shopping districts, a shimmering maze of walkways and fountains.
At the start of the event, a handful of designs were paraded around the plaza.
"We did away with the catwalk. We thought that was one of the most antiquated things," Alia Khan, chairwoman of the Islamic Fashion and Design Council (IFDC), said, explaining the decision to nix the most common elements of fashion shows around the world.
Khan spoke recently, the opening night of the event dubbed 'A Modest Revolution'. It showcases the latest creations by designers hoping to capitalise on a growing desire by Muslim shoppers to wear modest clothing that is also fashionable.
Models present modest fashion outfits in Dubai, United Arab Emirates, March 28. The Islamic Fashion and Design Council is hosting a six-day fashion show for modest clothing, showing the growing market for the clothes
Alia Khan, the founder and chairwoman of the Islamic Fashion and Design Council, speaks to The Associated Press in Dubai, United Arab Emirates, March 28. Khan is wearing a dress by Italian designer Isabella Caposanno, whose clients include Arab royalty. The long-sleeved chiffon dress took three months to make and costs upward of 30,000 euros
Chicago-based designer ShahdAsaly, the founder and CEO of Blue Meets Blue, speaks to The Associated Press in Dubai, United Arab Emirates. – PHOTOS: AP
Italian designer Isabella Caposanno's long-sleeved evening-wear dresses can take months to make by hand, and some cost upward of 30,000 euros ($37,000).
Her clients include Arab royalty.
Under-Rapt offers modest sportswear, with longer, looser tops. Its leggings include flaps that fall just below the hips to give extra cover to the rear and front.
Another line, called Blue Meets Blue, employs refugees who have resettled in the Chicago area to make dressy and formal wear.
"We're trying to change the stereotypes of refugees in the US, as well. We want people to know that they're very hardworking, they're very excited to be in their new country and they want an opportunity to show that," said ShahdAlasaly, designer and founder of the American-made brand.
Alasaly says her customers aren't just Muslims, but also Orthodox Jewish women who want to wear something that's "classy, timeless and elegant".
How women choose to dress modestly varies around the world. Often, Muslim women who cover their hair with a hijab, or headscarf, in public do so in ways that reflect the local culture and their interpretation of Islamic guidelines.
But even women who dress modestly and cover their hair can find themselves at odds with conservatives who say the hijab should not be eye-catching and should conceal a woman's beauty from strangers.
"Modest fashion comes in so many different ways and I think people tend to pigeon-hole it and stereotype it," Khan said. "Designers are coming from all walks of life. All have their own interpretation."
Malaysia has been a trailblazer in the so-called halal industry, an estimated $2.6 trillion global Muslim lifestyle market that includes everything from halal food products that adhere to Islamic principles on how to slaughter animals, to halal tourism, where hotels cater to Muslim visitors by offering prayer rugs, halal food options and even gender-segregated beaches and pools.
On the opening night of the event, VivyYusof, a designer and businesswoman from Malaysia, wore a cream-coloured headscarf by her brand, 'dUCk', paired with a Petite Malle Louis Vuitton bag and a bejewelled black blazer and black slacks made by South Asian designers.
"I think it's really funny that now modest fashion is booming so much, because that's how we've been dressing for ages," she said. "Layering, covering, long sleeves, long pants, you know, wearing the hijab or not, that's how we've been dressing as Muslim women."
The 30-year-old and her husband co-founded Fashion Valet, an e-commerce website in Malaysia that features more than 400 South Asian designers, many of them selling modest wear collections. She selected six South Asian designers to showcase their pieces at her stall.
Yusof declined to disclose specifics on the company's annual revenue, but said that since launching the site eight years ago, business has grown by 100 per cent annually.
Mainstream designers and retailers are also trying to tap into the niche market for modest clothing.
Just last month, US retailer Macy's launched a modest clothing line targeting Muslim fashionistas. The new line, available online for now, includes ruffled high-neck tunics, flowy jumpsuits and bell-sleeve ankle-length cardigans.
Nike has debuted a hijab designed for female Muslim athletes. US fashion house DKNY in 2014 launched a modest wear collection for Ramadhan, the holy month when Muslims fast from sun-up to sundown.
High-end label Dolce & Gabbana has also released a collection of headscarves and coordinated abayas, the loose robes worn by women in Arab Gulf countries.
The IFDC says Muslims are expected to spend as much as $322 billion on fashion this year. That figure is projected to grow as the Muslim population expands to 2.2 billion by 2030.
For the first time this year, more than half of all apparel and footwear sales will originate outside Europe and North America, according to consulting firm McKinsey &Co's 'The State of Fashion' report.
The main areas of growth will be in emerging markets in Asia where fashion sales are expected to grow by 6.5 to 7.5 per cent this year.
In the Middle East, fashion sales are expected to grow by six per cent, compared to two to three per cent growth in Europe and one to two per cent in North America.
Syrian sisters Nazek and Rama Jandali searched the fashion stalls for unique and modest pieces to wear this Ramadhan, set to begin mid-May. Nazek was dressed in an off-the-shoulder cream embroidered top.
Her younger sister Rama wore a colourful Fendi top and Chanel shoes. Neither covered their hair.
"I really like this event because it supports all these new designers and it's something you don't see in the market, or you don't see it in shopping malls. It's something new – not many people (have) worn it," said Rama of the collections on display.
Nazek agreed.
"It's not like the usual exhibitions or usual fashion shows. I found it really interesting that it inspires the conservative woman who would like to really be trendy in a very modest way," she said.
borneobulletin.com.bn/fashion-show-without-catwalks-promotes-modest-wear-in-dubai/
-------
Dubai hosts first NRI summit on women
DhanushaGokulan/Dubai
Filed on April 8, 2018 | Last updated on April 8, 2018 at 06.15 am
Ruby Dhalla, Dawn Metcalfe and Bubbles Kandhari during the International Women Empowerment Programme.-Photo by DhesHandumon
Organised by ArushiNishank, acclaimed Kathak dancer and entrepreneur, the programme kicked off with a yoga session for women.
The Indian diaspora in foreign countries should step-up and do more to help the female population of India, said Canada's first Sikh female politician Ruby Dhalla.
The prevalence of female infanticide, sex-selective abortion, honour killings, rape, domestic abuse and other crimes against women continue to be rampant globally, and in rural India.
Dhalla was speaking at the first International Women Empowerment Programme (IWEP) on Saturday and urged Indian expatriates living in the UAE to invest in empowering women in India.
"The maternal mortality in India is the 56th highest in the world. I notice that NRIs still tend to spend millions on real estate, fancy cars and luxury weddings in India. However, they do little to support the poor population. That needs to change," said Dhalla.
The Canadian politician said that NRIs could spend their money to build schools, adopt villages, or educate girl children, instead of spending millions on luxury weddings and homes. Dhalla, along with several other leading female advocates and speakers, discussed the issues that remained an obstacle for women in India and the UAE, in realising their potential.
Organised by ArushiNishank, acclaimed Kathak dancer and entrepreneur, the programme kicked off with a yoga session for women. Later, a panel discussion titled, 'The World Women Convention', saw participation from women in politics, cinema, literature, healthcare, philanthropists and entrepreneurs.
Speakers also included Dr Yasmeen ShereefUlMulk, managing partner and director Global Hawk Imaging and Diagnostics; Dawn Metcalfe, managing director of PDSi; Bubbles Kandhari, social worker and co-founder of the Sikh gurudwara in Dubai; and NoufMarwaai, Saudi Arabia's first yoga instructor.
Bollywood infleunce
Speaking about Bollywood's influence on the growing female voice in India, film director MadhurBhandarkar also spoke at the forum.
Bhandarkar said that Indian filmmakers are becoming more open to making movies with female protagonists. "There is a market for women-centric movies now, and that has happened after years of exposure and talking about the subject," he said.
Vandana Srivastava, a Dubai-based legal consultant, said: "The IWEP has been designed in such a way so that the participants can select the most critical issues women are facing and the deliberations can then be done by a set of experts."
Dr Yasmeen said: "Women's health takes a backseat in many countries across the world. In rural and slum areas across the world, women continue to be the last to have a decent meal, irrespective of the fact that she is pregnant.
"Women's healthcare needs to be made a priority. They should also have access to clean sanitation, to free sanitary napkins and be encouraged to speak out in the case of domestic violence," added Metcalfe.
Kandhari encouraged women in the UAE to speak up when they face discrimination. "Men also play an important role in empowering women. Mothers need to teach their sons to treat women with equal respect," she said.
The speakers at the one-day women's empowerment summit admitted that they were optimistic about the future, especially about women being given equal opportunities and progress towards closing the wage gap. The day-long programme ended with an award ceremony and talks by famous women personalities.
It was earlier reported that the outcome of the conference would be presented to the Indian Union Cabinet Minister for Women and Child Development, Maneka Gandhi, to serve as suggestions for policy framework in future. However, the minister and a few others who were supposed to be part of the programme didn't show up.
Meet Saudi Arabia's first certified yoga instructor
Yoga practitioner and clinical psychologist NoufMarwaai's calm demeanour does not give a trace of her difficult past.
Before Marwaai became Saudi Arabia's first certified yoga instructor, she spent years battling a deadly autoimmune disorder. That happened to be only the first step in her life-long journey towards holistic wellness.
Speaking at the first International Women Empowerment Programme (IWEP) on Saturday at Mina A'Salam Jumeirah, Marwaai drew severe criticism from Saudi Arabia's conservative community and her extended family before she pursued a full-fledged career as a yoga therapist.
She said: "My father was extremely supportive. Even when my relatives criticised me heavily, my dad encouraged me to ignore them and pursue yoga."
Though she spent several years in allopathy and chemotherapy for her autoimmune disorder, yoga and natural treatment helped her illness much more. "Convincing a society to have a different concept about yoga was tough, but Saudi citizens are open to a healthy lifestyle," she added.
"Saudis didn't know anything about yoga, and once they realised it has nothing to do with religious practices, it gained more traction, especially in Jeddah. It just needs to be given a small commercial prospect to boost its reach here," she added.
India honours Marwaai
The was awarded the awarded Padma Shri, the fourth highest civilian award in India, earlier this year.
Marwaai also established the Arab Yoga Foundation, the first official yoga organisation in the Gulf Region, in 2010. She is also the founder of the Saudi Arabia Yoga School 2008, the Yoga Alliance gulf 2009, the regional director of Yoga Alliance International in the Gulf Region 2009 and was the secretary of the International Yoga Federation in Arab countries and Saudi Arabia from 2010-2012.
In Jeddah, there are over 800 yoga practitioners today and yoga is also being increasingly practised in cities like Makkah, Riyadh and Madinah.
She added: "I explained the positive changes which yoga makes to your body, and the mental and physical benefits of yoga and this increased their interest in the practice."
khaleejtimes.com/nation/dubai/dubai-hosts-first-nri-summit-on-women-
-------
Parachinar woman hopeful opens poll office
The Newspaper's CorrespondentApril 08, 2018
PARACHINAR: A tribal woman from Parac­hinar, Kurram Agency, who plans to contest election for a National Assembly's general seat from the agency in the upcoming polls, opened her election office on Saturday.
Ali Begum, 63, is a retired bureaucrat from the Federally Administered Tribal Areas who served on important posts both in Fata and Khyber Pakhtun­khwa.
Speaking at the inauguration ceremony of her election office, Ms Begum emphasised the role and rights of women in the tribal society. She stressed the need for sectarian harmony and unity of tribal people for the development and prosperity of Kurram Agency.
She called upon local people to resolve their internal issues, saying this would pave the way for the establishment of a lasting peace in the region.
Talking to Dawn, Ms Begum said she wanted to bring change to her area, and particularly address difficulties being faced by local women. She expressed the hope that people in the tribal belt, especially women, would encourage and support her.
A large number of people from across Kurram Agency attended the inauguration ceremony of Ms Begum's election office. They praised her decision to contest the election.
Some tribal elders who spoke to Dawn on the occasion paid tribute to Ms Begum for playing an important role in solving problems of the region during her tenure as a bureaucrat and vowed to support her in her bid to win the election.
They said Ms Begum enjoyed support of women in Parachinar.
ShahidKazmi, a political activist in Kurram Agency, said that Ms Begum was a symbol of unity in the region and an inspiration for many tribal women.
It may be mentioned that Badam Zari was the first woman candidate from Fata who contested the 2013 general election for the National Asse­mbly constituency NA-44 in Bajaur Agency.
dawn.com/news/1400329/parachinar-woman-hopeful-opens-poll-office
-------
Islamophobia in Texas: A Muslim nurse attacked by violent racists while returning home
April 8, 2018 - 12:31 PM News Code : 888531 Source : khou11
HARRIS COUNTY, Texas (AhlulBayt News Agency) - A nurse in northeast Harris County says she was attacked by violent racists when she was returning home from her night shift at a hospital early Thursday morning.
The woman has asked that her name not be used out of fear that her attackers may return.
"I just thought 'God, forgive me my sins,'" the woman said. "I thought I was going to die, I though he was going to kill me."
The Harris County Sheriff's Office says they're looking for the attacker who exited his red SUV off Huffmeister near 290 and went after the woman with racist slurs and a knife.
"I wasn't actually sure if they had side swiped me and so that's why I pulled over and got out of the car," the woman said. "The driver got out of the car — he was a white guy with a lot of tattoos and a slim build, and he saw me."
The woman says she was wearing her scrubs and hijab as normal.
"Turning to his friend, the passenger said, 'Oh my God, it's a rag head,'" the woman said. "He called me a desert monkey. He called me a sand n****."
She said the man became increasingly aggressive and began hitting her with the butt of a knife that he had. She said she raised her arms to defend herself and the man stabbed her in the arm.
"When he pulled the knife out, the blood started squirting out and into his eyes and mouth, it was arterial pulsatile bleeding," she said. "And he started 'spahspahspah,' and that's when I got away and got back into my car."
The woman raced back to the hospital for help and called police.
"I just want them to be accountable for what they've done," she said.
Sheriff's deputies say the suspect has a slim build and dark hair and is 25-35 years old, and has a "thick country accent."
The woman says the man had several tattoos and was riding with another man and a third person, who was either a woman or a man with long hair.
Houston's chapter of the Council on American-Islamic Relations is offering a $5,000 reward for anyone with information leading to an arrest and conviction of the suspect.
en.abna24.com/news/america/islamophobia-in-texas-a-muslim-nurse-attacked-by-violent-racists-while-returning-home_888531.html
-------
Clothing designer seeks to fill need for Muslim women
In this undated photo provided by Macy's, Amina Khan models clothing from the Verona Collection. via AP) (Rabia Khan / AP)
Long-sleeved ruffled shirts, wide-leg jumpsuits and an assortment of hijabs — all creations of former Daytona State College student Lisa Vogl — now are featured at Macy's as part of the company's first ever launch of a women's modest clothing line.
To shoppers, they're just clothes, but to Vogl they're solutions.
Vogl, 35, lives in Orlando and is a practicing Muslim who chooses to dress conservatively in following her faith.
She said she often had to visit different stores in hopes of finding the right styles to layer to suit the modest tastes she preferred.
Rather than wait around for someone to fulfill her clothing needs, Vogl, along with Verona Collection co-founder AlaaAmmuss, launched the clothing line in 2015 at an Orlando boutique.
Her business was featured in an Orlando Sentinel story in 2016.
"There are millions of Muslim women here in the U.S., and there's a lack of clothing that would work to meet our religious requirements as well as be fashionable and affordable at the same time," she said, adding that the clothes were for anyone seeking modest attire.
While the feedback at Macy's has been largely positive, not everyone gave the product line a warm reception. Some took to social media to vent their frustrations.
One Twitter user called for a boycott of Macy's, writing, "And Stupid #Macy's stores adds the oppressive islamic Hijab as a new fashion statement. ARE U KIDDING? While other women are being murdered over trying to NOT WEAR IT??? @Macys has gone MAD!"
Vogl countered that wearing the Muslim head covering was a matter of choice and said that people often misunderstand the reasoning behind it. She also said Islam itself is widely misunderstood.
"People of other faiths might think there are a lot of differences, but in fact, we're a lot more alike than you would think," she said. "I'm blessed to be in a country where I can practice my religion freely."
Vogl's venture with Macy's began after she attended the company's women and minority focused business development workshop in New York in 2017. After seeing that there was a viable market for women's modest clothing, Macy's offered to ink a deal.
"Through the workshop at Macy's, the founder of Verona Collection, Lisa Vogl, shared her vision to create a collection that speaks to a community of women looking for a solution to their fashion needs," Macy's said in a statement. "Verona Collection is a perfect example of a strong business that provides a unique product that serves a community of women looking for fashionable modest clothing options."
Vogl called the moment Macy's picked up her clothing line "surreal."
"For us, for my community, this is a very big deal," Vogl said. "I think more so talking about us being able to be represented, and Macy's took a very huge step of inclusivity and we're very really thankful to be partnered with a company that values diversity."
While launching any business poses risk, the venture is Vogl's second. She's also been a nationally ranked college softball player, English teacher, and photographer, the latter of which she learned at Daytona State.
"I've never been a person that does things that are the status quo," Vogl said. "I've always been a risk-taker."
DSC School of Photography chair Dan Biferie said Vogl's unwavering determination and "grit" set her apart from other students.
"She was an outstanding student," Biferie said. "I remember her being bright, articulate, and creative."
Vogl left DSC one class shy of graduation to start her own photography business, her first.
"I didn't know if I had any talent," Vogl said. "I sometimes just jump into things and then go full force."
She found success as a fashion photographer and traveled extensively, with her work being featured in a number of national publications. Her achievements came as no surprise to Biferie.
"I felt that she was going to be successful with whatever she pursued," he said.
Despite her string of recent successes, Vogl said she has no plans to rest on her laurels.
"Honestly, in the fashion industry I don't think there's ever a definition of `made it,"' she said. "You always have to keep working. You always have to keep improving yourself. You always have to keep pushing it. Fashion evolves. You always have to stay ahead of the game."
orlandosentinel.com/news/politics/political-pulse/os-muslim-clothing-line-20180406-story.html
-------
$5k reward for information on man who attacked, yelled anti-Muslim slurs at woman
CYPRESS, Texas - The Houston chapter of the Council on American-Islamic Relations (CAIR Houston) offered a $5,000 reward for information leading to the arrest and conviction of the man accused of slashing a woman with a knife and yelling anti-Muslim slurs at her.
Investigators with the Harris County Sheriff's Office are seeking the public's help in identifying the suspect.
Deputies say the 25-year-old victim was driving home from her job at North Cypress Medical Center at 1:30 a.m. Thursday when a red SUV swerved into her lane and narrowly missed hitting her.
The victim told investigators she stopped at a parking lot on Huffmeister Road, and the SUV driver turned into the same lot. Deputies say the suspect got out of the SUV wielding a knife and shouted ethnic slurs at the woman.
Investigators say the woman used her arm to shield herself from the suspect and was cut. The SUV's passenger led the driver back into the car, and the two men drove away, deputies said.
The victim drover herself back to North Cypress Medical Center's emergency room for treatment.
Deputies describe the first suspect as a white male, 5-foot-8, approximately 175 pounds with a thin build and dark hair. They say he was wearing a white T-shirt and dark-colored pants.
The second suspect is described as a white male, unknown height and hair color, with a thin build. Deputies say he was also wearing a white T-shirt and dark colored pants.
Investigators say both men were described as speaking with a thick country accent.
Anyone with information on this case is asked to call (713) 221-6000.
khou.com/article/news/crime/5k-reward-for-information-on-man-who-attacked-yelled-anti-muslim-slurs-at-woman/285-536092977
-------
Rihanna's 'Fenty Beauty' arrives in Saudi Arabia
April 08, 2018
According to the singer's official Twitter account, Fenty Beauty, named 2017's best innovation by Time, is coming to the Kingdom on April 19.
The superstar launched Fenty Beauty last Sept. 8 with a promise to make all women feel included; she succeeded by releasing 40 different shades of the Pro Filt'R foundation, dazzling women of all skin tones. By Sept. 17, the brand had hit Middle Eastern markets in Bahrain, Kuwait and the UAE.
The announcement coincides with the star's launch of the luminizer, Body Lava, which she earlier mentioned has already sold out on her Instagram account.
A Saudi female, Hind or @Pwrfulgurl, responded to the tweet with, "I hope she has a concert here soon!"
Other fans also greeted the news with avid enthusiasm.
Shams AlHarbi @ITAENG, said: "I'm so happy, wish you the best," and @eti1_ tweeted: "Is this for real or should I get my eyes checked?"
@3lmadina couldn't believe the news: "Rihanna, is that an #April_Fools, please say no!"
Others received the news with light jabs because of the singer/actress's relationship with her Saudi boyfriend, Hassan Jameel.
@R67nia tweeted: "She's coming to visit her in-laws," and @im_7ano responded with "Hassan Jameel did all the ladies a favor."
Some tweets hope it is an indicator of a surprise visit, and that Rihanna will come to Saudi Arabia's capital, Riyadh, for the launch.
So far there has been nothing to support or deny those rumors.
arabnews.com/node/1280786/offbeat
URL: https://www.newageislam.com/islam-women-feminism/fashion-show-without-catwalks-promotes/d/114859