New Age Islam News Bureau
12 May 2019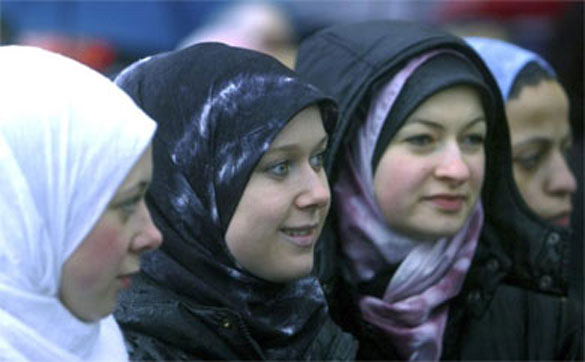 (Representational Photo)
------
• Hijab for Safety of Women, Ensures They're Not Harassed
• Young Muslim Women In India Are Carving Out New Spaces, Skills Gives Women Sense Of Power
• I Worry About Our Family Back Home: Zakir Naik's Wife
• 88th Woman Executed During Rouhani's Presidency
Compiled by New Age Islam News Bureau
URL: https://www.newageislam.com/islam-women-feminism/face-reality-polygamy-nigerian-islamic/d/118571
--------
Face Reality of Polygamy, Nigerian Islamic Scholar Counsels Muslim Women
May 12, 2019
Ibadan – Ustaz Sa'eed Abdur-Rauf, Director, Nigeria Office of International Institute of Islamic Therapy, has called on women, particularly Muslims, to appreciate the reality of polygamy in building lasting relationships.
Abdur-Rauf made the call on Saturday in Ibadan during the 4th Annual Ramadan Lecture organised by Oyo District of The Criterion, an association of Muslim women in business and the professions.
The News Agency of Nigeria (NAN) reports that Abdur-Rauf, a Dawah activist and author, is also the Managing Director of De Minaret International in Abuja.
The Dawah activist in a lecture entitled 'Marital Chaos: The Islamic Antidote,' said polygamy was a law of God.
"As a Muslim woman, you should know that there is no alternative to it. If your husband brings a new wife, you should be able to endure it. It is not easy, but you must be able to appreciate than endure it," he said.
Related news DSS Disowns Memo That Indicted Bulkwachuwa Of Corruption, Warns Media Against Deceitful Politicians
Abdur-Rauf, who listed polygamy, financial problem, hurtful utterances and role of the devil as factors affecting the home-front, said the most important antidote was fear of God.
He admonished couples to always be prayerful and patient in times of financial problems than collapsing their relationship for minor trials.
The Dawah activist cautioned couples against hurtful utterances, urging them to be humble and appreciate each other's sense of pride.
"In every clime, there must be a leader. We have the father as the master of the house while the wife is meant to be subservient. The husband must treat and utilise his powers with fear of God.
"We must always be mindful of our hurtful utterances against one another. These utterances sometimes are unpardonable and aggravates the problem of the home-front," he said.
Abdur-Rauf concluded that problem of marriages only required expression of piety and fear of God, adding that there would be peace and comfort when the couple are pious and could identify each other's rights.
Alhaja Sekinat Adekola, Iya-Adinni of Yoruba land, urged couples to seek the help of God on all issues with patience, perseverance and total reliance on God.
Adekola said it was with such that anyone could grow spiritually and earn the favour of God.
"I have been in my marriage for the past 59 years and it has been very peaceful. The secret behind it has been prayer, patience, perseverance and total reliance on God," she said.
Earlier, Alhaja Falilat Olatunji, the Amirah of the association, said the essence of the topic was to reveal the solutions to marriage problems from the Islamic perspective.
She said that the importance of marriage in Islam could not be over-emphasised as lots of Quranic verses and Hadiths were pointers to the fact.
"The wife is not meant to provide sensuous pleasure only to the male, but to fully cooperate with the husband in making the life of the family and ultimately of the whole humanity significantly meaningful.
"Islam as a total way of life have ways of solving perceived problems in marriages. This and many more are the reasons for the lecture," she said.(NAN)
https://sundiatapost.com/2019/05/12/face-reality-of-polygamy-islamic-scholar-counsels-muslim-women/
--------
Hijab for Safety of Women, Ensures They're Not Harassed
Asma Zehra
May 12, 2019
The Hijab is one of the most debated topics in the modern era where the watchwords are liberty, equality, and freedom. To understand the Hijab, it is essential to know the ideology of Islam vis-à-vis women. Unlike what many popular tropes would have one believe, the woman in Islam is considered to be both respected and valuable as the base of family and society. She is important because of her faith, values, knowledge, wisdom, intellect, service, sacrifice, and commitment for her family and society. Her roles as daughter, wife, and mother are vital to a stable and progressive society.
In Islam, women are empowered and have the right to education, economic growth, as well as contribute to socio-political spheres. And here is where the hijab comes into play.
The Hijab is an important part of the social system in Islam, which lays down the basic principles (usul) for both men and women to ensure their honour and dignity. It also guarantees safety of and protection to women.
In Surah Noor of the Quran, men are ordered to lower their gaze and guard their chastity. Similarly, women are ordered to lower their gaze and guard their chastity. During the latter set of instructions, veils are mentioned: "And tell the believing women to lower their gaze and protect their private parts and not to show off their adornments except only that which is apparent (like palms of hands or one eye or both eyes for necessity to see the way, or outer dress like veil, gloves, head-cover, apron etc.,) and to draw their veils all over juyubihinna (i.e their bodies, faces, necks and bosoms' etc.,)... (Surah Noor Aayat 31)
More references to veils can be found in Surah Ahzab, where they are asked to cover the entire body with long coats (jilbaab).
"O Prophet! Tell your wives and your daughters and the women of the believers to draw their cloaks (veils) all over their bodies (i.e, screen themselves completely except the eyes or one eye to see the way). That will be better, that they should be known(as free respectable women) so as not to be annoyed. And Allah is Ever Oft-Forgiving, Most Merciful". (Surah Ahzab Aayat 59)
Even in the early days of Islam, women had to go out of the house for social, financial, and medical needs. Islam has not stopped them from stepping out of the house but they may step out only when properly covered. The dual purpose of this, as stated before, is that she will be recognised as a modest person and not someone to be molested.
Islam prohibits mixing of men and women. This barrier is for a chaste society and to safeguard the family unit. Divorce and separation may bring imbalance to society. Adultery and extramarital relations also cause harm to social fabric and weaken the family system. To nip all issues in the bud, it is essential to give moral code to both men and women.
Dress and culture are choices of individuals and groups. It is a person's individual choice. The hijab covers a woman's beauty not her mind, wisdom or intellect. Women in Hijab are seeking higher education, they are into fields of medicine, science, pharmacy, engineering, computer science technology, and human resource development.
The safety and protection guaranteed by the Hijab is in fact attracting women from all religions and communities. Many practice hijab for protection and security.
It is an irony and pity that in this era of liberation, where women have the freedom to exhibit their beauty, Muslim women's right to conceal their body and beauty is being denied. It is their personal choice. There are no compulsions in Islam. There are many Muslim sisters not practicing Hijab in various fields. They are not forced by their families or by the society. The instructions of Islam are to be followed by free will and choice. They should not be enforced by force or pressure.
If a large section of the community, especially young girls are adopting the Hijab, it should be viewed as empowerment of women for seeking education and better livelihood. If any issue of national security arises, where there is a need to identify the face, women will cooperate for the safety and security of the nation. Let not Islamophobia of the West enter the Indian society and damage the beauty of our country. Ghunghat, purdah, dupatta have been part and parcel of the Indian society for a very long time.
If the debate has erupted as a fallout of the terrorist attack in Sri Lanka, it should be understood that acts of terror are not sanctioned in any religion. Islam equates the killing of one person to the killing of humanity.
Dr Zehra is Chief Organiser Women's Wing All India Muslim Personal Law Board
https://www.dnaindia.com/india/report-hijab-for-safety-of-women-ensures-they-re-not-harassed-2748343
--------
Young Muslim Women In India Are Carving Out New Spaces, Skills Gives Women Sense Of Power
May 7, 2019
Young Muslim women in India are carving out new spaces, setting aside traditional roles and challenging gender stereotypes as they step out to open their own businesses or study further.
Inside a dilapidated building in an old quarter of the north Indian city of Lucknow, a group of girls from less privileged backgrounds have gathered to learn photography and video skills.
On the walls, black and white caricatures show girls firmly shutting the kitchen door behind them as they set out for college.
"This is not just about shooting photographs but about changing attitudes. People dismiss girls saying we don't have technical skills for a job but as we talk, a lot of things become clear," said Aisha Khatoon, 32, who teaches computer and videography classes.
"Society is fine if girls understand technical things inside the house. They want us to learn how to use a food mixer, a washing machine. But skills outside the house can also be part of our identity like holding a mike, a camera, making a film based on our ideas. There is a power we feel in our hands that cannot be taken away from us."
Aspiring lawyers, judges, teachers, the girls aged 18 to 30, are part of a leadership-building programme for young Muslims where they learn conversational English and engage in discussions on women's rights.
The group is affiliated to the Bebaak Collective or the Voice of the Fearless, a coalition of women's organisation that began as an informal reading group six years ago in Mumbai, the country's financial capital.
It has since spread to more than a dozen states including Uttar Pradesh where conversations about empowerment, rights within marriage, sexual harassment, domestic violence blend with discussions on equal opportunities for the minority community.
The talk veers to the need for politicians in the ongoing general elections to focus on employment and better access to education.
Ms Khatoon, 32, does not mince words when she calls for the nationalist agenda of the ruling Bharatiya Janata Party to include every-day concerns.
"It is fine to talk of nationalism and say 'Jai Bharat (Long live India)' but what about the common issues we face about education, jobs, clean drinking water and good roads?"
The Muslim community has the highest illiteracy rate of the country patchwork of communities at 42.7 per cent – it surpasses the national average of 36.9 per cent, according to a census in 2011.
Hindus have the second highest proportion of illiteracy at 36.3 per cent.
The illiteracy rate among Muslim women is even higher at 48.1 per cent, followed by Hindu women at 44 per cent with the numbers for Christian women far lower at 28.03 per cent.
Sumbul Khan, a law student with ambitions of becoming a judge, is part of an effort to change the dismal statistics.
Tacked on the centre's white walls, her caricature portrays a girl who dreams of studying while preparing unending meals in the family kitchen. She said her drawing represented all women.
"Girls are dominated in the Muslim community and in other communities too and pushed into household roles. Here we talk about gender perception and how there is so little equality for girls. We learn about prostitution, marital rape and our rights. I believe women should have all information available to them," said the 22-year-old started coming to the centre to improve her computer skills.
"Girls who are not taught technology are girls who are left behind. We need to learn the basics like Excel, PowerPoint so we have a chance outside."
The girls come from families supportive of their education and career goals.
They are keen to reverse census data that shows 13.5 per cent of Muslim women are married before they turn 15, and close to 49 per cent get married between 14 and 19 years of age.
Hameeda Khatoon, 32, is the director of the women's centre and runs a film studio that shoots wedding videos with a twist.
The three-hour long colourful ceremony also features the bride's take on relationships.
"In most videos, no one talks to the bride. She just looks down shy, when pictures are taken. We decided that in our films we will not just have a crying bride and a smiling groom. We ask the bride what she thinks of the ties she is entering into, what does her mother think?"
The Bebaak-affiliated centre also addresses gender-based stereotypes with documentary films such as 'Shame' about sexuality and 'Kabul Hain (Do you Agree)' about marriage.
"We speak about how uncomfortable we are talking about our desires, our body. In one film, young women discuss how the ring on your finger can become a restriction."
The girls come in to learn media skills and are also given information on current affairs from the cow slaughter ban in many Indian states, mob lynching of Muslims suspected of eating beef or killing a cow and the triple talaq or divorce practice struck down by India's Supreme Court.
The aim is to equip women with information when they head out to vote in the elections spread out until May 19.
"Sometimes girls just follow what their parents say. We talk to them about the power of that vote. They get a voice with their vote," she said.
The Bebaak Collective was among the petitioners who successfully challenged the validity of triple talaq, a form of divorce that allowed Muslim men to dissolve their marriage by saying the word talaq (divorce) three times.
The practice is banned in many Muslim countries but was common in India where women have been abandoned sometimes via a text message.
India's Supreme Court ruled last year that the triple talaq was unconstitutional.
The ruling Bharatiya Janata Party government drafted a bill criminalising the practice and allowing for the imprisonment of men who continued to follow triple talaq.
Hasina Khan, Bebaak's founder, said sending men to prison was not a solution. She has called political parties to look beyond the triple talaq ban and focus on women's rights.
"We welcome the abolition of triple talaq but it will not end discrimination faced by Muslim women. We want political parties to look at protection and maintenance of divorced women. They need social security, should be entitled to property rights from their parents and their husband," she said.
The group recently released a manifesto that framed 39-points calling for a law against mob lynching, reservation of seats for women in parliament, access to safe homes and rehabilitation of victims of domestic and other forms of violence, training and sensitization of police and state authorities in dealing with women.
"It's important for us to have a collective voice. Politicians look at all Muslims as one vote bank. Maybe now they will realise they should talk to Muslim women separately and ask what we need," Ms Khan said.
https://www.thenational.ae/world/asia/india-elections-2019-skills-give-young-muslim-women-sense-of-power-1.858552
--------
I Worry About Our Family Back Home: Zakir Naik's Wife
By Namrata Biji Ahuja
May 11, 2019
Zakir Naik is extremely fond of his wife, Farhat. Strong, articulate and educated, Farhat is a few months older than her husband. In an exclusive interview with THE WEEK, she spoke about her relationship with Naik, her worries about returning to India and her unflinching faith in God.
Excerpts:
How have the charges against your husband affected your life?
We had left home on a 15-day tour for umrah (pilgrimage to Mecca), and while we were there, we came to know that we could not go back home. It did come as a shock, but thanks to God almighty, things are all right now. The belief in Allah makes us stronger each day. This is nothing compared with the kind of suffering people around us face. The only pain I feel today is for the people back home and the kind of harassment they are going through.
Who are those people?
Mainly the family members, like his brother, sister and all his family members. Even my family members, like my brothers were called and interrogated all the way from Pune to Mumbai and Delhi. It is really painful to see them going through this. Otherwise all of us have taken it in our stride and we feel this is part of the test from Allah. Their phones are being tapped so we don't even talk to them, that saddens us. The good work that was going on has also stopped.
What has happened to the Islamic Research Foundation?
It is locked and no one is working there today. The educational institution is given to someone else and there are some 300 students there. Whatever good things are taught there, are not going to die off and will show the true colour of peace wherever each student goes.
How have your children reacted to the whole episode?
They have been very strong, because right from childhood they have been taught that way. Sometimes I think about things back home, but they are very strong and even give us the courage saying it was okay, a part of the test. Zakir always ask had we lost everything in an earthquake what we would have done? In our case, we are being rewarded in every way by Allah. We have left everything back home and its like a migration (Hijrah). Yes, we do feel sad. Home is home after all. We could never imagine India not being our own land. Whoever is ruling, the love for India will always be there in our hearts. We owe so much to India and there is a lot more that Zakir and all of us could have done for India. We are proud of India.
Do you cry sometimes?
Yes, a lot. But, the tears are always of contentment, not of complaint. We feel sad about how things happened and we feel so much for those who are suffering there. We feel nostalgic at times about how we spent our time there.
Naik is facing serious charges like terrorism and money-laundering.
These are the very things that he is against, it is so ironic. The one who has been preaching peace all the while is being called a terrorist.
Do you think Naik should return to India and clear his name?
Only if India can be just, which is quite rare now. The kind of threats he has been getting—somebody said if you chopped his head off and hung it on top of the tallest tree, he would give Rs 50 lakh. That went so viral on social media. He was told that they will kill him and make it look like an accident.
Don't you think God will take care of you?
God says tie your camel and trust in me. A man once came to the Prophet and left his camel outside, thinking Allah will take care of it. The Prophet said, ''Go, tie your camel first, and then trust in Allah.''
You have to take precautions. You cannot go and stand before your enemy and hope that Allah will save you. We fear whether we will get justice. Zakir has told the investigators that he is ready to talk to them over video and share everything. But they don't agree.
Where are your children studying?
My children are studying in Riyadh. My daughters are studying in Princess Nourah Bint Abdul Rahman University. It is the biggest women's university in the world. They are doing Islamic studies there. My son is doing his graduation in Imam University in Riyadh.
Are your children also into preaching?
Yes, all three of them are doing it. My daughter likes to write so she is more into writing Islamic articles. They do give lectures and when we all travel for da'wah (preaching), all five of us give talks. My daughters and me give talks to the ladies and Zakir and my son do it for everyone.
What is the message you give to women?
There is nothing in this world a woman cannot do, except for a few things the Quran does not allow. The media portrayal of women in Islam not being able to do certain things and being backward is wrong. Islam gives her the right to do everything. There are certain things which Quran does not allow even for men, such as acting, dancing, singing and working in pubs. When you are among women, swaying or singing is fine, but if you are doing it in front of other men, it is exhibiting your physical qualities in front of them and it is not right.
Women have a lot of important roles to play. A teacher, engineer, or doctor undergoes many years of training, but unfortunately, a woman is simply pushed into motherhood. How many years of training does she have? She is creating the most important product, which is the human life. And often, she does not know anything about it and she is playing around with lives. If she knows how to live her life, knows her boundaries, knows what is good and bad for her and the coming generations, then she can create a better generation. We are such a professional society today that we have best of doctors and gynaecologists but the same people cannot be a good mother or father? Relationships are going to the dogs today. A woman must have that vision. Much before marriage, she should know what she is getting into. Marriage is not a bed of roses, it is a big responsibility. I strongly feel that a basic requirement for a mother is to study the Quran very well. The Quran teaches dealing with relationships, rights of spouses and teaches us how to live our lives. The human body is the most intricate and sophisticated machine ever made, so does it not require a manual?
And who would know this better than the maker? Since he made us, he would know best how to live this life. What to eat, what to wear, what would lead to success and salvation. Otherwise, I will be abusing this machine. If I walk into a relationship empty handed, I will expect so much from everyone, husband, in-laws. But if I go enriched with the love of God, I will be the one who will be giving instead of begging. I am talking more in terms of emotional relations. So it is very important she walks into a relationship empowered and enriched and not being at the mercy of anyone. If she is empowered, then her children are also empowered. If you have the love of Allah, you can move mountains. That is what faith can do. And faith has made us stand this test also.
How close are you to Naik's family?
I lost my father when I was eight. When I got married to Zakir, Abba (Zakir's father) was a father figure to me. He never made me miss my father. We lost him and we could not even go back to perform the last rites because of all that was happening.
There is a lot of debate in India about triple talaq, homosexuality, burqa ban and so on.
I don't know why they want to bring Muslim women into focus now. There are so many other burning issues but they are not talking about those. In a marriage, just like talaq, a woman can also take khula. There is another injunction in the Quran which says that if a woman is not happy, after taking all other steps, the last resort is to ask the husband for a divorce or she can go to the qazi and request him to give khula. If the husband does not agree, the qazi can declare the divorce. So I don't find anything wrong with triple talaq. Just because something can be misused, you cannot change the laws. If we misuse, we will pay the price. What is necessary is that women should themselves read the Quran, learn the language, understand it or find a detailed commentary. If you believe in something you should understand it completely. Out of ignorance they are taken for a ride sometimes. I believe homosexuality is wrong and I think burqa is very much in sync with the modern times. There is nothing you cannot do in a burqa. Maybe there are some women who think it is an obstacle, but it is a decision taken by the creator who knows what is best for us. We are so limited in our own ways, even if we see something we don't understand it completely. Quran is not time bound and it is very relevant today. Zakir is trying to preach the teachings of Islam. During the time of the Arab barbarians, 1,400 years ago, people used to say, "Oh, see my new donkey". Today it is "Oh , my new Lamborghini, my new Mercedes". It is this pride, arrogance, envy and hatred which Quran addresses.
Naik says western attire can make women susceptible to crimes like rape.
The Quran tells us which way to dress. I cannot depend on society to tell me what to wear or what not to wear. Today it is okay to be gay or lesbian, but tomorrow they could make it obligatory. So, where do you draw the line? Showing yourself off and wearing something which is tight or inappropriate are attracting [men] in the wrong way. I totally agree with him as far as hijab is concerned.
Do you think husbands are superior?
Both husband and wife are equal in Islam. The husband has a higher degree of responsibility, but not one of authority or superiority. He has to take care of the family and the wife. He is the breadwinner. Each one has a different role to play.
Can a man beat his wife?
Those who are educated in Islam will not do that, not even with a toothbrush.
What are your views on polygamy?
It is mentioned that you can marry more than one woman. What do you do with the excess women in the world? But it is not a rule, only an exception. In fact, the Quran says it is very difficult to do justice to [more than one wife]. So, ultimately, the Quran says marry only once. Who in the world can claim that they can do justice to two women? You can't love two persons the same way. Maybe you can provide the material things, but when it comes to the emotional part, it is so difficult. So a sensible man would not marry twice.
But, of course, it is allowed. In India, we are so possessive about the husband, but in the Middle East, like in Saudi Arabia, the first wife herself gets her husband other wives. Man, by nature, is polygamous. So I would rather have my husband righteously get married to another woman than have him flirting around with others.
How has your journey been as Mrs Zakir Naik?
By God's grace, it has been enriching. It has been nice. It has been pressurising, of course. At the end of the day, it has given me a lot of exposure, a lot of opportunities to do the work that I always wanted to do. I was more religious, which, in fact, brought us together. We are very different by nature. I am a very emotional person, he is very realistic and practical. But when it comes to being in the forefront of Islam and serving Allah, we are on the same page.
Is Naik a liberal husband?
I would call him very liberal. I can do whatever I want to. Whatever Islam prohibits me, why would I do it? He is not a nagging, suspicious kind of a husband.
How is he as a father?
He is good. We have a lot of discussions with our children. They can talk to us about anything. The best thing he did was that he started a school, Islamic International for children. He used to take the children for rides and the best moments we have had were during our trips, when we combined da'wah trips with family trips. They got to learn a lot from us. We visited 14 countries in 45 days in one of our trips, as we visited America, the UK, Europe and so on. Otherwise, in Mumbai, he used to be very busy, but he was always very particular about taking the children out and exposing them to whatever is happening out there. We have made it a point to say the minimum 'nos' to our children so they enjoy whatever is there on the face of the earth.
Does he get angry?
He does not get angry very often. I have seen his anger with his staff because of imperfection and dissatisfaction with the work. He has high levels of expectations from his staff, but they are also human beings. They are bound to make mistakes. He is a perfectionist.
https://www.theweek.in/theweek/cover/2019/05/10/i-worry-about-our-family-back-home-zakir-naik-wife.html
--------
88th Woman Executed During Rouhani's Presidency
May 11, 2019
The state-run ROKNA news agency reported on May 9, 2019, of the execution of the 88th woman during Rouhani's tenure in October 2018, in Maraqeh, East Azerbaijan Province.
The 88th woman named Soudabeh had been imprisoned in the Prison of Maraqeh since 2006. She was hanged on October 26, 2018, upon the order of the Penal Court of East Azerbaijan Province. Soudabeh is the 88th woman executed in Iran during Hassan Rouhani's tenure as the mullahs' president.
Iran is the world's record holder of the number of per capita executions.
Iran is the only country in the world where women and minors are hanged in large numbers. Some 4,000 persons have been executed in Iran during nearly six years of Rouhani's tenure.
Iran is a world record holder of per capita executions. Some 3,700 executions have been carried out in Iran only during the six years of Rouhani in office.
Iran is the only country in the world that frequently sends women and minors to the gallows.
The Iranian regime uses the death penalty as a tool for suppression of a disgruntled society, the majority of whom live below the poverty line, do not have jobs and are deprived of freedom of speech. The death penalty helps the mullahs preserve their rule.
In a statement on October 5, 2018, condemning the execution of a woman in Iran, the UN High Commissioner for Human Rights, Michelle Bachelet, stressed that the UN Human Rights Office opposes the use of the death penalty in all circumstances, as no judiciary in any part of the world is mistake-free.
There are at least 11 women imprisoned on death row in Qarchak Prison in Varamin, most of whom had committed murder in self-defense against domestic violence. A similar situation exists in other prisons across Iran where death row female prisoners accused of murder have defended themselves against violence.
https://women.ncr-iran.org/2019/05/11/88th-woman-executed-during-rouhanis-presidency/
--------
URL: https://www.newageislam.com/islam-women-feminism/face-reality-polygamy-nigerian-islamic/d/118571
New Age Islam, Islam Online, Islamic Website, African Muslim News, Arab World News, South Asia News, Indian Muslim News, World Muslim News, Women in Islam, Islamic Feminism, Arab Women, Women In Arab, Islamophobia in America, Muslim Women in West, Islam Women and Feminism