New Age Islam News Bureau
19 Apr 2020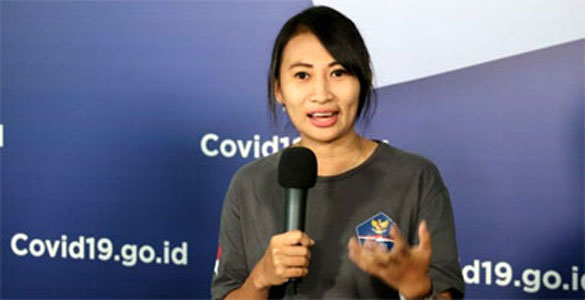 Ika Dewi Maharani, the only female ambulance driver on the government's COVID-19 task force, discusses volunteering in Jakarta. (BNPB/BNPB)
------
• Face Masks Become Popular in Countries like France Where Face Veils Are Banned
• COVID-19: Task Force's Sole Female Ambulance Driver Goes, To Jakarta, Where Others Fear to Tread
• Police rescue 18 Somali Muslim women from Madrasa in Kwale
• Afghan Girls Making Face Masks To Encourage Fight Against COVID-19
• They Are the Body Washers, The Women Helping Iran Through Coronavirus
• Alarm Mounts About Violence Against Women In Conditions Of Confinement
• Saudi Artist Nabila Abuljadayel, Goodwill Ambassador for KSRelief
• The First lady, Aisha Buhari Prays Allah Forgives Kyari, Late Former Chief Of Staff To The President
Compiled ByNew Age Islam News Bureau
URL; https://www.newageislam.com/islam-women-feminism/face-masks-become-popular-countries/d/121614
-------
Face Masks Become Popular in Countries like France Where Face Veils Are Banned
April 13, 2020
As the world looks for ways to tackle the coronavirus pandemic, face masks have become commonplace in France and other countries that restrict face veils.
The wearing of protective face masks has become one of the most widespread means of combating the coronavirus pandemic globally even in countries where religious coverings are banned, an irony not lost on many.
After initially discouraging residents from wearing face masks over concerns to supply chains for key workers and doubts over their effectiveness, authorities across the world now near unanimously encourage their use, with some requiring that people wear them in areas they are likely to encounter crowds, such as on public transport.
The requirement, which comes amid the exceptional circumstances of a global pandemic, is nevertheless a dramatic reversal from earlier Austrian legislation from 2017 that banned face coverings, a move aimed at Muslim women who wore the face veil but ended up including others too.
That ban was so strictly applied that a man wearing a shark costume distributing fliers for an electronics store was fined by Austrian police for falling foul of the law. It was later revealed that the stunt was organised by a PR company to make a "socially relevant point".
In France, another country to ban face covering and where the New York Times believes there exists "a strong belief that the French would culturally reject the practice", authorities have been caught short in securing enough masks.
At the start of the crisis, France had a stockpile of just 150 million face masks. While that number seems big, most types can only be used a certain number of times before needing replacement. The requirement for more masks had led to French authorities seizing masks destined for other European countries.
Beyond government legislation, Muslim women who wear niqab (face covering) are subject to greater levels of discrimination and threats of violence.
A 2015 study based in France found that 81 percent of victims of anti-Muslim violence were Muslim women who wore visible articles of their faith, such as those who wore the niqab or hijab (headscarf).
One unintended consequence of the surge in mask wearing is decreasing stigmatisation of women who choose to wear the niqab.
As Northwestern University scholar Anna Piela points out in an article for the Conversation, Muslim women are finding themselves looking a lot like everyone else.
"Now, in an unexpected turn of events, people across the West are jogging in face masks and grocery shopping in bandanas tied across their mouths. That's making public life in the niqab much more pleasant, say Muslim women." Piela wrote.
The exceptionality of the coronavirus pandemic is key to understanding how things will fare for women who cover themselves in the future, once things return to normality.
Governments have shown little sign that things will be anything other than business as usual, especially as far as religious clothing laws are concerned.
As ordinary people get used to the idea of wearing masks, not just during the pandemic, but for protection against future diseases, it will become harder for governments to distinguish between those wearing face masks for religious purposes from those who have made it an essential part of their outfit.
Https://Www.Trtworld.Com/Magazine/Face-Masks-Become-Popular-In-Countries-Where-Face-Veils-Are-Banned-35365
--------
COVID-19: Task Force's Sole Female Ambulance Driver Goes, To Jakarta, Where Others Fear to Tread
April 19, 2020
Nurse IkaDewi Maharani knew when cases of COVID-19 started to climb that she needed to do something. While some might have thought twice about moving to Jakarta, the epicenter of the outbreak, Ika left her home in Surabaya, East Java, to volunteer in the battle against the deadly viral disease.
The North Maluku native is the only female ambulance driver on the National COVID-19 Task Force, a job that she considers necessary in these hard times.
"[The task force] needs nurses for ambulances. I can drive, and I'm a nurse. My heart is calling to serve people," Ika said during a virtual press briefing with the National Disaster Mitigation Agency (BNPB) on Thursday.
She went to the front lines of the battle against the virus following calls from the government for more medical workers to care for patients.
She said this was her first experience as an ambulance driver, although she was a member of the Indonesian Emergency and Disaster Nurses Association (HIPGABI). While handling patients was part of her regular job, Ika said taking patients to hospitals in an emergency setting was a new challenge.
"All this time, I've known nurses help patients in the hospital. Driving an ambulance, however, is not as easy as I imagined," she said, adding that the main challenge was when people on the road refused to give way to the ambulance.
Working for 12 hours a day, from 7 a.m. to 7 p.m., Ika said her safety and health were her main priority as she had to handle patients under surveillance (PDP) and confirmed COVID-19 patients.
She always wears full protective gear while working to ensure her own safety as well as that of the patients. Ika has also tried to maintain her health to make sure she is in the best condition to do her demanding task.
https://www.thejakartapost.com/news/2020/04/19/covid-19-task-forces-sole-female-ambulance-driver-goes-where-others-fear-to-tread.html
-----
Police rescue 18 Somali Muslim women from Madrasa in Kwale
18 April 2020
Police are holding 18 Somali Muslim ladies among them six US nationals after a raid at Madrasa at Mackinnon Road, Kwale county.
Acting on a tip of by an insider, police from Taru police Station assisted by GSU officers from Mackinnon Road raided Madrasa Al Banat and arrested the 18 on Friday morning. All of them are teenagers except two.
Mackinnon Road town is located along Mombasa-Nairobi highway, Kinango subcounty and hosts famous Banghali Shah Mosque Mosque.
Kinango subcounty police commander Fredrick Ombaka said one woman called an outsider who in turn informed the officers about their confinement.
Six teenagers have been identified as Meimun Ali ,16, NimoIssack, 15, Rahman IssackAbdinoor, 18, Hafsa IssackAbdinoor, 17, Sumea Yusuf, 19 and Fatima Ibrahim Hussein aged 17.
"They were brought by their relatives to the facility to attend Madrasa Islamic classes against their wishes," the police report read in part, raising suspicion of kidnapping.
"This is a very secretive area, it would not be easy to find out were it not for the lady exposed the hide out… we are doing our investigations to find out the real owners of the Madrassa," Ombaka added.
https://www.the-star.co.ke/news/2020-04-18-police-rescue-18-somali-muslim-women-from-madrasa-in-kwale/
--------
Afghan Girls Making Face Masks To Encourage Fight Against COVID-19
By Haleem
19 Apr 2020
"Afghanistan is a poor country and it is difficult for the government to fight COVID-19 alone, therefore, I have decided to contribute the war within my capacity and encourage others to support the establishment in war against the killing disease," whispered ParwinaAzimi.
Establishing a small tailoring shop in her hometown Sari Pul city, the capital of northern Sari Pul province a week ago, Azimi boasted that nine girls volunteered to make face masks free of charge and distribute them among the people to prevent the virus spread in the city.
The militancy-plagued Afghanistan has been facing the spread of COVID-19 since mid February and so far 906 positive cases have been confirmed, spokesman for Public Health Ministry, Wahidullah Mayar said Friday.
According to Mayar, 30 patients infected with COVID-19 have died and 99 others have recovered since the outbreak of the virus in mid February in Afghanistan.
To contain the spread of the disease, Afghan government has shut down all the educational centers including private and public schools and universities. It also decided to set free 10,000 inmates from prisons to prevent the virus increase.
The government also imposed daytime curfew in big cities including the capital city of Kabul since late March and has been monitoring the health status of its citizens closely.
Expressing deep concern over the spread of the killing virus in Afghanistan, the country's Public Health Minister FerozuddinFeroz has warned that the country may face catastrophe if the advices given by the ministry overlooked by the people.
According to Feroz, COVID-19 could claim the lives of 110,000 people in Afghanistan if the spread of the killing virus goes unchecked.
"The people of Afghanistan are more vulnerable than any other nations and COVID-19 has further added to our vulnerability. It is the responsibility of all Afghans to stand alongside the government in this critical stage to overcome the war on the killing disease," the valiant girl asserted.
The number of volunteers to boost the war on the novel coronavirus has been on rise in the northern Sari Pul province, Azimi said happily, adding some 150 men and women have announced to join the war against the virus by promoting awareness among the people, and providing face masks, soap, sanitizers, gloves and more essential items.
"In our small factory, we make about 300 face masks daily and distribute among people to stay safe. I am feeling pride to serve my countrymen in this critical stage against the killing disease and I am calling upon all Afghans to join hand and fight the disease till its elimination," a lady tailor Munira Hamdard told Xinhua in her tailoring shop.
A handful of men have also contributed in fighting COVID-19 in Afghanistan by providing face masks, medical supplies or foodstuff to needy families, but it is the first time that a 10-member group of girls and women gathered under a girl to fight the disease in the patriarchal and economically impoverished society.
"I have received health kits including face masks and soaps from the volunteers team and I am thankful to the team for its assistance, as the kits cost at least 200 afghanis (2.6 U.S. dollars) and it is difficult for a villager to pay the price," a villager Mohammad Azim assumed.
https://fijisun.com.fj/2020/04/19/afghan-girls-making-face-masks-to-encourage-fight-against-covid-19/
--------
They are the body washers, the women helping Iran through coronavirus
APRIL 19, 2020
The phone rang in the prayer room at the hospital. Another patient had died. A young woman left the room to rush to intensive care. She entered wearing a mask, gloves and scrubs. She was there for a ritual that was centuries old but one that, like so much else around her, had been altered by the coronavirus.
The body lay on a bed. In late March, as TaherehAdibi prepared to perform the sacred ritual, she veered from Muslim custom. She didn't wash the corpse with soap and water. Concerns about the dangers of touching meant she performed a different cleansing act. Placing a small marble slab beneath the deceased woman's hands, she recited a prayer. She anointed the forehead with oil. Minutes passed. And then the body was taken to the morgue.
"It is not possible that a man sees and touches a woman's corpse," Adibi said, "so we do this in order to make sure Islam is observed."
Adibi used to teach French at a cultural and educational institute. But the 33-year-old has become a volunteer body washer at a hospital in the south of Tehran. As the number of patients dying from COVID-19-related complications rises in Iran, one of the worst-hit countries in the world, authorities have called upon people to help uphold the Islamic custom of purifying the dead before burial.
Hers is a solitary ritual, a quiet, fleeting space between this life and the one after. She stands before God, over a person she never knew. But, somehow, she mourns each as if she had known them all her life. It's not easy to bear witness, to do Earth's final toil with gloved hands in a room where many succumb. But the need is great.
The phone in the hospital's prayer room never seems to stop ringing. It's a toll for another mom, sister, aunt or grandmother taken by the virus. Sometimes, when she cleanses the dead, Adibi's mask makes it difficult to breathe; sweat fogs up her glasses, blocking her vision.
It was shortly after the Persian New year when Adibi asked a few friends on WhatsApp if they knew of any groups that were helping wash the bodies of coronavirus patients. A friend gave her a number for a group of 50 volunteers at Firouzgar hospital in the south of Tehran.
Others across Tehran were stepping up to help out in other ways as well, including Maryam Moghadam, a university professor, and her friend Narges, a fashion designer. For the past several weeks, the women have been part of a team of volunteers spraying disinfectant on the streets, subway stops and shelters of Tehran.
Many just want to do something as the country's death toll keeps rising higher. Iran is the epicenter of the coronavirus outbreak in the Middle East. Authorities announced new cases this week that brought the nation's total number of infections to more than 80,000 on Saturday. The deaths have risen to more than 5,000, though some officials believe the actual number may be much higher.
For the last 15 days, volunteers Maryam Moghadam, a university professor, and her friend NargesMohammadi, a fashion designer, have been donning uncomfortable hazmat suits and spraying disinfectant from heavy bags in Tehran. For four hours each day, the two spray sidewalks, bus stations, subway stops, shelters and nursing homes. It's not easy work.
Adibi knew caring for the dead was her chance to help. She understood the risk of catching the virus while working in a hospital filled with COVID-19 patients was high. She also wondered what her friends would think of her. But she felt her concerns were minor when compared to the religious call to duty.
Since the virus arrived in February, Iran's leaders have been blamed for the staggering loss of life as well as for their response, actions that have included stopping an international nonprofit team of doctors from treating coronavirus patients, spreading conspiracy theories that blame the U.S. government for the outbreak, and failing to restrict people's movement and close religious sites.
The country's efforts to fight the outbreak have also been hampered by rising inflation, combined with a shortage of foreign currency and U.S.-imposed sanctions. Meanwhile, Iran's conservative Shiite clerics have been struggling to uphold sacred Islamic rituals while also implementing measures that help curb the spread of the pathogen.
In March, when Adibi started volunteering, clerics had outlawed washing the dead with water, a practice known as Ghosl, for fear of contamination. Small marble slabs were placed on the corpse instead. But when Iran's Supreme Leader Ayatollah Ali Khamenei declared in April that the dead should still be washed with water, Iran's health ministry and its national headquarters for fighting the coronavirus bowed to pressure from hardliners and reversed course despite concerns that it might lead to a second wave of COVID-18 cases.
Others criticized the Islamic Republic's handling of the crisis and viewed the regime's response as yet another example of why it lacks widespread legitimacy.
In a letter written in March to President Hassan Rouhani, Iranian health minister Saeed Namaki protested the administration's decision to start allowing people to resume going to work and said that failure to follow medical experts' advice would "ignite the coronavirus and will damage the country's health system and subsequently the economy."
But for the country's pious Muslims, such as Adibi, maintaining Islamic customs is a matter that goes beyond politics and restrictions.
Back in the hospital in late March, Adibi entered the room. Lying on the hospital bed was the corpse of an old woman. Adibi drew the curtains; even in these times the sanctity of the deceased must be preserved. She took a minute to make sure patients in adjoining rooms did not see her. She didn't want to diminish their morale.
She said a prayer and placed the dead woman's hands on a rectangular slab of marble. The body was still warm. Adibi held the arms, joined the hands together and lifted them to the forehead. After, she placed the arms on the sides of the body again. The marble rested on the abdomen. She raised the corpse's left hand and rubbed it across the right hand. She repeated this using the right hand.
After, Adibi put camphor oil in a glass of water and rubbed the mixture on the corpse's forehead, palms, knees, foot and fingertips. She prayed out loud.
When Adibi was finished, she covered the body in a linen shroud and wrapped it in plastic. Her work was done. But she wanted to do more.
She remembered the advice she received from a fellow volunteer when she first started: "God has comforted their hearts so that they do not abandon their religious duties."
A few people entered the hospital room. They wrote the woman's name and cause of death on the plastic sheet that covered the body. They whisked the body away to the morgue, where it would await burial.
"The most difficult part," she said, "is to see someone in the ward before they die, only to be summoned to the ICU the next day."
By the end of the week, she had already bonded with COVID-19 patients and medical staff. Some days she brought flowers. Other days, she sat with patients and encouraged them to eat. She didn't mind how doctors and nurses had come to refer to her and the other volunteers as "Azrael helpers," or the helpers of the Angel of Death.
https://www.heraldmailmedia.com/news/nation/they-are-the-body-washers-the-women-helping-iran-through-coronavirus/article_89ab8443-dbf9-5aa5-9fdc-658a276e16d3.html
--------
Alarm mounts about violence against women in conditions of confinement
RadhiaGuizani
18/04/2020
TUNIS--Amid social media awareness-building campaigns on preventing the spread of coronavirus, other efforts have emerged warning of another social epidemic — the resurgence of domestic violence associated with anxiety and stress created by quarantine measures against the contagion.
In Tunisia, campaigns against domestic violence started in response to sarcastic comments on social media encouraging men to take advantage of the generalised confinement period and courts not being in session to "inflict revenge" on their wives. Social experts said that, even if the remarks were meant as a joke, violence against women is a reality in Tunisia.
"These calls for violence (against women), even if they were made in jest, do nevertheless reflect the mindset of those who made them and shared them. These people believe that men have the right to beat their wives, abuse them and control their destinies," Zeinab Toujaniwrote for the Centre for Research, Studies, Documentation and Information on Women in Tunis.
She said women were appalled. One woman related how she was bullied by her husband, who was trying to provoke her by using their children to make her leave their home.
Toujani pointed out that some women have no choice but to stay confined in their homes with their abusers, under constant fear of being infected if they leave the house or being beaten or insulted if they stay.
The official in charge of receiving calls for help on a hotline for domestic violence (1899) at the Ministry of Women, Family, Childhood and the Elderly in Tunisia said that "even during this trying period, distress calls kept pouring in."
The increase in the number of reported cases of domestic violence during the general home confinement period is related to closing of public parks and cafes that would have otherwise provided escape from the tremendous stresses created by the circumstances.
That observation was supported by YousraFraous, president of the Tunisian Association of Democratic Women, who also reported an increase in violence against women during home confinement.
She was quoted by the official Tunisian news agency TAP as saying: "Our organisation received complaints from women who were victims of spousal violence during the quarantine period and who did not receive any assistance from some police and national guard stations."
She said security forces "dealt with the complaints with indifference under the pretext that they were currently busy with other issues."
In Lebanon, the Democratic Women's Caucus, which supports women subjected to violence, reported a 50% increase in the number of calls to its hotline during March compared to previous months.
The organisation said it expected women to be exposed to more acts of physical, moral and sexual abuse, noting that shelter-at-home measures were contributing to women's isolation from family, friends and support networks, in addition to depriving women of activities and opportunities to relieve anxiety and stress.
The World Health Organisation noted that violence against women soars in times of crises, such as natural disasters, wars and epidemics, and that one out of every three women in the world is subjected to physical or sexual violence.
Phumzile Mlambo-Ngcuka, executive director of UN Women, said measures taken to tackle the coronavirus pandemic could adversely affect victims of domestic violence. "While we support the policy of social distancing, we are certain that it provides an opportunity for aggressors to further practise violence against their victims," she said.
Concern about and warnings against increased violence against women in times of global crises were being voiced by activists in many Arab countries, the United States and Europe.
Caroline De Haas, a member of the Women's Coalition in France, said: "Crises are often accompanied by an escalation of violence, let alone when people who live in conditions of home confinement may progress from psychological and moral violence to physical and sexual violence and even to murder."
US government agencies reported that, from March 18-22, about 700 calls regarding domestic violence were recorded in which the victims stated that the coronavirus pandemic was a factor. In France, State Secretary for Gender Equality Marlene Schiappa stated that the hotline number for battered women (3919) had not stopped ringing.
Amanda Pyron, director of the Network Against Violence, told the Associated Press that the biggest problem in the current circumstances is that both "the aggressor and the victim must remain at the same crime scene." The inability of victims to go to police stations or hospitals exacerbates officials' concerns, which means that all cases must be dealt with over the phone only, which is considered
Tunisian sociologist AbdessatarSahbani attributed the rise in domestic violence during home confinement to the closing of public spaces that used to fill people's free time and provided recreational havens that would reduce pressure.
Sahbani said: "The person who shares not only his free time but also his problems, concerns and daily stories with his friends inside public spaces, such as cafes and stadiums, then suddenly finds himself stuck between four walls, might easily lose control of his anger when the atmosphere inside the house becomes charged."
To avoid incidents of violence during the quarantine period, Sahbani suggested setting up a toll free number for people under pressure to call and speak to someone who would listen and commiserate.
https://thearabweekly.com/alarm-mounts-about-violence-against-women-conditions-confinement
--------
Saudi artist Nabila Abuljadayel, goodwill ambassador for KSRelief
April 17, 2020
Saudi artist Nabila Abuljadayel has been goodwill ambassador for the King Salman Humanitarian Aid and Relief Center (KSRelief) since 2018. She specializes in portraying royal families through the medium of silk art.
Abuljadayel produced a painting — "IsjodwaIqtareb" (Prostrate and Draw Near) — during the Kingdom's COVID-19 lockdown. The painting captures a moment of stillness and contemplation as a cleaner kneels in the courtyard of Makkah's Grand Mosque, the only worshipper in the normally bustling holy site.
The "Alive in My Heart" exhibition, held in Boston 2015, was dedicated to late King Abdullah. Abuljadayel presented the entire collection to Makkah Gov. Prince Khalid Al-Faisal.
The supervisor general of KSRelief, Dr. Abdullah Al-Rabeeah, presented Abuljadayel's artwork — "Salman the Humanitarian" — to King Salman at the opening ceremony of the Saudi humanitarian aid platform launched by the king as part of the Riyadh International Humanitarian Forum in 2018.
In 2019, the new Media and Communication Center at the headquarters of the Saudi Ministry of Foreign Affairs in Riyadh acquired 10 of Abuljadayel's artworks.
Abuljadayel earned her bachelor's degree in digital art and photography from Northeastern University in Boston in 2016.
Abuljadayel also studied cinema at Harvard University, where her ideas on reviving Saudi heritage through the innovative blending of art and film first materialized.
She has created more than 400 artworks that depict royalty, in particular the Saudi royal family, as well as the Bahraini and Jordanian monarchies.
https://www.arabnews.com/node/1660646/saudi-arabia
--------
The First lady, Aisha Buhari Prays Allah Forgives Kyari, Late Former Chief Of Staff To The President
April 18, 2020
By Ripples Nigeria
The First lady, Aisha Buhari, on Saturday prayed for the repose of the soul of the late former Chief of Staff to the Presidential, Abba Kyari, who died on Friday, the 17th of April, 2020.
Mrs Buhari, in a post on her Instagram page, asked Allah to forgive Kyari's shortcomings and give his family the fortitude to bear the loss.
"I condole with Mrs. Kulu Abba Kyari and the entire family of Late Malam Abba Kyari over the death of their husband and father.
"I pray that Allah (SWT) will forgive his shortcomings, grant him Al-Jannatul Firdausi and give the family the fortitude and patience to bear the loss, Ameen.
Kyari, 81, died on Friday, weeks after testing positive for the dreaded COVID-19 disease. He was buried today, Saturday at the Gudu cemetery in Abuja.
https://www.ripplesnigeria.com/aisha-buhari-prays-allah-forgives-kyari/
-----
URL: https://www.newageislam.com/islam-women-feminism/face-masks-become-popular-countries/d/121614
New Age Islam, Islam Online, Islamic Website, African Muslim News, Arab World News, South Asia News, Indian Muslim News, World Muslim News, Women in Islam, Islamic Feminism, Arab Women, Women In Arab, Islamophobia in America, Muslim Women in West, Islam Women and Feminism