New Age Islam News Bureau
4 Apr 2014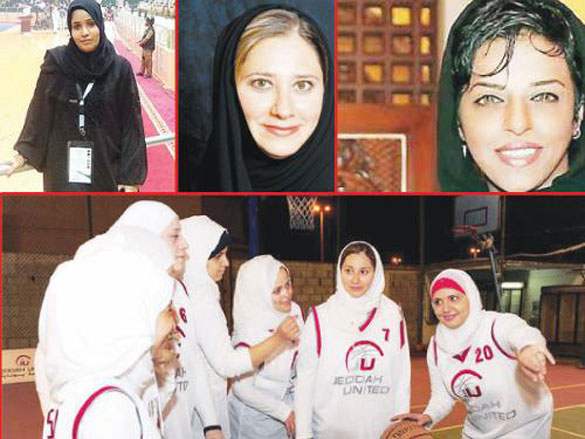 Top (L to R): Hanaa Alooni; Lina Al-Maeena; and Rima Abdullah, Saudi Footballers
-------------
• Eying a Goal — Saudi Young Women Dream Of Playing Football
• Checking High Incidence of Rape in Nigeria
• Cairo Bombings Revenge for Police 'Harassment' Of Girls
• Muslim Woman Minus Hijab Is Left Party Choice in Malappuram, South India
• Amman Conference Focuses On Women in Conflict Zones
• Burmese Woman Faces Execution
• Women's Entry in Saudi Stadiums Conditional
• Immigration Forcing British Lawmakers to Confront FGM
• Are Muslim Mothers The Cure For Radicalisation?
• Women Are Being Trained To Serve At the Sharp End of Afghanistan's Frontline
• Under Pressure from Hard-Core Islamists, Lebanon Decriminalises Wife Rape
• 'Burqa Avenger' wins US award
Compiled by New Age Islam News Bureau
URL: https://www.newageislam.com/islam,-women-and-feminism/new-age-islam-news-bureau/eying-a-goal-—-saudi-young-women-dream-of-playing-football/d/66413
------------
Eying a goal — Saudi young women dream of playing football
4 April, 2014
THE appointment of Arwa Mutabagani to the Board of Directors of the Saudi Equestrian Federation (SEF) has encouraged Saudi sportswomen to try and enter other sports federations in the Kingdom. One of the sports on top of the list is the Saudi Arabian Football Federation (SAFF). Experts say if women can penetrate the male-dominated body that administers the country's club competitions and national teams, official permits to play football and setting up sports facilities for women will soon follow, Al-Madinah daily reported.
Currently, women are allowed to participate in the secondary committees of the federation such as sports medicine, ethics and information and statistics committees, but they have no presence in the primary committees of the federation. Female sports journalist Hana Allouni said the lack of a female presence in the basic committees shows that women are not familiar with the rules and regulations of football.
She also pointed out the importance of Saudi sportswomen's presence under the General Presidency for Youth Welfare (GPYW) in affiliated committees concerned with women's sports or Women's Sports Administration.
"This will be similar to the remaining Gulf countries. Through the committees, women's presence can be achieved in different federations and sports, like football, basketball and volleyball. What is required is the existence of an administration for women's sports activities so that they can actually take part in sports in the Kingdom," she said.
Reema Abdullah, the first Saudi woman to raise the Olympic Torch, said the lack of female representation in the committees of SAFF is evidence that women are not recognized by the country's football authority.
"I strongly support women's presence in SAFF, but unfortunately we don't have a foundation for women's sports nor do we have any recognition of sportswomen by the official bodies. This has led to schools ignoring women's sports due to a general lack of awareness on the importance of the game."
She said it is important for women and those interested in the game to obtain support from the GPYW including an official license to play the game.
"After this, women's clubs can be established as they will develop and promote the game. The Equestrian Federation experience has given women the green light for participation in sports. This chance was appreciated by many personalities in society. We need intellectual and financial support to help us develop ourselves and our capabilities so that we can participate effectively," she added.
Rawh Abdullah, captain of Al-Tahaddi football team and director of the office for "Huwa Wa Hiya" (He and She) newspaper in Riyadh, stressed the importance of women's participation in SAFF due to a dire need to practice the sport under an official body that will support women.
"All the activities being carried out at present are due to personal efforts. An official administration to follow up women's activities in sports cannot exist unless it is under the Saudi federation, as it will shed light on their needs and concerns. I believe women interested in football are there but our demand is to be given the chance so that we will be heard by officials and society."
Lina Almaeena, captain of Jeddah United women's basketball team, said she was surprised women are still not members of SAAF even though they have a presence in the Equestrian Federation. Almaeena said: "After the presence of women in the committees of the Equestrian Federation, I expected them to be in other committees, like football. But that has not happened till now. Despite this, I support women's presence in SAFF if they have the experience and knowledge of the game and its conditions and laws because that will be a big plus for the game."
http://www.saudigazette.com.sa/index.cfm?method=home.regcon&contentid=20140404200786
------------
Checking High Incidence of Rape in Nigeria
4 April, 2014
"The rising incidence of sexual abuse of minors in the country is evidence that our policies and laws are not working."
The ever increasing incidents of rape, especially of minors, have become a source of worry to many Nigerians.
Hardly can a day pass without reports of women and minors raped across the country.
Just recently, a hospital in Edo said it handled 80 rape cases in seven months.
Besides, the courts are daily inundated with cases of rape, most of them minors.
The punishment for rape as spelt out in Section 358 of the Criminal Code is life imprisonment, while an attempt to commit rape attracts 14 years imprisonment.
In spite of the penalty for rape, it still thrives, because of bottlenecks of legal technicalities, and unwillingness of victims to pursue their cases to logical conclusions.
A lawyer, Festus Keyamo, said that the problem hindering prosecution of rape cases was unwillingness of many victims to pursue their cases to logical conclusions.
According to him, it is one thing to allege being raped and another to lodge a complainant and proceed with the prosecution of the offence.
Mr. Keyamo attributed the situation to the complacency of the society and the nature of the act, which most victims perceive could stigmatise and tarnish their image.
Friday Okonofua, an obstetrician and gynaecologist, said that political commitment was needed to reduce the high incidence of rape.
Mr. Okonofua, who is a Programme Officer for Ford Foundation (West Africa), said that the "rising incidence of sexual abuse of minors in the country is evidence that our policies and laws are not working."
"In other countries, when such happens, the perpetrators will be sent to life imprisonment or punished; but in Nigeria we have some laws and policies that are not being implemented," he noted.
The gynaecologist also called on the law enforcement agents and judiciary to live up to their responsibilities and quicken the dispensation of justice.
"There are penalties for people who commit such offences, but people are afraid to come out because they feel that nothing will be done.
"The executive and judicial arms of government should work in harmony and formulate policies that can prevent incidences of rape," Mr. Okonofua said.
On her part, Oluwatoyin Jegede, Senior Lecturer, Department of English, University of Ibadan, described rape as a crime against humanity.
According to her, rape infringes on the rights of the victim, who carries the psychological trauma for life.
Ms. Jegede, however, blamed the high incidence of rape to negligence and care free attitude of some parents.
The don urged parents to be alive to their responsibilities and protect their children at all times, stressing that females should take cognisance of their susceptibility.
"Indecent dressing among ladies should be discouraged, and society should reject it in totality," she said
The university teacher advised ladies to present themselves in a manner that would promote respect for the female gender.
Jennifer Spiff, the National Coordinator, Women Initiative for Transparency and Social Justice, an NGO, blamed the increasing rate of rape and child defilement on unemployment.
"There is unemployment in the country; youths are loitering around; no work to do and their minds are not occupied. When a man's mind is not valuably occupied, he can do any kind of evil.
"The young men that have no job go around, they have no work to do and sometimes they also want to make friends with girls. They cannot afford the money to make friends with girls, and when they find out that they can rape them, they do it.
"A youth that is gainfully employed will be busy at his work place, he will not have time to rape," she said.
Ms. Spiff also called for concerted efforts to check the high incidence of rape, stressing that women should be conscious on how they dress.
"It is a very diverse problem. We will look at it from the social perspective, how women present themselves before their male counterparts.
"Are they dressed in provocative manners and also find themselves in compromising situations with men and incidentally these things happen.
"There should be reorientation in our schools, telling young men the things that are involved in rape cases.
"To tell them that morally it is not good to rape a woman, because when you rape a woman you destroy her," she added.
Omotola Rotimi, the Director in the Office of the Public Defender, Lagos State Ministry of Justice, on her part, called for the establishment of rape victims' unit in all police stations and hospitals.
She noted that many cases of rape were not reported because of lack of confidence in the criminal justice system.
"That is why I emphasise on the special victims' unit at every police, where the victim will be attended to immediately; from there to the nearest hospital, either private or government hospital for further investigation."
She said there should also be a rape victims' unit in every hospital that would work closely with the police.
Ms. Rotimi said setting up of special victims' unit in all police stations and hospitals would provide easy access as well as ensure prompt treatment of rape victims.
She said that the establishment of such units would give victims confidence to report cases.
Stakeholders want the government to remove all the inhibitions in the extant rape legislations that hinder prosecution of rape cases.
http://allafrica.com/stories/201404040247.html?viewall=1
------------
Cairo bombings revenge for police 'harassment' of girls
World Bulletin / News Desk
4 April, 2014
A shadowy group has claimed responsibility for three bomb blasts that rocked the Egyptian capital Cairo.
In a statement on Twitter, the "Agnad Masr", or "Egypt's soldiers" in Arabic, said that the attacks were in response to "the arrests and harassment of our women and girls".
A senior police officer was killed and five others were injured in three bombings outside Cairo University on Wednesday.
Egypt has been dogged by instability since the army unseated elected president Mohamed Morsi last summer following massive protests against his administration.
Egyptian authorities have launched a harsh crackdown on the Muslim Brotherhood, the group from which Morsi hails, killing hundreds of members and arresting thousands.
http://www.worldbulletin.net/news/132754/cairo-bombings-revenge-for-police-harassment-of-girls
------------
Muslim Woman Minus Hijab Is Left Party Choice in Malappuram, South India
4 April, 2014
In a first, a Muslim woman is contesting as the Left candidate in this constituency, traditionally a pocket borough of Indian Union Muslim League, a Congress ally.
And, her secular credentials have invited the ire of conservative elements in this Muslim-dominated constituency, from where CPM candidate P K Sainaba is taking on IUML candidate E Ahamed.
Although Malappuram — which is second only to West Bengal's Murshidabad district in terms of Muslim population — has surged ahead educationally and economically in recent decades, the women have followed the traditional Islamic dress code here for years. Be it working women or young girls attending madrasas, all are dressed in Hijab and full-sleeved blouses. Modern Muslim women are exploring fashion trends within the Islamic dress code, as indicated by the recent launch of denim Purdah in Kerala.
In sharp contrast to the Islamic dress code, Sainaba's photos in plain sari, half-sleeved blouse and head uncovered have come up across the constituency, Many Muslim men said community members have strong reservations against Sainaba campaigning like this. "We have progressed a lot in many areas. But, when it comes to dress, conservatism has an upper hand. It is better if the CPI (M) does not display these photos,'' said P Rasak, a youth league worker at Kondotty in Malappuram.
Nazer Faizy Koodathai, a Sunni leader, said the community would see her secular dress as unIslamic. "We do not endorse her dress. May be young women inclined towards fashion will support her," he added.
In 2009 elections, Congress had fielded Shahida Kamal in Kasargode district. Kamal, a native of Kollam district, changed her attire to win over orthodox votes in Kasargode.
Koodathai said Kamal's decision showed how the community is serious about the dress code. Certain other Muslim women candidates of other parties too are following the Islamic dress, he said.
CPI (M) Malappuram district secretary, P P Vasudevan, however said the IUML-led United Democratic Front is using Sainaba's secular habit as a weapon to influence orthodox voters. "She is well-dressed and none can find any fault with it. Some people may not be happy with her dress. But we hope that women, who form 54 per cent of the 12 lakh voters here, would take a more mature approach," said Vasudevan.
Born in a orthodox Muslim family in Malappuram, Sainaba joined CPI (M) in 1983. She is the vice-president of All India Democratic Women Association and has been a member of the State Women's Commission.
http://indianexpress.com/article/india/politics/muslim-woman-minus-hijab-is-left-choice-in-malappuram/
------------
Amman conference focuses on women in conflict zones
4 April, 2014
A regional conference aiming to address social and women's issues in conflict-ridden areas kick started Tuesday in Jordan's capital Amman.
The conference is sponsored by the Arab League, the European Union, the United Nations Development Programme, and Karama, a regional NGO. Women's rights groups from Egypt, Libya, Yemen, Somalia and Morocco are also among the attendees.
High on the conference's agenda will be the volatile and often violent situations faced by women in conflict and war zones. Recommendations on how such challenges are to be overcome are expected to be reached.
Jordanian Minister of Social Affairs Reem Abou Hassan said that along with the support dedicated to infrastructure, security and economy, rising to the challenge of meeting the cause of women's rights remains a must.
Haifaa Abu Ghazaleh, Arab League assistant secretary-general for media affairs, said a conflict management unit has already been set up at the league, pending additional findings on the ramifications of conflict on women and children.
The larger aim of the conference, participants say, is to set in motion the second phase of an Arab dialogue begun in October 2013 at a regional training workshop held in Amman on women's issues, peace and security.
http://english.ahram.org.eg/NewsContent/2/8/98034/World/Region/Amman-conference-focuses-on-women-in-conflict-zone.aspx
------------
Burmese woman faces execution
4 April, 2014
MAKKAH — The Court of Appeals in Makkah has upheld the death sentence issued by a lower court against a Burmese woman who was convicted of torturing her 7-year-old stepdaughter until she died. The father was awarded 15 years in prison for staying silent on the torture of his daughter Kalthoum. The incident happened in Makkah's Al-Khalidiah District about five years ago. The pair tried to obtain a license to bury the dead girl but their efforts to cover up the death were thwarted when a forensics doctor wrote in his report that she died due to severe physical beatings all over her body that caused her brain to hemorrhage.
http://www.saudigazette.com.sa/index.cfm?method=home.regcon&contentid=20140404200791
------------
Women's Entry in Saudi Stadiums Conditional
4 April, 2014
JEDDAH — A number of concerned sports organizations have agreed in a recent meeting to allow women to enter soccer stadiums from next season on condition that they would not be violating Shariah or cultural and social norms. The organizations specified five main conditions for the entry of women into the stadiums: women should come with families, not individually; they should have special places in the stadium; they should not mix with male spectators; they should have separate entries, exits and special car parks and special bathrooms should be provided for them. The organizations said women could start coming to the stadiums from the 22nd GCC Nations Cup, to be hosted in Riyadh on Nov. 13.
http://www.saudigazette.com.sa/index.cfm?method=home.regcon&contentid=20140404200792
------------
Immigration Forcing British Lawmakers to Confront FGM
4 April, 2014
LONDON — Sitting before a roomful of British lawmakers, Leyla Hussein described the day that four members of her family pinned her down and sliced her genitals with a blade.
"I felt everything. I felt the injection. I felt being cut. I felt being sewn," she said of the procedure that took place in Somalia when she was 7. "I remember just blacking out."
Hussein recently told her story to Parliament's influential Home Affairs Committee as part of its first inquiry into how to end ­female genital mutilation, or FGM, in Britain. By speaking out so vividly, she and many other women here are forcing politicians to confront the practice.
For most people in Europe, genital cutting is an unimaginable act that happens far away. Of the 125 million girls and women worldwide estimated to have undergone the procedure , most are in Africa and the Middle East.
But the increased diversity that has come with immigration means that more European countries are becoming aware of the problem, and the discussion is particularly loud in Britain, where survivors are speaking out.
"I think people really struggle with someone like me, with a London accent, to be a survivor of FGM," said Hussein, 33, a psychotherapist who was featured in the documentary "The Cruel Cut," which helped spark concern over what Britain is doing to eliminate the practice.
Female genital mutilation involves the partial or total removal of the external female genitalia, usually with a knife or razor blade and often without anaesthetic. In its most severe form — Type 3 — the vaginal opening is sewn almost entirely shut. In addition to the psychological trauma, women can experience urinary infections, menstrual problems, infertility and even death.
There is no indication that the procedure is being carried out on a widespread basis in Britain, where the practice has been illegal for nearly 30 years. Rather, activists say, most cases occur when immigrant families take their daughters to their country of origin for "the cutting season" and then return to Britain.
But authorities believe the practice happens here, too. Last week, British prosecutors announced the country's first charges for genital cutting. The case involves two men, including a doctor accused of performing FGM in 2012 on a woman after she gave birth.
'Do something about it'
In Britain and most other countries, people consider the centuries-old cultural practice to be a form of violence against girls. But the issue has taken on new urgency as young women from high-risk communities demand change.
"They are making us raise our game," said Jane Ellison, Britain's public health minister, who has done much to increase awareness of the issue in recent years. "Politicians can't say, 'Well, this is too difficult; no one wants to talk about it,' when women themselves are saying, 'We want you to do something about it.' "
Those young women include Fahma Mohamed, a 17-year-old British Somali who recently led a campaign with the charity Integrate Bristol to raise awareness in schools before the summer vacation, which is also the cutting season.
Hours after meeting the high school student, Education Secretary Michael Gove agreed to write to principals across the country within the next few weeks to offer guidance on how to safeguard children.
"People so high up in power are now willing to listen to us. It just feels amazing," Mohamed said.
She wants the education secretary to go further: to have the issue taught in schools, in a sensitive, age-appropriate way — an idea championed last week by the mayor of London.
Some commentators bristle at the thought.
"How would you feel if your innocent 9-year-old trotted off to school one morning and came home wide-eyed at the horrors of female genital mutilation? I'd be furious," wrote columnist Sarah Vine in the Daily Mail .
Government attention
British campaigners praise countries such as the Netherlands, where various government departments are charged with ­addressing the problem, and France, which has jailed more than 100 parents and cutters.
But in Britain the issue has momentum, and campaigners in the United States are watching closely.
"It's been under development for a long time, but it's tremendous to see the attention it's getting in the U.K. right now," said Shelby Quast, senior policy adviser in the Washington office of the charity Equality Now.
The British government is spending $58 million to help eliminate the practice. This summer, Prime Minister David Cameron will host a summit on the issue. The government will soon announce new estimates on the scale of the problem in Britain. The figures most commonly cited — 66,000 women and girls have suffered genital mutilation and 24,000 are at risk — are extrapolated from the 2001 census. The new figures are expected to be much higher because of the influx of immigrants from regions where the practice is widespread, notably the Horn of Africa.
Hospitals will be required to record cases in a centralized database. Ellison, the public health minister, said the information will be used to help protect girls. She is also looking at ways to increase awareness and knowledge of the issue among health professionals.
Such a move would be welcomed by Juliet Albert, a midwife who runs two of London's 10 National Health Service clinics for victims. She estimates that about 10 percent of the women who give birth in her hospital in west London have suffered FGM, mostly Type 3.
"This is a very real problem that's not on the curriculum or mandatory training for midwives, doctors or health visitors," she said. "It's not there, and it needs to be."
http://www.washingtonpost.com/world/immigration-forcing-british-lawmakers-to-confront-female-genital-mutilation/2014/04/01/24cf25e1-8001-4c80-b277-5f5c6f10cdfa_story.html
------------
Are Muslim mothers the cure for radicalisation?
4 April, 2014
The only Muslim survivor of the 7/7 bombings says she is desperate to stop young Muslims being radicalised. And now Sajda Mughal has herself found a radical solution to extremism: Muslim mothers.
Ms Mughal has spent most of her adult life fighting Islamic extremism.
On 7 July 2005 she was running late and had taken the Piccadilly line to her job in the City.
She believes there was just one other Muslim on board her Tube train - Germaine Lindsay, whose bomb was to kill 27 people on board, including himself.
Ms Mughal says: "What happened on 7/7 basically made me think about why those four had carried out the attack, and in what ideology, which was obviously an incorrect ideology."
'Society's nurturers'
Now 31, she is director of the JAN Trust, which provides support and advice to women she describes as coming from the margins of society: "Often they have no education, no English and no employment."
Last month the Mayor of London, Boris Johnson, said Muslim children who are at risk of being radicalised by their parents should be taken into care.
But Ms Mughal's solution to the problem of radicalisation is the creation of a group of Muslim mothers to fight on the front line of the battle against extremist ideology in Islam.
One of the JAN Trust's declared aims is to "empower women as society's nurturers", and its latest scheme, called Web Guardians, aims to give the mothers of young Muslims the online know-how to stop children being radicalised behind their own bedroom doors.
Ms Mughal explains the philosophy behind the programme: "We are equipping these Muslim mothers with the key skills, with the knowledge in order for them to go online and to monitor their children.
"But we provide them with a counter-narrative for them to have discussions with the children in a safe offline environment."
In a downstairs room at the JAN Trust's office near Alexandra Palace in north London, seven women sit in a circle.
As well as Ms Mughal and her interpreter there are mothers whose families originate from disparate Muslim communities.
Zahra is Somali; Maryam is Palestinian; Muneer comes from Iran; and Samina and Seema are both Pakistani.
As well as their Muslim faith, what they have in common are teenage children.
Maryam tells of her son's anger with the situation in Gaza, where her family come from: "When they see the way things are going, it wasn't right. It's double standards."
'Grievance about Syria'
As she speaks the others nod their heads in tacit sympathy.
"But now they go for Syria. My son was in a demonstration for Syria because they say something is not right," says Maryam.
All the women say their teenagers are curious and often angry about events in the countries where their families originated, as well as being keen to do something.
The places most often up for discussion are Syria, Iran and Egypt.
In the past this anger on the part of young Muslims might have been channelled into radicalisation. But Ms Mughal believes these mothers' interventions with their children could stop that happening in the future.
She says mothers are a much greater influence than the mosque or school attended by teenagers.
Ms Mughal says of Maryam: "Her son has a grievance about Syria, but he has channelled it positively by attending a demonstration rather than destructively."
A study by the JAN Trust found more than 90% of the Muslim mothers it spoke to lacked web access, and were unaware what their teenage children were viewing online.
The Web Guardians project teaches mothers how to use the web before they learn how to look at their children's internet history.
Part of the course involves exposing them to the violent language and imagery used by extremist websites, with shocking results for some of them.
Ms Mughal's interpreter, Rafaat, a Muslim mother herself, told of the horrified reactions when they first saw such pictures: "When the photographs were shown there was silence and all of sudden I could hear… wow, what's happening?"
These mothers' shared experiences suggest this project might genuinely help prevent the radicalisation of some young Muslims.
http://www.bbc.com/news/uk-26875188
------------
Women are being trained to serve at the sharp end of Afghanistan's frontline
4 April, 2014
The National Police Academy in Kabul is used to producing the men who will form Afghanistan's thin blue line.
The recruits undergoing training are in many respects a key part of Nato's exit strategy. As British soldiers stand down, these policemen will have to step up and help fill the security void.
But one thing is radically different about this new look Afghan police force, because for the first time women are playing a central role.
They form only 1% of the force, short of the 5% target President Hamid Karzai set, but the government has made it a priority to recruit more.
This is a lot more than a simple PR exercise to show how women are being given a more prominent role in Afghan society.
Afghan policewomen are being trained to serve at the sharp end of the frontline - from anti-narcotics operations to searching for Taliban fighters and weapons.
Tamana, one new recruit, told ITV News: "My husband served in the intelligence service and he was killed in action. I have come to serve my country in his place."
Many say they have joined for duty - others because they needed the job - whatever the reason, the bottom line is they're desperately needed.
That's because in some of the most recent attacks in the heart of the Kabul, including the attack last week on the national electoral commission - overseeing the presidential poll at the weekend, Taliban fighters have disguised themselves as women by wearing burqas.
They use this tactic because with a lack of policewomen, they know male police officers in a conservative Muslim country won't search women.
We need female police in searches in the city and on many other jobs. They can help us win people's hearts.
When we want to search a suspect, they go along with the male officers to search women. Men would not be able to search women, that's why we need them.
Detective Nugis prepares for a day on the beat in Kandahar, which means having to wear a burqa.
She's part of a team carrying out inspections at a roadblock.
Kandahar is where the Taliban movement was born and they have tried their best to target women police officers.
Nugis has more reason than most to be fearful - she served with and was a close friend of Malalai Kakar, the city's first senior female police officer, who was assassinated in 2008.
"Of course policewomen are scared. They go to insecure areas ... when they come out of their homes they worry about being confronted by somebody. They're scared of being shot," she said.
"The situation will deteriorate when the foreigners are not here. The situation will get worse," she told ITV News.
Given that under the Taliban, women played no role in public life and education for girls was ended - Afghanistan's women have more reason than most to ensure that a deterioration in security does not end up with a return to the past.
http://www.itv.com/news/2014-04-03/women-are-being-trained-to-serve-at-the-sharp-end-of-afghanistans-frontline/
------------
Under Pressure from Hard-Core Islamists, Lebanon Decriminalises Wife Rape
4 April, 2014
In what a leading Lebanese women's rights group sarcastically alluded was nothing more than a sick April Fool's Day joke, the Lebanese Parliament passed what is officially an updated domestic violence protection act, but seems to have skipped all the legalistic verbiage outlawing marital rape, effectively legalizing the act, as reported by the human rights news portal The Clarion Project on April 2, 2014.
Now a minority, but once recognised for centuries as one of the very few Christian nations in the Middle East (mostly Maronite-Rite Catholics) as well as being a beacon of Western civilization in the region, the Lebanese Republic has just taken another step closer to Islamic Shari'a Law due to pressure from Islamist members of the country's legislative body as noted by The Clarion Project.
Initially entitled "Violence against Women" in 2007 by the women's rights organization KAFA (loosely translated: "Enough Violence and Exploitation"), the parliament has since changed the title to "Violence against the Family," but the changes don't end there.
The proposed legislation "was amended to remove a clause criminalizing the act of marital rape (instead, it criminalizes only the threat of marital rape). Another amendment took out all references to forced marriage."
As quoted, KAFA organizer Faten Abou Chakra stated:
It was just theatre. In two minutes the law was approved without any of the requested amendments. This law is distorted and will not guarantee real protection for women.
The Reuters news agency also cited that "while another [amendment] introduces the spousal right to sexual intercourse, a move which critics say essentially legalises marital rape."
http://www.examiner.com/article/under-pressure-from-hard-core-islamists-lebanon-decriminalizes-wife-rape
-----------
'Burqa Avenger' wins US award
2014-04-04
NEW YORK: Burqa Avenger, a Pakistani animated series about female empowerment, was among the international programmes honoured on Wednesday at the annual Peabody Awards, the oldest and one of the top honours in broadcasting.
Other winners were Danish political drama "Borgen" and a Philippine television network's coverage of November's Typhoon Haiyan that killed more than 6,000 people.
The Peabody Awards recognise the best in television, radio, internet broadcasting, producing organisations and individuals. A record 46 awards were handed out this year.
The winners will be honoured at a ceremony in New York on May 19.
Netflix political thriller "House of Cards" and jail house comedy-drama "Orange Is the New Black", along with a trio of HBO documentaries, headlined the American winners.
Public broadcaster PBS won 12 awards, including one for "League of Denial: The NFL's Concussion Crisis" about football's long-term health risks and "Broadway Musicals: A Jewish Legacy", which examined the Jewish roots of American musical theatre.
"House of Cards", which was the first online-streaming show to win an Emmy award, was praised for Netflix's unique approach of releasing all the season's episodes at once.
"Netflix took binge viewing to a new level and obliterated the idea that a hit TV show needs a slot in prime time," the Peabody panel said.
Netflix's "Orange Is the New Black", about a bisexual woman reunited with her ex-lover in prison, was lauded for its "complex, riveting character study rich in insights about femininity, race, power, and the politics, inside and outside prison walls, of mass incarceration".
https://www.dawn.com/news/1097640/Burqa-avenger-wins-us-award
------------
URL: https://www.newageislam.com/islam,-women-and-feminism/new-age-islam-news-bureau/eying-a-goal-—-saudi-young-women-dream-of-playing-football/d/66413