New Age Islam News Bureau
7 Sept 2019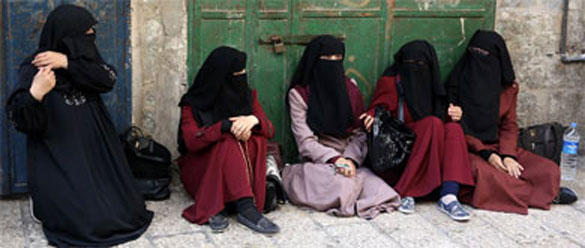 College students at the entrance to the Al-Aqsa Mosque compound (Haram-Al-Sharif), in 2013, part of the exhibition "Veiled Women of the Holy Land: New Trends in Modest Dress." Photo by Menahem Kahana
------
• Turkish Gov't Vows Zero Tolerance on Violence against Women
• Why Are There So Few Statues of Women in Egypt?
• Saudi Women Directors Bring Empowerment Message to Venice
• Afghan Women Determined To Vote in Presidential Polls
• Iran Detains 22 Men and Women for Attending Mixed-Gender Party
• Angelina Jolie Sends Message of Support As First Independent All-Afghan Movie Premiers In Venice
• UP Woman Given Triple Talaq for Giving Birth to Girl
Compiled by New Age Islam News Bureau
URL: https://www.newageislam.com/islam-women-feminism/exhibition-jerusalem-challenges-perceptions-modestly/d/119684
--------
Exhibition in Jerusalem Challenges Perceptions of Modestly Dressed Women
September 6, 2019
JERUSALEM (RNS) — In this holy city, hats, hijabs and clerical habits are a way of life and go all but unnnoticed on its busy streets.
Even so, No'am Bar'am-Ben Yossef, an expert on religious garb, was surprised when, a decade ago, she began to see Jewish women dressed much like devout Muslims and Orthodox Christian nuns.
Walking along the invisible seam between East and West Jerusalem, "there was a point when I couldn't distinguish between Jewish women, Muslims and Greek or Russian Orthodox nuns when I was seeing them from behind," Bar'am-Ben Yossef told Religion News Service.
She was eager to learn what motivated this small but growing group of Jewish women to dress in ankle-length black robes and layers of scarves, wraps and, sometimes, face veils.
Her investigation propelled her into the world of the most insular Jewish sects and broadened to include interviews with devout Muslim women and nuns.
Eager to share the women's words, Bar'am-Ben Yossef, a senior curator in the Israel Museum's Art and Jewish Life department, asked Ari Teperberg, a theater director and performer, to co-create the exhibition "Veiled Women of the Holy Land: New Trends in Modest Dress."
"Israeli society is becoming more religious," Bar'am-Ben Yossef noted. "I think it's a reaction to perceived secular promiscuousness, but also a way to feel more secure in an uncertain world."
Bar'am-Ben Yossef said she and Teperberg created the exhibition to challenge the public's perceptions of women who cover almost every inch of their bodies.
At the entrance to the exhibition, visitors see artistic photographs of random modest or covered women walking in the city's streets and mannequins representing the three faiths dressed in startlingly similar attire.
Their clothing bears no resemblance to the modest but Westernized long-sleeved shirts and below-the-knee skirts commonly worn by mainstream ultra-Orthodox women and is far more conservative than the brightly colored hijabs and lively accessories favored by most of the city's Muslim women.
At the exhibition's core is a 16-minute video that allows three women — one from each faith — to explain why they adopted what many consider to be a life of religious extremism.
As the video starts, the women are fully clothed, but as they tell their stories they shed some of their layers of clothing (they remain modestly dressed) as if they are peeling an onion. Toward the end of the video they put the layers back on.
The women on screen are actresses but the words they convey are meticulously compiled from the interviews Bar'am-Ben Yossef conducted.
Right from the start, the exhibition asks visitors to consider whether choosing to dress extremely modestly is the result of patriarchal oppression or actually an expression of feminism, and to examine their own biases.
"Every one of us perceives the world through a virtual veil or filter," said the curator. "We put tags on people but we don't really listen to them. I'd really love people to put aside this virtual veil and look at these women."
Bar'am-Ben Yossef said Israelis — including ultra-Orthodox Jews — view veiled Jewish women as outsiders and extremists.
"People call them 'Taliban women,' something they perceive as very offensive."
Though the interviewees were raised in vastly different cultures, the common denominator is their thirst for spiritual purpose and meaning.
Because religion, ethnicity and physical modesty are hot-button topics in Israel, Bar'am-Ben Yossef and Teperberg initially planned to show the videos of the three women in three separate rooms.
"We thought it would be interpreted as disrespectful to imply that they are part of a single phenomenon," Teperberg said. "But there was a moment in the process when we understood the viewing experience had to culminate in something. So all three videos are shown in one room, side by side."
Above all, the creators strived to be respectful of the women who told their stories.
"We realize that exposing modesty is a contradiction in terms," Teperberg said. "We always thought, How would these women feel if they watched this? We didn't use their stories to stab them in the back."
Many of the participants attended private showings of the video when the museum was closed to the public.
While the vast majority were pleased — especially by the term used to describe them, Jewish modest women — some were shocked to be compared to the women of different faiths.
Odel Milman, one of the women who participated in the project, told RNS she agreed to speak about her life "because there is a lot of misconception about women who dress this way."
Milman, whose long robes and scarves distinguish her from her ultra-Orthodox neighbors, said she adopted this way of dress very gradually.
"My husband and I heard about the phenomenon and I started meeting with other women who were growing in modesty. They showed me the Jewish texts where it's written what a woman should wear."
Although today's rabbis do not require that women dress the way they did in ancient times, "it is not forbidden," Milman emphasized.
She has not seen the exhibition because, as a woman who values modesty, "I don't want to draw attention to myself," Milman said.
Bar'am-Ben Yossef has been gratified by the public's positive reaction to the exhibition, where Jews, Muslims and Christians can often be seen watching the video together.
"In Israel, Jews don't know anything about nuns and little about Muslim women, and vice versa. They all live within themselves. Our goal is to encourage them to look around and listen."
https://religionnews.com/2019/09/06/exhibition-in-jerusalem-challenges-perceptions-of-modestly-dressed-women/
--------
Turkish Gov't Vows Zero Tolerance on Violence against Women
Sep 7, 2019
The government has reassured the public that it pursues and would continue to pursue a "zero tolerance" policy on any acts of violence against women.
Justice Minister Abdülhamid Gül told reporters Friday that the courts have issued since January some 375,425 orders for the protection of women threatened with violence. He did not elaborate on the orders but they usually involve restraining orders for suspects and in some cases, preventive detention of suspects.
"We reject and condemn violence against women and children. We approach such cases with zero tolerance. All relevant authorities are in coordination to ensure this and our prosecutors resolutely pursue all cases involving violence toward women," he said.
A murder last month sparked public outrage over violence against women, prompting calls for strict sentences for perpetrators and better protection for women.
The attack on Emine Bulut, from central Turkey's Kırıkkale, saddened and horrified millions when a video where she was seen covered in blood after her former husband stabbed her in a cafe was circulated. She later died in the hospital.
Bulut's cry in the video, "I don't want to die" was turned into a social media campaign to raise awareness against the issue plaguing women in Turkey. According to unofficial figures, 49 women were killed either by their spouses, family members or relatives in August and 294 women were killed in the country since January in acts of domestic violence.
Along with awareness campaigns, experts say harsher laws are needed to fight domestic violence. More often than not, Turkish courts reduce sentences in such cases if the victim "provoked" the suspect, under a controversial interpretation of Turkish laws.
Domestic violence claimed 932 lives between 2016 and 2018. Turkey is striving to eradicate the disturbing phenomenon by increasing prison terms for perpetrators and awareness campaigns denouncing violence toward women, the product of a twisted patriarchal mindset.
Some perpetrators justify murders by saying the victim deserved it for "staining their honor," or cheating and in the case of former husbands, marrying someone else. The government plans a new bill to hand down a sentence of at least 40 years in prison for crimes against women.
https://www.dailysabah.com/turkey/2019/09/07/turkish-govt-vows-zero-tolerance-on-violence-against-women
--------
Why Are There So Few Statues of Women in Egypt?
SEPTEMBER 6, 2019
Most women's rights defenders in Egypt aren't quite preoccupied with the alarmingly low number of statues depicting women in the country. Understandably, the issue pales in comparison with more pressing agenda items, like the many forms of de jure and de facto discrimination against women—from legal marital rape and inheritance inequality, to rampant FGM and sexual harassment.
Yet the absence of the female from our public squares and perpetually bustling streets is indicative of a sexist mentality that places far more value on honoring and recognizing men's achievements than it does women's.
Public statues and sculptures are a reflection of a nation's history and identity, fully woven into the fabric of our everyday lives. They are the landmarks that guide our travels through our great metropolis. Once used to cement the status of political figures, such as members of the Muhammed Ali dynasty from the 19th to the mid-20th century, public statues now shape cultural and social perceptions of greatness worthy of commemoration and iconic imagery. And it is usually male figures that dominate this aspect of public life, signaling to the unsuspecting eye the superiority of men.
Things aren't much better for women elsewhere in that regard. All over the world, men enjoy more representation, with statues of male figures far outnumbering those of women. Among the countless statues scattered across New York City, only five depict women. Many aren't even named after the women they depict, such as The Statue of Liberty, which was originally inspired by an Egyptian woman holding up a lamp, dressed in the loose fitting garment of a fellaha (peasant).
To combat this, a number of campaigns were launched to change that reality. One is #MonumentalWomen, which has recently won approval from New York's Parks Department to build statues honoring women's right pioneers Susan B. Anthony and Elizabeth Cady Stanton in Central Park. The iconic urban park only features fictional female statues on its grounds.
Another notable campaign is inVISIBLEwomen in the UK, which advocates for more public statues of women, arguing that "female figures are largely semi-clad, often reclining, and typically depict a maternal, saintly or sexualized image of womanhood, rather than worldly achievements."
On March 7th, 2017, one day before International Women's Day, Kristen Visbal's Fearless Girl was initially installed facing the much older Charging Bull. Visbal's bronze structure became an instant global sensation, earning a permanent place in Manhattan's Financial District. "This statue has touched hearts across the world with its symbolism of the resiliency of women," Democratic congresswoman Carolyn Maloney said in a statement.
A MAN'S WORLD IN EGYPT?
In Egypt, few women have been honored with such colossal monuments, such as Umm Kulthum, who is indisputably recognized as the Arab world's greatest recording artist. With a career that spanned three decades, Umm Kulthum has more than earned the bronze statue immortalizing her across the street from the Umm Kulthum Museum.
There is also the illustrious Nahdet Masr statue (Rising Egypt), which depicts a peasant woman standing next to the Sphinx to symbolize Egypt's national aspirations during the struggle for independence from British occupation.
However, while the peasant woman seems to be symbolize emancipation, the full statue seems to co-opt her identity for the bigger purpose of nationalism. With no name, no history, and no background, the woman stands as a lifeless figure rather than a human being that relates and directly speaks to the onlooker, the way Umm Kulthum's statue does. At best, the sculptures almost renders the woman invisible and incidental.
Another example of this kind of erasure and appropriation can be seen in the statue of Mustafa Kamil Pasha by Leopold Savine, which shows Kamil, a nationalist activist, with one hand on the head of a sphinx while a peasant woman below them is seen listening to his chants of freedom.
According to Lesley Lababidi in her book Cairo's Street Stories, it was in 1872 when Ismail Pasha, the khedive of Egypt at the time, decided to adopt the European tradition of installing statues of heroic figures in public displays as a symbol of the continuing authority of the Muhammed Ali dynasty. One example being the Ibrahim Pasha sculpture, which stands at the Opera Square in Cairo, after Khedive Ismail asked French sculptor Charles Coedier to build a statue commemorating his father.
The tradition continued on in the 20th century when Egyptian sculptor Mahmoud Mokhtar began to pay tribute to several other political figures, producing the statue of Saad Zaghloul, located on the Qasr El-Nile Bridge. Out of all the statues mentioned in Lababidi's book, however, only Umm Kalthoum stood out as a pioneering female figure in modern Egypt, next to men like Muhammad Farid, Talaat Harb, Ahmed Maher, Muhammed Abd El Wahab and many others.
This is unfortunate considering the number of notable and successful women who are never held in such high regard or afforded the same iconic status for their achievements, such as world-renowned Egyptian nuclear scientist Sameera Moussa, prominent Egyptian feminists such as Huda Shaarawi, Doria Shafik, and Dr. Nawal El Saadawi, and politicians like Hikmat Abu Zayd, the first female cabinet minister in Egyptian history, appointed in 1962.
Politics has always needed art to survive and grow. And just as politicians have used sculpture to bring life to their past achievements and authority, so too should Egyptian women make their marks on our streets. Egypt's feminist movement deserves to be honored and recognized, and the longtime struggles and successes of its pioneering women merit a more visible presence in our streets.
https://egyptianstreets.com/2019/09/06/why-are-there-so-few-statues-of-women-in-egypt/
--------
Saudi Women Directors Bring Empowerment Message to Venice
September 6, 2019
VENICE, Italy — Female Saudi Arabian directors Haifaa Al-Mansour and Shahad Ameen brought a message to the Venice Film Festival along with their movies: Women must be seen and heard.
Mansour's "The Perfect Candidate" is one of two films by female directors out of 21 competing for the festival's Golden Lion award, telling the story of a woman doctor facing gender-based challenges while running for municipal council.
Ameen's "Scales", which screened out of competition, focuses on a young girl surviving against superstitious villagers who believe she is a curse.
Both directors hope their films will convey a message of empowerment at a time when Saudi Arabia has been easing male guardianship rules.
"Showing a lead female character, it is indirectly empowering women," Mansour said.
"The one who will make most money in this film is the girl, she is not a supporting role, she is the main role. You invest in her journey, love her and root for her that is what is very important for a conservative audience to see."
The start of Mansour's film reflects the changes in the Kingdom, with protagonist Maryam driving her car to work. Last month, Saudi Arabia also ended travel restrictions for adult women, allowing them to do so without permission as well as giving them more control over family matters.
Asked what she wanted Saudi female audiences to take away from the film, Mansour, also known for the English-language film "Mary Shelley", said: "That it is about time to put themselves out there and not to be afraid of failure or to be judged.
"We come from a very traditional society so even with the liberties, like ... (women) driving is legal but not a lot of women drive because it is not accepted still socially. So it is very important for women ... to take advantage of the new freedoms given to them because that is ... how to move forward."
In "Scales", Hayat has been saved by her father from a village tradition of families sacrificing their daughters to sea creatures, making her an outcast.
"It was my story, it was my experience ... of people treating me in the country that I was in, in a very segregated society, in a society which obviously they prefer men over women," Ameen said.
"Do we come to accept these bodies that they've disfigured for years in our head with their voices? Do we come to have our own voice at the end? I think it's every girl's story, not just in the Middle East."
In 2018, Saudi Arabia lifted a nearly 40-year ban on cinemas. Mansour has previously described how she at times had to hide in a van while directing her 2012 film "Wadjda" about a young Saudi girl determined to buy a bicycle.
"It's changed a lot, I don't have to be in the van anymore ... and accessibility ... we shot in really remote areas and we were able to shoot, she said.
Ameen also noted changes for filmmakers in Saudi Arabia, which will host a film festival next year.
"With all the social media, people are much more at ease with cameras, especially with the changes happening in Saudi. I'm from Jeddah, it's like a different city," she said.
"When you see women in the streets, functioning in the society, it brings change to a city. It makes it colorful." — Reuters
http://www.saudigazette.com.sa/article/576565/Life/Life-Style/Saudi-women-directors-bring-empowerment-message-to-Venice
--------
Afghan Women Determined To Vote in Presidential Polls
Sep 7, 2019
Kabul, Sep 7 (IANS) Fearing that a Taliban-like fundamentalist government may return, many women in Afghanistan are determined to vote in the upcoming presidential polls to defend their hard-won rights enshrined since the collapse of the Islamist regime in 2001.
Activist Muqadasa Ahmadzai, 25, was a child when the Taliban ruled the country for five years from 1996. She works for women in Nangarhar, one of the most dangerous provinces where the Taliban and the Islamic State (IS) insurgent groups dominate vast territories, Efe news reported on Saturday.
"Today women are teachers, doctors, pilots, they have the right to drive, take part in elections, and advocate for their civil and fundamental rights," Ahmadzai told Efe news, explaining the progress made in the past 18 years.
In contrast, she said, under the Taliban regime "women were killed, flogged in public for not wearing burqa, schools abandoned and hospitals destroyed".
"Although women still have challenges, the progress we have made is significant," she said.
After starting almost from scratch, women now occupy 27 per cent of civil service posts, and dozens of them hold senior positions in the government as Ministers or Ambassadors in the country where 39 per cent of over 9 million school students are girls.
Ahmadzai has asked women to mobilize through democratic means, especially during the elections set for September 28.
"To protect their achievements and defend their rights, women need to take an active part in upcoming elections and should elect a president who can truly defend their rights against the Taliban in the peace talks," said the activist.
There are 18 candidates in the fray, including incumbent President Ashraf Ghani, who is seeking a second term, his CEO Abdullah Abdullah, former insurgent leader Gulbuddin Hekmatyar and former intelligence chief Hanif Atmar.
Out of the 9.6 million registered voters, only 3.3 million, or 34.5 percent, are women, despite the efforts by the Independent Electoral Commission (IEC) to increase female participation.
"Women's participation in urban areas is good, but due to family and cultural restrictions, insecurity, and lack of awareness, the number goes down as we move from cities to rural and remote areas," Abdul Aziz Ibrahimi, IEC spokesperson, told Efe news.
Meanwhile for women like Lina Faiz, the Taliban's threats were not enough to deter them from exercising their democratic right.
"Taliban threats should not stop us. We should use ballots against the Taliban's bullets," Faiz said.
https://www.thequint.com/news/hot-news/afghan-women-determined-to-vote-in-presidential-polls
--------
Iran Detains 22 Men and Women for Attending Mixed-Gender Party
Samuel Osborne
Sep 7, 2019
Iranian police have detained 22 men and women at a mixed-gender party in Tehran province, the country's official news agency has said.
The party, illegal under Iranian law, was held in a villa near the city of Damavand, IRNA reported.
Damavand prosecutor Hassan Ebrahimi was quoted as saying 13 men and nine women were arrested.
He said "some alcoholic beverages were confiscated from them".
Police took possession of all the participants' cars, the report said.
In Iran it is illegal to drink alcohol or hold parties attended by Muslim men and women who are not related.
Partygoers are typically detained for a brief amount of time, but could also be charged.
https://www.independent.co.uk/news/world/middle-east/iran-mixed-gender-party-detains-tehran-damavand-a9093616.html
--------
Angelina Jolie Sends Message of Support As First Independent All-Afghan Movie Premiers In Venice
06 Sep 2019
Academy-award winning actress and director Angelina Jolie sent a message of support to the director, cast and crew of 'HAVA, MARYAM, AYESHA', the first independent All-Afghan movie which premiers today in Venice.
Directed by first-time female Afghan director Sahraa Karimi, HAVA, MARYAM, AYESHA is the story of three Afghan women from different social backgrounds, living in Kabul, who are facing big challenges in their lives.
Hava, a traditional pregnant woman whom no one cares about, is living with her father and mother in law. Her only joy is talking to the baby in her belly. Maryam, an educated TV news reporter, is about to get a divorce from her unfaithful husband, when she finds out she is pregnant.
Ayesha, an 18-year old girl accepts to marry her cousin because she is pregnant from her boyfriend who disappears after hearing the news. Each of them has to solve her problem by herself for the first time.
HAVA, MARYAM, AYESHA is produced by female producer and sales agent Katayoon Shahabi from NOORI.
Karimi said "We would like to thank Alberto Barbera and the festival of Venice for inviting my movie and giving me a platform to bring attention to the issues my country is facing – in particular the need to guarantee fundamental women's rights in Afghanistan. Gender equality enables a country to gain prosperity and is fundamental for global peace."
Meanwhile, Academy-award winning actress and director Angelina Jolie sent a message of support to the director, cast and crew of the film.
She said "This delicately made and moving film chronicles the lives of young women in contemporary Afghanistan. It shows the grace, beauty and spirit of Afghan women as they navigate marriage, love, friendship, family and motherhood. Every film made in Afghanistan is a triumph against the odds. At a time when the future of Afghanistan is hanging in the balance, it reminds us of all that is at stake for millions of Afghan women, who deserve the freedom, independence and safety to make their own choices – in their own homes, and throughout society as a whole."
https://www.khaama.com/angelina-jolie-sends-message-of-support-as-first-independent-all-afghan-movie-premiers-in-venice-03971/
--------
UP Woman Given Triple Talaq for Giving Birth to Girl
Sep 7, 2019
LUCKNOW: A 30-year-old woman has accused her husband of giving her triple talaq after she gave birth to a girl child, in Rupaidiha area of Bahraich. Police said the complainant, Aquila Bano of Salarpur village, was married to Mohammed Hasan of the same village in 2012.
"My husband wanted a son. In 2016, I gave birth to a girl child after which Hasan often thrashed me. He would often leave home and not return for months. In his absence, my in-laws tortured me," Bano told police.
"On August 26, I again gave birth to a girl. Agitated over this, Hasan hurled abuses at me and pronounced talaq thrice on the day of delivery," she said. Station house officer, Rupaidiha, Manoj Pandey said an FIR had been lodged against Hasan, his parents and three others under the Muslim Women (Protection of Rights on Marriage) Act, 2019.
https://timesofindia.indiatimes.com/city/lucknow/woman-given-triple-talaq-for-giving-birth-to-girl/articleshow/71017790.cms
--------
URL: https://www.newageislam.com/islam-women-feminism/exhibition-jerusalem-challenges-perceptions-modestly/d/119684
New Age Islam, Islam Online, Islamic Website, African Muslim News, Arab World News, South Asia News, Indian Muslim News, World Muslim News, Women in Islam, Islamic Feminism, Arab Women, Women In Arab, Islamophobia in America, Muslim Women in West, Islam Women and Feminism