New Age Islam News Bureau
20 February 2021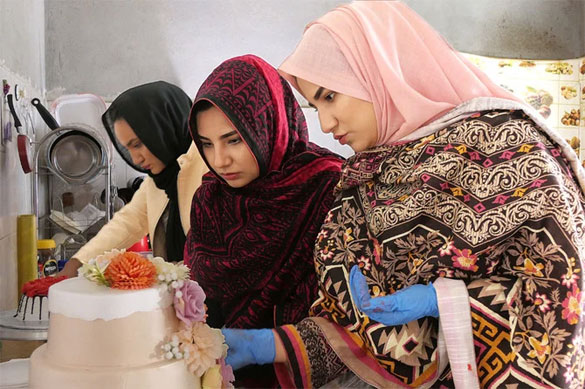 Urooj Fatima, left, Sumaiya Batool, center, and Aneesa Batool decorate a cake for delivery at their home in Quetta, Pakistan. (AN photo)
--------------
• Rising stars: Pakistani sisters fight terror with sweet treats
• India, Pakistan battle conversion of women for marriage
• Young Pakistani activist fights forced child marriage
• Iran hanged an already-dead woman, says lawyer
• Catholic woman is the victim of violence by two Muslims
• UN asks for proof Emirati ruler's missing daughter alive
• Three women lure Indian man in Dubai with fake massage offer on dating app, rob Dh280,000
• Baluch Protest, Tribal Law, Afghan Women: Your Briefing From Afghanistan And Pakistan
• Iranian Skier Makes Appeal For Women's Rights In Her Country
Compiled by New Age Islam News Bureau
URL: https://www.newageislam.com/islam-women-feminism/ex-taliban-spokesman-threatens-second/d/124357
--------
Ex-Taliban spokesman threatens second attempt on Malala's life
February 19, 2021
ISLAMABAD: A former leader of the Pakistani Taliban has recalled an assassination attempt on Nobel Laureate MalalaYousafzai nine years ago, and tweeted that next time there would be no mistake.
Twitter on Wednesday permanently suspended his account with the menacing post. The threat prompted Ms Yousafzai to tweet herself, asking both the military and Prime Minister Imran Khan to explain how her alleged shooter, EhsanullahEhsan, had escaped from government custody.
Ehsan was arrested in 2017 in Pakistan, but escaped in January 2020 from a so-called safe house where he was being held by an intelligence agency. The circumstances of both his arrest and escape have been shrouded in mystery and controversy.
Since his escape, Ehsan has been interviewed and has communicated with journalists in Pakistan via the same Twitter account that carried the Urdu-language threat. He has had more than one Twitter account, all of which have been suspended.
The government is investigating the threat and had immediately asked Twitter to shut down the account, said RaoofHasan, an adviser to the prime minister.
Ehsan, a longtime member of Tehreek-i-Taliban Pakistan as they are known, urged Ms Yousafzai to come back home because "we have a score to settle with you and your father".
The tweet added that "this time there will be no mistake".
Ms Yousafzai, who has set up a fund that promotes education for girls worldwide and even financed a girls' school in her home in the Swat Valley, called out the government and the military over Ehsan's tweet.
"This is the ex-spokesperson of Tehreek-i-Taliban Pakistan who claims the attack on me and many innocent people. He is now threatening people on social media," she tweeted.
The charges against the former TTP leader include a horrific 2014 attack on the Army Public School in Peshawar that killed 134, mostly children, some as young as five years old.
He also claimed responsibility for the 2012 shooting of Ms Yousafzai in Swat Valley. In the attack, the gunman walked up to Ms Yousafzai on a school bus in which she was travelling, asked for her by name and then fired three bullets. She was just 15 years old at the time and had enraged the Taliban with her campaign for girls' education.
Her father, ZiauddinYousafzai, a teacher, ran a school in Swat Valley for boys and girls. In 2007, when the Pakistani Taliban took control of the area, they forced girls out of schools and ruled with a brutal hand until 2009, when they were driven out by the military in an operation.
During his years in military custody, Ehsan was never charged. Authorities also later never explained how he left the country and travelled to Turkey, where he is believed to be living today.
https://www.dawn.com/news/1608159
--------
Rising stars: Pakistani sisters fight terror with sweet treats
SAADULLAH AKHTER
February 20, 2021
QUETTA: For Balochistan's "Baker Sisters," Feb. 13 was a busy day as the three women scrambled to prepare and deliver more than two dozen cakes ahead of Valentine's Day in Quetta, capital of Pakistan's troubled southwest province.
Urooj Fatima, 22, SumaiyaBatool, 23, and AneesaBatool, 25, launched their online pastry shop, Plates of Flavor, less than two years ago after their father was forced to shut down his 35-year-old bakery due to security threats.
Plates of Flavor was an instant success, and the sisters say they could not be happier carrying on their father's legacy while also earning an honest living during a coronavirus pandemic that has pushed millions of people around the world into unemployment.
Hundreds of members of the Shiite Hazara community in Pakistan — to which the three sisters belong — have been killed over the last decade in random attacks, bombings in schools and crowded markets, and brazen ambushes of buses on Pakistani roads.
Despite improved security in recent years, partly because most Hazaras have moved into two large, guarded neighborhoods in Quetta, attacks continue, including an incident last month in which Daesh militants murdered 11 Hazara miners.
"My father had a flourishing baking business in Kuchlak, about 30 km from the provincial capital, but he lost it amid sectarian attacks in Quetta and its suburbs," Urooj Fatima told Arab News.
Shutting down the bakery was a "financial bombshell" for the family, Fatima said, at a time when the siblings were still studying.
"After our graduation, we sisters decided to set up an online business," she added. "We have good culinary skills and decided to capitalize on that."
The bakery has since diversified its menu as its online footprint has grown, and regularly supplies biryani rice, sandwiches, curry and even Chinese dishes to weddings and other events.
"It's sad that many parents in our society still pray for sons and consider their daughters as some kind of a burden," FidaHussain, the father of the girls, told Arab News.
"I want to tell them to look at my daughters and see how they have strengthened the family and met its financial needs."
Hussain said that when he received threatening letters from sectarian outfits and struggled with what to do, it was his daughters who encouraged him to close his business.
"My daughters emboldened me, asking me not to put my life at risk."
According to the Balochistan Shiite Conference, hundreds of families in Balochistan have abandoned their businesses due to security threats over the last decade. Syed Dawood Agha, the group's president, said 80,000 people from the Hazara community had migrated to other countries to escape security threats and start afresh.
But Hussain said that what happened to him was "fate" and he is determined to see his daughters succeed as entrepreneurs. He now helps them buy ingredients and often delivers their orders for them.
"When my wife told me that our daughters had set up an online page and started taking food and bakery orders, I encouraged them and did my best to help them with my expertise and experience," he said.
SumaiyaBatool told Arab News the bakery's initial marketing strategy included distributing free food to introduce people to their menu.
"We also participated in a food festival in Marriabad in 2019, where we introduced a fusion of food and bakery items that many people had never tasted before," she said.
"Fortunately, we are good at this since our mother has roots in Iran and we make Iranian dishes with Pakistani spices."
In the kitchen, young Urooj Fatima mixed more butter into her dough, and said she and her sisters had been working for 20 hours without even taking a nap.
"People all over Quetta are now following us on social media," she said. "We keep receiving orders. But we need to do a lot more to expand our kitchen."
https://www.arabnews.com/node/1812386/world
--------
India, Pakistan battle conversion of women for marriage
Biswajeet Banerjee &LubnaJerar Naqvi
20 Feb 2021
Forced conversion of women appears to be a concern in both India and Pakistan. In India it is the conversion of women from the majority community that is making people restive while in Pakistan activists and lawyers are increasingly questioning the conversion of women from minority communities.
Civil society activists in Pakistan are questioning such conversion, pointing out that most of the women hail from poorer families and are given no choice. Courts in Pakistan say they are helpless in the absence of suitable laws and because most of the converted women, when produced in court, claim to be happy.
Civil society activists in India cite the right of individuals to change their faith and point to the Special Marriage Act, which allows inter-faith marriages. Indian courts have weighed in favour of interfaith couples but in Pakistan even sympathetic courts have steered clear of the contentious issue.
Barely three per cent of Pakistan's population happen to be Hindus or Christians, almost in equal number. But in India, Muslims constitute 15 per cent of the population. In both countries, the number of interfaith marriages and conversion is minuscule but are causing disproportionate social upheaval.
Conversion of Hindu women to Islam and their marriage to Muslim men is sought to be made illegal in India by so-called anti-love jihad ordinances and laws whereas in Pakistan conversion of minority Hindu and Christian women is being questioned. Cases of Hindu men in India and Muslim men in Pakistan converting to marry are virtually unknown.
While in India, couples are allowed to marry under the Special Marriage Act and follow their respective faiths, in Pakistan the the women, in the absence of any such law, have no option but to convert. Says M. Shoaib Ashraf, an advocate at the Pakistan Supreme Court and human rights activist, "Islam does not allow conversions for getting married. This is considered exploitation of religion. One has to convert for the love of the religion and not for any other reason."
In India, however, delivering the historic judgement in Hadiya and ShefinJahan case, Supreme Court Justice DY Chandrachud said: "The choice of a partner, whether within or outside marriage, lies within the exclusive domain of each individual. Intimacies of marriage lie within a core zone of privacy, which is inviolable. The absolute right of an individual to choose a life partner is not in the least affected by matters of faith.
"The Constitution guarantees to each individual the right freely to practise, profess and propagate religion…the Constitution exists for believers as well as for agnostics…Matters of dress and of food, of ideas and ideologies, of love and partnership are within the central aspects of identity…Society has no role to play in determining our choice of partners."
The Lahore High Court too, while hearing the case of a 14-year-old girl who had converted, ruled that religion was a matter of conviction and the court could not adjudicate.
In both the countries, there have been cases in which subterfuge and allurements were used. Shamshad and Asif, from Meerut and Budaun, posed as Amit Gurjar and Rajkumar respectively to lure Priya and Neha. Both the women were killed when the truth came out.
But Muskan (Pinki) who married Rashid in Dehradun in July 2020 after informing the Superintendent of Police, Dehradun, as required by Uttarakhand's Freedom of Religion Act 2018, was arrested with her husband when they visited Moradabad. Muskan was pregnant and she alleged that she lost her baby during police beating.
In the last two months, 86 persons have been booked in 16 first information reports (FIRs) since the Prohibition of Unlawful Conversion of Religion Ordinance, 2020, was notified in Uttar Pradesh. Out of the 86 people booked, 79 are Muslims and all of them are booked under similar offences—enticing a woman and forcing her to convert to Islam.
In one case, 26 people, including five women, were booked in Etah for allegedly forcibly converting a 21-year-old woman. In Mau, 16 people were booked under one FIR whereas in Sitapur, 14 were booked in one FIR.
In Pakistan, "in the absence of legislation explicitly banning and criminalizing forced conversion, affected families (mainly young Hindu and Christian girls' parents/ guardians) have to use laws against kidnapping/abduction, forced marriage, child marriage and rape of minors to penalize the offender," says Tahira Abdullah, a social activist.
Shoaib Ashraf points out that if the victim says she converted of her own will, there is little that courts can do. "If a girl from a poor family converts to marry a man from a more affluent background, there is no way of knowing if she converted to marry out of love or if she was given incentives of a better lifestyle, although this should also in a way be considered an unlawful thing and some form of coercion," he adds.
Jibran Nasir, advocate, lead campaigner at Never Forget Pakistan and trustee of Elaj Trust, says: "Young girls are kidnapped and converted and video messages are made in which they say they are happy. We argue in court that the girl does not need to be screaming or shouting to consider it as forced. If an underage girl gets into a consensual sexual relationship, it is still a crime. This forced conversion is also a crime." According to data provided by the Center for Social Justice, Pakistan, between 2013 and 2020 the highest number of cases of alleged forced conversions were reported from Punjab (52%) and Sindh (44%).
"A clause on forced conversion, inserted into a draft law by Hindu legislators, was actually removed before enactment in Sindh province and it has repeatedly failed enactment in the national Parliament, despite clear directives from the Supreme Court of Pakistan (SCP)," Tahira Abdullah points out.
In Pakistan, on the insistence of the family, courts can send the victim to a darulaman (place of safety) to give them time and space to think things over.
(Biswajeet Banerjee is senior journalist based in Lucknow, India. LubnaJerar is a freelance Journalist based in Lahore. The views expressed are that of the authors and not that of National Herald)
https://www.nationalheraldindia.com/opinion/india-pakistan-battle-conversion-of-women-for-marriage
--------
Young Pakistani activist fights forced child marriage
By ARSHAD MEHMOOD
FEBRUARY 20, 2021
[Islamabad] Hadiqa Bashir, 19, has been actively working against early and forced marriages for the last eight years in Pakistan's Swat Valley, once a hotbed of the Pakistani Taliban.
For years, the Taliban broadcasted threats on the radio to intimidate girls into not attending school. The militants controlled the entire valley from 2007 to 2009, when the Pakistani Army retook the area.
Bashir has taken on the challenge of ending child marriage in a community where it is the norm and where girls can be offered for marriage in exchange for settling disputes.
Her father, Ifthikar Ahmad, a government contractor, is a former schoolteacher. Her mother, SajdaIfthikar, is a senior consultant at a local dispute resolution center. Bashir is their only daughter; she has two younger brothers.
She is now studying for her bachelor's degree in sociology at Jahanzeb College, in Saidu Sharif, the capital of the Swat District in Khyber Pakhtunkhwa Province, formerly known as the North-West Frontier Province.
Bashir told The Media Line in an exclusive interview: "The idea of standing up against forced marriages came to me when a friend got married at an early age. She was constantly tortured by her husband who made her mentally ill.
"At the age of 12, I decided to start fighting against child marriages," she continued. "In 2014, I motivated some close friends and we formed Girls United for Human Rights."
The group comprises 10 girls, all under the age of 18 years; together, they fight against forced child marriages and for equal opportunities for girls. The group envisions a peaceful and tolerant society where all girls have equal status, dignity and respect.
"After school hours, we visit house to house to speak to women, persuading them to not marry off their underage daughters," Bashir said.
"At first, the community didn't support us, but now it is; there are a lot of people in our community who are supporting me. One human being with conviction can bring real change," she said.
"We also conduct awareness sessions in local schools, colleges and communities, to talk openly about the bad impacts of a girl's underage marriage, the benefits of child education, and health issues," Bashir continued.
Responding to a question from The Media Line, she said, "We have no support from the government side; we collect our pocket money to run our campaign.
"My father supported me a lot and he managed to get some financial assistance from the FRIDA organization, but it was not enough for our long-lasting and continued struggle," Bashir added.
FRIDA − The Young Feminist Fund is an American NGO that provides organizers with resources to amplify their voices.
Bashir received a Muhammad Ali Humanitarian Core Principle Award in 2015 for her work against early and forced marriages in tribal regions of Pakistan.
Aged 13 at the time, she was the youngest recipient of the honor, named for the legendary American boxer.
"I firmly believe that change in such a patriarchal and male-dominated society does not happen overnight, rather it takes a long struggle to achieve such a goal," Bashir said.
"Pakistan's government has taken some steps against forced early-age marriages but the punishments or penalties are very light," she continued. "We are lobbying lawmakers to increase imprisonment and fines.
"Education can play a pivotal role to eradicate and stop early-age forced marriages, but unfortunately there is a lack of educational institutes in the Swat Valley. More schools and colleges are required on an urgent basis," Bashir said.
"According to our group survey," she continued, "about 65% of the population is practicing early-age forced marriages, and the reasons are poverty, lack of education and cultural practices such as Swara."
Swara is customary practice in tribal areas in which underage girls are given in marriage as compensation for crimes and to settle feuds between families.
Saeedain Khan, a senior attorney practicing before the High Court in Rawalpindi, told The Media Line that "the practice of Swara violates the constitution of the country.
"Article 9 of the Constitution guarantees that no person shall be deprived of life or liberty save in accordance with law. It also violates Article 4 of the Constitution, which guarantees that every citizen has full right to enjoy the protection of the law. On the contrary, such practice blatantly violates it," he continued.
"Under the Constitution of Pakistan, forced marriage and marriage of children of tender age have been regarded as offenses and punishable under both the Pakistan Penal Code and the Child Marriage Restraint Act," Khan said.
According to a 2018 UNICEF report, "21% of Pakistani girls are married by the age of 18, and 3% before 15."
According to another survey, conducted by the Pakistan Demographic and Health Survey (PDHS) in 2019, "13% of women who marry before the age of 18 have completed primary education whereas two out of three (67% of) child brides received no schooling."
The Constitution of Pakistan sets the legal age of marriage at 16 for girls and 18 for boys.
In April 2019, Pakistan's Senate passed a bill that would raise the age for girls to 18. The legislation is still pending final approval in the National Assembly.
The measure, introduced by Senator Sherry Rehman, a former Pakistani ambassador to the United States, seeks a complete ban on marriages before the age of 18.
Bashir's father, a social reformer, told The Media Line that "it is in our culture to marry girls as early as possible."
"When Hadiqa was 11 years old, she received a marriage proposal. We were worried but when we talked to Hadiqa, she unexpectedly refused. I had no idea that my daughter was so daring, and indeed she has been a leader from birth. She not only refused but rejected the system and cultural norms," Ahmad revealed.
"When she received her first award, she was threatened by unknown persons. Meanwhile, she was expelled from the private school where she was studying," he said.
"The school administration told us that they could not endanger other students because Hadiqa is under threat. No private school was willing to take her so finally I arranged a guard for my teenage girl and got her admission to a government school," he added.
"Hadiqa is still under threat. A few days ago, a boy brandishing an AK-47 threatened Hadiqa via her social media account, saying, 'You should go to hell,'" Ahmad said.
The matter was referred to the local police.
Allama Mohammed Sajjad, a Rawalpindi-based prominent scholar and the imam of a grand mosque, told The Media Line, "Islam regards marriage as a union between two consenting adults which aims to perpetuate human life and achieve spiritual and emotional harmony.
"Islam is against the idea of women being forced to marry against their wishes. On the contrary, it encourages women to choose their spouses. According to the command of the Holy Prophet, 'A widow or divorcee is not to be remarried unless her consent is sought," Sajjad said.
Erfan Hussein Babak is executive director of The Awakening, a Swat-based organization working for social and cultural development.
"The women and girls of Khyber Pakhtunkhwa Province in Pakistan are living under a tribal and feudal system that is based on patriarchy," he told The Media Line.
"A lack of implementation of existing laws, the tribal and feudal structure of society, lack of awareness among the public about the harmful effect of child marriage, and extreme poverty are the main causes of early-age forced marriages," Babak said.
"Education and effective legislation with proper implementation mechanisms are important issues that need to be addressed on an urgent basis," he continued. "Government should commit to the reduction of poverty, which is one of the biggest causes of early-age marriages.
Asked about opposition to his efforts on the issue, Babak said, "No formal threats have been received; however, there is strong resistance within the communities on sensitive issues like girl's rights and child marriages."
In 2016, Bashir became the first Pakistani girl to receive the Asian Girls Human Rights Ambassador award.
She is also a two-time International Children's Peace Prize nominee (2016 and 2017), a Commonwealth Youth Awards for Excellence in Development Work finalist (2017), the winner of the With and For Girls Award (2018-19) and a Women Deliver Young Leader.
Bashir is part of the 17-member 2020 class of the United Nations' Young Leaders for the Sustainable Development Goals.
https://www.jpost.com/international/young-pakistani-activist-fights-forced-child-marriage-659585
--------
Iran hanged an already-dead woman, says lawyer
YaghoubFazeli
19 February ,2021
An Iranian lawyer said Friday that prison authorities hanged his female client despite suffering a heart attack moments before the sentence was carried out.
Zahra Esmaili was found guilty of the murder of her husband AlirezaZamani and sentenced to death.
Zamani was a senior agent in the Ministry of Intelligence, according to Esmaili's lawyer, OmidMoradi.
Esmaili was executed on Wednesday in Rajaei-Shahr prison in the city of Karaj, west of the capital Tehran, along with seven others, the Oslo-based Iran Human Rights (IHR) said on Wednesday.
But Moradi said that number is incorrect, and that his client was hanged along with 16 other men.
Esmaili suffered a stroke after seeing several men hanged before her, Moradi wrote in a now-deleted Facebook post, adding that her death certificate states "cardiac arrest" as the cause of death.
"Zahra [Esmaili] … died" before it was her turn, "but despite that, they hanged her lifeless body," Moradi wrote.
Iran has the highest number of executions in the world after China. It has executed 42 people since the beginning of this year, according to IHR.
https://english.alarabiya.net/News/middle-east/2021/02/19/Iran-hanged-an-already-dead-woman-says-lawyer-
--------
Catholic woman is the victim of violence by two Muslims
bySumonCorraya
02/19/2021
Barisal (AsiaNews) - A 43-year-old Catholic mother of one has accused two Muslims of rape.
Rumi Costa (not her real name) lives in the Diocese of Barisal. On 5 February, she was attacked in her home and had to be hospitalised until last Wednesday because of the injuries sustained during the incident.
Her husband, Fabian Gomes (also not his real name) filed a complaint on 8 February at Bakerganj Police Station against Mohammad Alam, a neighbour recognized by the woman, and one of his friend.
Gomes works as a night watchman at a Catholic school and his only son is in Dhaka studying, which is why his wife was home alone at the time of the attack.
When he returned home the next morning he found the door open and his wife on the floor, undressed and unconscious.
Mohammad Alam and his friend managed to get into the house by picking the lock. "With their faces covered, they looked like thieves," Rumi Costa told AsiaNews, "but instead they wanted sex and started beating me up."
"As I tried to disentangle myself, I recognised Mohammed Alam's face. They kept beating me; I was scared and helpless. I asked for some water and they gave me a glass mixed with a sleeping pill that made me unconscious for three days."
The woman is still weak and bears the scratch marks of the attackers on her body. The two also stole her gold earrings, but according to Costa they only did it to humiliate her.
Bakerganj police arrested Alam, but his accomplice is still on the run. The woman did not obtain a medical certificate attesting to the sexual assault.
"Alam thought that since we were very weak Christians we would not raise our voices," she said. Now she wants justice.
Her husband told AsiaNews that they live in a predominantly Muslim village. Right after the incident, neighbours showed their solidarity and denounced the attack; but when Gomes filed the complaint local Muslims sided with Alam, claiming he could not have done it.
"His brothers also offered me money to withdraw the complaint, but I told them that I want punishment for the attackers," he said.
"We are very concerned about what happened in Barisal," said NirmolRozario, president of the Bangladesh Christian Association, speaking to AsiaNews. "We call for an exemplary penalty so that incidents of this kind do not occur again."
http://www.asianews.it/news-en/Catholic-woman-is-the-victim-of-violence-by-two-Muslims-52394.html
--------
UN asks for proof Emirati ruler's missing daughter alive
19 February 2021
The United Nations (UN) has asked the United Arab Emirates (UAE) for proof that the missing daughter of Dubai's ruler is alive.
Footage emerged this week showing Princess Latifa saying that her father, Mohammed bin Rashid Al Maktoum — who is the prime minister of the UAE and the ruler of Dubai — is holding her hostage in the city.
In the video, which was secretly recorded, the princess says she fears for her life.
The UN Commission on Human Rights raised concerns "about the situation in light of the disturbing video evidence that emerged this week."
"We have asked for a proof of life — we have asked for further information," Liz Throssell, a spokeswoman for the agency, said on Friday.
Earlier, a lawyer who presented Latifa's case to the UN, Rodney Dixon, called on the world body to open an investigation into the case.
"The UN needs to have a very serious meeting directly with those who are holding [her] and make sure an agreement is reached so she can be released," he told the BBC.
The footage, released by Latifa's friends, prompted reaction from the UAE's Western allies, including the United Kingdom (UK).
UK Prime Minister Boris Johnson called for information about her well-being and Foreign Secretary Dominic Raab said earlier this week that he would watch any developments "very closely."
In February 2018, Latifa had tried to escape Dubai with the help of friends.
In a video recorded juts before her escape, she complained, "I am not allowed to drive, I'm not allowed to travel or leave Dubai at all."
But she was forcefully returned to Dubai after being captured by commandos on a boat in the Indian Ocean.
Ever since, she has remained in Dubai. Her father claimed he was acting in Latifa's best interests. The royal family said previously that the princess was safe in the care of family.
Another daughter of Sheikh Mohammed went missing in 2000, when she was 19.
SheikhaShamsa Al Maktoum escaped during the family's annual UK holiday, but shortly afterwards, she was returned to the country.
She later said that it was her father who sent "four Arab men to catch me, they were carrying guns and threatening me" in the streets in London.
Shamsa has not been seen in public since.
https://www.presstv.com/Detail/2021/02/19/645626/UN-asks-for-proof-that-Emirati-ruler%E2%80%99s-missing-daughter-alive
--------
Woman, foregrounded: Vaishna Roy reviews Salma's 'Women, Dreaming', translated by MeenaKandasamy
FEBRUARY 20, 2021
Vaishna Roy
Tamil poet-writer-politician Salma's hard-won personal victories give her voice universal resonance and a unique, reified timbre
Scholar Leela Gandhi said that what post-colonial theory "fails to recognize is that what counts as 'marginal' in relation to the West has often been central and foundational in the non-West." This rings true with regard to feminism and its relationship with women from minority communities, whether Muslim or Dalit or Black. While Indian feminists successfully negotiated the mainstream to reposition issues like Sati or widow remarriage as being about women first and about culture and religion after, they hesitated to make the same leaps with, say, triple talaq.
Indian feminism, while justifiably anxious to keep at bay right-wing extremism, has often felt impelled to consider some foundational issues of women from minority communities as being amenable to postponement until larger issues of religious and cultural rights are addressed.
Everywoman's story
This is today compounded by the growing anxieties of inter-cultural and inter-faith non-judgmentalism and the trend towards relativism. There is, however, a strong case to be made for respecting cultural diversity without taking one's eyes off a robust shared ethical framework. While celebrating differences, one need not be diffident about making universalist demands for dignities and freedoms that disregard community or geography. One recalls late feminist political philosopher Susan Moller Okin, who criticised multiculturalists for valuing "group rights for minority cultures" over the welfare of individual women.
It is against this backdrop that one must approach Tamil poet-writer-politician Salma's works to understand why they mark a crucial literary watershed. Salma is part of an Indian Islamic feminism that has been taking shape over the past few decades, but
Woman, foregrounded: Vaishna Roy reviews Salma's 'Women, Dreaming', translated by MeenaKandasamy
her hard-won personal victories give her voice universal resonance and a unique, reified timbre. It allows her to confidently foreground the woman. As she once said, "This [oppression] has nothing to do with Islam or any particular religion. This has primarily to do with male-dominated society's oppression against women."
Her second novel, Women, Dreaming (2016), now translated into English by MeenaKandasamy, tells the interlinked stories of six women in a small, orthodox Muslim village in Tamil Nadu. Their names are Subaida, Asiya, Parveen, Mehar, Amina, and Sajida, but their stories are those of Everywoman — they struggle alike against their chains, they dream similar dreams.
The oppression has passed down from mother to daughter to granddaughter; each generation fights a little harder, cowers down a little slower, but when the novel ends, we seem no closer to real hope than when we began. Only, the windows have been opened wider and more light pours in for Sajida than it ever did for her mother Mehar.
Looming large over the book and the village is the shadow of Hasan, Mehar's husband. Once cheerful, enjoying music and cinema, he has returned from his haj in Makkah laden with purdahs, dogmas and orthodox Islam. His mother, wife, sister, daughter, the village women — everyone is being whipped into submission by his loftier, harsher religiosity. Even the village cleric cannot continue the milder ways in which he once minded his flock.
True path
Hasan's discovery of the "true path" has also meant his taking a second wife, contrary to the village's long tradition of monogamy, but he is convinced that being a man, moreover one who follows the book, places him outside the pale of criticism. Mehar leaves him but cannot escape his continuing wrath, nor can his son, daughter or mother. Only his sister Parveen frees herself of his influence, discovering her mind, her body, her sexuality, her independence.
By singling out Hasan's zealotry, Salma recreates the existing tensions in the Muslim world between its orthodox and moderate factions, within which the women exist, locked inside homes, rules, conventions, mirroring real life and Salma's own incarceration of nine years. In that sense, the book reads not so much as fiction as docu-drama, a slice of life. The language matches this — plain, sometimes halting, sometimes staccato, with few flourishes. If there's a failing, it is repetitiveness. The women's constant crying and lamentation might be true to a certain ceremony of grief associated with Islamic traditions and Tamil sensibility, but the repeated mentions in the book are tedious and not lyrical.
A slice of life
The women's revolts are mostly indirect, tentative, often pushing them into greater bondage, sometimes gaining them minor freedoms. The women are controlled by the word of god, varyingly interpreted by whichever reigning male with whatever interpretation that furthers patriarchy most.
More than the hopeless flailing of her cast, what I found poignant was Salma's restraint. She is negotiating — politics, family, clergy. She is murmuring where she wants to shout. She is protecting. Even Hasan gets his interior monologue, with Salma seeming to ask, wanting to believe, surely an excess of faith would excuse his misogyny? These questions and compromises, these self-doubts echo those of many Muslim women who are straining to escape male-spun religious cocoons — but don't want to break the skeins either.
Scholar Sylvia Vatuk in her paper 'Islamic Feminism in India' points to how nascent Islamic feminists refer not to universalistic human rights principles but to the Quran, which they insist grants Muslim women rights denied in interpretation and practice by the ulemas. For now, this may be their only culturally viable approach, but their priorities as women are bound to overtake those of community. More butterflies like Salma will surely emerge.
https://www.thehindu.com/books/woman-foregrounded-vaishna-roy-reviews-salmas-women-dreaming-translated-by-meena-kandasamy/article33871351.ece
--------
Three women lure Indian man in Dubai with fake massage offer on dating app, rob Dh280,000
February 20, 2021
Ali Al Shouk
Dubai: A gang robbed Dh280,000 from a Dubai-based Indian man after he was lured into a fake massage parlour, the Dubai Court of First Instance heard.
According to records, the 33-year-old Indian victim saw an offer for a massage session for Dh200 with pictures of beautiful girls promoting it. He contacted the number provided and went as directed to an apartment in the Al Refaa area of Dubai in November 2020.
"I saw four African women inside the apartment and gave them Dh200. They asked me to open my bank's application [on my mobile phone] and transfer money. They threatened me with a knife at my throat and slapped me on the face," said the victim on record. One of the women then took his credit card and withdrew Dh30,000 from an ATM. He was kept confined in the apartment for one day as the women transferred Dh250,000 from the victim's bank account to other accounts.
"They allowed me to leave the apartment only after they took away my iPhone too. I alerted the bank and reported the incident to police," added the victim.
Intensive investigations
According to Dubai Police, three Nigerian women were arrested from Sharjah after intensive investigations, while a fourth woman is still at large. "One of them admitted to luring the victim through the Tinder application, offering massage services and using pictures of beautiful women. They kept the victim locked up inside the apartment and wired the money from his account to different accounts outside the country," said the policeman on record.
The three Nigerian defendants have been charged with robbery, issuing threats, keeping the victim forcefully confined inside an apartment and prostitution.
The next hearing is scheduled for March 4.
https://gulfnews.com/uae/crime/three-women-lure-indian-man-in-dubai-with-fake-massage-offer-on-dating-app-rob-dh280000-1.77284625
--------
Baluch Protest, Tribal Law, Afghan Women: Your Briefing From Afghanistan And Pakistan
February 19, 2021
By Abubakar Siddique
Dear reader,
Welcome to Gandhara's weekly newsletter. This briefing brings you the best of our reporting from Afghanistan and Pakistan.
If you're new to the newsletter or haven't subscribed yet, you can do so here.
Balochistan, the thorn in Pakistan's side
Each one of the thousands of those who have been forcibly disappeared in Balochistan over the past decade has a story to tell, and their relatives are doing everything in their power to make sure those stories are heard. Dozens of them protested in Islamabad this week to demand answers from the government.
One of the protesters was HaseebaQambrand. She is seeking information about the whereabouts of her brother and cousin who disappeared last year. We met her at a protest camp outside the parliament building on Tuesday: "If my brothers committed any crimes, please bring them before a court of law because we recognize this country, its constitution, and laws."
The disappearances have moved parts of the government to push for change. ShireenMazari, the human rights minister, wants "to move a bill [in the parliament] so that we can make a law criminalizing forced disappearances," she told NayaDaur, a news website.
But this doesn't address the underlying conflict. Abdullah Abbas, an exiled activist, paints a picture of cyclical violence, saying the military's "hard-line approach has led to a spike in militant attacks," alluding to attempted attacks on Chinese targets. In contrast, lawmaker Anwar ulHaqKakar, a leader of the ruling BalochistanAwami Party, says he sees fatigue setting in within the insurgency.
Ahmed Rashid: The Taliban 'gets away with murder'
The Taliban's love affair with violence is endangering its deal with the United States and weighs heavily on U.S. allies trying to decide their future course in the country. NATO defense ministers deferred a final decision on their troop presence in Afghanistan despite the Taliban's insistence that Washington honor the Doha Agreement to withdraw all forces by May.
To shed light on the ongoing stalemate in the peace process, I turned to Pakistani journalist Ahmed Rashid, whose best-sellers have documented the various cycles of war in Afghanistan: "We need an international alliance that will place the Taliban at the table and keep them there till there is an agreement," the Lahore-based writer told me. (I'd also recommend you read the interview for his take on the Pakistan Democratic Movement.)
For many, tribal law trumps Afghan law
This week we reported from LoyaPaktia, Afghanistan's Pashtun tribal heartland, to understand why residents prefer community councils administering tribal law over state courts. "We decide more than 90 percent of our cases in the light of tribal traditions and laws," KausarZadran, a tribal leader in Paktia, told Radio Free Afghanistan.
Many consider the official courts corrupt or, at best, inefficient. "The judges asked me for a Toyota Corolla car and a $20,000 bribe to favor me in the case," said Mohammad Ayaz, a resident who got caught up in a violent land dispute. "I am too poor to pay such money."
Afghan women begging on the streets
We tried to understand why we have been seeing more women begging on the Afghan streets. Many shared tales of extreme hardship. "We often go hungry," one widow of a slain soldier in Ghazni told us. "I go out and beg or send my children out to beg."
Even officials blame the patriarchal inheritance system and the government's lack of interest in helping soldiers' widows. "Women who beg on the streets of Sheberghan make more money than the government can provide," said HussainKarimi, who oversees a government-run vocational training program there.
Targeted killings continue in Afghanistan
The UN Assistance Mission for Afghanistan said at least 65 journalists and human rights activists have been killed in the country in the past three years in targeted killings. The report did not blame the Taliban specifically.
One telling episode: In January, a Muslim cleric in Kunduz incited a mob to ransack the offices of Radio Zohra, a local FM station. "The attack left us paralyzed because [before] we only worried about being attacked by terrorist groups, but now we fear fellow citizens, too," HaseebullahHasas, a radio journalist for a station also called Kunduz, told Radio Free Afghanistan.
Violence disrupts life in Waziristan
We report on the how residents of South Waziristan are paying a high toll after a recent Taliban attack killed four soldiers in its main town, Wana, and a curfew that followed. The region's residents have suffered for alleged Taliban crimes, and yet the authorities failed to prevent two tribes from resorting to fighting in a land dispute.
The Pakistani state can't seem to establish lasting stability in the borderlands following years of Taliban control and military operations to combat terrorism.
I hope you enjoyed this week's newsletter, and I encourage you to share it with colleagues who might find it useful. If you haven't subscribed yet, you can do so here. I also encourage you to visit our website and follow us on Twitter and Facebook.
Yours,
Abubakar Siddique
Editor
P.S.: In the coming weeks, we'll be updating the formatting of this newsletter, so don't be surprised if it looks slightly different, and please check your spam folder if you don't see it. If you have thoughts or feedback, you can always reach us directly at gandhara@rferl.org.
https://gandhara.rferl.org/a/baluch-protest-tribal-law-afghan-women/31111932.html
--------
Iranian Skier Makes Appeal For Women's Rights In Her Country
18th February, 2021
Iranian skier ForoughAbbasi accomplished one goal on Thursday merely by completing her giant slalom run at the skiing world championships.
It made no difference to her that she crossed the finish line nearly 25 seconds behind American favorite Mikaela Shiffrin, the first-run leader.
Still, Abbasi was just getting started.
The 27-year-old Abbasi then made an emotional appeal for women's rights in her country after her coach, Samira Zargari, was banned from leaving Iran by her husband.
Under Iranian law, husbands can stop their wives from traveling outside of country.
"It's not the first time," Abbasi said. "We had the same problem before this. But I wish we can change it — all the women in Iran, all together, I wish we could change it. We are trying. I'm sure the strong women can for sure change these rules and she will be stronger than before. We are proud of her, really."
Abbasi said Zargari's husband was born in the United States and grew up there but is a Turkish national.
"He just lives in Iran like five-six years," Abbasi said. "He just knows the rules in Iran."
Abbasi said her coach is a "really a strong woman" and that she's "sure she can be more stronger from that."
Zargari is not the first married athlete whose husband prevented her from leaving Iran. In 2015, soccer player NiloufarArdalan missed the Asian Cup tournament in futsal — an indoor version of soccer — after her husband confiscated her passport in a domestic dispute.
Women's sports largely disappeared from Iran after the country's 1979 Islamic Revolution. Over time, however, they gained in popularity, especially soccer. Social customs still come into the game, though, as the country's soccer team plays its matches with players' hair covered by traditional headscarves, or hijabs.
Two Islamic countries make the headscarf mandatory for women in public — Iran and Saudi Arabia. FIFA overturned a yearlong ban against players wearing hijabs in 2012.
Abbasi — one of eight Iranians (four women and four men) competing in Cortina — said she is free to drive, travel, train and race in Iran.
"Everything is free to us," she said. "There is some rules like this but it's not for everyone. In Iran maybe in a 1,000 women, one of them has a problem. … Even my coach. She's really a free woman. She was all over the world. She's traveling all the time. This time this happened. … But for sure it will be changed."
Still, Abbasi said the government prevents her from taking on certain jobs and that she has to work as a ski instructor to support her skiing career.
"I really want to stay in Iran and change the rules — change something that is stopping athletes, not just women," she said. "The boys can't buy equipment. It's the same for everyone."
https://www.republicworld.com/world-news/middle-east/iranian-skier-makes-appeal-for-womens-rights-in-her-country.html
--------
URL: https://www.newageislam.com/islam-women-feminism/ex-taliban-spokesman-threatens-second/d/124357
New Age Islam, Islam Online, Islamic Website, African Muslim News, Arab World News, South Asia News, Indian Muslim News, World Muslim News, Women in Islam, Islamic Feminism, Arab Women, Women In Arab, Islamophobia in America, Muslim Women in West, Islam Women and Feminism