New Age Islam News Bureau
7 Jul 2013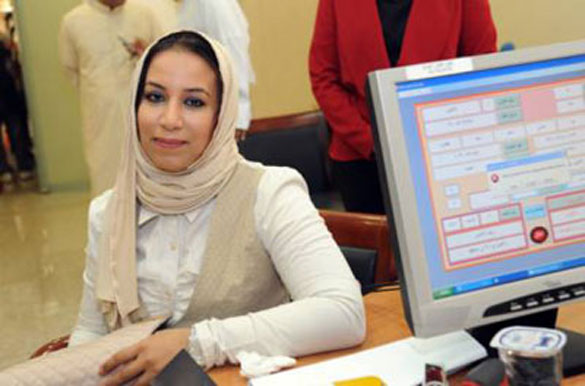 Kuwaiti candidate Haya al-Mutairi registers in the last day for the upcoming parliamentary election in Kuwait City on July 6, 2013. AFP PHOTO/YASSER AL-ZAYYAT
-----------
• Militants Blast at girls' school in Bannu, Pakistan
• Eight Women among 418 Hopefuls in Kuwait Election Race
• Time to Feminize Women's Wear Shops in Saudi Kingdom Ends Today
• Modish, Modern, Modest Hijab
• 5th Quranic Course for Women Starts in Karbala
• Women's Rights on Abortion Languish, Without A Fair Debate
• Dubai-Based Indonesian Mother Who Sold Illegitimate Baby Escapes Life Sentence
• J&K gets first Muslim woman SP
• Bangladesh Govt should provide necessary facilities to policewomen
• Woman Held for Driving After Asking Saudi Policemen for Directions
• Yemeni Arrested For Blackmailing Saudi Woman in Her 20s
Compiled by New Age Islam News Bureau
URL: https://newageislam.com/islam-women-feminism/ex-taliban-backer-vows-protect/d/12475
----------
Ex-Taliban Backer Vows To Protect Afghan Women
07 July 2013
KABUL: Sixteen years ago, Abdul Rahman Hotak helped prop one of the world's most austere regimes for women as a newspaper editor and bureaucrat for the Taliban. Now, as one of Afghanistan's top human rights protectors, he says he has turned a corner.
Sitting in his new office at Afghanistan's Independent Human Rights Commission, Hotak insists on being a voice in favour of hard-won women's rights in the deeply conservative country still ranked as one of the world's most dangerous places for women.
"Unfortunately there are many people who are against women in this country, many of whom I've worked with in the past," the heavily bearded Hotak told Reuters in a rare interview, passionately gesturing under a dark striped turban.
"As a commissioner, I will continue to work with women rights activists to lessen the burden and plight of Afghan women."
President Hamid Karzai's naming of Hotak among five rights commissioners has raised questions about his commitment to protect women as most international combat troops leave and his government looks to fragile negotiations with the Taliban.
Hotak's controversial past, including rumours of having been an aide to the Taliban's one-eyed leader Mullah Mohammad Omar, has raised alarm from civil rights activists, including the New York-based Human Rights Watch and UN rights commission.
Even before the Taliban emerged a formidable post-civil war force in 1994, Hotak was the editor-in-chief of the Taliban's Afghan Sunrise newspaper in southern Kandahar province, where the Islamist movement was founded. He denies serving under Omar, and says he joined the movement in its early days to "serve his country" and help it recover from decades of civil war.
He says he never agreed with much of the oppressive ideology during the Taliban rule between 1996 and 2001 which barred women from almost all work and education, as well as voting, decreeing them un-Islamic and imposing harsh punishment for infringements. "Everyone in Afghanistan had links with one group or another and I am no exception," Hotak said.
Sima Samar, the chair of the independent human rights commission and a Nobel Peace Prize nominee, has questioned Hotak's appointment, warning it could breach commitments to international backers as a condition of aid made at last year's Tokyo donor summit.
Samar, who won renown as a fierce opponent of the head-to-toe covering burqa for women, said the appointment risked damaging the credibility of the nine-member commission which acts independently.
UN Human Rights Chief Navi Pillay also warned that the latest appointments compromised the commission's political independence and effectiveness. Many women feel they may bear the brunt of efforts to bring insurgents into a political settlement to end the 12-year Nato-led war, with a step back to some of the conditions they faced before the US-backed overthrow of Taliban rule. In the 12 years since, women have regained basic rights, with a quarter of seats in parliament for them. The government has also tried to recruit more women into police and military. Reuters
http://thepeninsulaqatar.com/pakistan-afghanistan/244215-ex-taliban-backer-vows-to-protect-afghan-women.html
----------
Militants Blast at girls' school in Bannu, Pakistan
Jul 7, 2013
BANNU: The Government Girls Primary School was partially damaged when a bomb planted by militants went off on Saturday. Luckily, no loss of life took place. Police said the militants had planted explosives in the school in the Miryan area, which damaged the wall and the gate of the school. online
http://www.dailytimes.com.pk/default.asp?page=2013\07\07\story_7-7-2013_pg7_7
---------
Eight Women among 418 Hopefuls in Kuwait Election Race
Jul. 7, 2013
TEHRAN (FNA)- More than 400 people signed up to run as candidates in the Kuwaiti parliamentary elections on July 27.
The list of 418 hopefuls at the end of the 10-day registration process on Saturday afternoon includes eight women, Kuwait News Agency (Kuna) reported.
Under election rules, candidates who wish to pull out of the race must do so at least one week before the elections.
The high number of candidates seemed to indicate that the election boycott calls issued by some opposition figures went largely unheeded as the country looked ready to start a new chapter after months of political and constitutional turmoil.
The opposition has been pushing for a boycott to protest against a decree that amended the 2006 controversial electoral law and reduced the number of ballots a voter could cast from four to one.
For the opposition, mainly conservative and tribal figures, the decree issued in October was meant to reduce its power and limit its influence, while securing the election of a rubber-stamp parliament.
However, for the government, the amendment fixed an anomaly that often resulted in challenges to election results and brought the local election law in line with international standards.
A long standoff between the opposition and the government ended on June 16 when the Constitutional Court, whose rulings cannot be challenged, kept the decree although it dissolved the parliament and called for new legislative elections.
The performance of women in the elections will be monitored closely amid expectations that they will do better than in 2009 when for the first time in the country's history four women won seats.
Their elation lasted until February 2012 when no woman won in the parliamentary elections.
However, women made a comeback in December 2012 when three were elected in the national polls boycotted by a large segment of the opposition.
http://english.farsnews.com/newstext.aspx?nn=13920416000831
----------
Time to Feminize Women's Wear Shops in Saudi Kingdom Ends Today
July 07, 2013
RIYADH – The Ministry of Labor will start on Monday intensive inspections on shops selling women's accessories to check whether they are complying with the ministry's decision to employ Saudi female staff by a July 7 (Sha'aban 28) deadline.
Punitive measures will be taken against those shops that failed to implement Saudisation and other regulations related with it. There will be no leniency toward violators of the regulation, the ministry has said.
"Intensive inspections will be carried out in coordination with related agencies throughout the Kingdom from July 8," the ministry said in a statement carried by the Saudi Press Agency (SPA).
The inspection campaign comes in the second phase to feminizing shops selling women's dresses, abayas and accessories. It is complimentary to the first stage of feminizing lingerie shops, and its implementation is compulsory as it is considered to be a national program aimed at employing as many Saudi women as possible. Prior to enforcing the decision, the ministry conducted several workshops and meetings with businessmen over the last two months to make them aware of how to implement this directive. The ministry officials also briefed them on the measures taken to qualify Saudi women to take up these jobs by providing them intensive training.
The ministry earlier stated that if violations are detected in a shop, the firm running the shop will be placed in the red category of the Nitaqat program. All services provided by the ministry will be stopped in addition to other penalties stipulated in the labor regulations. The ministry has launched a special page on its website (www.portal.mol.gov.sa) to provide comprehensive information with regard to the second phase of feminizing shops.
The ministry can be intimated through a toll free number (920001173) or email (taneeth@mol.gov.sa) about non-compliance of any shop in implementing this directive or not arranging the required facilities for Saudi women staff at these shops. "Inspection squads from the ministry will swing into action to raid these shops to verify these complaints and take penal action against the violators," the ministry added.
http://www.saudigazette.com.sa/index.cfm?method=home.regcon&contentid=20130707172632
----------
Modish, Modern, Modest Hijab
Priti Salian
Jul. 7, 2013
Contrary to uninformed opinion, the Hijab need not be a shapeless, smothering garment. Priti Salian hears from bloggers putting the Hijab on the fashion map
They're passionate. They're modern. They're fashionistas. They're real Muslim women who wear the Hijab. Forever challenging themselves creatively to blend their faith with fashion, these Hijabistas are out to prove that most style trends can be worked into a modest look. Meet the growing breed of Hijabi fashion bloggers who are creating a stir in the fashion blogosphere despite the Herculean challenges. They tell you what it takes to be talking "covered fashion" in a bare-it-all age and how they've been able to hold their own and create a tiny but growing niche for themselves.
Getting creative for the sake of the Hijab
"Putting on the Hijab is a lifestyle change," says Zareen Shah, a 31-year-old Hijabi fashion blogger from Dubai. She began publishing fashion advice on her blog, thehijaab.com, in 2011. "It can affect your friendships, career and the way people view you. Through my blog, I try to break the barriers of stereotype usually associated with women who wear the Hijab."
Angela O'Brien, who comes from Perth, Australia, and blogs at www.misshijabi.com, had no idea how she could incorporate her style into her new way of dressing when she converted to Islam in 2007. "Blogging became an exercise of sorts, to find my own way and share my idea of style with other Muslim women," says the 28-year-old, who boasts 12,000 Facebook followers. Miss Hijabi became the first Australian Hijab blog and one of the very few dedicated to Abayas.
Hijabistas, who?
The biggest challenge for these online style experts seems to be gaining acceptance by the mainstream fashion fraternity as trendy and fashion-forward.
The blogger known only as Asma P, who is in her twenties and based in Texas, posts her style tips at Haute Muslimah (hautemuslimah.com). It is one of the most popular hijab blogs in the US, with almost 150,000 monthly hits. "It's hard to be taken seriously at fashion conferences or events," she says. "People try to figure out where I belong and although most are either kind or respectful, some are outright rude."
The challenges extend all the way to Dubai, where Hijabis are not always a welcome part of the fashion scene. "When I attend events, photographers are more likely to click pictures of the fashionista beside me in a skirt or black leggings," says Shah.
Modernity and modesty are not fashion antonyms
Whoever thinks modernity and western styles ought to blend with Muslim dressing not to read Hijab blogs. They offer innumerable combinations of modest wear, proving that Hijabi dressing does not translate to shabby dressing. Maxi skirts, harem pants, scarves and jackets are just a few western trends that can become style staples for a modest dresser.
"Maxi skirts can be worn with a fitted top and a loose cardigan on top, spiced up with a colourful belt, ballet pumps and a bright Hijab," Shah says. Asma, who takes fashion tips from her American and Pakistani background, teams such skirts with long-sleeved peplum tops.
"Pairing a blazer with a maxi dress or wearing long tunics over trousers are also a popular look," says the 23-year-old London-based Lebanese blogger Jana Kossaibati. She publishes her online style journal at www.hijabstyle.co.uk
Inspiration comes from the streets and catwalks alike
"I am inspired by the everyday Muslim woman on the street," Kossaibati says.
O'Brien takes inspiration from old photographs, historical fashion from bygone eras and cultural dresses from other ethnicities.
However, Shah has learnt a lot about fashion from her Pakistani heritage and travels. "I love venturing into street markets like Portobello in London, SoHo in New York City and the market stalls of Greenhills in Manila," says the blogger, who has Filipino and Pakistani heritage. She also takes tips from "Korean and Japanese fashion, where the women layer on their clothes in a way that makes them look effortlessly cool, yet respectable". The American fashion designers Rachel Zoe, Nicole Richie and the Olsen twins are her style inspirations.
Faith and fashion are not mutually exclusive
"Wearing the hijab doesn't necessarily mean compromising your sense of fashion, style or even independence," says Shah. "You can have it all and still maintain the values and principles of your faith."
She's replaced her skinny jeans with maxi skirts and harem pants to get a hip but modest look.
Kossaibati looks for garments with long sleeves, high necklines and opaque fabrics. "I take from fashion what suits me and my beliefs," she says.
For O'Brien, the challenge is "in finding that balance of covering enough for my religion, but also dressing in a way that still allows me to be me". She loves to wear a simple black abaya and create an outfit around it by matching it with bright colours and chic western fun accessories, jewellery and bags.
A passion that has made a difference
Healthy followings and a resulting positive influence on their readers and community has kept these fashion advisers motivated. O'Brien feels she has made abayas more appealing to non-abaya wearers. "Some people tend to see them as giant unattractive black tents of fabric, so it's nice to show them off in a stylish, feminine way."
Asma P's independence has inspired her readers to work for themselves, follow their dreams, run their own blog or website and even start their own company.
Shah and Kossaibati have been able to give the hijab a wider reach. "My blog has helped people gain a better understanding of what it's really like to wear the hijab on a day-to-day basis," Kossaibati says.
"I've had readers who've finally found the resolve and strength to put on the hijab," declares Shah with pride.
Packed with fashion tips and a lot of comfort and inspiration, the hijab blogs have not only become go-to style portals, but also a voice for Muslim women around the world. One has to wonder: is the fashion fraternity listening?
http://www.thenational.ae/lifestyle/fashion/modish-modern-modest-hijabistas-blog#ixzz2YPbWOU79
----------
5th Quranic Course for Women Starts in Karbala
Jul. 7, 2013
(Ahlul Bayt News Agency) - The 5th Quranic course or women began in the holy city of Karbala on Saturday, July 6.
It has been organized by the Astan (custodianship) of the Holy Shrine of Imam Hussein (AS) in cooperation with the city's education department, the website of the Astan reported.
85 girls are taking the course, which, according to Ali Aboud Al-Taei, will run for a month.
Al-Taei, who heads the Quran education department of the Astan's Dar-ol-Quran Center, said the course features different topics including Quran recitation, Quranic sciences and interpretation.
The Dar-ol-Quran Center also held a session last Wednesday, July 3, to investigate the best approaches for developing Islamic and Quranic education in Karbala.
http://abna.ir/data.asp?lang=3&id=437780
----------
Women's Rights on Abortion Languish, Without a Fair Debate
Jul. 7, 2013
The spate of new state laws restricting women's reproductive rights, including the right to end a pregnancy, demonstrates yet again why state legislative elections matter – and provides a cautionary tale for those who would depend on courts alone to protect rights.
In the 2010 election, 22 state legislative chambers changed majority control – all becoming Republican-controlled, thus allowing them to control the decennial process of redrawing political districts that last until 2020. In 2012, Democrats regained seven chambers but the Republican domination of state legislatures continues.
Full report at:
http://www.sacbee.com/2013/07/07/5547907/editorial-womens-rights-on-abortion.html#storylink=cpy
----------
Dubai-based Indonesian mother who sold illegitimate baby escapes life sentence
July 7, 2013
Dubai: A young mother who sold her six-month-old illegitimate daughter for Dh4,000 has escaped a life sentence and will serve three years in jail.
Prosecutors had accused the 22-year-old Indonesian woman of child trafficking and asked for life sentence but the Dubai Court of First Instance cited grounds of leniency and handed her a three-year jail term followed by deportation. She was found guilty of selling her daughter and working in prostitution.
"S.M. was a destitute mother when she sold her child to provide her with a better life. The defendant needed the money so she could buy a ticket to fly back to her homeland and she did not sell her to exploit her," said S.M.'s lawyer Uday Al Kazwini of Dar Al Balagh Advocates and Legal Consultants.
Full report at:
http://gulfnews.com/news/gulf/uae/courts/dubai-based-indonesian-mother-who-sold-illegitimate-baby-escapes-life-sentence-1.1206338
----------
J&K gets first Muslim woman SP
M Saleem Pandit, TNN | Jul 7, 2013
SRINAGAR: Shahzada Parveen, who was among a dozen Jammu & Kashmir police officers to be promoted on Saturday, has become the first Kashmiri Muslim woman to become an SP.
Praveen was appointed as a police officer in 1983 and is from Anantnag in south Kashmir. She had earlier served as DSP (traffic) in Srinagar.
"There are several women SPs, but I am the only Kashmiri Muslim woman to hold this position,'' said the single mother of two.
http://timesofindia.indiatimes.com/india/JK-gets-first-Muslim-woman-SP/articleshow/20950608.cms
---------
Bangladesh Govt should provide necessary facilities to policewomen
Jul 7, 2013
Given the sharply rising number of policewomen in the country, the government should provide sufficient number of quarters to them and day care centres to look after their children, said speakers yesterday.
"We have limitations when it comes to providing residential and other facilities for women," said Inspector General of Police Hassan Mahmood Khandker. However, he could not say the exact number of quarters allocated for policewomen.
Full report at:
http://www.thedailystar.net/beta2/news/govt-should-provide-necessary-facilities-to-policewomen/
--------
Woman Held for Driving After Asking Saudi Policemen for Directions
July 7, 2013
Manama: A woman in Saudi Arabia who was not supposed to drive was arrested after she pulled up her van next to a police patrol to ask for directions.
The traffic policemen in Taif province could not believe the situation and proceeded to question the woman and search the vehicle in which they found 15 girls, aged between 14 and 18, merrily singing and dancing, local news site Sabq reported on Sunday.
The driver, believed to be in her 40s, said that the girls were from the Red Sea city of Jeddah and that they were spending time at a summer camp in the area.
Full report at:
http://gulfnews.com/news/gulf/saudi-arabia/woman-held-after-asking-saudi-policemen-for-directions-1.1206292
----------
Yemeni Arrested For Blackmailing Saudi Woman in Her 20s
July 07, 2013
JEDDAH — A Yemeni youth was arrested by the Commission of the Promotion of Virtue and the Prevention of Vice (Haia) for blackmailing a woman in her 20s.
The woman filed complaint with the Haia after the man, with whom she used to go out, started harassing her and asking her to sleep with him or else he would expose her to her family and post her photos on social networking sites.
Full report at:
http://www.saudigazette.com.sa/index.cfm?method=home.regcon&contentid=20130707172573
----------
URL: https://newageislam.com/islam-women-feminism/ex-taliban-backer-vows-protect/d/12475