New Age Islam News Bureau
30 Nov 2018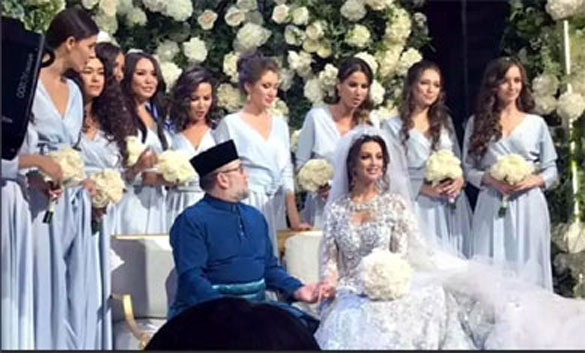 The pair held hands throughout the ceremony on November 22
-----
• Karnataka High Court Lets Muslim Girl Marry Hindu Man, Kin Oppose
• The Saudi Women Detained For Demanding Basic Human Rights
• Raising Legal Age of Marriage Is contrary To Iran's General Policies
• Primitive Culture, Tribal System behind Violence against Women in Pakistan: Moot Told
• Sikh Girl's Selfless Gesture for Muslim Friend Meets Hospital Hurdles
• UN Experts Call on Iran to Release Women's Rights Protesters
• 40,000 Turkish Conscripts Given Training on Violence against Women
• Artwork By Syrian Women Living In Turkey On Display
Compiled by New Age Islam News Bureau
URL: https://www.newageislam.com/islam-women-feminism/ex-miss-moscow-become-new/d/117026
--------
Ex-Miss Moscow Has Become the New "Queen of Malaysia" After She Converted To Islam and Married the Country's King Muhammad V
By Will Stewart in Moscow
27th November 2018
Oksana Voevodina, 25, is 24 years younger than her new husband who has been on the throne since 2016.
Oksana Voevodina, 25, wed the Malaysian monarch in a lavish royal wedding ceremony in MoscowEAST2WEST NEWS
Get the best Sun stories with our daily Sun10 newsletter
Your information will be used in accordance with our privacy policy
Voevodina wed the Malaysian monarch at a lavish royal wedding ceremony in Moscow.
The 49-year-old king was dressed in Malaysian national dress and the bride wore a white wedding gown. The reception was alcohol free and all food was halal.
Before becoming a royal bride she said: "When I was at school I was a kind of bandit. I liked some skaters, bikes, BMX, guys who took part in competitions."
But she later commented: "I think that the man must be the head of the family and of course shall not earn less than a woman."
The pair held hands throughout the ceremony on November 22EAST2WEST NEWS
Oksana posted this photo wearing a white hijab next to husband to be MuhammadEAST2WEST NEWS
Oksana Voevodina was 22 in 2015 when she won the title of Miss MoscowEAST2WEST NEWS
Oksana Voevodina, 25, married King Muhammad V of Kelantan, in a lavish royal wedding ceremony in MoscowEAST2WEST NEWS
Little is known about Oksana apart from her victory in the Miss Moscow contest three years ago when her vital statistics were given as 33-23-35.
It is not known how the pair met and it is unclear whether she has been married before.
Doctor's daughter Voevodina was 22 in 2015 when she won the title of Miss Moscow.
Her dad Andrey Gorbatenko is an orthopaedic surgeon from Rostov-on-Don believed to be in his late 50s.
Before becoming a royal bride she described her younger self as 'some kind of bandit'EAST2WEST NEWS
Oksana with her dad Andrey Gorbatenko, a surgeon from Rostov-on-DonEAST2WEST NEWS
After winning the beauty contest, Oksana announced her plans to work in fashionEAST2WEST NEWS
She made a collection of swim wear some of which was worn by beauty pageant contestantsEAST2WEST NEWS
He is seen hugging her in a picture taken on a boat near the Kremlin as she wears her beauty crown.
She claimed she only realised the power of her looks when she went to university.
Oksana said: "I was the tallest in my class (at school) and the most slim, and I was a bit worried about that.
"Only when I was at university, did I realise that this was my strong side.
"Young guys started to pay attention and I realised that they looked at me more often than at fat and not very tall girls."
Source: https://www.thesun.co.uk/news/7836106/russian-beauty-queen-malaysia-wedding-king-muhammed-kelantan/
------
Karnataka High Court Lets Muslim Girl Marry Hindu Man, Kin Oppose
Nov 30, 2018
KALABURAGI: Paving the way for an inter-faith marriage, the Karnataka high court on Thursday ordered the release of a Muslim girl from the state women's hostel here and asked police to provide security to her and her Hindu boyfriend as they were facing threats. The court also asked the girl to decide if she wanted to marry her lover or live with her mother.
Within hours, though, under pressure from community leaders, the lovers returned to their respective homes, with the boy saying his lover may commit suicide as she was distraught. The Kalaburagi bench of the court had come to the rescue of Nashwa Taha Sehena after her boyfriend Suresh Pawar filed a habeas corpus petition questioning her "illegal detention" in a state-run institution for a month with no valid grounds. The court hauled the hostel's superintendent over the coals for keeping the girl under custody based on a police letter.
The decision of the couple to marry in October invited serious objections allegedly from the girl's mother and a section of her community.
According to the habeas corpus petition, Pawar and Sehena finalised their m arriage plan and approached Kalaburagi women's police station in October seeking protection.
The petition said police gave them a sympathetic hearing and asked the boy to return to the station the next day. The girl was asked to stay back in the station to ensure no harm was done to her. The boy went to the station the next day to learn th e girl had been sent to the state women's hostel. Despite his requests and a letter from a woman police inspector, the hostel didn't allow the girl to leave its premises. That was when Pawar decided to approach the HC.
The court, while hearing the case on Tuesday, gave the girl two days to decide whether she wanted to live with her mother or marry the boy. The girl said she would rather seek "permission to take her own life than return" to her mother. On Thursday, the girl told the court that she would live with the man. However, the court advised the girl to keep ties with her mother intact and said she should visit her often.
After the hearing, they parted ways following threats to their families. Pawar said, "My family has been threatened and my father who stood with me till the evening...told me to leave the girl. I just wanted to bring her out of the women's hostel."
https://timesofindia.indiatimes.com/city/bengaluru/hc-lets-muslim-girl-marry-hindu-man-kin-oppose/articleshow/66872130.cms
--------
The Saudi women detained for demanding basic human rights
2018-11-30
Saudi Arabia continues to hold more than a dozen women rights activists in jail, months after a crackdown on dissent intensified in May.
Most of them campaigned for the right to drive and an end to the kingdom's male guardianship system, which requires women to obtain the consent of a male relative for major decisions.
In 1990, more than 40 women drove their cars in the capital Riyadh, the first public demonstration against the ban, which is now lifted. They also called for the abolishment of the male guardianship system.
Since then, other similar protests have been held, and the government initiated a crackdown on rights activists this year.
Those under arrest have been branded threats to national security and have been accused of being foreign agents. They face up to 20 years in prison if convicted.
Human Rights Watch (HRW) said that the reason for the arrest is to silence the women and prevent others from participating in activism.
Rights organisations and governments around the world have called on the Saudi authorities to release all political prisoners, but to no avail.
Last week, Amnesty International said Saudi activists, including women, who have been arrested in this year's crackdown have faced sexual harassment and torture during interrogation.
The activists, held in Dhahban prison on the western Red Sea coast, faced repeated electrocution and flogging, leaving some of them unable to stand or walk, the Amnesty International said in a report, citing three separate testimonies.
At least one activist was made to hang from the ceiling and another woman was sexually harassed by interrogators wearing face masks, the United Kingdom-based rights group added.
Yahya al-Assiri, the head of ALQST, a London-based Saudi rights group, said that authorities targeted male human rights activists in the past, but as the "regime became more aggressive" they also began targeting women.
"To justify that, they're trying to say that [these women] are coordinating with embassies, or foreign countries … To say to the people that they are traitors," al-Assiri told Al Jazeera.
Many activists have mostly been held incommunicado, without access to their families or lawyers.
Below are some of the prominent women dissidents jailed for demanding basic rights.
Loujain al-Hathloul
Loujain al-Hathloul is a women's rights activist from Jeddah, Saudi Arabia. She obtained an undergraduate degree in French Literature from the University of British Columbia in Canada and then pursued a Master's degree in the United Arab Emirates (UAE).
For years, she advocated for the women's right to drive in the kingdom, and in 2013 actively participated in a campaign where she posted videos of herself driving in an attempt to encourage women to do the same.
With an active social media presence, the 29-year-old had been arrested several times for defying the now-lifted ban on women driving in Saudi Arabia.
Translation: "We are no longer an isolated country, anyone can gather information about what happens here. That's why we much strive to develop without ignoring the pain of our sisters, we must speak out about what harms them and their existence, especially at a time where we feel that our leadership is invested in creating change for women."
Al-Hathloul was most recently imprisoned in May 2018, months after King Salman bin Abdulaziz Al Saud signed a royal decree in September 2017 that said women would be allowed to drive "in accordance with Islamic laws".
She, along with other female activists who had been calling for the lifting of the ban, was instructed not to comment on the decision prior to its announcement, HRW reported.
Two years prior to her latest arrest, al-Hathloul spent 73 days in jail and faced charges of "terrorism" for attempting to drive into Saudi Arabia from the neighbouring UAE in November 2014.
At the time, Samah Hadid, director of campaigns at Amnesty International in the Middle East, said, "The Saudi Arabian authorities' continuous harassment of Loujain al-Hathloul is absurd and unjustifiable … It appears she is being targeted once again because of her peaceful work as a human rights defender speaking out for women's rights, which are consistently trammelled in the kingdom."
In 2016, al-Hathloul signed a petition with thousands of others calling for the abolishment of the male guardianship system. The following year, she was arrested without charge and was unable to contact her lawyer or family members until she was eventually released shortly after.
In an interview with the Economist in January 2016, al-Hathloul highlighted the challenges women in the kingdom face when they are unable to drive. She said she had dedicated 30% of her salary to drivers, and said having to "beg" people to driver her around was "insulting".
"They [government] told us that we are actually protected, that we have the right to express ourselves freely without being condemned or sent to jail … but in practice it's not there," al-Hathloul said.
"They still send us to jail for very normal, rationalised opinions."
When asked what kind of country she would like Saudi to become, al-Hathloul said "a Saudi Arabia that respects people's differences and human rights".
Al-Hathloul has been married to Saudi stand-up comedian and actor Fahad al-Butairi since 2014. Al-Butairi, a prominent comedian who had a large social media following, was also arrested earlier this year.
Samar Badawi
Samar Badawi, an award-winning activist, is known for her legal battle with her abusive father, who filed a lawsuit against her when she sought refuge in a women's shelter in 2008.
As a result, she was arrested and spent six months in jail on the charge of "parental disobedience". She was then released after a Jeddah general court ruled in her favour and transferred her guardianship to her uncle.
Since, Badawi has advocated for the abolishment of the male guardianship system, which among other things, grants male custodians the right to prevent their daughters from marrying, studying, or travelling without prior consent.
In 2011, Badawi filed an unsuccessful Grievances Board lawsuit against the Ministry of Municipal and Rural Affairs for the rejection of her registration for the 2011 municipal elections.
"I learned that we have laws to protect women's rights, but the woman needs to search for them and to how harness them for her own benefit," Badawi said in an interview.
She also played an active role in the 2012 campaign to end the ban on women driving in the kingdom, and along with fellow activists, filed a lawsuit against the traffic department for refusing to issue her a driver's licence.
In March 2012, the United States Department of State honoured Badawi with the International Women of Courage Award for her work and activism.
In 2014, she was subjected to a travel ban and was arrested in 2016 for her human rights work, before being freed on bail.
However, the mother of two was arrested again in July 2018 along with activist Nassima al-Sadah.
"The arrests of Samar Badawi and Nassima al-Sadah signal that the Saudi authorities see any peaceful dissent, whether past or present, as a threat to their autocratic rule," said Sarah Leah Whitson, Middle East director at HRW, in a statement.
Her latest arrest prompted a diplomatic spat between Saudi Arabia and Canada after the Canadian ministry of foreign affairs said in a tweet it was "gravely concerned" about the detention of rights activists in the kingdom, including Badawi.
Saudi Arabia accused Canada of "blatant interference in the Kingdom's domestic affairs, against basic international norms and all international protocols".
Samar is the sister of Raif Badawi, a prominent human rights campaigner sentenced to 10 years in prison in 2014 on charges of insulting Islam. His wife and children are naturalised Canadian citizens.
Eman al-Nafjan
Eman al-Nafjan is a 39-year-old Saudi blogger and activist who was arrested in May 2018, along with Loujain al-Hathloul and five other female advocates amid a government campaign that accused them of undermining the kingdom's stability with financial assistance from abroad.
Saudi authorities accused the activists of having "suspicious contact with foreign parties", providing financial support to "hostile elements abroad".
According to HRW, the arrests are an attempt to silence dissent.
"Crown Prince Mohammed bin Salman's 'reform campaign' has been a frenzy of fear for genuine Saudi reformers who dare to advocate publicly for human rights or women's empowerment," HRW Middle East Director Sarah Leah Whitson said in a statement in May.
"The message is clear that anyone expressing scepticism about the crown prince's rights agenda faces time in jail."
Rothna Begum, a researcher at HRW, said the government is trying to silence critics, particularly those who champion women's rights reforms.
"While it's not clear why they were arrested, today we have seen Saudi press reports come to suggest that these women are traitors and have been arrested because they are undermining the national unity of the country," Begum told Al Jazeera at the time.
"What we know is that the Saudi crown prince wants to make it clear to all of his citizens that they are his subjects who must be grateful for whatever liberties he gives them, but they must not demand any of their rights."
The mother of three obtained her undergraduate degree from the University of Birmingham and worked as a schoolteacher and later as a university assistant.
Al-Nafjan then earned her master's degree from the same university in teaching English as a foreign language.
She began blogging in 2008, writing mainly about social and cultural issues with a focus on women in Saudi Arabia, referring to the system in place as "gender apartheid", according to the Washington Post.
A few years later, she joined the women's driving campaign and published articles in western media outlets to shed light on the campaign to allow women to drive in the kingdom.
When the ban on women driving was lifted, she wrote, "The manner in which the ban was lifted seemed too simple to be real.
Initially, I was overwhelmed with my own powerlessness as a woman living in a patriarchal absolute monarchy. Were our efforts the reason the ban was lifted? Or was it a decision that had been made regardless of our struggles?"
Prior to her arrest, al-Nafjan was working towards completing a PhD in linguistics.
Hatoon al-Fassi
Hatoon al-Fassi is a women's rights activist and writer who was arrested by Saudi authorities on June 24. Prior to her arrest, she had been under a travel ban since June 19.
Considered a leading figure in the women's rights movement in the region, al-Fassi has long been fighting for the rights of Saudi women, including their right to participate in municipal elections.
Al-Fassi, originally from Mecca, is an associate professor of women's history at King Saud University (KSU) in Saudi Arabia and at the International Affairs Department at Qatar University.
She secured an undergraduate degree in history from KSU, and in 2000, earned a PhD in women's history from the University of Manchester.
As a scholar, her work focuses on women's history and politics.
Her most notable work "Women In Pre-Islamic Arabia", argues women in the pre-Islamic period enjoyed considerable rights in the Nabataean state, an urban Arabian kingdom centred in modern Jordan, south Syria and northwest Saudi Arabia during the Roman empire.
Women in Nabataea enjoyed more freedom than in Saudi Arabia today because Muslim leaders have misunderstood the origins of Islamic law, her research said.
"One of the objectives of this book is to question the assumption of subordination of women in pre-Islamic Arabia," al-Fassi said.
Translation: "And what are the characteristics of sheikhs? Does this question imply perfection in men? My article deals with the truth and clarifies how much we lose when religious authority is monopolised to the exclusion of women and their perspective on fiqh and the issues that affect humanity."
In 2011, she joined a campaign called "Baladi", which called for women's participation in the municipal elections.
To help women interested in running for election, the Baladi campaign had planned to organise training sessions to educate participants on campaigning techniques and help them create agendas.
"The ministry has stopped us from holding these workshops as they wanted the election programme to be more unified and centralised," al-Fassi said at the time, according to Saudi Gazette.
"As evidenced by the 250 female members of the Baladi campaign, women have expressed their commitment to elect the best person for the job … Whether it is a woman or a man," she said.
The initiative's efforts were blocked again during the 2015 municipal elections.
https://www.news24.com/World/News/the-saudi-women-detained-for-demanding-basic-human-rights-20181129
--------
Raising Legal Age of Marriage Is contrary To Iran's General Policies
29 November 2018
"Raising the legal age of marriage is contrary to the general policy of the system," said Allahyar Malekshahi, Chairman of the parliamentary Judicial and Legal Committee, in an interview with the state-run Fars News Agency, on November 26, 2018.
In an attempt to minimize the issue of child marriages, Malekshahi pointed out, "A few parliamentarians, whom are mostly female representatives, are seeking to increase the legal age of marriage." He added, "The marriage rates in an early age are not significant."
Yahya Kamalipour, Vice Chairman of the Judicial and Legal Committee, also showed his disregard for raising the legal age of marriage and said, "The issue of child marriage is not an issue of importance in the country, and the number of people covered by this law is not big enough to require us to reform the law in the country."
Norouzi, a spokesperson for the parliamentary Judicial and Legal Committee, also said, "Those who call these marriages 'child marriage' are exaggerating and being extreme. The immediate proposal of this change in civil law will only create uproar."
Dehghani, a member of the Judicial and Legal Committee, said, "Marriage is one of the most personal issues in the lives of individuals, and laws should not have any inappropriate interference in family matters. The marriage age is more of a cultural and religious nature than a legal nature. It is not logical to consider a single version of a ban on marriage for everyone."
He added, "Currently, the plan is under consideration in the Committee, and we are opposed to it, because we cannot oppose the sacred Islamic law." (The state-run Fars News Agency – November 25 - 26, 2018)
Girl-child marriage, which is one of the examples of violence against women, has been institutionalized by the mullahs' regime by setting the legal age of marriage at 13. According to the regime's officials and experts, some 180,000 girls under 18 get married in Iran every year. Only in 2017, the marriages of at least 37,000 Iranian girls between the ages of 10 and 14 have been registered. It has also been reported that there are 24,000 widows under 18, of which 15,000 are under the age of 15.
https://women.ncr-iran.org/iran-women-news/5605-raising-legal-age-of-marriage-is-contrary-to-iran-s-general-policies
--------
Primitive Culture, Tribal System behind Violence against Women in Pakistan: Moot Told
Nov 30, 2018
KARACHI: University of Karachi (KU) Vice-Chancellor (VC) Dr Muhammad Ajmal Khan has said that the primitive culture, as well as the tribal system in the county, is one of the major reasons behind violence against women in the country.
He was addressing a seminar titled 'End violence against women and girls' here on Thursday. The seminar was part of 16-day long activities chartered by the United Nations (UN) against violence and crimes being faced by women. The event was jointly organised by the KU and Management Consultancy and Training Services.
"All four provinces are a victim of honour killings and crimes against females," said Dr Khan while stressing upon collective and continuous efforts to change society's mindsets in order to prevent crimes and violence against females.
"We must develop a culture which has the capacity to raise voice against such issues and come forward to stop these problems at the grassroots level; otherwise, it will be very difficult to achieve the target," he added.
He advised the audience to avoid self-projection and work constructively for the betterment of the society instead. "Both individuals and groups must play their role in spreading awareness among their circles of family, friends and relatives as well as work and worship places so that we can practically do something to end violence against women and girls," he said.
Dr Khan said that society can be educated to bring a change; however, implementing all desired changes in oneself helps in achieving the desired results in a much shorter span of time. "We cannot bring changes by preaching only. We cannot force people to adopt changes. But along with teaching, having a practical approach and in-depth analysis can help in getting positive results," he added.
The KU VC stated that violence against women and girls could not be stopped without eradicating socio-economics barriers as they are one of the major reasons behind such crimes.
Former Sindh inspector general of police (IGP) Niaz Siddiki shed light on how society can prevent honour killings and other crimes against females. "All kind of systems are made and run by humans. So, if we want to make a change and improve society, we have to change ourselves first."
He informed the audience that honour killing is a homicide crime. Sharing the details of honour crimes, he mentioned that 87 per cent women and 13 per cent of men are victims of violence in Pakistan.
According to him, a recent survey report shows that close relatives were almost always involved in honour crimes and killings.
He further shared that 21 per cent brothers, 15 per cent fathers, 11 per cent intimate partners and cousins, nine per cent relatives, seven per cent spouses, three per cent unknown factors and one per cent women are behind honour killing incidents. "Although everyone in this country claims to be a good Muslim, both women and men are killed in name of so-called honour despite that fact that killing is strongly prohibited in Islam and there are numbers of verses in the Holy Quran in this regard," he reminded.
He mentioned that Punjab has the highest honour related crime rate while Sindh, Khyber Pakhtunkhwa (KP) and Balochistan are second, third and fourth, respectively.
The former IGP also informed that honour crime victims are buried without offering funeral prayers or shrouds in rural Sindh and no other bodies are allowed be to buried near those victims.
Meanwhile, UN Women Sindh Chapter President Kapil Dev mentioned that most of the victims of violence do not have access to social and mainstream media. "It is unfortunate that crime data against women is not available in the country and the masses did not raise their voices against honour crimes," Kapil said.
Local television channel The Chief Executive Officer (CEO) Faiz Borohi claimed that the positive use of social media could help in identifying and stopping cases of violence.
Fouzia Tariq of Management Consultancy and Training Services informed the audience about the categories and reasons for honour crimes and how to stop them. She encouraged participates to speak up against such crimes and teach children around them how to behave with females.
https://www.pakistantoday.com.pk/2018/11/29/primitive-culture-tribal-system-behind-violence-against-women-in-pakistan-moot-told/
--------
Sikh Girl's Selfless Gesture for Muslim Friend Meets Hospital Hurdles
By Manzoor-ul-Hassan
November 30, 2018
SRINGAGAR: In a noble gesture, a Sikh girl from Jammu's Udhampur district has decided to donate one of her kidneys to save the life of her 22-year-old Muslim friend from Rajouri, who is suffering from the organ's failure.
While the 23-year-old activist, Manjot Singh Kohli, has been hailed by friends and family for her selfless act towards her friend Samreen Akhtar, doctors at the Sher-e-Kashmir Institute of Medical Sciences (SKIMS) Soura are delaying the procedure by creating unnecessary hurdles.
"It's my love for my friend and my strong belief in humanity that is motivating me to donate my kidney," Manjot said.
However, doctors at SKIMS Soura are giving the friends a tough time by delaying the procedure, even as the authorisation committee for organ donation has cleared both as candidates for the transplant procedure.
"I don't know why we are being pushed to the wall by doctors and administration at SKIMS Soura. They resorted to harassment and dillydallying tactics for the last seven months, even as the expert committee cleared both of us for the transplant," Manjot said.
Both of them appeared before the SKIMS Soura authorisation committee many times to complete formalities with regard to the organ donation, but were told "you belong to different religions".
"They cleared us for the transplant procedure two months ago but they are raising unnecessary hurdles saying that we belong to different religions and it may create an issue for them," said Manjot.
Samreen said she was beyond grateful to Manjot, an activist and entrepreneur who stepped up and offered to donate a kidney to her friend.
"She is an incredible person. I simply want to thank her for her selfless act of love and kindness," Samreen said.
Samreen's medical problems began last year when she was declared a renal failure patient. Her condition suddenly deteriorated due to high-blood pressure and other medical conditions.
"It was devastating news for me and my family. But Manjot's great gesture really rescued us from our distress," she told Kashmir Reader
Earlier Samreen's mother decided to donate her own kidney but was declared unfit by doctors due to some rare condition.
After many months of struggle and suffering, the family was forced to make Samreen's medical condition public. They posted it to Facebook for relatives and friends to see.
"We were hopeful that someone from my relatives would come to our help, but no one came forward. Manjot was prompt to contact me and express her willingness to donate her kidney. At first, I didn't believe my ears, but when she came to meet me and accompanied me before the authorisation committee, then I was overwhelmed. It was really life changing for me," Samreen told Kashmir Reader.
Samreen is presently admitted in SKIMS Soura as her condition deteriorated once again due to the hospital's delay in the procedure.
"I am feeling totally down. Allah should help me and accept my friend's gesture towards me. I am tired of convincing doctors and officials at the Institute. I am only seeking Allah's divine intervention," she said.
Director, SKIMS Soura, Dr Omar J Shah told Kashmir Reader that he has directed the committee to decide on the matter immediately.
"We will do whatever best we can. The authorisation committee has informed me that they need some more papers before they decide about it," he said.
https://kashmirreader.com/2018/11/30/sikh-girls-selfless-gesture-for-muslim-friend-meets-hospital-hurdles/
--------
UN Experts Call on Iran to Release Women's Rights Protesters
NOVEMBER 29, 2018
A group of UN human rights experts on Thursday criticized the actions of the Iranian government in jailing human rights defenders and lawyers.
"We urge the Government to immediately release all those who have been imprisoned for promoting and protecting the rights of women."
The experts called for the government of Iran to guarantee the rights of those imprisoned, not to arbitrarily deprive them of their liberty, and to guarantee rights to fair proceedings before an independent and impartial tribunal.
The human rights defenders and lawyers were jailed because of their public support of protests against the mandatory wearing of the hijab. According to experts, there is a concerning lack of due process rights for those imprisoned.
One of the persons imprisoned is a medical doctor, Dr. Meysami, who was arrested in July and began a hunger strike in August to protest the charges brought against him. Dr. Meysami is reportedly in isolation at a medical center in the prison where he is receiving IV injections.
The charges that he faces include "disseminating propaganda against the establishment," and "insulting the hijab." Some others are facing charges of "encouraging moral corruption." The experts are urging the government to address his grievances.
A second figure identified by the press release is Ms. Sotoudeh, who was convicted of security-related charges. She acted as legal council for several female protesters. The experts are concerned about her in-absentia conviction and imprisonment. Her husband Mr. Khandan was arrested in September and faces several charges including "speaking propaganda against the system."
Each of these concerns have been communicated to the government of Iran, encouraging the government to take action.
https://www.jurist.org/news/2018/11/un-experts-call-on-iran-to-release-womens-rights-protesters/
--------
40,000 Turkish Conscripts Given Training on Violence against Women
November 29 2018
Some 40,000 conscripts have been so far given a training on violence against women in a bid to raise their awareness regarding this issue, said an official of the Ministry of Family, Labor and Social Services.
Mustafa Çadır, a senior official at the ministry's directorate general on the status of women, however said that their aim was to reach 500,000 conscripts.
The training has been so far provided for conscripts serving 21 days in the military as they are exempt from the rest of their obligatory having paid a fee.
Çadır made the comments on Nov. 28 during a meeting of a parliamentary committee responsible from the implementation of the Istanbul Convention, which is formally known as The Council of Europe Convention on preventing and combating violence against women and domestic violence.
Çadır said that the Ministry of Family, Labor and Social Services was conducting cooperation with various institutions regarding the issue of violence against women, including the Defense Ministry and the Directorate of Religious Affairs ("Diyanet").
"We have so far given a training to 40,000 conscripts. Our target is to reach above 500,000 conscripts. In our awareness raising trainings, our experts are explaining the issue in a simple way such that everyone can understand," said Çadır.
As for Diyanet, the Ministry of Family, Labor and Social Services has provided a training for 1,000 clerics, according to Çadır. The official said the clerics were then conveying what they have learned at the trainings to the locals of the areas where they were working at.
The ruling Justice and Development Party (AKP) MP Hülya Nergis has also taken the floor during meeting, saying: "The problems are not solved in one day. With our works, we will determine the issues that raise a problem regarding the prevention of violence against women. We'll listen to representatives of the relevant institutions as well as experts. If a new law needs to be adopted, we can also talk about that."
Violence against women is a recurrent issue in Turkey, where several hundred femicides are recorded each year.
Kadın Cinayetlerini Durduracağız Platformu (We Will Stop Femicides Platform), an association that monitors cases of violence against women, counted 409 murders of women or girls last year and 328 in 2016.
http://www.hurriyetdailynews.com/40-000-turkish-conscripts-given-training-on-violence-against-women-139300
--------
Artwork By Syrian Women Living In Turkey On Display
Nov 30, 2018
An exhibition featuring artworks by 12 Syrian women showing their experiences opened in the Turkish capital Ankara on Wednesday.
The exhibition at CerModern Gallery opened following a three-month experimental project conducted as part of the EU's Emergency Social Safety Net (ESSN) cash assistance program for refugees, according to a statement from the EU delegation in Turkey.
"In the 'Umudun Renkleri' ['Colors of Hope'] initiative, 12 Syrian women learned art techniques from Turkish instructors and then used the techniques to create works reflecting their experiences of fleeing the war in Syria and seeking safety in Turkey," the statement said.
During the project – implemented by the U.N. World Food Program (WFP), the Turkish Red Crescent and the Turkish government – the women learned serigraphy, patchwork and linocut techniques.
Speaking at the opening event, Nils Grede, WFP representative in Turkey, said: "The works on display here offer a window into the emotional journey that these women have undertaken since becoming refugees."
"The fact that they were even able to take part in this project shows that, with the help of all of us, they have regained a certain stability in their lives," Grede added.
Project supports about 1.5M refugees
"The assistance program that we implement with the ESSN card (Kizilaykart) preserves the dignity of people in need and has become a pilot project in the world," Deputy General Director of the Turkish Red Crescent, Alper Kucuk, was quoted as saying in the statement.
"Refugees have the freedom to buy what they need. The happiness of a mother who has a chance to cook what her children want to eat at dinner cannot be described," Kucuk added.
Kucuk said that around 1.5 million refugees are currently supported by the project.
The statement also quoted Claudia Amaral, head of the EU's humanitarian office in Ankara.
She said: "With nearly 1 billion euros in EU funding, the ESSN is improving lives of the refugees and their host communities in Turkey."
"By covering the basic needs of the refugees, the ESSN program improves the living conditions of the refugees in Turkey and allows them to also engage in social activities," Amaral added.
Feride, one of the women involved in the project, told Anadolu Agency (AA) that she came to Turkey from Aleppo, Syria, in 2015 and that she joined the project in September.
Feride said she loves the color green and used it in her project, because it reminded her of her balcony and flowers back home in Aleppo. She said her project reflected her hopes for the future.
Another Syrian woman is Hanan from the civil-war-torn country's west-central city of Hama. She described Turkey as her second home.
"This project has helped us to forget the conflicted, dark days in Syria," she said.
Salha, another Syrian woman, whose works are displayed as part of the exhibition, said: "Producing this art helped me come to terms with the past and to move on from those experiences."
"The Umudun Renkleri initiative is a pilot project aimed at helping refugees to use art as a way of dealing with their experiences and of moving on mentally," according to the statement.
"At the same time, the project and the exhibition are intended as a tool for fostering a better understanding of the refugee community in Turkey," it added. Turkey hosts more Syrian refugees than any other country in the world. The country has spent more than $32 billion from its own national resources for helping and sheltering refugees since the beginning of the Syrian civil war. The exhibition of Syrian women will be on display in Yenikapı Metro Station in Istanbul in the middle of December after launching in Ankara
https://www.dailysabah.com/arts-culture/2018/11/30/artwork-by-syrian-women-living-in-turkey-on-display
--------
URL: https://www.newageislam.com/islam-women-feminism/ex-miss-moscow-become-new/d/117026
New Age Islam, Islam Online, Islamic Website, African Muslim News, Arab World News, South Asia News, Indian Muslim News, World Muslim News, Women in Islam, Islamic Feminism, Arab Women, Women In Arab, Islamophobia in America, Muslim Women in West, Islam Women and Feminism