New Age Islam News Bureau
02 July 2022
• UN Urges Taliban to Follow Other Muslim States on Women's Rights
• Get Women Involved In Tourism, Malaysian Minister Nancy Shukri Urges Islamic Nations
• Iran Mourns Death of 'Saba Babaei', Japanese Mother of Holy Defence Martyr
• Emirati Racer Amna Al-Qubaisi Shows Her Bravery As She Sets the Pace for Female Drivers in the Region
• UAE's First Emirati Female Aviation Engineer Celebrates International Women in Engineering Day at Heriot-Watt University Dubai
Compiled by New Age Islam News Bureau
URL: https://newageislam.com/islam-women-feminism/afghan-suicide-human-rights-council-geneva/d/127389
--------
'Every Day At Least One or Two Afghan Women Commit Suicide': Human Rights Council in Geneva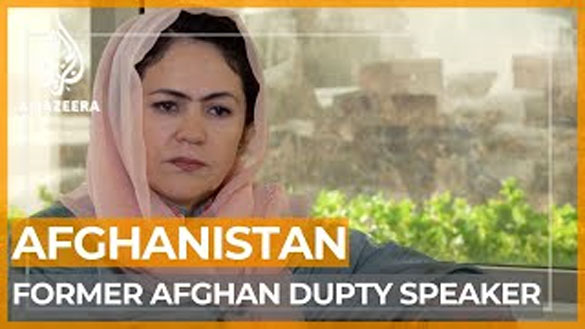 Fawzia Koofi, former deputy speaker of the Afghan Parliament
----
2 July, 2022
Geneva [Switzerland], July 2 (ANI): 'Every day there are at least one or two women who commit suicide', said a former deputy speaker of the Afghan Parliament on Friday, highlighting the lack of opportunity and ailing mental health that is taking a toll on Afghan women.
This revelation came during a rare urgent debate on the woman's rights issue at Human Rights Council (HRC) in Geneva.
The HRC held an urgent debate on the human rights of women and girls in Afghanistan to discuss the rights situation in the country since the takeover by the Taliban. This meeting comes as Afghan women are witnessing the most significant and rapid roll-back of their rights across the board in decades.
"Every day, at least one or two women committed suicide due to the lack of opportunity and mental health pressures. Girls as young as nine years old were being sold, not only because of economic pressure, but because there was no hope for them and their family. This was not normal and the women of Afghanistan did not deserve this," said Fawzia Koofi, former deputy speaker of the Afghan Parliament.
Echoing widespread international concern for ordinary Afghans, UN human rights chief Michelle Bachelet condemned the massive unemployment of women, the restrictions placed on the way they dress, and their access on basic services.
Women-owned and operated businesses have been shut down, Bachelet added, saying that 1.2 million girls no longer have access to secondary education, in line with a decision by the de facto authorities who took power in August 2021.
"The de facto authorities I met with during my visit in March this year, said they would honour their human rights obligations as far as [being] in line with Sharia law.
"Yet despite these assurances, we are witnessing the progressive exclusion of women and girls from the public sphere and their institutionalised, systematic oppression".
Bachelet encouraged the re-establishment of an independent mechanism to receive complaints from the public and protect victims of gender-based violence.
"Beyond being right, it is also a matter of practical necessity", said the High Commissioner. "Amid the economic crisis, women's contribution to economic activity is indispensable, which itself requires access to education, and freedom of movement and from violence".
Despite public assurances from the Taliban to respect women and girls' rights, they are reinstituting step by step the discrimination against women and girls.
Koofi, a former member of the peace negotiation team with the Taliban said that the fundamentalists "obviously have not kept their promises of what they were telling us during the negotiations, in terms of their respect for Islamic rights for women".
She added that "in fact, what they do is in contradiction to Islam. Our beautiful religion starts with reading. But today, Taliban under the name of the same religion, deprive 55 per cent of the society from going to school". (ANI)
Source: The Print
https://theprint.in/world/every-day-at-least-one-or-two-afghan-women-commit-suicide/1021546/
--------
UN Urges Taliban To Follow Other Muslim States On Women's Rights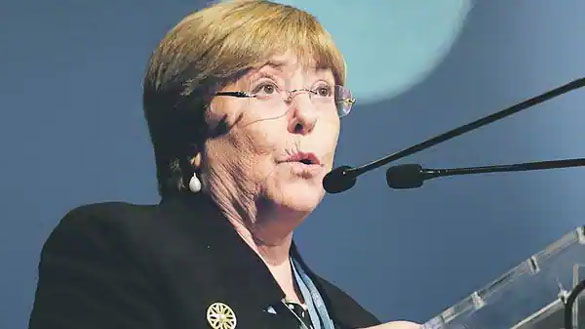 Michelle Bachelet, UN rights chief urged the Taliban to look to other Muslim countries on improving the rights of women (AP)
----
01 Jul 2022
The UN rights chief urged the Taliban on Friday to look to other Muslim countries for inspiration on improving the rights of women and ending their "systematic oppression" in Afghanistan.
Speaking before the United Nations Human Rights Council in Geneva, Michelle Bachelet condemned the "desperate situation" facing Afghan women and girls.
Since the Taliban returned to power last August, she said, "women and girls are experiencing the most significant and rapid roll-back in enjoyment of their rights across the board in decades."
"Their future will be even darker, unless something changes, quickly."
Addressing an urgent council debate on the situation of women and girls in Afghanistan, she called for a "more concerted effort" from the international community to push the Taliban to respect their rights.
In Kabul Friday, the Taliban's reclusive supreme leader Hibatullah Akhundzada called on the world to stop "interfering", saying sharia law was the only model for a successful Islamic state.
But Bachelet insisted they could follow Islamic law and still respect women's rights.
"I strongly encourage the de facto authorities to engage with predominantly Muslim countries with experience in promoting women and girls' rights, as guaranteed in international law, in that religious context."
A recent visit to the country by an Organization of Islamic Cooperation (OIC) delegation has been "a significant step".
Speaking on behalf of the 57-member OIC, Pakistan's ambassador in Geneva Khalil Hashmi told the council that the organisation shared concerns about women and girls' rights in Afghanistan, voicing particular disappointment at the closing of secondary schools for girls.
"The OIC has consistently affirmed the fundamental rights of all Afghans, including the right to education. They must be fully upheld," he said.
Bachelet, who herself visited Afghanistan in March, said that more than one million girls have been shut out of secondary school and women widely banned from working and from travelling alone, and ordered to wear face coverings in public.
When the Taliban seized power nearly a year ago, they promised to pursue a softer version of the harsh rule that characterised their first period in power from 1996 to 2001.
They said they would honour their human rights obligations, including on women's rights, as far as these were consistent with Islamic law.
"Yet, despite these assurances, we are witnessing the progressive exclusion of women and girls from the public sphere and their institutionalised, systematic oppression," Bachelet said.
She demanded that the Taliban set a firm date for reopening secondary schools for girls and remove the requirement that women wear face coverings and only travel when accompanied by a so-called maharam, or male guardian.
"All acts of gender-based violence must be independently investigated and those responsible held to account," she added.
The top UN expert on the rights situation in Afghanistan, Richard Bennett, meanwhile voiced alarm that the Taliban had clearly showed their "intentions are not only to impose absolute gender segregation".
"They are aimed at making women invisible by excluding them almost entirely from society," he told the council.
Fawzia Koofi, an exiled former member of the Afghan parliament, described to the council how painful it was "to advocate for our basic rights, the right to be visible, the right to not be erased".
She especially appealed to Muslim countries "not to let the Taliban misrepresent our beautiful religion... What they do is in contradiction to Islam."
And she called on countries everywhere to "stand with the women of Afghanistan".
"Move from beautiful statements and resolutions to practice."
Following Friday's urgent debate, the rights council will vote next week on a draft resolution condemning all violations against women and girls in Afghanistan.
Source: Live Mint
https://www.livemint.com/news/world/un-urges-taliban-to-follow-other-muslim-states-on-women-s-rights-11656685922133.html
--------
Get Women Involved In Tourism, Malaysian Minister Nancy Shukri Urges Islamic Nations
July 02, 2022
Nicholas Chung -July 2, 2022PETALING JAYA: Tourism, arts and culture minister Nancy Shukri has called on member states of the Organisation of Islamic Cooperation to get more women involved in the tourism industry.
Nancy, who was the only female minister present at the meeting of tourism ministers of the Islamic Conference, applauded the OIC members who were starting to place more women in decision-making positions in the tourism and culture sector.
She told the conference held in Baku, Azerbaijan, that this was a step forward in establishing an inclusive and sustainable environment for both female travellers and tourism workers.
"I hope the tourism industry continues to provide greater support to ensure women are enabled to continue their contribution to the tourism economy," she told the conference held on June 28.
Nancy said there had been a rise in female Muslim travellers over the past decade, with Malaysia among the top destinations for these tourists.
She cited a MasterCard credit rating study in 2018 which found that some 63 million female Muslim travellers aged 18 to 40 had spent a total of US$80 billion, saying women's role in the tourism sector cannot be denied and must be "given special attention".
While noting that 71% of Muslim females travelled with their families currently, she predicted that even more women will start to travel on their own due to health and safety concerns for young children post-pandemic.
Nancy reiterated that Malaysia was committed to accommodating a safe and streamlined return to international travel and tourism, with entry procedures with neighbouring countries being harmonised in stages.
"Since the reopening of our borders, Malaysia has attracted over a million arrivals. The government has set a target of 4.5 million tourist arrivals for this year, which will be reviewed every three months as more countries begin to ease outbound travel restrictions."
She added that her ministry had been actively promoting Muslim-friendly tourism in Malaysia, ensuring standardised certifications to guarantee shariah-compliant travel to attract Muslim travellers.
She noted that the global halal industry market could reach up to US$2.3 trillion in two years' time, with the sector potentially contributing to 8.1% of Malaysia's gross domestic product by 2025.
"These numbers are promising and indicate that Muslim tourism is a contributing niche of Malaysia's economic growth.
"Moving forward, Malaysia looks to advancing cooperation at the regional and international level, especially in Muslim-friendly tourism, by working closely with the OIC."
Source: Free Malaysia Today
https://www.freemalaysiatoday.com/category/nation/2022/07/02/get-women-involved-in-tourism-nancy-urges-islamic-nations/
--------
Iran Mourns Death of 'Saba Babaei', Japanese Mother of Holy Defence Martyr
01 July 2022
The Japanese mother of an Iranian Holy Defence martyr passed away at a Tehran hospital on Friday after a brief spell of illness.
Koniko Yamamura, who changed her name to 'Saba Babaei' after converting to Islam, had been admitted to Khatam al-Anbiya Hospital in Tehran recently after complaining of respiratory issues.
She was popular in Iran as the only Japanese mother of an Iranian martyr, Mohammad Babaei, who fell during the Iraqi-imposed war in the early 1980s.
Muhammad was 18 when he took part in 'Operation Muslim Ibn Aqeel' launched on October 1, 1982 in the western region of Iran during the eight-year war.
After the operation, he returned and appeared at a university entrance test, earning an engineering seat for himself; his mother was quoted as saying in one of her interviews.
However, the teenager chose to go back to the frontline, taking part in the Fekeh Operation in southwestern Khuzestan province. He died after getting hit by shrapnel from a shell fired by the forces of Iraq's former Baathist regime.
Yamamura chose the name Saba Babaei for herself after converting to Islam following her marriage to an Iranian Muslim trader in Japan at the age of 20, according to her own account.
Her memoir, compiled by noted Iranian writers Hamid Hesam and Massoud Amirkhani is titled 'The Immigrant of the Land of Sun', which chronicles her early life in Japan, marriage to an Iranian Muslim trader, conversion to Islam, the martyrdom of her young son and experiences in Iran.
Yamamura worked enthusiastically to promote the ideals of the Islamic Revolution and taught at several Iranian educational institutes including Refah School and the University of Tehran.
She was also associated with Iran's ministry of culture and Islamic guidance as a translator and played an instrumental role in setting up the Japanese radio service of the IRIB World Service.
Last year, she led Iran's Paralympics delegation at the Tokyo Olympics.
Tributes pour in for the martyr's mother
In a message of condolence on Friday, Iran's President Ebrahim Raeisi termed Yamamura's death "sad and heart-rending".
"I offer my condolences to the family of Babaei on the passing away of this faithful lady, and I pray for God's grace for the deceased and companionship with her martyred son, and patience and health for the honorable family," he said in his message.
Dr. Peyman Jabelli, the head of the Islamic Republic of Iran Broadcasting (IRIB), also offered his condolences on her demise in a statement on Friday, hailing the deceased for her "revolutionary spirit".
The head of IRIB's World Service, Dr. Ahmad Noroozi, also issued a statement condoling Yamamura's demise, saying her memory will "remain alive and cherished in our minds and hearts forever".
He also recalled her efforts in laying the foundation of the IRIB World Service's Japanese radio service.
Both Jabelli and Noroozi had visited her at the hospital recently and inquired about her condition.
Leader of the Islamic Revolution Ayatollah Seyyed Ali Khamenei also sent his message of well-being to the Japanese mother when he was admitted at the hospital through Mohammad Mohammadian, the deputy head of the Leader's office.
Hadi Tahan Nazif, the spokesperson of Iran's Guardian Council, also paid his tributes to the deceased lady, calling her a "free woman" whose life path "changed under the influence of the Islamic Revolution and Imam Khomeini".
The Japanese Studies department at the University of Tehran also posted a statement on Twitter expressing condolences over Yamamura's death, calling her "one of the first and oldest Japanese language teachers" in the faculty of foreign languages and literature at the university.
Meanwhile, her death has been widely condoled in Iran and abroad, with many people whose lives she touched in some way posting messages of condolences on social media platforms.
Source: Press TV
https://www.presstv.ir/Detail/2022/07/01/684883/Iran-Mourns-Death-Japanese-Mother-Holy-Defense-Martyr
--------
Emirati racer Amna Al-Qubaisi shows her bravery as she sets the pace for female drivers in the region
ALI KHALED
July 02, 2022
What Amna Al-Qubaisi lacks in physicality, she more than make up for in bravery and fortitude.
The 21-year-old Emirati driver, who races for Abu Dhabi Racing, suffered a heavy crash earlier this year that left her F3 car badly damaged.
A week later, she was back behind the wheel.
It has been an eventful start to her participation in the Formula Regional Asian Championship.
"I had been off of racing for a year and coming back into it, getting back into the rhythm took me a while," Al-Qubaisi told Arab News at the sideline of the #WhatSheSaid talk, a panel of inspirational female athletes from the region.
"In my first race weekend, I claimed my first points, so it started off really well. And then I had that big crash, and I had to start gaining that confidence to get back into the rhythm.
"But overall, it was a really good race weekend, and I managed to close the gap for my teammates."
Those teammates happen to be her father, UAE racing legend Khaled, and her 19-year-old sister Hamda. Amna has enjoyed building up the sporting rapport with her family.
"It was actually really nice. I expected a lot of arguments and fighting," she said. "But all in all, it was like a bonding moment. We gave each other advice, we helped each other on track, with slipstream and everything. So it was really nice."
The enjoyment does not mean there have been no challenges, but the sibling rivalry has worked to the benefit of the team.
"There's a lot of pushing (each other) with my sister as well, because she's been competing in F4, and then coming into F3," said Al-Qubaisi.
"We've seen a lot on social media people comparing us, in terms of our experience, and we try to shut that out and not let it affect our relationship. So we take it as how it is, we help each other and we both are good in our own different ways."
Abu Dhabi Racing claimed a impressive fourth-place finish in the Formula Regional Asian Championship. Above all, Al-Qubaisi was racing at the highest level of her career so far.
"It was very challenging, especially the handling of the car; it was very physical," she said.
"The formula regional car is a really heavy car, much heavier than the FIA F3, so physically, it was really difficult to overcome. But pace-wise I was there. It's just a matter of consistency, trying to be more focused and putting things together.
"It took me a while to adapt to it when I was off for a year. So I was training in the gym just didn't have that same feeling of being in the car."
The from the early days of karting at Yas Marina and Al-Ain raceway as nine-year-old, Al-Qubaisi has set an example for other aspiring female drivers in the UAE and the region. Slowly, other are starting to rise through the ranks as well.
"I've heard in our team, that there are two girls competing in karting, and they're doing pretty well," she said. "I've heard also a younger female Emirati is competing in Europe. So we are seeing a couple of girls getting into the sport and raising more awareness of the sport. So, hopefully, we can see them also in single seaters, or maybe even in GT cars."
With government backing in terms of funding, programs and facilities, there has never been a better time for young drivers to get into racing
"I think people should be taking a lot of advantage of (what's on offer) ," she said.
"We have really good tracks. We have an F1 track, Yas Marina has a school where they provide opportunities for people who would like to take racing as a career, as a sport. They host a lot of races at Yas Marina, and at Dubai Autodrome as well. I think we should really take advantage because it's also at low cost. It's much cheaper than what Europe charges. So they are helping the racing community."
For now, the Al-Qubaisi family remains firmly in the driving seat, in every sense, and Amna has high hopes for the future.
"Next season, we're thinking to do a few rounds in Europe," she said. "And hopefully F3 Asia again."
Source: Arab News
https://www.arabnews.com/node/2115126/sport
--------
UAE's First Emirati female aviation engineer celebrates international women in Engineering Day at Heriot-Watt University Dubai
June 30, 2022
Heriot-Watt University Dubai hosted Dr Eng. Suaad Al Shamsi as part of the celebrations for International Women in Engineering Day (INWED) to honour and encourage female participation in the field of engineering. INWED was launched for the first time in the UK on June 23, 2014 by the Women's Engineering Society (WES) to celebrate its 95th anniversary.
Commenting on her participation, Dr Eng. Suaad Al Shamsi, who has worked on some of the biggest aviation projects in the UAE till date, said, "It was a pleasure to celebrate the success of young female engineers in the UAE in collaboration with Heriot-Watt University Dubai. Despite the progress that has been made in the past few decades, women are still underrepresented in STEM fields. Therefore, I think it is very important to encourage young women embarking on this journey.
"I am indebted to the support I was given by the UAE government and the mentors who guided me along the way. I believe educational institutions have a critical role to play in empowering young girls and teaching them that the sky is the limit no matter what sort of career they choose to pursue."
Dr Rula Sharqi, Assistant Professor for the school of Engineering and Physical Sciences at Heriot-Watt University Dubai added, "It was an honor to host Dr Eng. Suaad Al Shamsi on this day. Her journey is a shining example of how much women can achieve when they believe in themselves and have the right institutional support. As a global University, we have a responsibility to be cognizant of social disparities and underrepresentation and take tangible steps to overcome them.
"As a result, we today have incredibly talented and ambitious female students pursuing engineering degrees. It is our priority to make sure they are equipped with the knowledge and skills to succeed in the future, empower them to pursue their dreams and play a role in ensuring equal representation of women in STEM workplaces."
The INWED programme included networking opportunities, photobooth and video recording sessions as well as a tour of the engineering labs. The University also organized various panel discussion tackling topics including challenges in future industry developments, women's creativity and added value, women to men ratio in the engineering industry and why women should choose engineering as a career.
As the first Emirati female aviation engineer, Dr Eng. Suaad Al Shamsi shared details of her journey including challenges faced, with aspiring female engineers who were also present. Also present were Dr. Shetha Al_Zubaidi, CEO at Brookson Project Management; Dr. Hagir Hakim, Associate Professor and Senior Director of Studies in the School of Energy Geoscience Infrastructure and Society at Heriot-Watt University Dubai; Tanishi Mathur - Business Analyst in the AI and Data Department at Deloitte; Liliana Calderón Jerez - MSc in Renewable Energy Engineering student at Heriot-Watt University Dubai.
Right from childhood, Dr Eng. Suaad Al Shamsi was fascinated by airplanes and curious about mechanics and ways to fix things. She earned an MBA with a double major in aviation management and aeronautical engineering from Coventry University in the UK. She is also the founder of the Middle East chapter of Women in Aviation, a non-profit association dedicated to encouraging women in the Middle East to seek opportunities in the aviation industry.
According to UNESCO, 34-57 per cent of STEM graduates in Arab countries are women. However, this does not translate to representation in the workforce as studies show low rates of female participation in these fields. As such, observance days like INWED aim to counter the underrepresentation of women through raising awareness, empowering women, and facilitating their contribution to the field.
Source: Gulf News
https://gulfnews.com/business/corporate-news/uaes-first-emirati-female-aviation-engineer-celebrates-international-women-in-engineering-dayat-heriot-watt-university-dubai-1.1656579029943
--------
URL: https://newageislam.com/islam-women-feminism/afghan-suicide-human-rights-council-geneva/d/127389
New Age Islam Islam Online, Islamic Website, African Muslim News, Arab World News, South Asia News, Indian Muslim News, World Muslim News, Women in Islam, Islamic Feminism, Arab Women, Women In Arab, Islamophobia in America, Muslim Women in West, Islam Women and Feminism