New Age Islam News Bureau
15 Jun 2019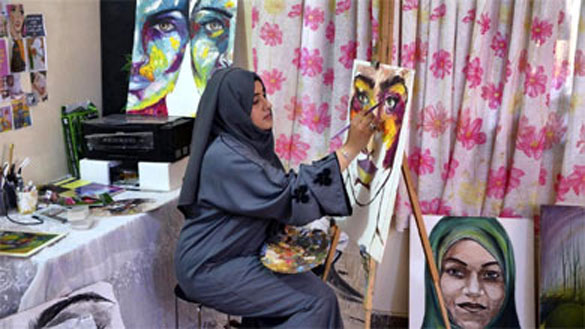 Abeer Al Hadrami wants to bring her paintings to the world through international art events. Photh by Saeed Al Batati
-------
• Saudi Arabia Hunting Down Fleeing Women by Tracking IMEI Number On Their Cellphones
• 'Freedom Fields' Documentary Puts Libyan Women Back On the World's Cinematic Stage
• The Woman Fighting For the Arts amid Conflict in Yemen
• Saudi Team Helps Child Soldiers Become 'Peace-Builders'
• "We Should Be Fearful": Muslim Women on the Prospect of Boris Johnson as Prime Minister
• Iran Regime Increases Pressure on Women Defying Forced Hijab
• Filipina Players Dominate at Women's Bowling Championship in Jeddah
• Women Continue To Be Persecuted In Iran
Compiled by New Age Islam News Bureau
URL: https://www.newageislam.com/islam-women-feminism/europol-report-details-islamic-state/d/118894
--------
Europol Report Details Islamic State Propaganda for Women
June 14, 2019
THE HAGUE, Netherlands — Islamic State's recruitment and use of women to support its extremist cause could pave the way for more front-line roles for women in jihadi groups in the future, the European Union's police agency said in a report published Friday.
In the 34-page report entitled "Women in Islamic State Propaganda," Europol said "female jihadis are as ideologically motivated as their male counterparts and their sense of empowerment lies in contributing to the building of an Islamic state."
It concludes that "numerous examples" of women, who either carried out extremist attacks or were arrested preventively, "prove that women are willing to use violence if the ideology allows them to do so. For now, it is not yet their role, but this balance may easily shift according to the organization's strategic needs and developments on the ground,"
The report comes amid concerns about the risk posed by foreign fighters, including women, returning to their homes in Europe after the fall of the self-styled Islamic State caliphate in Syria and Iraq.
Europol Executive Director Catherine De Bolle said that 15% people convicted on "jihadi terrorism charges" in the EU in 2018 were women.
The report's authors studied propaganda targeting women, but also mentioned women who take active roles in Islamist combat, saying they were sometimes used to shame men into taking part in the group's armed struggle.
The report cited an example from an Islamic State publication that praised three women who attacked a police station in Mombasa, Kenya, in 2016 and asked what was wrong with men who had "laid down their swords."
At its peak, in 2014-15, IS controlled an area the size of Britain across Syria and Iraq and launched a series of attacks around the world.
In March, U.S.-backed forces declared victory over IS, but the group's affiliates in Egypt's Sinai Peninsula, Afghanistan and other countries continue to pose a threat, and the group's ideology has inspired so-called lone-wolf attacks that had little if any connection to its leadership.
https://www.nytimes.com/aponline/2019/06/14/world/europe/ap-eu-europol-islamic-state-women.html?searchResultPosition=1
--------
Saudi Arabia Hunting Down Fleeing Women by Tracking IMEI Number On Their Cellphones
Jun 14, 2019
Authorities in Saudi Arabia are reportedly resorting to military-grade technology and making use of the International Mobile Equipment Identity (IMEI) number in a bid to track down the cellphones of women who are fleeing the repressive and male-dominated system in the ultra-conservative kingdom.
According to multiple sources who spoke with American financial and business news website Business Insider, Saudi officials could track them from their new homes in the West.
Two women, who fled together in early 2019, said Saudi security services came to their family homes after they left, and demanded to be shown the packaging of their cellphones.
The refugees, who asked to remain anonymous for fear of reprisals, said Saudi agents told their families that the IMEI number was the key to finding and taking them back to the country.
A third Saudi woman, apprehended in the small South Caucasus country of Georgia in 2018, was informed by her Georgian state-funded attorney that Saudi intelligence found her IMEI number.
The attorney said Saudi officials used the number and worked with the Georgian police to find her. The woman was repatriated to Saudi Arabia, where she has remained since.
The fourth woman, who was about to be taken back to Saudi Arabia after fleeing to Australia, said Saudi agents found her via her IMEI number. She was able to secure asylum before Saudi officials could arrange for her return.
Many Saudi female escapees believe they will either be killed by their families, or imprisoned, if they are returned. One of them, identified as Dina Ali Lasloom, was captured in Manila in April 2017, has not been seen since she was repatriated against her will.
IMEI numbers are commonly written on the SIM tray or behind the battery pack of a cellphone. Police, national security, and military bodies used the numbers to track people.
The US National Security Agency uses IMEI numbers from phones belonging to targets in Afghanistan to direct drone strikes, according to leaked documents published in October 2015 by The Intercept.
"Putting a new SIM into a phone will change its IMSI (International Mobile Subscriber Identity) number, but the phone will still have the same IMEI number, so cellphone companies can easily see that these different SIM cards are being used in the same phone," Matthew Hickey, a professional hacker with over 15 years of experience, said.
He added, "The only way for an individual to avoid this type of tracking is to replace the handset, physically remove and replace a chip to obtain a new IMEI, or use a phone which has a reprogrammable IMEI."
The report comes as Saudi officials have created an application that allows male guardians to track their female family members and prevent them from traveling due to an escalating numbers of women fleeing the country.
The app, called Absher meaning "Good Tidings" in Arabic, allows men to obtain or revoke their authorization with a few clicks.
Through Absher, men can perform several tasks, such as paying parking fines, renewing driving license, and granting travel permissions to their female "dependents," such as wives, daughters and sisters.
It is equipped to give a comprehensive readout of each journey a registered woman has made. Her male guardian can anytime access his own travel logs along with those of children and women in the family.
The app also gives men the ability to receive SMS alerts, when one of their female family members shows their passport at the border or at an airport.
The Saudi Ministry of Interior sends the message directly through the application.
According to a report by investigate website the Insider, Saudi women seeking asylum overseas had to resort to stealing their male guardians' phones to disable the app or to secretly give themselves permission to travel before fleeing the country.
Other women have already tried to change the alert phone number so that tracking SMSs are sent to them rather than their guardians.
American giant technology companies Apple and Google have come under fierce criticism for hosting the application, and have been accused of helping "enforce gender apartheid" as the app is available on Google Play and Apple's App Store.
https://www.presstv.com/Detail/2019/06/14/598512/Saudi-Arabia-fleeing-women-IMEI-
--------
'Freedom Fields' Documentary Puts Libyan Women Back On the World's Cinematic Stage
14/06/2019
LONDON - Libya's revolution in 2011 upended forty-two years of Muammar Ghaddafi's rulership but the promise of greater suffrage for women never bloomed. As the lid off of authoritarian rule came off, a new authoritarianism sought to banish women from public life and prolong their silence.
As the gains achieved by women gradually rolled back, uncritical readings of how women truly fared in post-Gaddafi Libya across international press exposed a lack of gender consciousness. On screen women and in print press were celebrated or cast-typed as the surface of their struggle was barely scratched.
Director and actor, Naziha Arebi's colourful film, 'Freedom Fields', offers a rich and holistic reading of women in post-Gaddafi Libya as she follows members of Libya's national football team between the years 2011 and 2017. A year earlier Arebi marked her first homecoming as she and her father returned to their ancestral home but she returned 12 months later and stayed.
The film depicts what few have captured a plural Libya, multiethnic and multitalented, through the lens of ordinary youth which as Arebi said revealed during a premier hosted by birds eye view film took 6 months to track "like ghosts, they were". The team, initially founded in 1997, was revived following Ghaddafi's removal from power but its fate remained precarious and quality remained poor, in spite of the wealth of talents its members boasted.
Arebi, half British half Libyan, captures what few before her have — the plurality of Libyan society — away from the disservice of inflated stereotypes that skim over the lack of physical security and equal rights afforded to women after Gaddafi's fall.
Women are placed at the heart of the film "all very different to each other," Arebi told audiences at picturehouse premier in London, zooming in on the obstacles society, unknowingly and knowingly, places in the way of its women.
The team Arebi follows, represents one of Libya's few post-Gaddafi democratic spaces. Girls from diametrically opposite worlds — an engineer, medical student and internally displaced youth — are united, alongside others, by their love of sport and hunger to represent Libya at the local and international level.
Lack of public support, the biggest barrier that stood in their way, coloured even the attitude of supporting parents aware of their inability to convert the Libyan street as it actively fought against aspiring Libyan sportswomen.
The hope that football represented for women quickly dissipated while in the political domain observers pointed to the ministry of health and social affairs headed by women as evidence of female empowerment in post-Gaddafi Libya. The emotionally laden film captures a cynical sense of humour that runs right through the female demographic that helps viewers unfamiliar with Libya to identify these contradictions.
Football therefore serves as the perfect metaphor of the double-bind dilemma women in Libya, and elsewhere in the region, find themselves in. On the pitch, athletes were sexualised and scapegoated for moral decay while off pitch, their efforts to break free from patriarchal norms were repeatedly thwarted, largely by men but also women.
The team's complicated relationship with the Libyan Football Federation holds up a mirror to the relationship society at large has with power, characterised by betrayal, conditional support and exploitation which culminated in explosive arguments during the teams first ever international match, 4 years after the revolution, in Lebanon.
The humour, light heartedness and lion-hearted personas Arebi's film teases out, neither downplays or exaggerates the deeply conservative texture of Libya where patriarchy infiltrates society at all levels, old and young, male and female.
"It's up to people to take what they want from it" Arebi Arebi told audience members when asked about the film message and framing, "films ought to work on these different layers" and later added that "it was never really about football".
She spoke of moments of friendship, laughter and conflict and how she and the films protagonists became "friends for life. I'm not just a journalist that goes in and leaves" Arebi said commenting on her responsibilities as a filmmaker.
Overall, the film, at all its levels, provides a corrective to the stereotypes that plaster over the lived reality for women who from a young age are shaped to accept an inferior status in society.
Arebi's laborious 7 year old project goes further in her analysis of post-Gaddafi Libya than male news commentators and observers. She brings to life a story about the unravelling of state institutions and how this was matched by the erosion of women's rights and an attempt to prolong their silence or confine them to the shadows of their homes.
The final victory for the girls comes not after competing in international tournaments but after they walked away from the federation that betrayed them to set up their own NGO, Hera, using sports to facilitate healing and trauma relief to nurture and not crush the aspiration of subsequent female generations.
The film is back on tour across the UK across the months of June and July.
https://thearabweekly.com/freedom-fields-documentary-puts-libyan-women-back-worlds-cinematic-stage
--------
The Woman Fighting For the Arts amid Conflict in Yemen
June 6, 2019
Saeed Al Batati
Abeer Mohammed Al Hadrami stores about 100 of her own paintings in her parent's three-room apartment in the port city of Mukalla, the capital of Yemen's south-­eastern province, Hadramout. You'll find some inside or on top of cupboards, and even under her bed.
Al Hadrami's favourite stands out among them. It's a 50 centimetre by 70cm piece that highlights the issue of child marriage. In it, a grey-haired pregnant girl is depicted wearing a white wedding dress and carrying a small toy. An over-sized hand clutches her right shoulder. "This is the hand of the society or parents," Al Hadrami explains. "I love this artwork too much."
The young artist was born in Aden, raised in the capital, Sanaa, and now lives with her mother and father in Mukalla, where Al Hadrami also has a small studio. She has been interested in art for as long as she can remember. "At home, I used to decorate cups, clothes and plates, and art was my favourite subject during primary school." She flashes a smile and winks at her mother, who nods her head and shares her own memories of her daughter who, as a baby, broke cups while trying to paint them. They both laugh as they explain how Al Hadrami scratched and scribbled her drawings wherever she could find an empty space.
Chasing her dreams
It's unsurprising then that she eventually pursued a career in art, particularly as the creative bug also runs in the family. "My sister, uncles and cousins are artists. My brother is a lute player," she explains.
She was clearly influenced by them as a child, but it wasn't until she went to college that Al Hadrami had the chance to truly explore her love of art, when she met a teacher who encouraged the budding artist to chase her dreams. "My teacher, Anwar, and my parents were the agents behind my early passion for art," she recalls. "My amateur skills were polished when I was at college from 2010 to 2014."
During those four years, Al Hadrami discovered different artistic mediums. "It was a different experience that helped me turn professional," she says. She soon decided to focus on painting, making use of the constructive criticism she received from her teachers as she learnt as much as she could about the various theories and schools of modern art. "I now practise expressive painting," she says.
It can take her anywhere from several hours to three days to produce a painting, and over the past few years Al Hadrami has taken part in more than 30 art exhibitions across Hadramout, as well as a show in Malaysia. She's a founding member of Hadramout Talents, an independent non-­governmental organisation that has brought together about 100 artists – both men and women – from the area. Alongside several other artists, Al Hadrami is working to revive modern art in a city that's all but forgotten about creative pursuits during a time of war.
Al Hadrami spends her time lobbying local artists to help her raise awareness of the importance of modern art in their conservative society, whether that's producing paintings, sketches or even graffiti. The artists spend their savings at art galleries. "In the past, it was hard to convince the rich to fund galleries," Al Hadrami says. "We worked hard on displaying our work to them."
Changing Yemen's attitude towards art
However, after several campaigns to raise funds and awareness, Al Hadrami says she feels local perceptions of modern art are beginning to shift. "There is a great understanding and appreciation of our artworks now," she says. "As you can see, graffiti is covering street buildings and walls. The young artists imposed themselves on the society here."
Public officials have even stepped in to help her; Al Hadrami received funds from the governor of Hadramout, which meant she could take part in a show at an international art gallery in Cairo. Still, Al Hadrami says such achievements are only another step in a much longer journey.
While promoting art in her home town, she also works in an administrative role with an international aid organisation, while her parents give her pocket money, too. She's also sold a few of her beloved paintings. "I sold a collection of my paintings in Malaysia for $2,000 [Dh7,346]. I saved the money to buy a car," she says. She also sold a painting for 1,000 Saudi Arabian riyals [Dh979] to a local art pundit. "By selling their work, artists can buy materials and pay to participate in international exhibitions, as well as helping to arrange exhibitions ­locally," she says.
Otherwise, it can be difficult for budding talents, she says, lamenting that international galleries usually only invite renowned artists from Yemen to exhibit. "We are struggling to build our names," she says. Al Hadrami relies heavily on social media – predominantly Twitter and Facebook – as a platform to get her work seen, she adds.
The ongoing conflict in Yemen also makes her career path in the art world far from clear. In early 2015, when the Houthi rebels stormed Aden, Al Hadrami watched ­nervously as local military forces and resistance fighters flooded into the city. "During the fighting, my paintings that portray the army, the people and the war in Aden have increased," she says.
Despite all that she and her family have been through, however, Al Hadrami is confident her paintings have the potential to win international awards, if she could only get the chance to display them in front of a global audience. "I want to introduce my paintings to renowned painters," she says. "I have talked to some of those painters. They either cautiously respond to my messages or ignore them, simply because they do not know me."
https://www.thenational.ae/arts-culture/art/the-woman-fighting-for-the-arts-amid-conflict-in-yemen-1.871347
--------
Saudi Team Helps Child Soldiers Become 'Peace-Builders'
June 14, 2019
NEW YORK: A delegation from the King Salman Humanitarian Aid and Relief Center (KSRelief) met Saudi Arabia's ambassador to the UN, Abdallah Al-Mouallimi, to discuss its work rehabilitating Yemeni child soldiers.
KSRelief is taking part in sessions with experts from the International Coalition for the Rehabilitation of Child Soldiers, headed by Dr. Amal Al-Habdan, director of KSRelief's Community Support Department, and members Dr. Abeer Harbi and Madawi Al-Khamis.
The coalition, which is supervised by the UN, includes 16 specialists from four continents with extensive experience in the rehabilitation of child soldiers.
The meetings highlight the role of reintegration programs in breaking the cycle of violence, reducing the risk of re-recruitment, and sharing experiences with people who have been involved in reintegration programs.
Discussions also focus on helping Yemen's child soldiers become peace-builders and supporting positive changes in their communities.
The sessions were launched under the auspices of the secretary-general for Children and Armed Conflict, Virginia Gamba, and the permanent representative of the Republic of Korea to the UN, Young-Jin Choi.
The workshop discussed issues related to the needs and gaps in the reintegration programs for the child soldiers recruited in target cities to help achieve the highest level of humanitarian response in this area.
KSRelief's participation in the workshop is part of its humanitarian work focused on children, particularly the rehabilitation of child soldiers.
http://www.arabnews.com/node/1510901/saudi-arabia
--------
"We Should Be Fearful": Muslim Women on the Prospect of Boris Johnson as Prime Minister
BY ANOOSH CHAKELIAN
14 JUNE 2019
In August last year, 21 Muslim women in the UK reported Islamophobic abuse in one week. Fourteen wore the hijab and seven wore the niqab.
They were on the receiving end of a spike in hate crime against Muslim women that occurred after 5 August 2018, when Boris Johnson wrote a Daily Telegraph column describing women wearing the burqa as "letter boxes" and "bank robbers". It was a sharp rise on the previous week, which saw five reports to the hate crime monitor Tell MAMA, which gathered the stats.
Three days after his words were published, two white women in London repeated Johnson's "letter box" insult loudly while sitting by a woman wearing a hijab waiting in a doctor's surgery. They were describing another woman present, who was wearing a niqab: "She does look like a letter box though… I can't even understand what she's saying coz her face is covered."
Five days after the column, a man in the Exeter area repeatedly shouted "letter box" at a woman walking to Friday prayers, in the company of a child. Three days later, her older sister was called a "letter box" by a man as she returned home from work, passing a group of people drinking outside a pub. Both women wore the hijab.
Over two weeks after, a Muslim woman wearing an abaya and niqab on her way to work in the London area was shouted at and called a "post box" by construction workers, who also asked her if they were "expecting a delivery".
There were plenty more, told to get out of "this country", called "terrorists" and threatened that they should "be shot", in what was described as a "sharp and temporary spike in reports from Muslim women" following Johnson's comments by Tell MAMA at the time.
As Johnson faced investigation by the party, 100 British Muslim women who wear the burqa or niqab wrote a letter to the Conservative chairman, Brandon Lewis, demanding the former foreign secretary be kicked out of the party. They agreed with the Conservative peer, Mohamed Iltaf Sheikh, who called for Johnson to have the whip removed. "Such vile language which has real consequences for us, should never be acceptable," they wrote.
Nevertheless, Johnson was cleared by the investigation, has refused to apologise for his language, and when asked about it at his leadership launch this week, insisted: "I will continue to speak as directly as I can."
Now he leads the leadership race with 114 votes from his fellow MPs, and is the frontrunner to be next prime minister.
How do Muslim woman in Britain feel about this prospect?
"The fact that a man with that history who has provoked that kind of reaction — and people who are impacted by it will tell you he is an Islamophobe — that somebody who holds those views, has hurt people in that way, and finds those ideas acceptable, will be our prime minister is scary and it's insulting," says Rehana Faisal, 41, who lives in Luton and wears an abaya and hijab.
"The direction that Britain is going in is quite a scary prospect for us already," she tells me. Indeed, Muslim women bear the brunt of the rise in Islamophobic hate crimes in the UK.
"I think there is an acceptability around Islamophobia that isn't sitting in the fringes somewhere but is very mainstream, and is regurgitated on mainstream TV with very little challenge," she tells me.
"So it was already a very difficult time, but I think that Boris Johnson becoming prime minister sends a signal to us about the direction the country is going in, and that we should be legitimately more fearful about the way we are treated."
Faisal has chaired a Muslim women's community group called Lantern in Luton for four years, and knows of women who experienced hostility after Johnson's column was published.
"I remember a number of women either having people they knew jokingly use those terms, but in a few cases just shouting it across the road," she says. "[In general] I think there is a marked increase in hostility, a marked increase in bigotry. Whether it's overt or whether it's more subtle, you certainly see a lot more of it and hear a lot more of it."
She sees the success of Johnson as a sign of "the acceptability of those conversations within our mainstream": "He still thinks that it was ok for him to refer to a minority within a minority within a minority as 'bank robbers' and 'letter boxes'. He thinks it's ok to refer to human beings as inanimate objects."
When she heard the news of Johnson running for the Conservative leadership, the first thing Nazmin Akthar, a lawyer from the northeast, thought of was his Telegraph column about the burqa.
"If he did become prime minister, essentially it would send out the message to Muslim women that it's perfectly acceptable to objectify and dehumanise them for personal and political gain," she tells me.
She doesn't wear the hijab herself, but she tells me her mother does, and her mother's best friend wears the veil and headscarf. As chair of the Muslim Women's Network UK, she hears "frequent" stories of racist abuse, including that of "a woman who was having her hijab pulled and being told to 'get out of the country, you look ridiculous'" a couple of months ago.
There was "a lot of disappointment, sadness, some were worried as well" among the reactions of women in her network to Johnson's column. "One comment that came to us was what he doesn't realise is that such comments have real consequences for real women in the real world," she says.
"Someone is going to read what you say, interpret it, apply it, and ultimately it's Muslim women who are impacted by it, especially visibly Muslim women, so women who wear the hijab or the face veil. They're the ones that are attacked the most."
Politicians making such comments "essentially gives those on the far right the go-ahead", she says. "They think, 'if politicians are saying that then we must be right, it's perfectly acceptable for us to then shout abuse at Muslim women or go as far as throwing things at them, hitting them, trying to pull the veil.'"
This real-life impact is one of the main reasons Mohammed Amin, chairman of the Conservative Muslim Forum — a grouping inside the Conservative Party — is so against a Boris Johnson premiership.
"There was a clear spike in anti-Muslim incidents particularly directed at women in the few weeks following that column, which linked directly back to the column," he tells me. "There's no doubt about it at all, that article directly contributed to verbal abuse of Muslim women and in some cases physical abuse, like men trying to tear off women's niqabs."
Amin, who has been a member of the party for 36 years and whose own extended family do not wear the hijab or burqa, will resign his post and leave the party if Johnson wins.
"If Boris Johnson becomes leader of the party, I consider him so unfit to be leader that I will leave the party, after 36 years," he says. "I think the man has no concept of truth or falsehood. I don't trust him in the slightest… I think there are many other people who would be equally unhappy with Boris Johnson as Conservative Party leader, if they're Muslims. I don't know whether other people will resign as I intend to do, but I'm quite clear that I will resign."
Amin also reveals that he received emails and messages from Conservative Muslim voters and members saying "they were thinking of leaving" after Johnson's column.
"I've had a lot of contacts from people, and the consistent view from that time onwards was that — and this was a view that came strongly from lots of people who themselves don't wear hijab or burqa – they were all horrified by the approach that Boris took," he says.
"On the one hand he was being liberal Boris saying we shouldn't ban this, but at the same time by slagging off women who wear it, he was clearly trying to appeal to quite xenophobic people, the kind of people who are most of the membership of the present-day Conservative Party," he adds.
"The members on average are quite a lot older than the average person in society. The party is much whiter than society as a whole. And I believe that Boris wrote that article quite deliberately to basically pander to those sentiments as part of a future leadership bid."
It won't be long until Tory Muslims, and the UK's Muslim community as a whole, will found out with the rest of the country whether this perceived strategy has worked.
As for Rehana Faisal in Luton, she fears for her children's future in Boris Johnson's Britain. "I've experienced racism all through my life. I'm a woman of colour, I'm visibly Muslim, I've experienced that all my life, but I expected for that to change over time — and it has changed, but it's changed for the worse."
https://www.newstatesman.com/politics/uk/2019/06/we-should-be-fearful-muslim-women-prospect-boris-johnson-prime-minister
--------
Iran Regime Increases Pressure on Women Defying Forced Hijab
14 June 2019
By Hamideh Taati
The Iranian regime's State Security Forces have increased pressure on women by tightening the rules on compulsory veiling.
Ayyoub Soleimani, the acting commander of the State Security Forces, has once again said that any woman who removes her hijab, whether to protest the sexist law or for any other reason, is committing an obvious crime and would be dealt with by the police. He then went on to make a ridiculous comparison between hijabs and seatbelts, after a reporter asked him why taxi drivers were being punished when passengers removed the veil during a ride.
Soleimani said: "The legal responsibility of any car is with the owner. Just like the passenger's failure to fasten the seat belt, for which the car owner must account before the law, drivers must note and be committed to their legal responsibility. They must not allow their passengers to break the law by removing their veil. All agencies must emphasize on their rules for observing the veil and Islamic principles."
Of course, one might well ask why anyone would be punished for a woman's dress, but the answer to that is misogyny; pure and simple.
This question about the taxi driver and veils stems from an incident on June 10, when a driver from the SNAP company gave a warning to a female passenger he considered to be improperly veiled. (This could mean anything from having removed the veil altogether to her hair being slightly visible.) He then dropped her off before her destination in a place where she had no access to other transportation, leaving her to make her own way home. The woman tweeted about her mistreatment and her story garnered much attention.
The State Security Forces have been cracking down on people all over Iran for what they consider immoral behaviour. On June 8, it was reported by the state-run ROKNA news agency that a group of men and women were arrested in Mazandaran for dressing in swimming suits while riding boats in a dam.
While in Kermanshah, the State Security Forces reported arresting 611 people, including 64 women, during the month of Ramadan for eating in public and other things that are against the regime's values.
Mohammad Reza Amou'ii, social deputy of the State Security Forces Command in Kermanshah Province, said that over 4,000 people had been warned about eating in public and that food shops and restaurants that had broken the regime's rules had been sealed up. https://www.ncr-iran.org/en/news/women/26320-iran-regime-increases-pressure-on-women-defying-forced-hijab
--------
Filipina Players Dominate at Women's Bowling Championship in Jeddah
June 15, 2019
JEDDAH: Filipina players took the top three places at the sixth Women's Singles Bowling Championship, which was held at Jeddah City Bowling Center on Friday.
Rica Ventura won the gold medal and top prize of SR 4,000. Mica Ecalnir took the silver medal and SR 2,000, while Elizapeth Policarpio received the bronze medal and SR 1,000
Fifty-six players from six countries — the Philippines, Malaysia, Kuwait, Eritrea, Tanzania, and Saudi Arabia — competed in the event, which was organized by the Saudi Bowling Federation and sponsored by Arab News and Arriyadiyah newspapers. The Saudi players came from Riyadh, Jeddah and Alkhobar.
Dr. Razan Baker, a member of the federation's board of directors, presented the winners with their prizes. She noted that since the fifth championship in Alkhobar, 30 new players —Saudis and foreigners — had joined the federation.
"The tournament has seen an increase in the number of competitors...which shows the interest in the game in Saudi society, and gives us an incentive to provide more," she said, as she highlighted how far the sport has come in Saudi Arabia in just two years.
"We have come a long way from having only a small team in Alkhobar to having three teams this year in Jeddah, Riyadh and Alkhobar, in addition to creating a new bowling community of mixed nationalities, including Saudis, who are eager to participate and happy to travel from one city to another to play, have fun and enhance their experiences and skills."
Among the players were four Malaysians who were competing for the first time in the Saudi league.
Malaysian bowler Nurima Saydak said: "There were about 45 Malaysian players in Saudi Arabia and they were keen to play in Filipino and Malaysian tournaments. Now we are happy to participate in the Saudi women's league (where we can have) a wonderful time while developing our skills."
Three deaf players from Jeddah — Lujain Bashnini, Duaa Bukhari and Elaf Issa — also competed for the first time in the championship, under the supervision of Dr. Faiza Natto, chair of the board of Deaf Women in Jeddah and a member of the Saudi Deaf Sport Federation.
She said the players were part of a team of 12 deaf people who began bowling about five months ago, and that the experience has helped them to conquer their fears and increase their self-confidence by encouraging them to become role models. She added that Alanoud Al-Aslab, a 17-year-old student, had played a big role in forming the team, out of a desire to help and encourage deaf people.
Baker concluded the event by highlighting the great achievements of the Saudi Bowling Federation, especially its support of women, in less than two years since Saudi women began to play and participate in a local and international tournaments, which she said was a great incentive for them to continue to improve and compete on a global level.
http://www.arabnews.com/node/1510941/saudi-arabia
--------
Women Continue To Be Persecuted In Iran
15 June 2019
By Mahmoud Hakamian
The Iranian regime is under immense pressure on several fronts – the domestic front, the international front and on the economic front. It is helpless as to how to remedy the situation because it is running out of options, but it always resorts back to cracking down further on the people of Iran.
Recent reports form inside the country suggest that the security forces have been targeting women, especially by tightening and enforcing regulations regarding the compulsory veiling.
Since the 1979 Islamic Revolution, women have been subjected to very strict dress codes. They have to wear loose-fitting clothes and the hijab is compulsory.
Ayyoub Soleimani, the commander of the country's State Security Force, reiterated the regime's regulations, saying that any woman who removes her veil in public is committing a crime and will be treated accordingly.
He went on to explain that the responsibility lies with society as a whole. He said that just like a driver is ultimately responsible for their passengers wearing a seatbelt, the same appliers to taxi drivers who must ensure that any female passengers are properly veiled. Speaking to a reporter, Solaimani said: "The legal responsibility of any car is with the owner. Just like the passenger's failure to fasten the seat belt, for which the car owner must account before the law, drivers must note and be committed to their legal responsibility. They must not allow their passengers to break the law by removing their veil. All agencies must emphasize on their rules for observing the veil and Islamic principles."
Only a few days ago, a woman in Iran recounted her recent experience on social media. A taxi driver ordered her to get out of the vehicle because she was not properly veiled. She was ordered to get out of the taxi in a place where she was unable to find another means of transport and was effectively stranded.
The women of Iran are rising up against the Iranian regime and have held protests and demonstrations to make their voice heard. Activists from all over the word have been speaking out about the issue and raising their concerns about the treatment of women in the country.
Over the years, many people have been arrested and punished for not adhering to what the clerical regime deems appropriate. Last year, the country's police force issued an official statement saying that females that protested against the veiling regulations would be charged with "inciting corruption and prostitution".
People have been lashed, imprisoned and fined for what the regime sees as a crime.
https://irannewsupdate.com/news/women/6108-women-continue-to-be-persecuted-in-iran.html
--------
URL: https://www.newageislam.com/islam-women-feminism/europol-report-details-islamic-state/d/118894
New Age Islam, Islam Online, Islamic Website, African Muslim News, Arab World News, South Asia News, Indian Muslim News, World Muslim News, Women in Islam, Islamic Feminism, Arab Women, Women In Arab, Islamophobia in America, Muslim Women in West, Islam Women and Feminism