New Age Islam News Bureau
28 Aug 2014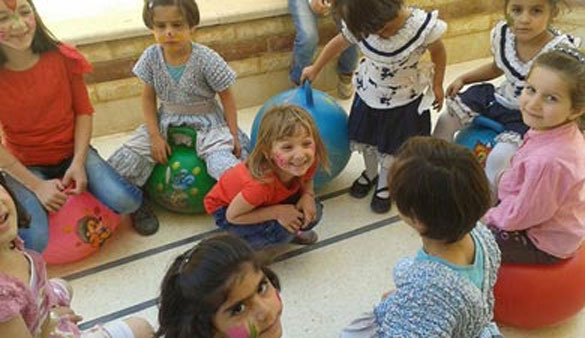 Syrian Women Help Traumatized Children Smile Again
Mariam (C) plays with her friends in the front yard of the centre during recess, in Zabadani, Aug. 18, 2014. (Photo by Mustafa al-Haj)
---------
• Saudi Guardians Prevent Marriage of 622 Women in Two Years
• Kurdish Minorities and Women Volunteer to Fight IS
• Mother Pleads For Life of IS Group Hostage
• Syrian Women Help Traumatized Children Smile Again
• South Africa: Gauteng Women Unite for Empowerment
Compiled by New Age Islam News Bureau
URL: https://www.newageislam.com/islam,-women-and-feminism/new-age-islam-news-bureau/ethiopian-girls-as-young-as-five-married-off/d/98782
-----------
Ethiopian Girls As Young As Five Married Off
28 Aug, 2014
Amhara, Ethiopia - Mekdes Murgeta does not remember her actual wedding, but her family told her it happened when she was five. Pointing at her own five-year-old daughter she confirms she was her age.
Murgeta lives in Mosebo, a rural village in the Amhara region in central Ethiopia. There, as in the rest of Ethiopia, it is illegal to be married before the age of 18.
According to the United States Agency for International Development (USAID), Amhara has some of the highest rates of child marriage in the world. Estimates in 2009 show at least 50 percent of women marrying before they reach 18. Murgeta thinks she is around 28 now, but is unsure. Keeping track of your age is not common here.
She is six months pregnant with her second kid. "I want to adequately serve them, adequately feed them. If I have many children, I can't do that," she explains.
Murgeta is part of a growing number of Ethiopian women, many of them child brides, who are taking control of their reproductive lives.
On the 19th of every month, she has an appointment with the village health extension worker. It was the health extension worker that gave her the injection that kept her from getting pregnant for five years. They taught her about spacing her pregnancies. "They teach me everything," she says.
In 2003, Ethiopia launched its health extension worker programme, a large-scale project aimed to teach basic illness prevention methods across the country. Before that, health extension workers did not exist. Now, there are 38,000 of them around the country. One of their main goals is keeping women healthy.
'Political priorities'
"The country made maternal health one of the top political priorities," says Addis Woldemariam with the Ministry of Health. Every week, he says, Ethiopia's regional presidents are charged with auditing the cause of each maternal death in their region.
The effects have proved dramatically benefical in tackling women's health issues. Save the Children reports that since 2000, Ethiopia has reduced the risk of maternal mortality by two-thirds, the most of any African country.
But Woldemariam admits a persisting tragic problem. "The women still dying are very young," he says, adding: "There is still some practice of early marriage."
Child marriage remains a major health concern. One of the primary causes of death for girls aged 15-19 is pregnancy.
Girls who bear children before the age of 18 are five times more likely to die of pregnancy-related causes compared to older mothers.
There is often pressure to consummate new marriages as soon as possible, to prove the bride's fertility. Murgeta says her parents pressured her to have as many babies as possible, but she sided with the health worker instead.
Women who are married young also tend to have older husbands. Murgeta is not sure how old her husband is but she says he is much older.
In Amhara, the age difference between husband and bride can be 15 years or more. Older husbands are more likely to be sexually experienced and married couples are less likely to use condoms.That leaves their wives 50 percent more likely to contract HIV, according to a 2004 study by the Population Council.
The health extension worker that Murgeta sees is just a five-minute walk from her house. She is lucky, as that is not the case for everyone. Child brides tend to live in the poorest, most remote areas of Ethiopia. Poor roads and limited means of transport could mean that some people are several hours, even days, away from any health facility.
Some villagers may not know the laws prohibiting child marriage. Some believe that once the marriage ceremony ends, they are no longer breaking the law. Even if the law is enforced, divorced women in Amhara are often stigmatised, prompting them to remain married out of fear.
Successful work
Annabelle Rokar is the country director for the Population Council in Ethiopia. Her organisation has done some of the most successful work ending child marriage. "We don't want to reach 500 girls or 600 girls. We have to reach millions of girls at risk of child marriage," she says.
Rokar explains how they have used the goat project to solve the problem. It is actually quite simple. Families who marry their daughters early are typically poor and sometimes early marriage is a way to transfer the burden of one more mouth to feed. Giving a family a goat can provide extra income.
Peer pressure also goes into effect. When one family gets a goat for not marrying their daughter at a young age, other families want to mirror their success.
The goat project worked reasonably well at delaying marriage for a few years, according to the Population Council's study. But for the Ethiopian government, one goat per family was too expensive.
So CARE and the International Centre for Research on Women took a different approach. Rather than try to prevent child marriage, they would work with the brides already married. They provided health care and economic education, even a social network for the girls.
Jeff Edmeades was the researcher on the project. When he first arrived in Amhara, he was unsure he would find any child brides. He was told by one government official that the law banning child marriage was so effective, child brides no longer exist.
He soon learned that was not the case. He now estimates there are tens of thousands of child brides in Amhara alone. He understands the spirit of the law banning child marriage, but he worries it may be adversely affecting the girls themselves.
"It's harder to do research. Effectively, they become more hidden in communities than they were," he says. It became his job to draw them out.
With help, he taught the girls how to pool their money and invest in small businesses. They also learned about reproductive health. The lessons helped, but Edmeades said putting the girls in an environment where they could listen to each other and be heard was one of the most exciting aspects of the project.
In the beginning, the girls were quiet. They would hardly talk. "And by the end of the project," he said, "these girls were just very active, very vocal, very comfortable talking about a whole range of topics."
IRCW documented 70 child marriages prevented in the year the project took place.
But as successful as that project was, it had to end. Many girls, like Ashkalash Thomas, were left behind.
Filling out the paperwork at an abortion clinic in Addis Ababa, the capital, she wrote her name and her age, 15.
She came from a village in Woliata, south of Ethiopia. The only health care worker she knew was hours away. Thomas' parents told her she would be married a year ago. She never learned the groom's name. She did the only thing she thought she could: She ran away.
She found a job in a factory and some friends to live with. She even met a boy. He told her he loved her. Three days later, she was pregnant and he was gone.
She has not told her parents. "They can kill me," she said.
Instead, she came to get an abortion. She said she felt better and says she was not ready to have a child. She walked out of the building but stopped at the street. Thomas lingered seeming not to know where to go or who to turn to next.
http://www.aljazeera.com/news/africa/2014/08/ethiopian-girls-as-young-as-five-married-off-20148269524221721.html
-----------
Saudi Guardians Prevent Marriage of 622 Women in Two Years
28 Aug, 2014
JEDDAH — Courts in the Kingdom have received 622 cases of adhl (where a woman's guardian prevents her from marriage) over the past two years.
Judicial sources said Riyadh accounted for 201 cases, followed by Jeddah with 195, Makkah had 87, Madinah came fourth with 52, Taif had 36, Al-Ahsa 27, Buraidah 16 cases and Hail came last with eight cases.
Sources added these cases were in addition to other cases women had filed against their fathers and guardians, such as marriage without the consent of the guardian and women forced into marriage without their agreement.
Judicial consultant and lawyer, Rayyan Mufti, said cases of women marrying without their guardian's consent should be investigated by the judge before he considers or issues a decision.
He said: "The judge should inquire into the reasons for the guardian's refusal to consent.
"If the refusal is due to irresponsible factors, such as for financial benefits, requiring that the woman marries from her tribe, or due to a father spiting an ex-wife by stopping their daughter from getting married, then the judge has the authority and obligation to step in and override the guardian and sanction the marriage."
He pointed out that the judge is the decisive body and sometimes fathers or guardians have a different view of the would-be husband that differs from the woman's view.
"The father or guardian could have reasons that show the would-be husband is unsuitable for the woman due to various reasons, and in such cases the judge simply drops the case and enforces the guardian's decision," he said.
Mufti added the existence of personal affairs courts will expedite such cases and that judges presiding over them have enough specialist experience.
He believed Adl cases should first be referred to reconciliation committees, so an amicable solution can be reached.
"However, if such an amicable solution cannot be reached, then the case should be referred to court for a judge's decision," he said.
http://www.saudigazette.com.sa/index.cfm?method=home.regcon&contentid=20140828216192
-----------
Kurdish Minorities and Women Volunteer to Fight IS
28 Aug, 2014
DOHUK, Kurdistan Region — The Kurdish Peshmerga's battle against Islamic extremists is drawing hundreds of female volunteers and persecuted minorities, many of whom are being trained by a unit in Dohuk.
"It's my duty to defend my country," said Sashida Sadiq, a police commander from Dohuk. The 27-year old was one of 20 women selected for military service among the 2,800 people who tried to enlist in Dohuk.
Although Sadiq's role is primarily administrative and logistic, she is prepared to fight the Islamic State (IS/formerly ISIS) and many are proud of her service. Sadiq is single but maintained that even if she had a husband and children "I would fight. The situation is too bad."
"I'm not afraid of fighting IS," she said. "My being a women makes no difference. The Peshmerga will be stronger than IS once we get better weapons. I am eager to use those against them."
In Sulaimania, the Peshmerga has five female reservist battalions, and many of the soldiers are married with children. They have been called to serve since the battle against IS began in June.
In addition, female fighters from the Kurdistan Workers' Party (PKK) and its Syrian offshoot, the Democratic Union Party (PYD) have joined the war effort and make up 30 to 40 percent of the militias' fighters. As a rule, they aren't married.
Serdar Dosky, who leads the 500-strong volunteer force in Dohuk, is proud of the women under his command. But he is equally proud of the fact that of the 500 volunteers he selected and trained for duty, many are ethnic and religious minorities.
"We have some 120 Yezidis who were working as laborers here in Dohuk," he said. "When they heard what happened to their people in Shingal, they reported to us so they could fight IS."
Iraq's minorities do not have militias, which some say has left them vulnerable to extremists in Nineveh province. Most of the country's minorities have been based in the so-called Nineveh Plains at the eastern edge of the province for thousands of years. Tens of thousands of Yezidis, who are ethnically Kurdish but practice an ancient religion, have been driven from their homes and hundreds massacred by IS extremists since July.
Dosky spent 10 years in the Netherlands and since his return has been active in the largest Kurdish party in region, the Kurdistan Democratic Party (KDP.) He trained the volunteers in handling weapons, but also in military strategy.
"How to raise morale; how to scare the enemy; how to calm civilians," he said.
The volunteers are popular with the people, he said. They are given discounts in shops, food and water is being brought to the base. Many taxi drivers give volunteer fighters free rides.
Dosky said many of the volunteers are experienced in battle and fought decades ago with party-aligned militia that battled the Baath government and, eventually, other Kurdish parties.
Their experience "eases the public's fear, and it gives the Peshmerga more support."
At the moment, Dosky's unit functions as a back-up force for the Peshmerga, which requires volunteers to sit and wait. Many nights, they are on standby as the Peshmerga fights IS around Mosul dam, only miles from their base. At the same time, they are helping with the relief operation for tens of thousands of displaced Yezidis who fled to the Dohuk region to escape extremist threats.
Apart from Dosky, the unit has another Dutch-Kurd — his brother in law — and one from Germany. Dosky claimed that some Kurds who came to fight are operating outside of the system, however.
"The fact that they come from abroad does raise morale," he said. "But they are unregistered, unorganized and often operate in small groups. We have no control over them but we do have to monitor them, and that takes away part of my manpower."
The volunteers who report for duty have to convince their bosses to take time off work.
Sadiq is on leave from the police force in Dohuk. "I don't think they miss me, but if the war goes on, they will have to join the fight"
Ronny Ishu Mejar, 35, is a Kurdish Christian whose family lives in Zakho and Dohuk. Most of the men are fighting.
Mejar is a labourer who gave up work to enlist despite having a wife and four children.
"This is about my country; I will keep this up for 100 years if needed," he said, when asked about his lack of income.
"In Kurdistan there is no difference between the people of different religions," Mejar added. "And IS kills all: Muslim, Christians and Yezidis."
http://rudaw.net/english/kurdistan/260820142
-----------
Mother pleads for life of IS group hostage
28 Aug, 2014
An American woman has pleaded for the life of her journalist son, held hostage in Syria by the Islamic State group, just over a week after self-declared jihadists beheaded a fellow US reporter and threatened more murders.
In a video released on Wednesday, Shirley Sotloff directly addressed the group's leader, Abu Bakr al-Baghdadi, saying her son Steven Sotloff was "an innocent journalist" who had no control over US policy in the Middle East.
The plea came just over a week after the group threatened in a video to kill the 31-year-old unless the US stopped bombing its territory in Iraq. The group murdered James Foley, another American journalist, in the same video.
"You, the caliph, can grant amnesty. I ask you, please, release my child. I ask you to use your authority to spare his life,'' Mrs Sotloff said in the video, which was first broadcast on the Al Arabiya network.
"He is an honourable man and has always tried to help the weak," she said.
Islamic State supporters later on Wednesday shared the video on the internet, but blurred Mrs Sotloff's face because their interpretation of Islam does not allow a woman's face to be shown.
Steven Sotloff has been missing in Syria since August 2013.
Josh Earnest, a spokesman for the US president Barack Obama, said he did not know whether he had seen the appeal, but he said the administration was "deeply engaged" in trying to gain release of all Americans held hostage in the Middle East.
"She obviously feels desperate about the safety and wellbeing of her son, and understandably so, and that is why our thoughts and prayers are with Mr Sotloff's family at this very difficult and trying time,'' Earnest said.
A UN commission in Geneva, meanwhile, accused the Islamic State group of committing crimes against humanity with attacks on civilians, and photos emerged of the fighters'' bloody takeover of a Syrian military airbase.
In one photo posted online, masked gunmen were seen shooting seven men kneeling on the ground, some dressed in what appeared to be Syrian military uniforms, after the seizure of the Tabqa airbase in the north-eastern Syrian province of Raqqa earlier this week.
The UN report also said it believed the Syrian regime had used chlorine gas in attacks on rebels, which have been reported previously by Al Jazeera, bloggers and other media organisations.
Syria's President Bashar al-Asad last year agreed to give up his chemical weapons stockpile under a UN-brokered deal.
Chlorine is however a "dual use" substance and was not included on the list of materials to be relinquished.
http://www.aljazeera.com/news/middleeast/2014/08/mum-pleads-life-islamic-state-hostage-201482721599592164.html
-----------
Syrian women help traumatized children smile again
28 Aug, 2014
ZABADANI, Syria — The city of Zabadani, 45 kilometers (28 miles) west of Damascus, is still the scene of shelling by regime forces and clashes between these forces and rebels. Ten security and military checkpoints separate Damascus from rebel-held Zabadani, which was an important tourist destination before Syria's civil war erupted. The city's continued clashes have had a considerable impact on the children who live there, prompting a group of Zabadani women to form a civil society group called Damma, which is Arabic for hug. In March, the women established a center to provide psychological support to more than 50 boys and girls from the region.
Damma's center is situated in a relatively quiet area in a southeastern suburb of Zabadani, near a Syrian army checkpoint. The area is packed with residential buildings and markets that have deterred the regime from targeting the area with explosive barrels. However, the silence is often interrupted by the sounds of barrel bombs being dropped over neighboring areas.
The three-room center is decorated with artificial flowers, as well as the children's arts and crafts. This modest building has become, with the help of the Damma team and local residents, an escape for the children.
One mother said, "My daughter's favorite place is now this center, where she can play and befriend other children. I have not seen her so happy in a long time, since [before] her father passed away. She is now more sociable and is getting much better with time."
The Damma center's director explained the meaning behind the name Damma to Al-Monitor. The group's goal is to hug children in need and make them smile again. It aims to help the children of Zabadani overcome the war's psychological effects and allow them to deal positively with their circumstances.
The director, who wished to remain anonymous, said, "The children have several activities, such as drawing and creating crafts out of clay and putty. They also have physical and mental activities, such as singing and different kinds of competitions, which help them with psychological release and to interact with other children. This is so they forget about the war for a few hours a day."
During the summer, the center runs from 9 a.m. until noon. Before the children go to class, they exercise in the center's front yard. A psychological support assistant at the center said, "The children's interests differ. Some prefer drawing while others prefer team games and sports."
The children's fear of war manifests itself in classroom activities, as in the case of Omar, 5. "Omar is passionate about drawing, but he is antisocial. During the psychological release sessions, Omar turned out to be really scared of checkpoints. I asked him to draw what he was thinking about and he drew a shotgun. When I asked him to talk about autumn, he instead spoke about the military checkpoint near his home where he constantly hears gunshots," said the assistant, speaking on condition of anonymity, adding that she is trying to help Omar overcome his trauma.
Fear of gunshots and explosions is not the only cause of children's psychological issues, according to a teacher at the center. Six-year-old Mariam's house was robbed, and she has been terrified by theft ever since. "She is always afraid of losing her school things and starts crying whenever a friend asks to borrow her things. Today, after three months in the center, Mariam has learned that sharing some things with her friends is OK and it does not count as stealing," the teacher said.
While Al-Monitor was at the center, children participated in a psychological release activity by drawing a sad face on one piece of paper and a happy face on another. The teacher gathered the sheets of paper with the sad faces and, with the children, tore them up. They then wrote wishes on the sheets of paper with the happy faces and put them in the wish box.
The women responsible for the center have taken intensive courses in providing psychological support for the children. "We took a course with a civil society organization called Jozour (Roots), where experts in education and children's psychological support trained us," the director said. "Although we have all dealt with children before, since we used to work as kindergarten teachers, we also gained some personal experience."
During the summer, the women teach the children the basic concepts of nature and English, and also participate in activities like singing, playing instruments, drawing, painting with watercolors and reading stories, which all considerably help to reintegrate children into their environments.
The center received an initial donation from Jozour in Damascus to cover rent and salaries for three months, in addition to the center's equipment, said the director. "We now take a small amount of money from the children's parents to carry on with our work," the director said.
However, the director could not hide the fear she felt when transporting the materials, like desks and toys, from Damascus, and passing through all the checkpoints to reach Zabadani.
Jozour is a Damascus-based civil society organization supporting civil society initiatives across Syria, especially in areas under opposition control.
With simple means and limited materials, Damma's psychological support center in Zabadani can help put smiles on children's faces. The center provides children with a "hug" to help make up for what they have lost.
http://www.al-monitor.com/pulse/originals/2014/08/zabadani-syria-children-support.html#ixzz3BdgK7IlY
-----------
South Africa: Gauteng Women Unite for Empowerment
28 Aug, 2014
Johannesburg — Women from around Gauteng on Wednesday gathered in Newtown to share their hopes with the province's first citizen on how government can improve their lives and strengthen gender equality.
The session was not only a chance for women's organisations to interact with Gauteng Premier David Makhura, but it was a platform for women to share their views and opinions on what is needed to push women emancipation to the next frontier.
The women were unanimous in the belief that quality education is one of the fundamental elements required for women to be truly emancipated.
Gwen Kunene (63), from Izwelonke Women's Forum in Benoni, was one of the participants in the session. She believes that it is only through education that societies can be transformed to produce a capable generation of young people, especially women, with the requisite skills geared towards the needs of the economy.
This, she said, will be paramount, especially now that the new government has put economic transformation at centre stage to help address the triple challenge of poverty, inequality and unemployment.
"We still live in an unequal society, regardless of which sector one is in. I am of the firm belief that education can help us bridge the gap and help equalise us as women and move the country forward," Kunene said.
Her views were shared by Sheila Eland, who said even though women's participation in the economic has improved since 1994, youth still faced challenges.
"Government needs to pay special focus on... the country's youth. Our youth are roaming the streets with qualifications and no work because employers are reluctant to hire people with no experience. This needs to change," she said.
She said more resources should be put towards programme that give youth access to training, work experience, jobs and entrepreneurial opportunities.
Another participant, Agnes Mboxa, pointed out that great strides have been made in improving the status of women under the democratic government.
Referring to the number of jobs employers previously earmarked for men, Mboxa acknowledged that South Africa has made visible progress in promoting gender equality and empowering women through progressive policies.
Although the country is on the right track, Mboxa said a lot still needs to be done.
"We are not out of the woods yet. Even after 20 years of democracy, the girl child still remains the most abused in society.
"I feel like we are treating the symptoms and not the real problem. For us to move forward, we need men to be involved. They must be part of these conversations and part of the solution."
Participants recommended that government must step up affirmative action by making companies commit to the cause.
Women's Month
The meeting was held under the theme '20 Years of Democracy: Moving Women's Agenda forward through Radical Socio-Economic Transformation'.
It was an opportunity to obtain inputs from women's organisations, women in different sectors and interfaith organisations on priorities for Gauteng's gender policy and programme as part of Women's Month celebrations.
The month of August is Women's Month, as government declared 9 August a public holiday in commemoration of the 1956 Women's March.
This year's Women's Month is significant in that South Africa marks 60 years since the signing of the Women's Charter on 17 April 1954 in Johannesburg. Furthermore, it is 20 years since the adoption of the 1994 Women's Charter for Effective Equality. The country also celebrates 20 Years of Freedom.
Social Development MEC Nandi Mayathula-Khoza said the engagement was part of government's programme to take women development in the province forward.
"This is an opportunity to build social capital and partnerships in taking forward gender equality," she said.
In his address, Premier Makhura said the Gauteng government has put in place the 10-Pillar Programme of Action to radically transform, modernise and re-industrialise the province, in line with the National Development Plan.
This 10-pillar programme, according to the Premier, will get citizens to participate in transforming society.
Among other things, the plan talks to the renewal of townships and revitalisation of the township economic as part of turning townships into thriving centres of educational, cultural, intellectual and social and economic excellence.
"We want women to take centre stage in all the ten pillars of our transformation because when you empower women, you empower the whole nation."
Premier Makhura said government has made strides in employing and empowering women.
"However, we are far from where we want to be. Yinde lendlela (the road is long), especially with regards to involvement of women in the economy," he said.
According to Premier Makhura, the provincial government will introduce programmes to attract and empower women to the economy. He also urged women to be active citizens.
"Don't wait for government. We want you to organise yourselves in cooperatives and enterprises... government will provide you will the skills."
The Premier said the issues raised in the dialogue will form part of the programme of action for the province.
http://allafrica.com/stories/201408280797.html?viewall=1
-----------
URL: https://www.newageislam.com/islam,-women-and-feminism/new-age-islam-news-bureau/ethiopian-girls-as-young-as-five-married-off/d/98782