New Age Islam News Bureau
14 Jul 2020
• EsraBilgic aka Halime Sultanof Ertugrul Fame Slammed on Instagram Over Un-Islamic Dress
• Abir Is Using Arab-Pop to Shatter the Muslim Woman Stereotype
• U.S. Judge: Women Can Get Abortion Pill Without Doctor VisitsDuring The COVID-19 Pandemic
• Women MPAs of Khyber Pakhtunkhwa Assembly Decry Delay in Legislation On Child Marriage, Domestic Violence
• Malaysian Women Lawmakers Hope Dy Speaker Azalina Will Put An End To Sexism In Parliament
• The 'War on Women' Didn't Stop When South Africa Locked Down Over Covid-19
• Arab-Brazilian Chamber of Commerce Set to Launch 'WAHI - Women Who Inspire'
• African Women Are Leading Biotechnology's Advance Across the Continent
• Romance Scam: US Woman Freed After Year As Hostage In Nigeria
Compiled ByNew Age Islam News Bureau
URL: https://www.newageislam.com/islam-women-feminism/esra-bilgic-aka-halime-sultan/d/122368
-------
EsraBilgic aka Halime Sultanof Ertugrul Fame Slammed on Instagram Over Un-Islamic Dress
July 13, 2020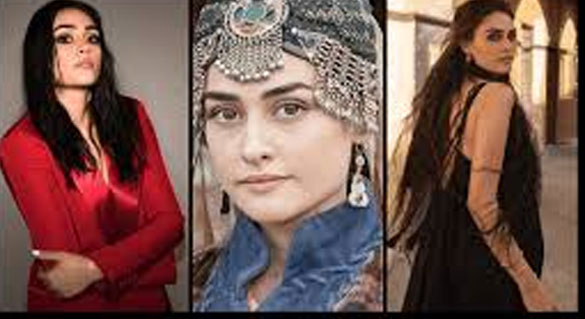 Esra Bilgiç is one of the most famous and loved Turkish actresses all over the world.
-----
EsraBilgic aka Halime Sultan, who has become a household name in Pakistan, once again received backlash from her Pakistani fans for wearing what they called an 'un-Islamic' outfit.
EsraBilgic, who essays the lead role of Halime Sultan in Turkish historic drama series Dirilis: Ertugrul turned to Instagram to share her latest photos where she could be seen donning polka dot summer dress.
Shortly after she shared the photo, her Pakistani fans started criticizing the actress for wearing what they called an 'inappropriate' dress. They also urged Esra to delete her latest post.
One user said, "Now you are deliberately doing this.. we people give so much respect to you &Halime Sultan .. everyone in Pakistan feels good about Ertugrul.. but now you crossing line with such un-Islamic types of clothing. You look beautiful as Halime.. Masha Allah.. good Islamic dressing is the prettiest in a Woman.. so why you posting such bad dresses. Delete such posts @esbilgic .. it spoils mind of other Muslim women. [sic]"
One of her followers wrote, "You look beautiful and you should wear whatever, whenever you want! Ignore the haters. love from Pakistan."
Another wrote, "1st of all she is EsraBilgic not Halima sultan she only just play the character of [Halima Sultan] [sic]."
Previously, Esra had turned off comments on one of her posts after receiving criticism from Pakistani fans.
https://www.thenews.com.pk/latest/686168-esra-bilgic-slammed-for-donning-un-islamic-dress
-----
ABIR IS USING ARAB-POP TO SHATTER THE MUSLIM WOMAN STEREOTYPE
SHYEMA AZAM
JULY 14, 2020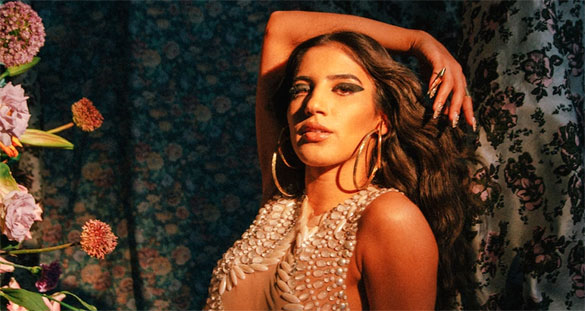 The singer-songwriter's unapologetic new project 'Heat' shows that she has something to say — and she's not afraid to get loud.
----
"When someone sees me, an Arab artist, [whether] they want to say it or not, there's this preconceived notion in their head about my upbringing," singer and songwriter Abir says in a phone call with NYLON. If the Moroccan-American artist's hit song "Finest Hour" with Cash Cash established her as a breakout talent to watch, then her unapologetic new project Heat shows that she also has something to say. And in Abir's words, she's not afraid to get loud. "I don't have time to think about what you think of me," she asserts. "I only have time for me to tell you what an Arab woman in 2020 feels like."
So, how does that feel? In a teaser video, the New York-based songstress boldly declares: "I'm a lot of what a Muslim-Arab woman isn't expected to be. What she looks like. What she does…The current narrative is uninformed. And honestly, it's f*cking boring." The mission to dismantle common misconceptions of women from her culture as oppressed or submissive came to the 26-year-old after months of soul-searching following her 2018 debut EP, Mint. During this transformative period, Abir says she began looking for a more purpose-driven message in her songs that connects the many layers of her identity. The tracks go through a lot more vulnerable topics — a contrast from the carefree summer anthems of Mint. "Inferno," her new single, is her first attempt, and with it comes the new sound of Arab-Pop.
The song is the ideal backdrop for establishing a new genre that bridges the gap combining east and west flavors of catchy melodies which she refers to as "Arab-Pop." To perfect the sound, Abir enlisted producer Mick Schultz, whose impressive resume includes multi-platinum hits like Jeremih's "Birthday Sex," and collaborations with artists like Rihanna. "I went on so many blind dates with producers to fill this space of creating Arab-Pop, but Mick was the only one off the jump who was so devoted to learning about the different percussion and melodies to integrate into this new version of pop." Schultz began researching ways to blend instruments commonly found in Arab music, like the "oud" to sound like a guitar, or incorporating the "tabla" to create a strong, rhythmic beat. The results culminated in their collaboration on Heat.
The accompanying video for "Inferno," shot in Marrakesh pre-quarantine, contains all the textures of a still, hot desert paying homage to Abir's Moroccan heritage. But the striking contrasts between the women, standing tall, some covered from head-to-toe (one even wearing a modern Nike hijab), while she and her girl-pack show extensions of her own western styles was something she says was very intentional. "When people see hijab in America and all over the world, they think these women are oppressed, but no, she's very comfortable," the singer explains. The men, on the other hand, are shown searching, observing. Present, but not dominating, crouched over or sitting, some passing out from the desert heat while the women exude the energy, the movements, the fire. An attempt, she says, to share her perspective on these complicated relationships.
"I wanted to showcase the beauty behind the disaster of the extreme scales of good and bad," she says. "Heat versus cold, fire versus water, and the only thing that came to mind was this idea of combustion, or an inferno." There's a scene in the video where she's standing in a body of water with fire igniting over it, reinterpreting the notion that you don't have to be one or the other. Sometimes, you're a fire and a water bender.
"Some [Muslim] women are happy [dressing] conservative, and some have a different perspective," she explains. "It's important to share both. Right now, I feel like the world sees one version, and there are hundreds. I wanted to add to that conversation in a loud and proud way so when people think of an Arab or Muslim woman, they don't think of it as one-sided, because in reality, she's very complex."
With "Inferno," you can leave your preconceptions of a submissive Arab woman at the door. The song, which begins with, "Sorry I can't promise forever, amour," Abir is making a statement on women setting the rules in a relationship, but in an uplifting, empowering way. They're verses about a woman setting the pace, taking her time to figure out what she wants out of a relationship. While the idea begins from a personal place, Abir knows it's a point of reference for many others to relate to. "We often associate a man as being non-committal and not looking for anything too serious," she explains, "But here, I'm telling you I'm controlling [the tempo]. I'm not being too serious yet. If you understand that playing with fire is going to get you burned, but you still wanna hang around, then we can rock."
In a time when there are discussions about closing borders, when we find unrest and injustice towards the unfamiliar, when we're still trying to wrap our heads around ongoing racism and our roles in turning the tide, perhaps in some little way the rise of a new genre is part of the healing we need. We end the interview asking Abir how she would describe a Moroccan-American, Muslim woman like herself, and how she's hoping to shift the current narrative right here, right now.
"To stand in the same room as an Arab woman, you have to have mutual respect for her. She's strong-minded, she's compassionate, she has integrity, and she doesn't take sh*t," Abir says. "Some people think we stay in relationships where we get beat, or live a life unhappy but no, we're not doing that. We know what we want. Sh*t...an Arab woman is an inferno, I guess."
https://www.nylon.com/entertainment/abir-is-using-arab-pop-to-shatter-muslim-woman-stereotype
------
U.S. Judge: Women Can Get Abortion Pill Without Doctor Visits During The COVID-19 Pandemic
Jul 13, 2020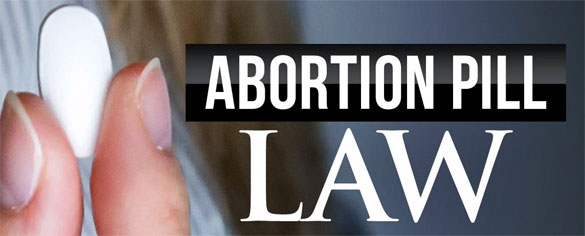 A federal judge agreed Monday to suspend a rule that requires women during the COVID-19 pandemic to visit a hospital, clinic or medical office to obtain an abortion pill.
----
SILVER SPRING, Md. (AP) — A federal judge agreed Monday to suspend a rule that requires women during the COVID-19 pandemic to visit a hospital, clinic or medical office to obtain an abortion pill.
U.S. District Judge Theodore Chuang in Maryland concluded that the "in-person requirements" for patients seeking medication abortion care impose a "substantial obstacle" to abortion patients and are likely unconstitutional under the circumstances of the pandemic.
"Particularly in light of the limited timeframe during which a medication abortion or any abortion must occur, such infringement on the right to an abortion would constitute irreparable harm," the judge wrote in his 80-page decision.
Chuang's ruling will allow healthcare providers to arrange for mifepristone to be mailed or delivered to patients during the public health emergency declared by the secretary of the U.S. Department of Health and Human Services. The U.S. Food and Drug Administration approved mifepristone to be used in combination with a second drug, misoprostol, to end an early pregnancy or manage a miscarriage.
"By causing certain patients to decide between forgoing or substantially delaying abortion care, or risking exposure to COVID-19 for themselves, their children, and family members, the In-Person Requirements present a serious burden to many abortion patients," Chuang wrote.
The states of Indiana, Louisiana, Alabama, Arkansas, Idaho, Kentucky, Mississippi, Missouri, Nebraska and Oklahoma had asked to intervene in the lawsuit. The 10 states argued that the case could impact how they enforce their own state laws that relate to or reference the FDA's regulation of mifepristone.
Chuang rejected their request last month. The judge said the federal case would not eliminate any state's ability to continue to regulate abortion medication "above and beyond" the FDA's requirements.
"Nevertheless, this is a tremendous victory for abortion patients and for science and common sense," said American Civil Liberties Union attorney Julia Kaye.
The American College of Obstetricians and Gynecologists and other groups sued HHS and the FDA in May to challenge the rule. ACLU lawyers represent the groups.
Skye Perryman, chief legal officer for the American College of Obstetricians and Gynecologists, said the FDA's restrictions on mifepristone are not medically necessary and "do not advance the health and safety of patients."
"Today's ruling recognizes the hardship and undue burden that many women have faced obtaining essential health care during the COVID-19 pandemic," Perryman said.
Plaintiffs' attorneys argued that the FDA's in-person requirements infringe on a woman's constitutional rights to an abortion and violates the due process clause of the Fifth Amendment.
Government lawyers have argued that the requirements are necessary to ensure that patients safely use mifepristone. The FDA rule requires patients to pick up the single tablet of mifepristone at a hospital, clinic or medical office and sign a form that includes information about the medication's potential risks.
The judge said suspending the requirements aligns with public health guidance to eliminate unnecessary travel and in-person contact.
Chuang granted the ACLU's request for a preliminary injunction on due process grounds. He noted that federal regulators have waived in-person requirements for many other drugs "for the specific purpose of protecting public health."
The group's lawsuit says mifepristone is the only one of more than 20,000 FDA-regulated drugs that patients must receive in person at a hospital, clinic, or medical office "yet may self-administer, unsupervised, at a location of their choosing."
The judge didn't set any geographic limitations on the injunction. Referring to the nature of the pandemic, he said that "crafting relief that attempts to account for both the unpredictable changes and nuanced regional differences across 50 different states over an extended period of time is simply infeasible."
More than 4 million people in the U.S. have used mifepristone and misoprostol to end an early pregnancy; the two-drug combination accounted for 39% of all U.S. abortions in 2017, the lawsuit says.
The lawsuit says the FDA rule has "particularly severe implications for low-income people and people of color, who comprise a disproportionate share of impacted patients and who are already suffering and dying from COVID-19 at substantially higher rates."
In March, dozens of anti-abortion advocates signed a letter to HHS Secretary Alex Azar in which they called for halting abortion procedures during the pandemic. "Their continued operation depletes sorely needed personal protective equipment and leads to complications that will further overwhelm already overextended emergency rooms," the letter said.
Marjorie Dannenfelser, president of the Susan B. Anthony List anti-abortion group, expressed disappointment in the judge's ruling: "The current FDA regulations are reasonable and necessary to protect women from serious and potentially life-threatening complications of abortion drugs, including intense pain, heavy bleeding, infection, and even death," she said in a statement.
https://fox40.com/news/national-and-world-news/judge-women-can-get-abortion-pill-without-doctor-visits/
------
Women MPAs of Khyber Pakhtunkhwa Assembly Decry Delay In Legislation On Child Marriage, Domestic Violence
Jul 14 2020
PESHAWAR: Protesting the growing incidents of sexual abuse, murder and underage marriage of children, women members of the Khyber Pakhtunkhwa Assembly from the treasury and opposition benches flayed the provincial government for what they called delaying legislation to punish child marriages and domestic violence against women.
During a session chaired by Speaker Mushtaq Ahmad Ghani, they condemned the marriage of a 12-year-old girl with disability with a teenager and her death due to the alleged torture by in-laws in Samer Bagh area of Lower Dir district.
The women MPAs said an 11-year-old girl was married in Torghar district, while a teenage girl was raped in Charsadda district.
Nighat Yasmin Orakzai of the opposition Pakistan Peoples Party and Maliha Ali Asghar Khan and Sumaira Shams of the ruling Pakistan Tehreek-i-Insaf raised the incidents of early marriages, death of minor girl and rape case in the assembly.
Speaker seeks police report on 'killing' of Dir child bride, Torghar early marriage, rape of Charsadda girl
Speaking on a point of order, Ms Orakzai said an underage girl with disability was married to a 13-year-old boy in Samer Bagh area and she was allegedly tortured to death 13 days later.
The lawmaker said the rape of a minor girl by three people had also been reported in Charsadda district.
Speaking on the same point of order, Maliha Asghar said a 11-year-old girl was subjected to forced marriage in Torghar district.
She complained that the provincial assembly hadn't made laws to check early marriages and domestic violence against women.
"KP has yet to legislate about early marriages and domestic violence though Punjab and Sindh have already passed laws to stop domestic violence against women," she said.
Ms Sumera demanded 'aggressive' legislation to check early marriages and violence against women and urged the government to direct the police to produce report about those incidents and ensure punishment of culprits.
Law minister Sultan Mohammad Khan informed the house that a proposed law regarding domestic violence against women had been referred to the house's Select Committee, while the Child Marriage Restraint Bill would be presented before the cabinet in next meeting.
Speaker Ghani directed the police to submit report about three incidents to the assembly's secretariat by 11am on Tuesday.
Also, the lawmakers began debate on an adjournment motion tabled by Ahmad Kundi of the PPP regarding Khyber Pakhtunkhwa's failure to utilise its water share granted under the 1991 Water Accord.
Mr Kundi said the province was unable to utilise its three million cubic feet water annually due to the non-existence of infrastructure and that the two other provinces had been using the unutilised water without payment for the last 30 years.
"KP can utilise its share with the construction of the Chashma Right Bank Canal," he said.
The opposition lawmaker claimed that the vital project had been removed from the federal Public Sector Development Programme.
He said the former military ruler, retired General Pervez Musharraf, had included the Chashma Right Bank Canal from KP, Rani Canal from Sindh, Greater Thall Canal from Punjab and Kachi Canal from Balochistan in the PSDP in 2000.
Mr Kundi said the Chashma Right Canal had been put on the back-burner though the other three canals had been built.
He said over 300,000 acres of land could be irrigated if the Chashma Right Bank Canal was built and that could make the province self-sufficient in food.
The MPA said instead of building such vital scheme, the provincial government went for the Peshawar Bus Rapid Transit project, which had no utility.
He asked the government to claim the rights of KP and convene a meeting of the Council of Common Interest for the purpose.
The house also passed the Khyber Pakhtunkhwa Control of Narcotics Substances (Second Amendment) Act, 2020. The session was adjourned until 3pm on Tuesday.
https://www.dawn.com/news/1568900/women-mpas-decry-delay-in-legislation-on-child-marriage-domestic-violence
-------
Malaysian Women Lawmakers Hope Dy Speaker Azalina Will Put An End To Sexism In Parliament
14 Jul 2020
BY AZRIL ANNUAR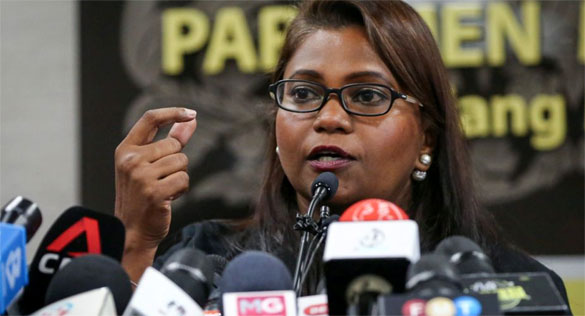 Batu Kawan MP Kasthuriraani Patto speaks during a press conference at Parliament in Kuala Lumpur July 14, 2020. — Picture by Yusof Mat Isa
-----
KUALA LUMPUR, July 14 ― A bipartisan group of female lawmakers expressed hope today that no parliamentarian will make sexist remarks in the Dewan Rakyat at least for the remainder of the current term.
Led by Housing and Local Government Minister ZuraidaKamaruddin, the 12 MPs added that Pengerang MP Datuk Seri Azalina Othman Said's appointment as the Deputy Speaker was also a watershed moment.
"As a female Deputy Speaker, I am sure she will be more sensitive on women's issues and will bridle any MPs who try to make any sexist remarks. We hope that there will be no more sexist remarks in this term and that Azalina will take stern action against this.
"We should try to achieve zero sexist remarks for the remainder of the term. I believe Speaker Datuk AzharAzizan Harun and Deputy Speaker Datuk Rashid Hasnon are also the same; they are gender sensitive," said Zuraida.
Yesterday, Baling MP Datuk Seri Abdul Azeez Abdul Rahim made remarks seen as sexist and racist at Batu Kawan MP KasthuriraaniPatto, using the words "gelap (dark)" and "pakaibedak (use facial powder)".
At the start of today's meeting, Azhar instructed Abdul Azeez to apologise and retract the remarks, which he did after claiming he was commenting on the dimness of the Dewan Rakyat and not the rival MP when he said "gelap".
At a separate press conference, Kasthuriraani who was accompanied by a few other opposition lawmakers also hoped that with Azalina's appointment, she will take a stronger stance against sexist remarks.
Akin to Zuraida and her group, Kasthuriraani was hoping for zero sexist remarks in Parliament.
However, she said they are still considering a bid to refer Abdul Azeez to the Rights and Privileges Committee
"We are considering our next step but many MPs proposed to refer him to the Rights and Privileges Committee. We are looking at gathering evidence and then to refer him to the committee. This will create a precedent.
"Even though an MP is granted immunity in the Dewan Rakyat, we cannot take it for granted or abuse the immunity. Does it mean that any MP can make derogatory remarks only to apologise and retract it later?" asked Kasthuriraani.
Furthermore, she made accusations that this was not the first time Abdul Azeez had uttered such derogatory remarks.
The DAP lawmaker claimed that the government backbencher had called her a pondan in 2015. He had used the same word against Damansara MP Tony Pua.
https://www.malaymail.com/news/malaysia/2020/07/14/women-lawmakers-hope-deputy-speaker-azalina-will-put-an-end-to-sexism-in-pa/1884334
-------
The 'war on women' didn't stop when South Africa locked down over Covid-19
July 14, 2020
The shack sits just down a narrow dirt alleyway, visible from a main road in Khayelitsha, near Cape Town. This is where the suspected killer is alleged to have hidden the body of his girlfriend, packed in between a corrugated iron siding and a concrete wall, just feet away from where he lived.
Gabada was missing for two weeks before her body was found. Every day people would walk past, until finally the smell of decomposing remains became stronger than the stench of the trash piled on top.
"When the people asked what is going on there. He said, 'No, it is rubbish, I am going to throw it away.' That is the kind of person he was — an animal," says Gabada's grandmother, Mavis Gabada.
Mavis, who is now 78, raised Sibongiseni. Even after her granddaughter had moved into her own place in the Cape Flats, Mavis says Sibongiseni would always take the time to check in.
When she came to visit, Sibongiseni would play with the family pets — a ginger cat and an energetic puppy — give advice to her younger sister Brenda, and spend time with her kids. Sometimes she baked cakes to sell in the neighborhood.
"She would come and check in and she would make the children laugh, she was very fond of those kids. If we didn't see her for two days, we would begin to worry," says Mavis.
In mid-May, when the days stretched on and Sibongiseni still didn't come to the house, Brenda tried to trace her sister's steps with Sibongiseni's friends. They posted messages on social media and her friends talked of a new boyfriend.
"She was of the view that there was a lack of evidence," says Bonnie Currie-Gamwo, Deputy Director of Prosecutions in the Western Cape, who is in charge of all murder cases in the region.
"I saw the outcry about the withdrawal on social media. I contacted the prosecutor and told her to send me the docket," she says.
After Currie-Gamwo reviewed the evidence, the suspect was rearrested, placed in custody, and charged with murder. He is yet to submit a plea in the case.
"I don't think they are serious about it. If they could deal with gender-based violence the exact same way they are dealing with Covid-19, we would be fine," says MandisaMonakali, the founder of IlithaLabanthu, an NGO that helps support victims of gender-based violence.
IlithaLabanthu was instrumental in publicizing Sibongiseni's case and putting pressure on the prosecuting authorities. But it is just one of many cases.
In the middle of the coronavirus pandemic, South African President Cyril Ramaphosa gave an address to the nation in June about what he called a war against women in South Africa.
"Violence is being unleashed on the women and children of our country with a brutality that defies any form of comprehension," he said. "The women of our country are being raped — they are being killed by men."
Since the country's strict lockdown was lifted, scores of high-profile cases of gender-based violence against South Africa's women and children have come to light.
She says that — gender aside — there is no "typical" profile to the victims they support with counselling and legal assistance. They have recently helped a two-year-old rape victim, and a victim in her late 70s.
But she says the situation has gotten worse, not better, in those three decades. She says the war on South Africa's women has lasted generations.
"I am worried about my grandchildren — because people now normalize violence against women and femicide, because this thing is happening every day," she says.
A younger generation of activists is now joining the fight. At a protest in front of South Africa's parliament in Cape Town, several hundred women and a handful of men, all dressed in black, shout their demands through a loudhailer.
"Every day when I open my Facebook it is like a funeral page," says Ayesha AbouZeid, one of the protest organizers. "I think that all we have received in years and years and years is empty promises again and again and again and I think we are just tired of it now. Something has to change."
But activists like MandisaMonakali point out that South Africa already has stringent legislation in place — including laws specific to gender-based violence. They say change will only come if concrete action happens at the level of police and prosecutors.
Monakali has come with the Gabada family to where neighbors found Sibongiseni's body. She says despite the police combing the scene weeks ago, the suspect's relatives found her purse inside his shack last week.
Monakali holds out Sibongiseni's ID card. "They don't know what they are doing. They don't do their jobs. They investigators who are supposed to investigate, they don't do their jobs," she says.
The Gabada family saw the suspect in Sibongiseni's case released and then rearrested. Now, they want the alleged murderer punished.
They say it could bring them justice, but won't bring her back — and it won't erase the image of her stuffed into a bag, discarded under a pile of trash.
"We are not safe. If we go out, we don't know who will follow us. Who will do something like that? Maybe what happened to my sister can happen to me. Maybe it can happen to my children. We go outside with fear," says Brenda Gabada, tears streaming into her face mask.
https://abc17news.com/news/national-world/2020/07/14/the-war-on-women-didnt-stop-when-south-africa-locked-down-over-covid-19/
-------
Arab-Brazilian Chamber of Commerce set to launch 'WAHI - Women who Inspire'
13 JULY, 2020
The Arab-Brazilian Chamber of Commerce (ABCC) announced that it has established 'WAHI – Women who Inspire,' a committee within its organization dedicated to increasing partnership and cooperation among Arab and Brazilian businesswomen. The new committee, which will be launched through a webinar on Wednesday (July 15, 2020), will feature talks and panel discussions by some of the most notable Arab and Brazilian businesswomen in key industries.
During the online conference, ABCC will also announce a series of activities that will be implemented under the WAHI Committee, a multi-pillared platform designed to strengthen the relations among Arab and Brazilian women and how they contribute to economic development, cultural enhancement, corporate social responsibility, and social marketing, to name a few. The committee seeks to provide opportunities for these women to forge new connections, share their experiences in their areas of expertise, explore business opportunities, and inspire each other to become more innovative and promote entrepreneurship.
Rubens Hannun, President, Arab Brazilian Chamber of Commerce, said: "We are proud to announce the creation of a committee designed to raise the level of connection among women in Brazil and the Arab countries. "WAHI – Women who Inspire" is meant to provide women from all sectors who, despite differences in culture, share the same stories of inspiration and success from challenges whether it is in social roles as mothers and housewives or the economic realm as business leaders, entrepreneurs, and executives."
Hannun added: "We are confident that the committee's initiatives and activities will bring our countries closer and strengthen the relations between our people. At the initial stage, the women's committee will focus on ABCC member companies both from Brazil and the Arab countries, and at a later phase we are keen to open the platform to women who share the same goals, especially to young business leaders who are paving the way in their respective fields."
Considering the rising number of women leaders from these nations, the "WAHI Committee – Women who Inspire" will focus on three pillars: support to the economic development of women; cultural exchange and promotion; and social responsibility and marketing. In the first phase, the committee will raise awareness on the lifestyles, habits, and challenges of Arab and Brazilian women.
The new committee has already kicked off with a recent initiative to provide support in fighting the novel coronavirus pandemic. The initiative saw the committee organizing a fundraising campaign and distributing healthcare products in various hospitals.
Disclaimer: The contents of this press release was provided from an external third party provider. This website is not responsible for, and does not control, such external content. This content is provided on an "as is" and "as available" basis and has not been edited in any way. Neither this website nor our affiliates guarantee the accuracy of or endorse the views or opinions expressed in this press release.
The press release is provided for informational purposes only. The content does not provide tax, legal or investment advice or opinion regarding the suitability, value or profitability of any particular security, portfolio or investment strategy. Neither this website nor our affiliates shall be liable for any errors or inaccuracies in the content, or for any actions taken by you in reliance thereon. You expressly agree that your use of the information within this article is at your sole risk.
To the fullest extent permitted by applicable law, this website, its parent company, its subsidiaries, its affiliates and the respective shareholders, directors, officers, employees, agents, advertisers, content providers and licensors will not be liable (jointly or severally) to you for any direct, indirect, consequential, special, incidental, punitive or exemplary damages, including without limitation, lost profits, lost savings and lost revenues, whether in negligence, tort, contract or any other theory of liability, even if the parties have been advised of the possibility or could have foreseen any such damages.
https://www.zawya.com/mena/en/press-releases/story/ArabBrazilian_Chamber_of_Commerce_set_to_launch_WAHI__Women_who_Inspire-ZAWYA20200713101126/
-------
African women are leading biotechnology's advance across the continent
BY JOHN AGABA
JULY 13, 2020
Women researchers are strongly influencing the adoption of agricultural biotechnology in Africa.
"As African women, we are the ones who suffer most whenever drought and food shortages strike, despite the availability of technological solutions to these problems," said Dr.FelisterMakini, deputy director general in charge of crops at the Kenya Agricultural and Livestock Research Organization (KALRO).
"We are looking for new solutions and how we can use technology to give our people and ourselves better and improved crop varieties to fight hunger and improve the quality of living," said Dr.Priver Namanya Bwesigye, who leads Uganda's banana research program at the National Agricultural Research Laboratories (NARL) at Kawanda. "We also need varieties that can give us more in terms of nutrients."
Throughout Africa, women are in labs developing crops that produce high yields and can tolerate or resist disease, as well as healthier, more productive livestock. They are also found in meeting rooms and gardens informing the public about their innovations and how these improved crops can aid the fight against hunger across both the continent and the globe.
"It is time to tell the public about the positive side of biotechnology," said Professor Caroline Thoruwa, chairperson for African Women in Science and Engineering.
In Uganda, where bananas are an important staple food and cash crop, Bwesigye is in charge of developing varieties that offer farmers better options.
She and her team are using the tools of genetic engineering to develop banana varieties that are resistant to nematodes, bacterial wilt and weevils. The most advanced of these genetically modified varieties is a banana biofortified to provide vitamin A. It should reach farmers immediately after Uganda implements a legal biosafety framework guiding the use of GMOs.
"We have trialled the technology in multiple locations — all the four banana planting regions of Uganda — and it will be ready by the time we have a legal framework," Bwesigye said. "We have to do this [multi-location field trials] before we can give it to the farmers. We want to be sure that different farmers across the country can plant the variety and have similar results. In this case, all the banana yields should be rich in pro-vitamin A."
But Bwesigye's program does much more than develop improved bananas using biotechnology. It also employs conventional plant breeding tools to produce heartier varieties, including a banana resistant to black sigatoka disease. When she's not in the lab, Bwesigye conducts extensive outreach to farmers and young people to explain agricultural biotechnology and why Uganda, Africa and the world need this tool.
Dr. Barbara MugwanyaZawedde is also championing the adoption of agricultural biotechnology in Africa. She's currently director for research at Uganda's Zonal Agricultural Research and Development Institute in Mukono, which is under the jurisdiction of the National Agricultural Research Organization (NARO).
But before that, she was the coordinator for the Uganda Biosciences Information Center (UBIC) — NARO's knowledge and information-sharing hub. It champions an appreciation of modern biosciences research for agricultural development and works to educate stakeholders on the importance of biosafety.
In that role, Zawedde engaged religious leaders, local communities, farmers, extension agents, legislators, public ministries, "women in agriculture," students and others to raise awareness about new technologies and their safety.
After earning a doctorate in plant breeding, genetics and biotechnology from Michigan State University, Zawedde returned home to Uganda in 2013 to discover "we had gaps in communication as well as in regulation," she recalled.
So, she worked with Dr.YonaBaguma, now deputy director general for NARO, to set up the biosciences information center. Their goal was to "bring to the fore these new technologies that people were not talking about" and to emphasise the importance of regulating them.
"The regulatory framework [we have been calling for] is not just for the introduction of these new technologies, but for their regulation as well," Zawedde said.
Parliament passed the National Biotechnology and Biosafety Bill on two occasions, though President Yoweri Museveni has yet to sign it into law. Additionally, more Ugandans now appreciate the science and what it can do to improve their lives. Biotechnology and biosafety elements also have been included in the country's school curriculums.
"It will be easier to adopt these technologies [once we have a regulatory framework] because more people today understand these technologies and how they can help improve agriculture and food security in Uganda and the region," Zawedde said
Similarly, the Women in Biosciences Forum is working in Kenya to make everyone sure knows about the value of biotechnology and the role that women are playing to advance the science.
"We need to raise the status of women in biotechnology and also encourage women to network in order to achieve the noble goal of sharing their science," Thoruwa said. "Women must be involved for Africa to advance in agri-biotech."
Several African countries have approved the cultivation of GMO crops and others have conducted trials for GM crop varieties. But in many of the countries that are conducting research, GM seeds have yet to reach farmers and consumers because the political leadership is swayed by opposition and remains "afraid" to adopt biotechnology, the women scientists observed.
"The detractors will always be there," Bwesigye said. "But we need to understand that these technologies, pretty much like everything else in life, have advantages and disadvantages. We just have to harness the advantages."
One such advantage is being able to develop a staple food crop, like a banana, that delivers vitamin A, a crucial nutrient that is lacking in almost 30 percent of Uganda children below the age of 5. "It is a no brainer," Bwesigye said about the value of adopting the pro-vitamin A banana.
Despite the political obstacles, Bwesigye and her colleagues remain undiscouraged. Zawedde said that women will continue to conduct communication and outreach, calling on governments to give farmers a chance to plant some of these improved crops.
"We only need awareness, awareness and more awareness," Bwesigye said. "Then mind-sets will change and adoption of these technologies will be easier."
https://allianceforscience.cornell.edu/blog/2020/07/african-women-are-leading-biotechnologys-advance-across-the-continent/
-------
Romance scam: US woman freed after year as hostage in Nigeria
13 July 2020
An American woman lured to Nigeria by a promise of marriage from a man she met on Facebook has been rescued after being held captive for more than a year, police say.
The 46-year-old was held against her will in a hotel room in Lagos.
The suspect ChukwuebukaObiaku, 34, "took control" of the unnamed victim's credit and debit cards, and retirement benefits, according to the police.
Over a period of 15 months she was forced to part with $48,000 (£38,000).
The victim is a retired civil servant from Washington DC.
Police say Mr Obiaku "also used the victim as a front to defraud her associates and other foreign personalities and companies".
The victim arrived from the US in February 2019, according to Nigerian police. In May 2019 she married Mr Obiaku.
In total, the woman is said to have been held against her will for 16 months in a hotel room.
The police say they received a tip off from a "civic minded" individual and they used the information to rescue her.
Mr Obiaku has been arrested and police say he faces a charge of cybercrime.
Known as "Yahoo boys", Nigerian online fraudsters have become notorious for defrauding people of millions of dollars.
Last month, police say they rescued a Filipina woman who came to Nigeria in search of romance after meeting a man on Facebook. She was held for six months against her will.
The recent high-profile arrests of two Nigerian social media stars accused of large-scale fraud ended with them being taken to the US where they now await trial.
Nigerian police have also announced three further arrests of alleged cyber fraud criminals with links to Italy and Turkey, suspected of the fraudulent supply of Covid-19 face masks.
Police allege they made more than $400,000 from online fraud.
An individual may contact you via e-mail, explaining he needs help to transfer money
Will tell you that political turmoil or a natural disaster makes it difficult for him to make the transfer
Will ask you to give him your financial details so that he can transfer the money into your account
This allows him to access and steal from your account
Be careful what you post on social media and dating sites as scammers use the details to better understand you and target you
https://www.bbc.com/news/world-africa-53390397
--------
URL: https://www.newageislam.com/islam-women-feminism/esra-bilgic-aka-halime-sultan/d/122368
New Age Islam, Islam Online, Islamic Website, African Muslim News, Arab World News, South Asia News, Indian Muslim News, World Muslim News, Women in Islam, Islamic Feminism, Arab Women, Women In Arab, Islamophobia in America, Muslim Women in West, Islam Women and Feminism