New Age Islam News Bureau
20 January 2021
• Painting Inspires Afghan Girls To Break Through Confinements Of Tradition
• France: Proposal To Ban Islamic Veil Sparks Criticism
• Saudi Arabia Hosts "Women In Industry" Conference
• Women Add $5 Trillion To Global Wealth And Control 32% Of Wealth: Experts
• Yemeni Activists Slam New Government For Lack Of Female Representation
• Somali PM Reserves 30% Of Parliament Seats For Women In Upcoming Poll
Compiled by New Age Islam News Bureau
URL: https://www.newageislam.com/islam-women-feminism/eshe-independent-woman-magazine-organised/d/124109
--------
eShe, Independent Woman Magazine, Organised 'Indo-Pak Peace Summit Led By Women', Focussing On Shared Heritage, Art and Culture
Jan 17, 2021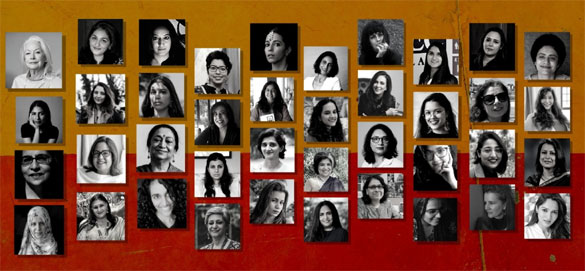 A two-day women-led Indo-Pak Peace Summit kicks off this weekend to celebrate heritage, brainstorm solutions for peace in South Asia
-----
BATHINDA: Taking ahead the peace process between India and Pakistan by the activists of many shades, independent woman magazine eShe organised 'Indo-Pak Peace Summit led by women'. Over 40 accomplished women from various shades of life came together in virtual summit to share their experiences and brainstorm for practicable solutions to build lasting peace in South Asia.
In a different kind of initiative involving only women, talks were held by peace activists from South Asia apart from Nobel Peace Prize nominee Scilla Elworthy as filmmakers, global youth activists, writers, designers joined hands.
Aekta Kapoor, founder and editor of eShe, said "It is time to take practical steps to foster friendships, collaborations and harmony in neighbouring countries. Through this summit we not want to indulge only in hollow promises but it is about brilliant minds who are actually creating value in their own fields coming together to build peace and women are usually inclined to think in terms of cooperation, sustainability and building relationships".
The Summit focussed on celebrating the shared heritage of India and Pakistan, channelling the energy of women and youth, and giving a platform to new approaches in literature, art, culture, design, cinema and youth activism.
"Despite many things in common there are different priorities on both sides of the fence as Jinnah has been valourised on one side of the border and villianised on the other side", said panellist Sheela Reddy.
"Everyone tends to stereotype Punjab as a place that has only agriculture and no culture and no intellectual capital. That's not true as Lahore was once the cultural capital of India. Manjha house, a public space for literature and culture, was an effort to put Punjab centre stage again", said Preeti Gill.
"As a couple we have rejected all interviews and documentary requests (to cover the story of our interfaith marriage). We decided that we won't do numaish but the last 3 months, especially after the new laws in UP criminalizing interfaith love, now it's out of necessity. We will stand on the pedestal if required and tell the story", said filmmaker Natasha Badhwar.
"At times, (while researching for my book), it would have been easier to just cross to the other side of the Indus but owing to the presence of Line of Control, I had to go down to Lahore, cross at Wagah, and go up again to the same spot across the river", said Alice Albania, author of the book Empires of the Indus.
"I feel such a sense of loss and wistfulness at the idea when people travel across countries in their region without passports in South East Asia. Hope it won't remain a dream but happens in reality (for South Asia)", said writer Moni Mohsin.
"The export ban affected us as we could only sell from the existing stock at the store. However, our partners played a very important role in establishing the sentiment of wearing Indian contour", said Sanya Dhir.
Activist Devika Mittal shed light on the earnest efforts through peace calendars being made by Aaghaz-e-Dosti involving students from both sides.
Art educator Tooba Tahir apprised about self healing project, political cartoonist Saadia Gardezi, who is associated with project Daastan that reconnects partition survivors to their ancestral homes using technology apprised about the project.
"Shaadi songs are the same. No matter how much rage or your politics, even at the zenith of conflicts, you will rarely find a Pakistani wedding without Indian songs", said Natasha Noorani adding my dream is to make an India tour with Pakistani musicians".
Royal families are preservers of the subcontinent culture. In Pakistan, the royal culture is pushed under the carpet" said Anshu Khanna
"Pakistan artisans are at a level. They are internationally acclaimed. Exposure of each other's art is required on both sides of the border", said Vaishnavi.
"When we were on our way to Hingalaj, Balochistan, we were stopped at the checkpoint by officers. They asked us what we are going, we said we are going to "Naani ka mandir" (grandmother's temple) which is what it is known as. They said - "Naani ko humara salaam dena", said writer Reema Abbasi., telling about her book historic temples in Pakistan.
"We are not going to manage a conflict free society - that's a Utopian dream. But are we equipped with conflict resolution, can we talk through it", said Avni Sethi.
"Women who build peace today are rebellious women", Meenakshi Gopinath.
"I first recited this sanskrit verse (on Goddess Saraswati) in a jam-packed hall in Islamabad, which is a beautiful city, media reports didn't do justice to the envisage we received there! There was so much love and acceptance from Pakistan, the people opened up to us and welcomed us with open arms", said Suparna Chadda
"In 2007, I got a fellowship, from the Asian fellowship foundation - I had the choice to of going anywhere in Asia to study, and I chose to go to India obviously! I wanted to research the revival of crafts after colonialisation. I knew the revival had been taking place in Pakistan and I was curious to know about India", spoke Amna Sharif.
My art work of 2 degrees talks about rivers, we have shared rivers, water being the same, trans-boundary agreements can be ways of having conversations", Reena Saini Kallat, spanning drawing artist, sculptor who showcased art works including gate dividing India-Pakistan.
"What strikes me is that we have art, culture, shared history, heritage, common problems, but you are letting politics supersede everything. Politics though divides yet people project moon as saying goes 'Chand mein bhi daag hai, but chand toh ye nahi kehta ki main aaj raat ko nahi niklunga' said Mehr F Hussain
"The border is only and only and totally political", Ritu Khandelwal.
"Through the immigration process, I was exposed to lives of people who are not privileged - people whose families are across the border. For me partition happened when I landed in India (after marriage)", told Masooma Syed.
https://timesofindia.indiatimes.com/india/accomplished-women-bare-out-their-minds-for-peace-between-india-pakistan-focussing-on-shared-heritage-art-culture/articleshow/80313494.cms
--------
Painting Inspires Afghan Girls To Break Through Confinements Of Tradition
2021-01-19
by Abdul Haleem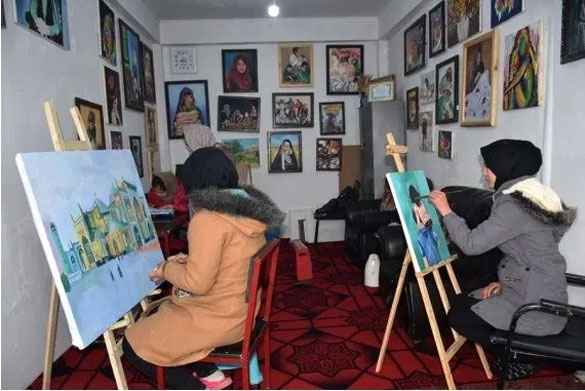 Afghan girls learn painting at an "Art House for Women" managed by artist Hafiza Mohammadi in Mazar-i-Sharif, capital of northern Balkh province, Afghanistan, Dec. 18, 2020. (Photo by Kawa Basharat/Xinhua/ians)
-----
MAZAR-E-SHARIF, Afghanistan, Jan. 19 (Xinhua) -- "My prime objective is to portray the suffering of my fellow Afghans in paintings and exhibit them to highlight the pains of the war-weary people," said Hafiza Mohammadi.
Dressed in a style mixing Western and traditional features, drawing picture of a Western-styled girl in her rented office, Mohammadi said that girls in Afghanistan should have the right to choose how to dress and live for themselves.
In the conservative Afghan society where people especially in the countryside deeply believe in old-fashioned traditions, women and girls are not allowed to wear Western-style cloths, nor to go to school.
Women and girls living in Afghanistan's rural areas even cannot go outside home unless they are accompanied by a close male relative.
Describing Afghanistan as a traditionalist and militancy-plagued society, fine artist Mohammadi believes that her paintings and painting exhibitions would help gradually change people's mindset towards modernism.
"Through painting and arranging exhibitions, I like to display the problems and pains of people particularly women and girls have faced in society," Mohammadi told Xinhua recently.
Young people, especially girls in the relatively peaceful Mazar-e-Sharif city, welcome fine art and have approached her to learn, she said.
"Many people, especially the women and girls are interested in learning painting, but unfortunately many parents do not allow their girls to come out of their homes to learn the art due to cultural barriers and security incidents," the ambitious female Afghan painter said.
To win parents' support and assure them of their girls' safety in painting classes, Mohammadi has rented a house in the city's safe area and turned it into an "Art House for Women" for her teaching.
"A number of talented girls have been learning the art of painting in the 'Art House for Women' and some have become skilled painters to display the miseries of people especially of women with their paintings," said Mohammadi happily.
The war-weary Afghans have suffered a lot over the past more than four decades of war, Mohammadi said, suggesting that a painter is in a good position to portray the outcomes of war, which is nothing more than killing, crippling of the people and destruction of the country.
"It is my dream to highlight the problems of women and those who have been disabled due to the protracted war. Today I'm able to fulfill this dream," Habiba Yusufi, a third-year student of fine art who often attends Mohammadi's classes at the Art House for Women, told Xinhua.
Yusufi said that working as a painter, especially for women, is difficult in Afghanistan's conservative society.
Nevertheless, she believes that the "struggle to overcome challenges empowers you" to achieve your noble goals.
"Although our families didn't allow us to come out of house and opposed the girls to study or work outside home, we resisted and continued to learn painting," said another junior painter Sajida Hekmatzada.
"Today I and some of my classmates are professional painters and our paintings have been displayed in some exhibitions," she said happily. Enditem
http://www.xinhuanet.com/english/2021-01/19/c_139681065.htm
--------
France: Proposal To Ban Islamic Veil Sparks Criticism
Shweta Desai
20.01.2021
PARIS
An ongoing debate on the controversial draft of a "separatism" bill has sparked criticism, resulted in a diversion, dividing the house on the question of veil, whether to include amendments to ban veiled students at the university and accompanying parents from displaying any religious symbols at school premises.
Several parliamentarians on Tuesday have deemed the move to be counterproductive.
Sacha Houlie, a member of President Emmanuel Macron's centrist liberal La Republique En Marche party, warned that prohibiting university students and accompanying parents from public services and school trips, and preventing their participation in cultural and sporting activities would "be totally counterproductive in relation to the very objective of this text which fought against the separatists" and "would refer these people to their identity" so "would favor the community withdrawal."
Boris Vallaud, a member of the Socialist Party also reacted: "Students are users of the public service, this secularism does not apply to them."
"To ban the veil at the university would be to say that all women who wear the veil pose a problem, which would mean we consider that it is Islam which poses a problem," said Pierre Yves Bournazel, an Act Together party member representing Paris.
A 2004 law prohibits the wearing or open display of religious symbols in all French schools, but it does not apply to universities. There is no law banning mothers from wearing the hijab on school trips, but there have been several instances when veiled women were verbally abused or asked to not accompany their wards.
The discussion was ignited by right wing and conservative Republican party member Eric Ciotti's demand on Tuesday to ban the Islamic veil at the university. "We cannot tolerate that the university, temple of the knowledge of reason and science, can tolerate a garment of enslavement of the woman within it,'' he told the hearing by the special commission examining the text of the bill "confirming respect for the principles of the Republic" at the National Assembly.
The government says the bill presented to the Council of Ministers on Dec. 9 aims to fight "separatism" and radicalization by a series of provisions such as banning polygamy or forced marriages, virginity certificates, homeschooling, controlling foreign funding, making places of worship more transparent, proscribing political meetings in a religious building, fighting against online hate speech and illegal content, among others.
Around 1,700 amendments were presented for discussion ahead of the examination of the bill which began on Monday, majority of which were labelled as "inadmissible". This included an amendment by Aurore Berge and Jean-Baptiste Moreau, members of Macron's party, to ban the wearing of the veil for "little girls" and mothers accompanying school trips, which was eventually rejected.
In a comment to the French daily Le Express, Berge said she stood by her suggestion, adding: "Supporting the improvement of access to abortion and fighting against the veiling of young girls are part of the same fight for the emancipation of women. You cannot be a variable-geometry feminist, or only be one when the battle is on."
Earlier, Macron had warned over such amendments that there was a probable "danger to divert the debate on this question which has no place today" and it had "no relation with the bill".
"And this can lead to a stigmatization of Muslims, while we have repeatedly said it was not a text against the Muslim religion," the daily Le Parisien quoted him as saying at a seminar last week.
https://www.aa.com.tr/en/europe/france-proposal-to-ban-islamic-veil-sparks-criticism/2116269
--------
Saudi Arabia Hosts "Women In Industry" Conference
20.01.2021
As Saudi Arabia continues working on empowering women across industries, it has been witnessing the fruition of its efforts across the board, from the increase in women's contribution to the Kingdom's economy, to their increased presence in various sectors, to more women taking on leadership roles. Last week, as part of its ongoing efforts, the Kingdom hosted a conference entitled "Women in Industry," designed to provide job and networking opportunities for women, as well as support their employment in various industrial sectors.
The event was launched by the Saudi Authority for Industrial Cities and Technology Zones (MODON) under the patronage of Minister of Industry and Mineral Resources Bandar Al-Khorayef, and was hosted in the capital city, Riyadh. In the agenda were a number of key matters such as the development of suitable work environments for women, the achievement of overall sustainable economic development, and the empowerment of women by public and private organizations, amongst other objectives.
Over the past few years, Saudi Arabia has expedited its efforts towards supporting women's inclusion and active participation in the labor market, through various reforms, initiatives, programs, and more. For instance, on the sidelines of the 2020 edition of Forum for Empowering Women in the Communications and Information Technology Sector, a milestone program was launched entitled the Women Empowerment Program. This initiative focuses on highlighting the contributions and accomplishments of Saudi women in the field of communications and information technology, and aims to nurture a system that attracts and supports the right skills for the industry, build a competitive and sustainable sector, and create more work opportunities for women in the field.
Beyond industry, women's participation in society has been a primary focus as well in Saudi Arabia, such as in the field of sports where the percentage of women participating has jumped to a staggering 70 percent in just a few years. Indeed, last year's G20 summit, under Saudi Arabia's presidency, coincided with the launch of the first Women's Football League (WFL) in the Kingdom, marking a key achievement for the country and its women.
https://www.abouther.com/node/35326/people/events/saudi-arabia-hosts-%E2%80%9Cwomen-industry%E2%80%9D-conference
--------
Women Add $5 Trillion To Global Wealth And Control 32% Of Wealth: Experts
January 20, 2021
DUBAI, UAE — Legal and social barriers that exist for women's access to jobs is costing the MENA region $575 billion. According to a survey done by global accounting firm PriceWaterhouseCoopers (PwC), only 56 percent of women felt they were treated equally to men when it came to promotions (55 percent in KSA and Egypt and 66 percent in UAE).
Women entrepreneurs add $5 trillion to global wealth pool every year and currently control 32 percent of the global wealth, according to a latest research by Boston Consulting Group that reflects a growing influence of the women entrepreneurs in the corporate world.
"With a third of the world's wealth under their control, women have become a sizable economic force. They are increasing their wealth faster than before — adding $5 trillion to the wealth pool globally every year — and outpacing the growth of the wealth market overall," Boston Consulting Group (BCG) says.
Women influence 85 percent purchase decisions in the retail sector. However, only 12.5 percent of apparel and retail companies in the Fortune 1000 list are led by women, which needs to change, experts at the Images RetailME's Virtual Roundtable 7.0, titled 'She Means Business', said.
Justina Eitzinger, chief operating officer of Images RetailME, said, "Women constitute 70 percent of the UAE's university graduates and 44 percent of the total workforce. The socio-economic conditions create the perfect environment for women entrepreneurship and we have seen how a number of women have come up in the business and corporate world.
"Women are now actively participating in the start-up movement to change and disrupt various industries by developing innovative start-ups — some of which we are highlighting today.
"Women are key to the UAE's economic future. With a surge in women entrepreneur support groups and increased funding for new businesses, there have never been better entrepreneurial opportunities for women to start businesses in the UAE than now."
The UAE business environment is committed to driving equality in the business world. It recognizes greater gender equality than any other country in the MENA region.
The UAE government is driving initiatives to address gender equality in the workforce directly. It pledged $50 million to the Women Entrepreneurs Finance Initiative fund in 2017, leading to the closure of 64 percent of the overall gender gap in the UAE workforce.
Gender equality is one of the UAE government's declared sustainable development goals so that it becomes one of the top 25 countries in the world for gender equality by 2021.
Moderated by Shruthi Nair, executive editor of Retail ME, the Virtual Roundtable was addressed by Kalika Tripathi, head of marketing – MENA Region, Visa, Sara Al Madani, chief executive officer and co-founder of Halahi.com, Halima Jumani, director of Kibsons and Donna Benton, founder and chief executive officer of Caha Capo.
Despite the increasing power of their purse strings, however, women remain largely underserved by the wealth management community. Too many banks and firms rely on broad assumptions about what women are looking for, resulting in products, services, and messaging that can feel superficial at best and condescending at worst, it said.
"Women are amassing greater wealth than before, and that share is likely to grow significantly in the years ahead. From 2016 to 2019, women accumulated wealth at a compound annual growth rate (CAGR) of 6.1 percent. Over the next four years, that rate will accelerate to 7.2 percent. BCG's analysis finds that women are adding $5 trillion to the wealth pool globally every year — faster than in years past. With future growth expected to accelerate, that tally will get even larger," it said.
Apart from addressing the pressing issue of gender gap in business, the health of the region's retail sector and predictions for 2021 was also a key theme during the webinar. According to the panelists, this crisis added a significant number of 'first-timers' for various categories including shopping, entertainment, and services across the Central and Eastern Europe, Middle East and Africa markets.
Tripathi said, "As much as 90 percent of companies surveyed by Visa in the UAE expect that business will return to normalcy in 2021. Almost 60 percent of businesses in the UAE are adapting to a changing environment, our research shows.
"And that goes back to the fact that it's not a one-time change. It's a step change and it's going to take time to really get to where the customer wants us to, and the moment we get there, they will want something more, so it's a continuous investment.
"41 percent of businesses surveyed in the UAE said they plan to increase the investment in 2021, even though most of them don't expect to get it back to pre-COVID levels. So it's going to be a year of investment in new digital payment technologies. That's one of the big trends."
Al Madani said, "Whatever I do in business, I try to solve a problem in society. Getting investment wasn't a problem — as there are investors who have been investing in businesses that solve a social or economic problem.
I had to shut down some of my businesses, transform some others and I created new businesses to diversify my portfolio. You need to be open to change businesses to fit to the new realities. You can't be rigid and stay the same way."
Speaking of gender barriers, she said, "We all know that it's a man's world. However, it is a mindset — girls have been raised with the notion that it's a man's world and that needs to change first," she said.
According to Alpen Capital, the GCC retail sector is projected to grow at a CAGR of 4.0 percent from $253.2 billion (Dh929.24 billion) in 2018 to $308 billion (Dh1.13 trillion) in 2023. Retail sales have been under pressure in the recent years but are estimated to recover and grow through 2023.
Jumani said, "We have suddenly found a huge amount of empathy within the team, during the pandemic. Most team members started to work extra hours — during the pandemic. Our structure, empathy and agility have been tested during the pandemic and we handled it well".
In 2021 the bigger brick-and-mortar retailers made many changes to their business model having understood the potential of e-commerce, organic supplies, loyalty and innovation. Did that put added pressure of increased competition for Kibsons?
"We don't see any of the brick-and-mortar supermarket retailers as our competition because we are very different. We have always been about healthy eating, great quality, and affordable value. We are helping our customers find things that you wouldn't find in a normal supermarket to live a healthy life", she said.
Benton, the co-founder and CEO of The Benton Group that recently sold The Entertainer app, has launched her swimwear brand Caha Capo. "With The Entertainer we had over 300 staff, 15 countries and we grew over 18 years into this multi-million dollar company.
"Caha Capo is a startup and we are facing the initial setting up challenges. However, what we need to understand is that there are still people with money. People pay for what they get, when they come to us and buy something."
"I think 2022 is the year for results and 2021 is the year for investments and survival and the vision and the expansion and that's what we need to focus on," she concluded. — SG
https://saudigazette.com.sa/article/602688/BUSINESS/Women-add-$5-trillion-to-global-wealth-and-control-32-of-wealth-Experts
--------
Yemeni Activists Slam New Government For Lack Of Female Representation
28 DEC 2020
The war-torn country announced a power-sharing government this weekend, but it excludes women for the first time in 20 years.
Yemeni women's activists denounced the new power-sharing government in Yemen over its omittance of women for the first time in two decades.
In December, a feminist movement launched a campaign on social media titled, "No Women, No Government", which described this action as an "unfair discrimination against women's rights to political participation".

"While we appreciate the formation of the government as a fruit of consensus among Yemeni political powers in the Riyadh agreement, we denounce women's exclusion from the government," it added in the statement signed by over 70 youth and women's networks.
The government was sworn in on Saturday with a 24-member cabinet representing major political blocs in Yemen, headed by Prime Minister Maeen Abdulmalik.
The formation of the government is part of an effort to end a power struggle between the Saudi-backed government of Abdrabbu Mansur Hadi, and the UAE-backed separatist Southern Transitional Council (STC), both officially in coalition against the Iran-backed Houthis. The rivalry between the two Gulf powers has complicated international efforts to end the Yemen war, which has raged since 2014.
Further challenges
The women's groups stated that the lack of women in the new cabinet violated the National Dialogue Conference, which convened from 2013 to 2014, and the results of which were to be the basis of the constitution. The signed document put a 30 percent quota for women in government.
Anadolu Agency also reported objections to the cabinet from within, including 12 lawmakers from the Tihama region who, in a written letter, opposed the formation of a new government without a minister from their region, which includes the provinces of Hudaida, Rayma, Mahwit and Hajjah. Hudaida, the main port city in Yemen, is the entryway for over 70 percent of food, humanitarian supplies, and other goods entering the country. It was the site of a major struggle between the Saudi-led coalition and Iran-backed Houthis in 2018, deeping the humanitarian crisis in the country.
The new Minister of Local Administration, Hussain Abdul Rahman, also reportedly refused to travel to Riyadh to take his oath before President Mansur Hadi, in accordance with the Riyadh Agreement, which states that the ministers were to be sworn in before the president in the southern Yemeni city of Aden.
Reviving the Riyadh Agreement
The government was formed under the Saudi-initiated Riyadh Agreement, which was signed between the internationally-recognised government and the STC in November 2019, after weeks of bloody clashes between the two sides.
The aims of the deal were twofold: to put an end to the military confrontations and help overcome Saudi-UAE differences in Yemen and strengthen strategic relations to "re-focus efforts on bringing an end to the conflict with the Iran-backed Houthis".
According to the deal, a new government would be formed in Aden, and all military forces would be integrated into the unified defence and interior ministries. The agreement also stated a desire to "revive the role of all state institutions, create job opportunities for Yemenis, ensure payment of overdue salaries, increase the capabilities of state institutions...[ensure that] all state revenues (including oil exports, customs, etc.)...be deposited in the central bank of Aden" and other other civil, social, and economic stipulations.
Experts thought the agreement's vague language would make its implementation challenging.
And it was not implemented.
In April 2020, the STC declared self rule, and a series of negotiations in the following months led to a reactivation of the deal in July. On December 10, the coalition announced that the parties that signed the Riyadh Agreement had agreed to form a new government.
Despite the formation of the government many political, economic, social and civic hurdles remain: hundreds took to the street in the southern city of Taiz on December 19 in a "revolution of the hungry" to protest a deteriorating currency and economy; the Hadi government, whom they accused of living in Saudi hotels distant from the struggles of ordinary citizens; the Saudi-led coalition; and the Houthis.
Both the Saudi-led coalition and the Iran-backed Houthis have been accused of war crimes, as civilians continue to bear the brunt of the devastating war. Yemen, one of the poorest countries in the world, has been embroiled in conflict since 2014 and has seen an estimated 233,000 deaths, including over 130,000 from indirect causes like starvation, lack of health services and infrastructure.
https://www.trtworld.com/magazine/yemeni-activists-slam-new-government-for-lack-of-female-representation-42750
--------
Somali PM Reserves 30% Of Parliament Seats For Women In Upcoming Poll
JANUARY 11, 2021
GAROWE, Somalia, Jan 11 (Thomson Reuters Foundation) - N early a third of Somalia's parliamentary seats will be reserved for female lawmakers in an election next month, the prime minister said, a measure long demanded by women's rights campaigners in the Horn of Africa nation.
While welcoming Saturday's announcement by Prime Minister Mohamed Hussein Roble, some women's groups cautioned that implementing the measure in time for the Feb. 8 poll would be challenging and depended on the commitment of clan leaders.
Somalia has been riven by civil war since 1991, and due to the fragile security situation, elections consist of clan delegates choosing members of parliament as opposed to a one-person, one-vote electoral system.
Roble made the quota pledge after talks with female lawmakers - who currently hold 24% of the 329 seats in Somalia's lower and upper houses of parliament, according to the Inter-Parliamentary Union (IPU).
"Somalia Prime Minster his Excellency @MohamedHRoble assured that the Federal Government of #Somalia is committed to ensuring a 30% quota for women in both houses of Somali parliament for the upcoming elections ...," government spokesman Mohamed Ibrahim Moalimuu said on Twitter on Sunday.
Ensuring that clan leaders nominate enough women representatives will be vital to securing the full 30% quota, women's activists said.
"The seats are shared among clans ... we want assurances that we will reach our target of 30% women in the next parliament," said Suad Salah, co-founder of LeadNow, a grassroots movement aimed at increasing women's political voice.
Somalia has high rates of child marriage and gender violence, including rape and female genital mutilation (FGM). The United Nations says 45% of women are married before 18, while 98% have undergone FGM.
Women's rights groups say a stronger voice at the top would have a trickle-down effect, helping women at the grassroots level fight abuse, discrimination and inequality.
Ruqiya Muhiyadin, 38, who is aspiring to run as a candidate in the capital, Mogadishu, also expressed concern over whether the clan leaders would choose women candidates.
"Initially we doubted we would get our share in the next parliament. I appeal for our cultural leaders to consider the PM's latest pledge for women." (Reporting by Mohammed Omer; Writing by Nita Bhalla; Editing by Helen Popper. Please credit the Thomson Reuters Foundation, the charitable arm of Thomson Reuters, that covers the lives of people around the world who struggle to live freely or fairly. Visit news.trust.org)
https://www.reuters.com/article/somalia-women-election-idAFL4N2JM1C4
--------
URL: https://www.newageislam.com/islam-women-feminism/eshe-independent-woman-magazine-organised/d/124109
New Age Islam, Islam Online, Islamic Website, African Muslim News, Arab World News, South Asia News, Indian Muslim News, World Muslim News, Women in Islam, Islamic Feminism, Arab Women, Women In Arab, Islamophobia in America, Muslim Women in West, Islam Women and Feminism