New Age Islam News Bureau
21 Apr 2016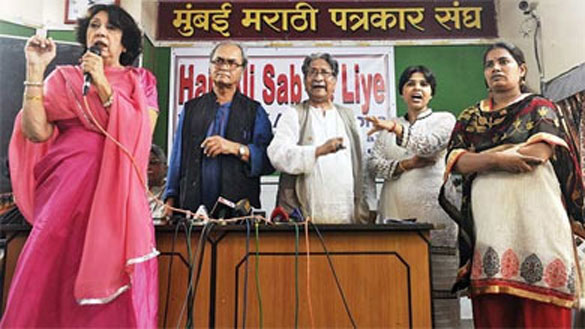 Members of Haji Ali Sabke Liye forum with Bhumata Brigade chief Trupti Desai (2nd from right) during a press conference on Wednesday (dna - Fariha Farooqui)
---------
• Equal Rights to Pray: Muslim Scholars and NGOs to Lead Movement at Haji Ali Dargah
• Fearing Riots, Dadri's Hindu-Muslim Couple Refused Marriage Registration
• First Black Muslim Woman Elected UK Student Leader
• Muslim Students at Elite French University under Fire for Hijab Day Event
• Birmingham Comic Shazia Mirza Causes Storm with Islamic State Jokes
• In Style and Politics, Kosovo Women See Hillary Clinton as Role Model
• Egyptian Lawyer Suggests New Personal Status Law to Regulate Marriage
• Ibtihaj Muhammad's Olympic Qualification a Ray of Hope for Muslim-American Women
Compiled by New Age Islam News Bureau
URL: https://www.newageislam.com/islam,-women-and-feminism/new-age-islam-news-bureau/equal-rights-to-pray--muslim-scholars-and-ngos-to-lead-movement-at-haji-ali-dargah/d/107062
---
Equal Rights to Pray: Muslim Scholars and NGOs to Lead Movement at Haji Ali Dargah
KANCHAN SRIVASTAVA | Thu, 21 Apr 2016
After the Shani Shingnapur and Trimbakeshwar temple row, the next religious place, at the target of women rights activists, is the iconic Haji Ali Dargah in Mumbai. Some NGOs, Muslim scholars and leftist parties have joined hands to launch a "peaceful movement" at Haji Ali on April 28 seeking entry of women in the sanctum sanctorum of the shrine.
As part of their movement, the activists have launched a forum called Haji Ali Sabke Liye (Haji Ali for all). Their movement would be led by none other than Trupti Desai and her Bhumata Brigade who has been the mascot of successful movements at the two Hindu temples.
The forum also stated that after this they are planning similar movements in the Mosques across India where the entry of women is banned.
"We would hold a peaceful Dharna (protest) on April 28 outside Haji Ali gate so as to convince the Dargah's management to allow women's entry which was banned five years ago without any logical reason. We want them to revoke the ban before high court directs them to do so," said senior journalist Javed Anand and chief of "Muslims for secular democracy", which is the part of the "secular progressive forum" created a week ago for the Haji Ali movement. The forum insists that its fight has nothing to do with the religion but only against discriminatory traditions.
Bhartiya Muslim Mahila Andolan, an NGO has filed a petition in the Bombay High Court a couple of years ago in which hearings are over but the judgment is still awaited.
Questioning the Haji Ali's management decision, the forum insists that there is no rationale behind banning women in Haji Ali as same management runs Mahim Dargah also where women are allowed. "Besides, women are allowed in Mecca, Medina, Najaf and Karbala, the top four scared places of Islamic religion. Even at most popular Dargah like Azmer Sharif and Deva Sharif, there is no discrimination with women."
Other organisations, which have extended their support to the movement are – All India Democratic Women's Association, Rahstriya OBC Parishad, All Indian Students Association, Democratic youth federation of India, Vaghini, Sarvoday Mandal, Bharat Bachao Andolan, and Sadbhavna Sangh.
The forum, however, sought to play it safe possibly not to anger the hardliners. Anand insisted, "We are fighting against the so-called tradition and culture which discriminates women, not against the Shariyat." The conference was, however, interrupted by two Muslim men who sought to refute speakers claim and insisted that allowing women in the scared place was indeed against Shariyat. Zeenat Shaukat Ali, the Islamic scholar, however, rejected their claims and insisted that Shariyat gives women equal rights.
Desai who was also present at the conference said, "While our organisation fought alone for the entry in temples, I am happy that so many organisations and scholars have come forward to support the movement for Haji Ali."
When the verdict is expected soon, why forum wants to jump before the gun? Desai responded, "Our demonstration can lead to faster court verdict like what happened in the case of Shani Shingnapur. The matter was pending in the court since 2001, but court expedited the matter and gave the verdict within a month when she launched the movement.
Maharashtra has favoured entry of women in the sanctum sanctorum of the Haji Ali Dargah in February, conveyed the government's stand in an ongoing petition filed by Bhartiya Muslim Mahila Andolan in the Bombay High Court which has reserved its judgement on the issue. After hearing the arguments of the parties concerned, court has asked all the parties to submit their arguments in writing in two weeks.
Appearing before the division bench of justices VM Kanade and Revati Mohite Dere, the State Advocate General had said unless the Dargah Board was able to prove that ban was part of their religious practice with reference to Quran women should be allowed to enter the sanctum sanctorum of Haji Ali.
dnaindia.com/mumbai/report-trupti-desai-to-lead-the-movement-of-haji-ali-dargah-on-april-28-2204429
------
Fearing riots, Dadri's Hindu-Muslim couple refused marriage registration
Shashank Shekhar | Posted by Anand Jayaram
New Delhi, April 21, 2016
Authorities have allegedly refused to make official the marriage of a Hindu man and a Muslim woman in Uttar Pradesh's Dadri town, fearing a resurgence of last year's communal tensions sparked by the mob-lynching of 52-year-old Mohammad Ikhlaq over rumours that he slaughtered a calf.
The couple from Chitehra village have failed to get their marriage registered even after six months, with officials allegedly saying the move may trigger a riot.
Marrying out of faith is considered taboo in large parts of India where consenting adults who have broken no laws have been threatened and beaten up by religious vigilantes.
Manjeet Bhati (24) and Salma (20), who later changed her name to Sapna Arya, fled from Dadri in Gautam Budh Nagar district to Allahabad city on October 19 last year on a motorbike. Three days later, Salma adopted Hinduism and they got married at an Arya Samaj temple. The couple allege that they have repeatedly visited government offices over the past five months and met senior district officers, but no one has helped them. They also say that the marriage registrar, who refused to make their marriage official, demanded a bribe of Rs 20,000.
The district magistrate of Gautam Budh Nagar, NP Singh, promised that the marriage will be registered and asked a senior officer to look into the matter.
Marriage
"If both of them are adults then there should not be any problem in registering their marriage. I cannot deny that they were told by a government officer that registering their marriage can ignite communal violence," Singh said, adding that the rule of the land should prevail. "A similar case happened in Meerut."
Though prominent celebrities such as Bollywood stars Shah Rukh Khan and Aamir Khan are Muslim men married to Hindu women, interfaith marriage remains a sensitive issue in the country.
Bhati claims that he has met all the senior district officers, including the district magistrate, ADM, SDM and city magistrate, but received no support, following which he wrote to Chief Minister Akhilesh Yadav, asking him to intervene.
"We went to the marriage registrar in January but he said that he will not register our marriage as I was a Hindu and my wife a Muslim and this could ignite violence in the area. I assured him that no local has a problem with our marriage and our village is quite peaceful, but still he refused and also demanded Rs 20,000," Manjeet said.
The incident emerged close on the heels of a Hindu woman and a Muslim man in Karnataka solemnising their marriage this month despite howls of protest from hardline Hindu groups and caste leaders.
Manjeet and Sapna said they initially feared attacks from the bride's relatives and she sought protection from the area's senior superintendent of police.
"My parents died while I was quite young. I was living with some relatives who wanted me to marry an elderly man," Sapna told Mail Today. "But Manjeet and I were friends for long and we decided to get married."
Her relatives filed an FIR against Manjeet in Meerut after she eloped with him. They said Sapna was a minor and he had kidnapped her.
"As my relatives have threatened to kill us, we sought protection from police for a month and then we appeared before the magistrate in Meerut in December 2015," she said. "I produced my certificate and my medical test was done, which established I was an adult. The magistrate ordered that I was free to live with anyone and I chose my husband."
Problem
The couple say no one in their village has a problem with their marriage and residents see them as a symbol of unity. "After the mob-lynching incident, people in the area have become more sensitive," Manjeet said. "There were many rumours afterwards, but no violence
http://indiatoday.intoday.in/story/muslim-hindu-wedding-in-ups-dadri-wedding-may-trigger-riot/1/647691.html
------
First Black Muslim Woman Elected UK Student Leader
20 April 2016
Malia Bouattia, a firm supporter of the Palestinian cause, is the first-ever Black female NUS president since its creation in 1922.
The National Union of Students has elected its first-ever Black female Muslim, Malia Bouattia, as president after the radical anti-racist activist picked up 372 votes over current President Megan Dunn's 328.
In a Facebook post following her victory, Bouattia thanked her supporters for making the victory possible while pointing to the social importance of her new role.
"My election was not just about NUS; it has to be about our society, and the role of our movement within it. We must ensure our union is at the centre of a national fight for something better, and puts liberation at the heart of all we do."
Bouattia has a long history of activism, both on and off campus. One of the founding members of Muslimah Pride, formerly known as "Muslim Women Against Femen," she has also campaigned with the Midlands Women's Network on wider issues affecting women.
As part of her manifesto for NUS officer, she said the education system in the U.K. is in "crisis" and that the U.K.'s student movement needs to "respond."
"We need a proactive president who encourages campaigns and self-organisation on the ground, and leads a united movement in the face of harsh and sustained cuts to student support and our education."
A former University of Birmingham student, Bouattia is a prominent critic of the British government's so-called "anti-radicalization" Prevent program that targets Muslims on university campuses and elsewhere. Originally from Constantine, Algeria, she is a also staunch supporter of the Palestinian cause, she has previously called for "resistance" against the Israeli state.
The NUS Students' Officer since 2014, Bouattia has also occupied the role of NUS Anti-Racism and Anti-Fascism Co-convenor since 2014 and was named a Black Mental Health top 30 leading individual of the year in 2014 and 2015.
Speaking at Tuesday's election conference, which was held in Brighton, Bouattia said: "When we talk about liberation, it's not just about women, Black, LGBT+, or disabled students. It's about us all."
http://www.telesurtv.net/english/news/First-Black-Muslim-Woman-Elected-UK-Student-Leader-20160420-0009.html
--
Muslim Students at Elite French University under Fire for Hijab Day Event
20 April 2016
Students at an elite Paris university sparked fierce debate Wednesday by inviting classmates to wear the Muslim head scarf for a day.
The event at Paris's Sciences Po University was held to raise awareness of treatment of women who wear the Hijab, but the initiative was fiercely criticised on social media and by student union representatives.
The event was held in the wake of Prime Minister Manuel Valls' controversial statement that he wished to ban all forms of religious headscarves at French universities.
The Hijab Day Facebook page stated that the students who took part in wearing the veil for a day would 'experience the stigmatisation experienced by veiled women in France'.
'It is to raise awareness, open the debate and give the floor to women who are often debated on in public but rarely heard,' said Laetitia Demaya, one of the organisers.
The Sciences Po initiative, which trended at the top of French Twitter under the hashtag #HijabDay, drew a mixture of praise and anger.
Former agriculture minister Bruno le Maire, who now teaches at Sciences Po and is also angling for the right-wing Republicans party's presidential nomination, expressed his 'disapproval' on Twitter.
'In France women are visible. No to proselytising,' he wrote.
Philosopher and author Bernard-Henri Levy tweeted: 'Hijab Day at Sc Po. When will there be a Sharia day? Stoning? Slavery?'
'This is a provocation and we denounce the religious character of the event,' Carla Sasiela, the head of the UNI student union, told The Local.
Her group said the event is a 'total contradiction of the values of the Republic and the respect for women's rights'.
Writing on its Facebook page, the student wing of the far-right National Front (FN) criticised an initiative coming from a 'Parisian middle class disconnected from social reality'.
'This initiative is particularly nauseating when women all over the world are fighting to throw off their shackles. In Iran, for example, women have acid thrown in their faces if they don't wear the veil,' it said.
The university distanced itself from the initiative in a statement on Twitter, saying the fact it was taking place on the campus 'should not be interpreted as support.'
Sciences Po's Hijab Day was held just days after France's Prime Minister Manuel Valls said he wants all forms of Muslim headscarves to be banned in universities.
In an interview with the daily newspaper, Liberation, Prime Minister Valls said France should 'protect' French Muslims from extremist ideology.
He said the headscarf, when worn for political reasons, oppresses women and is not 'an object of fashion or consumption like any other.'
Asked whether to outlaw headscarves in universities, Mr Valls is quoted as saying 'it should be done, but there are constitutional rules that make this ban difficult.'
The wearing of full-face veils in public spaces has been banned under French law since April 2011.
The 2010 'Act prohibiting concealment of the face in public space', applies not only full-face veils or Burqas worn by some Muslim women, but all face-covering headgear, including masks, helmets and balaclavas.
The only exceptions are when ordered otherwise under French law - such as motorbike helmets while riding or for work requiring the face to be covered for health and safety reasons.
http://www.dailymail.co.uk/news/article-3549947/When-Sharia-Day-Stoning-Slavery-Muslim-students-elite-French-university-fire-Hijab-Day-event.html
--
Birmingham Comic Shazia Mirza Causes Storm with Islamic State Jokes
20 APR 2016
Birmingham stand-up comedian Shazia Mirza has been slammed by Loose Women viewers after cracking jokes about Islamic State - including saying the terrorists were 'hot'.
The comic made a series of quips mocking the evil terrorist group and also about her experiences of being a Muslim female stand-up.
Shazia said her new UK theatre tour - The Kardashians Made Me Do It - is based around terrorism and jihadi brides and is her funniest ever.
But one joke she made on the TV show that drew criticism was about teenage Muslim girls leaving the country to join ISIS.
She said: "I'm not being frivolous, these ISIS men, as barbaric as they are... hot."
"They're macho, they're hairy, they've got guns," she added to laughter from the audience.
She later added: "I'm more scared of my dad than ISIS," and claimed her mum wore a full burka because she 'doesn't want to be seen with my dad'.
Yet the appearance provoked a furious reaction from some viewers.
"I love your show but glorifying this woman making jokes about ISIS and terrorism is disgusting," tweeted one furious viewer.
Another added: "Just had to turn @loosewomen over, couldn't deal with the awkwardness of the comedian joking about ISIS. Kinda WEIRD."
"This is so awful to watch this lady joking about ISIS," said a third viewer, while another tweeted the show to say: "Sorry joking about ISIS is not funny."
"How dare that woman compare terrorists to butch and handsome. ISIS are terrorists," said another.
However, some viewers did get her jokes and found her to be hilarious with one writing: "Honestly think this woman is amazing. #Loosewomen."
Another added: "I thought she was funny too. I could see her being on #TheLastLeg #ShaziaMirza."
http://www.birminghammail.co.uk/news/midlands-news/watch-birmingham-comic-shazia-mirza-11217151
--
In Style and Politics, Kosovo Women See Hillary Clinton as Role Model
April 20, 2016
A boutique in Kosovo's capital leaves no doubt about its favoured candidate in the US presidential race -- the clues are right in its name and on the racks of smart trouser suits.
Pristina's Hillary boutique and its sister shop, Hillary 2, are a testament to Kosovo's enduring love not only for the United States but particularly for the Clinton couple.
"We wanted to honour the Clinton family in our business," said owner Elda Morina-Ymeraga, 33.
Her family's first store is on Bill Clinton Boulevard near a huge statue of the former US president, both commemorating his support during the Kosovan struggle for independence from Serbia.
And Hillary, 68, offers a strong role model for women in Muslim-majority Kosovo, which can already claim the Balkans' first elected female president and upholds gender balance -- in law if not in practice.
"She is not only a person who, with her family, has helped Kosovo enormously but she also has unique taste in clothing," Morina-Ymeraga told AFP in the Hillary 2 store, set in a shabby communist-era block from the former Yugoslavia that jars with its sharp suits, bright blouses and elegant dresses.
"This was why we started to promote Hillary's style in Kosovo, offering clothes to women that are identical to those worn by Hillary."
In 2010, Morina-Ymeraga had the surprise -- and publicity boost -- of a lifetime when the then US secretary of state paid her main store an unexpected visit during a trip to Pristina.
Framed photos hang proudly on the shop walls, recalling the meeting that gave the retailer a "simply incredible feeling".
"Every local customer first comes out of curiosity to ask what I discussed with Hillary. And that curiosity continues after all these years," she said.
'Need For Change'
Morina-Ymeraga's father set up the first Hillary store in 2002, a few years after the 1998-1999 war between Serbia's armed forces and the separatist ethnic Albanian rebels in its southern province.
Serbia withdrew from Kosovo after an 11-week bombing campaign by NATO, backed by then president Bill Clinton. He later gave strong support to Kosovo's unilateral declaration of independence in 2008 -- a move still unrecognised by Belgrade.
Bill Clinton was "the first who emphasised the need for change in Kosovo and the need to ban Serbia's rule over Albanians", said Morina-Ymeraga, who imports most garments from Turkey but hopes to create her own "Hillary" label.
Promoting the former First Lady as fashion icon -- notably her beloved trouser suits -- caught on with Kosovo's female civil servants, politicians and other professionals who make up the store's main clientele.
Choosing a red mix-and-match outfit -- jacket, skirt and trousers for 50 euros ($56) a piece -- financial consultant Miradije Salihu, 46, said she wanted clothes that would double as work and evening wear.
"If (Clinton) can successfully run all of her campaign wearing the same style of outfit throughout, why would I not do the same while running my business?"
Women At The Top
If Clinton wins the November race she will be the first woman in charge of the White House, whereas Kosovo chose its first female president, 41-year-old Atifete Jahjaga, five years ago. Her term ended this month.
The top diplomatic job, ambassador to the United States, is currently held by a woman and the secular constitution sets a 30 percent quota for female MPs -- putting Kosovo ahead of even Britain and France in parliamentary gender balance.
But gender equality is still a far-off goal: a labour force survey conducted in 2014 showed that only 21.4 percent of Kosovo's working age women held jobs, compared with 61.8 percent of men.
Ulpiana Neziri-Lama, a sociologist, foreign ministry official and former TV news anchor, said the problem was greater in rural parts of Kosovo. But even in cities women faced discrimination.
"The public space is contaminated by sexist comments," she told AFP, stressing that "this is very widespread."
As Kosovan women strive for more openings, Clinton's determined bid for the White House has struck a chord.
"All women of Kosovo should take her as an example," said 22-year-old student Mimoza Nishori outside the Hillary store. "She is a woman with a lot of energy and does her work with competence."
http://www.ndtv.com/world-news/in-style-and-politics-kosovo-women-see-hillary-clinton-as-role-model-1397458
----
Egyptian Lawyer Suggests New Personal Status Law to Regulate Marriage
Wed, 20/04/2016
Lawyer and Chairman of the Board of Trustees at the Egyptian Centre for Women's Rights, Nehad Aboul Qomsan, called for a new personal status law that balances justice and Islamic Sharia in the area of marital relations.
In a seminar to discuss the new personal status bill, Aboul Qomsan challenged the stance of the state toward the personal status law, with reference to the problems faced by married and divorced women in courts, especially with regards to alimony.
Aboul Qomsan added: "How come the rights of the state are inviolable while human rights are unprotected? We have a joint responsibility. The personal status law requires entire change."
Aboul Qomsan said she met with clerics, professors of jurisprudence and sociology, lawyers and men and women involved in marital problems to discuss the new bill.
She indicated that the Kuwaiti and Malaysian personal status laws have been studied as examples when drawing up the new Egyptian law.
She stressed the need for a law that protects the individual and individuals' money guardianship, underlining that the law must be realistic and bring into consideration parties' financial status in each case.
Aboul Qomsan demanded reviewing the current personal status law, adding that the proposed new bill would be submitted to the parliament to regulate marriage, divorce and the rights of women in matters of dowry, bride tokens and alimony.
The bill states that the husband requires the permission of the court before taking a second wife while still married to his first, to guarantee the rights of both wives, she mentioned.
Cassation lawyer Islam Hashem said that the aim of the new bill is to divide the responsibility of marriage between the man and woman to protect families' best interests.
The bill regulates revocable divorce, polygamy, guardianship over children and the father's rights to see his children under the mother's guardianship, he said.
Cassation lawyer Faten Fawzy suggested introducing two new items to the bill. The first addresses the current law that a wife must ask her husband for divorce before resorting to court. The new law would enable the wife to go to court directly.
The second item would obligate a husband not only to be granted the permission of a court before taking a second wife, but would obligate him also to notify his first wife.
http://www.egyptindependent.com/news/lawyer-suggests-new-personal-status-law-regulate-marriage
---
Ibtihaj Muhammad's Olympic Qualification a Ray of Hope for Muslim-American Women
APRIL 20, 2016
Ibtihaj Muhammad was not making a fashion statement. What she wore at the Team USA Media Summit last month in Los Angeles spoke of something much more significant.
She was dressed in blue jeans, a white jacket with a red U.S. Olympic team logo and a charcoal scarf covering her head, ears and neck, lining the oval of her copper-coloured face.
It was the scarf that had drawn all the attention. There is an irony in having that dark, monochrome scarf be the attraction; given that Muhammad has such a sense of style she has launched a clothing line full of distinctive apparel in bright colours and intricate patterns.
The scarf, known now as Hijab although referred to in the Quran as khimar, is plenty eye-catching in one of Muhammad's worlds, the world of Olympic sports, where few wear it.
For Muhammad and many Muslim women, hijab is a symbol of both their identity and their spiritual connection to God. And she is soon to be the first U.S. athlete who competes in Hijab at the Olympics.
Ibtihaj Muhammad addresses the media at the 2016 Team USA Media Summit on March 9, 2016 in Los Angeles.
So it is even more important that this Muslim-American and African-American fencer, this American woman, has a sense of self that shone brightly as she sat in a director's chair at The Beverly Hilton, facing wave after wave of reporters over more than an hour, answering some questions over and over, ducking none completely even if she deflected some deftly.
Her presence in the 2016 summer Games at a moment when many Muslim-Americans and African-Americans feel threatened and stigmatized in the United States can have a powerful impact. Just making the team, which became official in late January, has given her a platform she readily ascended, whether in her pull-no-punches Twitter comments, Time Magazine, "The Ellen DeGeneres Show" or sitting in the tall chair at the media summit.
"We're looking for any kind of ray of hope in this frightening atmosphere we are in," said Ibrahim Hooper, communications director of the Council on Islamic-American Relations. "She is obviously a very bright ray of hope."
At 30, with bachelor's degrees from Duke in international relations and African studies, fluency in Arabic and five team event medals (one gold, four bronzes) at the World Fencing Championships, Muhammad realizes she has been given the opportunity to direct the conversation toward issues of paramount importance to her, her community and the nation at large. No matter how fatiguing that may be, how much it could possibly distract her attention from fencing at her best in Rio, this is not a chance she will let pass.
"I owe it to people who look like me and fight these struggles every day with this fear-mongering and hate we are experiencing," she said. "I owe it to all of us to combat these notions of bigotry. I have to speak out against it for African-Americans, for other minorities in this country because there are people who did it before me."
And she also had herself to think of.
When the terrorist attacks in Paris and San Bernardino, California, led to heightened Islamophobia in this country, Muhammad worried she might not be able to return after competing overseas in the final Olympic qualifying meets last winter. She also wondered if she would even be banned from the flights leaving the U.S. to get to those meets.
Two days after the media summit, she faced a hassle during the credentialing process for South by Southwest, where she was speaking on a panel. A volunteer who saw the hijab told Muhammad she had to take it off for the accreditation photo. Her explanation of wearing it for religious reasons was not immediately accepted, creating an uncomfortable situation she detailed on Twitter.
"She has never been one to shy away from a fight or from speaking her mind," Alex Massialas, also a 2016 fencing Olympic qualifier, said admiringly. "All fencers take a great source of pride in her. She is a great role model and an amazing fencer."
SXSW officials would apologize both publicly and personally to Muhammad for the incident.
At the media summit, she had been asked if such issues and anti-Muslim rhetoric in the 2016 political campaign made her wonder why she wanted to represent the United States. Her answer was an emphatic, "Never."
"I have never questioned myself as an American," she said. "This is my home. This is who I am. My family has always been here. We're American by birth.
"When I hear someone say something like, 'We're going to send Muslims back to their country,' it's like, 'Where am I going to go? I'm American.'"
She grew up in Maplewood, New Jersey, a suburban township of some 24,000 inhabitants about 25 miles from Manhattan. Her father, Eugene, is a retired narcotics detective, her mother, Denise, a retired special education teacher. Ibtihaj is the third of their five children, born with a fierce competitive streak encouraged by sibling battles with her brother, Qareeb.
"She has drive and never stops fighting, never gives up, no matter the situation," said Eliza Stone, part of four-woman U.S. teams including Muhammad that won one gold and two bronze medals in the team saber event at the last three World Fencing Championships.
Such a personality was perfectly suited for sports. Muhammad tried volleyball, softball, tennis and track but did not feel fully part of the team in any because she wore both the hijab and different uniforms, altered by her mother to cover arms and legs.
"When you have to change the uniform, I think you lose that sense of camaraderie," Muhammad said.
At age 12 came the accidental epiphany that would have a life-changing impact for her.
Muhammad and her mother were stopped at a red light near the high school in Maplewood. Large windows in the building allowed them to see kids practicing a sport that has a mask covering the head and face and bulky clothing covering the rest of the body.
Ibtihaj Muhammad poses for pictures at the 2016 Team USA Media Summit on March 8, 2016 in Los Angeles.
Denise Muhammad did not know what sport it was. She insisted her daughter try it because it would accommodate their religious beliefs about clothing and not single her out, with the hijab barely visible under the mask.
Mother and daughter were in luck. New Jersey is this country's fencing hotbed, home to nearly two-thirds of the 1,876 high school girls participating in the sport nationally, according to 2014-15 statistics compiled by The National Federation of State High School Associations. Her high school, Columbia, has won 12 girls state team titles since 1998, two with her as captain. Her younger sister, Faizah, 24, became a two-time individual state champion in saber and is currently ranked eighth in the U.S.
So Denise Muhammad was able to quickly find a local fencing club for Ibtihaj, then a middle schooler.
"I tried it, and I hated it," she said. "But I was very goal-oriented as a kid. When you come from a family of five, you have to get pretty creative on how you plan to pay for college. I found the top schools in the country all had fencing teams. That's why I stuck with it initially."
There are 43 schools in the three NCAA divisions with fencing teams. They include all of the top 10 schools, Duke among them, in the most recent U.S. News & World Report rankings of what the magazine categorizes as "national universities."
Two things helped turn Muhammad's interest in fencing from pragmatic to passionate.
One was switching from epee to saber, the weapon that best fit her aggressive, in-a-New-York-minute character. The other was learning about the Peter Westbrook Foundation, created in 1991 by the five-time Olympic competitor to expose children from underserved areas in metropolitan New York City to fencing and the life skills one could gain while learning the sport.
At the Harlem-based club, Muhammad felt the comfort of being in an environment where many of the young athletes looked like her. She also got excellent instruction from the likes of Westbrook and her current primary coach, 2000 U.S. Olympian Akhi Spencer-El.
From day one, she was a handful.
"I don't agree," she would frequently tell Westbrook.
"Who asked your opinion?" Westbrook would reply, trying to hide his admiration for the feistiness he has found to be part of her DNA.
She would become a three-time All-American at Duke, then begin working her way toward the top of the national rankings. She currently stands second to two-time Olympic champion Mariel Zagunis, which gives Muhammad a place in both the individual and team events at Rio.
No less a fan than President Obama gave Muhammad a shout-out and told her to bring back the gold when she was in the audience during his visit to a Baltimore mosque this winter.
Despite having finished third in two of her four world cups this season, Muhammad's best chance at an Olympic medal would more likely be in the team event. She finished 13th at the 2015 world championships and stood 12th globally in the latest individual world rankings, while the U.S. saber team has won medals in five straight worlds and currently is ranked fourth.
A medal will not define Muhammad's achievement at the Games. Her inspirational triumph is assured, no matter what happens in the competition.
"For American Muslim women, she is a very potent symbol of empowerment," CAIR's Hooper said. "Muslim girls need to see they can succeed in any form of athletics and can participate while maintaining their religious principles."
Going back to the Prophet Muhammad's words and actions, as reported by Islamic scholars in accounts known as hadiths, Islam has encouraged physical activity. One hadith describes footraces between the Prophet and Aisha, one of his wives. Another hadith has the Prophet recommending the values of working with horses, walking, swimming and archery.
For many Muslim girls, being publicly involved in sport can cause conflicts with their beliefs about dress as well as cultural obstacles over what a woman should be allowed to do.
Olympic champions from some Muslim countries, notably hurdler Nawal El-Moutawakel of Morocco (now an International Olympic Committee vice-president) and miler Hassiba Boulmerka of Algeria, have competed in revealing clothes but faced virulent and sometimes menacing disapproval from many of their compatriots for doing so. It took intense pressure from former IOC President Jacques Rogge for Muslim nations Saudi Arabia, Brunei and Qatar, the last holdouts, simply to include a woman on their Olympic teams for the first time at London 2012.
The international federations in weightlifting, volleyball and soccer recently have lifted restrictions against women competing in hijab, while fencing and shooting long have been sports well suited to accommodate the Islamic idea of modesty in dress. Egyptian sisters Eman and Shaimaa El-Gammal both wore hijab while fencing at the 2008 and 2012 Olympics.
"When I discovered fencing, I was able to be in uniform with my teammates. I wasn't necessarily being acknowledged for my skin or religion; people were focused on my skill set as an athlete," Ibtihaj Muhammad said. "As a kid, that was very fulfilling to me.
"Sports is such a big part of American life. When I look at the Muslim community, sport is not always encouraged among the young women. I would love for it to be part of their daily lives not because I want everyone to be a fencer but because it is a tenet of our faith."
Lea Krueger of Germany and Ibtihaj Muhammad (R) compete during individual women's saber at the FIE Grand Prix on March 26, 2016 in Seoul, South Korea.
A British project called "Muslim Girls Fence" was created to help in "challenging misperceptions of Muslim women and making fencing more inclusive to young people of all backgrounds."
For Muhammad, one of those misconceptions comes from stereotyping, especially of those women whose hijab makes them immediately identifiable as Muslims – with all the attendant consequences, from sidelong glances to expressions of hatred to death threats.
"Some people have a very narrow image of who the Muslim woman is," she said. "I know Muslim women are very, very diverse, especially in the United States. We come in different shapes, colors and sizes, different backgrounds, and we are productive members of society."
One of her reasons for starting the clothing company, Louella, was giving Muslim women – and others – a chance to express that individuality in apparel that, as its Facebook page says, "delivers a new fresh and vibrant look to the modest fashion industry." Her brother, Qareeb, manages the company's Los Angeles-based production.
There are times when all the responsibilities pile up, when Westbrook can see the stress on Muhammad.
"The Creator put you in this situation," he tells her. "He put the burden on your shoulders to uplift yourself and uplift people who are oppressed. This stress is not greater than what you overcame to make the Olympic team."
Westbrook makes her understand she can handle it all. He also reminds her that she can't be pulled in so many directions at once that she veers from the path of athletic excellence allowing her to be more than an athlete.
"There are always moments when you just want to focus on training and being an athlete," Muhammad said. "But at the same time, when I think about my safety and the safety of my mother or sisters or friends, I feel I have to speak out. I have to challenge the idea that in some way, we don't belong because of our race or religion."
Nothing is more red, white and blue than a U.S. Olympic team. Few groups are more multi-colored or ethnically and religiously diverse than the U.S. team that will compete in Rio. Theirs will be the faces of the best of America in a variety of sports, the best of America in many other ways as well.
At least one member of the team will wear Hijab in public. It will make Ibtihaj Muhammad stand out. She already is a standout fencer, one who can show that nothing is more fashionable than to be different and yet to fit perfectly into the fabric of her country.
http://www.teamusa.org/News/2016/April/20/Ibtihaj-Muhammads-Olympic-Qualification-A-Ray-Of-Hope-For-Muslim-American-Women
-----
URL: https://www.newageislam.com/islam,-women-and-feminism/new-age-islam-news-bureau/equal-rights-to-pray--muslim-scholars-and-ngos-to-lead-movement-at-haji-ali-dargah/d/107062