New Age Islam News Bureau
11 Jul 2013
• Women Challenge Men in Pakistan's First Female Jirga
• Saudi Princess Accused of Slavery in California
• Over Nine Percent of Girls Marry Underage in Turkey
• Woman Intruder Shot Near Indo-Pak Border
• Views on Texas Abortion Legislation, Regulation Differ Among Religions
• Exploitative Media Reports On Alleged Rape Condemned In Jakarta
• Saudi Divorcees, Widows Call For Increased Social Aid
• Saudi Nurses at Accident Spot Save Victim's Life
• Libyan Women's Rights Organization Campaign to Tackle Anti-Women Violence
• Two Indonesian Women Held For Smuggling Syabu worth RM1.7m
• Israel Puts Palestinian Women Activists On Trial for Protests
• Female Doctor Claims She Was Assaulted By PML-N MPA
• UN Women Appoints Former Dy President of South Africa as New Head
Compiled by New Age Islam News Bureau
URL: https://newageislam.com/islam-women-feminism/enforce-dress-code-women-curb/d/12541
-----------
Enforce Dress Code for Women to Curb Sexual Crimes: Malaysian Woman MP
JULY 11, 2013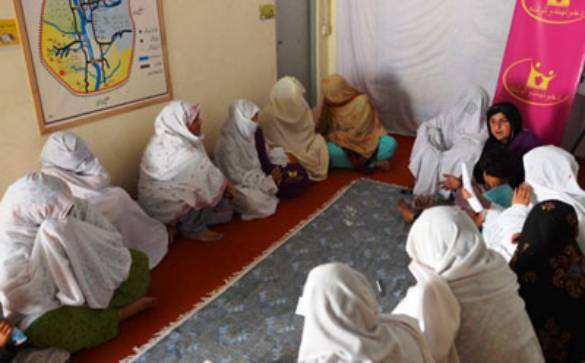 In this photograph taken on June 20, 2013 women attend a jirga in Saidu Sharif, the twin town of Mingora, the largest city in Swat. PHOTO: AFP
---------
A PAS woman MP has called for stricter enforcement to prevent women from dressing "indecently" in public, in order to curb sexual crimes.
Siti Zailah Mohd Yusoff, the party's Rantau Panjang MP declared in Parliament that short pants and short skirts were among the factors that contributed to crimes of a sexual nature.
She said flight attendant outfits were among those that fell in this category of "indecent" dressing.
The PAS Muslimat chief urged the Women, Family, and Community Development Minister to quickly come up with a dress code, which she said would also help prevent sexual harassment.
Siti Zailah felt Barisan Nasional had contributed to the indecent dressing phenomenon through its association with Korean (K-Pop) artistes.
"Maybe this is because BN leaders are bringing in artistes from Korea," she said when Women, Family, and Community Development Minister Rohani Abdul Karim was winding up on points raised during the royal address debate in relation to the ministry.
Meanwhile, Kuantan MP Fuziah Salleh wants a legal framework to deal with sexual harassment cases, citing an incident which occurred in the Parliament building last week.
She told the house a male officer had told a woman MP that she did not get a state executive councilor position because she did not show her underwear.
Fuziah said that when she heard the words being uttered to her fellow MP, she rebuked the male officer, telling him: "This woman is a mother. You should show some respect."
Fuziah added that the officer then said he did not mean it as an insult.
Rohani responded that sexual harassment cases should be brought to court and although the burden of proof was on women, they should persist in proving their case. - July 11, 2013.
http://www.themalaysianinsider.com/malaysia/article/enforce-dress-code-for-women-to-curb-sexual-crimes-says-pas-womens-chief/
-----------
Women Challenge Men in Pakistan's First Female Jirga
July 11, 2013
AKHUN BABA: When 16-year-old Tahira was murdered in a horrific acid attack last year, her poverty-stricken parents got no justice. Pakistan officials slammed the door in their faces and the police refused to listen.
The prime suspect – the girl's abusive husband – lived in freedom until the case was taken up by Pakistan's first female jirga, a community assembly set up to win justice for women in the face of immense discrimination.
Pakistan's northwestern Swat valley has become synonymous with abysmal women's rights. It was here that the Taliban shot schoolgirl activist Malala Yousafzai in the head last year.
When the Taliban controlled Swat valley from 2007-09, girls were barred from going to school, their classrooms were burnt and women prevented from leaving the house without a male relative.
Government writ was restored in 2009, but like much of the northwest, ancient mores and conservatism too often make women second-class citizens whose needs are subservient to those of men.
Each time Tahira's mother, Jan Bano, climbs the steep hillside to her daughter's grave and down again, she feels dizzy and weak.
She has high blood pressure and diabetes, and the stress of failing to get justice makes her condition worse.
Tahira was married off at 12. In Pakistani villages and tribal communities it is still common for girls from poor families to be given to husbands at puberty.
But her mother says she became concerned when her son-in-law, Subha Khan, started to beat and torture her daughter.
It was he who poured acid on her and dumped her in a room to die, her mother says.
Tahira's face was destroyed. So was her upper body. She screamed in agony for 14 days before she passed away, Bano said.
But when they went to the police, officers did nothing.
When her eldest son approached government officials to complain, Khan and his father threatened him with dire consequences.
Then they were sent a message by the local jirga, a group of male tribal elders that functions as a decision-making council in Pashtun society, advising them to marry one of their sons to one of Khan's sisters by way of recompense for Tahira.
Bano refused to do so and was still fuming when she heard that a group of female activists had set up a women's only jirga in Saidu Sharif, the twin town of Mingora, the largest city in Swat.
"We're fed up with male-only jirgas which decide only in favour of men and sacrifice women for their own mistakes," said Tabassum Adnan, 35, head of the 25-member jirga.
"We simply can't leave women at the mercy of the male jirgas," she told AFP at the jirga's small office.
Adnan raised Bano's case and organised protests demanding legal action against Tahira's husband in connection with her murder.
Her efforts persuaded police to register a case against Khan but he has since gone on the run. Adnan has provided Bano with a lawyer to fight her daughter's case.
Fighting for women's rights
Dissatisfaction with mainstream justice is common in Pakistan, where it can take years to process a case through the courts.
Taliban insurgents were emboldened by complaints that the courts were too corrupt and too slow, and tribal jirgas present the most viable alternative.
But they typically ignore or discriminate against women's rights. Women are often sold in marriage to seek forgiveness for men's crimes, their fates decided without consultation.
Adnan says she first asked to join the main Swat Qaumi Aman Jirga to ensure justice for women, but they refused.
"So, we have formed our own jirga now and we will decide cases involving women," she said, wearing a traditional black veil that covers her hair and body.
"Our only aim is to provide legal support to women which we are doing by involving police and government authorities," she added.
Adnan, who divorced her husband after 20 years of what she called a troubled marriage, said her jirga is called Khwaindo Tolana, which means "sister's group".
It was born out of the result of a women's empowerment programme run by a local aid group.
"The tremendous response by women motivated us to organise a separate jirga to fight for their rights," Adnan said.
She claims to far have helped 11 women get justice.
But the response from the men's jirga has been lukewarm at best.
Ahmed Shah, a spokesman for Swat Qaumi Aman Jirga, confirmed to AFP that the women had tried to approach them, asking to join but he said this was "impossible" in Pashtun society.
In private, many members of the male jirga dismiss the women's effort as ridiculous.
The conviction rate is also so weak in Pakistan, which others say will limit the jirga's influence if its decisions are not enforced.
But for Saima Anwar, who claims to be the first female lawyer to have practiced in Swat, it is a vital first step.
"This jirga is a good effort. It will provide women a platform and help them win their rights without fear or the interference of men," she said.
http://tribune.com.pk/story/575530/women-challenge-men-in-pakistans-first-female-jirga/
--------
Saudi Princess Accused of Slavery in California
11 July 2013
Prosecutors in southern California have charged a Saudi Arabian princess with human trafficking and accused her of bringing a Kenyan woman to the United States and holding her against her will as a servant.
The accused woman, Meshael Alayban, 42, brought the Kenyan to the US in May and paid her $220 a month while holding her passport and keeping her confined to an apartment complex in Irvine, California, where Alayban lived, Orange county prosecutors said.
The servant, whose name was not released, had to wash dishes, cook, clean, do laundry and iron without a day off, prosecutors said.
Authorities said they found four Filipino women in the home who also may have had their passports seized by Alayban's family. An investigation was under way into whether others were involved in the alleged human trafficking scheme.
Police arrested Alayban early on Wednesday at her apartment, a day after the Kenyan woman escaped and flagged down a bus driver, the statement said. Alayban is charged with one felony count of human trafficking.
The only occasion when the Kenyan woman was allowed to leave the Irvine apartment complex was when she carried the bags of Alayban's family during an outing, prosecutors said. The Kenyan also attended to other people linked to Alayban who lived in the same complex, according to the statement.
Alayban had first hired the Kenyan woman as a domestic servant in March 2012 in Saudi Arabia in her family's palace, prosecutors said. She is accused of holding the woman's passport then as well and forcing her to work every day for 16 hours.
Orange county prosecutors said the Kenyan woman originally came to work for Alayban by signing a two-year contract with an employment agency that promised her $1,600 a month to labour for eight hours a day, five days a week.
Alayban is a wife of Saudi Arabian Prince Abdulrahman bin Nasser bin Abdulaziz al Saud, according to the Orange county prosecutors.
Alayban's attorney, Paul Meyer, said "the complaints were about hours worked and wages paid".
"We intend to fully investigate this matter, and expect that the truth will resolve it," he said.
Alayban appeared in court in Orange county on Wednesday and a judge set her bail at $5m. She remained in custody at a women's jail, the Orange county sheriff's department said.
Alayban faces up to 12 years in prison if convicted.
http://www.guardian.co.uk/law/2013/jul/11/saudi-princess-accused-slavery
-----------
Over nine percent of girls marry underage in Turkey
July 11, 2013
Over nine percent of all women between the ages of 15-19 in Turkey get married between, with 5.9 percent giving birth to their first child within the same age gap, according to numbers released by Hacettepe University.
Girls between the ages of 15 and 19 have a 9.6 percent rate of marriage, the numbers showed, with around 70 percent of the married women experiencing their first pregnancy in the same age gap.
Around 12 percent of the pregnancy stories however end in voluntary miscarriages, the survey added.
Hacettepe professor Hilal Özcebe said the underage marriages in Turkey pose a serious health public health risk, adding that around 16 million women around the world under the age of 18 get pregnant every year, with over three million of those pregnancies ending with unsafe miscarriages.
The early marriages and pregnancies are also frequent cases in develop countries, Özcebe added, saying that most of the underage mothers-to-be get pregnant against their will due to decimation, violation of rights, lack of education and sexual pressure.
Early pregnancies also pose health risks to the mother, including hyper blood pressure, bleeding and unexpected miscarriages, according to Özcebe, while also harming the physical and emotional development of the teenage mother.
Such dangers can only be thwarted by preventing underage pregnancies, and increasing activities to raise awareness in areas where teenage pregnancy rates are high, Özcebe said, adding that young girls should be allowed to stay in school.
Underage marriages should be postponed, and pregnancies should be left until over the age of 20 for the mother, Özcebe added.
http://www.hurriyetdailynews.com/over-nine-percent-of-girls-marry-underage-in-turkey.aspx?pageID=238&nID=50407&NewsCatID=341
-----------
Woman Intruder Shot Near Indo-Pak Border
July 11, 2013
AMRITSAR: The Border Security Force (BSF), on Tuesday, shot dead a woman intruder from Pakistan near the international border after she had entered into the Indian Territory ignoring warnings.
BSF deputy inspector general (DIG) R P S Jaiswal told TOI on late Tuesday evening that a woman from Pakistan, in mid-30s, had entered the Indian Territory. She ignored the BSF warning and kept coming towards the border fence aggressively, following which she was shot, said DIG Jaiswal.
He informed that BSF had told Pakistan Rangers about the intruder but they refused to accept her body. "We have sent her body for postmortem and had given her pictures to Pak Rangers to identify her," the officer said.
http://articles.timesofindia.indiatimes.com/2013-07-10/india/40491122_1_pak-rangers-pakistan-rangers-indo-pak-border
-----------
Views on Texas abortion legislation, regulation differ among religions
July 11, 2013
While the Texas Legislature continues to debate abortion legislation, non-Christian religious communities watch on with different perspectives on the controversial issue.
There are many different religious views on abortion that often go unheard. Austin, with its strong presence of religious minorities including Muslim, Jewish and Hindu communities, has a variety of perspectives on the abortion debate, which has implications that are likely to affect families, specifically women, across all religions.
Dr. Hina Azam, an Islamic studies professor, said most Muslim scholars have held abortion permissible until the 120th day of pregnancy, roughly 17 weeks. She said some of the reasons for an abortion prior to the 120th day are rape, fetal abnormality/deformity or even being underage or too young to safely carry a pregnancy.
Azam said even though Islamic law as a whole is far more restrictive on abortion after the 120th day of pregnancy, it is generally allowed if there is a threat to the mother's life. She said the Muslim community in the U.S. has not taken a very vocal position in the abortion debate due to a lack of scriptural mandate to either support or oppose abortion.
"Most Muslims largely regard their position on abortion a matter of conscience and a private concern of the family, and not something that should be uniformly enforced by the state," Azam said.
However, Azam said Muslims have two important reasons to watch and participate in the national abortion debate.
First, while most traditionally minded or observant Muslims might favor limits on abortions after 120 days, current anti-abortion efforts could make abortions difficult to obtain throughout the state with regulations that could reduce the number of legal facilities from 42 to five, infringing their religious right to seek abortion within 120 days of pregnancy.
Secondly, Azam said Islamic ethics do not weigh the mother's life and the fetus equally, while current legislation does.
"The life - and some would say, the well-being - of the mother always receives priority and precedence over the life of the fetus under Islamic law," Azam said. "This is so even if the threat to the mother's life only becomes apparent in the late stages of pregnancy."
Azam said if Muslims, particularly Muslim women, fail to insist that the life of the mother must always be taken into consideration in abortion decisions, then they are defying a central principle of Islamic reproductive ethics and allowing anti-abortion discourse that is, in many ways, detrimental to women.
Rabbi Rick Brody of Congregation Kol Halev of the Jewish community said according to the Jewish law code, abortion is mandated if it is the only recourse for saving the life of the mother.
Brody said the religion places priority of the mother's life over fetal life and opens the door to the possibility that other situations may warrant the permissibility of an abortion. This includes the threat to a mother's general physical or mental well-being.
Brody said abortion is not considered the death or murder of a human being because of a major distinction between potential human life of a fetus and life after the moment of birth. He said there are greater concerns about recognizing such potential life as more fully human because the fetus is not independent of the mother's body, not breathing on its own and still being, essentially, an appendage of the mother.
"Even if many Jews may not support abortion in all situations in which others may choose it, the Jewish view, as a minority in a democracy, is that it is not the state's place to dictate and mandate morality, controlling or hindering a woman's choice in the manner it is trying to do," Brody said.
According to Brody, the overwhelming majority of American Jews consider abortion a deeply personal and complex issue that's dependent upon various religious and moral views.
Brody said perhaps even more important than the freedom of choice issue for most American Jews is the issue of ensuring the safety of pregnant women. Lack of access to proper healthcare and the possibility that desperate women would take life-threatening measures without access to safe, legal and affordable options would go against the commitment to human health, Brody said.
"Jewish Texans seem to be particularly sensitive to the ongoing attempt of lawmakers to further 'Christianize' public life and secular law and the opposition to living in a theocracy is a huge motivator for Jews who oppose current legislative efforts," Brody said.
Madhu Godsay, a member of the advisory board for Austin Hindu Temple, said Hindu scholars generally refrain from expressing opinion on abortion.
He said this is because Hinduism is based on a principle of dharma, a notion that individuals have moral responsibilities and that they are responsible for dealing with problems in accordance with their own moral conscience and understanding of consequences.
However, Godsay said abiding by dharmic or moral principles means to honor and respect any life-form, born or unborn. This is because of the Hindu principle that the soul never dies, and instead takes on different forms. Godsay said based on this belief, a fetus is always a person, even before conception, because the soul never ceases to exist.
"Abortion is considered as violence as far as Hinduism is concerned." Godsay said. "This form of violence is not acceptable and is generally condemned except in cases of rape, incest or threat to mother's life."
Despite this, Godsay said abortion is generally an individual's choice depending on the situation rather than a religious decision. He said the decision is more democratic between a woman and her family rather than being limited or defined by a religious ruling or opinion.
http://www.dailytexanonline.com/news/2013/07/08/views-on-texas-abortion-legislation-regulation-differ-among-religions
-----------
Exploitative Media Reports On Alleged Rape Condemned In Jakarta
July 11, 2013
The Alliance of Independent Journalist (AJI) Jakarta and the Jakarta Legal Aid Institute (LBH Jakarta) have condemned media reports on the alleged rape of a female journalist in Jakarta, which they say have failed to protect the victim.
The statement refers to a journalist in Jakarta who claims to have been assaulted and raped by an unidentified man in an alleyway located near a bus stop on Jl. Pramuka in East Jakarta on June 20.
According to a press statement made available to The Jakarta Post on Thursday, the AJI and LBH Jakarta claim that quite apart from taking the perspective of the police investigators, most media reports on the case have tended to focus on the victim's private life by concentrating on her extramarital relationship uncovered during the police investigation of the case.
Full report at:
http://www.thejakartapost.com/news/2013/07/11/exploitative-media-reports-alleged-rape-condemned.html
-----------
Saudi Divorcees, Widows Call For Increased Social Aid
July 11, 2013
RIYADH — A number of divorced women and widows have called on the authorities to reconsider the social aid given to them.
They said the monthly allowance hardly gets them by due to the increasing cost of living, Al-Riyadh newspaper reported.
They also called for a review of the funding allocated for supporting productive family projects, saying there should be more funds to help poor families who apply for the scheme.
A program similar to the Hafiz unemployment scheme should be set up for divorced women and widows with a monthly allowance of SR2, 000, they said.
Full report at:
http://www.saudigazette.com.sa/index.cfm?method=home.regcon&contentid=20130711173119
-----------
Saudi Nurses at Accident Spot Save Victim's Life
July 11, 2013
HAIL — Saudi female nurses saved the life of a young man who was involved in a car accident and received a severe blow to his head.
Crowds of anxious onlookers gathered around the young man who was unconscious, without offering any support.
Three Saudi nurses who happened to pass by the accident site stopped and made their way through the crowds to reach the injured.
They administered first aid, resuscitated him and remained at his side until the Red Crescent ambulance arrived and transported him to King Khalid Hospital in Hail.
Hail Health Affairs Directorate honored the three nurses, and the victim's family also showed their gratitude to the nurses for saving the youth's life.
http://www.saudigazette.com.sa/index.cfm?method=home.regcon&contentid=20130711173103
-----------
Libyan Women's Rights Organization Launch Campaign to Tackle Anti-Women Violence
July 11, 2013
TRIPOLI — A Libyan women's rights organization is mounting a powerful media campaign against domestic violence, street harassment and public denigration of women.
The Noor ("Light") campaign is setting up billboards on streets in some 20 cities across Libya to raise awareness about street harassment. TV and radio adverts are also used as part of the efforts.
"We hope that this campaign will help change the current situation," project manager, Nadia El-Fallah told the Libya Herald. "We want to give confidence to all women with vision to play a part in the building of the new Libya," she added.
Full report at:
http://www.saudigazette.com.sa/index.cfm?method=home.regcon&contentid=20130711173066
-----------
Two Indonesian women held for smuggling syabu worth RM1.7m
JULY 11, 2013
Penang Customs foiled separate attempts by two Indonesian women to smuggle syabu worth RM1.747 million into the country at the Penang International Airport on Tuesday and Wednesday.
State Customs director Datuk Zulkifli Yahya said in the first arrest, a 32-year-old Indonesian woman was stopped upon arriving at the airport from New Delhi at 9.30pm on Tuesday.
The New Straits Times reported him as saying a search on the woman's luggage revealed four plastic bags containing powder which were tested positive as methamphetamine or syabu weighing three kilogrammes with a street value of RM570,000.
Full report at:
http://www.themalaysianinsider.com/malaysia/article/two-indonesian-women-held-for-smuggling-syabu-worth-rm1.7m/
-----------
Israel puts Palestinian women activists on trial for protests
July 11, 2013
Two Palestinian women activists went on trial in an Israeli military court on Tuesday over their involvement in weekly demonstrations against a Jewish settlement in the occupied West Bank.
Rights groups and activists say the prosecution of Nariman Tamimi and Rana Hamadeh has coincided with a rise in Israeli arrests of Palestinian protest organisers in recent weeks.
The decision to put the two women on trial was unusual since charges against them focus on their entry to a "closed military zone" during a protest in the village of Nabi Saleh on June 28, an offence that rarely leads to prosecution in court.
Full report at:
http://english.ahram.org.eg/NewsContent/2/8/76147/World/Region/Israel-puts-Palestinian-women-activists-on-trial-f.aspx
-----------
Female doctor claims she was assaulted by PML-N MPA
July 11, 2013
SHEIKHUPURA: A Pakistan Muslim League- Nawaz (PML-N) MPA Arif Sandheela allegedly physically assaulted a lady doctor Dr Sana Jabeen over disagreement during a routine visit at a hospital, Express News reported on Thursday.
Although the DPO on site said that the police will start investigation in to the case once the lady doctor files a request, she has reportedly been taken to the district police station where she is being pressurised into a compromise.
Dr Sana claimed the issue was regarding free medicines, even though the government does not provide them. According to her account, MPA Sandheela is known to frequent the clinic for free medication and has never purchased a required hospital ticket priced at Rs2.
Full report at:
http://tribune.com.pk/story/575521/anger-management-pml-n-mpa-slaps-lady-doctor-in-sheikhupura/
--------
UN Women Appoints Former Dy President of South Africa as New Head
Liz Ford
10 July 2013
The former deputy president of South Africa, Phumzile Mlambo-Ngcuka, was named the new head of UN Women on Wednesday.
Mlambo-Ngcuka takes over as executive director from Michelle Bachelet, who resigned in March to run for another term as president of Chile.
Announcing the decision at the UN midday press conference, a spokesman for the UN general secretary, Ban Ki-moon, said: "Phumzile Mlambo-Ngcuka brings to this position a wealth of experience in advocating for women's issues with a combination of strategic leadership, consensus building and hands-on management experience."
Full report at:
http://www.guardian.co.uk/global-development/2013/jul/10/un-women-south-africa-phumzile-mlambo-ngcuka
-----------
URL: https://newageislam.com/islam-women-feminism/enforce-dress-code-women-curb/d/12541