New Age Islam News Bureau
9 Oct 2018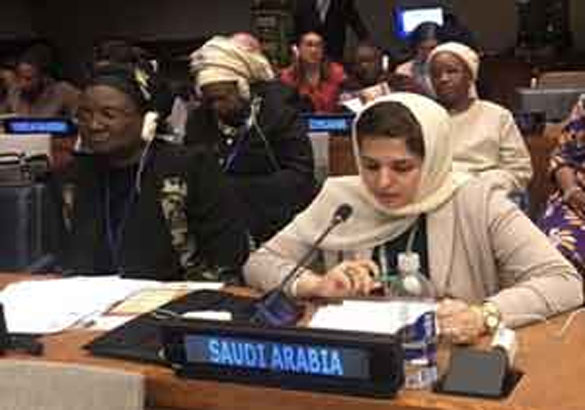 Photo: Saudi Arabia's mission in the UN has stressed that women's participation in the development of the Kingdom is a key aspect of Saudi Vision 2030. (Twitter photo)
--------
• Amazon attacked by women's group for supporting Haitham al-Haddad
• Fugitive Muslim hubby hid his religion to rape me, alleges woman
• Pakistan reserves verdict in Asia Bibi blasphemy case
• Ministry, SME Bank join hands to develop women entrepreneurship
• Samaco hosts technical workshop for women
• 'Women not second-class citizens in UAE'
• Saudi women learning to join the kingdom's tech revolution
• Saudi female bank manager denied marriage of choice
• 60% rise in number of cases attended by women notaries
• Afghan women still jailed alongside murderers for 'failing' virginity test
• Stop the death penalty, stop execution of women in Iran
• Three women political prisoners deprived from family visitations
• 23 women killed by men across Turkey in September
Compiled by New Age Islam News Bureau
URL: https://www.newageislam.com/islam-women-feminism/empowerment-women-key-saudi-arabias/d/116589
--------
Empowerment of women key to Saudi Arabia's progress, UN forum told
October 09, 2018
JEDDAH: Saudi Arabia took part in deliberations of the Social, Human and Cultural Committee of the 73rd session of the UN General Assembly in New York, reported SPA.
Addressing the audience, the Kingdom's mission said women participation in the development of Saudi Arabia is a key aspect of Saudi Vision 2030.
The Saudi representatives said the Kingdom is also making continuous efforts to prevent and combat human trafficking.
Recently, the Kingdom also lifted a ban on women driving, which will help boost women's financial power and allow them to play a bigger role in economic and social diversification in line with Vision 2030.
Increasing Saudi women's participation in the labor market will help in achieving one of the most important goals of the Kingdom's Vision 2030, which is to increase Saudi women's participation in the market to 30 percent, up from 22 percent in 2016. It will also help reduce the unemployment rate among Saudi women, which has reached a record high of 33 percent.
A number of sectors in the Kingdom will also benefit from women being allowed to drive, such as car sales, which are expected to increase by about 145 percent to reach SR108 billion by 2022 from SR44 billion in 2017, according to one economist.
http://www.arabnews.com/node/1384716/saudi-arabia
--------
Amazon attacked by women's group for supporting Haitham al-Haddad
October 9 2018
Amazon was condemned last night for supporting a hardline Islamic charity whose founder supports female genital mutilation.
The Times revealed yesterday that the internet giant had agreed to fund the Muslim Research and Development Foundation (MRDF). Counterextremism experts say it is Britain's leading Salafist organisation. Haitham al-Haddad, its founder, approves of FGM, child marriage and stoning to death for adultery.
Amazon's decision to include MRDF in its Amazon Smile programme was criticised yesterday by Forward, a charity that campaigns against FGM and child marriage and seeks "to safeguard the rights of African women and girls".
In an MRDF video published in 2010, Mr Haddad said it was the "consensus of all the scholars" that female circumcision was "better for the husband" and "a virtue or…
https://www.thetimes.co.uk/article/amazon-attacked-by-women-s-group-for-supporting-haitham-al-haddad-5tl6z22h8
--------
Fugitive Muslim hubby hid his religion to rape me, alleges woman
09 October 2018
A 24-year-old woman has alleged that a "Muslim man who revealed his religious identity and posed as Hindu befriended and raped her". The victim said she married the same man after the accused convinced her for marriage. The woman came to Gurugram about eight months ago after completing her graduation.
A case in this regard has been registered under relevant sections of the Indian Penal Code (IPC) at Sector-14 police station. Police have detained one of the accused for interrogation.
According to police, the victim is a 24-year-old woman, a native of Alwar in Rajasthan and presently living with her father at Arjun Nagar in Gurugram "She was doing job with one Vikas Sharma, who befriended her and later developed a physical relationship forcibly. When she told him she will approach police. The accused convinced her with marriage. Later the couple tied the knot earlier in February at a temple in Jaipur and were residing as husband and wife," a police official, said.
"When she got pregnant she told Vikas that we should register our marriage in a court. The accused told him that he could not do this as he belonged to Muslim community and his name was Bilal Ahmed. He beat me up on September 11 and fled somewhere without telling her," she alleged in her complaint.
Thereafter the victim approached her younger brother Mohit Kumar aka Dildaar, who resides in Gurugram but he too thrashed her and threatened to kill her. "The culprits had assumed Hindu names but were from the Muslim community," the woman alleged.
https://www.dailypioneer.com/2018/state-editions/fugitive-muslim-hubby-hid-his-religion-to-rape--me--alleges-woman.html
--------
Pakistan reserves verdict in Asia Bibi blasphemy case
October 9, 2018
Pakistan's Supreme Court said on Oct. 8 it has reserved its verdict in the final appeal by Catholic mother "Asia" Bibi to escape capital punishment in a blasphemy case that began with a dispute with field workers a decade ago.
Chief Justice Saqib Nisar headed the three-member court bench that heard her long-awaited appeal after she was handed the death sentenced in 2010 under the country's draconian blasphemy laws.
Justice Asif Saeed Khosa and Justice Mazhar Alam Khan made up the rest of the bench.
When asked if Asia Bibi was a Christian preacher, her lawyer Saiful Mulook responded, "She has never been a preacher."
After hearing the arguments from both sides the court reserved judgment and said it would announce its verdict later. No date was given.
Chief Justice Nisar said the delay was "for reasons to be recorded later" and warned the media to refrain from commenting on or discussing the case until the verdict has been delivered.
If her appeal is rejected, her final recourse will be to seek clemency from Pakistan President Arif Alvi who has risen to power along with newly elected Prime Minister Imran Khan.
The mother of five from a small village in central Pakistan has spent nine years behind bars after a fight broke out after with her Muslim co-workers over a cup of water while picking berries on June 14, 2009.
Asia Bibi claims one of the women attacked her for "dirtying" the drinking water because she was not a Muslim, to which she reportedly fired back, "What did your Prophet Mohammed ever do to save mankind?" This sparked another confrontation a few days later that saw her beaten and dragged before a village imam who gave her an ultimatum: Convert to Islam or die.
The case has made headlines around the world and even led Pope Benedict XVI to urge Pakistan to drop the charges against her.
Prior to yesterday's announcement, Mulook pleaded to the judges to set aside her conviction on the basis that the complaint against her was not filed until five days after the alleged altercation, and was filed the imam of a mosque who had not even been present when it reportedly occurred.
"There were contradictions regarding how the notice of the incident was taken. Moreover, no permission was sought from district officials or police to legally register the complaint," he said.
On the day the news of the verdict being delayed was released, a petition surfaced online seeking 500 signatures to push for Asia Bibi's immediate release. Shortly after it was uploaded it had received three times this target. Another petition started by a British woman in 2015 on social action website change.org garnered over half a million signatures.
As of Oct. 8, the defendant's name was among the top trending words on Twitter in Pakistan as support continued to pour in for the jailed Catholic woman.
"Over 71 years since Independence it's time for Pakistan to move on from its contentious blasphemy laws introduced by Britain during the British Raj and inherited by Pakistan at the time of partition. Praying that humanity and compassion prevail at the SC tomorrow," tweeted Sayeed Warsi, a British lawyer and former co-chair of the Conservative Party.
Rights activist Kashif Chaudhry also threw his two cents into the debate raging through the Twittersphere.
"In a few hours, Asia Bibi's final appeal will be heard by Supreme Court. Let's hope sanity prevails and the poor Christian mother of five is reunited with family. The real blasphemy here is the pain through which Asia has been put through. Prayers are with her," he wrote.
"Last chance for Pakistan to right the wrong it did," tweeted Naila Inayat, a female rights activist.
In a statement shortly after the hearing, Khadim Hussain Rizvi, head of the hard-line Sunni group Tehreek-e-Labaik Pakistan, said no blasphemer could escape punishment regardless of the verdict.
Anyone who attempts to save a blasphemer would face the wraith of the public, he said, implying vigilante justice could supplant the court's decision if the appeal goes in Asia Bibi's favor.
"International lobbyists encourage blasphemers in Pakistan," he added.
https://www.ucanews.com/news/pakistan-reserves-verdict-in-asia-bibi-blasphemy-case/83571
--------
Ministry, SME Bank join hands to develop women entrepreneurship
October 09, 2018
Kuala Lumpur: The Ministry of Women, Family and Community Development and its agencies will be working together with the Small Medium Enterprise Development Bank (SME Bank) to help boost women's participation in business.
Deputy Prime Minister Datuk Seri Dr Wan Azizah Wan Ismail (pic), who is also Women, Family and Community Development Minister said according to the Economic Census 2016, the number of women businesswomen was still small, accounting for only 20.6 per cent of the total number SME entrepreneurs in the country.
"I believe that the effective empowerment of the SME sector can alleviate the poverty rate.
"In this regard, the government has the responsibility in providing appropriate policies, while government agencies provide the right products and services, as well as advisory services as basic facilities for people's development via SMEs," she said at the launch SME Bank XCESS 2018 here on Monday.
Towards this end, she said a clear guideline was needed to identify and coordinate the roles and initiatives undertaken by each agency to avoid overlapping functions.
Meanwhile, about 700 participants took part in SME Bank XCESS 2018, a national level SME outreach programme aimed at addressing the issue of access to financing for SME entrepreneurs.
During the event, SME Bank introduced two new products, namely 'MySMELady' and 'MySMExport', to enable entrepreneurs to expand their business and penetrate the global market.
Its Chief Executive Officer, Aria Putera Ismail said the products were initiatives under the Pushing the Boundaries 1.0 project, which targeted to increase the SME's contribution to the national Gross Domestic Product through the creation of new products. "Through MySMELady, women entrepreneurs who qualify can apply for financing of up to RM1 million with minimum collateral and successful applicants are given the option to withdraw up to 30 per cent of the total working capital through the Bank Islam debit card.
"For MySMExport, entrepreneurs are offered financing of up to RM5 million without requiring any collateral, in addition to access to facilities and trade programmes with the Malaysia External Trade Development Corporation and Bank Muamalat," he said.
On Xcess 2018, Aria Putera said 20 credit officers were tasked with guiding the participants in a face-to-face programme through 'Biz Clinic', and the event also included a business-matching session with seven vendors from the retail, telecommunications, information technology and manufacturing sectors. – Bernama
http://dailyexpress.com.my/news.cfm?NewsID=127810
--------
Samaco hosts technical workshop for women
October 09, 2018
Samaco Automotive Company, the exclusive dealer for Audi cars in Saudi Arabia, has launched a series of technical workshops for its female customers. The workshops not only aim to teach the basics of car maintenance but also raise awareness on the importance of regular vehicle service.
A recent workshop in Jeddah, which was supervised by after-sales service experts and professionals, consisted of a six-station tour. Each station outlined one topic/aspect about which the guests were informed about. The tour started with the direct reception station, moving on to Audi's twin service station, then to the tires check-up station, the under-hood check-up station, the genuine vs. non-genuine parts station, and finally the car main features and options station. After the tour, the guests were shuttled to the Audi terminal, where they attended a demonstration of the entire range of Audi cars, as well as watched documentary about each model.
Later, some participants proceeded to demonstrate a practical application of the skills they had learned, like tire changing. Theoretical and physical tests validated their service skills learned from the workshop.
Amal Shaaban, a workshop participant, said: "It is a unique experience for the ladies. We would like to thank Samaco Automotive Company for this initiative and for inviting us to be a part of this one-of-a-kind event. We will, for sure utilize what we have theoretically and practically learned."
Hanan Amer, owner of the new Audi Q5 car, was all praise for the Samaco-Audi initiative, and thanked the company for giving women a chance to attend the workshop. She said the initiative enhanced her awareness about car services, as well as her confidence to apply the appropriate steps in case of a car breakdown.
Kerem Tas, general manager of Audi brand at Samaco Automotive Company, said the initiative will strengthen the company's relationship with its customers. "We are keen to support the independence of our female Audi customers, so we have launched this initiative to strengthen their confidence as well as emphasize our commitment to provide the highest standards of services, in general, and after-sales services, in particular," he said.
"Following the success of this initiative, we will now offer this opportunity at all our branches in the Kingdom to further the awareness of our female customers on the importance of regular car services," Tas added.
http://www.arabnews.com/node/1384666/corporate-news
--------
'Women not second-class citizens in UAE'
October 8, 2018
The UAE is trying to change the stereotyping of women - that a woman in the Arab or Muslim world is a second-class citizen.
In a world that assumes Arab and Muslim nations demean women and give them little-to-no authority, the UAE has made it a major mission to prove them wrong and turn such a mind-set around, a cabinet official told a 2500-strong crowd of Emirati students and military servicemen.
"Women empowerment is one of the greatest achievements in the UAE," said Dr Anwar Mohammed Gargash, Minister for Federal National Council Affairs (FNCA) and the Minister of State for Foreign Affairs.
"The UAE is trying to change the stereotyping of women - that a woman in the Arab or Muslim world is a second-class citizen. But women here are the first and they are just as powerful as men," he said on the first day of the Mohamed Bin Zayed Majlis for Future Generations 2018 event, held on October 8-9 at the Abu Dhabi National Exhibition Centre (Adnec), under the patronage of His Highness Sheikh Mohamed Bin Zayed Al Nahyan, the Crown Prince of Abu Dhabi and the Deputy Supreme Commander of the UAE Armed Forces.
In his message, Dr Gargash said that the UAE's vision has inspired the society to enhance the opportunities provided for all women, an achievement that had been driven by the Mother of the Nation, Sheikha Fatima Bint Mubarak.
"The women of the UAE have been worthy of this responsibility," Gargash told the crowd, adding that ladies would have a crucial role to play in nation-building.
They are already achieving incredible milestones, he said, with one as young as 22 appointed as the world's youngest minister, Shamma bint Suhail Faris Al Mazrui, Minister of State for Youth. Others have been long serving the country, helping its leaders make critical decisions, including Dr Amal Al Qubaisi, President of the Federal National Council (FNC) and the first female leader of a national assembly, not only in the UAE, but also in the Arab world.
Without a doubt, the UAE has already overcome the stereotype of what an Arab and Muslim woman appears to be "in the eyes of the world," Gargash said. "We have proven that women are just as capable of climbing the ladder as men, no matter their age or background."
He told the students that they must represent what the UAE is all about, staying humble and holding its values close to their hearts.
Country is with you, CP assures youth
The youth will always have the support of the government and the country, His Highness Sheikh Mohamed Bin Zayed Al Nahyan, Crown Prince of Abu Dhabi and the Deputy Supreme Commander of the UAE Armed Forces, said in a tweet he posted during the majlis event.
"With the launch of the second session of the MBZ Majlis for Future Generations, we resume the journey of creating the future of the UAE and its leadership globally," Sheikh Mohamed said.
The country's leaders trust that the future generations will make the nation proud, the Crown Prince of Abu Dhabi said. "We strongly believe that young people have the greatest potential strength among us."
Follow values, be ready to face challenges: Minister tells youth
Emirati students studying abroad must always carry their values and traditions and set an unprecedented example of the UAE, even when faced with racism or challenges, said the youngest minister in the UAE.
Shamma bint Sohail Al Mazrouei Al Mazrouei, Minister of State for Youth Affairs, addressed 2,500 students on Monday about the importance of remaining faithful to one's values and shared some personal obstacles that she faced during her studies abroad.
"I will never forget the day that I was questioned by one teacher about my hijab," the 24-year-old minister told the crowd at the kick-off of the Mohamed Bin Zayed Majlis for Future Generations, held under the patronage of His Highness Sheikh Mohammed bin Zayed Al Nahyan, Crown Prince of Abu Dhabi and Deputy Supreme Commander of the UAE Armed Forces.
"The teacher asked me: Why are you wearing a hijab, when your parents are not even here?" recalled Shamma Al Mazrouei.
"I told her: My parents may not be here, but my values are still with me."
Urging the UAE's future generation of leaders to pursue their own professional goals, she said: "Study not to fulfil the desires of those around you, but to fulfil the goals and aspirations you set for yourself. Follow your own ideals and values on the path to success."
The world's youngest appointed minister told the students to be ready to face challenges in life, and without challenges, one cannot learn to better himself. She added: "I'm very lucky to be a student within the UAE Cabinet, and I see myself in that way because I'm surrounded by leaders and ministers that I learn from each day."
The minister highlighted the value of hard work as she offered examples of self-growth and development from her experiences. Al Mazrouei described how when deciding which study option she should pursue, her parents encouraged her to choose sciences, rather than the arts. "I realised the true advantages of my father's advice only later in life," she added.
After gaining a bachelor's degree in Economics from New York University Abu Dhabi, she earned her master's degree in Public Policy at the University of Oxford.
"Oxford was tough. I was one of the youngest students, most of the students were 40-50 years old, but it was a pleasure to gain knowledge. I realised that I had a responsibility as an Emirati to represent my country, and that's why I worked so hard."
https://www.khaleejtimes.com/nation/abu-dhabi/women-not-second-class-citizens-in-uae
--------
Saudi women learning to join the kingom's tech revolution
By Lubna Hamdan
08 Oct 2018
Women in Saudi are becoming more involved in the kingdom's tech revolution, according to Hisham Elaraby, the regional director for MENA at online education platform Udacity.
Speaking to Arabian Business, Elaraby said Saudi women are particularly interested in four tech areas, including android development.
"Digital marketing is one of Saudi women's preferred topics. There is also front end web development, data in all its forms, and android development. We see a lot of women learning to be android developers," he said.
AI to data science
Around 65% of the students taking part if Udacity's programme in Saudi Arabia, which runs in partnership with the MiSK foundation, are female.
The Silicon Valley-based education technology company offers nanodegrees that cover an array of subjects ranging from self-driving cars and AI to data science and digital marketing. Its aim is to upskilling students for jobs of the future, but also update current skills of older workforce.
Content for their programs are created in partnership with leading organisations including Google, Facebook, Amazon and IBM. In Saudi, Udacity also offers the MISK Program scholarship for nearly 3,000 Saudi students interested in mobile and web development, machine learning, business analysis and programming.
Strong mandate
Elaraby said it is important to integrate the topics into the region's overall curriculums.
"It's extremely important to include AI and machine learning into the region's educational systems. Is the region ready for that? We may not have many large tech start ups that are coming into the scene, with which you would typically associate AI and machine learning, but we have a few.
"We have the Souqs and the Careems of this world who are definitely using machine learning to deliver their services. But the demand is much wider than that," he said, referring to other traditional businesses such as telecom operators or banks.
"As retailers, [they] are coming to grips with the idea that they are sitting on a lot of data and that the future will be about how they use this data to deliver a better customer experience. So people who are hiring machine learning experts are not only the start ups, but also the government.
"In Dubai specifically, government service providers such as DEWA or RTA have a strong mandate to digitise and adopt technology. The demand is more far reaching than one would expect," he said.
While Udacity does not aim to compete with existing universities, it urges educational organisations to update their curriculums with tech topics, according to Elaraby.
https://www.arabianbusiness.com/technology/405825-saudi-women-are-joining-the-kingoms-tech-revolution
--------
Saudi female bank manager denied marriage of choice
By KHALIL HARB
OCTOBER 5, 2018
A Saudi court of appeals this week ruled that a 38-year-old woman who manages a bank cannot marry the man of her choice against her brother's wishes, a stark reminder of the enduring male guardianship system in a country implementing major social and economic changes.
The court upheld a ruling made two years ago in favor of her brother's argument: "The man is not equally faithful." The woman has vowed to keep fighting against her family's objections.
Saudi Arabia, one of the world's most conservative countries, has over the past year lifted a ban on women driving, allowed mixed-gender concerts and re-opened cinemas after a decades-long ban. Crown Prince Mohammed bin Salman, in his early thirties, is widely viewed as the architect behind those sweeping changes.
The latest court ruling caused a wave of criticism and mockery on social media among many Saudis who less than one year ago witnessed the crown prince pledge a "moderate, open" Saudi Arabia.
"Seventy per cent of the Saudi population is under 30, and we will not spend the next 30 years of our lives dealing with destructive ideas. We will destroy them today and at once," he told foreign investors at a Riyadh conference in October 2017, in an apparent challenge to hardliners.
Brother disapproves
The woman, whose name has not been revealed in the press, has been dubbed the "Onaiza girl" after her home city in the central province of Al-Qassim. In an interview with the Saudi newspaper Okaz, she said: "I will not keep quiet. I will apply for mercy." Seven years ago, her uncle had approved the marriage, but the union was halted when a brother refused to approve it. The woman's brother alleged that the man, a teacher, was not equally religious to his sister.
The general court in Onaiza sided with the immediate family member, agreeing that the marriage lacked "equivalence."
The teacher recently proposed again, but her brothers said no, and one of them told the court the would-be groom was seen playing oud, a traditional Arabic musical instrument.
The woman challenged the initial ruling at a court of appeals, submitting two pieces evidence: one asserting that one of the eyewitnesses to the oud playing was lying, and the other, a written endorsement from the mosque preacher and the teacher's colleagues affirming his commitment to prayer and honesty.
This week, the court upheld the initial ruling that "the man who plays music is not equally faithful."
The ruling comes as Crown Prince Mohammed works to project a moderate image of the kingdom, long associated with a fundamentalist strain of Wahhabi Islam.
The woman has pointed out the irony of her situation: she holds a leading post in a bank supervising more than 300 employees, and at the same time is considered unqualified to deal with her personal issues. Now she faces the prospect she will never marry and remain under the control of her brothers.
Social media outcry
On social media, many Saudis expressed discontent with the ruling.
In a video aired on Saudi Arabia's Khalejia TV, with more than 1 million Twitter followers, a presenter asked: "Where did this new 'inequality' concept come from?"
Turki Shabanat, a Saudi Twitter user, mocked the court ruling, asking if the teacher "was seen holding a bomb, not an oud?"
Saudi women over the past year have gained significant rights, including the ability to open their own businesses without the consent of a male relative.
But many restrictions remain, and the modernization drive has been accompanied by a crackdown on political activity.
In June, the government arrested 17 citizens who had campaigned for the rights of women to drive and for the end of the male guardianship system.
For women like the bank manager from Onaiza, the battle for personal freedoms continues.
http://www.atimes.com/article/saudi-female-bank-manager-denied-marriage-of-choice/
--------
60% rise in number of cases attended by women notaries
2018-10-08
By Hanadi Al-Malki
JEDDAH — There has been a 60% increase in the number of cases attended by women notaries after the Ministry of Justice started issuing notary licenses to them in July this year.
Speaking to Okaz/Saudi Gazette, a number of women notaries said that they successfully carried out various notary services such as handling transactions involving real estates and transfer of ownership of deeds worth millions of riyals.
Najoud Adawi, a notary, said she used to receive several cases including those related to the issuance and cancellation of power-of-attorneys and providing opinions on queries on legal and judicial matters.
"I started handling cases of real estate deals, including purchase and sale of houses and villas and transfer of ownership of properties," she said.
Adawi said the ministry's decision to grant licenses to women notaries has benefitted a large number of women, especially employees, the elderly and the sick.
Samiyya Hindi, another notary, said that a large number of women started taking advantage of notary services after they entered the field.
These services included the issuance or cancelation of power of attorney for individuals and firms, document certification, the transfer of real estate rights, she said, adding that more women are expected to enter this field.
Last July, the Ministry of Justice issued licenses for 12 female lawyers allowing them to do some notary services.
These include five lawyers in Jeddah, four in Riyadh, two in Makkah and one in Unaizah.
http://saudigazette.com.sa/article/545150/SAUDI-ARABIA/60-rise-in-number-of-cases-attended-by-women-notaries
--------
Afghan women still jailed alongside murderers for 'failing' virginity test
9 Oct 2018
Seven months ago, 18-year-old Bahara* was imprisoned for failing a test that she should never have had to undergo.
Bahara had run away from home to meet a man she had been in a relationship with. They had never met, but were in contact through calls and messages. That night, when they met for the first time, he raped her. But when she reported the rape to the police, instead of support, she was taken to hospital to undergo a virginity test – a practice that was banned in Afghanistan in 2016.
"I was on my period that day, too, and I pleaded for them not to send me. They wouldn't listen," Bahara says.
"I thought the doctors would at least take me to a private place for the test. But it was done in a room full of people – doctors, nurses, and even prying visitors and other patients who wanted a closer look at my naked body. At that moment, I would have preferred to die," she says.
A female doctor performed the test using her two fingers, checking if the hymen was intact. After enduring the physical and emotional ordeal, Bahara was told she needed to undergo another test. "Because I was on my period they couldn't gather accurate results," she says.
Bahara is now an inmate at Mazar-i-Sharif high security prison in Balkh province. Many women have been imprisoned here for what are considered "moral crimes", which include running away from home and having sex before marriage. Most will have had to undergo virginity tests and many women will spend months in jail because they failed them.
Women imprisoned for running away have usually fled dire circumstances, from domestic violence to forced sex work, and women categorised as "moral criminals" are jailed alongside convicted murderers.
Now campaigners hope that the passing of a public health policy to ban virginity testing in hospitals and clinics will bring significant change. The testing, which has been condemned as degrading and discriminatory, was officially banned in 2016, but that hasn't stopped police taking women and girls for testing or stopped hospitals and clinics performing tests.
At Mazar-i-Sharif prison, in a small courtyard smelling heavily of cigarettes, women talk on phones, pace up and down, wash clothes and eat fruit. Inside, a female psychologist leads a group therapy session, organised by Marie Stopes International.
Following the announcement of the new policy, Marie Stopes, with funding from the Swedish government, will work with healthcare professionals in every Afghan province to ensure they know about the ban, and implement it.
The twice-weekly sessions at the prison are a chance for women to share their feelings about how they came to be in the prison, to build trust and discuss their hopes and fears for the future. The room is decorated with drawings that reflect their aspirations for life after jail.
But even though they will eventually leave the prison, the stigma of their "crime" will remain. Bahara longs to be released, but she is fearful of what awaits on the outside.
"I'm not sure I can rejoin society and go back to living a normal life. My being here has damaged my family's reputation, and I truly fear my father might kill me once I'm out," she says. "Even if a person is a criminal, they're still a human. Human beings don't deserve to go through what I went through."
The fear of being accused of not being a virgin permeates society.
At a beauty parlour in Kabul, Hosnia is worried about her wedding night. Staring down at her shaking hands, decorated with intricate henna patterns in preparation for her wedding the next day, she says a female relative didn't bleed on her wedding night, and was punished for it.
"Even if they're virgins, some girls just don't bleed after their first time. But here, it's widely believed that if you don't bleed, you're not pure."
Although Hosnia was a virgin, she was terrified that she might not bleed – a concern shared by many women in Afghanistan. In most cases, a bride who doesn't bleed is "returned" to her father by her husband, divorced immediately, or in some cases even killed. "I've never talked about virginity with my fiancé before," she says.
Before the national public health policy was passed, progress was slowly being made in parts of the capital to stop virginity testing and arrests for "moral crimes". Colonel Bismillah Taban, police commander for District 9 in Kabul, banned police from sending women for testing, paving the way for further progress. Before he took up his post, he said, women who were seen by police in public places with other men were immediately suspected of having sexual intercourse, and sent for testing.
The Afghanistan Forensic Science Organisation, an NGO, says: "Hymen examination doesn't only have a negative psychological impact on girls and women. It is a dangerous test, which in some cases causes physical pain, damage to the hymen, bleeding and infections."
The organisation's director, Mohammad Ashraf Bakhteyari, says that not only does virginity testing violate human rights, "bleeding is not a sign of a hymen's existence or absence". But this information is not widely known, as too few Afghan school students receive any kind of sex education.
Zahra Sepehr, director of the organisation Development and Support of Afghan Women and Children, says the school curriculum needs to change. "If sex education isn't taught in an academic environment, our children will learn about it through porn or other unreliable sources," she says. "Schools have to conduct meetings with parents and teachers to encourage discussion about adultery, sex education and hormone changes. These discussions will then raise enlightened, educated students who are aware of their bodies. This will also go a long way to discouraging boys from inflicting violence or unwanted attention on women."
Back at Mazar-i-Sharif, Bahara is trying to remain positive. "I want to be hopeful and really wait for the day to see my family happy again and hug my mother, as I miss her a lot. In the future, I would love to continue my education and become a teacher to educate my students, especially girls, so they do not face what I experienced in my life."
https://www.theguardian.com/global-development/2018/oct/09/afghan-women-still-jailed-alongside-murderers-for-failing-virginity-test
--------
Stop the death penalty, stop execution of women in Iran
October 09, 2018
October 10, marks the World Day against the Death Penalty. The death penalty violates the most fundamental human rights, the right to life and the right to freedom from torture and cruel, inhuman and degrading punishment.
The death penalty is also considered discriminatory as it is often used against the most vulnerable in society, including the poor, ethnic and religious minorities, and people with mental disabilities. It is also used by some governments to silence their opponents.
Iran is the world's leading per capita executioner. It also holds the record in the execution of women and minors.
The Iranian regime is among those governments that execute their opponents. 120,000 people have been executed in Iran since 1981 for their opposition to the government, at-least one-third of whom have been women.
According to the international laws, pregnant women must not be executed, whereas in Iran, at least 50 pregnant women have been executed in the 1980s. Women were also executed en masse in 1988, during the massacre of 30,000 political prisoners in Iran.
The Iranian regime uses the death penalty as a tool to suppress and silence a disgruntled public the majority of whom live under the poverty line, are unemployed and deprived of freedom of expression.
Execution is a tool which helps the mullahs' regime hold its grab on power. Over 3,600 people have been executed over the past five years under Hassan Rouhani. In the same period, 84 women have been executed.
Among the reasons that lead to the execution of women are early forced marriages, being deprived of the right to divorce, domestic violence against women, and poverty.
The international law recommends alternative punishments for imprisonment of women who are mothers and have to take care of their children. In Iran, however, mothers are not only imprisoned but handed death sentences.
Most women do not report violence and rape because judicial authorities might hold the woman, the victim, guilty and accuse her of illicit relations which is punishable by death.
One of the infamous cases of execution of women has been the case of Reyhaneh Jabbari. Reyhaneh was an interior designer, 19 years old, when she was assaulted by one of her clients, a senior official of the Intelligence Ministry. Reyhaneh killed the man in self-defense, however, the court convicted and executed her after seven years of torture and imprisonment, on October 25, 2014. The Intelligence Ministry and prison officials wanted Reyhaneh to make false confessions to justify the crime of their official in exchange for her life.
On the World Day Against the Death Penalty, we draw attention to the plight of women in Iran who are victims of execution and urge the international community to pressure the Iranian regime to stop the death penalty, especially against women.
https://women.ncr-iran.org/articles/5513-stop-the-death-penalty-stop-execution-of-women-in-iran
--------
Three women political prisoners deprived from family visitations
08 October 2018
Golrokh Iraee, Atena Daemi and Maryam Akbari Monfared, three women political prisoners in the women's ward of Evin Prison have been deprived of their family visitations for three weeks since Tuesday, October 2, 2018.
Prison agents have argued that the illegal verdict has been handed down because of the three women political prisoners' verbal argument with prison guards at the visitation hall where they chanted slogans.
The three women political prisoners, Golrokh Iraee, Atena Daemi and Maryam Akbari Monfared, demanded to see the verdict, however, the head of the women's ward said it had been verbally communicated to them by Charmahali, the Prison Administrator, and the Prosecutor's Office.
On Saturday, September 9, 2018, the day after the executions of Ramin Hossein Panahi and Loghman and Zaniar Moradi, three political prisoners detained in Rajai Shahr Prison in Karaj, the three women political prisoners encountered an unannounced inspection inside the visitation hall. They resisted and refused to be inspected.
The Prison Disciplinary Council formed a meeting in the absence of the three women political prisoners and decided to ban family visits for them for three weeks. They were not shown any written papers but just verbally informed of the order.
Following up on the issue, the three women political prisoners found out that the order had been arbitrarily issued by the Prison Administrator. Vaziri, the Deputy Prosecutor, has promised the prisoners to see into the issue and resolve it.
In the meantime, Maryam Akbari Monfared who is a mother of three, was supposed to have her weekly visitation day changed since the beginning of the school year because two of her daughters are university students and her youngest daughter goes to elementary school.
The change had to take place according to the prison's regular procedures but it has not taken effect due to hindrances by the Prosecutor's Office representative, Rostami.
Maryam Akbari Monfared has been imprisoned for nine years without a single day of leave. During this time, she has been seeing her daughters in the visitation hall, and if the procedure of weekly visitations is not implemented for her, she would not be able to see them.
https://women.ncr-iran.org/iran-women-news/5512-three-women-political-prisoners-deprived-from-family-visitations
--------
23 women killed by men across Turkey in September
October 8, 2018
Twenty-three women were killed by men across Turkey in September, according to a report by online news outlet Bianet, which compiled data from local and national newspapers, news sites and news agencies.
According to the report, men killed at least 23 women and two girls in September. Twenty-two percent of the women were killed for seeking a divorce and 22 percent of the murders occurred in public places.
The report also showed that men raped four women; forced 24 women into sex work; harassed 22 women; sexually abused 19 girls; and inflicted violence on 36 women across Turkey in September.
The Bianet's "Male Violence Monitoring Report" only covers women who lost their lives as a result of violence perpetrated by men. They do not include any violence cases or crimes that are not gender-based.
Other than these murders, the perpetrator of the murder of a woman who is a citizen of Georgia is yet to be found, and another woman was found dead in suspicious circumstances in Antalya. It was determined that the murderer of Moldovan Tatiana A., who was killed in İstanbul in February, was the son of her friend.
Men killed at least 183 women and 10 children in Turkey, raped 50 women, harassed 162 women, forced 375 women into sex work, sexually abused 279 girls and injured 316 women to date in 2018.
https://stockholmcf.org/23-women-killed-by-men-across-turkey-in-september/
--------
URL: https://www.newageislam.com/islam-women-feminism/empowerment-women-key-saudi-arabias/d/116589
New Age Islam, Islam Online, Islamic Website, African Muslim News, Arab World News, South Asia News, Indian Muslim News, World Muslim News, Women in Islam, Islamic Feminism, Arab Women, Women In Arab, Islamophobia in America, Muslim Women in West, Islam Women and Feminism