New Age Islam News Bureau
7 Dec 2016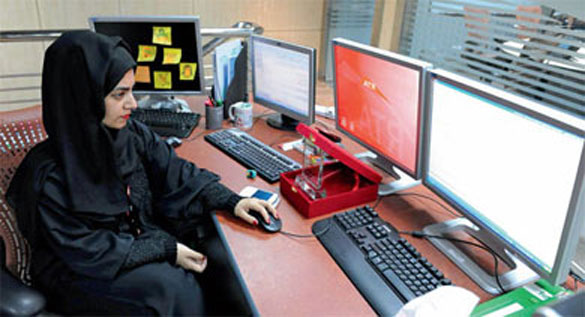 Shaikh Mohammed reading a book with his late father, Shaikh Rashid. It took Abdullah 14 days to paint the murals. (Photo by Kiran Prasad)
--------
• Germany May Join Countries That Restrict Muslim Women's Dress
• Two Muslim Women in New York Subject To Hate Crimes in 36 Hours
• Egyptian Woman Weighing 500 Kg Gets Visa After Indian External Affairs Minister Intervention
• Defusing Bombs, Defying Stereotypes: KP Woman to Become First Female BDU Member
• Dhaka Metropolitan Police Data Reveals Women Repression Cases Are Barely Investigated
• Perlis to Make It Easier To Register Muslim Marriages in Malaysia, Done Abroad
• CNN Reporter: U.S. Women Should Wear Headscarves in Solidarity With Muslim Women
Compiled by New Age Islam News Bureau
URL: https://newageislam.com/islam-women-feminism/emirati-women-take-streets-create/d/109312
-------
Emirati WOMEN take to the streets to create works of art
Sherouk Zakaria
December 6, 2016
Ashwaq Abdullah and Maisoon Al Saleh, 28, were among the three Emirati artists who joined the project spearheaded by Brand Dubai, creative arm of Dubai Government's Media Office, in partnership with Dubai Municipality.
If you haven't been to Satwa for a while, visit it now. The area has transformed into an art gallery of 16 colourful murals painted by 16 artists on the 2nd of December Street, as part of Dubai Street Museum's first phase.
Held under the theme of portraying UAE history and the 1971 union, Satwa is now covered with street art that showcase symbols of the country's heritage including PEARL diving and falcons to show the street's historical significance.
Ashwaq Abdullah and Maisoon Al Saleh, 28, were among the three Emirati artists who joined the project spearheaded by Brand Dubai, creative arm of Dubai Government's Media Office, in partnership with Dubai Municipality.
Abu Dhabi-based Abdullah is the first female Emirati artist to paint a large-scale mural. It took her 14 days to paint large murals on two buildings including the portrayal of the childhood of His Highness Shaikh Mohammed bin Rashid Al Maktoum, UAE Vice President and Prime Minister and Dubai Ruler, reading a BOOK with his late father.
"The image showed how IMPORTANT reading was to Shaikh Mohammed ever since he was a child," said Abdullah, who holds a degree in graphic design, a minor in interior design and has been on the art scene for the past nine years.
Her other work displayed UAE Founder Shaikh Zayed bin Sultan Al Nahyan, with then-Dubai ruler Shaikh Rashid bin Saeed Al Maktoum.
"Drawing on a large scale was a challenge that I took. And since our founders are our history, I sketched their photos as they carry the meanings of our happiness, hope and union," she said.
Abdullah who normally sketches through various mediums including painting with Arabic COFFEE as a symbol of her culture, said her inability to see the full picture while painting on the wall was her biggest challenge.
"The first time I went on the crane, I was very scared! Drawing on a rough surface was also difficult but it got easier with the time." Despite the challenges, Abdullah said she was ecstatic that graffiti art made its way to UAE culture. "I've always planned to receive street art training! We need this type of art in the country, and painting live in front of people increases our confidence as young artists to show our work to the world."
She noted that working with international artists and engaging in the graffiti art has opened doors to a new field for her.
'Hello, neighbours'
The best part about painting on a building, Al Saleh said, is making new friends in balconies! The Dubai-based artist painted her first mural titled "Trading Correspondence" as part of her series The Dara Chronicles series that involved drawing series of stamps that reflect UAE history.
"I started a conversations with various nationalities and backgrounds every time I passed by a balcony. They encouraged and supported me all the way. Honestly, I miss them!" said Al Saleh, who holds an interior design degree from Zayed University.
Despite the friendly chats, Al Saleh worked for 10 hours daily for 12 days to paint the mural using acrylics on a building full of curves.
"It would have been easy for me if the building had a flat surface but I had to move the crane three times per balcony to paint a specific area," said Al Saleh, whose artistic style normally revolves around digital paintings to mixed-media prints of the Emirati culture and exotic fascination with human skeletons.
"Now I'm capable to paint any building regardless of its complex architecture," said Al Saleh, who started her art career ever since she was a child.
For her, the Street Museum initiative has created a platform for artists to showcase their artworks while beautifying the streets of Dubai.
From walls of Satwa to Hatta
According to Sanaz Askar, founder of The Mine Gallery, an official producer of the project, the first phase involved 12 international artists, three Emirati artists and a UAE expat who helped transform 2nd of December street.
Askar added that the initiative has an educational element of inviting local art students to support international artists and gain experience. Local talents were asked to submit concepts relevant to the project's theme and were chosen accordingly.
The Dubai Street Museum will showcase the past, present and future of UAE from walls of Satwa to Hatta.
While the first phase is finished, the location of the second phase that will depict the present is yet to be revealed. "The next step is a surprise, but all we can say is the murals' theme will showcase the dynamic and fast-changing present of the UAE," Askar told Khaleej Times.
Local artists can submit their concepts through branddubai.com
What is Dubai Street Museum
Shaikh Mohammed approved the project in November as a new public art that seeks to highlight Dubai's unique identity, values and aspirations. It is inspired by his vision to transform Dubai into an open-air museum, and PROMOTE aesthetic excellence and innovation.
The museum will see international and local artists working together to create distinctive public artworks across Dubai.
http://www.khaleejtimes.com/nation/general/emirati-women-take-to-the-streets-to-create-works-of-art
-------
Germany May Join Countries That Restrict Muslim Women's Dress
Dec 06, 2016
Saying it was not in tune with German culture, Chancellor Angela Merkel said on Tuesday that the full-face veil must be banned in her country. Merkel's endorsement could potentially make Germany the latest European country to restrict certain Muslim religious garb.
Merkel made her stance known to a crowd of 1,000 delegates ahead of her Christian Democrats' (CDU) party conference vote. "Here we say 'show your face.' So full veiling is not appropriate here," she told the crowd, according to Al Jazeera English. "It should be prohibited wherever possible."
Merkel also aired concern about the possible spread of Shariah law in some communities in Germany. "We don't want any parallel societies," she said, as quoted by The Washington Post. "Our law takes precedence before tribal rules, codes of honor, and Shariah."
Merkel, seen as one of the last bastions of liberal democracy in a West increasingly informed by nativist sentiment, is aiming to lead Germany for a fourth term, and her toughening stance and rhetoric on Islamic coverings undoubtedly has a political bent. Although she had previously said Muslim veils prevent full assimilation, she has also been criticized for her handling of Germany's refugee crisis, in which she allowed close to one million migrants, most of them Muslim, into Germany over the last year.
Germany has a Muslim community that numbers approximately 4.7 million. According to the Post, only a few hundred of the country's Muslim women don burqas, or full body coverings that only leave a little opening for the eyes.
Still, Germany would become the third European country, and the sixth country worldwide, to ban the full-face veil in public. France and Belgium have already instituted such laws on the continent, and African countries Chad, Gabon, and the Republic of Congo have also done so. Elsewhere around the world, local and partial bans exist: for instance, full-face veils are banned in public schools in Azerbaijan. In Malaysia, public servants are not allowed to cover their faces. Burqas are also banned in Xinjiang, China — home of the country's Uighur Muslim population — and cities such as Lombardy in Italy, Reus in Spain, and Stavropol, Russia.
Ibrahim Hooper, the National Communications Director of the Council on American-Islamic Relations (CAIR), condemned Merkel's proposal. "We believe everyone should be free to wear the clothing of their choice and that laws targeting the tiny minority of Muslim women who wear face coverings are an expression of increasing Islamophobia in Europe," he told Vocativ in an email Tuesday. "Freedom is about making personal choices, not having a decision imposed on individuals by the state. Growing anti-Muslim bigotry should be repudiated, not pandered to."
http://www.vocativ.com/381543/germany-muslim-women-dress/
-------
Two Muslim Women in New York Subject To Hate Crimes in 36 Hours
Dec 06, 2016
Two Muslim women working for authorities in New York suffered hate crimes just 36 hours apart, officials said Monday, following an explosion in such incidents across America since the election of Donald Trump.
A uniformed city transit employee was taken to hospital with injuries to her knee and ankle after being pushed down the stairs at Grand Central Station, the bustling rail hub in the heart of Manhattan, en route to work Monday.
A male suspect allegedly pushed the station agent and called her "terrorist," said Democratic New York Governor Andrew Cuomo.
On Monday, another man was held on a $50,000 bail on a hate crime charge after an off-duty Muslim police officer was harassed in Brooklyn while out with her 16-year-old son Saturday evening, prosecutors said.
Cuomo said a subway train was also found vandalized with swastika graffiti on Saturday and that Ku Klux Klan fliers and business cards were distributed at two stations on the Long Island Rail Road last week.
Cuomo and city mayor Bill de Blasio, both vehement critics of Trump, said hate crimes would be prosecuted and not tolerated.
De Blasio linked a rising number of incidents to rhetoric from Trump on the campaign trail disparaging illegal immigrants, women and Muslims.
"Do I blame Donald Trump for using hate speech during his campaign? Absolutely. He did. It's a fact. He said horrible things about Muslims, horrible things about Mexican Americans," he told reporters.
Police officer Aml Elsokary, who proudly wears her hijab on duty, appeared at a news conference alongside de Blasio, who has hailed her a hero for running into a burning building to help save a young girl and her grandmother.
"I became a police officer to show the positive side of a New Yorker, a Muslim woman, that can do the job," Elsokary told reporters.
"I'm born and raised here and I'm here to protect you," she added.
Around 900 Muslim Americans currently serve in the New York police department, the largest city force in the country.
Police said Monday that hate crimes were up 35% in the city from last year but that arrests in those cases were also up 45%. Most reported hate crimes are anti-Semitic, police said.
New York is America's largest city and one of its most diverse with more than three million of its 8.55 million population foreign-born.
Nearly 900 incidents of hate and intolerance were recorded across the country in the first 10 days after Trump's election, many by assailants apparently emboldened by his victory, an advocacy group reported last week.
Trump's shock November 8 defeat of Hillary Clinton, who was bidding to become America's first female president, was cheered by white supremacists and others fired up by his rhetoric.
The president-elect has since distanced himself from the white nationalist movement, telling The New York Times last month: "I disavow the group."
http://www.hindustantimes.com/world-news/two-muslim-women-in-new-york-subject-to-hate-crimes-in-36-hours/story-1J2dWohUkDDCgJhLUrjHfK.html
-------
Egyptian Woman Weighing 500 Kg Gets Visa After Indian External Affairs Minister Intervention
December 6, 2016
New Delhi: A bed-ridden Egyptian woman weighing 500kg was today granted visa by Indian Embassy in Cairo following intervention by External Affairs Minister Sushma Swaraj.
36-year-old Eman Ahmed, a resident of port city of Alexandria, was issued the medical visa hours after a Mumbai- based bariatric surgeon requested Swaraj to help the woman travel to India for her treatment.
"Thanks for bringing this to my notice. We will definitely help her," Swaraj tweeted in response to the request.
Hours later, Dr Muffi Lakdawala, who as per his twitter profile is also a philanthropist, tweeted that Indian Embassy in Cairo granted visa to Eman, a resident of Alexandria.
"Embassy in Cairo called Visa granted.Thank you so much for this prompt response, impressed Appreciate the help @SushmaSwaraj," Lakdawala said.
Earlier, seeking Swaraj's intervention, he had said Eman weighs 500 kg and has been refused the visa.
"Ma'am , Eman Ahmed (Egypt) 500kgs requested me 2 save her pls help me get her a medical visa as refused thru normal process @SushmaSwaraj," he had tweeted.
Eman's weight prevented her from pursuing her studies as she dropped out of school due to WEIGHT GAIN.
http://www.siasat.com/news/egyptian-woman-weighing-500-kg-gets-visa-swarajs-intervention-1080935/
-------
Defusing bombs, defying stereotypes: KP woman to become first female BDU member
HASSAN FARHA
December 7, 2016
In Pakistan and beyond, tasks such as firefighting and disposing bombs are widely considered a man's job.
In Khyber Pakhtunkhwa (KP), however, a young woman is defying stereotypes by training to become the country's first ever female member of the Bomb Disposal Unit (BDU).
Rafia Qaseem Baig has volunteered for the daring feat because she had never seen a Pakistani or Asian woman member of the BDU.
Rafia wants to send a message about the bravery of KP's men and women.
"If KP's women are so daring, [imagine] what level [of courage] male soldiers will possess," she says.
She recalls that on the day she first joined the police, a blast had occurred near a sessions court. The explosion seven years ago was what drove her join the force and she hasn't looked back since.
Rafia's message to women across the country?
"A woman can turn any hardship into ease if she is willing."
She wishes to present a positive image of her country and the police force "practically".
For Rafia, it would be a matter of pride for her family if she were to sacrifice her life for the country while tackling explosives to save people's lives.
"My country is my home... the Pakistani nation is my family."
http://www.dawn.com/news/1300839/defusing-bombs-defying-stereotypes-kp-woman-to-become-first-female-bdu-member
-------
Dhaka Metropolitan Police Data Reveals Women Repression Cases Are Barely Investigated
December 06, 2016
Out of the 2090 cases filed under the Women and Children Repression Act 2000 since November 2011 only 729 have been investigated, according to data from Dhaka Metropolitan Police (DMP).
The data was revealed at a fair titled "Equal Respect in Family Relation" organised by Amrai Pari at Bangladesh Shishu Academy, yesterday.
The 16-day campaign also had representatives from the DMP's Women Support and Investigation Division helping build awareness.
Farida Yeasmin, deputy commissioner of Women Support and Investigation Division of DMP, said: "We have been providing support to 4,999 victims since 2009."
Nuruzzaman Ahmed, state minister for social welfare, inaugurated the programme as a chief guest.
The minister said: "The belief of equal respect in family could stop violence. Each of the religions gives priority to the equal respect in family for both male and female which means if anyone respects religion then it would be possible to decrease women violence."
Sultana Kamal, chairperson of Transparency International Bangladesh (TIB) was also present at the programme where she said: "Even though one of the promises of the Liberation War movement was equal rights for women and men in Bangladesh we see that women are being repressed in Bangladesh everyday and that is unacceptable in an independent country."
http://www.dhakatribune.com/bangladesh/crime/2016/12/06/women-repression-barely-investigated/
-------
Perlis to Make It Easier To Register Muslim Marriages in Malaysia, Done Abroad
December 6, 2016
KANGAR, Dec 6 — The Perlis government is studying several matters on facilitating registration of marriages of its Muslim residents that are done abroad, especially in Thailand.
State Islamic Affairs Committee chairman Khairi Hassan said it was to ensure that Muslims who married overseas or in the neighbouring country including for polygamy reasons were not unnecessarily burdened in registering the marriages in the country.
"The state government views this issue seriously so that problems like inheritance, documentation of children, property and schooling can be avoided," he said when replying to a question from Mohd Shukri Ramli (PAS-Sanglang) at the state assembly sitting here today.
He said the Perlis Islamic Religious Department (JAIPs) was currently pursuing the matter so that the court process required to register such marriages could be expedited by paying a compound fine which was likely to be RM2,000 for each couple.
As for non-Perlis residents, he said once the changes were okayed, they too could have access to the facility provided that they had stayed in the state for more than three days. — Bernama
http://www.themalaymailonline.com/malaysia/article/perlis-to-make-it-easier-to-register-muslim-marriages-done-abroad
-------
CNN Reporter: U.S. Women Should Wear Headscarves in Solidarity With Muslim Women
06 December 2016
Alisyn Camerota of CNN recently did a feature story in the early-morning broadcast of New Day lamenting the alleged maltreatment of Muslim WOMEN in the aftermath of Donald Trump's election. The central narrative of the feature was that since the murders by the Muslim husband and wife killers in San Bernardino, California, Muslim women wearing traditional headscarves have been targeted for harassment.
One woman in the report noted that because the photographs on television of the Muslim wife in San Bernardino showed her wearing a headscarf, it was now so dangerous to be seen with it that she had ceased wearing it in public. Another woman claimed that she had been spit on for wearing the head-covering.
At the conclusion of her report, Camerota raised the idea that it would be good for American women to begin wearing headscarves in order to stand with Muslim women. "Maybe there will be a movement where people wear the headscarf in solidarity. You know, even if you're not Muslim," Camerota suggested. "Maybe it's the way people shave their heads, you know, sometimes in solidarity with somebody who is going through something."
Camerota perhaps was referring to the practice of friends of a cancer victim shaving their heads after the one with cancer loses his or her hair from chemotherapy treatments.
Democrat presidential candidate Hillary Clinton received some negative reactions for praising an American athlete for wearing Islamic attire in the Olympics. When Ibtihaj Muhammad chose to participate in the 2016 Olympic games while DRESSED in Muslim attire, Clinton tweeted congratulations to her: "In Rio, Olympic fencer Ibtihaj Muhammad became the first American Muslim athlete to compete while wearing a hajib."
Muhammad interjected herself into the presidential campaign by calling Trump's words about the threat of Islamic terrorism "very dangerous." Of course, Islamic terrorism is quite dangerous to some non-Muslim Americans — just ask the survivors of the attack in San Bernardino, or in the gay bar in Florida, or at the Boston Marathon, or at Fort Hood, and many other such attacks. What would Camerota ask us to wear in solidarity of innocent Americans killed or maimed in those terrorist attacks?
In a 2009 visit to Pakistan, while she was secretary of state, Hillary Clinton created a stir when she donned a head covering during a visit to the Badshahi Mosque. Defenders of the action said it was simply a "diplomatic courtesy," and not an indication of submission to Islam. President Obama's bowing to a Saudi king was also just a "diplomatic courtesy," under this line of reasoning.
What is the origin of the hijab? According to a passage from the Quran, Allah told the prophet Muhammad, "Tell your wives and your daughters and the WOMEN of the believers [in Islam] to draw their cloaks all over their bodies that they may thus be distinguished and not molested." Apparently, Muhammad's army was allowed to rape captured women who were non-believers, and enslave them. But a Muslim woman could avoid this fate by wearing the burka, so they would be distinguished from non-Muslim women.
Certainly, religious liberty (or liberty in general, for that matter) dictates that if a woman, Muslim or non-Muslim, wishes to wear a headscarf, hijab, or burka, she should have the freedom to do so. But at the same time, such a decision should be left to the woman. If a mosque then opts to expel a woman for refusing to do so, then that is their liberty, as well. But they have no right to threaten her with bodily harm.
This is the way religious liberty works: If a person wishes to abandon the practices of a particular religion, whether Christian or something else, that person has every right to do so in the United States. On the other hand, that person then has no right to be a member of that church, synagogue, or any other place of worship, since all religions may set whatever requirements they so desire for MEMBERSHIP or inclusion in that community of faith. Any person not conforming to those practices can be excluded from the fellowship of that community. If you wish to be a Baptist, you must undergo total immersion for baptism. Individuals and groups both have the constitutionally protected right to practice their religion as they see fit.
What the religious group does not have a right to do, however, is to use force upon a person who no longer wishes to follow the dictates of that community and desires to leave the fellowship.
Robert Spencer, a noted historian specializing in Islamic history and practice, raised a serious question about Camerota's suggestion. "Where is Alyison Camerota's concern for Aqsa Parvez, whose Muslim father choked her to death with her hijab after she refused to wear it?" he asked.
A Christian woman in Somalia was murdered by Muslims for refusing to wear a hijab. One woman in Britain chose not to wear the hijab, and was threatened by a Muslim cousin with harm to herself and her family.
Of course, there is almost total silence from progressives such as Camerota about the verbal and even physical assaults in those cases. Clearly, she is pushing the envelope into some chic new liberal cause. Today, it is headscarves for American women to identify with Muslim women.
We can only guess what it will be tomorrow.
http://www.thenewamerican.com/culture/faith-and-morals/item/24787-cnn-reporter-u-s-women-should-wear-headscarves-in-solidarity-with-muslim-women
-------
URL: https://newageislam.com/islam-women-feminism/emirati-women-take-streets-create/d/109312
New Age Islam, Islam Online, Islamic Website, African Muslim News, Arab World News, South Asia News, Indian Muslim News, World Muslim News, Womens in Islam, Islamic Feminism, Arab Women, Womens In Arab, Islamphobia in America, Muslim Women in West, Islam Women and Feminism, Moderate Islam, Moderate Muslims, Progressive Islam, Progressive Muslims, Liberal Islam