New Age Islam News Bureau
18 Oct 2017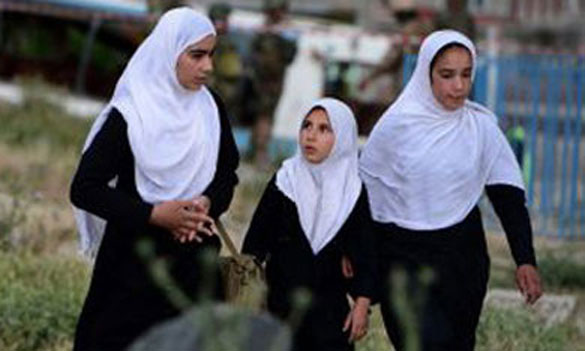 Two-thirds of Afghan girls do not attend school due to growing insecurity and poverty, Human Rights Watch
------
• Two-Thirds of Afghan Girls Missing Out On School: HRW
• Hazara Women of Balochistan Breaking Barriers
• Iran: Cleric Admits Failure In Imposing Mandatory Veil On Women
• Iran: Marriage Of Girl Children Under 10 Years
• Saudi Education Ministry Holds Workshop to Discuss Physical Education At Girls' Schools
• Lack of Women in Middle East Workforce Hinders Growth
• Jobs as 3rd Phase of Shops' Feminization Start Saturday
• Quebec to Vote on Controversial Face Veil Ban
• Pakistani Women Entrepreneurs Raise Funds for Educating Girls
• More Than 17,000 Female Teachers Needed To Teach PE
Compiled by New Age Islam News Bureau
URL: https://www.newageislam.com/islam-women-feminism/emirati-women-seek-sex-change/d/112930
--------
Emirati women seek sex change, UAE court asks for medical report
October 17, 2017
They had filed a lawsuit at the Abu Dhabi Federal Court of First Instance seeking permission to be allowed to become men
The three Emirati women, who have gone to court to seek legal permission to change their gender, will be medically examined to assess their physical and psychological conditions.
The presiding judge in the case has asked the public prosecution to speed up the work of the committee assigned to examine the women, and present a report on whether they are eligible for sex change.
The young Emirati women had filed a lawsuit at the Abu Dhabi Federal Court of First Instance seeking permission to be allowed to become men after reportedly undergoing sex change operations abroad. The transgender women, all aged below 24, asked the court for permission to change their gender and also have their female names changed to that of males in the government nationals' registry.
The women had presented medical reports from European hospitals that recommended the sex change operations.
In the latest hearing, the court said it was still waiting for the medical report that will be issued by the expert committee after examining the physical and psychological conditions of the women before it proceeds with the case.
Ali Abdullah Al Mansouri, the lawyer representing the three women, said the committee has held several sessions for over a year to examine the physical and psychological status of his client but they haven't come out with a final report.
"If the committee's report recommends that the women are illegible for sex change, then the court will issue a verdict to that effect," said the lawyer.
Al Mansoori earlier said that the Emirati women underwent sex change operations in a European country after suffering from congenital defects and having masculine features including significant hair growth on their legs, male voice and other features "that distinguished them from women".
The lawyer noted that his clients had received "many medical reports" that recommended the sex change operations and now want legal permission to have their gender and names changed in government records.
"The young women said they felt as if they were males from an early age. The sex change operations were considered after several specialised medical committees examined them and confirmed that they had biological disorders which affected them psychologically," said Al Mansoori.
The Federal Law No. (4) of 2016 on medical matters, which came into effect last year, permits a sex change operation if a person's gender is unclear or if a medical examination confirms that their physical features do not match their biological, physiological and genetic characteristics, according to the lawyer.
The trial was adjourned until October 29.
https://www.khaleejtimes.com/news/uae-health/emirati-women-seek-sex-change-uae-court-asks-for-medical-report
--------
Two-thirds of Afghan girls missing out on school: HRW
October 18, 2017
KABUL - Two-thirds of Afghan girls do not attend school due to growing insecurity and poverty, Human Rights Watch said Tuesday, underlining the challenges of educating women in the patriarchal country 16 years after the Taliban were ousted.
While millions more girls are receiving an education than during the Taliban's repressive 1996-2001 regime, progress has stalled in recent years, the rights group warned, with the proportion of female students falling in parts of the country.
About 85 percent of the 3.5 million children out of school are girls, the New York-based organisation said in a report based on research in four provinces and government data.
"Sixteen years after the US-led military intervention in Afghanistan ousted the Taliban, an estimated two-thirds of Afghan girls do not attend school," it said.
But the rights group warned the real situation was likely much worse because Afghanistan does not record children as being out of school until they have failed for three years to attend class.
"Overstated high numbers (for female attendance) have helped give the impression that there is a continued positive trajectory, when in fact numbers are actually decreasing in some parts of the country," the report said.
Despite the hundreds of millions of dollars spent in the past 16 years on female education, Human Rights Watch said even the most optimistic statistics showed only "slightly more than half of girls are in school".
An education ministry official told Human Rights Watch in April that 39 percent of the 9.3 million students in school were girls but the group noted that Afghan government data was notoriously unreliable.
Describing the gains as "partial and fragile", it said millions of girls had never been to school and many more had only attended briefly.
"The Afghan government and donors made bold promises in 2001 to get all girls into education, but insecurity, poverty and displacement are now driving many girls out of school," said Liesl Gerntholtz, women's rights director at Human Rights Watch.
Government statistics indicate that in some provinces, the percentage of students who are girls is as low as 15 percent, the report said. Among the many barriers to female education are a lack of schools, female teachers and basic facilities such as toilets.
On top of that conflict has driven thousands of families from their homes and many school-age girls are forced to work to support loved ones.
In areas controlled by the Taliban girls receive limited or no education at all, while in contested zones girls trying to attend class face heightened security threats.
"The conflict has been accompanied by lawlessness, as militias and criminal gangs have proliferated, and girls face threats including sexual harassment, kidnapping, and acid attacks, as well as targeted attacks and threats against girls' education," the report said.
http://nation.com.pk/international/18-Oct-2017/two-thirds-of-afghan-girls-missing-out-on-school-hrw
--------
Hazara Women of Balochistan Breaking Barriers
October 18, 2017
LAHORE - Women in Pakistan have started taking things in their hands to improve their standard of living.
One such lady is Hamida Ali Hazara who is out to break stereo types in Quetta, the capital of Balochistan. Hamida comes from one of the most persecuted community of Balochistan – the Hazaras.
Three months ago Hamida started a restaurant in Quetta named Hazara Restaurant where she is giving women an opportunity to work.
Speaking to The Nation, Hamida said she started this restaurant to empower women. This would help those women who have to run the house on their own. "In our community especially, there are many women who do not have a bread earner due to sectarian violence. It would help these women work in a friendly and safe environment and earn a respectable living."
Pakistani society is still not very open to women running eateries or restaurants, so when Hamida started this kind of business she was a little apprehensive regarding backlash from her community. "It is still considered an insult in our community that women are earning money to run the house. Despite that I still wanted to take the first step for women to gain confidence and earn money. They should never have to look towards others for money, instead earn it in a respectable manner," Hamida said.
Hamida has seven ladies and two men working at her restaurant. "As the society is not very acceptable, we have men to do the accounts and procurement etc., while the ladies do the work inside the restaurant," she said.
The restaurant serves over 10 dishes, desserts and beverages. The menu items range from trotters to chicken soup, zinger burger to chicken karahi, kebabs to French fries. The restaurant starts at 10 am and is open till 12 midnight; on special occasions and holidays it remains opened till 4 am.
"In the beginning many girls came to dine in the restaurant, but soon families started coming in and men started to feel comfortable bringing their wives and daughters here as they were being attended to by women."
Hamida says that her brother was very supportive of her work. "Even though relatives did say things behind my back but I was not ready to quit. I will not stop because of what people think, I will do things to change their outlook towards life. For me women empowerment is the most important thing," she said.
Considering that she is from Hazara community there were concerns that she could be threatened by extremists but Hamida says, "I have not been threatened so far. But once I was told to sit in a mosque like a saint instead of starting my own restaurant as it is against the norms of society. However I did not back off. We do have security arrangements at our restaurant to counter any untoward happening."
"I have opened this restaurant in Hazara town where it was needed most. The mentality of people in this area has to change, that is why I purposely opened it here."
Hamida has undertaken this entrepreneurial work on her own, without any support from the government.
Another project Hamida is working on is the Hurmat e Niswa (Chastity of Women) Foundation. She said, "I have spoken to a number of shop keepers to employ at least two ladies in their shops which will not only help in improving the economy but also help them raise their living conditions. We are also focusing on educating girls."
Hamida plans to get admission in a law college to get a degree in law in the near future so she can fight for rights of women through legal fora as and when needed.
http://nation.com.pk/national/18-Oct-2017/hazara-women-breaking-barriers
--------
Iran: Cleric admits failure in imposing mandatory veil on women
17 October 2017
One of the clerical regime's high ranking religious scholars admitted that the mullahs have failed to impose the compulsory veil on Iranian women despite all their suppressive measures.
"Despite all the various emphases in recent years, we have not been able to achieve our goals regarding mal-veiling. For this reason, we have to think of some solution for mal-veiling," mullah Jafar Sobhani said after admiring the suppressive State Security Force in a meeting with the SSF Commander, Hossein Ashtari, on October 8, 2017.
Admission of failure by the state-backed cleric is despite 27 state agencies and 301 cultural organizations having been tasked with promoting and enforcing compulsory veil on Iranian women for the past 38 years. (The state-run Fars news agency – October 8, 2017)
http://www.women.ncr-iran.org/iran-women-news/4403-iran-cleric-admits-failure-in-imposing-mandatory-veil-on-women
--------
Iran: Marriage Of Girl Children Under 10 Years
17 October 2017
The phenomenon of child brides in Iran has taken on catastrophic dimensions such that even the misogynous regime's officials and media admit it.
According to the figures published by Rouhani's directorate for women and family affairs, the number of children given to marriage while under 10 years of age has been as the following: 220 children in 2011, 187 in 2012, 201 in 2013, 176 in 2014 and 179 in 2015.
The numbers only consist of marriages officially registered while there are many more marriages that are not legally registered.
The main reason for this situation is the misogyny institutionalized in the clerical regime's laws, which set the legal age of marriage for girls at 13 and allows fathers to marry them even earlier. Moreover, the mullahs' parliament has been refraining so far to adopt a bill seeking to raise the minimum age of marriage for girls. (The state-run ISNA news agency – October 14, 2017)
http://www.women.ncr-iran.org/iran-women-news/4401-iran-marriage-of-girl-children-under-10-years
--------
Saudi Education Ministry holds workshop to discuss physical education at girls' schools
18 October 2017
RIYADH: A workshop organized by the Ministry of Education was held on Tuesday to discuss the "Physical Education for Improving the Health of Female Students" initiative.
Discussions revealed that there were 315 nutrition and fitness graduates from Princess Nourah bint Abdulrahman University, who could be of great benefit in the field of physical education.
The ministry's plan, which was presented during the three-hour workshop, included the training of 17,655 family education teachers so that they can temporarily teach physical education in addition to their tasks; 9,000 of them are primary school teachers while 8,655 are elementary and secondary school teachers.
The plan also included introducing physical education as a subject at girls' schools, which is listed as an initiative in the lifestyle improvement program.
The workshop, which was launched by Abdulrahman bin Mohammed Al-Assami, deputy minister of education, drew attention to the absence of physical activities at the girls' public schools. On the other hand, the Ministry of Education started carrying out physical activity programs in private schools since 2012, in addition to the programs carried out at the Neighborhood Schools Clubs, where the number of girls' gyms (clubs) surpassed 212 this year.
The ministry's physical education plan for promoting female students' health discussed the lack of courses specialized in physical education at girls' Saudi universities.
Princess Reema bint Bandar bin Sultan, president of Saudi Federation of Mass Participation, highlighted the importance of the partnership between the Ministry of Education and the General Authority of Sports in implementing programs that can achieve positive progress and improve girls' and teachers' health at schools.
For her part, Haya bint Abdul Aziz Al-Awwad, the undersecretary of education for girls, pointed out that the Ministry of Education seeks to implement training programs for physical education teachers, especially after discussing the physical education diploma program, which was presented in detail to 10 deans of education department at Saudi universities.
"We have agreed to form a committee that will plan and implement this diploma program, which we expect to launch at the beginning of the next academic year," she said.
"The physical education diploma program will most likely be after a student has finished her bachelor's degree because the Ministry of Education does not hire those who don't hold education degrees." Al-Awwad continued: "Therefore, we requested that the input of this diploma be offered to education graduates who are on waiting lists at the Ministry of Civil Service."
http://www.arabnews.com/node/1179331/saudi-arabia
--------
Lack of women in Middle East workforce hinders growth
17 October 2017
LONDON: Women in the Middle East now outnumber men in universities but this isn't translating into jobs — curbing the benefits of the "demographic dividend" that fuels economic growth.
Almost all girls in the Middle East and North Africa now attend school, and more women than men go to university, according to the World Bank, but women's participation in the workforce stubbornly remains among the lowest in the world.
The demographic dividend refers to an acceleration of economic growth as the working-age population expands relative to the non-working-age. But without enough women, its impact will be muted in the Middle East, experts said.
"The demographic dividend is not going to be as good as in Asia," said Tiziana Leone, assistant professor in demography at the London School of Economics. "If they want the benefit of it then you need more gender parity."
Lack of access to contraception is a hurdle keeping women from the workforce, according to a report by the United Nations' Population Fund (UNFPA) released on Tuesday.
Poorly educated women in rural areas especially lack the means to plan when and how often they fall pregnant.
Barely a quarter of women in the region are in employment, but with sharp variations. Rates of women's employment are lower in conflict-hit places such Yemen, Gaza and Iraq compared to the Gulf states and Iran.
The legal and social barriers hampering women's access to jobs and careers in the Middle East and North Africa is costing the region an estimated $575 billion a year, the OECD said this month.
Such barriers include needing a guardian to travel as in Saudi Arabia or laws requiring permission from husbands or fathers to work, common in Egypt, Jordan and Libya.
A recent survey of attitudes in the region, by the UN Women agency and Promundo found more than two thirds of respondents believed a woman's primary role should be caring for the household, while at least half the women surveyed also saw this as their most important duty.
Better investment in contraception and sexual health care and equality for women in the workplace could encourage more women into the workforce, according to the UNFPA report. "Poorer countries with large or emerging youth populations that reduce gaps in sexual and reproductive health care and promote gender equality also have the potential to reap and maximize a demographic dividend," the report found.
In parts of the Middle East, change is already happening.
"Gender relations are changing," Bessma Momani, a non-resident fellow at Brookings Doha Center think tank, told the Thomson Reuters Foundation.
"Children as status symbols has definitely gone down ...it used to be if you had 10, 12 children that was your status symbol as a woman, now education and careers have become the new status symbols."
The types of jobs women do must also change, experts say. In the Middle East and North Africa only 17 percent of women have jobs in the non-agricultural sector such as engineering and finance, according to the World Bank, while the region has the lowest proportion of female entrepreneurs in the world.
Overcoming these obstacles and tackling underlying gender inequality are crucial to progress, the UNFPA report found.
"Without a greater and equitable engagement of women, the demographic dividend will remain an elusive objective," it said.
- Thomson Reuters Foundation
http://www.arabnews.com/node/1179246/business-economy
--------
Jobs as 3rd phase of shops' feminization starts Saturday
October 18, 2017
RIYADH — The Ministry of Labor and Social Development (MLSD) will start on Saturday the third phase of feminizing women accessory shops, Al-Hayat newspaper reported on Tuesday quoting the ministry's spokesman Khaled Aba Al-Khail.
He said the third phase targets shops selling ladies perfumes, shoes, bags, stockings and ready-made garments.
Kiosks selling women accessories will also be fully feminized in addition to sections in malls and supermarkets which sell clothes and other women accessories.
Aba Al-Khail said the phase also includes independent small shops which sell wedding dresses, abayas, garments, child-care and other accessories.
He said pharmacies in malls which sell cosmetics and make-up accessories will also be feminized.
Shops employing women must provide a conducive atmosphere for them including rest rooms, prayer places, toilets and other facilities.
Women working places should have complete privacy and segregated.
If a commercial establishment receives both men and women, then guards should be posted or advanced security systems installed at the entrance to the area where women work, Aba Al-Khail said.
If a shop sells garments for both men and women, then working women should not be less than three in each shift and they should be separated from male sections.
The Human Resources Development Fund (Hadaf) has initiated a number of programs to support working women.
http://saudigazette.com.sa/article/519660/SAUDI-ARABIA/Jobs-as-3rd-phase-of-shops-feminization-starts-Saturday
--------
Quebec to vote on controversial face veil ban
By Huthifa Fayyad
October 18, 2017
Rights groups have slammed proposed legislation in Quebec that would prohibit individuals from wearing face coverings while receiving public services as "islamophobic and anti-Muslim".
The bill, which is expected to be voted on as early as Tuesday, would require all government employees and any individual receiving a public service to show their face, prohibiting all garments that cover the face.
"This is nothing new, there is certainly offensive deja vu that we have seen this debate for 10 years in Quebec, and more broadly in Canada" Ihsaan Gardee, executive director of the National Council of Canadian Muslims (NCCM) told Al Jazeera.
Bill 62 was first introduced in 2015, but did not create momentum in parliament.
In August, liberal Minister of Justice Stephanie Vallee proposed amendments to the bill at the National Assembly.
Vallee said that the proposed legislation "establishes the neutrality of the Quebec government and its institutions" with the objectives of ensuring effective communication, necessary identification and security.
It remains unclear how the bill would be implemented and the specific cases it would apply to, but Muslim groups fear it would prohibit women from wearing face coverings not only in government buildings, but also on public transit.
Experts and rights organisations have called the bill "racist", "Islamophobic" and "discriminatory", asserting that it is an "invented a solution for a made-up problem".
According to studies conducted by NCCM, the majority of Muslim women in Canada do not cover their faces, and of those who do so, only a small minority wears the niqab, or the full body and face covering.
However, Gardee said the NCCM has "observed a significant rise and increase in anti-Muslim sentiment and islamophobia" throughout Canada.
He added that from 2012-2015, there was a 253 percent increase in reported hate crimes against Canadian Muslims.
Gardee said the rhetoric by Quebec's government only "serves to vilify, marginalise and stigmatise a segment of the Muslim community".
Religious accommodation?
Bill 62, which has been dubbed by some as the "Burqa Ban", does include a clause that allows individuals to request an exemption for religious reasons.
Critics argue, however, that it is unclear how the process for such exemptions would be analysed and implemented.
According to local media, Vallee said that the bill sets out "general rules that will serve as a framework for analysis of requests for religious accommodation" and that answers to the requests "will have to consider the principles of the bill, [and] will also have to consider the imperatives of communication".
Shane Martinez, a social justice and human rights lawyer, told Al Jazeera that the government "has it backwards".
"The onus is on the state to justify the constitutionality of the legislation, the onus should not be on members of society to go begging the government for an accommodation under a racist law" he said.
Martínez, who believes the bill will pass, called it "sad and ironic" and said it "serves to play off of nationalism and exploit ignorance for the sake of political gains, mirroring what's happening south of the border in the US and a throwback to what happened in France seven years ago" when the European country banned the face veil.
He added that the bill and its clauses are "blatant violations of Quebec and Canadian Human Rights and Freedom Charters" and will "most likely be defeated in court".
'Blatantly discriminatory'
According Quebec's government, the neutrality of the bill is a central component that reflects the widely-celebrated secular nature of the french-speaking province.
But opponents argue, the bill contradicts such principles.
Emmett Macfarlane, a political science professor at the University of Waterloo, said the bill is "a perversion of secularism because inherently it is not neutral".
"It is actually targeting specific religious practices and neutral would be allowing people to practise their religion as they see fit. This is the opposite of neutrality," he told Al Jazeera.
"It is blatantly discriminatory."
He added that he believes the bill could be a political tactic by the government, saying that "Quebec politicians aren't concerned with having a law declared unconstitutional by the courts".
"They will portray this as another example of the federal government limiting Quebec's autonomy on matters of cultural policy," he said.
"They can play up a loss in court in a way that is beneficial to them."
There have been several attempts to ban face coverings in Quebec in recent years, but none have been successful.
The final draft of Bill 62 will first be debated in the National Assembly before a vote will take place.
http://www.aljazeera.com/news/2017/10/quebec-vote-controversial-face-veil-ban-171017194038893.html
--------
Pakistani Women Entrepreneurs Raise Funds For Educating Girls
OCTOBER 18, 2017
KARACHI: 'LADIESFUND' gathered 150 women professional and entrepreneurs, representing sectors of pharmaceutical, medical, financial, multinational, art, fashion and beauty industries, as well as several millennial students and young professionals, to network, showcase and see the work of SME artisan craftswoman and to fundraise to educate deserving girls.
"The event was also an opportunity for young women entrepreneurs across the nation to showcase their artisan initiatives at the Creative Women of Vision showcase presented by Butterfly," said LADIESFUND President Tara Uzra Dawood.
The women highlighted this year include Rubina Kausar from Zed Mars, Anjum Rana from tribal Truck art and Sara from Sara's Henna.
"Sara's white henna was not only trendy, but added a stylish 3D reflective element to the evening event. Also, showcased at the event was catering by M's Kitchen, a new foodpreneur which specializes in peri peri bites and bite size hors d'oeuvres. Specially created for this event were marzipan strawberries and floral cupcake baskets that were served to guests," a press statement said.
The women empowerment and educational event was created to bring career women together with opportunities for mutual respect, glamour and to strengthen a community of pride for working women in Pakistan. LADIESFUND's partnership with Butterfly also brought a Women's Health awareness message and significance to the event.
Amin Gulgee made a special appearance at the event, speaking of the importance of women supporting women. Gulgee is a strong advocate of women of character and strength, often citing his iconic mother as an example of a strong, inspiring woman of substance.
Choreographer and PR Maven Hasan Rizvi also stopped by to kick off the celebratory elements of the event as well as to encourage the women to be bold and confident. "I am surprised by just how confident Pakistani women are," Rizvi said in retrospect, noting the crowd with pride.
The celebrity also judged and presented the 'best dressed' prize at the event which went to Nighat Shaida, one of the owners of Scentsation. She was gifted with a special spa package for Allenora Spa and Salon, another example of women entrepreneurs supporting other women entrepreneurs and the important cause of education.
Comedian Akbar Chaudhry made a late cameo to the great delight of guests. His brand of humour and appreciation for men and women provided additional charm to the evening.
There was great business development from the event with women professionals placing orders from entrepreneurs, mentorships formed especially as large numbers of millennials attended the event, and many professional friendships made, as well as a lively dance party sponsored by FM91 under the trendy Despacito theme. FM91 is a radio station run by Sara Taher Khan, another inspiring woman entrepreneur who supported this case.
https://dailytimes.com.pk/126926/women-entrepreneurs-raise-funds-educating-girls/
--------
More than 17,000 female teachers needed to teach PE
October 18, 2017
RIYADH — The Ministry of Education will need as many as 17,655 female teachers to teach physical education in girls' schools, a workshop here was told on Monday.
The workshop was a joint venture between the ministry and the General Sports Authority (GSA).
According to the ministry, about 9,000 female physical education teachers will be working in elementary schools while the others will be distributed among intermediate and secondary schools.
Princess Reema Bint Bandar, deputy president of the GSA, who participated in the workshop, said physical education in girls' schools was not meant to prepare students for sports competitions.
"We are not talking about competitiveness or joining sports clubs. We want to teach school girls the importance of general health," she said.
She recalled that the Kingdom's 2030 Vision is focusing on partnership between all sectors to achieve the National Transformation Program including the empowering of women.
"There is close coordination and cooperation between the authority and the ministries of education and labor and social development," she said.
The princess said the girls will wear special sports costumes which are in line with Shariah, Saudi traditions and sport requirements.
Education Minister Ahmed Al-Issa had earlier issued a decision to start physical education classes in girls' schools starting this year.
He said the program will be according to Shariah and will be implemented gradually according to resources and potential available in each school.
The minister said sports halls will be built in girls' schools and female teachers will be contracted to teach physical education.
He established a special committee to implement the project.
http://saudigazette.com.sa/article/519661/SAUDI-ARABIA/More-than-17000-female-teachers-needed-to-teach-PE
--------
URL: https://www.newageislam.com/islam-women-feminism/emirati-women-seek-sex-change/d/112930
New Age Islam, Islam Online, Islamic Website, African Muslim News, Arab World News, South Asia News, Indian Muslim News, World Muslim News, Women in Islam, Islamic Feminism, Arab Women, Women In Arab, Islamophobia in America, Muslim Women in West, Islam Women and Feminism