New Age Islam News Bureau
29 Aug 2017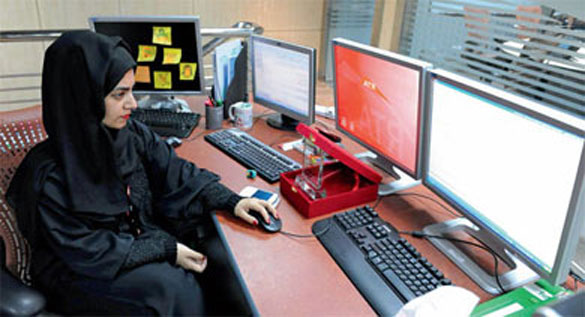 Left to right: Abeer Al Mehairi, Moza Al Ketbi, Latifa AlMazrui, Mahra Al Mheiri and Maryam Al Bloushi, during an event organized by General Directorate of Residency and Foreigners Affairs(GDRFA) to celebrate Emirati Women's day at Marriott Hotel Al Jaddaf.
-----
• UAE Women Prosecutors Play Vital Role in Investigations
• South Africa Court Battle to Recognise Muslim Marriage
• Woman Takes Office as Mayor in Iran
• Three Yazidi Women Rescued From Islamic State Captivity in Tal Afar
• What Should Be Done With The Foreign Women And Children Who Joined Isis?
Compiled by New Age Islam News Bureau
URL: https://www.newageislam.com/islam-women-feminism/emirati-women-conquered-all-milestones/d/112372
--------
Emirati 'Women Have Conquered All Milestones'
August 28, 2017
Abu Dhabi: Emirati writer and artist Maitha Al Khayat says Emirati women have conquered all milestones. "[Emirati women] are independent; they get things done without waiting for anyone to wait upon them. [They are] committed; whether as a team member or a team leader, [an Emirati woman] to complete the job. [She is] fierce, as a mother, colleague or a leader, she stands up like a queen in command and fights for what she want. [She is] flexible and versatile in any situation she's thrown in," said Al Khayat.
For Al Khayat, her mother is her role model, as is her mother-in-law, "who has been one of the first Emiratis in her generation to study, work and bring up her children at the same time. "Also a role model is Shaikha Bodour Bint Sultan Bin Mohammed Al Qasimi, Founder and CEO of the Kalimat Group [who] has made a huge impact in the publication industry, especially in the field of Arabic children's literature."
Al Khayat said that living in a country like the UAE enables her to believe in the dreams and ambitions of women and the potential they have to make a difference. It is a factor that makes her proud to be an Emirati. She believes that the more women are healthy and educated, "the stronger they are and the more competent they will be in all levels in society".
True empowerment for a woman, in her opinion, is to be able to live freely "with a sense of self-worth, respect and dignity, while having complete control of her life, within and outside her home and workplace."
http://gulfnews.com/news/uae/society/emirati-women-have-conquered-all-milestones-1.2081559
--------
UAE women prosecutors play vital role in investigations
August 28, 2017
ABU DHABI: One of the numerous signs of female empowerment in the UAE is to be seen in the number of judges in Abu Dhabi courts — 11 judges are women, with a total female presence in the judiciary of 592.
Such a visible presence of women results in a host of positive outcomes as during criminal investigations, family disputes and children's cases, female prosecutors play an invaluable role in gathering information as well leading to reconciliation among warring parties.
The presence of female staff in the family prosecution departments of the court helps in a speedier resolution of family disputes and also helps in reducing the number of dispute cases through family guidance departments, Ateqa Al Khatheeri, Director of Family Prosecution of Abu Dhabi Judicial Department told Gulf News.
"The presence of women in the court's Family Prosecution is very important. Women officers are particularly required in most of the specialised cases pertaining to women and children," said Al Khatheeri.
A total of 592 female staff are currently working with the Abu Dhabi Judicial Department in the Emirate of Abu Dhabi including Al Ain and Al Dhafrah courts. Of these, 62 women hold leading positions in the court, 17 are members of a judicial authority, seven are assistance counsellors and lawyers, seven administrative directors and 29 women are directors of sections at the court.
On the occasion of Emirati Women's Day, which is celebrated on August 28 every year, the Abu Dhabi Judicial Department held a press conference, titled 'Empowering Women in Judicial Departments' on its premises to highlight role of the women in society and courts.
Her Highness Shaikh Fatima Bint Mubarak, Chairwoman of the General Women's Union, Supreme Chairwoman of the Family Development Foundation and President of the Supreme Council for Motherhood and Childhood, in 2015, announced August 28 as Emirati Women's Day that celebrates the establishment of the General Women's Union on August 28, 1975.
Shaikha Fatima said that men and women both have roles to play [in society] and there should be a balance when and wherever required.
Cases the Family Prosecution department receives include family disputes, inheritance and child-related cases under the Wudeema Law, the UAE's Child Protection Law, and the presence of women officers makes a big difference for families.
"In the presence of mothers, sisters, daughters and other family members, women of the family feel more comfortable during an investigation when a female member of the prosecution interacts with them," said Al Khatheeri.
She said that families always desire to resolve their disputes, receive legal support and advice from female counsellors.
"The judicial department has given plenty of responsibilities to female staff of the court and they are executing their duties in various fields like investigation, prosecution, pronouncing judgements and jails," said Al Khatheeri.
In 2016, a landmark rule was passed by the government of Abu Dhabi which stated that any man or woman could hold the position of judge. Earlier, only men were allowed this privilege.
Speaking to Gulf News on sidelines of the press conference, Al Khatheeri said, "There are females judges now in financial, inheritance, civil, personal affairs and criminal courts.
"There is no legal restriction for women in holding a judge's position," she said, adding there are around 11 female judges in the Abu Dhabi Judicial Department's courts in the Emirate of Abu Dhabi including Al Ain and Al Gharbiah.
Mariam Al Bareiky, head of media coordination department at the Abu Dhabi Judicial Department, said: "The role of women is very important in society matters and in the court. In cases of children involved in crimes, women court staff have the capacity to befriend them with ease obtain the relevant information and counsel."
"Now more and more women staff are required at the court and women should come forward to take up the judicial profession," she said.
Women power at courts
592: Female staff at Abu Dhabi Judicial Department in the Emirate of Abu Dhabi including Al Ain and Al Dhafrah.
62 women occupy leading positions
17 members of a judicial authority
7 assistance counsellors and lawyers
7 administrative directors
29 directors of sections
11 judges
Martyrs' mothers
His Highness Shaikh Mohammad Bin Zayed Al Nahyan, Crown Prince of Abu Dhabi and Deputy Supreme Commander of the UAE Armed Forces, has congratulated mothers of UAE martyrs on the Emirati Women's Day.
Addressing martyrs' mothers, Shaikh Mohammad said: "Our mothers of martyrs are the backbone of the nation, which makes it stronger, prouder and more glorious."
"With the values of loyalty, sacrifice and giving that you instilled in our citizens, we will move forward with the nation's blessed march towards the bright future with God's will," Shaikh Mohammad said in an SMS to mothers of martyrs.
"You have brought up men and heroes, and we are all your sons. You will remain a symbol deeply entrenched in the memories and conscience of generations to come. We are immensely proud of you and your sacrifices. You will always be held in high regard and remain a source of pride for us and the entire nation."
Fatima hails contributions of women for betterment of community
Emirati Women's Day aims to honour women, recognise their efforts and central role in the community, as well as their contributions to the UAE's development journey, said Her Highness Shaikha Fatima Bint Mubarak, Chairperson of the General Women's Union, Supreme Chairperson of the Family Development Foundation and President of the Supreme Council for Motherhood and Childhood.
Shaikha Fatima said that first and foremost, the Emirati women who must be congratulated on this occasion are the mothers, wives and children of Emirati martyrs, who through their losses have displayed the most noble values of giving. Speaking of the families of the martyrs, Shaikha Fatima said: "I deeply appreciate them for their precious sacrifices for the sake of the UAE and its citizens. "You are the symbol of the homeland that dwells in us," she said.
She added, "We derive strength and determination from you, and have great pride in you. You are the crowning glory of the sons of the homeland with your great sacrifices."
"We will always be proud of you in the eyes of the world for that which you have presented to your country, which enhances your prestigious positions and standing among all nations. Hoping you and the homeland will be always good and fine," she added.
In a speech at Bab Al Qasr Hotel, during an event marking Emirati Women's Day, Shaikha Fatima said that the UAE leadership deserves recognition for supporting women. She praised the leadership embodying values of giving that were instilled by the late Shaikh Zayed Bin Sultan Al Nahyan to support and empower women in all fields of work, so that they can be successful and achieve the highest ranks.
Shaikha Fatima said that Emirati Women's Day is a reflection of the UAE leadership's sincere appreciation for all the efforts she exerts for herself, her family, community and nation.
Also speaking on the occasion was Dr Moza Al Shehi, Director of the UN Women's Communication Office in Abu Dhabi, who said that the UAE's reputation and the respect that the country and its leadership have garnered on an international level is clear for all to see.
Later, children performed an operetta dedicated to Shaikha Fatima.
http://gulfnews.com/news/uae/society/uae-women-prosecutors-play-vital-role-in-investigations-1.2081371
--------
South Africa court battle to recognise Muslim marriage
August 29, 2017
JOHANNESBURG - A South African legal rights group on Monday took the government to court in a campaign pressing for new legislation to recognise Muslim marriages as legally valid.
The Women's Legal Centre (WLC) said it was lobbying against "unfair discrimination" as South African law does not grant religious marriages the same status as civil, customary or same sex marriages.
Failure to recognise polygamous Muslim marriages causes major disadvantages to women and children when such unions break-up or end in divorce or death, the group said.
"Muslim women and children are disproportionately impacted," Seehaam Samaai told AFP.
"We want the court to direct the government to bring in legislation framework to assist or recognise Muslim marriages."
As the marriage is not recognised under the law, it is difficult for Muslim women to seek divorce through the courts under common law or to gain a fair share of assets, said the WLC.
The case in the High Court in Cape Town has been set down for two weeks.
Muslims in South Africa account for about three percent of the 56 million population.
http://nation.com.pk/international/29-Aug-2017/south-africa-court-battle-to-recognise-muslim-marriage
--------
Woman takes office as mayor in Iran
August 29, 2017
Previously, she was the director for traffic and transportation affairs at Zanjan Municipality for four years, IRNA reported.
Shad-Del has also served as the deputy mayor of Zanjan for cultural affairs.
She managed to be elected as the mayor thanks to her competence and experience.
She holds a master's degree. She is married and has a 9-year-old daughter.
However, her responsibility in the family has not kept her from making progress; rather, as she herself says, her family has been her biggest supporter and motivation for progress and development.
She is not the first woman to have assumed a top job in Iran. Qualified women have already been designated as deputy provincial governors, governors and mayors, further increasing women's share of top managerial posts in the country.
Since the 1979 Islamic Revolution of Iran, 11 women (excluding Shad-Del) have served as mayors in the country so far.
During the recent days, several other women were also picked to chair city councils in the city of Robat Karim, Tehran province, and the city of Gorgan, Golestan province.
http://www.tehrantimes.com/news/416348/Woman-takes-office-as-mayor-in-Iran
--------
Three Yazidi women rescued from Islamic State captivity in Tal Afar
by Mohamed Mostafa
Aug 28, 2017
Dohuk (IraqiNews.com) Kurdish authorities said Monday that three women from the Yazidi minority had been released from their Islamic State captors in Tal Afar as Iraqi forces near victory over the militant group there.
The Kurdistan Region office on Yazidi abductees said the released females were a 40-year-old woman and two girls aged 14 and 19.
"The abductees were released with the help of benevolent locals," office head Hussein Qaidi said in statements to BasNews, giving no mroe details.
A statistic released by the Kurdistan Region Government's Endowments and Religious Affairs Ministry in July said Islamic State's massacres of Yazidis forced nearly 360.000 of the religious minority to flee their areas. It said IS had kidnapped 6417 Yazidis since 2014, the report added. Those included 1102 women and 1655 children, the statistics show, adding that authorities had run into 43 mass graves of Yazidi victims slaughtered by IS,.
Islamic State massacred and enslaved thousands of Yazidis when they overran their Sinjar region, west of Nineveh.
Iraqi government forces and allied paramilitary troops are currently nearing victory over Islamic State members in Tal Afar, an anticipated development that would mean a total collapse of the group's self-styled "caliphate" declared in 2014.
http://www.iraqinews.com/iraq-war/three-yazidi-women-rescued-islamic-state-captivity-tal-afar/
--------
What should be done with the foreign women and children who joined Isis?
August 29, 2017
In the aftermath of the battle for Mosul last month, pictures emerged of a terrified and dust-covered 16-year-old Caucasian girl being led away by the jubilant Iraqi forces who had captured her. German authorities subsequently confirmed that the girl was Linda Wenzel, from Pulsnitz, near Dresden, who had been radicalised online before travelling to Syria to join Islamic State (IS) in July 2016. She was found in a tunnel system with four other German women and a badly malnourished baby, before being transferred to a jail in Baghdad.
The capture of Wenzel has highlighted the role of foreign women and their children in IS's conflicts. As many as a hundred women are believed to have left Britain for IS territory since 2013, and more than 500 from Europe as a whole.
Until now, much of the media focus has been on the male members of IS. They travelled in the greatest numbers and were responsible for the terror group's most heinous crimes. But as the IS project crumbles in Syria and Iraq, it is the fate of the women and children that presents one of the biggest challenges to local authorities – and Western governments.
Several complex legal questions must be resolved. For example, the 16-year-old British schoolgirl Amira Abase, who travelled to Syria along with two friends from Bethnal Green in 2015, married an Australian fighter called Abdullah Elmir. They had a baby before Elmir was killed in battle.
Where does this leave the child if Abase is now killed or captured? Since neither the British nor Australian governments recognise the child as their citizen, it is, in effect, stateless and condemned to life in the lawlessness of a state – Syria – that is unable to ensure its well-being.
This is not an exceptional case. Hundreds of children have been taken from Europe to IS territory by their parents, while scores of others have been born there to foreign extremists. What happens to these children will be an important marker for the long-term disarmament, demobilisation and reintegration of vulnerable people caught up in the brutal wars in Syria and Iraq.
IS will not give them up easily. What makes the terror group unique in its use of child soldiers is its brazenness. When children were used in other conflicts – such as in Cambodia or Sierra Leone – their commanders sought to downplay or even conceal their role. Not so for IS. Fighters have regularly given children star roles in their propaganda.
British children have featured in at least two execution films. The son of Sally Jones was 11 years old when he appeared in an IS video dressed in camouflage alongside several other children. Grown men kneeled before them, wearing orange overalls, accused of being spies. They were then executed with a shot to the back of the head. Jones is a convert to Islam who took her son to Syria in 2014 and married a British fighter from Birmingham called Junaid Hussain, who was later killed in a drone strike.
Another British woman, Khadija Dare, from south London, also converted and travelled to Syria, where she married a Swedish fighter. The couple had a son called Isa, who appeared in an execution video, pushing a button that detonated a car full of explosives. Inside were Kurdish fighters accused of fighting against IS. Dare has expressed her desire to be the first female IS executioner. That moment may be fast approaching.
Until recently, women had largely been tasked with working in schools or hospitals, indoctrinating children or helping wounded soldiers recover. But when the situation in Mosul became increasingly desperate this year, IS launched a wave of female suicide bombers against the Iraqi army.
Omar Hussain, a fighter who uses the nom de guerre Abu Sa'eed al-Britani, wrote on the semi-encrypted Telegram messaging service that the same will happen in Syria. The Kurdish-led Syrian Democratic Forces are preparing to push into Raqqa, the main IS stronghold in the country.
British women are not yet thought to have become suicide bombers, but it is only a matter of time until they do. Our research at King's College London shows that women are often more ideologically motivated as IS recruits than their male counterparts.
Appeals to men are often based around simplistic and emotive binary choices. The focus on masculinity and camaraderie is coupled with stories of martyrdom and its virtues. In 2015, the average British male fighter in IS lived for just nine months before being killed.
By contrast, only a handful of Western women are confirmed to have died with IS, killed in drone strikes that targeted their husbands. The absence from combat suggests that women's motivations for joining IS are different to men's and involve a much more considered understanding of its ideology.
This goes against much of the popular narrative framing the women as passive and unsuspecting victims of IS propaganda. In the majority of cases, these women have demonstrated a zealous commitment to the ideology of the terror group. They are among the so-called caliphate's truest believers.
Iraqi authorities believe that Wenzel, the 16-year-old German girl, was a member of the Khansaa brigade, a brutal wing of IS responsible for ensuring that "morality" codes are imposed on women.
What will happen to Wenzel and the other foreign women of IS – who, unlike the men, are more likely to be captured than killed – is uncertain. Some European governments have been reluctant to prosecute female returnees. Others, including Britain, have opted for prosecutions. What is clear is that the women's problems – and, more importantly, those of their children – will not go away when IS does.
http://www.newstatesman.com/world/middle-east/2017/08/what-should-be-done-foreign-women-and-children-who-joined-isis
--------
URL: https://www.newageislam.com/islam-women-feminism/emirati-women-conquered-all-milestones/d/112372
New Age Islam, Islam Online, Islamic Website, African Muslim News, Arab World News, South Asia News, Indian Muslim News, World Muslim News, Women in Islam, Islamic Feminism, Arab Women, Women In Arab, Islamophobia in America, Muslim Women in West, Islam Women and Feminism