New Age Islam News Bureau
22 July 2022
• Women Climbers From Pakistan, Samina Baig, And Iran, Afsaneh Hesamifard, Reach K2, One Of The World's Highest And Most Dangerous Summits
• Indonesian Women Speak Out on Dress Codes Inspired by Sharia
• Women's Action Forum Condemns Bajaur Jirga's Ban On Women From Visiting Tourist Places
• Immigration Must Review Data Capturing Modalities For Muslim Women
• Pakistan Sleaze: Burqa-Clad Girl Groped In Islamabad; Women Unsafe In Country, Says Human Rights Watch
Compiled by New Age Islam News Bureau
URL: https://newageislam.com/islam-women-feminism/elham-marzooqi-uae-emirati-cellist/d/127542
--------
Elham Al Marzooqi, UAE's First Professional Female Emirati Cellist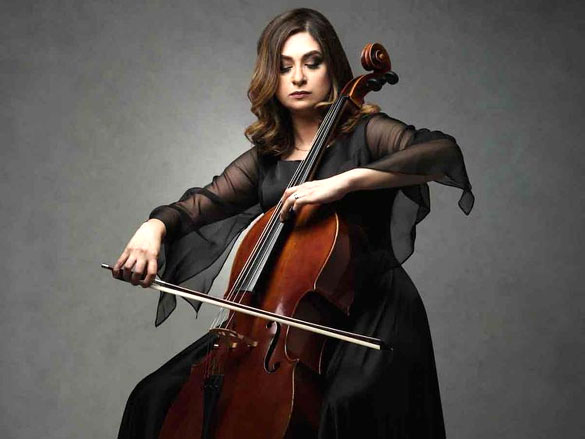 Elham Al Marzooqi/ Image Credit: supplied
-----
July 22, 2022
"I did not expect to hold the title of 'The UAE's first female Emirati cellist'. It was quite the shock when I realised I was the only Emirati female performing the cello in a professional capacity," says Elham Al Marzooqi, who began her musical journey at age five.
Born and raised in Abu Dhabi, Elham studied piano at her mother's music institute–one of the first music schools to open in the Emirate in the 80s. During this period, she discovered her passion for the cello and developed a fascination for orchestras and the camaraderie between musicians. "I loved listening to Yo- Yo Ma CDs. He was my biggest inspiration. I quickly found a cel- lo and a teacher, and never looked back," Elham recalls. "It was much easier to learn due to my musical background and I fell in love with the cello's sound and the different ways I could express myself through music. I am the proud owner of a 2018 German cello made by Wolfgang Schnabl. It's an utterly divine instrument with a gorgeous sound."
Perfecting her craft and honing her musical calling, Elham per- formed with community orchestras before graduating to professional ensembles–all while building and maintaining a successful career as senior legal counsel at Flash Entertainment, as well as raising a family. "I'm not going to lie, juggling it all is difficult. Your time management skills must be on point," Elham admits. Balancing a day job with official rehearsals and recordings three-times-per-week is an achievement in itself, not to mention at-home practice sessions. "Fortunately, I have a great support network and my husband is my biggest advocate. He understands how both careers are very important to me. I am also very fortunate to have my parents live next door. My tip is to delegate, delegate, delegate. As mothers, we feel that we must do everything but we need to allow others to help handle things."
Since 2011, Elham has performed with various renowned orchestras including NSO Symphony Orchestra, Dubai Chamber Orchestra, Dubai Pops Orchestra, Emirates Community Symphonic Orchestra, Arabian Philharmonic Orchestra, Sharq Orchestra and Dubai Singers Orchestra. She is also a member of Emirati music trio, UAE Pioneers Musicians.
Carving her position in the professional music industry hasn't always been an easy feat and, in an industry where she considers women to be underrepresented, Elham's passion and determination has certainly paid off. "There is not enough representation for women in the music industry," she explains. "Not only as musicians but also behind the scenes, with sound engineers, music composers, etc. Therefore, becoming a member of the Firdaus Orchestra, a pioneering all-female professional orchestra is very refreshing." Following an arduous audition process, Elham was the only Emirati musician to have been selected to join this inspired project between Dubai Expo 2020 and A.R. Rahman, who is celebrated for an extensive body of work for film and stage, notably renowned for the score in the film, Slumdog Millionaire, which earned the distinguished composer BAFTA, Golden Globe, Academy and Grammy awards.
Describing playing the cello as "a lifelong journey" and regardless of the high benchmarks professional players can reach, Elham explains that musicians learn something new every day through dedicated practice. "This is one of the many reasons I love it so much, there is no end date. Learning an instrument is akin to sculpting. You work on one area and then go away and start working on another area. In the words of the influential Catalan cellist Pablo Casals, when asked why he was still practicing at the age of 90, he replied, 'Because I think I am making progress'." Elham wholeheartedly relates.
As for her favourite pieces to play? "There are so many, depending on whether we are talking about solo or orchestra repertoire," she explains. "My favourite solo pieces would hands down be Bach's Cello Suites. You can play these pieces for life and you will learn something new each time. With orchestral pieces, I am quite partial to Beethoven Symphonies, especially Beethoven's Ninth Symphony. As cellists, we are quite lucky as we have such a beautiful repertoire from which to choose."
With a long list of highlights and achievements throughout her storied musical career, including a recent project with the Abrahamic Symphony: Unity of Three in Poland, with the Beethoven Academy Orchestra. The first interfaith symphony composed by Academy and Grammy Award-winning David Shire, Emmy Award-winning (and Academy Award nominee), composer John Debney and Emirati composer Ihab Darwish, was a delight for Elham. Other pinch-me moments include performing twice with Italian operatic tenor, Andrea Bocelli–a standout memory of which she recalls during the performance in Al Ula, Saudi Arabia, becoming "rather emotional at one point, as the music and synergy was so beautiful!".
Elham's advice for women trying to break into typically male-led industries? "Listen to your inner voice, you can do this!" and "understand that there will always be the naysayers. Ignore them". We couldn't agree more and cannot wait to see what's next for Elham, the inspirational musician creating the soundtrack to her own life.
Source: Gulf News
https://gulfnews.com/kurator/dare/meet-elham-al-marzooqi-uaes-first-professional-female-emirati-cellist-1.1658483318850
--------
Women Climbers From Pakistan, Samina Baig, And Iran, Afsaneh Hesamifard, Reach K2, One Of The World's Highest And Most Dangerous Summits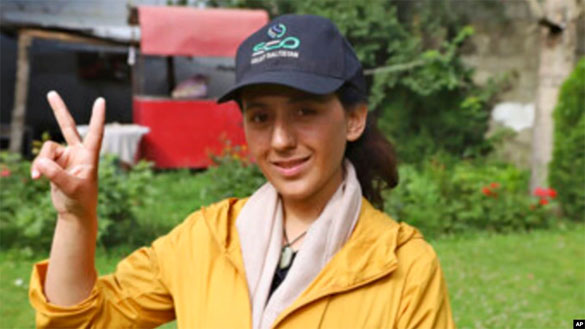 FILE - Pakistani mountaineer Samina Baig flashes a victory sign while she poses for a photograph outside a hotel, in Skardu, Pakistan, June 17, 2021.
----
July 22, 2022
A woman from Pakistan and another from Iran appear to be the first females from their countries to reach the top of K2, one of the world's highest and most dangerous summits, a mountaineering official said Friday.
Samina Baig, a 32-year-old mountaineer from a remote northern village in Pakistan, hoisted her country's green and white flag atop the peak of the 28,250 foot-high (8,610 meter) K2 mountain on Friday. Iran's Afsaneh Hesamifard, who according to Iranian media became only the third woman to reach the top of Mount Everest this past May, was hailed in Farsi-language posts on social media. They were among several women to successfully reach K2's peak on Friday, according to Karrar Haidri, chief officer of the Pakistan Alpine Club, which helps coordinate between climbers and the government in the event of an emergency, but also prior to and during the climbs.
He said a second Pakistani female climber, Naila Kiyani, was among the team to reach the top of the mountain, but it appeared that Baig had arrived to its peak a few minutes earlier.
K2, on the Chinese-Pakistani border in the Karakorum Range, has one of the deadliest records with most people dying on the way down. Only a few hundred have successfully reached its summit. In contrast, Mount Everest has been summited more than 9,000 times.
Haidri said Afghan climber, Ali Akbar Sakki, died on Thursday due to a heart attack while attempting to scale K2 as part of the team of climbers who reached its summit Friday. The mountain is considered extremely difficult to climb. Not only is it the second highest after Mount Everest, its ascent and descent are considered much more challenging that the world's highest. K2 is the coldest and windiest of climbs.
At places along the route, climbers must navigate nearly sheer rock faces rising 80 degrees, while avoiding frequent and unpredictable avalanches. The latest record comes a day after Nepalese climber Sanu Sherpa set a new mountaineering record for twice reaching the peak of each of the world's 14 highest mountains.
Earlier this month, Pakistan's military airlifted two Pakistani climbers, including the man who became the youngest to scale K2 to safety after the pair went missing during an expedition scaling Nanga Parbat, known as "Killer Mountain" because of its dangerous conditions.
Source: Indian Express
https://indianexpress.com/article/world/women-climbers-pakistan-iran-reach-k2-summit-8045611/
--------
Indonesian Women Speak Out on Dress Codes Inspired by Sharia
July 21, 2022
(Jakarta) – Most of Indonesia's provinces and dozens of cities and regencies impose discriminatory and abusive dress codes on women and girls, Human Rights Watch said today. The harmful impact of these regulations is evident in the personal accounts of Indonesian women – as schoolgirls, teachers, doctors, and the like – collected below.
The Indonesian Home Affairs Ministry, which supervises local governments, should invalidate those local decrees, more than 60 of which are in effect across the country. The central government, however, has no legal authority to revoke local laws, such as the 2004 dress code in Aceh province that was inspired by Sharia, or Islamic law. But government rules nonetheless authorize the Home Affairs Ministry to nullify local executive orders that contradict national laws and the constitution.
"President Joko Widodo should immediately overturn discriminatory, rights-abusing provincial and local decrees that violate the rights of women and girls," said Elaine Pearson, acting Asia director at Human Rights Watch. "These decrees do real harm and as a practical matter will only be ended by central government action."
Local authorities have issued discriminatory decrees as executive orders, starting in 2001 in three regencies, Indramayu and Tasikmalaya in West Java province, and Tanah Datar in West Sumatra. Such restrictive local regulations have appeared and spread rapidly over the last two decades, compelling millions of girls and women in Indonesia to start wearing the jilbab, or hijab, the female headdress covering the hair, neck, and chest. It is usually required in combination with a long skirt and a long sleeve shirt.
The officials who issued the decrees contend the jilbab is mandatory for Muslim women to cover intimate parts of the body, which officials deem to include the hair, arms, and legs, but sometimes also the woman's body shape. Women and girls face social pressure and threats of possible sanctions unless they comply with the regulations.
Human Rights Watch interviewed more than 100 women who have experienced abuse and often long-term consequences for refusing to wear the jilbab. Human Rights Watch collected the text of the regulations and included them as an annex to a 2021 report. South Sulawesi province authorities adopted the latest decree in August 2021.
The 2021 report documented widespread bullying of girls and women to force them to wear the jilbab, as well as the deep psychological distress the bullying can cause. In at least 24 of the country's 34 provinces, girls who did not comply were forced to leave school or withdrew under pressure, while some female civil servants, including teachers, doctors, school principals, and university lecturers, lost their jobs or felt compelled to resign.
Bullying and intimidation to wear the jilbab also takes place on social media. In two cases, Human Rights Watch documented threats of violence conveyed via Facebook. Human Rights Watch interviews revealed that intimidating and threatening messages have also been sent on messaging apps, such as WhatsApp.
Zubaidah Djohar, a poet, and an alumna of an Islamic boarding school in Padang Panjang, West Sumatra, received death threats that promised "hacking" and "poisoning" after having a theological argument about the jilbab with Gusrizal Gazahar, the chairman of the Indonesian Ulama Council in West Sumatra, on February 28, 2021. Her colleague Deni Rahayu also received death threats, mostly from members of a Facebook group of school alumni. Both reported the threats to the police, but there is no indication police meaningfully investigated the complaints.
They also reported the threats to Facebook but received no response. Human Rights Watch sent extensive documentation of the abusive online behavior to Facebook in April 2021. Facebook responded in August 2021, saying that it "reported the speech to one of [its] escalation channels," but provided no information on the outcome. In April 2022, after multiple requests for updates, a Facebook staff member based in Singapore offered to meet Djohar during a vacation in Jakarta, which Djohar declined. Facebook has not said what it was doing about the abuse.
Nearly 150,000 schools in Indonesia's 24 Muslim-majority provinces currently enforce mandatory jilbab rules, based on both local and national regulations. In some conservative Muslim areas such as Aceh and West Sumatra, even non-Muslim girls have also been forced to wear the jilbab.
In 2012 and 2014, Pramuka, the national scout movement that schoolchildren are required to join, and the Education and Culture Ministry, issued dress codes requiring jilbabs for "Muslim girls" from grade 1 through 12, in apparent contradiction of the 1991 ministerial regulation that allows schools to let female students to choose their "special attributes." The Pramuka and Education Ministry nationwide regulations strengthen and reinforce the local decrees. Schools usually require students to wear the Pramuka uniform once a week.
In February 2021, Education and Culture Minister Nadiem Makarim, and two other ministers, amended the 2014 regulation to specify that schoolgirls are free to choose whether to wear the jilbab. Makarim said the regulation was being used to bully schoolgirls and teachers. But in May 2021, the Supreme Court struck down that amendment to the regulation, effectively ruling that girls under age 18 have no right to choose their own clothes. The ruling ended government efforts to give Muslim girls and teachers the freedom to choose what they wear.
More than 800 public figures signed a petition that condemned the decision and asked the Judiciary Commission to review it, saying the regulation was unconstitutional and discriminatory. In June 2021, the Judiciary Commission rejected the petition on a technicality.
International human rights law guarantees the rights to freely manifest one's religious beliefs, to freedom of expression, and to education without discrimination. Women and girls are entitled to the same rights as men and boys, including to wear what they choose. Any limitations on these rights must be for a legitimate aim and applied in a non-arbitrary and nondiscriminatory manner.
These protections are included in the International Covenant on Civil and Political Rights, the Convention of the Rights of the Child, and the Convention on the Elimination of All Forms of Discrimination against Women. Indonesia has ratified each of these international treaties. Mandatory jilbab rules also undermine the right of girls and women to be free "from discriminatory treatment based upon any grounds whatsoever" under article 28(i) of Indonesia's Constitution.
In 2006, Asma Jahangir, the late United Nations special rapporteur on freedom of religion or belief, said that the "use of coercive methods and sanctions applied to individuals who do not wish to wear religious dress or a specific symbol seen as sanctioned by religion" indicates "legislative and administrative actions which typically are incompatible with international human rights laws."
"The Indonesian government should take urgent action to end the bullying, intimidation, and violence against ordinary Indonesians who dare to discuss the jilbab issue publicly and raise concerns that these local regulations violate rights," Pearson said. "The government should investigate every incident and hold those responsible accountable so that every woman and girl in Indonesia feels comfortable to dress the way they want without fearing retaliation."
Source: HRW
https://www.hrw.org/news/2022/07/21/indonesian-women-speak-out-dress-codes
--------
Women's Action Forum Condemns Bajaur Jirga's Ban On Women From Visiting Tourist Places
July 21, 2022
The Women's Action Forum (WAF), a women's rights organisation, has strongly condemned the ban on women from visiting tourist spots in Bajaur, announced by a jirga in the area earlier this month, and urged the federal government to get the order revoked at the earliest.
"Not only this is in blatant violation of several fundamental rights guaranteed in the Constitution of Islamic Republic of Pakistan, 1973, including Article 25 (equality of citizens) and Article 26 (non-discrimination in respect of access to public spaces), it also raises serious questions on the extent of application of the writ of the state and the increasing audacity of the informal sittings of all-male local elders issuing such proclamations in defiance of the Constitution," the WAF said in a statement.
The organisation urged the Khyber Pakhtunkhwa (KP) government to ensure that no pressure groups are able to violate the Constitution and deny women their rights under any circumstances.
"We also demand that women's autonomy and rights be respected and ensured by all citizens and authorities," it added.
"The jirga was held under the supervision of the Jamiat Ulema-e-Islam-Fazl (JUI-F) – an allied party of the coalition government in the centre. The WAF urges the coalition government to get the order of the jirga revoked at the earliest and prevent unconstitutional acts by its coalition partners in future," it concluded.
Source: The Friday Times
https://www.thefridaytimes.com/2022/07/21/waf-condemns-bajaur-jirgas-ban-on-women-from-visiting-tourist-places/
--------
Immigration must review data capturing modalities for Muslim women
July 21, 2022
The Ta'awunu Human Rights Initiative, THURIST, has urged Nigeria Immigration Service to review its modalities for data capturing, noting that the demand for hijab-wearing Muslim women to bring out their ears tramples on their rights as recognised by the Constitution.
The Islamist rights group said they had followed various instances of Muslim women subjected to harassment over their hijab.
The group made their demand in a statement by Sulaymon A. Tadese, its Director-General.
According to THURIST, they recieved a report of a Muslim lady, Shote-Bakre Ikeoluwa, harassed by Nigeria Immigration Service personnel in Osogbo, following her refusal to pull out her ears and remove her hijab for the mandatory data capturing for international passport enrollment.
THURIST said: "We had also been informed that Mrs. Khadija Ikeoluwa had over the years successfully enrolled for other national identity documents using her Hijab and without pulling out her ears, contrary to what was required at Osogbo Immigration office.
"The intimidation by some personnel of the Nigeria Immigration office in Osogbo prompted two of the Muslim ladies, who approached them together with Mrs. Khadija Ikeoluwa, to accept the capturing with their ears pulled out.
"It is important to put the record straight that over the years there were attempts to stop Muslim women from identifying themselves in hijab and other Muslim women garments in government establishments nationwide, especially in southern Nigeria before the court judgement of Osun State and the recent decision of the Supreme Court granting the constitutional rights of Muslim girls in Lagos State government school, as an avenue to put harassment of Muslim women over Hijab to a halt.
"Let's be reminded that without hijab, there is no freedom of religion for Muslim women in Nigeria as provided for in the Constitution (as amended).
"It renders its supremacy a paper weight and of no effect, just like a toothless bull dog.
"Pulling out ears in public for data capturing is wrong for Muslim women and if freedom of religion will be religiously allowed in Nigeria, the Nigeria Immigration Service will need to revisit her modalities for enrollment and data capturing for issuance of international passports in Nigeria."
Source: Vanguardngr
https://www.vanguardngr.com/2022/07/immigration-must-review-data-capturing-modalities-for-muslim-women-thurist/
--------
Pakistan sleaze: Burqa-clad girl groped in Islamabad; women unsafe in country, says Human Rights Watch
July 19, 2022
Islamabad: A burqa-clad Pakistani woman was harassed by an unidentified man who groped her from behind in day time in the country's capital Islamabad, a video of the incident that has gone viral revealed.
The video is buzzing on the internet, displaying that the woman was walking on a street in Islamabad, Geo tv reported.
According to Geo tv, the incident took place during the daytime in which a woman, covered in a veil (burqa), could be seen walking on a street when an unidentified man appears and gropes her from behind.
The woman in the video could be seen struggling to push the man away from her.
After harassing her, he could be seen running away.
Senior journalist Hamid Mir, in response to a tweet that posted the video, said that the incident is a challenge for all men to find the culprit, punish him, and make him a lesson for others.
Islamabad police tweeted an assurance, saying that officials were working on the case and the concerned SHO was in touch.
In May 2022, a video of several men harrasing, attacking and molesting a woman in Azad Chowk Metro station in Pakistan has gone viral. The woman was claimed to be from Turkey.
Last year, a video surfaced in which a TikToker in Pakistan alleged that hundreds of people beat him up and threw him in the air during the country's Independence Day celebrations on 14 August.
Last year, on Pakistan's Independance Day, hundreds of men in Lahore's Greater Iqbal Park assaulted a woman, tearing her clothes and throwing her in air. A video of the incident went viral on social media. The woman was a TikToker.
Reports say that over 70 per cent of women are victims of harassment at the workplace in Pakistan and there seems to be no end to their plight.
Data collected by White Ribbon Pakistan, an NGO working for women's rights, shows that 4,734 women faced sexual violence between 2004 and 2016. Lately, the government of Pakistan passed the "Protection against Harassment at the Workplace (Amendment Bill), 2022 and has amended the weaker provisions of the 2010 law.
Pakistan observes an increased ratio of overall working women in recent years but the country is grappling with the issue of psychological, physical and sexual harassment of women that impedes their safe mobility and prevents them from stepping outside to work.
Pakistan has always presented a bleak and scary picture when it comes to the safety and security of women. According to Human Rights Watch's (HRW) annual World Report 2022, Pakistan has been at the centre of multitude of allegations of extensive rights abuses against women and children. Pakistan ranks 167 out of 170 countries on the Global Women, Peace and Security index compiled by Georgetown University.
"Women, religious minorities, and transgender people continue to face violence, discrimination, and persecution, with authorities failing to provide adequate protection or hold perpetrators to account. The government continues to do little to hold law enforcement agencies accountable for torture and other serious abuses," the HRW, in its Annual World Report 2022 observed.
"Violence against women and girls—including rape, murder, acid attacks, domestic violence, and forced marriage—is endemic throughout Pakistan. Human rights defenders estimate that roughly 1,000 women are killed in so-called honor killings every year."
Meanwhile, according to a recent police report, in the Punjab province around 41,000 women were reported as missing in the last five years, with as many as 3,571 unrecovered so far.
Source: Firstpost
https://www.firstpost.com/world/pakistan-sleaze-burqa-clad-girl-groped-in-islamabad-women-unsafe-in-country-says-human-rights-watch-10927541.html
--------
URL: https://newageislam.com/islam-women-feminism/elham-marzooqi-uae-emirati-cellist/d/127542
New Age Islam Islam Online, Islamic Website, African Muslim News, Arab World News, South Asia News, Indian Muslim News, World Muslim News, Women in Islam, Islamic Feminism, Arab Women, Women In Arab, Islamophobia in America, Muslim Women in West, Islam Women and Feminism