New Age Islam News Bureau
2 Jun 2014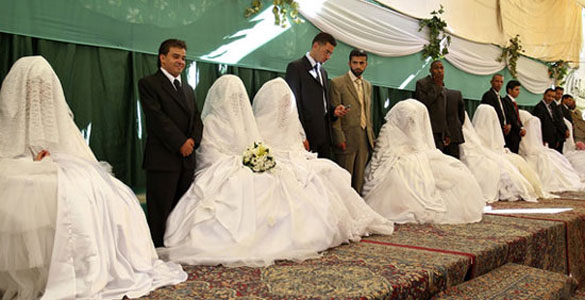 Brides and grooms pose during a mass wedding ceremony in Amman, July 6, 2012. Photo by REUTERS/Ali Jarekji
--------
• Outrage over 'Modesty' Signs at Saudi Girls' Schools
• DR Congo: Rape 'Routine' In Prisons
• Sudanese Government Denies Imprisoned Pregnant Woman to Be Freed
• The Continuing Battle for Girls' Education in Pakistan
• Israel Ministers Approve Surrogacy for Singles, Same-Sex Couples
• Education and Equality Rising For Women in the Middle East
• Yemeni Women Fight Back Against Sexual Harassment
• Jeddah: Three Girls to Get Prison, Lashes for Elopement
• Pregnant Woman Stoned To Death by Her Own Husband NOT By Her Father and Brothers
• Rosmah, Datuk Seri Najib's Wife to Attend Summit, Host Fashion Show in Paris
• Facebook Initiative to Help Jordanian Young People Marry
• Iran to Set Up Interfaith Workgroup for Women's Issues
• Archbishop of Canterbury's Aide in Negotiation to Free Kidnapped Girls
• 65,000 Saudi Women Replace Male Staff in 13,000 Accessory Shops
Compiled by New Age Islam News Bureau
URL: https://www.newageislam.com/islam,-women-and-feminism/new-age-islam-news-bureau/eighty-seven-percent-female-students-of-imam-saud-university-'abused-by-faculty-staff'/d/87319
------------
87% Female Students of Imam Saud University 'Abused By Faculty Staff'
June 02, 2014
RIYADH — A study by Imam Muhammad Bin Saud University's media college for women has revealed that 87 percent of female students have complained of being abused by university faculty staff.
Sixty-two percent said they were facing academic problems.
Ninety-three percent supported forming a student union or expanding the role of the student's council.
Some 19 percent of the students said they are facing financial problems, 9 percent were facing social problems, while 80 percent said they were unaware of the "Aali" satellite channel that the Ministry of Higher Education has launched to educate students on their duties and rights.
The study showed 63 percent of students believe the university's laws and regulations limit their freedom of expression.
Some 83 percent said they prefer to complain to the university management and 17 percent said they prefer to voice their complaints through social media.
However, 71 percent of the students support uploading complaints to social networking sites and 18 percent believed they could complain to the National Society for Human Rights. The study also showed that 57 percent of students on scholarships said they obtained information about their duties and rights from the universities they go to, 16 percent said they obtained the information from the cultural attaché and only 9 percent said they obtained the information from the Ministry of Higher Education.
The study recommended students should be trusted more and allowed to form student bodies and councils to discuss their problems and educate themselves of their rights and duties.
http://www.saudigazette.com.sa/index.cfm?method=home.regcon&contentid=20140602207155
------------
Outrage over 'modesty' signs at Saudi girls' schools
June 02, 2014
AL-KHOBAR — Several girls' schools have posted signs on their perimeter walls that give a new meaning to manhood. The signs, which urge girls to dress modestly, carry slogans that say a man's manhood can be recognized by the Abaya of his family members and those who cannot cover up their families in public will not be able deal with them at home.
Commenting on the unusual signs, many residents said they considered the signs to be a new method for improving behaviour and ethics, while others who were offended said the signs carried negative hidden messages, Al-Hayat daily reported.
Citizen Majed Al-Dhowayyan tweeted that no one has the right to issue such judgments and asked extremists to correct their thoughts and ideas before judging others on appearances.
A faculty member at Dammam University's Psychology Department, Dr. Fatimah Al-Ali, criticized the absence of monitoring bodies that allow such signs to be posted without understanding their true meaning.
A source in the Ministry of Education said one of the most leading causes of the spread of extremism is allowing extremists access to the education sector. The source stressed that the ministry and the Kingdom believe in moderation and questioned the reason such signs were erected.
The official spokesman of the Ministry of Education, Mubarak Al-Esaimi, said such signs are the responsibility of the guidance section, but refused to say whether the ministry agrees or disagrees with the message in the signs. He simply said: "I do not have an answer."
http://www.saudigazette.com.sa/index.cfm?method=home.regcon&contentid=20140601207007
------------
DR Congo: Rape 'Routine' In Prisons
June 02, 2014
Security officials "routinely" rape women in prisons in DR Congo as punishment for their political activities, a UK-based charity says.
Freedom from Torture said medical reports of 34 women showed many of them had been brutally gang-raped.
The women - who included traders and professionals aged between 18 and 62 - are seeking asylum in the UK.
DR Congo spokesman Lambert Mende said he would respond to the charity's claims if it gave more details.
In its report, Freedom from Torture said one woman was arrested and raped after organising a protest against rape.
It said other women had "documented 68 scars attributable to torture. Fifty-six of these scars were attributable to a specific instance of gang-rape".
The group's Dr Juliet Cohen told the BBC: "There are some striking consistencies in the experiences of sexual violence and torture of the women in this report which strongly suggests that this horrific abuse is being routinely carried out in prisons in the DRC."
'Not human beings'
DR Congo is often dubbed the "rape capital of the world", with rights groups saying that rape and sexual violence has become a weapon of war since conflict broke out in the early 1990s.
In May, two soldiers were convicted of rape by a military court in eastern DR Congo, where numerous armed groups still operate.
Thirteen other officers were cleared of the charge.
Freedom from Torture said women were raped by security force members to stop "women speaking out about politics, human rights and, in some cases, rape itself".
One woman, named as Faith in the report, said security force members raided her home in early 2013 after she organised an anti-rape protest in the western province of Bas Congo.
"One of them said: 'You are talking about rape, now we'll show you what rape means'. They raped my niece in front of us. Then they took me to prison," she is quoted as saying in the report.
"Now I know, because I have been there, that it is normal for women to be sexually abused in prison... The soldiers and the prison guards, they don't see women as human beings, they don't see any value in women. I can't even remember how many times I was raped," she added.
Since her arrival in the UK, Faith has been admitted to hospital, Freedom from Torture said.
"She suffers from post-traumatic stress disorder and depression and she no longer likes being around other people," it added.
http://www.bbc.com/news/world-africa-27662890
------------
Sudanese Government Denies Imprisoned Pregnant Woman to be Freed
June 02, 2014
The Sudanese government denied allegations that it would free a pregnant Christian woman set to be hanged for apostasy, stating that hints suggesting her freedom were misconstrued.
"[I am] not aware that any release is imminent," Abu Bakr al-Sideeg, spokesman for the Sudanese foreign ministry, stated Sunday.
Meriam Yahia Ibrahim Ishag was sentenced to death on May 15, in accordance with Sharia law. Sharia law outlaws Muslim women marrying non-Muslim men - and outlaws conversion under pain of death. Ishag, who has refused to renounce her faith, also gave birth to a baby girl Tuesday.
Ishag's husband, US citizen Daniel Wani, also denied that her release was imminent.
"No Sudanese or foreign mediator contacted me. Maybe there are contacts between the Sudanese government and foreign sides that I'm not aware of," Wani told BBC. "As far as I'm concerned I will wait for the appeal which my lawyer submitted and I hope that my wife will be released."
Manar Idriss, Sudan researcher for Amnesty International, reiterated that reports of a release remain unconfirmed.
"We've received no confirmation that Meriam is going to be released and the appeal court has yet to issue any such ruling confirming a release," she said.
Ishag was born to a Muslim father, but has insisted that she herself is not guilty of "apostasy," as she is not Muslim.
According to the British Telegraph, she even produced a marriage certificate as evidence that she had not committed adultery, and called three witnesses from her home town to testify of her lifelong adherence to Christianity.
Sharia court ultimately disagreed, and sentenced her to death and 100 lashes for "adultery." The death sentence is not due to be carried out until 2016.
http://www.israelnationalnews.com/News/News.aspx/181280#.U4zQmHJdU4U
------------
The continuing battle for girls' education in Pakistan
June 02, 2014
Women and girls around the world need and deserve a just education for a better future. Unfortunately, the disparity in education between girls and boys continues to grow in Pakistan.
However, the lower class of Karachi are beginning to realise the importance of education. They send their young girls to school and emphasise on getting them educated as much as they force them to learn stitching, cooking and other house-hold chores.
Here are few pictures taken in a government school in Nazimabad, Karachi.
http://www.dawn.com/news/1109333/the-continuing-battle-for-girls-education-in-pakistan
------------
Israel Ministers Approve Surrogacy for Singles, Same-Sex Couples
June 02, 2014
Same-sex couples and singles across the country have a reason to rejoice as the government approved changing surrogacy guidelines on Sunday.
Yesterday, after months of political wrangling, Likud, Yesh Atid and Hatnua voted for Health Minister Yael German's proposal to expand legal surrogacy eligibility, in Israel and abroad, beyond heterosexual couples. Bayit Yehudi ministers voted against and Foreign Minister Avigdor Liberman abstained.
"We don't think we deserve less than any couple. We both served in the military and pay taxes and we don't think we should have less than any other [Israeli] couple has," said, Elad, a 32 year old from Tel Aviv, whose 6-month-old daughter Alona was conceived via surrogacy.
Together with his partner, Elad, who asked that his last name be withheld in order to protect his privacy, went through an expensive, complicated and cumbersome two-year process that involved weaving through the bureaucratic red tape in order to bring their daughter from India to Israel.
"[It's] very unfortunate that up until now it hasn't been an option for us to be able to go through the process [in Israel]," Elad added, referencing the limited options available to same-sex couples and singles who wish to conceive through surrogacy in Israel.
While the Ministerial Committee for Legislation voted in favor of the bill last March, Construction and Housing Minister Uri Ariel submitted an appeal, which escalated into a political battle between Bayit Yehudi and Yesh Atid, who blocked many of each other's proposals.
The legislative war concluded yesterday, with the ministers in each party removing their appeals on the other's bills. As such, the surrogacy bill was brought to a vote and the ministers were supposed to vote on a Bayit Yehudi proposal to limit presidential pardons for terrorists, but Prime Minister Binyamin Netanyahu delayed it until next week.
"It feels like the ova are thawed and now we can create the baby and deliver it in the Knesset," German poeticized upon the bill's passing.
The Yesh Atid minister said that, now that the bill is no longer blocked, the party will work to pass it into law as soon as possible and bring "long-awaited equality."
According to German, "the bill balances the desire and right of everyone to be a parent with protecting the surrogate mother and her rights."
MK Adi Kol (Yesh Atid), whose Knesset Public Petitions Committee dealt comprehensively with same-sex and single parents' issues, called the vote "a blessed breakthrough, which puts an end to discrimination in the area of fertility."
However, Irit Rosenblum, founder of the "New Family" NGO, cautioned the bill merely pays lip service to the LGBT community and any celebrating at this point would be premature.
"The new proposal is terrible. Not only does it not fix the existing law so that there is really surrogacy in Israel, but it harms the little bit that exists and does not take care of real problems in the law," Rosenblum said. "The new bill, with all of its humiliating committees and complex system that deals with agencies and laboratories abroad that have to authorize [the surrogacy], this ensures that there will be no surrogacy in Israel and many people will remain miserable."
"We're looking forward hopefully for the next cycle when we have another baby, which we can have in Israel and not somewhere else," Elad said, already looking forward to the bill's passing so he can expand his family without navigating through legislative and medical loops. "Now the Knesset has to raise the bar and pass the law [so we can] have babies in Israel, not anywhere else."
http://www.jpost.com/National-News/Ministers-approve-surrogacy-for-singles-same-sex-couples-355012
------------
Education and Equality Rising for Women in the Middle East
June 02, 2014
Governments and extremist groups have spent decades trying to stem the rising tide of women's education and equal rights in the Middle East and North Africa. From the shooting of Malala Yousafzai by the Taliban in Pakistan to the recent abduction of over 200 schoolgirls by Boko Haram in Nigeria, some severe measures have been taken to prevent what extremists see as the "Westernization" of Middle Eastern culture. Governments are somewhat less violent in their oppression of women, but the oppression exists nonetheless. Most of the world has come to recognize that women in the Middle East are treated as second-class citizens, but that is slowly changing.
Women are not being given equal rights to men yet, and they are often required to follow a different set of laws based on patriarchal views. Still, the gradual progress is there. Recently in Saudi Arabia, a movement was begun to allow physical education in girls' government schools. Protesters flocked to Riyadh, shouting down the measure as an insult to the Prophet Muhammad that would surely lead to adultery and prostitution. The fight has not been a total loss. Women are participating in sports more frequently. Two Saudi women competed in the 2012 Olympics, and last year the authorities began giving licenses for women to open private sports clubs. Little boys with soccer balls can be seen allowing their little sisters to play.
Hatoon al-Fassi, a well-known women's historian, says women are finally being heard by the government. King Abdullah is allowing women more exposure in public life. He made Norah al-Faiz, a woman, the deputy minister of education. No female has held such a high position in government in Arabia. The Shura Council houses 30 female and 120 male members. Women are even being given the right to vote in municipal elections.
Statistics in Saudi Arabia are showing that more women are attending institutions of higher learning than men, and the number of universities for women is growing. Saudi women are studying abroad alone, even without a male family member as a companion.
Women of the Middle East are working much more than in previous years. Though many admit they are only permitted to work due to financial necessity, many more females are becoming employed, and some companies have even begun housing male and female employees in the same office.
Saudi Arabia is not the only place which is empowering women. Istanbul held an international summit this weekend which focused on female empowerment along with other topics for the post-2015 UN agenda. The difficulty of juggling professional responsibilities with familial responsibilities was discussed, and women were acknowledged as a significant part of other issues, such as food security and green initiatives.
Qatar has joined in the action as well. Shareefa Fadhel is calling for Arab businesswomen to be promoted at an international level. Fadhel, who is the Co-founder of the Roudha Center for Entrepreneurship & Innovation and works as its Managing Director, addressed the Women's Growth and Success Forum in London, where Arab women in leadership roles learned how to be successful in the business world. Other successful women spoke as well, such as Qatar's first female Court of Auditors judge, Zineb El Adaoui, and Feryal Abdulla Ahmed Nass of the Bahrain Businesswomen's Society.
Women is Islamic countries, especially those with theocratic governments or leaders, have traditionally developed leadership roles in society more slowly than other parts of the world, as the Muslim religion has much stricter gender expectations than most. These women, however, are overcoming barriers, step by tiny step, to gain more confidence and freedom as female education and equality rise in the Middle East. They may yet have a long way to go, but the strides they have made in recent years have been quite an accomplishment.
http://guardianlv.com/2014/06/education-and-equality-rising-for-women-in-the-middle-east/#FLs0VetGHuAXEeHd.99
------------
Yemeni Women Fight Back Against Sexual Harassment
June 02, 2014
"May God protect you, [you are] sexy and hot." "Your looks do not represent Yemen, Islam or chaste women." "I am waiting for you tomorrow at 7 p.m. to have dinner and a drink, so we can relax, and then I will proceed with your employment process." These are some examples of harassment, an issue tackled by Yemeni Hind al-Nusairi, 23, in an article titled "The Struggle of a Free Woman in Yemen." The article won first prize in a competition on the topic of gender-based violence organized by the Cairo Centre for Development and Human Rights. The article depicts the daily harassment that liberal women in Yemen face on the streets, in college, at work and through social media.
In a conservative society like Yemen, liberal women are a target for the culture of shame — a culture that targets all members of society, particularly women. Religiously committed people perceive liberal women as indecent and believe they should be oppressed. Nonreligious people see these women as an easy catch. Some women believe that the unveiled women are morally degenerate.
In fact, the liberal women mentioned in Nusairi's article are not liberal in every sense of the word. These women are unveiled; they do not wear the black cloak, and their looks do not align with custom. They are merely trying to gain the basic liberties of women, and they are faced with familial and societal obstacles.
Harassment has spread in Yemen in "an alarming way," as 26-year-old Farida Ali affirmed. "Veiled women are faced with upsetting verbal harassment, let alone unveiled women. They look at women as if they are watching adult movies."
Some actresses, media figures and traditional dancers are compelled to wear a cloak to avoid street harassment. However, there are women who have displayed a remarkable ability to rebel and break the isolation that society is trying to lock them into.
Contrary to Nusairi, who hails from a cultured and open family that has helped her to seek freedom, Farida represents a rare example of women who were able to achieve freedom through self-effort amid a conservative family and environment.
Farida's father passed away when she was 10, leaving the task of raising the family to her mother. When she graduated from high school, she worked in a coffee shop and enrolled in college to study English literature, a step the family strongly opposed. "I insisted on my right to choose my life's path," she said. "During my third year in college, I worked for a local branch of an international company. As the family's opposition grew even more, I decided to live with my brother in a separate home." The family was not satisfied with this step and with the fact that "I go in the street without a veil, and publish my photos on social networking sites and newspapers. They saw me as a disgrace."
Harassment of women has spread on university campuses and in media institutions, whether public or private. In April, a broadcaster on an Aden TV channel complained on her Facebook page about harassment at her workplace.
According to Farida, harassment is most common in government institutions and local private sector companies. "Girls at their workplace are subjected to [sexual] remarks that they do not hear in the street," she said. In foreign and international organizations, however, harassment is less common.
Political Islam groups of every stripe — whether Shiite or Sunni — have expanded in a striking manner. The parties claiming to be advocates of women's freedoms are merely affiliates of this group or that. Cultural elite groups are also accused of having double standards and of not genuinely supporting gender equality.
"Everyone calls for women's freedoms while excluding the women in their families, as they are considered as a red line," said Farida. She added that they failed to understand that not all Yemeni women are the same and that they had to accept them and live with them.
According to researchers, laws alone will not pave the way for freedoms. This change needs a cultural transformation among women themselves.
Fawziya Shamsan, professor of philosophy at Sanaa University, said that mental capabilities have great influence on a woman's sense of freedom. Education is not enough for girls to become aware of their freedom and to develop their character. She added that many of her female students fail to gain their own sense of individuality.
Farida added that her brother "used to be like [the rest of] my family, but, little by little, he started to understand that I am different and became my biggest supporter."
Farida participates in general civic activities and in graffiti campaigns. She said that girls who were used to sitting between four walls would not be able to feel their freedom.
For her part, Shamsan stressed that economic independence of women would help promote their self-confidence and their will to search for freedom. She considered Islamic misconceptions to be the most prominent obstacle facing Yemeni women in their quest toward freedom and equality. However, Shamsan admitted that there were a rare few women in Yemen who have been able to swim against the tide and overcome these obstacles.
http://www.al-monitor.com/pulse/culture/2014/06/yemen-women-social-rebellion-education-employment.html#ixzz33WjbHGei
------------
Jeddah: Three Girls to Get Prison, Lashes for Elopement
June 02, 2014
A criminal court in Jeddah has issued a prison sentence of 10 months and 50 lashes to three sisters for eloping with two young men (one of whom is an expatriate) and living with them in a furnished apartment while the men were sentenced to two years of jail time and 600 lashes. The expatriate will be deported on completion of his sentence.
The punishment also included 100 lashes for one of the girls and the Yemeni expatriate who rented the apartment, for being involved in intimate and unlawful relations.
A third young man who wasn't party to the crime but was involved in conducting phone calls to one of the girls was sentenced to 10 days in prison and 50 lashes.
The girls, in their defence, said that they ran away from home due to family disputes. The young man who had sheltered the two girls said that his relationship with them started when they came to his accessory shop a few years ago.
The details of the case came to light when the girls' father filed a report with the authorities to say that his daughters had been missing for three days.
http://www.arabnews.com/news/580126
------------
Pregnant Woman Stoned To Death by Her Own Husband NOT By Her Father and Brothers
June 02, 2014
The sister of a pregnant woman who was stoned to death in the street in Pakistan this week has accused the victim's husband of killing her.
After Farzana Parveen was murdered in broad daylight on Tuesday, her father and four other relatives were arrested on suspicion of carrying out an honour killing in revenge for her marrying Mohammad Iqbal.
However, her sister Khalida Bibi insisted that her family is innocent, and instead pinned the blame on Iqbal and his 'accomplices'.
The claim is the latest bizarre twist in the tragic tale of Farzana's death, which has thrown the spotlight on the barbaric practice of honour killings.
It emerged earlier this week that Iqbal, 45, had killed his own wife in order to marry Farzana, 25, whose family wanted her to marry a cousin.
Now Ms Bibi claims that he was also responsible for her sister's murder after she tried to flee him and return to her relatives.
'Mohammad Iqbal and his accomplices killed Farzana, and her father and the rest of her family were wrongly accused of murder,' she said.
'I was present at the scene and when she came out of the lawyer's chamber and as soon as she saw us standing on the other side of the road, she rushed towards us. Iqbal and his accomplices chased her and hit her with bricks.'
She added that last month, Farzana fled to a women's shelter in a bid to escape from her husband.
'She told me that Iqbal had kidnapped her and forced her into marriage,' Ms Bibi said. 'She feared that Iqbal might kill her like his previous wife, Ayesha.'
Ms Bibi's allegations directly contradict all previous reports of how Farzana died.
Iqbal claims that the pair married in January after falling in love with each other, but Farzana's family were angry that she had snubbed the man they chose for her.
Her relatives filed a legal claim against Iqbal - but when the couple left the Lahore high court following a hearing in the case on Tuesday, Farzana's father and brothers set upon her.
According to Iqbal, they began pelting her with batons and bricks as witnesses simply looked on, then left her to die in the street.
Two days after Farzana was killed, Iqbal admitted that he had murdered his first wife in order to marry his second.
'I was in love with Farzana and killed my first wife because of this love,' he said.
He also claimed that Farzana's older sister Rehana had been the victim of an honour killing after she likewise tried to marry a man for love.
The case has prompted worldwide outrage, after it emerged that no one had tried to help Farzana while she was being killed in the centre of Lahore, one of Pakistan's most cosmopolitan cities.
http://www.dailymail.co.uk/news/article-2645351/Sister-pregnant-woman-stoned-death-street-Pakistan-says-murdered-husband-NOT-father-brothers.html#ixzz33VsLi9r0
------------
Rosmah, Datuk Seri Najib's Wife to Attend Summit, Host Fashion Show in Paris
June 02, 2014
Datin Seri Rosmah Mansor, the wife of Prime Minister Datuk Seri Najib Razak, will be attending the 2014 Global Summit of Women themed "Women: Redesigning Economies, Societies" in Paris on June 4 and 5.
According to a statement issued by the Prime Minister's Office, Rosmah will deliver a speech at the opening of the summit before 1,000 women participants comprising leaders, entrepreneurs and corporate women from all over the world.
Women, Family and Community Development Minister, Datuk Rohani Abdul Karim, wife of International Trade and Industry Minister Datin Seri Khamarzan Ahmed Meah, senior officials from related agencies as well as 60 women entrepreneurs from various corporate sectors will also be attending the conference.
During her visit to Paris, she will also host a fashion show to introduce batik, songket and other local products at Le Pre Catalan, Lenote.
"The fashion show themed 'Eleganza' which will exhibit works of five leading national designers, will be attended by 300 invited guests from the fashion industry in Paris including designers, purchasing agents, fashion business community and media personnel," the statement said today.
The show organised by Matrade, Tourism Malaysia and Kraftangan Corporation is a good platform to promote the uniqueness and variety of quality local textiles.
Rosmah will also be opening a business networking session organised by Matrade and SME Corporation aimed at expanding the business network of Malaysian women entrepreneurs with their French counterparts.
The programme will be attended by leading Malaysian women entrepreneurs in various sectors as well as French women entrepreneurs.
http://www.themalaysianinsider.com/malaysia/article/rosmah-to-attend-global-womens-summit-host-fashion-show-that-in-paris-berna#sthash.Kcpd5Afa.dpuf
------------
Facebook Initiative to Help Jordanian Young People Marry
June 02, 2014
A young man's Facebook status, jokingly asking friends for one dinar each so that he could get engaged to the girl of his dreams, led to an initiative to help young people get married. The initiative was dubbed "a dinar so that I can get married."
The idea appealed to the friends of the young man who made the joke and the goal of the initiative became collecting one Jordanian dinar [$1.41] from each donor to help Jordanians aged 25 to 35 get married.
Yacoub Nizar al-Tamimi, who is in his 20s, was the young man who had the idea and started the initiative. He said that his dream and the dreams of many young people might come true as a result of the initiative, which he described as "kind." The initiative's program and right to be promoted were legally approved in collaboration with the Bader Development Association.
Tamimi said that his personal experience was the main driver behind the "joke" on his Facebook page. He wanted to break the saying, "One who lacks something cannot give it." He said, "On the contrary, the one who lacks something is the most able to give, to show a need and to think of ways to turn a dream into reality."
Facebook made launching the initiative easier because it allows a user to start a page and invite people to join it, and this is what happened. Tamimi, who is a graphic designer and developed the initiative, said that he was surprised how fast his page was accepted. More than 1,000 persons joined it overnight.
Tamimi said, "I was really amazed at the people's response to the idea and the encouraging words that I read on the Facebook page's wall. Friends acknowledged it, supported it and then requested that the idea be circulated and turned into a national project to face the difficulties that are hindering young people from marrying, especially since we live in a society dominated by young people and the indicators of spinsterhood in our country are alarming."
According to Tamimi, the dinar is a metaphor for what can be provided for such initiatives. In its work plan, the initiative requires the beneficiary to pay one dinar every year after marriage to stay in touch with the initiative and help others as well. He explained that donating and contributing to the enrichment of the campaign depended on the ability of donors to support Jordanian young people get married.
A funny situation has occurred that illustrates the interaction of people with the initiative. A woman in her 80s was one of the first donors. She said, "I want to donate one dinar to help one of the young people registered with you get married."
According to Tamimi, the initiative requires its members to have Jordanian nationality, to be between 25 and 35 years old, and that the young man be engaged for more than a year.
To ensure seriousness and sustainability, the initiative requires the applicant to have a certificate of good conduct and a monthly income of no less than 350 Jordanian dinars [$495] — in other words, for him to have a steady job so that his future family be stable.
The initiative was launched and is headquartered in the capital, Amman. In the future, it will spread to Jordan's other provinces. Tamimi said that the initiative was aimed at supporting those whose marriage had been obstructed by a lack of some amount of money or some demand. Tamimi pointed out that the support provided would not be in cash. The initiative will help the applicant in getting a bedroom or living room furniture set, or in providing the wedding suit and other such wedding-related matters.
The organizers hope that the initiative will help, every year, four to six young men. Tamimi said that the number could rise if the initiative got support from national institutions and individual initiatives that wanted to invest in realizing the dreams of young men and women to marry and have stability.
The initiative did not overlook the possibility that the marriages it supports might end up failing. It added a penalty clause to return the money to the initiative if the marriage fails within five years. The organizers believe that this clause will reduce divorce rates, which are on the rise among newly married couples.
http://www.al-monitor.com/pulse/culture/2014/06/jordan-facebook-initiative-youth-marriage.html#ixzz33WkOpE1R
------------
Iran to Set Up Interfaith Workgroup for Women's Issues
June 02, 2014
Iran's Vice-President for Women and Family Affairs Shahindokht Molaverdi underlined the great capabilities of the country's women from different religions and tribes for helping the society excel in different areas, and said her department will soon establish a special interfaith workgroup to deal with the same issue.
"We intend to set up a women workgroup for different religions and tribes in the Women and Family Affairs Department," Molaverdi told reporters on Wednesday.
She pointed to the role of women's solidarity in gaining access to objectives and programs in women and family affairs, and said, "Today our society needs to make use of the potentials and adroitness of women in different managerial fields."
The Iranian vice-president reiterated that the female population can help the country advance faster on the path of progress.
In relevant remarks in April on the occasion of the National Women's (Mothers') Day, Iranian President Hassan Rouhani underlined that the Islamic Republic pays much respect to women's social rights and tries to provide the ground for their equal chance with men both for study and work.
"Women should enjoy equal opportunities, immunity and social rights; we have a long way to go on this path before we reach the destination," President Rouhani said.
He referred to the government's measures to pave the ground for women's scientific progress, their employment and opportunity for studying at higher levels, and said the Iranian women are now present on various cultural and economic scenes.
Rouhani also described expansion of electronic marketing as a good ground for creating better working conditions for women.
http://english.farsnews.com/newstext.aspx?nn=13930307000899
------------
Archbishop of Canterbury's Aide in Negotiation to Free Kidnapped Girls
June 02, 2014
A friend of the Archbishop of Canterbury has been working secretly to help free the Chibok schoolgirls who were kidnapped by Boko Haram terrorists over a month ago, the London-based Sunday Times has revealed.
Stephen Davis, a former canon at Coventry Cathedral, is said to have held face-to-face talks with a senior commander of the group after travelling to its stronghold and sleeping out in the bush.
This is just as the Defence Headquarters (DHQ), through its spokesman, Major-General Chris Olukolade, has revealed that the Nigerian Air Force has flown 300 sorties in the hunt for the girls.
He also refused to deny or confirm reports that the military had advanced warning of the attack on Chibok community where the girls were abducted, explaining that the military had failed to act because it had in the past received several advanced warnings in the North-east that turned out to be frivolous.
The Sunday Times' story confirmed THISDAY's exclusive report last week that other than Ahmad Salkida, a former Nigerian journalist who once worked with two Abuja-based newspapers - Daily Trust and Blueprint but had relocated to the United Arab Emirates (UAE), two other people had been contacted by the presidency to assist with the negotiations with Boko Haram for the release of the kidnapped students.
Aliyu Teshaku, an indigene of Benue State, and Davis, a foreigner with experience in hostage negotiation, were also contacted by the presidency to negotiate the release of the girls.
Davies, however, is not working in isolation, as presidency sources had revealed to THISDAY that he is working in conjunction with Mrs. Aisha Wakil, who had previously presented herself as the mother figure of Boko Haram adherents and had repeatedly pleaded with the sect to stop their attacks.
Wakil, who is of Igbo parentage, is married to a northerner and converted to Islam several years ago.
She was also a member of the Tanimu Turaki-led peace committee set up by the federal government last year to hold dialogue with the terrorists to end the violence.
Davis told the Sunday Times that he has been in Nigeria for almost a month after being recruited by the country's president for his hostage negotiation expertise.
Full report at:
http://allafrica.com/stories/201406020290.html
------------
65,000 Saudi Women Replace Male Staff in 13,000 Accessory Shops
June 02, 2014
RIYADH – The male staff of over 13,000 women's accessory shops all over the Kingdom have been replaced by 65,000 women, said Dr. Fahad Sulaiman Al-Tekhaifi, assistant undersecretary for private programs.
Addressing a workshop on "Role of inspection visits to women's accessory shops," he said Saudi women have proved they can be successful in the private sector, especially in the women's accessory sector.
They have won the trust of employers and some of them work as supervisors for SR20,000 a month, Al-Tekhaifi said.
When the national program for women employment started, female workers were employed as saleswomen. Gradually, they started to get better job opportunities with more responsibilities.
Faisal Al-Otaibi, director of inspection department at the ministry, announced the launch of two new inspection programs. The first is an operation room and the second an electronic inspection program, which allows inspectors to spot violations through electronic devices.
Ziyad Al-Sayegh, undersecretary for customer services and labour affairs, said the ministry has launched a new mechanism to handle complaints and process them within 10 days from the date of filing.
More than 105,000 complaints, an average of 500 a day, have been received by the department since last September. The ministry has around 245 call centres to receive complaints.
The ministry started intensive inspections last year after its deadline to employ Saudi female staff expired on July 7, 2013.
The inspection formed part of the second phase to feminizing shops selling women's dresses, Abayas and accessories. It was complimentary to the first stage of feminizing lingerie shops.
In March, the ministry started the implementation of the third phase of the feminization of shops selling women's accessories. This phase includes shops selling female perfumes, Jalabiyas (traditional dresses), bags, shoes, socks, clothes and fabrics for women as well as shops selling mother-care products (baby stuff are excluded), and pharmacies in malls selling beauty products and accessories.
By October 2016, the ministry plans to achieve its goal to employ women in all stores selling women's accessories.
http://www.saudigazette.com.sa/index.cfm?method=home.regcon&contentid=20140602207157
------------
URL: https://www.newageislam.com/islam,-women-and-feminism/new-age-islam-news-bureau/eighty-seven-percent-female-students-of-imam-saud-university-'abused-by-faculty-staff'/d/87319