New Age Islam News Bureau
29 Oct 2012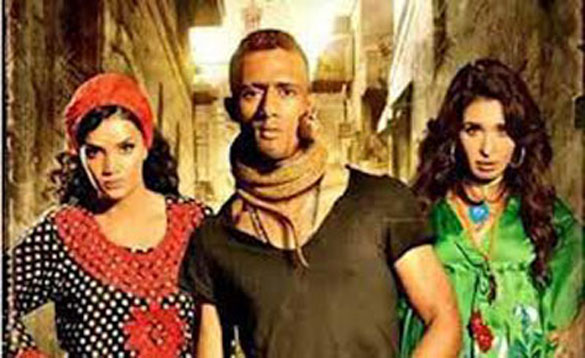 • Al-Qaida 'Burqua Brigade' To Hit Western Targets
• Gang Of Vietnamese Women Thieves in Malaysia 'Strip And Shout' To Stun Victims
• Mother Rethinks Reporting Daughter and Sister to Police
• Facebook Used To Kidnap, Traffic Indonesian Girls
• Adultery Laws Unfairly Target Women: UN
• Nigeria: Rampant Divorce Cases Worry State Government
• Syrian Refugees Suffer from Critical Lack of Women's Health Care: Report
• Egyptian Woman Gets Suspended Sentence for Threats to Have Dubai Policemen Sacked
• Dubai: Girl Traumatised By Male Attacker in the Gardens
• A Race for the Cure in Egypt: Fight against Breast Cancer Begins With Awareness
• South Africa: Girls' Rights 'Must Be Protected'
• Malala Yousufzai in stable condition: Doctors
Compiled by New Age Islam News Bureau
Photo: Egypt's Shiites Raged by Belly Dancer for Song Praising Prophet's Daughter
URL: https://www.newageislam.com/islam,-women-and-feminism/new-age-islam-news-bureau/egypt's-shiites-raged-by-belly-dancer-for-song-praising-prophet's-daughter/d/9121
-----------------
Egypt's Shiites Raged by Belly Dancer for Song Praising Prophet's Daughter
28 October 2012
A belly dancer stirred a wave of anger among Shiites in Egypt as she appeared in an Egyptian movie raving to a song praising Fatima, the daughter of Prophet Muhammad and the wife of Imam Ali, highly venerated in Shiite Islam, who called for banning the movie to screen in theatres.
Baha Anwar Mohammed, spokesman of Egyptian Shiites, has condemned belly dancer Dina for her performance in the film "Abdo Mouta" to be offensive and highly disrespectful to the People of the House (Ahl al-Bayt), the family of Prophet Muhammad, particularly important to Shia Muslims.
Baha was quoted by Egypt's al-Sabah newspaper as saying that the country's Shiites will file a complaint to the general prosecutor against the film demanding to ban it from screening as it insults prominent Islamic figures.
Shiites believe Imam Ali and the rest of Ahl al-Bayt as prophet's successors. Baha called on Egypt's Al-Azhar Islamic School and its Grand Mufti to condemn "such abuse" to the prophet's family.
Dina, the belly dancer, denied her performance in the movie was meant to offend Islamic prominent figures.
Although the song "Virtuous Mother of Hasan and Husain" praises Fatima, the fact that a belly dancer dances to it was seen as highly inappropriate.
Muslims give several titles to Fatima to show their admiration for her.
She is referred to as Fatima Azahra, (the shinning one), Ummu Abeeha (Mother of her Father) and "al-Batul" (the chaste and pure one).
http://english.alarabiya.net/articles/2012/10/28/246328.html
-----------------
Al-Qaida 'Burqua Brigade' To Hit Western Targets
Oct 29, 2012
LONDON: Al-Qaida has formed an all-female 'Burqua Brigade' whose cadres are being trained to infiltrate and hit military bases and official buildings in the Western nations as they are less likely to attract suspicion than men. A film posted by fanatics online shows the all-female unit of al-Qaida using a fearsome array of weapons, including machine-guns, grenade rocket launchers and sniper rifles during their training session at an unknown place.
The women are thought to have been recruited from the war-torn Russian republic of Chechnya by an al-Qaida-linked group, with bases in Pakistan and Afghanistan, British tabloid The Sun reported on Sunday.
The films carry the symbol of 'Islam Awazi' or 'Voice of Islam', an al-Qaida linked terror group based in Russia's Caucus region.
The report has raised concerns among authorities and experts who say the global terror network has formed such units as women are less likely to attract suspicion than men and can easily infiltrate the security barriers.
In recent months, cases of female suicide attackers' successfully hitting targets have emerged in different countries. Such bombers generally hide the explosives beneath their abaya — a woman's black cloak worn from head to toe.
The report raises concern as several women terrorists have been arrested in the West. In war-torn Iraq, several cases have been reported in the past in which female suicide bombers have targeted security officials, killing scores of people.
http://timesofindia.indiatimes.com/world/uk/Qaida-women-squad-to-hit-western-targets/articleshow/16999584.cms
-----------------
Gang Of Vietnamese Women Thieves in Malaysia 'Strip And Shout' To Stun Victims
Oct 29 2012
London: Hawkers and traders in Malaysia have encountered cases where a group of Vietnamese women robbed their customers and flashed their breasts to "stun" the victims while they escape, it has been revealed.
"She quickly took off her top and she was braless. She then screamed 'molest!' which threw my husband who was pursuing her off guard," the Sun quoted hawker Chow Kwai Chet, who recounted an incident when a woman was caught stealing a customer's wallet, as saying.
Earlier, he had tried to nab the petite woman, believed to be a Vietnamese in her 30s, when she was caught stealing his wallet.
"However, a female hawker slapped and scolded her," Chow said at a press conference with MCA Public Services and Complaints Department head Datuk Seri Michael Chong.
Another hawker, Leng Chin Huat, said that the women would usually come in a group of three to four individuals and were believed to be part of a syndicate.
According to Huat, they managed to apprehend three Vietnamese women for stealing and had handed them over to the police.
"However, the police had to let them go as they could not find the stolen items on them," he said.
SS2 Morning Market Traders Association chairman Khor Choon Seong said that the women would only take the money and not the credit cards.
"They would then throw away the purse or wallet. Customers would only find out that they had been robbed when they wanted to buy something," he added.
Chong also said that the incident usually took place during the weekends.
http://www.indianexpress.com/news/gang-of-women-thieves-in-malaysia-strip-and-shout-to-stun-victims/1023486/
----------
Mother Rethinks Reporting Daughter and Sister to Police
Marie Nammour / 29 October 2012
A UAE resident has had regrets about turning her daughter and sister in to police, after catching the two teenagers with male partners at her house.
Family and Juvenile Prosecution chief prosecutor Mohammed Rustom Bu Abdullah said his unit had been investigating a complaint made by an Arab housewife, who called the police on her daughter and her own sister, after catching them both making out with two young men at her house one night.
In a state of fury, the mother reported her 14-year-old daughter and her sister, aged 16, and their partners, also juvenile Arabs, to police. But the mother has since had second thoughts about having her daughter and sister goes through the legal procedures and the consequences in the long run.
"We are examining the case to assess the circumstances and how serious was the immoral doing on the part of the four. We will take action on whether to refer the case to court or close it after assessing whether referring them would fix the problem rather than further complicating it," Bu Abdullah pointed out.
If they were to stand trial, the daughter and her aunt would face a consensual sex charge while the two male intruders would face consensual sex and trespassing into others' property charges.
mary@khaleejtimes.com
http://www.khaleejtimes.com/nation/inside.asp?xfile=/data/courtroundup/2012/October/courtroundup_October86.xml&section=courtroundup
-----------------
Facebook Used To Kidnap, Traffic Indonesian Girls
October 29, 2012
By Margie Mason
DEPOK, Indonesia: When a 14-year-old girl received a Facebook friend request from an older man she didn't know, she accepted it. It was the beginning of a story that is repeating itself as sexual predators find new ways to exploit Indonesia's growing obsession with social media.
The junior high student was kidnapped by the man, locked in a small room and raped repeatedly. She had been told she would be sent to an island known for child sex tourism but ended up being freed.
In the month since then, there have been at least seven other reports of Indonesian girls being abducted by people they met on Facebook. Abductors used that tactic against 27 of the 129 children reported missing this year to Indonesian child welfare officials.
http://www.dailystar.com.lb/Technology/International/2012/Oct-29/193055-facebook-used-to-kidnap-traffic-indonesian-girls.ashx#ixzz2Ag9kcEEi
-----------------
Adultery laws unfairly target women: UN
By Thalif Deen
October 28, 2012
UNITED NATIONS, (IPS) – When one of the Asian countries embraced Islamic Sharia law back in the 1990s, the rigidly conservative government threatened to enforce a provision that called for convicted adulterers to be stoned to death.
"If this law is enforced," a weekly magazine cynically pronounced at that time, "the country will run out of stones."
Cynicism apart, the controversial issue, mostly with religious overtones, surfaced last week when a group of U.N. human rights experts weighed in with its own perspectives on adultery.
The four-member Geneva-based group urged member states to repeal laws criminalising adultery which have resulted in punishments ranging from the imposition of fines to flogging, hanging and death by stoning.
Full report at:
http://www.sundaytimes.lk/121028/sunday-times-2/adultery-laws-unfairly-target-women-un-18144.html
-----------------
Nigeria: Rampant Divorce Cases Worry State Government
BY SALISU IBRAHIM
29 OCTOBER 2012
Widespread divorce cases in Kano State has become a source of concern to the state government, leading to the formation of a committee of Islamic scholars to fashion out measures to tackle the menace.
"We are worried as a government that divorce cases have reached an alarming rate", the state's acting governor, Dr. Abdullahi Umar Ganduje said yesterday during the Sallah homage visit to Government House by the Emir of Kano, Alhaji Ado Bayero.
Full report at:
http://allafrica.com/stories/201210290165.html
-----------------
Syrian Refugees Suffer from Critical Lack of Women's Health Care: Report
October 29, 2012
By Beckie Strum
BEIRUT: A woman muttered her helplessness as a pregnant refugee living in Baalbek after fleeing her home in Syria. "I am pregnant ... and was told the pregnancy is difficult and I should rest," the woman told a focus group of fellow Syrian women living in the Bekaa Valley.
She then held up her arms to expose the fissures in her skin, proof that rest from her stress and poverty were easier said than done.
Full report at:
http://www.dailystar.com.lb/News/Local-News/2012/Oct-29/193026-refugees-suffer-from-
-----------------
Egyptian Woman Gets Suspended Sentence for Threats to Have Dubai Policemen Sacked
By Bassam Za'za',
October 28, 2012
Dubai: An Egyptian woman has been given a suspended sentence for threatening to have two policemen sacked by complaining directly to Dubai Police Chief Lt General Dahi Khalfan Tamim.
The Dubai Court of First Instance handed the 30-year-old housewife, N.T, a one-year suspended sentence after she was found guilty of threatening the Emirati policemen.
When the defendant appeared in court, she pleaded not guilty, claiming that she did not have any criminal intention. She asked the court to acquit her or grant her leniency.
Full report at:
http://gulfnews.com/news/gulf/uae/crime/woman-gets-suspended-sentence-for-threats-to-have-dubai-policemen-sacked-1.1094916
-----------------
Dubai: Girl Traumatised By Male Attacker in the Gardens
By Bassma Al Jandaly
October 28, 2012
12-year-old says man molested her as she went out to dispose garbage
Dubai: A family has been left traumatised after their 12-year-old daughter claimed she was molested in front of their building in Dubai.
Police are investigating after a complaint by the girl's father.
The Indian family lives in The Gardens, Jebel Ali, where a similar incident happened in August.
Speaking about Thursday's incident, the girl's father said: "It happened at around 11am as my daughter went out to dispose off the garbage in front of the building entrance. She was sexually harassed by a man who was standing near the elevator. My daughter said the man seemed Arab, was around 30-40 years old and fair-skinned with blond hair and a small beard."
The girl claimed that the man asked her something in Arabic that she did not understand. He put his hand over her mouth, held her against the exit door and pulled down his pants.
Full report at:
http://gulfnews.com/news/gulf/uae/general/girl-traumatised-by-male-attacker-in-the-gardens-1.1094949
-----------------
A Race for the Cure in Egypt: Fight against Breast Cancer Begins With Awareness
Rana Khaled
Mon, 29/10/2012
For the first time in Egypt and the Arab world last Saturday, 40 rowers competed in a race to increase awareness about breast cancer and support those with the disease.
As part of the annual International Breast Cancer Awareness Month this October, the Breast Cancer Foundation of Egypt, in collaboration with the Arab Contractors Rowing Club, organized the "Row for the Cure," a half-hour race to draw attention to the disease.
Rowers set off at 1:30 pm on their boats, which were decorated with pink ribbon sails as a symbol for breast cancer awareness. The row was followed by a reception and speeches by event organizers, including a talk show on breast health.
Full report at:
http://www.egyptindependent.com/news/race-cure-fight-against-breast-cancer-begins-awareness
-----------------
South Africa: Girls' Rights 'Must Be Protected'
29 OCTOBER 2012
A United Nations high level taskforce on women, girls, gender equality and HIV for eastern and southern Africa has called for accelerated efforts in protecting the rights and well-being of women and girls in South Africa.
The taskforce concluded its one-week high-level political advocacy mission in South Africa on Saturday. The taskforce was in the country to conduct a mid-term review.
The Women, Children and People with Disabilities Department had invited the taskforce to do an independent assessment of South Africa, and to share its experiences on critical issues facing women and girls in the country, such as teenage pregnancy, gender-based violence, prevention of mother-to-child transmission of HIV, and sex work.
Full report at:
http://allafrica.com/stories/201210290640.html
-----------------
Malala Yousufzai in stable condition: Doctors
Oct 28, 2012
LONDON: Malala Yousufzai, the teen-aged Pakistani activist shot in the head by the Taliban for advocating girls' education, remains in a stable condition, two weeks after she was admitted to a hospital in Britain, doctors said on Sunday.
In a statement, the Queen Elizabeth Hospital in Birmingham said, "The medical team caring for Malala Yousufzai say they are pleased with her progress, almost two weeks after she arrived at the hospital. Malala is being looked after by staff from the Queen Elizabeth and Birmingham Children's hospitals and remains in a stable condition."
Full report at:
http://timesofindia.indiatimes.com/world/pakistan/Malala-Yousufzai-in-stable-condition-Doctors/articleshow/16992663.cms
-----------------
URL: https://www.newageislam.com/islam,-women-and-feminism/new-age-islam-news-bureau/egypt's-shiites-raged-by-belly-dancer-for-song-praising-prophet's-daughter/d/9121