New Age Islam News Bureau
10 Jun 2019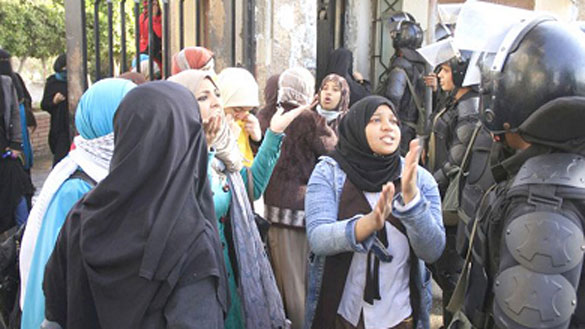 Photo: Egyptian society is witnessing an escalated battle of words between clerics and intellectuals because of the statement of the grand sheikh of Al-Azhar, Imam Ahmad Al-Tayeb, in which he authorized husbands to beat their wives.
---------
• Chechen Women Go Places with Female-Only Taxi Service
• Egyptian Sportswomen Are Finally Getting the Recognition They Deserve
• Muslim Girl Finds Joy, Respect in Christian-Dominated Workplace
• Three Sentenced To Life Imprisonment in Kathua Rape, Murder Case
• In Burkina Faso, A Sister Uses Music To Fight Forces Of Darkness
• Jordan- Women Advocates Hail Two Decades Of 'Outstanding' King's Support For Women
• Bangladesh Information Minister For Stopping Violence Against Women, Children
URL: https://www.newageislam.com/islam-women-feminism/egypts-clerics-intellectuals-clash-wife/d/118842
--------
Egypt's Clerics, Intellectuals Clash Over Wife-Beating Fatwa
JUNE 9, 2019
Egypt's-clerics-intellectuals-clash-over-wife-beating-fatwaEgyptian society is witnessing an escalated battle of words between clerics and intellectuals because of the statement of the grand sheikh of Al-Azhar, Imam Ahmad Al-Tayeb, in which he authorized husbands to beat their wives.
The sheikh recently rolled back his fatwa and called out to criminalize such acts.
The sheikh of Al-Azhar explained the words "and hit them" in verse 34 of the chapter "The Women," in one of the television programs that were broadcast during the month of Ramadan. He confirmed that the interpretation of the verse indicates the possibility of hitting the wife (wrong-doer) gently.
A few days ago, he said in a statement issued by Alzhar institute: "The beating of the wife has become one of the things that causes her psychological harm and reflects negatively on the family. The intellectual of Makkah, Ibn Atta, was among the first who refused to hit (his wife) and did not consider it contrary to what was stated in the Holy Qur'an.
"We have no objection at Al-Azhar to opening the debate in this matter between scientists. I hope to live to see legislation in our Arab and Islamic world criminalize beatings."
Some thinkers believe the statement was a retreat from the sheikh's explanation in the televised episode.
Criticism was expressed by many researchers on the issue of beating women. One of these was Islam Bahiri, a researcher in the of Islamic heritage, who opposed the views of Sheikh Al-Azhar in a lengthy study titled "Islam does not know the beating of wives."
Islam Bahiri said in his study that there is nothing in Islam that allows the wife's beating for discipline and that the early researchers interpreted the "nashuz" word in the Holy Qur'an without looking at the unity of the subject or the context or even the hadith of the Prophet (PBUH).
The Prophet stressed that "nashuz" is the opposite of "chastity," not disobedience to the husband, as the interpreters thought.
Grand sheikh of Al-Azhar said it was alright for husbands to beat their wives, only to take it back and called for a law against such abuse
Bahiri stressed that the problem lies in understanding the verse: "Men are the protectors and maintainers of women, because Allah has given the one more (strength) than the other, and because they support them from their means. Therefore the righteous women are devoutly obedient, and guard in (the husband's) absence what Allah would have them guard. As to those women on whose part ye fear disloyalty and ill-conduct, admonish them (first), (next), refuse to share their beds, (And last) beat them (lightly); but if they return to obedience, seek not against them Means (of annoyance)."
He added that the verse is not related with the word "beating" and has nothing to do with the disobedience of the husband's command.
Different opinions
The controversy heated up when researcher and Egyptian parliamentary MP Mohammed Abu Hamed said in a statement that "the opinion of Sheikh Al-Azhar on the permissibility of beating the husband is his main ideology and the speech is recorded in audio and video."
Ahmed Al-Sawy, the editor-in-chief of Al-Azhar's official newspaper Al-Azhar, said in a special statement that "the great imam often supported the rights of women and called for normal and fair relations between men and women."
Dr.SaadiyaYounis, a researcher at Al-Azhar, told Arab News that the beating that was permitted by the sheikh of Al-Azhar is only deterrence by the husband, not intimidation.
"The purpose is maintaining the guardianship of the man and making the woman conscious of her wrongdoing."
She said that beating was a misinterpretation of the words that the Prophet (peace be upon him) hit with a "toothpick," and that it is known that beating with "Sewak (tooth brush)" does not result in any physical pain or physical malformations.
She said that it has the role of keeping the family from collapsing and preventing family bonds from weakening, as would happen if the wife is allowed to disobey.
Fatwa House
The Egyptian Fatwa House addressed the issue in a special email that was seen by Arab News. Here is its response:
"The scholars unanimously agreed that beating is not intended to harm the wife or to insult her. Rather, it is permissible in some cases, and not obligatory, and in some situations where such behavior is not an insult to the wife or a harm to her, but simply to show the husband's dissatisfaction and anger at her leaving her duties." A slight blow from the perspective of disappointment and not to leave an impact, and that is by "Sewak (toothpick) and toothbrush" and anything that is not a tool for hitting."
https://dailytimes.com.pk/408960/egypts-clerics-intellectuals-clash-over-wife-beating-fatwa/
--------
Chechen women go places with female-only taxi service
Checking her blind spot, Fatima Dzhambulatova changes lanes on a busy avenue in Chechnya's capital Grozny. In this Muslim republic of Russia, she is spearheading a women-only taxi service.
At the wheel of a white sedan bearing the bright purple logo "Mekhkari", the name of the service launched this spring, the 49-year-old taxi driver explains the appeal of women drivers in the conservative region.
Some clients have husbands who won't allow them into a car with another man, she says, while some believe women are safer drivers, and others simply prefer riding with a member of the same sex.
In the sparse office of Mekhkari, which means "girls" in Chechen, founder MadinaTsakaeva said she got the idea after realising she preferred to ride with female drivers, who were hard to find.
"It was very rare for our city," she said. "So we did a survey on social media about what people thought of the idea of a women-only taxi." The project eventually got financial backing, the amount of which has not been made public, from the Emirates-based Zayed Fund for Entrepreneurship and Innovation, which opened a Grozny chapter in 2017.
So far, Mekhkari has five drivers and a fleet of five cars. LibkanBazayeva, coordinator of Grozny-based women's rights organisation Women For Development, said that the idea for a women-only taxi service in Chechnya had been a long time coming.
"In the Soviet era, you could count the number of women who drove on one hand, the whole republic knew them and their entire life story," she said. That started to change about a decade ago.
In 2008, Women For Development organised free driving courses for about 100 women, half of whom began driving in Grozny. Traffic policemen in the city of 270,000 were shocked, Bazayeva said, but the campaign proved "infectious" and women behind the wheel are now common.
The Zayed fund stressed the value for conservative Muslims of the female-only taxi company, which only takes bookings for women passengers or women travelling with children. The service "will be very convenient from the point of view of religious norms and traditions," the fund said on its Instagram account in late March, when it made the decision to approve the funding.
After the end of two separatist wars with the Russian government, Chechnya has in recent years seen a resurgence of Islam, encouraged by its leader RamzanKadyrov, who has governed the North Caucasus region with an iron fist since 2007.
But it's not only conservative Islamic traditions that compel women in Grozny to use the service: passengers say that they also appreciate what they describe as a less aggressive style of driving.
"Men drive more erratically, women are more careful. I feel safer with a woman," 29-year-old KhedaYusaeva said, from the back seat of Dzhambulatova's taxi.
Another reason women might prefer the service is to avoid conflict with their husbands over riding with a male stranger, Bazayeva said, adding that she knew of cases where a man had beaten his wife simply for having a taxi driver's phone number saved in her address book. "The appearance of women drivers in the sphere of this male-dominated profession is a huge step forward, a big accomplishment in a male world," Bazayeva said.
She also said that she believed the initiative was "symbolic" of women's participation in the country's economic life, in a society where their rights are limited. Tsakaeva now has plans to add 15 more cars and is even considering expanding to offer deliveries and other services to homes of women who cannot leave the house.
When Mekhkari first sought to recruit female drivers, there was no shortage of experienced applicants, Tsakaeva said. Dzhambulatova said that most of the men she had come across on the job had been positive, complimenting the car, gesturing with a thumbs-up and asking for the taxi's number -- for their wives. "This is a desirable job for me, and I'm very interested in chatting with my clients, I get some very interesting women," the driver said, before adding: "I like being behind the wheel."
https://www.thenews.com.pk/print/482376-chechen-women-go-places-with-female-only-taxi-service
--------
Egyptian Sportswomen Are Finally Getting The Recognition They Deserve
There is still some way to go but female sporting stars are breaking down barriers
One need only look at the fierce concentration on the faces of Raneem El Welily, Nour El Sherbini and Nour El Tayeb, sweat pouring from their brows, to realise they would never let something as trivial as gender politics stand in their way. The Egyptian sportswomen are making waves after rising to become the world's top-ranking squash players. El Sherbini in particular has been unbeaten as the world number one in the women's game since 2016.
Nor are they alone. As Houriya Al Taheri, who made history as the first Arab female Fifa footballing coach, says, when women are given half a chance to follow a sporting dream, they pursue it "with vigour. We are here to stay."
It is not just Arab women who flourish when the doors to the world of sport are flung open. From American professional boxer Ibtihaj Muhammad to Indian badminton star SainaNehwal, the outstanding achievements of female talent have shone a light on women's participation in sport. They are rightly starting to get the recognition they deserve. As the 2019 Fifa Women's World Cup kicked off on Friday, nearly one million tickets had been sold in advance and TV audiences were expected to eclipse the 750 million who tuned in to watch the 2015 championship. It is only the eighth time the tournament has been held but it will be the biggest Women's World Cup in history with 24 teams, nine host cities and 52 matches.
Still, the prize money of $4 million for the champions is dwarfed by the riches on offer in the men's World Cup and women in sport generally still lack the same support, salaries or sponsorship deals, despite a growing fanbase.
According to Forbes, tennis star Serena Williams is the only woman among the 100 highest-paid athletes worldwide. But the tide is turning – slowly. Multinationals like Adidas and Coca-Cola now sponsor the Fifa championship; meanwhile Barclays bank supports the FA Women's Super League in England.
This is a promising sign that the talent of sportswomen is being recognised alongside their male counterparts, yet it is still a fraction of what they deserve – because not only have they excelled in sport but they have broken through numerous cultural and social barriers to get there, particularly in this part of the world.
They must be encouraged and properly rewarded for their successes while being hailed as role models so a younger generation of girls can aspire to their glory. Only then can we expect to crush barriers and gender stereotypes.
https://www.thenational.ae/opinion/editorial/sportswomen-are-finally-getting-the-recognition-they-deserve-1.872442
--------
Muslim Girl Finds Joy, Respect In Christian-Dominated Workplace
June 10, 2019
A member of the Pangutaran tribe from Sofrontio Espanola town in southern Palawan, the 21-year old lass is an accounting staff of Yamang Bukid Farm (YBF) in the city's Barangay Bacungan.
With a degree of Bachelor of Science in Hospitality Management (BSHS) her job involves helping the paperwork in the farm's disbursing and budgeting section —where all but one employees are Christians.
"I had reservations at first, fearing discrimination as I'm a Muslim," Sabturani recalls. "I'm happy, my fear is baseless."
The young lass was first noticed by the management of YBF when, during her last year in college, she applied for a scholarship grant from the company. A relative who works at the farm told her about the company's scholarship grant for deserving students. To pay for her school projects and other necessities, Sabturani asked if she could help at the farm during weekends, which the company agreed.
"I was overwhelmed; everyone treated me as an equal," she said. "I soon became friends with Christians," Sabturani added.
She said she felt respected, even by the farmers who even dote her as their "anak-anakan (little daughter)."
"All my misconceptions about Christians also vanished," she said, adding that erroneous notion stemming from the association of Islam with violence may have contributed to the apparent distrust between Muslims and Christians.
She also acknowledged the prevailing culture of the company that fosters respect and fairness among farm employees.
"Our relationship among employees and the management is tight. Here, you are not just an employee. You feel like family, even if you're a Muslim."
Sabturani's parents are supportive of her job in a predominantly Christian workplace that even encourages her to wear the traditional headscarf for Muslim women, the hijab, at work.
Although she sometimes find it challenging to pray several times in a day particularly during busy days at work, as part of her faith, Sabturani makes it up during weekends.
"What's important is that you pray to Him and do your duties as a good Muslim," she said.
She recalls hearing her coworkers' apologies as they politely move away from her while eating pork and other food deemed unholy in Islam.
Now, there are three other Muslims working at the farm, aside from Sabturani.
The young girl says she works not just for herself but also for her family.
"I want to help my parents by supporting the studies of my younger sister who's in senior high school. For now, that's my dream," she says, adding her mother owns a lomihan (noodle soup store) back home. —LBG, GMA News
https://www.gmanetwork.com/news/lifestyle/artandculture/697146/muslim-girl-finds-joy-respect-in-christian-dominated-workplace/story/
------
Three Sentenced To Life Imprisonment in Kathua Rape, Murder Case
Peerzada Azhiq SRINAGAR , JUNE 10, 2019
A special court in Punjab's Pathankot awarded five years in prison to three others convicted in the rape and murder of an eight-year-old girl from Kashmir's nomadic community.
Six of the seven accused in the Kathua rape and murder case were sentenced on Monday by a special court in Pathankot, according to lawyers involved in the case. One "juvenile" has been acquitted.
The judge pronounced the verdict in an in camera court.
According to the lawyers, the key accused — retired government official Sanjhi Ram, special police officer (SPO) Deepak Khajuria, and civilian Parvesh Kumar, were sentenced to life imprisonment, while SPO Surender Verma, head constable Tilak Raj, and Sub-Inspector Anand Dutta were awarded five-year imprisonment.
The lawyers, representing the eight-year-old deceased, told the media that the key accused were held guilty under 366 (kidnapping), Section 302 (murder) and Section 336 (rape) and 34 (common intention).
The three policemen were convicted under Section 201 (destruction of evidence).
However, Ram's son, who claimed to be a juvenile, has been acquitted. He had pleaded before the court that he was appearing for a college-level examination in Meerut when the crime was committed in Jammu's Kathua district.
Around 114 witnesses' accounts were recorded in the case.
The eight-year-old girl from the nomadic Bakerwal community was kidnapped in the first week of January last year from Kathua's Rasana area. Her body was found in a forest area on January 17, triggering protests in the Kashmir Valley and parts of Jammu. The Supreme Court later shifted the case from Kathua to Pathankot for a speedy and fair trial.
The family had alleged that she was kidnapped, drugged, raped and murdered inside a temple in Kathua, apparently to drive away the community from the area.
NC, PDP welcome judgment
"Amen to that. The guilty deserve the most severe punishment possible under law. And to those politicians who defended the accused, vilified the victim & threatened the legal system no words of condemnation are enough," said National Conference vice president Omar Abdullah.
Former Chief Minister and Peoples Development Party chief Mehbooba Mufti tweeted: "High time we stop playing politics over a heinous crime where an 8-year-old child was drugged, raped repeatedly & then bludgeoned to death. Hope loopholes in our judicial system are not exploited and culprits get exemplary punishment."
https://www.thehindu.com/news/national/other-states/six-convicted-in-kathua-rape-and-murder-case/article27731989.ece?homepage=true
-----
In Burkina Faso, a Sister uses music to fight forces of darkness
Pierre Macqueron-ACN News | Jun 09, 2019
Sister Anne-Marie regularly travels throughout the country to bring a musical message of hope
Burkina Faso is in turmoil. In May alone, jihadists killed 14 lay Catholics and a priest in three attacks. In late April, a Protestant minister and six members of his congregation were shot to death.
For many years, the country was known for the peaceful coexistence of Christians and Muslims, who have been practicing a tolerant form of Islam. In recent years, however, jihadist extremism, exported by neighboring Mali and encouraged by radicalized local preachers, has changed the situation dramatically.
It is against this backdrop of terror and hatred that Sister Anne-Marie Kabore of the Congregation of the Sisters of the Immaculate Conception practices her music ministry. For her, song is a powerful tool to bring about peace and reconciliation.
A pharmacist by training, Sister Anne-Marie, based in the capital of Ouagadougou, regularly travels throughout the country to bring a musical message of hope, particularly to young people. She is accompanied by six nuns who are back-up singers and a number of musicians, including both Christians and Muslims.
Sister Anne-Marie—who is pursuing a specialization in bio-pharmacology at the University of Ouagadougou—has three albums to her name. Her albums are available on YouTube and have had hundreds of thousands of views.
One recent composition—Ra le yab ye—carries a message of encouragement for women who have become outcasts in society, for example because they are childless or because they have been accused of witchcraft. See the video below.
Sister Anne-Marie—whose order teaches in schools and is active in healthcare—is outspoken in addressing the terrorist attacks and the people's feeling of insecurity, particularly in the country's north.
"The Church is called to accompany the people," she says, and "to work for the reconciliation of the sons of the country," even in the face of growing danger. In a forthcoming song, says the Sister, "I cry out to God, that he may grant us peace, stability and reconciliation of hearts."
She adds that the new song stresses "the need to remain united," while the lyrics also emphasize the "necessity of training priests and nuns, so that they can be the leaders of a population capable of creating a climate of peace—and so ensure that Burkina Faso can reconnect with its history of peace and tolerance."
https://aleteia.org/2019/06/09/in-burkina-faso-a-sister-uses-music-to-fight-forces-of-darkness/
--------
Jordan- Women advocates hail two decades of 'outstanding' King's support for women
6/9/2019
(MENAFN - Jordan Times) AMMAN — Leaders of the Jordanian women's movement commended the leadership and wisdom of His Majesty King Abdullah since the Accession to the Throne 20 years ago, citing his efforts towards more rights and key legal amendments that led to female empowerment and engagement in various fields.'There has been a huge leap in several areas related to women's empowerment in Jordan in the past 20 years including major changes in some of thelegislation and successful efforts to create the right atmosphere for women to assume more roles in the political life and decision-making positions,' said Sisterhood is Global Institute Executive Director AsmaKhader.Khader, a former minister, told The Jordan Times that some of the long-awaited laws that were amended in favour of women were related to gender-based violence, the Election Law, the Labour Law and the Personal Status Law among others.
President of Jordanian National Commission for Women Salma Nims added: 'When we look at the past 20 years, we find that there were many breakthroughs for women including in the political life, the civil society and legislative changes.'
'We saw a drastic increase in women's political participation and a larger role for the civil society andwomen's organisations in lobbying and drafting strategies,' Nims told The Jordan Times.
Veteran Judge IhsanBarakat, the first woman to be appointed to the Judicial Council and the Court of Cassation, said the support by King Abdullah has led to the increasing the number of female judges.
'We have women judges in almost all the courts and judicial entities, including one assistant to the general attorney at the Criminal Court and a judge serving at the Judicial Council,' Barakat told The Jordan Times.
Arab Women Organisation Programme Director Laila Naffa pointed to the many international resolutions that were adopted or ratified in the past 20 years that were in favour of women in peace and conflicts.
'UN Resolution1325related to peace and conflict was ratified by Jordan in 2000 and King Abdullah signed the national action plan and eventually the Jordanian government began implementing it,' Naffa told The Jordan Times.
The UN resolution addresses women's safety and security in times of war and conflicts, considering women as an active factor in peace and war, and committing UN member states to take measures to implement the decision.
Another important achievement according to Naffa was cancelling the reservation on Article 15 of the Convention on the Elimination of all Forms of Discrimination against Women, which gives women freedom of mobility and the choice of residence without the consent of their husbands or other male family members.
SADAQA executive board member Sahar Aloul told The Jordan Times that the past years have seen some momentum in policy change concerning women's economic participation, mainly the recent amendments to the Labour Law.
'Although female economic participation is still one of the lowest in the region at around 14 per cent, the women's movement and civil society organisations' efforts have culminated in the amendment of six articles in the Labour Law to become more gender sensitive and hopefully, as we move towards the implementation phase, they will further facilitate women's entry into the workforce,' Aloul said.
Gender-basedviolence laws
Several laws have been introduced over the past 20 years that tackled gender-based violence and others that opened the way to establish safe houses for abused women.
'The 2018 opening of the 'Amneh House' ['safe' in Arabic], which is also called the 'Guest and Rehabilitation House for Women' whose lives are threatened for reasons related to family honour, was a major achievement that we were pushing for a long time,' Khader said.
Other important steps adopted by the government to better protect women, according to Khader, included opening the first government-run Family Reconciliation Centre, which was inaugurated by Her Majesty Queen Rania in 2007, and opening similar facilities in several governorates.
Nims also pointed out the importance of cancelling Article 308 and amending Article 98 of the Jordanian Penal Code.
In August 2017, Parliament voted to abolish Article 308of the Jordanian Penal Code, which allowed sexual assault perpetrators to escape punishment if they married their victims.
A Royal committee had suggested abolishing the article in February of that year and the government endorsed the decision shortly afterwards.
Meanwhile, Article 98, amended in July 2017, stipulated that the perpetrator of an 'honour crime' could benefit from 'mitigating circumstances' if the individual claimed to have been suffering from intense rage when committing the crime.
'We never expected to see changes or abolishment for these two articles in specific and we consider this is as a major victory for women in Jordan,' Nims added.
Meanwhile, a new Family Protection Law, which was first introduced in 2008 and enforced recently, was considered an important achievement for women according to Khader because it meant that the government acknowledged that Jordan has a domestic violence problem and, accordingly, victims needed better protection,
She also pointed out the alternative punishment that was stipulated in the newly amended Penal Code upon recommendations by a special Royal committee that was formed for this purpose.
'Introducing the alternative punishment protected women in particular from social stigma and dangerous ramifications such as being abandoned by their families or divorced for entering the prison,' Khader stated.
Political participation
Nims pointed out that the number of female deputies since the introduction of a women's quota in 2003 has risen from six to 20, including five who won in actual competition.
'There has been also a noticeable increase in women's representation in the municipalities and the percentage has reached around 35,' Nims said.
The activist added that women's representation in the political parties also increased to reach 35 per cent, while in trade unions and professional associations, the percentage was 21 per cent.
Meanwhile, the number of women ministers has also been doubled in the past 20 years.
'In the 1980s and until the early 2000s we always cheered when a woman was appointed to the Cabinet. But today we have five female ministers and in one instance, we had a female deputy-prime minister,' Nims said.
Personal Status Law (PSL)
The PSL has undergone several amendments and additions that have been considered in favour of women in the past 20 years, according to Khader.
One major addition was the introduction of the Alimony Fund in 2010 that became fully operational seven years later, Khader explained.
'The Alimony Fund enables divorced women to support themselves and their children in cases where the ex-husband is unable to provide alimony or has fled, which means they no longer have to go through the hustle of going from court to court to receive the financial support they need for themselves and their children,' according to Khader.
Another important achievement was the introduction of the Khulo Law (a divorce initiated by women in which they disclaim certain rights in exchange for a speedy judgment) in 2003.
The Khulo Law, which was later renamed the IftidaLaw,gave women the right to divorce their husbands without any justification in return for financial compensation.
'Before the introduction of this law, it was almost impossible for women to get a divorce from a Sharia court. This law worked to safeguard women's well-being and freedom of choice,' Khader maintained.
Privileges for children of Jordanian women married to non-Jordanians
Naffa pointed out that there was 'a small but important step' to grant children of Jordanian women who are married to non-Jordanians certain privileges.
In 2014, the government pledged to ensure the proper provision of the 'privileges' it had granted tochildrenofJordanianwomen, which included residency permits, driving licences and real-estate ownership, along with other benefits in the educational, health, labour and investment sectors.
'This is a small but important step to ease up the pressure on these families and to help them proceed with their life without having to feel that they are being discriminated against just because they do not carry the Jordanian nationality,' Naffa said.
Human Trafficking Laws
The government took concrete steps to combat human trafficking in Jordan in 2009 by introducing the first nationallawtopreventhumantrafficking.
Almost 10 years later, the government approved an amendment to the 2019 Anti-HumanTraffickingLaw, which aims to implement harsher punishments on those charged with crimes related tohumantraffickingto ensure justice and deter these offences.
The bill also provides victims of these crimes with protection and the necessary assistance to help and care for them as well as establishing a fund at the Ministry of Justice to provide help and care to those affected byhumantrafficking.
'These steps were extremely important since the majority of human trafficking victims are women,' Naffa explained.
Changes to the Labour Law
The Labour Law has seen important amendments and additions that facilitate women's participation in the job market, according to Aloul.
'These amendments ensure gender justice and will contribute to an increase in the employment ofwomenand their continued stay in their jobs, which will eventually reflect on the percentage of female's economic participation in the labour market,' Aloul said.
Another economic win forwomenthis year, according to Nims, was the issuance of instructions that obligated educational institutions in Jordan to transfer the salary of their female employers directly to the bank, 'since, in the past, many female educators complained of not being paid on a regular basis, nor were they receiving their full salaries on some occasions'.
Some of the major amendments, according to Aloul, are that it has become mandatory for institutions with over 20 female employees to offer day-care services for their employees' children younger than four.
Another amendment, Aloul said, was introducing the flexible working hours system, which included a better definition of flexi-hours, which benefits women the most.
Another important article that was introduced in the Labour Law was designating a three-day paternity leave for fathers, according to Aloul.
Judicial branch changes
Judge Barakat pointed out that there was a rapid increase in women's representation in the judicial branch, noting that currently, the percentage stands at 24 per cent, which means that 'one in five judges are women'.
'Since the appointment of the first female judge in 1996 until 2002 the number of female judges were very low and did not exceed five judges,' Barakat explained.
Today, Barakat added, there are 215 women judges serving in various courts and judicial entities, including several women being named as presidents of important courts, such as the magistrates and juvenile courts.
'There is one female judge in the Judicial Council, women judges also served in the general prosecutor officer, prosecutors, judicial inspectors and other important judicial positions,' Barakat added.
SSC laws
Another important change that worked in favour of women's economic empowerment was establishing a motherhood fund at the Social Security Corporation (SSC), according to Nims.
This law stipulates that all employers pay a percentage to the fund that would go towards covering the salaries of working women during maternity leave.
'This means that companies will not be hesitant to hire newly-wed or pregnant women,' according to Nims.
Another major achievement that was amended in the SSC, Nims said, was ensuring that the children of the deceased women would continue to take her pension and that their husbands who suffer from disabilities or without an income would also benefit from the allowance.
Khader concluded that the majority of the changes over the past 20 years were 'ground-breaking and this really reflected a strong and true commitment by the leadership towards women's rights in Jordan'.
'We still need to work hard and we are hopeful in the coming years that the King will continue to eliminate all the obstacles that face women including their participation in the labour market, which I consider as the biggest challenge,' Khader added.
Nims added that 'the changes we have witnessed over the past 20 years are positive indicators that more laws will be addressed in the near future to further empower women to increase their political and economic participation'.
Naffa concluded by saying that the hope is to see more positive changes in the near future such as 'integrating relevant international laws and conventions in our own laws and hopefully ensure that women are represented in all spheres of life with a minimum of 30 per cent'.
https://menafn.com/1098623892/Jordan-Women-advocates-hail-two-decades-of-outstanding-Kings-support-for-women
--------
Bangladesh Information Minister For Stopping Violence Against Women, Children
June 10th, 2019
Information Minister Dr Hasan Mahmud speaks at the event on Sunday, June 6, 2019 BSS
The present government, he said, has kept 30 percent reserved seats for women in all local government council
Information Minister Dr Hasan Mahmud on Sunday said violence against women and children must be stopped to build a Sonar Bangla as dreamt by Father of the Nation Bangabandhu Sheikh Mujibur Rahman.
"To build a developed nation, we must have to nurture patriotism and human values among the youths," he told an outdoor program of Bangladesh Betar on 'Raising awareness on development of women and children' at Patenga sea beach in Chittagong.
The minister said Bangladesh has set up a unique example in women empowerment because of the government's time befitting steps, reports BSS.
The present government, he said, has kept 30 percent reserved seats for women in all local government council.
Hasan said the country's women are now becoming justices at the High Court and the Supreme Court, deputy commissioners, major general, secretaries of ministries and pilot which was very rare earlier.
This has been possible because of the dynamic leadership of Prime Minister Sheikh Hasina, he said.
Bangladesh is the most successful nation among the South Asian Association of Regional Cooperation (SAARC) countries in reducing child and maternal motility rate, he added.
The minister said life expectancy of the people was 44 years after the independence but now it stood at 73 years whereas it is 71 in India and 69 in Pakistan.
Chattogram City Corporation Mayor AJM Nasir Uddin, Chattogram Development Authority Chairman JahirulAlamDubash, Awami League Deputy Publicity Secretary Aminul Islam, Additional Information Secretary Mohammad AjharulHaque, Regional Director of Bangladesh Betar SM Abul Hossain and Vice Chairman of RanguniaUpazilaShafiqul Islam, among others, spoke on the occasion.
Director General of Bangladesh Betar Narayan Chandra Shil presided over the function.
https://www.dhakatribune.com/bangladesh/nation/2019/06/10/hasan-for-stopping-violence-against-women-children
URL: https://www.newageislam.com/islam-women-feminism/egypts-clerics-intellectuals-clash-wife/d/118842