New Age Islam News Bureau
5 Jun 2014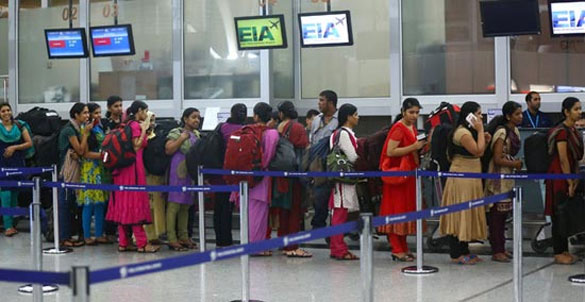 Out of the 110,858 nurses across all health care sectors in the Kingdom, only 32.3 per cent of them were Saudi. (Source: AP)
-------------
• Saudi Arabia Recruits 1800 Indian Nurses
• Western Couple Abducted In Afghanistan Pleads For Help
• Lebanon's Myriam Klink Shoots Racy Pro-Iran Photos
• Iran Media Reports Anti-Hijab Activist Was Raped
• Egypt's First Veiled Rapper Is Sick of Sexual Harassment
• Two Saudi Women Arrested For Alleged Polyandry
• Muslim Women 'Systematically Targeted' By Cambodia Regime
• Pakistan among Countries with Acute Shortage of Midwives to Cut Birth Deaths: Report
• Sudan Woman's Apostasy Death Sentence 'Depends On Appeal'
Compiled by New Age Islam News Bureau
URL: https://www.newageislam.com/islam,-women-and-feminism/new-age-islam-news-bureau/egyptian-woman-call-for-harsher-punishment-for-abuse/d/87375
----------
Egyptian woman call for harsher punishment for abuse
5 June 2014
A group of women in Egypt are campaigning to toughen the punishments for physical and verbal abuse towards women.
According to a new plan proposed by ministers, punishments for such abuse include a minimum one-year prison sentence and a fine of US$1400.
However, womens' organizations have said that the punishment is not enough and need to go further.
The National Parliament of Egyptian Women director Izze Heykel pointed out that the plan presented to the ministers' council was much different to that which was presented to the Presidential Office.
She said the current plan will not be effective in achieving its aim to prevent harm to women.
Newin Ubeyd, who is a member of the 'New Woman' group, said the new law had not been publicly debated and lacked an input from women.
Women in highly populated Egyptian cities are often abused especially on crowded buses.
http://www.worldbulletin.net/haber/132799/egyptian-woman-call-for-harsher-punishment-for-abuse
----------
Saudi Arabia recruits 1800 Indian nurses
5 June 2014
Saudi Arabia, facing a dearth of trained female nurses, has recruited 2,100 nurses, including 1,800 from India, to work in various government hospitals across the gulf nation.
Hired on one year renewable contract, the nurses arriving from India and the Philippines would assume their duties within a month after completing recruitment procedures, Director of the health ministry's nursing department Ilham Sindi was quoted as saying by the Saudi Gazette.
"They are holders of bachelor's and master's degrees. There will be no shortage of nurses any more," she said, adding that they would be a real asset to the ministry's medical cadres and will fill vacancies in a number of government hospitals.
Sindi, a member of the selection committee that recently visited New Delhi and Manilla, said, if needed, more nurses from the two countries would be contracted as Saudi female nurses lacked the required nursing specialisations.
"Whenever we do have a Saudi nurse with the required specialisation, she will immediately replace the expatriate nurse," she said.
According to 2009 data from the Ministry of Health, out of the 110,858 nurses across all health care sectors in the Kingdom, only 32.3 per cent of them were Saudi.
http://indianexpress.com/article/world/world-others/saudi-arabia-recruits-1800-indian-nurses/
-------------
Western couple abducted in Afghanistan pleads for help
5 June 2014
A Western couple missing in Afghanistan since 2012 has asked their governments to help free them and their child from captors.
The plead by Josh Boyle and Caitlan Coleman was made in a just released video to the Associated Press this week.
The family of a then-pregnant American has shared two videos it received of the couple.
The video shows Coleman is wearing a black head scarf and glasses along with her husband who is having a long beard. In the video, Ms. Coleman refers to her child, suggesting the couple had a baby while in captivity. The child, however, was not shown in images that were aired.
Boyle in one of the videos says, "We request our governments do what is necessary to bring the family back together to safety and freedom."
According to Associated Press, the videos were emailed to Coleman's father last July and September by an Afghan man who said he had ties to the Taliban.
Joshua Boyle, 30, and Caitlin Coleman, 28, were abducted while travelling in a mountainous region near the capital Kabul in late 2012.
This week's release of the couple's captivity footage follows the release of U.S. Sergeant Bowe Bergdahl.
The American soldier was freed after five years of captivity in Afghanistan as five Afghan Taliban prisoners were also released from the U.S. prison facility in Guantanamo Bay, Cuba.
http://www.khaama.com/western-couple-abducted-in-afghanistan-pleads-for-help-8215
-------------
Lebanon's Myriam Klink shoots racy pro-Iran photos
5 June 2014
Lebanese model-turned-singer Myriam Klink has stirred controversy once again after apparently posing nude behind an Iranian flag to mark the run up to this year's World Cup, prompting a flurry of reactions on social media ranging from praise to disgust.
Klink posted the racy photographs on both Facebook and Twitter Tuesday.
In one, the young woman is seen holding a soccer ball in one hand while shielding her naked body with the flag of the ultra-conservative Islamic Republic to a backdrop of a football pitch.
In another similar picture the smiling blond model is seen lifting an antique-looking rifle instead of the football.
"Qmk support iran go iran go:)))))" Klink said in a post accompanying the photographs.
The pictures are part of the series the model is releasing daily in the run-up to the Brazil World Cup 2014.
Mixed Reactions
However, her first photographs were met with mixed reactions on social media.
"May God burn you you w****," Facebook user Hossam Mohammad said in one post in Arabic, referring to the photograph of Klink with the Iranian flag.
"Is she an Iranian to support them," asked Faez Mohammad in another Facebook post.
"How much money $$$ did you get from Iran to support and advertise for their F***** slouchy team? ____ That poor team couldnt even get a high quality jersey for the World Cup, thats a shame for you and such team...," Facebook user Moha Mahed said in one post.
Other social media users were light-hearted about the photoset.
"If the Iranian team knew who was supporting them, they would surely win the World Cup," Ali Zaiter, a Facebook member, said.
"This is Iran's nuclear missile," Facebook user Mustapha Allouch said in Arabic.
Others were supportive and urged the Lebanese celebrity to post similar photographs with the national flags of their home countries.
In the run-up to the World Cup, Klink has so far posted photographs with the flags of Italy, Argentina and the host country Brazil.
She has asked her followers to suggest other countries for future photo-shoots.
Klink has stirred controversy in the past, most recently when she sent out an unusual request to the public on whether she should pose naked following a scandal involving Lebanese skier Jackie Chamoun whose nude photographs had been leaked online.
http://english.alarabiya.net/en/variety/2014/06/04/Myriam-Klink-gets-flak-over-racy-World-Cup-photos.html
-------------
Iran media reports anti-hijab activist was raped
5 June 2014
Iranian hard-liners are using state media to hit back at the woman who set up a Facebook page that encourages Iranian women to post photos of themselves with no headscarves, the online platform of the French broadcaster France 24 reported Wednesday.
State television claimed in a recent report that the creator of the page, Masih Alinejad, was raped in London – where she is currently living- after using drugs and undressing in public.
The rape allegedly happened on the London Undergroud by three men and in front of her son, the report suggested.
Alinejad, who dismissed the report, said it was a lie and described those who fabricated the story as "dangerous" individuals.
"They have very easily turned a rape scene they created in their imagination into news," Alinejad said.
"They didn't even have pity for my son, and they made him a witness of the rape," she added.
Meanwhile, Alinejad posted a video of herself singing "in the same London subway" on her Facebook page.
Bloggers and news website, including the semi-official Fars news agency close to the powerful Islamic Revolutionary Guards Corps, also criticized Alinejad for her campaign, accusing her of working with foreign intelligence services and promoting immorality and promiscuity in Iran.
The Iranian woman said she is planning to file a formal complaint with Iran's Judiciary against state television and also a hard-line reporter she claims called her "a whore" on social media.
Alinejad's Facebook campaign, which encourages Iranian women to let their hair flow free in snaps, has attracted more than 450,000 likes on the social media site.
Set up in early May, the campaign – named "Stealthy Freedoms of Iranian Women" – has seen thousands of women taking off their veils in pictures posted to Facebook.
http://english.alarabiya.net/en/media/television-and-radio/2014/06/05/Iranian-media-reports-hijab-free-campaigner-was-raped.html
-------------
Egypt's first veiled rapper is sick of sexual harassment
5 June 2014
CAIRO, Egypt — Mayam Mahmoud isn't your average hip hop artist. To begin with, she wears a veil.
When the nineteen-year-old took to the stage of "Arabs Got Talent" last October, her performance left a lasting impression on young people in Egypt and the Arab world. It also earned her a death threat.
As Egypt's first veiled hip hop artist, Mahmoud aims to battle sexual harassment with music, as well as to challenge Middle Eastern expectations of how women should act or dress.
"I want people to know that women — particularly veiled women, can do anything they want. No job or activity is out of the question," she told GlobalPost.
The slender, part-time model and political science student grew up in Embaba, one of Egypt's poorest working-class districts in Cairo. The tremendous effect of her audition for "Arabs Got Talent" last year, despite not qualifying as a finalist, has much to do with the way her feminist rhymes resonate with other Egyptian women, and in particular, their painful memories of sexual abuse.
Sexual harassment has become an epidemic in the Arab world's most populous country, but it's also a taboo rarely discussed in local media. Many women are chastised in Egypt's ultra-conservative society for discussing the violence in public. Mahmoud said this is precisely why she's made abuse her main focus.
"I'm not going to be the one hiding her embarrassment," she raps in one of her songs. "You cat-call and harass, thinking this is right. Even if these are just words, this is not how you treat [women], you're throwing stones."
She describes how Egyptian women often feel self-conscious for simply being out in public because sexual harassment can be found at every corner. Though women played a central role in both the uprising against strongman Hosni Mubarak in 2011, and the military-backed movement that removed Islamist leader Mohammed Morsi last year, hopes that the Arab Spring would empower women have been dispelled.
In fact, Egypt is considered the worst country in the Arab world to be a woman, according to a survey by the Thomson Reuters Foundation. The report cited political instability and the rise of Islamist groups among the reasons for the repression.
Levels of sexual abuse in the country have reached new highs, according to the United Nations, which reported in 2013 that 99.3 percent of women in Egypt have experienced sexual harassment at some point in their lives.
"Girls are constantly paranoid when walking to the store or school," Mahmoud said with frustration. "Harassment has become so widespread, some women rarely leave their homes."
Victim-blaming is pervasive. "I see male rappers in Egypt writing songs to blame women for the sexual harassment inflicted upon them," she said. "They say we deserve to be harassed because of the clothes or makeup that we wear."
Mahmoud said she's had it with the "double standards."
"Girls are told what to do from day one — 'dress conservatively, don't be loud'," she said. "I used the teachings I heard while growing up to write lyrics that show the previous generations in Egypt how they contributed to confining their daughters in boxes."
Mahmoud's hard-hitting lyrics are vexing Egypt's ultra-conservative Islamists, who believe a woman shouldn't be in the spotlight, especially if she wears the Islamic veil.
Mahmoud, in fact, faces discrimination because she's veiled. Some critics go as far as calling her an "infidel" who is giving Egypt and Islam a bad name for openly discussing sexual harassment.
"One extremist man on Facebook threatened that he would find and kill me after my audition for 'Arabs Got Talent,' because I was a disgrace," she said.
But the tenacious teen hasn't been the least bit fazed.
In March, Mahmoud was recognized at London's Index Freedom of Expression awards for her work promoting women's rights in Egypt. She's also continuing her work as a freelance fashion model.
Mahmoud and her friends also set up a Facebook page called "Carnival of Freedom," in which women can share posts of themselves participating in normal activities that might otherwise be considered taboo in Egypt's ultra-conservative society, such as playing competitive sports.
"We're hitting the streets to do everything we want," the page's description read in Arabic. "Not everyone has to like what we do. Whether they call it disobedience or a sin; it doesn't matter."
In Egypt and the Middle East, rap is hardly popular. While some of the younger generations listen to American hip-hop artists like Jay-Z or even Nas, very few local rappers exist in the region.
Considered among Arab nations as the "Hollywood" of the Middle East, Egypt is home to an underground hip-hop community, and Mahmoud is one of the few women leading the movement.
Although Mahmoud was raised in a patriarchal society, she said her parents encouraged her from a young age to express herself, read Arabic poetry, and dream big. She said she got into hip-hop because it gives her room to freestyle and express herself. She raps in Arabic so she can capture the attention of young Egyptians, who have been looking for new, edgy art that they can relate to, particularly after the youth-led uprising that toppled Mubarak in 2011.
"My lyrics are derived from the actual experiences of women," she said. "They tell me their stories and I relay that pain through rap."
Mahmoud believes that the only way anything will change for women in the Arab world is if more women challenge cultural stigmas by being vocal about sexual harassment and abuse.
"Egyptian women experience sexual abuse on a daily basis," she said. "It's our story to tell, nobody else can tell it because it's our pain."
http://www.globalpost.com/dispatch/news/regions/middle-east/egypt/140604/egypts-first-veiled-rapper-sick-sexual-harassment
----------
Two Saudi Women Arrested For Alleged Polyandry
5 June 2014
The Commission for the Promotion of Virtue and Prevention of Vice (Haia) in Jeddah recently arrested several Arabs for allegedly organizing Misyar marriages for two married women, according to local media.
Polyandry involves a woman marrying more than one man, a practice forbidden in Islam.
Misyar marriages allow the husband and wife to give up several rights such as living together and financial obligations.
The suspects had tried to get the women married to other men and had arranged for another Arab to authorize the unions.
The Haia had acted on a tipoff from an anonymous source and caught the gang red-handed as they were conducting one of the marriages.
http://www.arabnews.com/news/581656
----------
Muslim Women 'Systematically Targeted' By Cambodia Regime
World Bulletin / News Desk
5 June 2014
A new study focused on sexual violence perpetrated by the Khmer Rouge in Cambodia in the 1970s has found that women from the country's Cham Muslim minority were intentionally targeted.
The rule of the ultra-Maoist group, which seized control in 1975 and controlled the country for four years, saw around 1.7 million people killed through execution, starvation and overwork. Under the Khmer Rouge regime, all religion - the main faith being Buddhism - was banned, and places of worship and religious documents destroyed.
There were about 200,000 Cham Muslims - originally believed to have come to Cambodia from the ancient kingdom of Champa in what are now Vietnam centuries before - when the Khmer Rouge took over. At least a third of them were killed during the regime, according to Minority Rights Group International.
There is a population of about 400,000 Cham Muslims living in Cambodia today.
A United Nations-backed war crimes court in Phnom Penh is currently trying the surviving leaders of the regime for crimes against humanity, but charges of genocide relate specifically to the minority ethnic Vietnamese and Cham Muslims—many of whom have testified as civil parties, or witnesses.
"Religion was reviled by the Khmer Rouge. Muslim communities were particularly targeted because of their different language, food customs, clothing and prayer," the new study, produced by local legal aid group The Cambodian Defenders Project (CDP) and based on interviews with 105 survivors and witnesses, reads.
"Within this xenophobic environment, sexual violence appears to have been another method by which the Khmer Rouge persecuted minorities," it continues.
"Respondents reported that sexual abuse and rape of Cham women were commonplace at worksites and cooperatives," the study says, referring to the large worker co-ops established in the Khmer Rouge's failed attempt to create an agrarian utopia.
"Further, Cham victims were silenced by their offenders with threats... or were raped before execution."
A recent book by Cham Muslim academic Farina So titled "The Hijab of Cambodia: Memories of Cham Muslim Women After the Khmer Rouge," also details cases of Cham women being forced to marry Khmer husbands for the purpose of breaking up the specific ethnic groups.
Interviewed for the study about forced marriage, one unnamed Muslim respondent said: "I was forced to make a commitment [to marry]... I was very small. I was just over 10 years old... How could I protest?"
Another respondent added that after marriage: "We were spied [upon to see] if we had sexual intercourse."
One Khmer Muslim recounted the brutal gang rape of a Cham woman, saying a Khmer Rouge cadre "wanted her when he saw that she was very beautiful. Her husband was taken to be killed. Four men had sex with her... and she was [then] taken to be killed."
In yet another tale, a respondent detailed how some Khmer Muslim women were forced into sexual slavery, being made to provide nightly sex to groups of young militiamen.
"About ten beautiful [Khmer and Khmer Islam] women were kept for rape.... After three to seven days of rape, they were killed," she said.
Few people who experienced sexual violence under the regime spoke of it for fear of retribution and even those who witnessed such incidents were careful to remain silent, according to the study.
"She was raped by three men... one Khmer asked if I knew the Cham woman who was killed and if that one is my relative. I said that I did not know her. During that time, if we said we know [a victim], they will kill us altogether."
Asked by the researcher if she did in fact know the victim, the respondent answered: "Yes... she was my aunt."
The study, which was funded in part by the German government, is focused on minority groups - the Cham, the Ethnic Vietnamese and another group known as the Khmer Krom—but it stresses that it is important to note that many other ordinary Khmer women faced the same sexual suffering at the hands of the Khmer Rouge.
However, as one Muslim respondent put it: "They hated the Khmer Muslim. They just had to rape them... They persecuted the Khmer Muslim."
"Efforts to extinguish Cham culture and ethnicity [including though mass executions] would have created an ideal environment for sexual violence to flourish," the study says.
http://www.worldbulletin.net/muslim-world/138043/mosque-reopens-in-cyprus-after-51-year-closure
----------
Pakistan among countries with acute shortage of midwives to cut birth deaths: report
5 June 2014
The majority of the world's poorer countries, including Pakistan, which account for nearly all childbirth-related deaths among newborns and mothers, are facing a critical shortage of professional midwives who could ease the problem, global health experts said on Tuesday.
Among 73 lower and middle income nations, just four – Armenia, Colombia, Dominican Republic and Jordan – have adequate resources in place, according to a review led by the United Nations Populations Fund and the World Health Organization.
The countries included in the review range from China, India, Pakistan and Afghanistan to Central African Republic, Chad, Guatemala and Mexico, among others.
"More than three-quarters face serious shortages that will result in unnecessary deaths of women and babies," Frances Day-Stirk, president of the International Confederation of Midwives, told reporters on a conference call.
Midwives, who are trained to deliver babies and provide medical care before and after pregnancy, can provide most of the services needed for women and newborns, experts said. That is critical to relieve pressure on doctors, especially in areas where medical resources are scarce or difficult to access.
In 2013, there were an estimated 2.6 million stillbirths, 3 million newborn deaths and 289,000 maternal deaths. More than 92 percent of those deaths occurred in the countries reviewed, the groups said in their "State of the World's Midwifery" report.
Many lack the infrastructure necessary to allow for quality care from midwives, and often don't have regulatory systems in place to adequately train them, according to the report. Collecting necessary data is also a problem.
"Women and girls' right to maternal and reproductive health are essential," Babatunde Osotimehin, a physician and executive director of the UN's Populations Fund, told reporters. They "need and deserve respectful, compassionate care before, during and after pregnancy and birth … This is not the case in many countries. This needs to change."
The crisis is also an economic one, experts said. For example, boosting midwifery services can reduce costly cesarean births, saving up to $128.5 million over three decades, Day-Stirk said.
One country that has shown some gains is Bangladesh, where the government in 2010 launched an effort to train 3,000 midwives, helping reach key health goals even though birth-related mortality remains high, experts highlighted.
The report, funded by the UN along with the U.S. and Canadian governments, the Bill and Melinda Gates Foundation and other groups, and Johnson & Johnson, is part of the UN and WHO's larger effort to boost access to midwives by 2030.
http://www.pakistantoday.com.pk/2014/06/05/national/pakistan-among-countries-with-acute-shortage-of-midwives-to-cut-birth-deaths-report/
----------
Sudan woman's apostasy death sentence 'depends on appeal'
5 June 2014
KHARTOUM: Sudan said the release of a Sudanese mother, whose death sentence for refusing to recant her Christian faith sparked global criticism, depends on the outcome of her legal appeal.
Meriam Yehya Ibrahim, 27, will be freed only if the court overturns its apostasy verdict, Sudan's Foreign Ministry said this week in a statement published by Suna, the state-run news agency.
Ibrahim, who gave birth to a daughter in prison last week, was sentenced to death by hanging on May 15 after refusing to recant her Christian faith in favor of Islam.
Her legal team lodged an appeal with the Sudanese court on May 22, saying the verdict contradicts Sudan's 2005 constitution as well as international rights accords to which the country is signatory. Ibrahim "enjoyed all the necessary requirements for a fair trial as a constitutional right," the Sudanese judiciary said May 18 in a statement published by Suna.
Ibrahim's mother was an Ethiopian Christian and her father a Sudanese Muslim who left them when she was 6, her husband, Daniel Wani, said in a May 21 phone interview from the capital, Khartoum. She was raised a Christian in Sudan and married Wani in 2011, shortly after the death of her mother, he said. Wani, a US citizen, has mostly lived in that country since leaving Sudan.
State Department spokeswoman Jen Psaki said Monday that the US government has "engaged" with Wani since June 2013 and throughout his wife's trial. Ibrahim and Wani's two children may qualify for US citizenship, subject to regulations including DNA testing to establish their biological relationship, she said.
Ibrahim was arrested in August after men who said they were from her father's side of the family reportedly accused her of adultery, Amnesty said in a May 13 statement. An apostasy charge was added in February when Ibrahim said she was Christian, not Muslim. In addition to the death sentence, the court annulled Ibrahim and Wani's marriage and ordered she be lashed 100 times for adultery.
Under Sudanese law, a pregnant woman can't be executed until giving birth and raising the child for two years, according to Amnesty.
http://www.arabnews.com/news/581586
----------
URL: https://www.newageislam.com/islam,-women-and-feminism/new-age-islam-news-bureau/egyptian-woman-call-for-harsher-punishment-for-abuse/d/87375