New Age Islam News Bureau
9 Jul 2017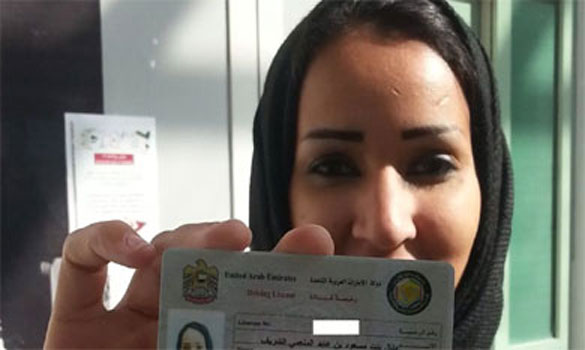 Manal Al-Sharif … 'I felt I was driving for all Saudi women – and, in a sense, I was.' (Photo: Courtesy of Manal al-Sharif)
-----
• Saudi Female Driver Speaks Out For Women: 'Your Rights Are Taken, Not Given'
• Seconds from Detonation: Female Suicide Bomber Holding Her BABY Is Pictured Moments Before She Blew the Two of Them Up In Mosul in A Bid to Slaughter Soldiers
• ISIS Poster Girl Sally Jones Prepares For Last Stand and Will Stay in Syria 'Until Death'
• Women Bear the Brunt of Islamophobia: Charles Sturt University Report
Compiled by New Age Islam News Bureau
URL: https://www.newageislam.com/islam-women-feminism/egyptian-mp-calls-law-grant/d/111820
-------
Egyptian MP Calls for Law to Grant Female Divorcees Part of Husband's Salary
July 8, 2017
In a recent statement, an Egyptian female professor has called for a law that would grant female divorcees a part of their husband's salary, and another to inherit half of her husband's wealth after his death, has stirred controversy amongst Islamic scholars and re-opened a debate about women's rights and their inheritance in Islam.
MP Amna Nosseir, a professor of comparative theory of law at Al-Azhar University, told Egypt Independent on Saturday that under certain conditions, a law should be drafted to guarantee a safe future for housewives who spend their lives "serving men at home."
Nosseir suggested that if a man divorces his wife after five years of marriage, the woman should have the right to take five percent of his monthly income and the percentage should increase according to how many years she spent as a housewife in their marriage, prior to their divorce, she explained.
"Millions of women find themselves on the streets, with no fixed source of income after their husbands divorce them, and in the case of their death. These women deserve a clear law that secures their finances and future," she said.
Nosseir, often comments on women's issues on television, and says she receives many questions from young women about what Islam says about their rights as women. She said that the idea for her law proposal emanated after she passed across an old lady crying in the streets, claiming her husband divorced her after 35 years of marriage, and left her nothing behind but a few of her belongings.
"How is this fair to women? Many Egyptian women spend all their life cooking, cleaning and raising kids at home and in one minute she is left stranded in the streets because she got divorced," she questioned.
She argues that if one goes back to the origins of Islam, the original writings and meanings grant women the legal and social rights they need, but "one has to leave the door for further education and diligence open."
"I acknowledge any new ideas related to women's rights or their future, provided they don't wander away from the fixed teachings of our Islamic law, and my suggestion does not," she added.
Egypt's Grand Mufti, as well as the Egyptian parliament's secretary of the religious committee, expressed their indignation at Nosseir's statements, which, they argued were baseless.
"Diligence (Ejtehad) is open in Islam no doubt, but that is for issues that do not contain a clear text," Omar Hamroush, Secretary General of the religious affairs committee said in a statement to local media outlets.
"The inheritance of women is stipulated by the Quran and Sunnah and is defined by Sharia law, there is no room for further diligence in this case," he said, stressing that this invitation is unacceptable and contradicts with Sharia law.
He further added that family courts are available to secure women's rights in all cases, including divorce.
egyptindependent.com/law-grant-female-divorcees-part-husbands-salary/
-------
Saudi female driver speaks out for women: 'Your rights are taken, not given'
July 8, 2017
Despite working as an information security consultant for a multinational company in Saudi Arabia, Manal al-Sharif was not allowed to drive, just like millions of other women in her country.
But in 2011, she decided to change that. She filmed herself cruising behind the wheel of a car and uploaded the video to YouTube. The tape immediately went viral, and Al-Sharif was arrested for breaking the law that bars female drivers in Saudi Arabia.
Eventually released from jail after international outcry, the arrest only made her more determined to speak out for Saudi women's rights. Her passion led her to write a recently released memoir, Daring to Drive: a Saudi Woman's Awakening.
Al-Sharif spoke to USA TODAY about her arrest, her campaign for women's rights and her hopes for change . Her comments have been condensed and edited for style and grammar.
Question: How did you become active in political causes?
Answer: I was subjected to a very strict upbringing in home and school. I wasn't allowed to question the rules or voice my doubts. I have always felt there is something wrong with the way they teach us how, as women, we are less of everything — we are the seduction fruit, we are the source of all evil in the society and we should be locked behind closed doors and high walls.
STORY FROM THE UNITED STATES TOUR OPERATORS ASSOCIATION
Follow the storied footsteps of explorers and entrepreneurs along the Silk Route
When I became financially independent, I started challenging these rules that I have always questioned by using every available mean to speak up, like online forums. With social media becoming influential at the time of the Arab Spring, I finally found my perfect tool.
Q: What do you remember most about your arrest?
A: The most horrific thing being in women's jail wasn't being in the jail. It was realizing how little we knew about the abuses others in jail go through, and they have no access to legal assistance or interpreters while on trial. Many didn't even know why they were there. It made my struggle seem so small.
Q: How did the arrest shape you as a woman and Saudi Arabian citizen?
I became more aware of the less fortunate in my country. I became more aware that there is a special punishment reserved for the woman who speaks up. It took a toll on me personally after speaking up and taking action in a conservative society like Saudi Arabia. I was brought up to be an obedient wife to my husband, but I broke this "rule."
Islam empowers women, but our religious establishment misused the name of religion. My actions and words enraged them. I quoted sayings of the prophet Mohammed regarding women empowerment to prove them wrong and as a result more and more women started questioning their authority. I have the guts to stand up in a very patriarchal society, and I am not backing down.
They tried to stop me and intimidate me. But they could not shut me up. This was very empowering for other Saudi women. Now more and more women are coming out for their rights.
In next 10 years, Saudi Arabia will totally change in terms of women empowerment after the awakening of this silent majority. And being the birth-place of Islam, change in Saudi Arabia will bring refreshing change for Muslim women around the world.
Q: Can you explain the argument against female drivers?
A: My society is very conservative. Women are treated as minors who need protection and permission of men for almost everything. Three important elements of Saudi system — namely conservative society, religious establishment and government — keep women from driving.
Religious establishment gets power by imposing its authority on woman. Government does not want to anger the religious establishment, and society generally accepts women as minors. When cars came to Saudi Arabia, society accepted the norm that women do not drive.
On Nov. 6, 1990, 47 women tried to break that norm by driving. But at that time, the religious establishment was angry over arrival of western troops in Saudi Arabia in the wake of first Iraq war. They directed all their anger against these women drivers calling them a bad influence. They were denounced as immoral women out to destroy Saudi society.
Two days after the protest, the Saudi grand mufti issued a decree that driving by women was un-Islamic. The official argument: Women who drive will become immoral.
People were afraid of unknown because they never saw women driving. A university professor even said if women were allowed to drive in Saudi Arabia, there would be no virgin in the country in 10 years.
Q: What does barring women from driving have to do with religion and government?
A: It has nothing to do with religion. Actually, it is un-Islamic to treat women as minors. A car is just a machine. If women could ride a donkey and a camel in the past, why can't they drive their own cars today?
As far as the government is concerned, it is reluctant to allow women drivers as it has to create infrastructure to accommodate women drivers in an Islamic society like Saudi Arabia. This means women traffic police, women driving schools, etc.The government also does not want to provoke the religious establishment as it will reduce its influence in society.
Q: When and why did you leave Saudi Arabia?
A: I left in 2012 after I gave up my job in multi-national oil company Aramco, where I had worked for 10 years. Now I live in Sydney, Australia, with my husband and son.
Q: Are men in Saudi Arabia supporting women's rights?
The first one who advocated for woman's right to education was a man. Men have always been there for women's rights. My father supported me a lot. My brother worked as my driver when I could not drive. He was my witness in court. I believe every successful woman in my country has backing of some man. Now, momentum is growing because women are demanding their rights and men have no choice: Only a weak man is intimidated by women's power.
Q: What is the most touching response you've received from your book?
I always ask anyone who read my book if they could see themselves while reading my story. Every single person had part of my life in his or her own life. This is the beauty of telling your story with honesty, without holding back, just as if you are talking to your own self.
Q: Are you afraid of going back to Saudi Arabia? How often do you visit?
A: I always go back to Saudi Arabia. I sometimes feel hesitant to go back after speaking at a conference, but I always tell myself: The worst that could happen is to be re-arrested. I'm fine with that, and it shouldn't stop me from speaking up.
Q: What response have you received about your activism from Muslim women in the West ?
A: It's very encouraging. A lot come to me and tell me they face so much questioning from the West because of the situation of women in Saudi Arabia, and the world thinks it applies to all Muslim women. Muslim women are happy that I am challenging these un-Islamic laws like the ban on driving and the male guardianship system in Saudi Arabia.
Q: Has your activism affected your relationship with religion?
A: I'm still Muslim. My relationship with Islam wasn't affected. My relationship with the literal and ultra-conservative interpretation of the Islamic text is what changed.
Q: What is your message to Saudi women?
A: My message is your rights are taken, not given. Never give up the fight!
Q: What are your future plans?
A: I'm starting a movement to help sponsor any Saudi woman who wants to acquire her driver's license abroad. The goal is to sponsor 1,000 women per year.
usatoday.com/story/news/world/2017/07/08/saudi-female-driver-speaks-out-women-your-rights-taken-not-given/103342140/
-------
Seconds from detonation: Female suicide bomber holding her BABY is pictured moments before she blew the two of them up in Mosul in a bid to slaughter soldiers
8 July 2017
The woman was walking out of a newly liberated area of the city with a group of fleeing civilians holding a trigger, bags and a young infant in her arms.
She had apparently tried to detonate the explosives as she passed the soldiers, but the bomb failed to go off until she had walked some distance away, a cameraman for local al-Mawsleya TV said.
She, her child and two soldiers were killed, several civilians were also injured in the blast.
'The fighters of Islamic State are collectively pledging (to fight to the) death in Maydan,' Amaq said in another online post.
More than 20 female suicide bombers hiding among civilians are believed to have detonated explosives in the last two weeks.
One general claimed they were even using their own children as human shields.
'The women are fighting with their children right beside them,' Lieutenant General Sami al-Aridi said. 'It's making us hesitant to use air strikes, to advance. If it weren't for this we could be finished in just a few hours.'
Preventing the attacks has proved difficult. Iraq's socially conservative culture means soldiers do not ask women to lift up their clothes to check for explosives as they do men.
Government forces backed by the US-led coalition have been trying to drive out the terror group from the strategic city since October.
This morning they killed 35 ISIS jihadis and wounded six others while advancing into the Old City neighbourhood.
It is thought that just a few hundred militants remain in a confined area overlooking the Tigris River - which divides the city's east and west.
Iraqi authorities will imminently announce a final victory in the battle to recapture Mosul from the Islamic State group, a US general said Saturday.
'An announcement is imminent,' Baghdad-based Brigadier General Robert Sofge told AFP.
'I don't want to speculate if it's today or tomorrow but I think it's going to be very soon,' he added.
dailymail.co.uk/news/article-4677970/photo-Mosul-woman-holding-child-detonate-bomb.html#ixzz4mLPABdu4
-------
ISIS poster girl Sally Jones prepares for last stand and will stay in Syria 'until death'
9th July 2017
TOOL OF EVIL: Sally Jones became a key recruiter for ISIS after travelling to Syria
Former punk rocker Jones – nicknamed the White Widow – became a key recruiter for the terror group after travelling to Syria in 2013 to marry jihadist Junaid Hussain.
Jones, originally from Kent, took her 12-year-old son Joe to the war-torn country and reportedly used him as human shield against US drone strikes.
A friend of Jones, 50, told The Times: "I am full of admiration for her. Muslims from the outside are not like us.
HEARTLESS: Jones took her 12-year-old son Joe to the war-torn country
"A convert will catch Islam tightly and not let it go. Because she is a Muslim she will come here and never leave.
"She ran to al-Mayadeen, but she told me she would stay until she dies. She doesn't want to go anywhere."
The jihadi is one of the most wanted women in the world and last year issued threats against the UK, urging Muslim women to launch terrorist attacks during Ramadan.
Jones' husband, leader of ISIS' "digi-jihad" hacking brigade, was killed in a drone strike in 2015.
A photo report on the British woman who left the UK to fly to Syria, and join the Islamic State.
in a phone interview said that they believed her to have died in an airstrike in May 201 Zohra Dawood, alongside her two sisters and nine young children joined the Islamic State in 2015, and have yet to have made contact with family members.
Woman claims Sally Jones would like to return to UK
The wife of a terror fighter told Sky News: "She was crying and wants to get back to Britain but ISIS is preventing her because she is now a military wife.
"She told me she wishes to go to her country.
"She lost her husband in a battle last year. She has one boy."
Iraqi PM visits Mosul as ISIS jihadis DEFEATED
Iraqi police have been photographed in the Old City of Mosul celebrating with a captured ISIS flag as their part in the battle to reclaim the city is completed. While the battle against ISIS continues in other parts of the ancient city, it is believed the will be defeated within days
Jones is one of the most prolific planners of terror attacks and has risen up the Pentagon's kill list.
She is claimed to have plotted the ISIS kidnapping and beheading of a US army vet, and was reportedly involved in the planning of a foiled nightclub shooting.
Jones and her husband were allegedly behind at least a dozen ISIS terror plots.
dailystar.co.uk/news/world-news/628364/ISIS-poster-girl-Sally-Jones-last-stand-stay-Syria-until-death
-------
Women bear the brunt of Islamophobia: Charles Sturt University report
Most incidents of hostility towards Muslims involve the targeting of women, often in public with their children, and three out of four times no one intervenes, new research suggests.
A study released by Charles Sturt University on Monday analysed 243 verified reports to the online Islamophobia Register of Australia from September 2014 to December 2015.
Islamophobia was defined as a type of racism that included "various forms of violence, violations, discrimination and subordination" and went beyond mere criticism, the authors said.
The report found of 130 cases where the victim's gender was reported, women were targets in 88, men in 27 and both genders in 15.
"Visibility is a big factor," the report's editor, Islamic Studies lecturer Derya Iner, said. "In 79.6 per cent of cases [targeting women] they were wearing Islamic headscarves."
Women's gender, as well as their religion, often formed the focus of reported attacks.
In 170 cases, abusers targeted the victim's honour with terms such as "whore" and "bitch". In contrast, only 74 cases referenced terrorism.
Dr Iner said it showed hostility toward Muslims went beyond apprehensions of violence, even as reports of Islamophobia tended to peak after terrorist attacks such as the Lindt cafe siege.
Almost half the recorded "offline" attacks occurred in crowded public places such as train stations, schools and shopping centres.
In one case, a woman reported walking with her head down when she was confronted by a group of men.
"They yelled out 'ISIS B****' 'go back to where you came from' and snickered and said 'shh or she'll behead you'," the woman said. "They followed me down the street. None of the train staff helped me out or stopped them."
Another woman said she was nine months pregnant and pushing a pram with her daughter inside when a drunk man shouted at her "Be careful!! She's going to bomb us!"
Nearly half the victims classified as "vulnerable" were children. No third party intervened in 75 per cent of cases but witnesses to attacks made up a large number of reporters to the register.
Some of the most vitriolic abuse reported was witnessed online.
On a Facebook page advertising Perth's first Islamic childcare centre, a commenter wrote: "wait til it's full n burn it down".
"We have seen a normalisation of Islamophobia and its continued growth will continue to plague the Australian Muslim community," the founder and president of the register, Mariam Veiszadeh, said.
However, another recent study suggested Australians were less Islamophobic than they were sometimes led to believe.
Flinders University emeritus professor Riaz Hassan wrote in The Conversation that "while there are pockets of antipathy towards Muslims, an overwhelming majority of Australians don't share that antipathy".
Professor Hassan said a survey conducted in 2015 and 2016 found 70 per cent of Australians had "very low" levels of Islamophobia and less than 10 per cent had "very high" levels.
smh.com.au/nsw/women-bear-the-brunt-of-islamophobia-charles-sturt-university-report-20170709-gx7nsg.html
URL: https://www.newageislam.com/islam-women-feminism/egyptian-mp-calls-law-grant/d/111820
New Age Islam, Islam Online, Islamic Website, African Muslim News, Arab World News, South Asia News, Indian Muslim News, World Muslim News, Womens in Islam, Islamic Feminism, Arab Women, Womens In Arab, Islamphobia in America, Muslim Women in West, Islam Women and Feminism