New Age Islam News Bureau
19 Oct 2019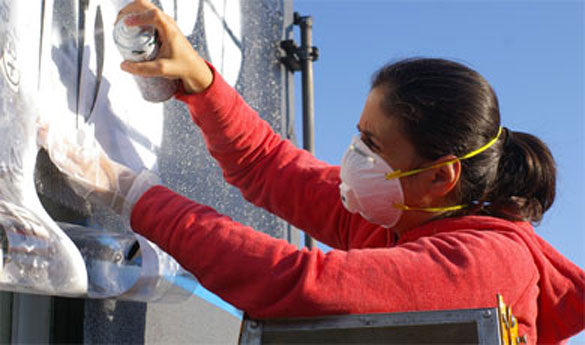 Bahia Shehab at work on a street art wall in Tokyo (Photo credit: Marina Nakamura)
------
• Kerala Woman, Children Sit outside Husband's House against Talaq; Case Registered
• Rise in Trafficking Of Ivorian Women, Girls To Europe
• Woman In French Headscarf Row To Sue Far-Right Politicians For Racism
• Woman Claims She Was Booted from West Palm Beach Hotel Because She's Muslim
• First Group Of Afghan Women Arrived In Kazakhstan As Part Of EU-Funded Educational Project
• African Female Refugees Report Surge Of Sex Attacks In Egypt
• For 1st Time In Egypt, Woman Elected For Syndicate Chair
Compiled by New Age Islam News Bureau
URL: https://www.newageislam.com/islam-women-feminism/egyptian-lebanese-artist-bahia-shehab/d/120038
--------
Egyptian-Lebanese Artist, Bahia Shehab, Paints Darwish's Poetry on Walls around the World since Late 2011
Mamoon Alabbasi
18/10/2019
LONDON - Egyptian-Lebanese artist Bahia Shehab has been painting words of the much-celebrated Palestinian poet Mahmoud Darwish (1941-2008) on walls of different cities around the world since late 2011.
Like most of those engaged in street art, she does not ask for permission form the authorities for where or what she paints, resulting in having her work erased from the walls on which she drew them.
Shehab is proud to have her street art in countries like Egypt, Morocco, Turkey, Britain, Holland, the United States and Japan – among others.
She took photos to document her work and in September published a book that showcases in pictures and in words the message from her journeys.
"Darwish is seen by many as a poet on the side of the people, whatever their race and wherever they are," she wrote in the introduction of her book, entitled "At the Corner of a Dream. A Journey of Resistance & Revolution: The Street Art of Bahia Shehab".
The book was launched at the Aga Khan Centre in London, where she gave a talk about her work, followed by an exhibition of some of her art as week as the screening of her four short films.
"My message to fellow street-artists is don't get caught," Shehab told her London audience. She did have, however, a more upbeat observation about women in her field of art.
"There are more female street artists in the Middle East but the perception is it's still a men's job … whenever passers-by see a man assisting me, they assume that he is the artist," said Shehab, who is also professor of design and founder of the graphic design programme at The American University in Cairo.
Part of the motive behind publishing the book is her fear that "history is being erased" as her artwork gets painted over. "I'm racing with time…I'm leaving these messages for the future, like a time-capsule."
For Shehab, her work is not just about the end product. "It's not about art, it's about the human connection that results from that art," she said. "Sometimes I make the (Arabic) letters unreadable … that was by design so that people would come and ask."
The book is published by Gingko in association with Aga Khan University, Institute for the Study of Muslim Civilisations (AKU-ISMC).
"We were immediately struck by her charisma and her extraordinary art and scholarship," said Charlotte Whiting, manager at the publications department at AKU-ISMC, in a reference to her first meeting with Shehab in 2018.
Shehab's art exhibition at the Aga Khan Centre will continue till January 2020. "We're looking forward to a range of follow-up events themed around her work throughout the rest of 2019," said Whiting.
The Arab Weekly caught up with Shehab following the launch of her book.
-The Arab Weekly (TAW): You're identified yourself Egyptian-Lebanese, could you expand on that?
-Shehab: I was born and raised in Lebanon and I've been living the past fifteen years in Egypt. I really do not identify with either nation. These are colonial borders that were drawn by colonial powers. They do not represent me as a human being. I don't identify as either Lebanese or Egyptian, I identify as both, actually. I identify as a woman from the Arab world. To me, I belong to the whole of the Arab world – from Morocco to Iraq. This is my geographical belonging physically but ideally I belong to this planet. I consider myself a global citizen and I belong to planet Earth.
-TAW: When was the first time you painted and when was the last?
-Shehab: I started in November 2011 after the Mohammed Mahmoud events in Cairo. None of what I have painted in the streets of Cairo is there anymore, it has all been erased. The last time I painted in Cairo was in December 2013. The last thing I painted was in August in Lincoln (Britain).
-TAW: You made a lovely comment: "It's not about art, it's about the human connection that results from that art." Any examples that you'd care to mention?
-Shehab: In Lincoln, I had 40 volunteers [the majority of whom were women] help me paint a 30-meter wall in a town in the north of the United Kingdom. When I was thanking two Palestinian women for joining me as volunteers in Lincoln, their reply was so beautiful. They said "we'd do anything for Darwish". I was moved because to me that's what it's all about. It's about sharing the love that we have for our culture. To understand the value and the meaning of poetry; the richness, the struggle, the dialogue that needs to take place. The artwork is a chance for us to talk, it's a way for us to build a bridge.
-TAW: How was your art met or understood by Westerners?
-Shehab: How it's received in the Western world is how it's received in any part of the world; some detest it and would like to take it down, while some embrace it and are willing to have a conversation. Others just completely ignore it as if it doesn't exist, they just go about their day. For example, in Paris I had more than one rude comment, like 'why don't you go write Arabic in your own country?' But for that, I would get ten people saying "Bonne courage", "thank you for doing what you're doing", "it is lovely", and "we love what you're doing". So it really depends on what you want to focus on. You can focus on the negative and say "Oh, they hate us. They're terrible, they're all bad" or you can say "there is good everywhere".
-TAW: You referred to your artwork as a time-capsule for future generations to know about our history. Other than your exhibitions and your latest book – which showcase some examples of your work – have you thought of having a public digital archive for your street art?
-Shehab: There is a plan to have my work available online but I wanted to get the book out first. In terms of documenting the process, ideally I should have a website but I really don't trust websites (because websites can be blocked). So even if my aim is more accessibility, I might not always get what I want. But hopefully in the future I will have everything available online.
https://thearabweekly.com/egyptian-lebanese-artist-paints-darwishs-poetry-walls-around-world
--------
Kerala Woman, Children Sit outside Husband's House against Talaq; Case Registered
October 18, 2019
A 35-year-old Muslim man was booked for allegedly giving triple talaq to his wife here, five days after she sat on a protest along with her two young children outside his house. Her case came to light after news reports showed the purdah-clad woman sitting on a pathway near the village house at nearby Vanimel along with her five-year-old daughter and two-year-old son.
Fatimah Juveria, 24, who has been protesting outside his house to bring attention to her plight, has alleged that her husband got married to another woman after giving her triple talaq. Based on her complaint, the Valayam police here registered a case against her husband, A K Sameer, under Sections 3 and 4 of the Muslim Women (Protection of Rights on Marriage) Act, 2019 on Thursday. Sameer, 35, a native of Vanimel, works in the Gulf, the police said.
"According to her complaint, the accused gave her triple talaq on September 24 at the premises of a local court," a police official told PTI. "Fatimah had already lodged four civil cases against Sameer and his family on various charges before. The husband's family had also filed a case against her. All these cases were pending before courts," the official said, adding that investigation is underway in the triple talaq complaint.
Section 3 of the act makes the pronouncement of talaq by words, either spoken or written or in electronic form or in any other manner whatsoever void and illegal, while Section 4 provides punishment with imprisonment for a term which may extend to three years and fine. Fatimah, who hailed from a poor family, said she married Sameer six years ago and they had no issues till last year.
She alleged he gave her talaq when they met at a court recently in connection with a civil case. She accused Sameer and his family for forcing her and the children out of his house and not giving them any maintenance for several months. Juveria also alleged that he had recently come here from the Gulf to marry another woman.
"He gave me talaq as he wanted to remarry. There were no other issues… he came here recently for his remarriage… He later returned to the Gulf," Fatimah told television channels. V P Suhara, a Muslim woman activist, said it was cruel that despite the ban on triple talaq, the practice was continuing. She demanded that action be taken against the husband and family.
After the Centre brought in a legislation against the practice this year, at least four such cases were registered in Kerala. A 23-year-old woman from Payyannur in Kannur had earlier filed a case against her husband after he gave her triple talaq in writing and got married.
Similar instances have also been reported from Mukkam in Kozhikode and Kasaragod.
https://indianexpress.com/article/india/kerala-woman-children-sit-outside-husband-house-against-triple-talaq-6076073/
--------
Rise in Trafficking Of Ivorian Women, Girls To Europe
19 October 2019
An increasing number of women and girls from Ivory Coast are being trafficked to Northern Africa and Europe, the International Organization for Migration warned on Friday.
Anti-trafficking teams have noted a rise in the numbers making the Mediterranean crossing, along with a rise in pleas for help at landing points in Italy, IOM said in a note to mark European Anti-Trafficking Day.
The women and girls are often destined for lives of slavery or prostitution, said Laurence Hart, head of the Mediterranean coordination office.
"Many are recruited in their country with the promise of being given employment as maids or waitresses and become, instead, victims of domestic servitude upon arriving in Tunisia or Libya," he said.
There they are "subjected to sexual abuse, mistreatment, violence and deprivation of personal freedom."
They are then often preyed upon a second time by smugglers who "intend on exploiting them upon their arrival to Italy, or other countries of the European Union," he said.
While there has been a drop in the total number of Ivorian migrants arriving by sea in Italy, the percentage of women and girls involved has risen, IOM said.
They made up just eight percent of the total number of Ivorians who landed in 2015 - before jumping to 46 percent in 2019, it said.
"Behind the numbers, there are many tragic stories, of which we often know too little," Hart said.
A drowned Ivorian mother and her eight-month old baby - whose bodies were found next each other on the seabed - became the heartbreaking symbol of a shipwreck earlier this month in which many women and girls drowned.
Around 27 Nigerian girls died while attempting the perilous crossing to Italy in 2017, and were likely trafficking victims.
"More needs to be done to protect these vulnerable groups, which not only suffer a long series of abuses and human rights violations, but then find themselves forced to risk dying at sea," Hart said.
https://english.alarabiya.net/en/News/north-africa/2019/10/19/Rise-in-trafficking-of-Ivorian-women-girls-to-Europe-.html
--------
Woman In French Headscarf Row To Sue Far-Right Politicians For Racism
17/10/2019
The French woman at the centre of a row over the wearing of an Islamic hijab during school trips is taking legal action against far-right politicians who criticised her. According to French President Emmanuel Macron, Muslims should not be "stigmatised".
The controversy erupted last week when she wore a headscarf during a school trip with her son and other children to the regional parliament in Bourgogne-Franche-Comté in eastern France. Julien Odoul, a member of Marine Le Pen's National Rally (RN) party, caused widespread outrage when he posted a video on Twitter of him confronting the woman.
Citing "secular principles" in the wake of the killings in Paris this month of four police staff by a radicalised convert to Islam, he insisted that she remove her headscarf. Members of the RN then walked out of the chamber before issuing a press statement denouncing "an Islamist provocation".
'Incitement of racial hatred'
The Collective against Islamophobia in France (CCIF) said on Wednesday that the woman would file a complaint with prosecutors in the city of Dijon on Thursday over "violence of a racial nature committed... by persons with public authority".
And a second complaint would be filed in Paris on Friday for "incitement of racial hatred", CCIF said in a statement.
The woman's lawyer, Sana Ben Hadj, said her client had felt "humiliated" by the incident because images of her had been shared widely. "It's not just a question of secularism, but of racism, trying to exclude Muslims from the Republic," the lawyer said. "Without her, this school trip could not have taken place. There were no other parents who could make themselves available."
Macron: A 'fatal shortcut' between Islam and fight against terrorism
The row is the latest in France over face- and body-covering garments that many perceive as inappropriate in a secular country, while others argue the garments allow Muslim women to be active participants in French society.
On Wednesday, President Emmanuel Macron said Muslims should not be "stigmatised" and warned about making a "fatal shortcut" between Islam and the fight against terrorism.
The French state and church were officially separated by law in 1905 to give form to the concept of secularism rooted in the 1789 French Revolution.
An old debate
In 2004, the government prohibited the wearing of conspicuous religious symbols in public schools and banned the hijab – a garment that covers a woman's hair but leaves her face exposed – from classrooms and government offices.
The country with Europe's largest Muslim population is also deeply divided over the body-concealing "burkini" swimsuit, with opposition to the garment forcing the closure of some swimming pools earlier this year in the midst of a heatwave.
Also this year, French sports retailer Decathlon was forced by public pressure to back down from a plan to sell a runner's hijab in France.
An opinion poll released on Monday found that two in three French people are in favour of prohibiting parents accompanying kids on school trips from wearing visible religious symbols.
https://www.france24.com/en/20191017-woman-in-french-headscarf-row-to-sue-far-right-politicians-for-racism
--------
Woman Claims She Was Booted from West Palm Beach Hotel Because She's Muslim
By Jane Musgrave
Posted Oct 18, 2019
WEST PALM BEACH — After spending New Year's at Disney World with her toddler, Rosemarie Mohammed drove to West Palm Beach to spend a few days with her family.
The magic of her days in the theme park quickly disappeared when workers at the Hampton Inn off Belvedere Road allegedly ordered the New York City woman and her daughter out of the hotel with the words: "We don't want your kind here."
In a lawsuit filed this week in U.S. District Court, Mohammed accuses Hilton Worldwide Holdings and the owners of the franchised inn of evicting her because they didn't want a Muslim of Arab descent on the property.
"The Hampton Inn intentionally discriminated against Rosemarie because of her Muslim religion," Fort Lauderdale attorney Yechezkel Rodal wrote in the lawsuit he filed for Mohammed. "The Hampton Inn wrongfully prohibited Rosemarie from finishing up the vacation she had paid for."
A spokeswoman for the Chicago-based company that in June paid $9.6 million for the 105-room hotel said it doesn't comment on pending lawsuits.
In a statement, Hilton said the company "has found multiple discrepancies between the facts alleged in the legal filing and our records."
"Our aim is always to lead with hospitality and provide a great experience – every hotel, every guest, every time," it said. "We have zero tolerance for discrimination and take any related claims very seriously."
Mohammed, who travels regularly for work and is a Hilton Honors member, had no trouble checking into the Hampton Inn for her two-day stay, Rodal said.
After spending one night at the hotel, she left to take her 1-year-old daughter to a playground. While there, Hampton Inn workers called and said she had to pack up and leave, he said.
Knowing there were vacancies, Mohammed offered to switch rooms or pay extra to stay in the same room, Rodal said. The hotel worker refused. Eventually, the worker blurted out, "We don't want your kind here," and hung up the phone, he said.
When Mohammed called the corporate headquarters, booking agents offered to put her in another Hilton hotel. But, it was farther away from Palm Beach International Airport and Mohammed had an early-morning flight.
Finally, in frustration, she booked a room at a nearby hotel and flew home the next day.
But, Rodal said, the experience was unsettling for Mohammed. "She realized she's going to have to explain to her little daughter one day that she's going to be treated differently," he said.
Hoping to get the hotel giant to change its behavior, Mohammed decided to file suit.
"It's really not about the money," Rodal said. "It's to send a message that this is no longer acceptable and it shouldn't be acceptable."
It isn't the first time Rodal has filed a discrimination suit against a South Florida hotel. In May, he sued The Westin Fort Lauderdale Beach Resort on behalf of a Chicago man of Jordanian descent who had a similar experience.
Midway through an eight-day stay at the oceanfront hotel, Rami Ziyadat and his fiance were marched out by security after a worker noticed a tattoo on Ziyadat's arm, Rodal said in the lawsuit filed in federal court in Fort Lauderdale.
Claiming there is no evidence that resort officials discriminated against Ziyadat, attorneys for the resort have asked a judge to throw out the lawsuit.
"It remains unclear how Ziyadat's outward appearance caused the alleged treatment during an isolated incident, four days into his stay, if [his] features, complexion, and appearance were evident from check-in," resort attorney Stephen Johnson wrote. "These facts fail to support the conclusory assertion that the alleged discrimination was based on race."
Unfortunately, Rodal said, such discrimination does exist. "It's so sad in this day and age," he said.
https://www.palmbeachpost.com/news/20191018/woman-claims-she-was-booted-from-west-palm-beach-hotel-because-shersquos-muslim
--------
First Group Of Afghan Women Arrived In Kazakhstan As Part Of EU-Funded Educational Project
19 October 2019
ALMATY, Kazakhstan (TCA) — Almaty Management University (Alma U) on October 18 hosted an official reception on the occasion of the arrival of the first cohort of Afghan women in Kazakhstan that will start their studies as part of a project funded by the European Union (EU) and implemented by the United Nations Development Programme (UNDP) in Kazakhstan.
The event was attended by the EU Ambassador to Kazakhstan Sven-Olov Carlsson, Kazakhstan Deputy Minister of Foreign Affairs Roman Vassilenko, UNDP Resident Representative Yakup Beris and Ambassador of the Islamic Republic of Afghanistan to Kazakhstan Mohammad Farhad Azimi, UNDP in Kazakhstan reported.
Students from Afghanistan took a week-long introductory course at Alma U, where they learned about the program of the upcoming training, had a tour around the campus and gained an understanding about the conditions of the University, as well as the cultural peculiarities of Kazakhstan. Now they will have an 8 months-long course of in-depth study of English language with further admission to the bachelor's, master's and technical programs in Kazakhstani universities.
"We believe that women are central to economic growth and sustainable development and that their economic empowerment is crucial to each country's progress and prosperity. At the core of the common approach between the EU, Afghanistan and Central Asia, is our firm conviction that investing in education by connecting three countries like Afghanistan, Kazakhstan and Uzbekistan, we can help strengthening the social and economic linkages among them, thus also contributing to addressing common security challenges and promoting a more peaceful and prosperous world," said EU Ambassador to Kazakhstan Sven-Olov Carlsson.
The European Union will finance a grant of EUR 2 million for a triangular cooperation project that will enable Afghan women to graduate from higher education and vocational training institutions in Kazakhstan and Uzbekistan.
"Promoting women's economic empowerment, ensuring gender equality, and facilitating easy access to education are priorities UNDP continuously works on around the world. Here in Kazakhstan, we promoted education opportunities for women from Afghanistan in the past as part of the cooperation with the Government of Kazakhstan. I am very happy that this new initiative is building on this past experience and is entrusted by the European Union to UNDP for implementation. We see this as partnership in action and will work towards building its sustainability," said UNDP Resident Representative in Kazakhstan Yakup Beris.
"Kazakhstan vigorously supports the implementation of various financial, technical and humanitarian assistance programs for the comprehensive reconstruction of Afghanistan. To date, we have provided more than 80 million US dollars worth of assistance to Afghanistan. In recent years, this figure included 3.5 million US dollars for the construction of medical, education centres, and the reconstruction of roads and bridges in various provinces of Afghanistan," said Deputy Minister of Foreign Affairs Roman Vassilenko, as reported by the Kazakh Foreign Ministry's website. "We believe that for Afghanistan to succeed in building a stable and prosperous state, it needs an educated generation of young people. As a result, 50 million US dollars have been allocated as part of the government-funded programme to educate 1,000 Afghan students in Kazakhstan's top universities since 2010."
Between now and 2025, 50 students will attend bachelor's, master's and technical degrees in agriculture, applied statistics and mining at academic establishments across Kazakhstan and Uzbekistan. In addition, UN Women will organize summer schools that will train the women in entrepreneurship and networking to contribute to their post-study employment and thus economic empowerment.
The initiative is expected to help create new business and employment opportunities for the women and their communities back in Afghanistan. According to the 2018 UNDP Human Development Report, 11 percent of all adult Afghan women have reached at least a secondary level of education and only 19.5 percent are employed, while these numbers are 37 percent and 87 percent for men, respectively. In 2016-2017, more than half of the Afghan population was living below the poverty line.
https://www.timesca.com/index.php/news/21724-first-group-of-afghan-women-arrived-in-kazakhstan-as-part-of-eu-funded-educational-project
--------
African Female Refugees Report Surge Of Sex Attacks In Egypt
October 18, 2019
There has been a surge in reports of sexual abuse against African refugee women in the Egyptian capital, Cairo, in what some rights groups describe as an "epidemic" of sexual violence which has worsened in recent months.
According to a report by Reuters, one 17-year-old South Sudanese refugee managed to escape after being held as a prisoner for three months in a Cairo apartment where she was repeatedly gang-raped, only to realise she had become pregnant by one of the attackers.
Reuters met five women from Sudan, South Sudan and Somalia at a community centre in Cairo, each of whom said she was a victim of violent sexual assault.
One woman disclosed how she was assaulted by a stranger in the street in what later became a gang attack, saying after being touched, she tried to defend herself but was soon surrounded by four other men. The other women said they were assaulted by employers whilst working as domestic workers.
With a scarcity in jobs and restrictions on foreigners seeking work permits in addition to rising inflation and rent costs, many are driven to homelessness or are forced to share rooms with strangers, making them vulnerable to sexual assault. Only a tiny fraction of refugees have obtained work permits. Of those refugees who are employed, many have complained of low wages, poor working conditions, long hours and sexual exploitation.
Over the past two years the number of registered refugees and asylum seekers in Egypt has increased by 21 per cent, according to the Wilson Centre, making Egypt among the highest destination countries in Africa receiving documented and undocumented immigrants. For Sudanese refugees the crisis has been exacerbated due to conflict and political upheaval in Sudan causing many to flee for a better future for themselves and their families.
One 2017 case study by the Tufts University's Refugees in Town project focussing on the Sudanese and Somali refugee experience in Cairo mentions that they are largely concentrated in the Kilo Araba wa Nus and Hay el Ashr sub-districts of Nasr City on the eastern outskirts of the city. One African female refugee remarked:
We thought we were escaping war, but we are facing another war here in Cairo. We face sexual harassment on the street, men are always touching us inappropriately. At work, bosses have a bad heart. If you work as a maid, they will accuse you of stealing and imprison you in the house.
There are other implications to sexual abuse and gender-based violence against refugee women – one Sudanese man noted that "for a lot of husbands, if he knows his wife has been raped, he will not want to be with her anymore."
Cairo was named the most dangerous megacity for women in an international perception poll carried out by the Thomson Reuters Foundation in 2017.
https://www.middleeastmonitor.com/20191018-african-female-refugees-report-surge-of-sex-attacks-in-egypt/
--------
For 1st Time In Egypt, Woman Elected For Syndicate Chair
Oct. 12, 2019
CAIRO - 12 October 2019: For the first time in Egyptian syndicates' history, a woman is elected chairperson of Cairo Doctors Syndicate. The winning of Dr. Sherine Ghaleb, forensic psychology professor at Cairo University, was announced on Saturday.
The midterm elections of Doctors Syndicate were held on Friday and supervised by 56 counsellors from the Administrative Prosecution Authority, as reported by Al Ahram Online. The purpose of those selections - held every two years - is the selection of a chairperson and half of board members (12 out of 24).
The number of candidates running for the chair position and board members are 16 and 49 distributed upon four electoral lists, respectively. The election supervisory committee will officially announce all results within two days.
https://www.egypttoday.com/Article/1/75704/For-1st-time-in-Egypt-woman-elected-for-syndicate-chair
--------
URL: https://www.newageislam.com/islam-women-feminism/egyptian-lebanese-artist-bahia-shehab/d/120038
New Age Islam, Islam Online, Islamic Website, African Muslim News, Arab World News, South Asia News, Indian Muslim News, World Muslim News, Women in Islam, Islamic Feminism, Arab Women, Women In Arab, Islamophobia in America, Muslim Women in West, Islam Women and Feminism