New Age Islam News Bureau
8 March 2016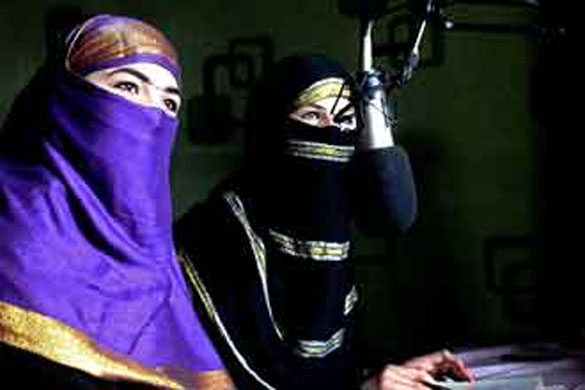 Photo: Afghan Women's Radio Returns after Taliban Attack
----------
• Afghan Women's Radio Returns after Taliban Attack
• Pakistan Ulema Council Chairman Comes out In Support Of Women's Protection Bill
• Turkish Court Ruling Supports Women's Right for Effective Remedy in Sexual Assault Cases
• Provinces Modelling Pro-Women Bills on 'Failed' Federal Law in Pakistan
• Arab Women's Day Google Doodle Video: #Onedayiwill
• 30% of Israeli Arab Women Fear Attack by Family Member
• Syrian Women Must Join In Political Process: UN
• Women under the Spotlight in the UAE
• UK: Muslim Women Face Job Barriers
• Ayaan Hirsi Ali: America's Greatest 'Weakness' Against Radical Islamic Terrorism Is Political Correctness
Compiled by New Age Islam News Bureau
URL: https://newageislam.com/islam,-women-and-feminism/new-age-islam-news-bureau/egyptian-lawmakers-want-to-ban-muslim-women-from-covering-their-faces/d/106584
---------
Egyptian Lawmakers Want to Ban Muslim Women from Covering Their Faces
BY Lily Kuo: 08 March 2016
Egyptian lawmakers are pushing for a ban on the Niqab, a veil worn by women that covers most of one's face, in what has become a fight over personal liberties and the government's attempt to control religion in Egyptian society.
The pro-government Egypt Support Coalition, a group of lawmakers within parliament, told local media that it is drafting a bill to present to parliament that bars Muslim women from wearing the veil in public places or in state institutions. "We seek to spread moderate Islam," Amna Nuseir, a member of the group told Gulf News. "The Niqab is not an Islamic duty."
The Niqab, a symbol of rising Islamic conservatism to some, has been a source of tension for years. Authorities ruled that American University's satellite campus in Cairo could not ban women from wearing the veil in 2007. But in 2009, Egypt's oldest university, al-Azhar, banned women from wearing the Niqab in classrooms and dormitories. Other universities prohibited women from wearing the veil during exams on the grounds that it could facilitate cheating.
A recent ban on the Niqab at Cairo University was expanded this month to include female staff at the school's teaching hospitals and medical departments. In October, university officials said female teachers were not allowed to wear the veil while lecturing. Upscale venues in Cairo have barred women wearing the Niqab from entering on security grounds, claiming that it obscures one's identity.
France, and more recently Chad, as well as other countries have also banned the face-covering veil.
Critics say recent measures against the Niqab in Egypt are part of President Abdel Fattah el-Sisi's crackdown on potential supporters of the Islamist group, the Muslim Brotherhood, which was ousted when el-Sisi replaced former president Mohamed Morsi in 2013. (El-Sisi has positioned himself as a secular leader, in contrast to the Muslim Brotherhood-backed Morsi.)
Moves against the Niqab may also be part of the government's campaign to influence how Islam is practiced in the country. Last year, El-Sisi called for Egypt's need for a "religious revolution" to prevent the spread of extremism.
"When Sisi talks about religious reformation, he wants religion to sound sensible and relevant," H.A. Hellyer, a fellow at the Atlantic Council in Washington, told Newsweek in February. "But he also wants it as much as possible to be a tool of the state." qz.com/633632/egyptian-lawmakers-want-to-ban-muslim-women-from-covering-their-faces/
qz.com/633632/egyptian-lawmakers-want-to-ban-muslim-women-from-covering-their-faces/
--------
Afghan Women's Radio Returns after Taliban Attack
March 8th, 2016
KABUL: Six months after fleeing a Taliban assault on her city, the owner of an Afghan radio station devoted to women's rights is back home and returning to the airwaves.
Zarghona Hassan is a lifelong activist and the founder of a radio station in Kunduz that until last year reached hundreds of thousands of listeners across northern Afghanistan, where the vast majority of women are illiterate and largely confined to their homes.
Radio Shaesta - Pashto for "beauty" - had sought to educate women about their rights and address taboo subjects like reproductive health and domestic violence.
A program called "Unwanted Traditions" took a critical look at centuries-old Afghan customs, like the forced marriage of young girls in order to resolve disputes.
"Introducing Elites" featured interviews with women who have succeeded in politics and activism, and those who have helped other women in their communities.
"We have had an enormous impact on the lives of women, raising their awareness of their rights, of what they can achieve, encouraging women to take part in politics, to vote and to put themselves forward for provincial council seats," Hassan said.
Programming also encouraged women to take an active role in ending the country's 15-year war by exhorting their brothers and sons to lay down arms, she said.
Radio is a powerful medium in Afghanistan, where the literacy rate is less than 40 per cent and much of the population lives in remote communities. Wind-up radios requiring no batteries are popular and widely accessible in communities where electricity is erratic or non-existent.
In northern Afghanistan, where just 15pc of women can read and write, radio is a rare portal to the outside world. The UN Development Program (UNDP) says Shaesta reached up to 800,000 people.
"I've met illiterate women weaving carpets with the radio on because they can listen and it doesn't interrupt their work," Hassan said. "I once met a farmer out in his field who had a radio hooked over the horn of one of his cows."
Hassan often invited religious scholars onto her programmes to give their seal of approval. But the Taliban view her and other women's rights activists as purveyors of Western influence who threaten the country's moral fabric.
She has received more death threats than she can count, one of which even specified an exact date. So when the insurgents stormed into Kunduz on Sep 28, she knew she had to run.
"The Taliban had a list of all the women who were working in the government, civil society, media, women's organisations," she said. "I knew they were going to come for me."
She hid in a relative's basement for two days before donning an all-covering burqa and fleeing the city.
The Taliban held Kunduz for three days, during which they looted businesses and hunted down activists and journalists.
Afghan forces backed by United States airstrikes pushed them out more than two weeks later, but by then the militants had looted Shaesta and burned it to the ground, along with another radio outlet run by Hassan that was oriented toward youth.
Now, six months later, she has returned to Kunduz, and Shaesta has come back on air in time for International Women's Day on March 8. She was able to rebuild the station with a $9,000 grant from the UNDP, which said it hopes to encourage a "courageous voice for change".
"Women's rights are a key lever toward improving the lives of the entire community," said United Nations Development Programme country director Douglas Keh.
"When women and girls have the same opportunities [as men and boys] in education, and the same economic opportunities, society as a whole benefits."
dawn.com/news/1244343/afghan-womens-radio-returns-after-taliban-attack
--------
Pakistan Ulema Council Chairman Comes out In Support Of Women's Protection Bill
March 8th, 2016
ISLAMABAD: As critics from religious groups and parties make headlines with their opposition to the Punjab Protection of Women against Violence Act 2016, one cleric has come forward to support the law instead.
Pakistan Ulema Council (PUC) chairperson Hafiz Mohammad Tahir Ashrafi on Monday said those elements that used to call for banning girls' education had no connection to Islam.
"These people are speaking in ignorance, but the women protection bill will assist in ending violence against women," Mr Ashrafi said. "There is no point in the criticism by some scholars that this bill will distort the family system of the country".
While speaking to a delegate of the PUC Women's Wing and women seminary students on Monday, the liberal cleric said that instead of criticising almost all the reformist laws, ulema and the country's religious leadership should come forward with progressive suggestions.
"I would call upon the clergy to play a responsible role for girls' education, to help eradicate other social ills like dowry and so on from the country," he said.
Mr Ashrafi said that since it was established, PUC has been making endeavours and raising its voice for women's rights.
PUC is also one of the few religious councils that did not protest the execution of Mumtaz Qadri.
On the day of the execution, Mr Ashrafi said the "execution of Mumtaz Qadri [was the] implementation on laws of the state", and it was the government's responsibility to ensure the protection of its citizens and make sure the laws of the state are implemented.
He said that civilised society would be turned into ashes if killing and warfare was allowed on the grounds of emotion and affiliations.
Addressing women seminary students, the PUC chairperson said: "Islam does not allow men to resort to violence against women, and the teaching of Islam witness to the fact that Islam orders punishments for men who resort to torture against their daughters, wives and women of their homes."
dawn.com/news/1244305
--------
Turkish Court Ruling Supports Women's Right for Effective Remedy in Sexual Assault Cases
Mesut Hasan Benli - ANKARA
Turkish court ruling supports women's right for effective remedy in sexual assault cases
A woman has the constitutional right to file a complaint against a person concerning sexual assault charges, no matter whether that person had been acquitted by the judiciary or not, a Turkish court has ruled.
"A person has the right and authority to ask for judicial action against persons who harm him/her, to ask for protection of his/her rights vis-à-vis these persons and, as a result, to ask to launch legal and punitive action against those who harmed him/her via both by appealing to judicial authorities and appealing to authorized officials. Freedom of the right for an effective remedy and personal rights may counter each other. One of them will have needed to value one of them above the other according to the specifics of each incident," an Ankara court said.
The ruling was in relation to the case of N.Ö., a dentist working at a hospital, who filed a complaint against M.Y., chief physician working at the same hospital, on charges of sexual assault. In a report, Hacettepe University confirmed that "the woman's mental health deteriorated." Still, the court acquitted M.Y., saying that there was no "clear and convincing evidence."
Afterwards, M.Y. took N.Ö. to the Ankara 27th Civil Court of First Instance asking for compensation because his reputation had been harmed.
The Ankara court eventually refused the appeal for compensation in recognition of everybody's "freedom of the right for an effective remedy."
"It is understood that as a result of the trial process, the acquittal ruling about the complainant was made because clear and convincing evidence could not be obtained. The acquittal decision is not because he didn't commit the crime, but is because of lack of evidence. Persons cannot use their right to complain to penalize other persons. In the related case, the defendant [N.Ö.] used her legal right to complain about an issue in which she believes she was righteous. The expressions in the complaint petition are not in violation of the complainant's [M.Y.] personal rights," the court said.
"The defendant's complaint is a complaint based on an indication in regards to the complainant within the context of the freedom of the right for an effective remedy which is covered in the constitution. Therefore, it is ruled to refuse the complainant's case," the court said.
hurriyetdailynews.com/turkish-court-ruling-supports-womens-right-for-effective-remedy-in-sexual-assault-cases.aspx?pageID=238&nID=96158&NewsCatID=339
--------
Provinces Modelling Pro-Women Bills on 'Failed' Federal Law in Pakistan
March 8th, 2016
ISLAMABAD: The existing and proposed provincial domestic violence laws are based on a federal bill that could not be passed, despite two separate attempts by parliament.
Khawar Mumtaz, former chairperson of the National Commission on the Status of Women told Dawn that the Domestic Violence (Prevention and Protection) Act 2012 was first passed by the National Assembly in August 2009. However, because it was not tabled in the Senate within the stipulated three-month period, the bill lapsed.
Objections were raised about the bill when it was first passed in the National Assembly by members of religious parties and it was presented again in the Senate by Nilofar Bakhtiar in 2012 as a private member's bill and unanimously approved in February. When the bill was tabled in the National Assembly again, it met with further objections.
However, Ms Mumtaz maintained that the 2012 act was one of the best and the most comprehensive bills drawn up in Pakistan.
Explaining the reasons for its failure, she said, "At the time, prominent Islamic scholars had said that if the bill became law, it would have led to the break-up of families. But if a woman wants to get out of a relationship, isn't that family already broken?"
She said that despite getting positive opinions from religious scholars regarding violence against women and how it was prohibited in Islam, members of the Council of Islamic Ideology (CII) – which recently rejected both Punjab and KP's draft laws – did not really want to listen. "I think for them it is not about Islam, it's about power," she concluded.
However, a CII official defended the council's actions, saying they did not support domestic violence.
"Women and children are not supposed to be beaten, that is settled. We only object to certain provisions, such as kicking a man out of his own house, which is against Sharia," he said, adding that shelters for women were also an un-Islamic practice.
Failed bill's imprint
The imprint of the failed federal bill is clearly visible on both the Balochistan and KP laws. Both laws can be activated by women, children as well as 'vulnerable persons' of either gender, who are defined as persons who are "vulnerable due to old age, mental or physical disability or for any other reason".
The definition of domestic violence in the federal act included physical, psychological, economic, verbal, emotional and sexual abuse. The Domestic Violence (Prevention and Protection) Act 2014 goes one step further, also including stalking in its definition of abuse.
The 2012 bill was a landmark piece of legislation, seeking to bring domestic violence into the public domain and envisioning the elimination of all forms of discrimination against women. It recognised domestic abuse as a criminal offence and extended its provisions, including emergency relief, to all individuals in domestic relationships.
Before this, emergency relief was not available to victims. Remedies were linked to court proceedings, during which time the victim was at the mercy of their abuser. This trend is reflected in the Balochistan law, which does not provide specific penalties for different forms of domestic violence. Penalties are only specified for the breach of a protection order, issued by a court.
Khyber Pakhtunkhwa's draft Domestic Violence (Prevention and Protection) Act 2015, however, does provide for emergency relief, as well as the creation of 'protection committees', as provided for under the failed federal law. These committees, which have also been emulated by Balochistan, were to include a medical doctor, a psychologist, a woman police officer and a protection officer, among others.
PTI KP MPA Arif Yousaf told Dawn his government had already established district resolution committees (DRC) in certain areas. These operate together with the jirga system and have powers under the Code of Criminal Procedure (CrPC).
But rights activist Qamar Naseem believes that the DRCs are simply a way to get women to resolve their problems through mediation and not go to court.
Criticising the draft KP bill, Mr Naseem said that it did not take traditional values, such as joint-family households, into account. "If a woman complains about her husband and he goes to jail, who is going to support her and how is she then going to live with his family when they know their son was sent to jail because of her," he asked.
He claimed that the bill called on victims to prove "intentional abuse", saying it was unfair and would land all the women who accused men under this law, in prison for levelling false accusations.
He was not hopeful about the prospects of the legislation either. "The bill will not pass the provincial assembly, especially until the JUI-F is there," he said, adding that after opposing the domestic violence bill recently passed by Punjab, there was no hope of the PTI passing a similar bill in KP.
dawn.com/news/1244308/provinces-modelling-pro-women-bills-on-failed-federal-law
--------
Arab Women's Day Google Doodle video: #OneDayIWill
March 08, 2016
Today, March 8, is International Women's Day, with the 2016 campaign theme being 'Pledge For Parity'.
To mark this year's International Women's Day, Google says it collaborated with 25 Egyptian women for a special 'Doodle' to help them voice their hopes and dreams.
This special video which was shot in Cairo and 12 other iconic cities around the world, features Egyptian celebrity Donia Samir Ghanem who appears alongside international symbols of successful women such as Nobel laureate Malala Yousafzai and celebrated scientist Jane Goodall.
They all share their hopes by completing the sentence: "One day I will…"
Google says that, over the years, Doodles have commemorated the achievements of women in science, civil rights, journalism, sports, arts, technology and beyond.
"It's always an honour to pay tribute to women who have changed the course of history, sometimes in the face of seemingly insurmountable obstacles. But for this year's International Women's Day, we wanted to celebrate the Doodle-worthy women of the future," it says.
Internationally, Google visited 13 countries where it spoke with 337 women and girls and asked them to complete the sentence, "One day I will…"
From toddlers to grandmothers, the women in San Francisco, Rio de Janeiro, Mexico City, Lagos, Moscow, Cairo, Berlin, London, Paris, Jakarta, Bangkok, New Delhi and Tokyo all sparkled with personality, says Google.
"Each new city brought more "One day I will"s, more signature dance moves, more hugs, more high-fives. The aspirations we heard were as varied as the women and girls who shared them, from the very personal to the very global and everything in between. When it was done, we found that our own "One day I will…"s had grown bigger and richer, inspired by the women we had met," the search engine says.
Commenting on her participation in the special doodle by Google, Donia Samir Ghanem said: "I am happy to take part in such an important initiative such as Google's campaign for International Women's Day as it is an expression of the hopes and dreams of women everywhere".
Donia, whose dream was to see every woman and girl a "star in her field," is the only Middle Eastern celebrity featured in the video.
Merna El Bari, a 22-year-old Egyptian university student also featured in the video said: "The doodle idea in itself is superbly creative and shares an optimistic outlook from the heart of the Middle East with the world. I was genuinely happy to be there".
"One day I will be the first female president of Egypt," Merna says in the video.
Google also produced an extension of the global doodle video shot entirely in Cairo that takes a deeper look at the women featured in the video. The video features 25 Egyptian women who stand before the camera with the Pyramids of Giza behind them as they declare what they want to be one day. Users will be able to see this video once they land on a landing page developed for International Women's Day.
"Cairo, along with several other cities around the world, were selected to represent a diverse set of women from different countries, all with different dreams, ethnicities, ages, languages, walks of life. We wanted to feature as many women as possible, so we created special city edits to share the dreams of as many women as possible!" Zain Masri, Product Marketing Manager for the Middle East and North Africa, said.
"Through our doodles we try to get closer to our users by highlighting key events close to their hearts. Over the past few years, we celebrated the achievements of more and more women in Doodles — across, science, activism, journalism, sports, arts, technology and many other fields," Zain added.
Google says it has celebrated the lasting impact of key Egyptian female figures through special doodles throughout the years such as the ones developed for Umm Kulthum, Sohair El-Qalamawy, and Tahia Halim.
emirates247.com/news/arab-women-s-day-google-doodle-video-onedayiwill-2016-03-08-1.623574
--------
30% of Israeli Arab Women Fear Attack by Family Member
March 8th, 2016
A full 30% of Israeli Arab women are fearful of being attacked by a family member, or of a family member attacking their children, according to a survey to be presented on Tuesday to the Knesset Committee on the Status of Women and Gender Equality on the occasion of International Women's Day.
The survey was conducted by Shelly Mizrahi-Simon of the Knesset Research and Information Centre, which examined the sense of personal safety in Israel, alongside additional aspects such as employment, health, and economic security. The survey included 1,028 respondents 18 and older, half of them women.
The results reveal significant gaps between the sense of personal safety of Arab women and the rest of the women in Israel. About 30% of Arab women shared their fear that a male or female member of their family physically hurt them, their children or another family member — only 6% of Israeli women overall experience these fears.
20% of Arab women are afraid of being assaulted physically by a family member — compared with 4% of Israeli women overall. 19% of Arab women fear being sexually assaulted by a family member, as opposed to 5% of Israeli women overall.
More than half the respondents, 59% of women and 54% of men, expressed fear of offensive behaviour directed at them from state institutions. 74% of Arab women shared this fear, 51% of ultra-Orthodox women, and 49% women from the Former Soviet Union.
29% of women and 24% of men do not feel safe approaching police for help.
jewishpress.com/news/knesset-survey-30-of-arab-women-fear-attack-by-family-member/2016/03/08/
--------
Syrian Women Must Join In Political Process: UN
March 8, 2016
With the UN, this year's theme for the day is "Planet 50-50 by 2030: Step It Up for Gender Equality."
Women must be part of the political process in Syria, said UN special envoy Staffan de Mistura in his message on the International Women's Day.
Staffan de Mistura said this after meeting many Syrian women and seeing how they have been affected by Syria's five-year war, which broke out in March 2011, Xinhua news agency quoted Farhan Haq, the UN deputy spokesman, as saying.
The International Women's Day is observed worldwide on March 8 every year.
With the UN, this year's theme for the day is "Planet 50-50 by 2030: Step It Up for Gender Equality."
The UN observation is going to reflect how to accelerate the Sustainable Development Agenda and will equally focus on existing commitments on gender equality.
Mothers and grandmothers have continued with courage and determination to keep the households going on, in spite of all the violence, and they have refused to give up hope, said de Mistura.
"De Mistura said that Syrian women have, and must have, the right to be a part of the political process and the negotiations that the UN is organising," Haq said.
The delegations coming both from the opposition and from the Syrian government needs to include women and allow them to speak, said de Mistura, stressing that women of Syria deserve to have their voices heard.
The UN-led talks seeking to broker a political solution between Syrian warring factions, namely the government led by Syrian President Bashar al-Assad and opposition forces, came to a standstill on February 3 after the parties failed to see eye to eye on a number of issues.
The UN-led talks are planned to resume on March 9.
More than 250,000 people have been killed in Syria since the outbreak of the crisis five years ago.
According to UN data, 110,000 people in besieged areas in Syria have been provided with vital humanitarian aid since talks were put on hold last month.
The humanitarian agencies have monitored that there has been relative calm for almost two weeks under the Cessation of Hostilities agreement, which has offered hope to the 6.5 million people displaced in Syria and more than 4.5 million people who fled the country.
khaleejtimes.com/region/mena/syrian-women-must-join-in-political-process-un
--------
Women under the spotlight in the UAE
March 8, 2016
Women in leadership are no longer a taboo, and the UAE is constantly working to dispel some of the myths many have about women in the Arab world.
Globally, women continue to contribute to social, economic, cultural and political achievement. Though progress towards gender parity has slowed in some parts of the world, the Arab world - in particular the UAE - has been championing the role of women more so than ever in the past few years.
Women in leadership are no longer a taboo, and the country is constantly working to dispel some of the myths many have about women in the Arab world. With much reason to celebrate on International Women's Day, Kelly Clarke talks to some of the region's most inspiring women who have made a difference in their community.
Labour of Love
Eleven years ago, mother of four, Saher Shaikh, landed in Dubai to start a new life with her young family. Mixing with all walks of life, she felt an overawing need to reach out to the UAE's hard working labourers.
Just one year after landing, she founded Adopt-A-Camp - a charity dedicated to enhancing the lives of labourers in the UAE.
Now ten years on, it currently works with 53 camps, and has more than 57,000 men under its wing.
On her first visit to one of the camps, Shaikh said she was taken aback by the kind nature of her hosts. But that same evening when she went back to her "perfect life and house", she couldn't stop thinking about the men who were living a life the complete opposite of her.
After several visits to different camps, Shaikh asked the men what they wanted most and many said they had a wish to "speak fluent English". Soon after, Shaikh set up Adopt-a-Camp to provide them with free English classes, free vocational classes, emotional counseling, hygiene workshops, social outings.
"These men were willing to study on the concrete floors of their accommodation in 50 degree heat," she said.
Shaikh's small gesture of kindness now sees countless volunteers working for free, every Friday, during the 12-week educational programmes.
In 2015, she created the Saher-IBM Scholarship Fund with the $10,000 she was awarded after winning the Kraft-Philadelphia 'Most Inspiring Woman in the Gulf' award.Since then 21 labourers have graduated from the programme, organised in partnership with the AIA society and professors of American University of Dubai.
Overcoming prejudice
At 18, Al Taweel was a young mother with a dream to work in media. In her words: "I started from zero and got to where I am today with hard work."
Originally from Jordan, she said she faced "a lot of judgement from society and family members" as they did not want her to become a recognised media personality.
"As an Arab woman back then it was not the norm. But I challenged them and I began working for a very small wage."
Years later, after overcoming the initial battle of prejudice, she was left facing another big battle.
"I got breast cancer. Then three years later I was diagnosed with lung cancer which spread to practically every organ except my brain, kidneys and cervix."
But the diagnoses didn't gain her any sympathy, instead it just reignited the earlier criticism she received for wanting to go out and work.
"People told me, 'no one will want to employ you on screen because you have had cancer. You will be rejected'. But I ignored them and I got work."
And it was that wall of doubt from others which made her stronger.
Al Taweel went on to become a successful TV presenter in Saudi Arabia before moving to Dubai to present a show on MBC, all while juggling the role of Ambassador for the 10KSA programme, which focuses on breast cancer awareness.
Now the Campaign Ambassador for 'Philadelphia's Creativity for a Cause' initiative, Al Taweel wants her story to inspire others.
"I want the campaign to represent the battle of working your way up from the bottom to the top. It acts as a great source of empowerment for women," she said.
Be creative to inspire community
Visual artist, Hadeel Al Hussain, wants her creativity to empower women - especially women in the Arab world who still feel oppressed by their society.
""I think my story will encourage others to not let archaic mindsets stop them in their tracks."
During her life, as a woman living in Saudi Arabia, Al Hussain tells Khaleej Times she has faced "a lot of problems".
"I felt like because I was a woman I was limited in what I could do. In a way I had to remain reserved, because if I didn't I would have been judged."
But after turning her hobby of painting and drawing into a career, Al Hussain now exhibits her work all over the world and is living proof that fear of others' opinion will only limit how successful you can be.
"I live in Denmark now but I will never forget my roots and I will never stop fighting for the empowerment of Arab women. It's important to never stop fighting for what you deserve."
Speaking on International Women's Day, Al Hussain said she thinks every day should be "women's day" and though she has fought for what she wants in life, she still faces some challenges.
"Even now I don't always feel free. I have to protect myself and watch what I say sometimes but I want my creativity to help others be creative and make a different in their community."
Talking about her passion for drawing, Al Hussain said: "I have been passionate about art for as long as I can remember. My work revolves around portrait and abstract art. I am always on the run but I make sure my sketchbook is close at hand at all times."
khaleejtimes.com/nation/general/women-under-the-spotlight-in-the-uae
--------
UK: Muslim Women Face Job Barriers
March 8, 2016
As International Women's Day falls, study claims Muslim women in the UK are six times more likely to be unemployed
Research about the U.K. has claimed that Muslim women face serious disadvantages in the British labor market.
Anadolu Agency spoke to Nabil Khattab, an associate professor at the Qatar-based Doha Institute for Graduate Studies, ahead on International Women's Day on Friday.
Prof. Khattab said that British Muslim women were six times more likely to be unemployed compared to their non-Muslim white British counter parts.
"Muslim women's barriers in the labor market are complex. It consists of religious, ethnic, physical but also gender penalties.
"They are not only Muslim but they are also women who compete with men which makes them less advantaged than even Muslim men," Khattab told Anadolu Agency.
As a result of his studies on performance and patterns of participation in the U.K. labor market, Khattab found that the percentage of Muslim women working in professional and managerial jobs varies between 8.3 to 23 percent according to their different ethnic background.
This figure rises to 32 percent among mainstream white non-Muslim women.
"Even white British Muslim women, who are mostly converts … our recent study has shown that, they face penalties. Convergence is perceived as a shift from being one hundred percent white to less-white women," Khattab said.
According to his findings, first-generation Bangladeshi Muslim women are six times more likely to be unemployed than non-Muslim British white women with the same background.
Khattab said that the physical appearance or "cultural visibility" in public spaces was a significant factor in facing penalties.
He also said that not only the appearance but also factors that guide Muslim women to look for certain jobs, played a role in this situation.
"For example they do not prefer working in places where alcohol is served", he said adding that they are competing for a lower number of employment opportunities.
"While they are competing they face stereotyping, Islamophobia and perceptions of employers who have prejudices towards Muslims and women," he added.
Khattab has been studying Muslims in the U.K labor market for the past six years.
The research data in Dr. Khattab's studies was taken from labor force data from years between 2002 and 2013.
The study focused on samples of more than 245,000 individuals, among which more than 8,000 were Muslim women.
worldbulletin.net/europe/170239/uk-muslim-women-face-job-barriers
--------
Ayaan Hirsi Ali: America's Greatest 'Weakness' Against Radical Islamic Terrorism Is Political Correctness
March 7, 2016
Somali-born Ayaan Hirsi Ali, a former Dutch parliamentarian, gestures as she speaks at the European Parliament in Brussels, Belgium, Feb. 14, 2008.
Former Muslim and best-selling author Ayaan Hirsi Ali argued last week that political correctness in the West is making it harder for the United States and other Western nations to combat the rise of radical Islamic terrorism and its political philosophy.
The 46-year-old Ali, who grew up in a Muslim family in Somalia, suffered female genital mutilation and eventually fled to Holland after her father tried to force her to marry a distant cousin, participated in a panel discussion last Friday at the Conservative Political Action Conference in Maryland.
Ali, who is an atheist after renouncing her Muslim faith in 2002 and has authored four books critical of Islam, warned that concerned citizens in the West must not be afraid to speak out and tell the truth about radical jihadis whom she claims are following the Islamic political doctrine established by the Islamic prophet Muhammad in Medina.
While millions of Muslims across the world are moderate and do not follow extremist calls for jihad against nonbelievers, many in today's politically correct Western society are quick to label anyone who associates terrorist groups like the Islamic State, Boko Haram or al-Qaeda with the religion of Islam as "Islamophobes."
"To discuss Islam as a set of ideas does not make you a racist," Ali stressed. "It doesn't make you Islamophobic."
While the Obama administration has been reluctant to associate religion with the inspirations of Islamic terrorist groups, Ali argues that leaders who refuse to acknowledge the religious inspirations behind Islamic terrorist groups are only insulting the intelligence of their constituency.
"I grew up as a Muslim in a Muslim household and anytime anyone of our leaders tells me on television or in person that Islam is a religion of peace, my intelligence is insulted," Ali, who carries dual Dutch and American citizenship, said. "Islam is a religion but it is also a political doctrine, and you will not be able to name the threat precisely unless you understand exactly what Islam is."
Ali explained that when the Muhammad went to Medina in 622, he created a "political philosophy" that "is the antithesis of the idea of America" and "American political theory and practice."
"Millions and millions and millions of Muslims are peace-loving but those Muslims who invoke the prophet Muhammad in his legacy in Medina and in his creeds, those are a threat to us on a personal level," Ali stated. "They are not only lone wolves, they are state actors organized in the organization of Islamic cooperation."
"If we the people do not educate ourselves on Muhammad in Medina then we will not get that Medina agenda," Ali added. "Whatever happens to us and whoever commander-in-chief becomes it is our fault."
Jim Hanson, executive vice president for the Center for Security Policy, weighed in, saying that political correctness is radical extremists' "biggest tool." Hanson brought up how a British politician was arrested in 2014 after he recited a passage that was critical of radical Islam from Winston Churchill's 1899 book The River War.
"That man is a perfect example of what the other team wants to do to us," Hanson said. "They will suppress speech critical of Islam because if you can't talk about what they are doing, they can get away with it. The thing to do is talk about it. … Don't be scared by what the other folks call you. You are not a hater, you are not an Islamophobe. You are a freedom-loving American."
Ali agreed with Hanson's assessment that radical extremist groups are using political correctness in the West to their advantage.
"It is true that political correctness is literally eroding our systems from within and killing it. Radical Islamists are, obviously, exploiting that," Ali added. "They have defined us as the enemy and we haven't defined them as the enemy. They are exploiting our weaknesses and political correctness is our weakness."
christianpost.com/news/ayaan-hirsi-ali-radical-islamic-terrorism-cpac-america-weakness-against-jihadists-political-correctness-158996/#TFdxhjBiqJk90YCq.99
URL: https://newageislam.com/islam,-women-and-feminism/new-age-islam-news-bureau/egyptian-lawmakers-want-to-ban-muslim-women-from-covering-their-faces/d/106584
New Age Islam, Islam Online, Islamic Website, African Muslim News, Arab World News, South Asia News, Indian Muslim News, World Muslim News, Womens in Islam, Islamic Feminism, Arab Women, Womens In Arab, Islamphobia in America, Muslim Women in West, Islam Women and Feminism