New Age Islam News Bureau
3 Sept 2019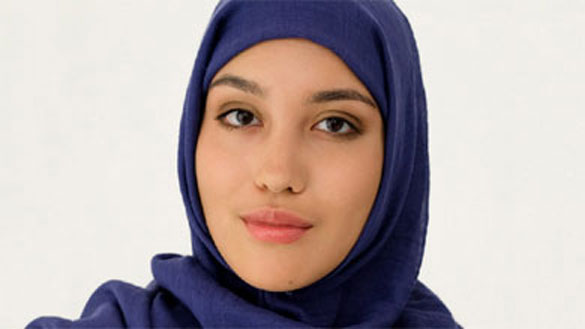 One of Russia's 200 most successful private companies has become the first major brand to feature a model wearing a hijab, an Islamic headscarf, in one of its advertisements.
-----
• First Saudi Woman Appointed As Traffic Collision Inspector with Najm
• First Major Russian Brand to Feature Hijab-Wearing Model, Titled 'Just Be Yourself'
• Aasia Bibi: Pakistan Is My Country, Pakistan Is My Homeland, I Love My Country, I Love My Soil
• Two Muslim Women Brutally Attacked At London Tube Station
• Muslim Woman's Niqab Is ripped off as she's 'Beaten in London Street In front Of Her Horrified Children'
• Pune: American Woman Abuses, Assaults Doctor Wearing Burqa, Booked
• 249,000 Kuwaiti Women Married To Foreigners Until 2018
• Islamophobic Incidents Rose 375% After Boris Johnson Compared Muslim Women To 'Letterboxes', Figures Show
Compiled by New Age Islam News Bureau
URL: https://www.newageislam.com/islam-women-feminism/egyptian-girl-announces-freezing-her/d/119641
--------
Egyptian Girl Announces Freezing Her Eggs as She Wants To Get Married After the Age of 30
By: Samar Samir
Sep. 2, 2019
CAIRO – 2 September 2019: Breaking social taboos and Egyptian conservative norms, an Egyptian woman announced on her Facebook account that she had frozen her eggs 2 years ago.
"I decided to announce publicly that I had frozen my eggs. YES, I had frozen my eggs […] when I asked the doctor to make this surgery, he was shocked, telling me 'I'd never heard this request from a girl in Egypt.'" said Reem Mehanna posted on her Facebook account.
Mehanna added that she underwent an abdominal ova freezing surgery and her doctor made a laparoscopy to get out her eggs and put them in a freezing environment, saying "the frozen eggs stay for 20 or 30 years without expiring."
"I froze my eggs for a simple reason that I want to get married after the age of 30 to build my career and [I see] this is appropriate for me. I cannot guarantee when exactly I will get married [...]; I might meet my future husband at 46 years old," she added.
Mehanna added that she found that the best way to preserve her chance of having a baby is to freeze her eggs.
"I totally reject the idea of getting married to any man to [only] have a child," she continued, giving a piece of advice to women with cancer to freeze their eggs before taking chemotherapy, which is considered one of the main reasons affecting women's fertility.
Controversial issue
The egg freezing process is one of the social taboos in Egypt, as some girls voiced their concerns of taking such a step. A. D. told Egypt Today that she thought many times of freezing her eggs but was afraid of her parents' reaction, praising Mehanna's courage to announce her experience with egg freezing.
"Unfortunately, in my point of view, there areno appropriate men [for marriage-responsibilities] but at the same time girls need to be mothers one day. So I see this matter would encourage girls to wait [without fear] until they find a suitable husband," she added.
"As a mother, I cannot accept the idea that my daughter has a surgery to freeze her eggs. I'm afraid that she might be harmed; also, our society will not accept such concept even if it is religiously allowed," said Manal Abdel-Moneim, a 42-year-old mother of four daughters and a boy.
Meanwhile, most men Egypt Today interviewed have no problem with the process provided that it is not prohibited religiously. "As long as there is no religious impediment, [why not]. For me, the arbiter is the religion," L. Aly told Egypt Today.
'Permissible...But'
Religiously, Egypt's Dar al-Iftaa, the Islamic body concerned with issuing Fatwas [Islamic decisions], stated t on its official website that the egg-freezing process is not prohibited, saying "egg-freezing could be a complementary process of vitro fertilization, which was allowed by different schools of Islamic jurisprudence for the married couples."
Dar al-Iftaa added that there are four rules that regulate egg-freezing. First, the frozen eggs should be used only in marriage and should be fertilized by the husband's sperm. In case eggs were fertilized after divorce or death, it is religiously forbidden.
Second, the eggs should be kept in highly-safe places and under strict control to prevent intentional or inadvertent confusion with other frozen eggs of different women.
Third, the fertilized egg should not be put inside a different woman's womb. Meanwhile, the fourth condition provides that the freezing process should not negatively affect the egg to prevent birth defects.
Scientifically, Women who pass the age of 35 or took chemotherapy can undergo egg-freezing surgery, gynaecologist Moahmed al-Sharqawy told Mr. Citizen talk show on Al Hadath Alyoum channel on Sunday.
He added that Egypt has no banks for freezing sperm or eggs, but they can be reserved in In Vitro Fertilization (IVF) centers.
Egg-freezing is not a burning issue in Egypt only, but also in the United Arab Emirates. In April 2019, the UAE drew up a draft law to allow freezing eggs, sperms or embryos in a way to prevent surrogacy or egg and sperm donation. Lebanon is another Arab country where egg-freezing is being conducted.
https://www.egypttoday.com/Article/6/74429/Breaking-social-taboos-Egyptian-girl-announces-freezing-her-eggs
--------
First Saudi Woman Appointed As Traffic Collision Inspector with Najm
September 02, 2019
RIYADH: The first female traffic collision inspector started in her new job at Najm for Insurance Services recently, working within an extensive team of inspectors at Najm in what extends the role of women beyond female universities.
Starting on Tuesday, Aug. 27, 2019, the inspector was assigned to traffic collisions occurring on Riyadh's major roads, including Khalid bin Al Waleed Road and other areas surrounding King Khalid International Airport.
On her first day she successfully monitored three accidents during her first day on the job.
This step confirms Najm's commitment towards the empowerment of women and gives them opportunities to serve within its workforce in roles related to managing and monitoring traffic accidents said the organization's CEO Mohammad Al-Suliman.
Suliman said the appointment also highlighted the confidence Najm has in its female employees who he described as highly qualified and skilled.
He said Najm remained dedicated to the empowerment of women in line with Saudi Vision 2030, which states the major role women play in the Kingdom's economic and social advancement.
Najm for Insurance Services has previously enabled women to work as accident inspectors, placing a set of requirements that include language proficiency, clear criminal records, and flexibility to work during day or night shifts.
In 2018, Najm completed an intensive training program for its first batch of female inspectors, who will take on roles including inspecting traffic collisions, writing reports, and verifying documents of parties involved.
https://www.arabnews.com/node/1548616/saudi-arabia
--------
First Major Russian Brand to Feature Hijab-Wearing Model, Titled 'Just Be Yourself'
September 3, 2019
One of Russia's 200 most successful private companies has become the first major brand to feature a model wearing a hijab, an Islamic headscarf, in one of its advertisements.
Russia has had a conflicted relationship with allowing Muslim girls and women to wear headscarves. In 2017, a village school in Russia's predominantly Muslim republic of Mordovia banned its students and teachers from wearing headscarves, leading to a national scandal.
The Gloria Jeans retailer has featured a model in a hijab in its recent ad campaign titled "Just be yourself."
"We are always happy to see you regardless of your age, gender, skin color, religion or worldview," the company captioned its Instagram post with the model's image last week.
Gloria Jeans founder Vladimir Melnikov told the RBC news website that the company "wanted to make it clear that we make clothing for everyone."
Gloria Jeans' earnings have more than quadrupled in five years, totaling 40.8 billion rubles ($611 million) last year. The retailer ranks 200th out of the 200 largest private companies in Russia.
Many Muslim women cover their heads in public with the hijab as a sign of modesty, although some critics see it as a sign of female oppression.
Hijabs have in recent years become more visible in Western advertising campaigns for popular retailers like H&M and Gap. Major fashion brands from American Eagle to Nike are creating hijabs and hijab-wearing models have started gracing Western catwalks and the covers of top fashion magazines.
An estimated 20 million Muslims make up Russia's second-largest religious minority, comprising about 14% of the overall population.
https://www.themoscowtimes.com/2019/09/03/jeans-retailer-becomes-first-major-russian-brand-to-feature-hijab-wearing-model-a67114
--------
Aasia Bibi: Pakistan Is My Country, Pakistan Is My Homeland, I Love My Country, I Love My Soil
September 3, 2019
Aasia Bibi, the Christian woman charged with blasphemy and later acquited by Pakistan's Supreme Court (SC) last year has expressed her gratitude to "those who helped here achieve freedom."
In her first interview since her acquittal, Aasia told the Sunday Telegraph that she did not believe that she would be granted freedom.
"Sometimes I was so disappointed and losing courage I used to wonder whether I was coming out of jail or not, what would happen next, whether I would remain here all my life," she said.
"When my daughters visited me in jail, I never cried in front of them, but when they went after meeting me in jail, I used to cry alone filled with pain and grief. I used to think about them all the time, how they are living, " she added.
In the interview, Aasia also raised concerns over the misuse of the blasphemy laws which she believes continue to subject hapless and innocent people of minority communities to death and imprisonment.
Aasia had been arrested for committing blasphemy in November 2009. The charges were reported to have been trumped up and motivated by a feud between Asia with her neighbour, Noreen.
Asia's case gained international attention when then-governor of Punjab Salman Taseer questioned the validity of the judgment against her, thereby sparking a debate over the blasphemy laws which were widely said to have been misused against Pakistan's minorities.
The case also invited backlash from Pakistan's far-right extremists, which led to the assassinations of Governor Taseer and Federal Minister Shahbaz Bhatti.
In January 2019 she was acquitted by a three-member special bench headed by former chief justice Saqib Nisar, nearly 10 years after her arrest. Her acquittal led to widespread protests in the country while several major cities witnessed lockdown and businesses were brought to a halt by Islamic extremists led by the Tehreek-Labaik Pakistan (TLP).
Asia spent nearly eight years on death row and a further seven months in protective custody amid fears of attacks by religious extremists. After which she was allowed to go to Canada where she along with her family were granted asylum.
Her freedom was secured through the efforts of the European Union's special envoy on religious freedom, Jan Figel who held talks in Brussels with Pakistan's Attorney General Anwar Khan and Human Rights Minister Shireen Mazari which paved the way for Aasia's exit from the country.
"My heart was broken when I left that way without meeting my family. Pakistan is my country, Pakistan is my homeland, I love my country, I love my soil," she said.
Jan Figel describes Aasia bibi, "an admirably brave woman and loving mother" whose case according to him can lead to the review of the controversial and "outdated of blasphemy legislation in Pakistan."
https://www.pakistantoday.com.pk/2019/09/02/aasia-bibi-speaks-about-days-spent-on-death-row/
--------
Two Muslim Women Brutally Attacked At London Tube Station
September 3, 2019
Police are appealing for information after a racially-motivated assault in which two women wearing hijabs were brutally attacked at a London Tube station.
Two women, aged in their 60s and 30s, were reported to have been verbally abused for wearing hijabs at North Ealing station. They were then attacked.
Both victims were taken to hospital, with the woman in her 60s suffering possible broken ribs. The younger woman suffered a black eye, bruising and internal bleeding.
British Transport Police released an image of a female suspect on Friday. The incident happened at 5.30pm on August 23.
Anyone who knows the suspect is being asked to contact the police by texting 61016 or by calling 0800 40 50 40 and quoting reference number 442 of 23/08/19. Alternatively, call Crimestoppers anonymously on 0800 555 11.
https://5pillarsuk.com/2019/09/02/two-muslim-women-brutally-attacked-at-london-tube-station/
--------
Muslim Woman's Niqab Is ripped off as she's 'Beaten in London Street In front Of Her Horrified Children'
Hana Carter
September 2, 2019
A MUSLIM woman had her Niqab ripped off and was repeatedly punched in the face by a female thug in front of her children on Sunday.
Worshippers at the Masjid-E-Umer mosque in Walthamstow, London, called the assault a "racist and Islamophobic".
The incident happened on Sunday on Edison Close as the woman walked with her young children, who witnessed the brutal attack.
Outraged, the north east London mosque wrote on their Facebook page: "This is a racist and Islamaphobic attack as the woman was shouting: 'go back to your country', 'Why are you wearing this'.
"We must make sure that that our Hijabi, Niqabi, women can safely walk to the station, please, young people, organise a good presence around the Walthamstow Central area.
'GO BACK TO YOUR COUNTRY'
"No other woman must be attacked in this way."
Waltham Forest Police tweeted: "Police are aware of an incident in Walthamstow on Sunday where a lady was assaulted and her headscarf pulled off.
"The female believed responsible has been arrested & police (& health services) are investigating. Additional patrols are in place."
MP Stella Creasy commented on Masjid-E-Umer's post: "I am horrified to hear this and would like to help as the police should be tackling this matter and ensuring all local residents safe - please can someone contact my office to discuss?
"Please also let the victim of this hate crime know I am there to assist her."
Police have been contacted for an official statement.
https://www.thesun.co.uk/news/9850054/muslim-woman-Niqab-london-beaten-children/
--------
Pune: American Woman Abuses, Assaults Doctor Wearing Burqa, Booked
September 3, 2019
A non-cognisable offence was registered against a 43-year-old American woman, who allegedly abused and assaulted a burqa-clad woman here on Sunday, police said on Monday.
The American woman is mentally disturbed and undergoing treatment, an official said.
She was booked after the victim, a 27-year-old doctor, registered a complaint against her.
According to the police, the incident took place when the two women were shopping at the Clover Centre market in the Pune cantonment area.
It all started when the American woman asked the victim, who was donning a burqa, whether she was a Muslim, they said.
"When the complainant replied in the affirmative, the American woman abused her and started assaulting her," said the official from the Cantonment police station.
"We have informed the US embassy about the incident," he added.
He said the US-based woman is prone to engaging in abusive behaviour.
"When detained, she even abused our policemen. When US embassy people spoke to her on the phone, she even abused them when they asked her about her home state," he said.
The officials said they have come to know that she lives with a Muslim man in Kondhwa.
"We have registered a non-cognisable offence under sections 323 (punishment for voluntarily causing hurt ) and 504 (intentional insult with intent to provoke breach of the peace) of the IPC," he said.
Non-cognisable offence refers to an offence in which the police has no authority to apprehend a person for crime on their own.
Under this law, the police require a warrant to arrest an accused and a court's prior approval to begin investigation.
https://www.indiatoday.in/india/story/pune-american-woman-abuses-assaults-doctor-wearing-burqa-booked-1594724-2019-09-03
--------
249,000 Kuwaiti Women Married To Foreigners Until 2018
September 3, 2019
KUWAIT CITY, Sept 2: Official statistics show Kuwaiti women married to foreigners until last December was 249,000 compared to 433,000 Kuwaiti men married to foreign women, reports Al-Qabas daily. According to the statistics prepared by the Public Authority for Civil Information (PACI), of 2.2 million, including 1.6 million expatriates, 1.5 million people are unmarried, 94,806 marriages have ended in divorce and 38,881 women have become widows.
The statistics revealed 753,588 women got married in Kuwait, including 487,100 Arab, 15,054 Asian, 301 African, 771 European, 1,440 North American, 179 South American and 150 Australian.
As for the number of male Kuwaitis and their social status, the statistics pointed out the number for married Kuwaitis was 433,000; 43,190 marriages have ended in divorce and 27,440 are widows. It is noteworthy to mention that according to the statistics that 7.7% or 19,399 Kuwaiti women married non-Kuwaitis – 17,993 to Arabs. Four thousand and eightyfive of these couples have no children while 292 couples have more than 9 children each.
There are cases of 735 Kuwaiti women marrying Asian men, and 128 of these couples have no children. There were cases Kuwaiti women marrying other nationalities – 334 marrying North Americans, 57 South Americans, 36 Australians and 33 marrying Africans.
https://www.arabtimesonline.com/news/249000-kuwaiti-women-married-to-foreigners-until-2018/
--------
Islamophobic Incidents Rose 375% After Boris Johnson Compared Muslim Women To 'Letterboxes', Figures Show
September 2, 2019
Islamophobic incidents rose by 375 per cent in the week after Boris Johnson compared veiled Muslim women to "letterboxes", research has shown.
Monitoring group Tell Mama said the Daily Telegraph column written by the now-prime minister was followed by the biggest spike in anti-Muslim hatred in 2018, as his words were repeated by racists abusing Muslims on the street and online.
In the three weeks after the article was published last August, 42 per cent of offline Islamophobic incidents reported "directly referenced Boris Johnson and/or the language used in his column", a report said.
Many were directed at visibly Muslim women who wore the Niqab or other veils, who were called "letterboxes" and "ninjas".
Online abuse reported to Tell Mama repeated the same words or incorporated them into pictures and memes that were sent to Muslims online.
"Mr Johnson faced no punitive action from the Conservative Party and many high-profile figures offered their support for his right to freely speak about Islamic clothing," Tell Mama said.
"Some will feel emboldened by the lack of sufficient castigation from the Conservative Party towards Mr Johnson and will use it as a pretext to act on their underlying prejudices and racist views.
"The consequent rise in anti-Muslim attacks, focusing on the same victims and using the same language, shows us that those with anti-Muslim sentiments feel confident and vindicated."
Tell Mama's research shows Muslim women already endure the highest levels of Islamophobic hatred and make up the majority of victims, while most known perpetrators are white men.
The organisation's annual report, entitled Normalising Hate, said some politicians had defended Mr Johnson and suggested a "distressing willingness of some MPs to stir anti-Muslim sentiments because they regard it as a vote-winning strategy".
Dawn Butler, Labour's shadow equalities secretary, called the figures "chilling".
"The fact that this same MP is now the prime minister is stomach-turning and shames our country," she added.
"Mr Johnson's bigotry has resulted in attacks on Muslim women and his refusal to apologise for his hateful remarks has emboldened racists and the far right.
"He actively fans the flames of hatred and division. His words have damaging consequences. He is not fit to sit in the House of Commons, let alone No 10."
In December, Mr Johnson was cleared of breaching the Conservative Party's code of conduct after an independent panel decided the former foreign secretary was "respectful and tolerant" and was entitled to use "satire" in his newspaper column.
Mr Johnson had said full-face veils should not be banned, but it was "absolutely ridiculous" women chose to "go around looking like letterboxes" and "bank robbers".
He later defended his words, insisting the backlash against them was nothing more than "confected indignation" at his "strong views" on Brexit.
The EU referendum was followed by a wave of anti-Muslim hate crime in 2016, while Isis-inspired terror attacks acted as "trigger events" in 2017, Tell Mama said.
"Now we are seeing attacks inspired and influenced by other anti-Muslim attacks,"the report added.
It said "Punish a Muslim Day" letters sent across the UK in March also caused a spike in incidents, as well as grooming gang cases, Donald Trump's visit and debates around the refugee crisis and Windrush.
Tell Mama found the US president's attacks on Sadiq Khan, the mayor of London, and wider statements on Islam "have triggered further harmful debates about Muslims in Britain".
The report warned of the impact of conspiracy theories including the "great replacement", which was cited by the Christchurch shooter and other far-right terrorists as a key motivation.
It said the growth of hyper-partisan alternative news platforms, including several websites supporting Tommy Robinson, were spreading anti-Muslim hatred and falsehoods.
In total, Tell Mama received 2,963 reports of anti-Muslim hate incidents in 2018. It took 1,072 verified reports, of which 70 per cent happened on the street and 30 per cent online.
The group received reports of a further 1,891 anti-Muslim hate crimes and incidents through data-sharing agreements with 20 police forces in the UK.
Robert Jenrick, the communities secretary, said: "I am utterly appalled by hatred aimed at Muslims in Britain or at those of any faith, and I am determined to tackle it.
"We have put millions into protecting all places of worship and we continue to fund education courses to tackle this scourge at its root. While it is welcome to see that reported incidents of abuse online and on our streets has fallen, it's clear that there is more to do.
"Muslims, and people of all faiths, must feel safe in Britain. As communities secretary, I will do everything in my power to stamp out hatred in all its forms, wherever it appears."
https://www.independent.co.uk/news/uk/home-news/boris-johnson-muslim-women-letterboxes-burqa-islamphobia-rise-a9088476.html
--------
URL: https://www.newageislam.com/islam-women-feminism/egyptian-girl-announces-freezing-her/d/119641
New Age Islam, Islam Online, Islamic Website, African Muslim News, Arab World News, South Asia News, Indian Muslim News, World Muslim News, Women in Islam, Islamic Feminism, Arab Women, Women In Arab, Islamophobia in America, Muslim Women in West, Islam Women and Feminism