New Age Islam News Bureau
30 Apr 2020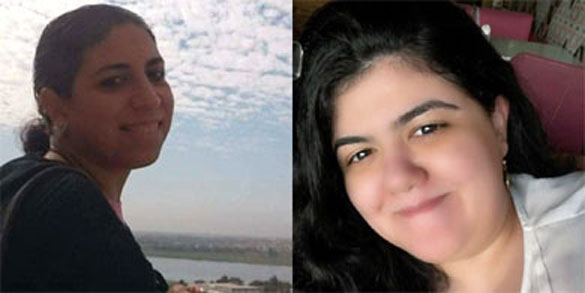 Marwa Arafa (R) and Kholoud Saeed, both professional translators, were arrested on 20 and 21 April, respectively (Twitter)
-----
• Egypt Forcibly Disappears Two Women Amid Coronavirus Crackdown: Rights Group
• Arab American Women Urging More Women to Enter Science, Technology, Engineering and Mathematics
• North Texas Women of Different Faiths, Which Normally Gathers in A Church, A Mosque or A Synagogue, Reach One Common Goal
• Rights Group Calls on Egypt To Release Two Disappeared Women
• Saudi Women Surge into Job Market Despite Coronavirus Slowdown
• Pakistan- Women's Counter in Nadra DI Khan Office Has Made Lives Of Women Easier
• Indonesian 'Sperm in Pool' Child Protection Commissioner Accepts Sacking, Grudgingly
Compiled ByNew Age Islam News Bureau
URL; https://www.newageislam.com/islam-women-feminism/egypt-forcibly-disappears-two-women/d/121716
-------
Egypt forcibly disappears two women amid coronavirus crackdown: Rights group
Apr 29, 2020
Egyptian security forces arbitrarily arrested and forcibly disappeared two women, according to Human Rights Watch, which called for their immediate release.
The New York-based group urged authorities today to disclose the whereabouts of two professional translators who disappeared last week, 27-year-old Marwa Arafa and 35-year-old Kholoud Said.
According to Human Rights Watch, Egyptian security forces arrested Arafa and Said at their homes, and charged Said with joining a terrorist group and spreading fake news. A friend said prosecutors focused their interrogation on Said's recent Facebook posts, which contained links to articles criticizing the Egyptian government.
"No warrants, no explanations — this is the behavior of a security establishment run amok," said Amr Magdi, a Middle East and North Africa researcher at Human Rights Watch.
Egypt's security forces under President Abdel Fattah al-Sisi have made hundreds disappear in an effort to suppress dissent and punish perceived supporters of the Muslim Brotherhood, international rights groups say.
An undisclosed number of political activists, including Noha Kamal and Aya Kamal Hussein, as well as human rights lawyer Mohsen Bahnasy, have been arrested for criticizing the government's handling of the coronavirus, Human Rights Watch said.
The Egyptian Health Ministry has confirmed a death toll of 380 and 5,268 infections. Last month, authorities released some political prisoners amid concerns from civil society associations and rights groups that COVID-19 could easily spread through Egypt's overcrowded prison systems.
On Monday, Egypt extended its state of emergency by three months to help authorities deal with both the threat of the coronavirus and insurgent activity in the Sinai region. Renewed every three months, the state of emergency grants Egyptian security forces the power to make sweeping arrests and search homes without a warrant.
"This is the 9th day of Marwa's forcible disappearance. The 9th day of asking with no answer, of waiting for her to turn out in front of the prosecutors, with no avail. The 9th day of helpless furious worrying and pain," he wrote Tuesday on Twitter.
https://www.al-monitor.com/pulse/originals/2020/04/arafa-said-egypt-coronavirus-arrests-brotherhood-dissent.html
--------
Arab American Women Urging More Women to Enter Science, Technology, Engineering and Mathematics
April 30, 2020
Arab American Activism
The National Arab American Women's Association (NAAWA) held one of the last large public gatherings in the region, a fundraising dinner on March 8 at the Sheraton in Tysons Corner, VA. The dinner, art exhibit and musical entertainment celebrated Arab American women, and was appropriately themed, "Excellence in our Midst."
The University of Miami's advice not to travel due to the coronavirus prevented one keynoter, visiting professor and award-winning journalist and author RulaJebreal, from speaking.
Algerian researcher Dr.Hakima Amri, a professor of biochemistry and physiology at Georgetown University, personified the dinner's theme of excellence. Her breakthrough work in the field of cancer research has brought international attention. She specializes in data mining to personalize cancer treatments.
Growing up, Dr. Amri said, she didn't have to look far for role models. "Algerian women struggling for independence against colonization embody the spirit of freedom burning in every Algerian woman. We need that spirit of freedom to unite women throughout the world," she said. Her mother and grandmother demonstrated the resilience and self-reliance that can be found in all our sisters in Palestine, Syria, Lebanon, Libya, Yemen and Iraq, Amri said.
Urging more women to enter science, technology, engineering and mathematics (STEM), she also addressed the huge disparity in salaries of men and women—especially women of color—in these fields. Data shows women in the Arab world are outnumbering American women studying STEM subjects, she added. Each of you has a story to tell, a torch to carry, Dr. Amri concluded. "Be bold. Draw strength from role models and each other," especially during this unfolding coronavirus epidemic.
The next speaker to inspire the audience was AreebZuaiter, a visual story teller and film professor at American University in Washington, DC, whose shorts have won acclaim at festivals around the world. A Palestinian Jordanian American, Zuaiter said she grew up in an open family living in a closed society in Saudi Arabia. Like her mother, she found her freedom and an outlet for her creativity in painting. Then she transferred that passion into filmmaking.
Her upcoming documentary, "Yalla Parkour," features the parkour sport in Gaza. Parkour is an extreme sport that combines running, acrobatics and climbing in a challenging urban environment.
Her camera has taken her around the world and now she is focusing her lens on diaspora Arabs, examining the survival of their identity and also the assimilation of stateless people. Zuaiter said she is "presenting, preserving and protecting people who can no longer find their city on a map." Being an Arab American woman is not easy, she concluded, but being embraced by her community makes it easier.
https://www.wrmea.org/arab-american-activism/arab-american-women-true-excellence-in-our-midst.html
--------
North Texas Women of Different Faiths, Which Normally Gathers in A Church, A Mosque or A Synagogue, Reach One Common Goal
April 30, 2020
TARRANT COUNTY, Texas — There were smiles and waves and heartfelt "Good mornings!" every time a new member joined.
This group normally gathers in a church, a mosque or a synagogue, but on this day a computer screen was a stand-in for the sanctuary, and a short tutorial on navigating a video chat replaced the big hugs that kick off every monthly meeting.
The Daughters of Abraham launched shortly after September 11, 2001, when founder Janice Harris Lord wanted to bridge gaps between faiths.
Lord is a Christian and she invited a small group of Muslim and Jewish women to join her in her first meeting in Fort Worth. Almost 19 years later, the Daughters of Abraham has grown to multiple chapters across North Texas and beyond.
April was a hard but holy month for many faiths. Christians celebrated Easter. Jews celebrated Passover. Muslims are currently observing Ramadan. Each of those religious holidays would normally bring families and friends together.
"We're looking for something to do that's within our control – something that helps us make things better," said AdenaCytron-Walker, a Jewish member of Daughters of Abraham from North Richland Hills. "To come together as a community of Christians, Muslims and Jews with the One Table project for me felt beautiful."
"Ramadan is often a balance of how to work, how to fast, how to sleep," said Noor Saadeh, a Muslim member of Daughters of Abraham from Garland. "There's a lot more time for personal worship."
"When one of our members sent in her donation, she wrote this along with it: 'If you have more than enough, don't build a wall around it. Build a larger table.'" Janice recalled. "I so hope that kind of thinking can now become more prominent as we've gained wisdom through this suffering, silence, and solitude."
https://www.wfaa.com/article/news/health/coronavirus/north-texas-women-of-different-faiths-reach-one-common-goal/287-5c280312-9d3d-4fd9-b8b9-b56665e12c8e
--------
Rights group calls on Egypt to release two disappeared women
April 30, 2020
Egyptian authorities arbitrarily arrested and forcibly disappeared two women in recent days, according to Human Rights Watch (HRW), which called on the government to fully disclose their whereabouts.
The New York-based rights group identified the two women as 27-year-old Marwa Arafa, a translator and management consultant who had no known political affiliation or activist work over the past five years, and Kholoud Said, 35, a senior translator at Alexandria Library.
Arafa was arrested at her home in the capital Cairo on April 20 by two plain-clothes officers and four armed masked men in police uniform, according to HRW. Said was arrested on April 21 and charged a week later with joining a "terrorist" group and spreading false news.
"Marwa Arafa and Kholoud Said were taken from their homes and forcibly disappeared as their families stood by helpless," said Amr Magdi, an HRW Middle East and North Africa researcher, in a statement on Wednesday.
Lawyers told the rights group Said was interrogated over allegations of spreading false news in Case No 558 of 2020, known as "the coronavirus case", which has been brought against an undisclosed number of activists.
The case has seen the arrest and charge of activists, lawyers, and social media users who criticised the government's response to the coronavirus outbreak, which has killed nearly 360 Egyptians and infected more than 5,000 others.
Egyptian officials under President Abdel Fattah el-Sisi's rule have routinely denied that security officials disappear detainees, but hundreds of people have gone missing for weeks, months or even years before being charged with offences "often based on security allegations that provide no material evidence", said HRW.
The news came a couple of months after Egypt arrested researcher and activist Patrick George Zaki, 27, who was arrested upon his arrival at Cairo Airport in February.'
The student, who arrived from Italy and researched gender and human rights, was taken into custody at the airport and disappeared for 24 hours.
According to his lawyers, Zaki was beaten and subjected to electric shocks during questioning before he appeared at a public prosecutors office in his home town, the Nile Delta city of Mansoura.
Prosecutors ordered that he remain in custody for 15 days pending investigations into a host of allegations, including publishing false news, inciting protests without permission, and calling for the overthrow of the state.
Zaki's arrest stoked fears of a repeat of the murder of Giulio Regeni, a 28-year-old Italian PhD student who was disappeared and killed in Cairo in January 2016.
Rights activists say el-Sisi has overseen an unprecedented crackdown on freedom in Egypt since first taking power in 2013 and then winning elections in 2014. El-Sisi and his backers say the measures are needed to keep Egypt stable and counter threats from armed groups.
Thousands of people have been arrested - both secular-leaning activists and members of the Muslim Brotherhood - with authorities rolling back freedoms won after the uprising in 2011 that became known as the Arab Spring.
Egypt outlawed all unauthorised protests in 2013, months after el-Sisi led the military's removal of the country's first democratically elected president, Mohammed Morsi, following mass protests.
https://www.aljazeera.com/news/2020/04/rights-group-calls-egypt-release-disappeared-women-200429072802112.html
--------
Saudi women surge into job market despite coronavirus slowdown
April 29, 2020
Change came in mid-2016 when Crown Prince Mohammed bin Salman unveiled his "Vision 2030" plan
The number of working women in Saudi Arabia reached 1.03 million in the third quarter of 2019 or 35 percent of the total workforce, compared to 816,000 in 2015, according to official figures.
Saudi women have now penetrated professional spheres at all levels -- they are bankers, business owners, heads of financial institutions, border crossing officers, civil defense members, food cart vendors, and shoe sellers.
And although the coronavirus has threatened a global recession and placed millions into lockdown, women in the Islamic Kingdom are apparently confident the long-term workforce trends will remain in place.
For decades, straitlaced Saudi society offered limited opportunities for women seeking a paid job, and the few who did find work were mostly restricted to the health and education sectors.
But change came in mid-2016 when Crown Prince Mohammed bin Salman unveiled his "Vision 2030" plan aimed at diversifying the kingdom's economy and ending its addiction to oil.
The national blueprint promotes the tourism and entertainment sectors while opening wide the doors of the labor market to millions of women by paring back the restrictions that had constrained them.
Some of those detained and allegedly tortured in custody are women's rights activists who were prominent in the campaign to end the driving ban.
https://www.i24news.tv/en/news/international/middle-east/1588169677-saudi-women-surge-into-job-market-despite-coronavirus-slowdown
--------
Pakistan- Women's counter in Nadra DI Khan office has made lives of women easier
4/29/2020
PESHAWAR: A large number of women are now visiting the Nadra centre in Dera Ismail Khan city to resolve their problems related to computerised national identity cards (CNICs) without any hesitation after establishment of a women's counter.
Nadra officials in DI Khan said about 160 women now visit the Nadra office to make their CNICs, while earlier, this number was very low. They said the number of women visitors to the office has increased by 60 percent after establishment of women's counter and they appear to be very happy over provision of this facility.
Sana Nausheen, hailing from DI Khan Cantt, told TNN that they used to face difficulties at Nadra centre due to lack of female staff, but now this problem is resolved as a separate counter and female staff is provided. She said now female staff takes their pictures and there is no issue of parda as such from male staff members. Besides 10 female staff members, the facility of separate washroom, clean drinking water and place for prayer has also been provided for women visitors at the Nadra office.
Local people said the women's section of Nadra office in DI Khan was established in 2010, but it was made functional only after the general elections of 2018.
Social Activist Bushra Mehsud hailed the facility of women's counter which has resolved the problems of women visitors to a great extent. She said women used to visit the Nadra office several times and had to stand with men for processing of their CNICs which was a very difficult exercise for them. She said the establishment of a separate women's counter at the Nadra office has made the lives of local women easier. She said the displaced women of South Waziristan in DI Khan are also benefiting from the Nadra centre.
Awaz District Forum member Farhat told TNN that women used to stand in long queues outside the Nadra centre for several hours for their turn, which was a difficult and tense exercise. She said she had raised voice for making the women's counter functional along with Umar Asghar Khan Development Foundation.
Ashan, an employee at the Nadra centre, said there is no separate budget for women's counter, but necessary items are provided on demand. He said Nadra doesn't own any building in DI Khan and it works in rented buildings.
https://menafn.com/1100090911/Pakistan-Womens-counter-in-Nadra-DI-Khan-office-has-made-lives-of-women-easier
--------
Indonesian 'sperm in pool' child protection commissioner accepts sacking, grudgingly
29 Apr 2020
JAKARTA (The Jakarta Post/ANN): Former Indonesian Child Protection Commission (KPAI) commissioner SittiHikmawatty – who was fired by President Joko "Jokowi" Widodo after making the scientifically inaccurate claim that "strong sperm" could impregnate women in swimming pools – said she accepted her dismissal, while also claiming she had been treated unfairly.
During a teleconference on Tuesday (April 28), Sitti said the agency's decision to recommend her dismissal was made in violation of procedure, saying that she should have been given an administrative sanction and a letter of reprimand instead of being fired.
"What I got instead was the ultimate punishment without having a chance to defend myself. This should not happen again," Sitti said, urging the President and relevant ministries to fix the "legal loophole" in the commission's regulations.
Jokowi signed a decree on the immediate dismissal of Sitti from her post as the KPAI's commissioner for health, narcotics and addictive substances following a recommendation from the agency's ethics council. The council had stated that Sitti had violated the commission's code of ethics by making the inaccurate statement.
Sitti made the controversial remarks that ultimately resulted in her dismissal during an interview with tribunnews.com in February, saying that women should be careful about the risk of getting pregnant when swimming in public pools with men.
"There is an especially strong type of sperm that may cause pregnancy in a swimming pool," Sitti said. "Even without penetration, men may become sexually exited [by women in the pool] and ejaculate, therefore causing a pregnancy."
The Indonesian Doctors Association (IDI) said it was impossible for women to get pregnant in a swimming pool as the water contained chlorine and other chemicals. "Sperm cannot survive in these conditions," IDI executive Nazar said at the time.
Sitti who initially defended her claim by saying it was based on scientific journals later retracted the statement and apologized. The KPAI itself issued a response saying that Sitti's statement did not represent the views of the organization. - The Jakarta Post/Asia News Network
https://www.thestar.com.my/news/regional/2020/04/29/indonesian-039sperm-in-pool039-child-protection-commissioner-accepts-sacking-grudgingly
--------
URL: https://www.newageislam.com/islam-women-feminism/egypt-forcibly-disappears-two-women/d/121716
New Age Islam, Islam Online, Islamic Website, African Muslim News, Arab World News, South Asia News, Indian Muslim News, World Muslim News, Women in Islam, Islamic Feminism, Arab Women, Women In Arab, Islamophobia in America, Muslim Women in West, Islam Women and Feminism