New Age Islam News Bureau
21 Jun 2018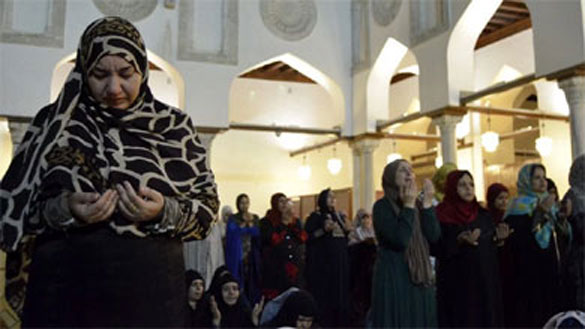 Women attend Ramadan worship services at the historic Al-Azhar mosque on June 11, 2018, in Cairo. Nearby Al-Azhar University, the traditional seminary of mainline Sunni theology, and the state-run Ministry of Religious Endowments are promoting women's participation in preaching, mosque governance and liturgical music. RNS photo by Mohamed Salah
-----
• Egypt Fights Islamic Extremism by Allowing Women Leaders At Mosques
• Countdown Begins To Saudi Women Driving
• Iran Allows Entry of Women into Stadium
• Saudi University Launches Survey into the Effects of Women Driving
• 1 In 4 Muslim Women in New York Say They've Been Pushed on a Subway Platform While Wearing a Hijab
Compiled by New Age Islam News Bureau
URL: https://www.newageislam.com/islam-women-feminism/egypt-fights-islamic-extremism-allowing/d/115602
-----
Egypt Fights Islamic Extremism By Allowing Women Leaders At Mosques
June 20, 2018
Jacob Wirtschafter
Amr El Tohamy
CAIRO (RNS) – Four years ago, Egyptian President Abdel-Fattah el-Sissi called on state-supported Muslim clerics "to improve the image of Islam in front of the world."
In response, Islamic religious authorities are allowing Muslim women to be heard. Over the past three months, the clerics have announced that women can now serve as preachers in mosques and schools, serve on governing boards and sing in choirs dedicated to liturgical music.
"These measures show that Islam can grow in an open encounter with other faiths," said Wafaa Abdelsalam, a 38-year-old female physician appointed by the government's Ministry of Religious Endowments to give two sermons a week at a pair of influential mosques in the Cairo suburbs. "The audience for my Ramadan talks has been mostly upper-middle-class women who until recently have felt they have had nobody to talk to about how Islam fits into their lives."
About 70 percent of mosques in Egypt have separate prayer areas for women, according to the Endowments Ministry. But the move to introduce women preachers – wa'ezzat in Arabic – marks the first time females have formally addressed worshippers in these spaces as officially sanctioned clergy.
"Religious education here is a chance for women to ask me questions about personal matters, including marriage problems, and to debate the merits and drawbacks of the choice to wear or not wear the (hijab) headscarf," said Abdelsalam.
The wa'ezzat are following sermon guidelines set by the Endowments Ministry, she added.
The push to promote women in Egypt's religious sphere is backed by scholars at Al-Azhar University, the traditional seminary of mainline Sunni theology, and arises from Egypt's fight against extremism: El-Sissi has challenged Islamic theologians to examine texts that have been used to justify terrorism.
The Endowments Ministry, which gives out religious financial grants and appoints clergy in more than 110,000 mosques in this country of 90 million Muslims, is at the forefront of the crackdown on extremism. Last month, it moved to ban unlicensed male preachers from delivering homilies in more than 20,000 storefront mosques known locally as zawyas.
Zawya preachers have been suspected of propagating fundamentalist views among women as well as men to advance extremist beliefs.
"We can't leave the field of Islamic women's education to nonspecialists," said Youmna Nasser, a female preacher newly appointed by the government.
The Endowments Ministry has trained about 300 female preachers in public speaking as well as in interpreting the Quran and other Muslim texts. It also plans to name two women to the governing boards of each mosque next month, with the aim of boosting attention to issues related to women, children and the family.
"The steps we are taking now to affirm women's rights are based on principles recognized by Islam in the past but were neglected over time," said Abdul Ghani Hindi, a member of the Supreme Council for Islamic Affairs. Officials are in the process of training 2,000 more female preachers, Hindi said.
"True Islam strengthens women's status, which is why we started training courses for female preachers and are trying to find out more about women's views about how mosques are run," said Hindi.
Another important shift toward expanding women's voices is happening at Al-Azhar University, which has grown beyond its original role as an Islamic seminary to provide general education in fields including medicine and engineering to more than 45,000 students in Cairo and at seven satellite campuses.
Bucking conservative fatwas that prohibit men from even listening to the sound of women singing, Al-Azhar leaders have formed a coeducational choir that performs Muslim hymns on and off campus.
"My dad was afraid that people's views of me as religiously observant would change, and that neighbors would see me as deviating from the traditions of Islam," said Umniah Kamal, a 21-year-old business major and choir member at Al-Azhar. "But my mom encouraged me to join the chorale and even suggested some of the religious songs we are performing."
University officials insist that including young women in the choir will make Islam more relevant to a new generation.
"Those who say the chorale reduces Al-Azhar's image of piety are wrong," said Ibtisam Zaidan, the university's artistic director. "We are using the performing arts to bolster Al-Azhar as a beacon of Islamic life and learning."
"There is no text in the Quran that prohibits singing these songs. The young ladies dress conservatively, wear headscarves and stand separately from the young men during the performances."
While Al-Azhar's choir captured second place in an April competition hosted by Egypt's Youth and Sports Ministry, the mixed-gender performances and government appointments of women to leadership roles in mosques have stirred up opposition among traditionalists.
"Drafting women as public representatives on mosque directors boards, encouraging them to issue fatwas and the outrageous formation of that mixed-gender musical team at Al-Azhar are all ideas imported from the West," said Sameh Abdul Hamid, a Cairo preacher from the Salafi movement, a strictly traditionalist branch within Sunni Islam.
"It's all part of an effort by Arab governments to erase our Islamic identity and is disrespectful of our belief that the way to strengthen the status of women is to safeguard their position in their homes," said Hamid.
Government officials insist enhanced visibility and targeted programs for women in Egypt's mosques are not about gender equality but rather education and outreach to reinforce tradition.
"Women on boards will act as a link between the female faithful and the mosque administration and greater attention will be given to family issues that were not strongly represented before," said Shaikh Jaber Taya, the Endowments Ministry spokesman.
Source: religionnews.com/2018/06/20/egypt-women/
-----
Countdown Begins To Saudi Women Driving
Noor Nugali & Rawan Radwan
June 21, 2018
Women who already held valid driving licenses from authorized countries found the process of switching to a Saudi one simple
Many women plan to hit the road on June 24 and enjoy their new travel independence, without the need for a man to drive them
In just three days' time, Saudi women will be able to take to the wheel and drive.
Many have been telling Arab News how simple it was to obtain a license, how much they are looking forward to driving — and what this transformation in Saudi society means to them.
"It is as if I have been recognized as an equal citizen," said Hatoon Ajwad Al-Fassi, a historian and columnist at Al Riyadh newspaper. "I have to admit that it's a bit surreal."
Women who already held valid driving licenses from authorized countries found the process of switching to a Saudi one simple.
"I have never seen such ease in obtaining my Saudi license, the easiest license I've ever gotten in my life," said Noor Ashadawi, 36. a finance manager in Alkhobar.
"After going through Absher and making an appointment at the Traffic and Road Safety Department website, we got an appointment for early Ramadan in Alkhobar. It was canceled, but I was given a new one for the next day."
"The process didn't take more than 15 to 20 minutes maximum. The staff inside were extremely friendly. I could say they were just as happy as we were to be there.
"It's very exciting and reassuring to see that everyone is on board and supporting us. I am, as are many, simply overjoyed, and can't wait."
Al-Fassi said: "I felt strange going in the front door of the main traffic department, one of the taboo places for women in Saudi Arabia. But I was well received and guided to the licenses section immediately."
Norah Al-Jaser, an employee at a telecommunications company, has registered in the driving school in Riyadh and hopes to obtain her license soon. She has recently started attending theoretical driving lessons. "Attending the classes has given me insight into the traffic laws in place. I can see that unfortunately they're not being implemented by many drivers, but I plan on abiding by the laws.
"I intend following the rules to the letter, or else what would be the point of taking all the necessary theoretical and practical lessons? The material is very thorough and I believe it's the most ideal lessons to ensure we succeed and drive safely on our roads."
Many women plan to hit the road on June 24 and enjoy their new travel independence, without the need for a man to drive them. Others will wait it out for a while, in case the first few weeks on the road are hectic and chaotic.
"After driving for 18 years abroad, I'm elated with the fact I had my Saudi licence issued to me with tremendous ease," said Najla Redwan, a home business owner and examiner at the Jeddah Advanced Driving School. "I am also an examiner at a school and I would like to drive in my city, Jeddah, which I hope to do soon.
"As an examiner, it's my job to evaluate students and give them a passing or failing grade before they head to the Traffic and Road Safety Department. But I can see how driven and determined the students are to commit to the material being taught at the school and how much of a burden will be lifted once they get their chance at driving.
"The class has people from all walks of life, but one thing's for sure, they're here to learn and are determined to be the best they could be for their sake and the sake of this given right."
And what will these women do on their first day at the wheel? "I'm planning to drive with my husband and children around Riyadh," Al-Fassi said. "Celebrating will be the first aim, then I will see where I need to go on that day."
"The gym and office, of course!" said Ashadawi, with a laugh. "I'm finally going to drive myself to work instead of quarreling with my sister over who takes the driver first. It's going to be good and I can't wait."
Source: arabnews.com/node/1325101/saudi-arabia
-----
Iran Allows Entry of Women Into Stadium
AFP TEHRAN, JUNE 21, 2018
Tehran's largest football stadium was to admit thousands of women together with men on Wednesday for the first time since the the Islamic Revolution of 1979. The decision to throw open the gates of the capital's 1,00,000 capacity Azadi Stadium for came ahead of Iran's match against Spain.
The U-turn by Tehran provincial council came after the 1-0 win over Morocco saw tens of thousands take to the streets of the capital in rare and wild celebration, many of them women. More than 10,000 tickets were expected to be put on sale and at less than two euros each they were swiftly snapped up.
Member of Parliament Tayebeh Siavoshi, who has long campaigned for women to be allowed to watch matches live in stadiums, said she hoped the decision would pave the way for a wider change of policy.
Source: http://www.thehindu.com/news/international/iran-allows-entry-of-women-into-stadium/article24213901.ece
----
Saudi University Launches Survey into the Effects of Women Driving
ARAB NEWS
June 21, 2018
JEDDAH: Researchers will observe and document the effects women driving in Saudi Arabia have on the economy, environment, community and traffic safety. It will also gather information about attitudes toward the change in the law, and the experience of women who get behind the wheel.
With the ban on women driving in the Kingdom due to be lifted on June 24, 2018, Imam Abdulrahman bin Faisal University in Dammam has launched a national study titled "The impact of women's driving on sustainable development and traffic safety in the Kingdom."
Researchers from the university, headed by Dr. Najah bint Moqbel Al-Qarawi, a professor of geography of transportation, will supervise the project in collaboration with a specialist team from the General Directorate of Traffic.
Al-Qarawi said that a scientific survey about cars and drivers is being distributed on social media outlets, targeting male and female citizens and residents from all parts of society, in cities and villages. The questionnaire will reveal how participants feel about the issue of women driving and the potential effects it will have.
It will also measure the extent of support for the move from men, while women will be asked about their means of transportation and the main problems they face. Women who want to drive will also be asked about driving, training, the process for getting a license, their fears and aspirations, and for suggestions that might make the process easier and more appealing.
The survey will be carried out in two sta
Source: arabnews.com/node/1325111/saudi-arabia
-----
1 In 4 Muslim Women In New York Say They've Been Pushed On A Subway Platform While Wearing A Hijab
By Jay Croft, CNN
June 19, 2018
(CNN)Muslims and other religious minorities in New York have experienced widespread bias, discrimination and harassment -- including physical assault -- in recent years, a new survey finds.
Most of the respondents said they did not report the incidents to police or other authorities because they were afraid or suspected they wouldn't be taken seriously.
The report, released Tuesday by the city's Commission on Human Rights, summarizes responses from 3,100 Muslim, Arab, South Asian, Jewish and Sikh New Yorkers. They described incidents between July 2016 and late 2017.
For example, 27 percent of Muslim Arab women who wear a hijab said they have been pushed on a subway platform, the commission reported.
"No one in New York City has permission to discriminate against or harass others because of who they are, where they pray, or what country they come from." said Carmelyn P. Malalis, the commission's chairperson. "The NYC Commission on Human Rights takes bias-motivated incidents very seriously and we are dedicated to combating them."
Key findings: Harassment, vandalism, assault
Among the report's findings:
Almost 2 in 5 (38.7%) told of verbal harassment
Some 8.8% reported physical assault
Almost 1 in 6 (16.6%) said they experienced racial, religious or ethnic discrimination at work or while seeking a job
Sikhs under 35 were verbally harassed almost twice as often as others surveyed
Eighty percent of Jewish respondents said they were "very" or "somewhat" bothered by anti-Semitic vandalism or property damage
Woman recalls 'hate-filled' attack
In one example cited by the commission, Souad Kirama, a Muslim, said she was physically assaulted at a Brooklyn restaurant last year by "hate-filled teenage girls" who called her a terrorist.
"People were just standing there watching me being beaten up and being called a (expletive) terrorist," she said at a press conference. "Never in my life have I seen this kind of violence and aggressiveness."
"I am a proud New Yorker and I am thankful" for the commission's survey, she said. "Now more than ever, it is critical that everyone in New York City stands up against discrimination and hate whenever and wherever they see it."
Most incidents go unreported
The commission said more than 70% of the respondents did not report the alleged incidents to police or anyone else because:
They didn't think they'd be taken seriously
They feared retaliation
Reporting earlier trouble hadn't helped
The survey followed increased reports of bias against Muslims and the other minority groups.
The commission urged the creation of a community-based referral network, along with bystander intervention training. It said more money should go to community outreach and legal help so minorities understand their rights.
The commission also started an ad campaign this week on social media and in 15 ethnic media outlets.
Source: edition.cnn.com/2018/06/19/us/new-york-anti-muslim-harassment-survey-trnd/index.html
-----
URL: https://www.newageislam.com/islam-women-feminism/egypt-fights-islamic-extremism-allowing/d/115602
New Age Islam, Islam Online, Islamic Website, African Muslim News, Arab World News, South Asia News, Indian Muslim News, World Muslim News, Women in Islam, Islamic Feminism, Arab Women, Women In Arab, Islamophobia in America, Muslim Women in West, Islam Women and Feminism