New Age Islam News Bureau
28 Jan 2020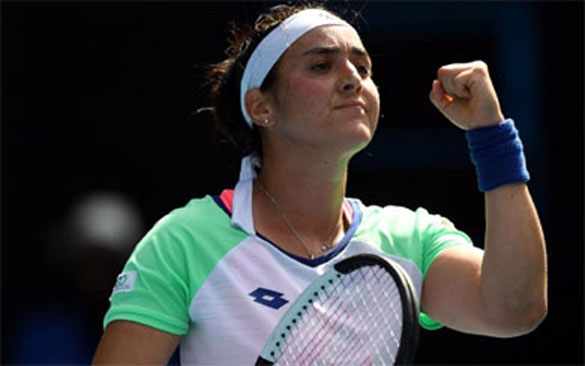 Jabeur, currently ranked 78th in the world, will now play number 14 seed America's Sofia Kenin in the last eight on Tuesday (AFP)
-----
• Somali Woman Promotes Peace through Art
• Ons Jabeur Becomes First Arab Woman to Reach Last Eight of Tennis Grand Slam
• Indonesia's Aceh Unveils New Female Flogging Squad
• Scribe Moves SC Seeking Entry of Muslim Women for Prayers in Mosque
• Govt Should Talk To Protesting Muslim Women on CAA, Says Padma Awardee, Sayedbhai
• Anti-CAA Protests: In Malegaon, A Private Space on the Highway Is Public Site for Women's Indefinite Sit-In
• 400 People Join Muslim Women On Indefinite Protest Against CAA In Mumbai Central
• Sabarimala Case: SC Fixes 10-Day Period For Hearing Issues Of Discrimination Against Women At Religious Places
• Hindu Girl Abducted From Wedding Venue, Converted, Married Off In Pakistan
• Initiative to Empower Poor Women To Be Launched On Friday In Pakistan
• FIA Arrests Youth For Blackmailing Iranian, Afghan Women Via Social Media
Compiled By New Age Islam News Bureau
URL: https://www.newageislam.com/islam-women-feminism/egypt-court-backs-niqab-ban/d/120913
--------
Egypt Court Backs Niqab Ban on Cairo University Staff
January 27, 2020
CAIRO: A top Egyptian court has ruled in favor of banning female academic staff at Cairo University from wearing the Muslim face veil, known as the niqab, lawyer Ahmed Mahran said Monday.
The decision taken by the Supreme Administrative Court last week rejected appeals against a 2016 lower court verdict banning the niqab on grounds that it impeded interaction between students and teachers.
The ban on the niqab, which covers the entire face except for the eyes, has often sparked fierce debate on religious freedoms.
"The ruling is final and not subject to appeal," said Mahran, who represented 80 women in challenging the 2016 ruling.
Most Muslim women in Egypt wear the headscarf, or hijab, which covers the hair but not the face. The niqab is largely worn by women of ultra-conservative backgrounds.
The ban was introduced in 2015 by a previous head of Cairo University, two years after the 2013 military ouster of Islamist president Muhammad Mursi.
Mahran said the decision was issued for "political reasons" at the time.
"But it never came into effect. I do not expect it to be applied now," he added.
Cairo University is one of Egypt's oldest higher education institutions.
Its current head, Mohamed Othman Elkhosht, quoted by local media, said his institution respected decisions taken by the judiciary but did not specify if the ban would be enforced.
https://www.arabnews.com/node/1618916/middle-east
--------
Somali Woman Promotes Peace through Art
Magdalene Mukami
27.01.2020
MOGADISHU, Somalia
A famous young female Somali painter is speaking through her paintings across Somalia, and people are noticing.
Nujuum Hashi Ahmed's paintings are about the day to day life of the common Somali citizen. Her paintings are about peace, an end to the conflict in the country and Somalia where there is abundant food and prosperity.
Her art studio is located in her small apartment in the capital Mogadishu. She spends most of her time painting and notes that for her, the scariest thing in life is an empty canvas.
One can see a partly done canvas board resting against the wall and containers of paint on the floor. In front of one large painting she is working on, there are six paint brushes sticking out from a multicolored tin, and just next to it is a tray she uses to mix colors. Beside the tray are more brushes of various sizes.
One of her paintings depicts a woman who has a hand covering her mouth as if being muffled and prevented from speaking out.
"I want to continue making this beautiful image of Somali girls because we as Somali females can do whatever we decide to do in our lives, and we can create our own lives without fearing anyone. Our society is a male-dominated society, but we are struggling and fighting against that domination, that we also can make our dreams come true through our hard work and we can speak out and be heard," said Nujuum.
Forced to flee her home in Mogadishu due to war in 2007, she went to the city of Hargeisa in Somaliland, a self-declared but internationally unrecognized republic that is still considered part of Somalia.
In Hargeisa, she studied nursing and practiced it at Hargeisa General Hospital among other places, following in the footsteps of her father, who also worked in the health industry as an anesthetist.
But this is not the only thing she picked up from her father.
"My father used to do paintings and drawings but he never shared them with anyone. That is where I got my inspiration from -- from him. That is when I started doing my own art."
Nujuum stayed in Hargeisa juggling between painting and nursing until peace returned to Mogadishu.
"I used to do paintings on the streets, even on the roads and everywhere, just to relax my soul from the war and the pain that we have gone through in our childhood."
The European Union's diplomatic compound in Somalia has previously called on Nujuum to make murals for them. Nicolas Berlanga, the European Union's ambassador to Somalia, has recognized the talent that Nujuum has and the messages she spreads.
Nujuum did two murals and a number of small paintings for the EU diplomatic compound in Somalia.
On his official twitter account, Nicolas Berlanga said that "we opened a second mural at EU diplomatic compound today. Another expression of diversity and fraternity against those who love borders and differences. Nujuum has become a friend and her art is with us now permanently. A legend at the bottom [of the mural] says: "decide, law, peace".
Nujuum tackles various day to day aspects of life in Somalia through her paintings, including the rights of women, politics, peace and conflict.
"I am not afraid of anyone, as long as God is with me and always protecting me. I know some people really believe that art is a bad thing. I trust that art can create and store our culture, our existence as Somali people.
"It can create this experience and this history that we will leave for the next generation. I believe that every community and every country and every culture needs to be stored. I am doing this for my country so that one day people will take notice that art was very important," she said.
She noted that personally she has realized that "this job of being an artist is better than being a nurse because nursing is not my passion. Art has been my passion even from a young age."
"I am trying to build a positive image about my country, so I am not afraid of anyone except my God, and I am sure He is protecting me. It is not easy to be an artist and a woman in Somalia because people believe that women should not be in the focus, they should just stay home and do nothing, and just maybe have babies and raise a family. I never give ears to those people. I continue to have my own life."
For Nujuum, a stable and prosperous Somalia is her greatest dream. She wants the youth to bring change and lasting peace to Somalia in any way possible.
"It is my dream to have a small interior design company and studio where I sell my artworks and a little space to teach other talented young Somalis to have the art skills they need. I want to work and teach others to have skills so that they can support their lives," she said.
Nujuum's art has been praised by many in Somalia who believe that it spreads the message of hope. They include Aden Ali, a 48-year-old businessman in Mogadishu, who said "the art is depicting our daily lives, our international partners, our fight for a stable country. I will definitely buy from her."
Most of her paintings can be seen at the Hargeisa Cultural Center, "the EU diplomatic compound in Mogadishu and my little studio, my room."
https://www.aa.com.tr/en/africa/somali-woman-promotes-peace-through-art/1715422
--------
Ons Jabeur becomes first Arab woman to reach last eight of tennis Grand Slam
By Yasmina Allouche
27 January 2020
Unseeded tennis player Ons Jabeur has become the first Arab woman to make it to a Grand Slam singles quarter-final, after knocking out China's Wang Qiang in the Australian Open on Sunday.
The Tunisian said she hoped to inspire young people across the Arabic-speaking world, as the region's highest ranking Arab tennis player looked to break into the top 50 this week.
"I'm trying to inspire many of the young generation back home either in Tunisia or the Arabic world, especially in Africa, which is amazing," Jabeur said.
"I mean, it's not impossible. I made it. Like I said before, I've been practising in Tunisia from the age of three through 16 or 17. I'm a 100 percent Tunisian product."
The 27th seed Wang was able to beat Serena Williams in the third round but was overcome by 25-year-old Jabeur, who managed to come back from a break down in the first set to win 7-6, 6-1.
Jabeur, currently ranked 78th in the world, will now play number 14 seed Sofia Kenin, of the United States, in the last eight on Tuesday. The Tunisian lost to Kenin last year in Hobart.
'We've been through rough times'
Moroccan Hicham Arazi was the last Arab tennis player to reach the last eight at Melbourne Park back in 2004.
Selima Sfar is the only other Tunisian woman to have won at a Grand Slam, after reaching the second round at Wimbledon, the US Open and the French Open during the first decade of the century.
Jabeur is not the only north African to feature in this year's Australian Open.
In the women's qualifying draw, Egyptian debutante Mayar Sherif made it to the first round, whilst her compatriot Mohamed Safwat made it through his three qualifying matches to become the first Egyptian player since 1978 to make the Australian Open's main draw.
Jabeur initially struggled to break into the top 100 after winning the Roland Garros junior title at 16 in 2011. She was able to gain a career-high last year by moving to 51st place.
"The family, everyone was behind me. They couldn't go back to sleep again, of course. But I'm happy that I have this support because we've been through rough times. Now it's finally paying off."
Last December, Jabuer was honoured at the Arab Women of the Year ceremony in London.
https://www.middleeasteye.net/news/ons-jabeur-becomes-first-arab-woman-reach-grand-slam-quarter-finals
--------
Indonesia's Aceh unveils new female flogging squad
January 28, 2020
Banda Aceh, Indonesia: The masked woman nervously approaches her target, shuffles into position and then unleashes a flurry of lashes - proving herself as the newest member of the first female flogging squad in Indonesia's Aceh province.
The new recruit initially needed some coaxing to punish the offender - an unmarried woman caught in a hotel room with a man.
Such behaviour constitutes a morality crime in Aceh, the only region in the world's biggest Muslim-majority nation that imposes Islamic law - known as Sharia. Those found guilty of breaches are often publicly whipped with a rattan cane.
But despite her reticence, she persevered and delivered her first flogging.
"I think she did a good job. Her technique was nice," Banda Aceh Sharia police chief investigator Zakwan, who uses one name, told AFP.
Indonesia's president has issued a call for the public floggings to stop but he has little say over what happens in Aceh, a deeply conservative region on Sumatra island.
Unlike the rest of the nation, Aceh follows religious law as part of a 2005 autonomy deal agreed with the central government that ended a decades-long separatist insurgency.
Here, public whipping remains a common punishment for scores of offenders for a range of charges including gambling, adultery, drinking alcohol, and having gay or pre-marital sex.
But the job has always been done by men. Until now.
'No mercy'
More and more women are being charged for morality crimes, experts say, as greater internet access and globalisation bring clashes with local cultural and religious norms.
Enforcement too has increased and now Aceh says it's trying to follow Islamic law, which calls for women to whip female perpetrators. This is already what happens in neighbouring Malaysia.
But convincing women to participate has been no easy task, and it's taken years to assemble the first female squad, according to Safriadi, who heads provincial capital Banda Aceh's Sharia Implementation Unit.
Eight women - all Sharia officers - agreed to be floggers and were trained in the appropriate technique and advised how to limit injury.
Previously, a dozen men performed all the whippings in the city for an unspecified fee.
For security reasons, Aceh officials declined to let AFP speak with the floggers, who are outfitted in cloth masks and loose fitting brown uniforms to hide their identities.
"We train them to make sure they're physically fit and teach them how to do a proper whipping," Zakwan said.
But the secret for any whipping is getting past the mental hurdle of lashing fellow citizens.
For that, you need to look to God, Zakwan said.
"It's kind of an indoctrination that we give to them so they have a better understanding of their role - have no mercy for those who violate God's law', he added.
'Too lenient'
Aceh officials insist caning deters crime, with patrols often scouring public places and establishments - or acting on tip-offs - to monitor behaviour.
Sharia police in Banda Aceh, a city of some 220,000 people, are on the streets round-the-clock in three shifts.
On a recent patrol, a couple sitting close to each other on the beach escaped with a reprimand.
But a group of men and women spotted at a coffee shop around 3am weren't so lucky and were arrested on suspicion of breaking strict codes about unmarried men and women interacting.
"This shows that we never sleep looking for violations of Sharia (Islamic law)," Safriadi said.
From behind bars, one of the men said that there was nothing romantic happening at the coffee shop.
"We don't even know the women and were sitting at different tables," he told AFP.
The women were later released with a reprimand as were the men, but police said the trio may be charged for a new offence, after it was determined they were gay.
Same-sex relations can earn residents a whipping in front of jeering crowds, which can number in the hundreds.
"Sharia in Aceh is still lenient," said resident Saiful Tengkuh.
"Aceh needs harsher punishments like stoning, not just whipping. Someone committing adultery should be stoned 100 times," he added.
'Don't do it again'
Aceh, home to about 5 million people, once mulled beheading for serious crimes, but the central government ruled it out.
This summer, it made headlines over a fatwa, or religious edict, against online game PlayerUnknown's Battlegrounds (PUBG) and opposing a national women's football league because it didn't have a stadium where only female players, match officials and spectators would be present.
But whipping is often what gets Aceh in the news - unwanted attention local officials say is Islamophobic.
Advocates say many people caught breaking religious law choose whipping as an efficient, if painful, way to avoid a stiff jail term.
But this rough justice can take a toll.
Floggings can be so severe that people pass out or are hospitalised, with the most serious crimes - including gay sex and having a relations with a minor - earning as many as 150 lashes.
Many offenders have fled the area out of shame or because customers deserted their businesses. Few are keen to discuss their experience.
For women, arrest for even a minor violation can lead to victimisation, including sexual harassment and rape during arrest, according to research by the Network for Civil Society Concerned with Sharia.
Reporting these assaults without proof can even open up victims to flogging for making a false accusation, it added.
Human Rights Watch and Amnesty International have condemned such punishments as "barbaric", "inhumane", and tantamount to torture.
But Aceh officials insist they're "far more lenient" than ultra-conservative Saudi Arabia and some other Muslim nations.
"We're not aiming to hurt people by whipping them," Safriadi said.
"The most important thing is the shaming effect on violators and spectators so they don't do it again."
https://gulfnews.com/world/asia/indonesias-aceh-unveils-new-female-flogging-squad-1.1580195711185
--------
Scribe Moves SC Seeking Entry of Muslim Women for Prayers in Mosque
27 JANUARY 2020
New Delhi, Jan 27 (PTI) A senior journalist moved the Supreme Court on Monday seeking impleadment in a batch of petitions seeking a direction to permit the Muslim Women to enter and offer prayers inside mosque.
A 9-judge Constitution bench said on January 13 that it would deal with the larger issue of whether courts can intervene in "particular religious practices" and hear a batch of pleas including those seeking entry of Muslim women in mosque.
Other matters to be considered by the bench include the issue of entry of women and girls of all ages in Kerala''s Sabarimala temple, female genital mutilation in the Dawoodi Bohra Muslim community and barring of Parsi women, married to non-Parsi men, from the holy fire place at Agiary.
The 9-judge bench is likely to take up for hearing these petitions in the first week of February.
The top court had on April 16, 2019, issued notice on a plea filed by Yasmeen Zuber Ahmad Peerzade and others seeking a direction to permit Muslim women to enter mosque to offer prayers and declaration of the customary tradition of denying them that as illegal and unconstitutional.
Petitioner Ziya Us Salam, currently associated with a leading magazine, had sought impleadment in the petition filed by Peerzade and said that neither the Quran nor the Hadith bars or prohibits the entry of Muslim women in mosques.
"That, neither the Quran nor the Hadith bars or prohibits the entry of Muslim women in mosques. In fact, in Quran at nearly 60 places, Allah asks both men and women to "establish" prayer, as opposed to merely offering prayer. Praying in isolation does not amount to establishing prayer," he said in his petition filed through advocate Farrukh Rasheed.
He contended in his plea that Prophet Mohammad himself permitted women to enter mosque and it is a permission well respected in mosques across West Asia, Europe and America.
"Men and Women pray at Masjid-al-Haram in Mecca and they pray in Al Masjid al Nabvi in Medina," the plea said, adding that Namaz is the second of the five obligatory pillars of Islam and is initiated with the recitation of the ''adhaan'' which means a call for prayer.
He said that in India, though there may not be an explicit ban for women to enter mosques there is a "tacit ban" inasmuch as inter alia there is no separate entry for women, no separate ablution area for them and so on.
"This practice is against the tenets of Quran and Hadith. In India, Mosques are made by men for men. Women are seldom members of the mosque Committee and their needs and requirements are never taken into regard when mosques are constructed and managed. This passive discrimination is against the tenets of Islam and violates gender justice which is a Constitutional guarantee," his plea said.
He said that the practical ban on women to enter mosque in India violates her right to establish prayer in Mosque, which is permitted and encouraged by the Quran and Hadith.
Salam is an author of several books including one ''Women in Masjid- A quest for Justice'', wherein he has argued that in Islam, Men and Women are equals and Islam does not prohibit the entry of Muslim Women in Islam, rather encourages it.
"When the muezzin pronounces, ''Hayya allas salah, hayya alal falah'' meaning, ''come for Prayer, come for success'' he invites everybody without any discrimination on the basis of gender. The prayer is to be offered in the congregation and for this purpose, a mosque is created so that everyone can assemble at one place," the plea said.
He said in his plea that in India, women rarely offer their prayers in a mosque and sought impleadment saying that he can provide a reliable insight into the issues for consideration in the present petition and assist the court in making a fully informed decision.
"There are many verses in the Quran and Hadith (Bukhari Shareef and Sahih Muslim) in which the Prophet has in fact encouraged the women to pray in mosque. The same will be cited and relied upon during the course of arguments," the plea said. PTI MNL ABA SJK RKS SA
https://www.outlookindia.com/newsscroll/scribe-moves-sc-seeking-entry-of-muslim-women-for-prayers-in-mosque/1719116
--------
Govt Should Talk To Protesting Muslim Women on CAA, Says Padma Awardee, Sayedbhai
Jan 27, 2020
Dheeraj Bengrut
PUNE: Muslim reformist leader Sayed Mehboob Shah Qadri alias Sayedbhai who is among this year's Padma Shri awardees, has urged the Union government to initiate a dialogue with the protesting women and students in New Delhi and resolve the differences over the Citizenship Amendment Act (CAA).
"I am looking at all the protests and opposition to CAA in various parts of the country. Muslim women in New Delhi have been on a protest for the past many days; similarly, students are protesting on the roads and there was some violence in universities, too. I think the central government should have a proper dialogue with the protesting women, understand their demands and try to resolve the issue," said 84-year-old Sayedbhai, a crusader for the welfare of women abandoned by their husbands after the "triple talaq" form of divorce which is now outlawed.
"If the Muslim women and people are feeling insecure about their citizenship, then the government should clear their doubts. All of us Muslims are citizens of this country and have not come from outside India. Thus, we have the fullest right on our country," he said.
Stating that questions about the ancestry of Muslims and their origins were now being raised, he said, "Targeting the Muslim community like this is wrong. Let us know if we have committed any mistake. We did not demand Pakistan during the Partition; we always stood by India and will always be with India. Compared to Pakistani Muslims, Indian Muslims are far more happier and we want peace in our country," he said.
Sayedbhai as he is popularly known has been working tirelessly for almost half a century for the rehabilitation of Muslim women abandoned by their husbands after triple-Talaq. The Muslim Satyashodhak Mandal which he co-founded in 1970 has rehabilitated more than 10,000 women over the last 50 years, he said.
"This award is a recognition of my social work for Muslim women which I began from the age of 20. Today, I feel very happy that the central government has recognised my work and has bestowed me with the Padma Shri. Although I began work on abandoned Muslim women, the work was so vast that I did not limit myself to just Muslims and our organisation provides assistance to women of all faiths," he said.
The turning point in Sayedbhai's life came when his sister was divorced by her husband through triple Talaq. "She had two children and I tried to convince her husband several times, but he refused to budge. Finally, I realised that something needed to be done for women like my sister," he said.
Sayedbhai came in close contact with the social activist Hamid Dalwai during the 1970s and on March 22, 1970 the 'Muslim Satyashodhak Mandal' was formally launched.
Run by volunteers, this organisation has been giving financial support, legal assistance and vocational training to women abandoned by their husbands, with the goal of helping them stand on their feet.
The Mandal now has branches in many cities in Maharashtra and every year on March 22, awards the 'Hamid Dalwai Smruti Puraskar' to a deserving social worker.
Originally from Hyderabad, Sayedbhai's family moved to Pune at the age of four. With two brothers and four sisters in his family, he started working from the age of 13 to add to the family income.
About his work over the last five decades he said a lot remains to be done and his focus now is create social awareness to prevent horrific crimes against women such as rape. "We see daily that women right from the age of three to 70 are been raped, brutally tortured and killed. Therefore, I have started working on this issue, especially amongst the youth to build respect for women and a willingness to support women in distress.
"There is a need for strict laws to punish violence against women and only then will there be fear in men that they suffer punishment," he said.
https://www.hindustantimes.com/cities/govt-should-talk-to-protesting-muslim-women-on-caa-says-padma-awardee/story-p8zZ2fga37AbnDh88OILUO.html
--------
Anti-CAA Protests: In Malegaon, A Private Space on the Highway Is Public Site for Women's Indefinite Sit-In
by Srinath Rao
January 28, 2020
Rafaida Noorulhuda is 20 days away from an important exam, but the final-year MBBS student is in no mood to study. For the past six days, she has been rushing to a pandal on Old Agra Road after classes to join the town's women in an indefinite sit-in against the Citizenship (Amendment) Act (CAA).
"I manage to study for some time each night after returning home from the protest. Life is completely disturbed," she says.
On January 22, after the Supreme Court declined to stay the CAA, women in Malegaon decided that protest rallies will not be enough. The same day, the Malegaon Sunni Council identified a vacant private property on the old Mumbai-Agra highway and decided to stage a protest in solidarity with the women of Delhi's Shaheen Bagh.
Malegaon Sunni Council president Yusuf Ilyas says on the first day, thousands of women gathered on the highway and moved to the plot after the police asked them not to obstruct traffic flow. "The plot can accommodate between 200 and 300 people, but we have a floating crowd that changes every two hours," he says.
Ilyas estimates that close to 10,000 women are taking part in the protest between 10 am and 10 pm daily. As protesters use a microphone and loudspeaker, police have ordered them not to use the equipment after 10 pm, by which time the women return home.
Inside are protesters of all age groups, from school students to senior citizens. "All us of have left our work to sit here. No one has asked us to come. We will not leave until the CAA and the NRC (National Register of Citizens) are repealed," says 50-year-old Zulekha Sayyad, a homemaker.
Sayyad says most of the older women fast for the duration of the 12-hour protest. "We did think of arranging food from outside but people will then say we are here only for free biryani," she says. For those who do not fast, sons and husbands bring lunchboxes, she adds.
The council has arranged for drinking water, toilets, chairs and sofas for the elderly. "There are women who bring month-old babies and sit here for hours. A few protesters are close to 100 years old. All of them spend their own money on transport to reach here," Ilyas says.
Another protester, who asked to be identified as Jatiya, says she had brought 10 other family members with her on January 22. "Women would never come out of their homes before in Malegaon but Modi (Prime Minister Narendra Modi) has forced us to come out. We have come here for Islam and for India," she adds.
The council is locked in negotiations with the police to extend the protest. Malegaon Additional Superintendent of Police Sandip Ghuge says the protesters initially applied to use loudspeakers till January 25. "They have applied to renew the permission but we have not yet finalised it. Granting permission for loudspeakers depends on the number of people who gather at the site and their purpose," he says.
On Sunday evening, the atmosphere became tense when police took away the microphone. However, it was returned after 7 pm when Ilyas went to the police station.
"Our voices are not as loud that they will disturb those sitting in Delhi," says Tarannum Firdaus, a final-year BSc student. She adds that the microphone is used to recite prayers and speeches condemning CAA, NRC and National Population Register (NPR).
Firdaus also alleges that police are forcing women to call off their protest. "We have followed all the rules. We are occupying private land and not obstructing traffic. On the first day, the pandal extended several feet into the highway but we have taken it inside. We use the microphone and loudspeakers till 10 pm. We have covered the site so that women can remove their purdahs, but police still want us to leave," she says.
Denying the allegations, Ghuge says the only objection is against the use of microphone and loudspeaker.
Protesters have claimed that representatives of the administration have not visited them so far. "It is just like at Shaheen Bagh. Modi felt a lot of sympathy for Muslim women when he criminalised triple talaq. Doesn't he feel any sympathy now when so many of us are sitting in protest?" Sayyad asks.
https://indianexpress.com/article/india/anti-caa-protests-in-malegaon-a-private-space-on-the-highway-is-public-site-for-womens-indefinite-sit-in-6238526/
--------
400 People Join Muslim Women On Indefinite Protest Against CAA In Mumbai Central
Yesha Kotak
Jan 27, 2020
A group of Muslim women in Mumbai Central have gone on an "indefinite protest", demanding withdrawal of the Citizenship (Amendment) Act (CAA), similar to the one at Shaheen Bagh in Delhi. Started by 60 to 70 women, including students, household helps and their family members, on a road in Madanpura on Sunday, more than 350 to 400 people had joined the protest by Monday.
Protesters said that they won't budge from their place until the Centre withdraws the Act.
"The government is doing what it feels like. They have detained Bhim Army chief Chandrashekhar Azad when he was protesting against the Act, women in Uttar Pradesh are not being allowed to protest…this is completely unconstitutional. We are just following the call to create a Shaheen Bagh in each and every city of the country. We won't budge until the Act is withdrawn and the Supreme Court gives the right order," said Fatima Khan, a law student, who is leading the protesters.
Khan said their other demands include a clear stand from the state government rejecting CAA, National Population Register (NPR) and the proposed National Register of Citizens (NRC). "We are reaching out to more people through social media and asking women to join the protest," Khan said.
Rosina Aslam Ansari, who works as a house help, said she hadn't gone to work on Monday morning to be a part of the protest. "What is happening here will affect us as we do not have documents. We are left with no option but to join the protest. The person I work for gave me a leave to be a part of the protest, saying she would join me too," said Ansari.
The Act, which was passed by Rajya Sabha in December, amends the Citizenship Act, 1955, and fast tracks the process for granting citizenship to members of non-Muslim persecuted minorities from Afghanistan, Bangladesh and Pakistan.
https://www.hindustantimes.com/india-news/60-70-muslim-women-start-indefinite-protest-against-caa-in-mumbai-central/story-fn5OOH7oAXTpvALLplolPI.html
--------
Sabarimala Case: SC Fixes 10-Day Period For Hearing Issues Of Discrimination Against Women At Religious Places
January 28, 2020
The Supreme Court on Tuesday said that its nine-judge Constitution bench would wrap up within 10 days proceedings in the matter relating to discrimination against women in various religions and at religious places including Kerala's Sabarimala Temple.
A bench headed by Chief Justice S A Bobde made it clear that questions to be dealt with would be purely legal in nature and it would not take more time in concluding the hearing. "It cannot take more than 10 days. Even if someone wants more time, it cannot be given," said the bench which also comprised justices B R Gavai and Surya Kant.
The observations came when Solicitor General Tushar Mehta mentioned the case before the bench, saying that in pursuance of the court's earlier direction a meeting of lawyers took place but it could not finalise the common legal questions for consideration of the nine-judge bench.
"We could not finalise common questions for consideration of my lords. The Supreme Court can consider framing the questions," the law officer said. The bench then asked Mehta to furnish issues dealt by lawyers in the meeting.
The court will consider issues related to entry of Muslim women into mosques, female genital mutilation in the Dawoodi Bohra Muslim community and barring of Parsi women, married to non-Parsi men, from the holy fire place at Agiary.
The court had on January 13 asked four senior lawyers to convene a meeting to decide on the issues to be deliberated by it in the matter. While referring the matter to a larger bench, the five-judge bench had said the debate about the constitutional validity of religious practices like bar on entry of women and girls into a place of worship was not limited to the Sabarimala case.
It had said such restrictions are there with regard to entry of Muslim women into mosques and 'dargahs' and Parsi women, married to non-Parsi men, being barred from the holy fire place of an Agiary. It set out seven questions of law to be examined by the larger bench. They include interplay between freedom of religion under Articles 25 and 26 of the Constitution; need to delineate the expression 'constitutional morality'; the extent to which courts can enquire into particular religious practices; meaning of sections of Hindus under Article 25 and whether 'essential religious practices' of denomination or a section thereof are protected under Article 26.
While the five-judge bench unanimously agreed to refer religious issues to a larger bench, it gave a 3:2 split decision on petitions seeking a review of the apex court's September 2018 decision allowing women of all ages to enter the Sabarimala shrine in Kerala.
A majority verdict by then Chief Justice Ranjan Gogoi and Justices A M Khanwilkar and Indu Malhotra decided to keep pending pleas seeking a review of its decision regarding entry of women into the shrine, and said restrictions on women in religious places was not restricted to Sabarimala alone and was prevalent in other religions as well.
The minority verdict by Justices R F Nariman and D Y Chandrachud gave a dissenting view by dismissing all review pleas and directing compliance of its September 28 decision. The split decision came on 65 petitions — 56 review petitions, four fresh writ petitions and five transfer pleas — which were filed after the apex court verdict of September 28, 2018 sparked violent protests in Kerala.
By a majority 4:1 verdict, the apex court had lifted the ban that prevented women and girls between the age of 10 and 50 from entering the famous Ayyappa shrine in Kerala and held that the centuries-old Hindu religious practice was illegal and unconstitutional.
https://www.financialexpress.com/india-news/sabarimala-case-sc-fixes-10-day-period-for-hearing-issues-of-discrimination-against-women-at-religious-places/1837333/
--------
Hindu Girl Abducted From Wedding Venue, Converted, Married Off In Pakistan
Jan 28, 2020
AMRITSAR: A teenaged Hindu bride from Pakistan's Sindh province was allegedly kidnapped from the venue of her wedding a few days ago, converted and married off to a Muslim man by the time police responded to her parents' complaint and traced her to Karachi.
Ravi Dawani, general secretary of the All Pakistan Hindu Panchayat, told TOI on Monday that it was the third instance in less than two weeks of Hindu girls being targeted, including a 15-year-old from Sindh who was kidnapped on January 15 and converted to Islam.
Hindu conversion
"The bride from Hala in Matiari district of Sindh was converted to Islam at Banoria in Karachi and married off to one Shahrukh Memon," Dawani said.
He said the Hindu panchayat helped the girl's family approach the police, who sent a team to Karachi to bring her back to Sindh. She was produced in a Hala court on Monday, but it wasn't immediately known whether action had been ordered against those accused of kidnapping her.
In the case of the 15-year-old, a resident of Jacobabad district, a court has directed the police to get an ossification test done to confirm her age.
Dawani said a 25-year-old woman from Kot Gulam Mohammad town of Mirpur Khas district had also been whisked away from her home four days ago and converted to Islam. She is now married to a Muslim man identified as Ghulam Mustafa. "We are still to verify whether the woman got married to Mustafa against her wishes," Dawani said.
National assembly member Ramesh Kumar Vankwani, who is from PM Imran Khan's Pakistan Tehreek-e-Insaf and patron of the Pakistan Hindu Council, didn't respond to queries from TOI about the spike in allegedly forced conversion and marriage of Hindu girls. Kheal Das Kohistani of the opposition Pakistan Muslim League (Nawaz) condemned the incidents, saying forcible conversion and attacks on Hindu shrines had left the minority community scared.
Dawani claimed that unidentified people recently vandalised the Mata Rani temple at Chachro in Tharparkar district of Sindh.
On January 4, a mob had attacked Gurdwara Nankana Sahib in Nankana Sahib, the birthplace of Guru Nanak Dev. This followed the kidnapping, conversion and forced marriage of a Sikh preacher's daughter.
https://timesofindia.indiatimes.com/world/pakistan/hindu-girl-abducted-from-wedding-venue-converted-married-off-in-pakistan/articleshow/73679144.cms
--------
Initiative to Empower Poor Women To Be Launched On Friday In Pakistan
January 28, 2020
PESHAWAR: Special assistant to the prime minister on social protection and poverty alleviation Dr Sania Nishtar on Monday said Prime Minister Imran Khan would launch the ambitious Ehsas Kafalat Programme on Jan 31 for the socio-economic empowerment of poor women across the country.
Addressing a presser here after inaugurating biometric system for the Benazir Income Support Programme's beneficiaries, Dr Sania said Rs2,000 stipend would be paid to registered women under the Ehsas Kafalat Programme through a digital system.
She said the stipend would be paid to BISP beneficiaries through the two leading private banks to avoid complications.
She said the beneficiaries would be given payment through ATMs under a transparent mechanism and number of such points was being increased so that they could get stipend amount in a dignified way in their respective areas.
The special assistant to the prime minister said the programme would be launched in a phase manner and that in the first phase, the Ehsas Kafalat Programme was to be launched in Lakki Marwat, Haripur, Charsadda and Mohmand districts.
She said the initiative would focus the women of all districts, including those living in merged tribal ones.
Dr Sania said the premier earnestly desired to improve the socio-economic conditions of the downtrodden segments of society through a multidimensional Ehsaas programme.
She said the incidence of poverty in merged areas was higher than provinces' but a comprehensive survey would be launched soon to identity poor people.
The special assistant to the prime minister said the names of 820,165 undeserving beneficiaries were removed from the BISP database and of such people, 140,000 were the employees of Pakistan Railways, Post Office and BISP.
She said the lists of all such government employees were sent to the federal and provincial governments for disciplinary action. Dr Sania also said four BISP officers were dismissed from service, while show-cause notices were issued to two others for the purpose.
She said a langar khana (soup kitchen) was being established at the Peshawar General Bus Stand after the provision of land by the government for the poor people and commuters.
Ajmal Wazir, a spokesman for the KP government, said the Ehsaas programme would largely benefit the people of Khyber Pakhtunkhwa, including merged tribal areas.
He said the Sehat Insaf Cards were being provided to the residents of merged areas to provide quality treatment to poor patients in line with the premier's vision.
The spokesman said shelter homes were established in Peshawar and other districts of Khyber Pakhtunkhwa, where the poor people were given free food, accommodations and transport service.
He said the government had simplified the BISP registration system to provide financial assistance to the poor people in a dignified manner.
https://www.dawn.com/news/1530920/initiative-to-empower-poor-women-to-be-launched-on-friday
--------
FIA Arrests Youth For Blackmailing Iranian, Afghan Women Via Social Media
Jan 28, 2020
KARACHI: A Federal Investigation Agency (FIA) team on Monday carried out a raid in Mirpurkhas to nab a youngster allegedly involved in blackmailing foreign women via social media accounts, ARY NEWS reported.
According to details, the accused had over 150 accounts on social media from where he used to hack the accounts of the foreign nationals to retrieve images and their other personal data only to blackmail them.
The accused use different technologies aimed at taking over the accounts and was involved in harassing Iranian and Afghan national women. The authorities claimed that he had been hiding in interior Sindh for the last one and a half year.
"We have taken into possession his laptops and mobile phones and a forensic audit of them are underway to unearth more details of his crime," he said.
In April 2019, the cybercrime cell of the Federal Investigation Agency (FIA) has arrested a man involved in blackmailing girls on social media.
According to FIA, the man was identified as Jahangir who had created several profiles on social media platforms with a purpose of deception.
The cybercrime cell of the FIA said the culprit used to lure girls into helping them provide employment and clear examinations.
It was found that he had harassed a number of girls, and had been involved in the illegal activity for years.
https://arynews.tv/en/arrests-blackmailing-social-media/
--------
URL: https://www.newageislam.com/islam-women-feminism/egypt-court-backs-niqab-ban/d/120913
New Age Islam, Islam Online, Islamic Website, African Muslim News, Arab World News, South Asia News, Indian Muslim News, World Muslim News, Women in Islam, Islamic Feminism, Arab Women, Women In Arab, Islamophobia in America, Muslim Women in West, Islam Women and Feminism