New Age Islam News Bureau
25 Jan 2018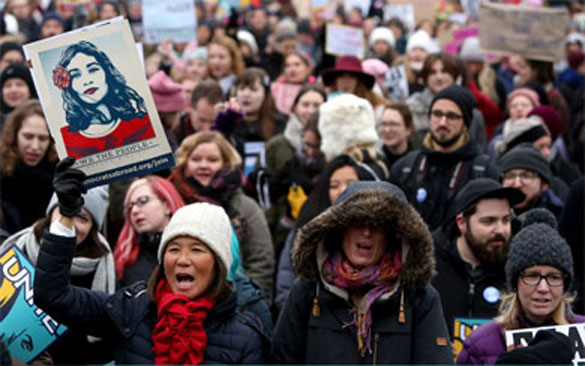 The MeToo movement has spawned protests across the world, including in Berlin on January 21 CREDIT: ADAM BERRY/GETTY
----
• Iranian Painter's Mouthless Women Speak Volumes At Istanbul Exhibition
• Indonesian Woman's Clip of Street Groping Goes Viral In Muslim Country's #MeToo Moment
• British Schoolgirl Who Planned To Travel To Syria Caught After Asking Teacher To Sign Passport Photos
• Saudi Embassy in Washington Hosts All-Women Art Show
• 'Suicide Bomber': J&K Police on Alert after Input on Teen Girl
• Saudi Girl Gamers Compete In Global Game Jam Weekend
• New Board of Dubai Foundation for Women and Children Appointed
• Iran: Women Stage Protests In Yazd And Rasht
Compiled by New Age Islam News Bureau
URL: https://www.newageislam.com/islam-women-feminism/educating-girls-collective-responsibility-says/d/114059
--------
Educating girls collective responsibility, says Malala at Davos
Jan 25 2018
DAVOS: Nobel Prize laureate and social activist Malala Yousafzai stressed collective responsibility to promote the education of young girls across the globe.
While speaking the World Economic Forum session titled 'An Insight, An Idea with Malala Yousafzai' on Thursday, she admitted that the fight for female education is not a single person's job.
"Not one person will be able to do this. I [alone] can't send all girls to schools. What I can do is send as many girls as possible. I try to reach out as many girls as possible."
It is also important to remind everyone that they can all play a role in this struggle. "This is a responsibility we should all realise."
She further said: "Imagine how many girls we lose daily? Recently, I went to Lebanon and I met female Syrian refugees. I asked the girls what they what to become when they grow up, one of the girls said she wants to be an architect. I asked her, 'why do you want to be an architect'. She replied that when she was leaving Syria, she saw so much destruction and devastation. She decided that she will rebuild her country once she goes back."
Malala stressed, "You have to speak out for those girls. They are a resource for their community. [if we don't raise our voices then these girls] will never be able to have a voice or rights."
'Time for women to raise their voices'
Sharing her opinion on US President Donald Trump, Malala said: "I just get disappointed to see people in high positions openly talk against women, they do not accept women as equal, they harass women and it's just shocking for a second to believe that this is happening."
She added, "I hope women stand up and speak out against it. It's time for women to raise their voices, so their voices are heard and it reaches minds."
When asked about her journey to feminism, Malala shared: "When I first heard about feminism, it was not about women's right, not about equality. I came across these messages that feminism is controversial, that feminism is women's superiority. I wasn't sure what this word meant."
However, she added that as she more researched on the world she realised that it just means equality. "No one would object equality".
On the significance of education, she shared that education can play a key role in giving the message of equality.
Malala encouraged the young girls to speak up and play their part in bringing change. "I started speaking out when I was 11. Soon, I realised people were listening to me. Change is possible. Don't limit yourself just because you are young. You can bring change at anytime possible."
The WEF is currently being held in Davos with celebrities, politicians, journalists, businessmen among others attending it.
The Pakistani education activist came to prominence when a Taliban gunman shot her in the head in 2012 as she was leaving school in Pakistan's Swat Valley, north-west of the country's capital Islamabad. She was targeted for her campaign against efforts by the Taliban to deny women education.
At 19, Yousafzai is the youngest Messenger of Peace, the highest honour given by the United Nations for an initial period of two years. She was also the youngest person to win the Nobel peace prize in 2014 when she was 17.
https://www.geo.tv/latest/178621-malala-yousafzai-advocates-education-as-basic-right-for-every-girl-at-davos
--------
Iranian painter's mouthless women speak volumes at Istanbul exhibition
Murat Erdin
January 24, 2018
In her paintings, Iranian artist Maryam Salahi usually portrays women with their mouths painted over or behind a veil made of a piece of cloth or chiffon added to the canvas. But some of the women in the works displayed in "IDs please," her current exhibition at the F Art Gallery in Istanbul, have no faces at all.
"In our societies, women are allowed to speak little. That's the preference of a society that does not want women to be outspoken," Salahi told Al-Monitor. "But inside those silent women, there is a volcano or a killer that could come out. That's the real situation in the Middle East. Women live under pressure. So this is what I paint."
Salahi moved to Turkey 11 years ago. In an interview with KulturSanat, she said she left Iran for Istanbul in search of better opportunities, feeling she had done all she could do in Tehran. Before moving permanently, Salahi earned a bachelor's degree from the Faculty of Fine Arts at Tabriz Azad University, and in Istanbul, she is currently studying for her doctorate at Yeditepe University. Her thesis concerns identity and is titled "Art Pieces Made and Evaluated on Common Values — Religion, Language, Race and Identity — after the '70s."
"The Turks and the Iranians do not feel free in their own countries," Salahi said. "In these two countries, we have an identity problem. Iran is a desperate case. In Turkey, there are other kinds of problems. Many unhappy people [in the Middle East] want to flee to the Western countries. They are angry at the West but nevertheless want to settle in the West. No one is honest."
Salahi would like to see Middle Eastern states develop their own identities, which would entail a significant change in the way countries are led and the societies structured.
"First, religious and state affairs must be completely separated from each other," Salahi said. "The president or the prime minister is not a prophet but an officer [of the state]. Countries should not be governed by the laws of religion. Given the development of technology, it is no longer possible to allocate so much room to religious teachings in our daily lives. We do not live in the times of the Prophet [Muhammad] anymore. If there were no mullah regime in Iran, my country would be a very different country, even a superpower."
Salahi applied for Turkish citizenship three years ago, but is still awaiting the government's decision. For now she carries a Turkey-issued ID for foreigners. While concluding a business deal or discussing the rent for an apartment, as soon as people realize that Salahi is a foreigner, they want to see her identity card to ensure that she is not an "illegal."
Regarding her application for Turkish citizenship, Salahi said, "Being an artist gives you no advantage. You either have to get married or have large investments. That's why I titled my exhibition 'IDs please.' People ask for my identity card everywhere, upfront, but I do not care anymore."
Salahi's works are mostly in oil paint, on large canvases, but she also uses a mix of other techniques and collage, such as adding fabric, tulle or paper, to the canvas. In one untitled work, two women's faces are presented side by side, in gray tones, the eyes vacant and the mouth nonexistent.
Figen Bati, a painter and art consultant, likes the way Salahi expresses herself in her work. "Salahi is a powerful and dominant character," she told Al-Monitor. "She expresses her character with her colors and brushes. The paintings reflect the difficulties she has lived through and witnessed as a woman, as a newcomer to a country. Our identities are not simply a piece of paper. It is something we question. Maryam Salahi's work, which is well liked by the audience that has visited the exhibition, reflects the Middle East identity crisis."
According to journalist Ozgur Yuce, Salahi's paintings, with their splashes of bold colors with dark spots in the background, touch on a search for freedom. "Salahi emphasizes with the many fragments of drawings in her paintings the censorship she has seen," Yuce said. "It is a rebellious style that highlights women, through mere silhouettes or [pale, or fading] women."
Asked when the women of the Middle East will be able to assert their own identity, Salahi's response was far from optimistic. "I wish I could have such a hope," she said. "Maybe [this will happen] if we reach an atmosphere where religion and politics are separated. We will have freedom when our people — educated, uneducated, peasant and urban people — can understand [that we need to separate the state and religion]. Europe made that separation 500 years ago and was liberated."
https://www.al-monitor.com/pulse/originals/2018/01/iranian-painter-in-turkey-focuses-on-identity-religion.html
--------
Indonesian woman's clip of street groping goes viral in Muslim country's #MeToo moment
Nicola Smith
24 JANUARY 2018
A young Indonesian woman has recounted how she tracked down a man who groped her on the street in broad daylight, in what has become one of the Muslim nation's most high profile "Me Too" moments.
Named only as Amanda, the 22-year-old told local media that she posted CCTV footage of a man on a motorcycle grabbing her breast while she was walking alone in the city of Depok, West Java, because she believed her complaint was not being taken seriously by the police.
The clip went viral on social media and the suspect, 29, was subsequently arrested. "The police say my case is progressing quickly," said Amanda. "But I think it is only because I made it go viral. Sexual harassment happens all the time, but people – including the police – don't see it as a real problem."
Her bold decision to go public resonated in a country where grassroots women's movements are starting to spring up to fight back against widespread street harassment.
"It's an epidemic, and, unfortunately, at the moment, Indonesia has no legal protection for sexual harassment," Yuniyanti Chuzaifah, vice chairwoman of the National Commission on Violence Against Women told the New York Times in December.
"Women have to be brave to report it, and the police services here are not friendly towards victims," she said. "There's a lot of victim-blaming, like it is their own fault."
Amanda described how she had been en route to the train station on January 11 when a man drove up behind and violently groped her.
"He actually stopped next to me, grabbed me, and with his right hand accelerated his motorbike to get onto the main road. I screamed at him, but it was quiet there so no-one heard," she said.
The incident left her crying and shaking, but she still had the presence of mind to record his licence plate number and recover CCTV footage of the incident from a nearby property.
But despite her evidence, Amanda was passed from one police department to the next.
"I felt disappointed," she said. "I thought my report would probably not get processed. So I went to an Instagram account with lots of followers, @InfoDepok, and asked them to help my case go viral," she said.
Her case was solved when a different police unit saw her video and found the culprit. She was given the chance to confront him at the station but "he just kept going around in circles," she said. "He said he had made a mistake because he was stressed."
She had decided to press charges but not out of revenge. "I want this to be a deterrent for other potential harassers…I want them to see that they can't just go around grabbing anyone they want," she said.
http://www.telegraph.co.uk/news/2018/01/24/indonesian-womans-clip-street-groping-goes-viral-muslim-countrys/
--------
British schoolgirl who planned to travel to Syria caught after asking teacher to sign passport photos
Francesca Marshall
24 JANUARY 2018
A British schoolgirl who intended to travel to Syria to work as a nurse supporting Islamic State terrorists asked teachers to sign her passport photos.
Sandeep Samra from Coventry reportedly joked with teachers "Miss, you are going to see me in the news" and asked for help with getting a passport before she was arrested, a court heard.
The 18-year-old was brought up Sikh before converting to Islam aged 15, but had not told her family.
Appearing at Birmingham Crown Court she admitted attempting to travel to Syria between June 1 and July 31 last year and pleaded guilty to engaging in conduct in preparation for terrorist acts.
She denied intending to carry out acts of violence, explaining that she had wanted to leave the UK after members of an anti-extremism team informed her family she had changed religion.
The teenager also stressed that she had not talked about hurting anyone in discussions on social media.
Prosecutors allege online messages show Samra - who claims she only planned to help Isis as a nurse - was "going for death" and intended to die for the Islamic State.
In messages she wrote: "I want to go, Inshallah [God willing] if it's still possible - at least our nurses can help soldiers and stuff, I really want to go."
Samra applied for her first passport in September 2015 but it was handed to the police by her father a month later after teachers became concerned and reported her.
The teen applied again in June last year before she was arrested and had her phone seized, which revealed plans to travel to Syria.
Emma Shuttleworth, who worked at Lyng Hall School, said Samra had "frantically" called to ask for the assistant headteacher to countersign her passport photographs, adding that the teenager had become "impatient, frustrated and rude" after the request was not carried out.
Two telephones were taken from Samra, one in October 2015, the other was seized in July 2017.
Messages show Samra describing how she preferred watching shooting executions over beheading videos but if it was "someone like [Barack] Obama I wouldn't care."
She also spoke with an unidentified person using an Arabic translator last year, writing: "I need a passport. If infidels know you support they take your passport. Britain is very strict.
"We should meet to marry in Oman to go to Syria together, God willing."
In a prepared statement presented to the court, Samra said she had also considered going to India and Dubai to continue her nursing studies.
http://www.telegraph.co.uk/news/2018/01/24/british-schoolgirl-planned-travel-syria-caught-asking-teacher/
--------
Saudi embassy in Washington hosts all-women art show
24 January 2018
WASHINGTON, DC: This week, Saudi Arabia's embassy in Washington broke another glass ceiling for women by sponsoring a woman-only artist exhibition that focuses on the changes, innovations and opportunities available to women who have majored in visual communications studies, specifically graphic design and motion graphics. The students' artwork features their culture, traditions and faith.
The exhibit, entitled "Women's Point of View," is hosted by the embassy under the patronage of Ambassador Prince Khalid bin Salman bin Abdulaziz Al-Saud.
"This exhibition focuses on putting forward the point of view of view of Saudi women," Dar Al-Hekma University President Suhair H. Al-Qurashi told Arab News.
"The students here are speaking for themselves through their art work, which is a universal language. Each piece of art on display here portrays their personalities and a woman's perspective.
"This exhibition features the artistic works of at least 10 Saudi female visual communication students who were invited from the Kingdom to come and narrate, in the first-person, their own works," said Fatimah Baeshen, spokesperson at the Saudi Embassy.
"It is important for public audiences to see the various perspectives that exist among Saudi women and to hear, first-hand, how they view society — both of which help breakdown stereotypes.
"The works installed vary in terms of content and forms; from fitness to wedding culture to mapping tourist sites and photographs, illustrations, as well as mobile applications, which also indicate the caliber of education Saudi women receive in the Kingdom," said Baeshen.
"I'm proud that Dar Al-Hekma has made major strides in developing different professional skills for women in the Kingdom," said Al-Qurashi.
"For more than a decade, our graduates have been entering the job market and raising the standards of graphic arts and motion graphics in the Kingdom."
Dar Al-Hekma University has always had a vision of creating female leaders and entrepreneurs, she explained, adding that it strives to get students involved in elite activities, innovative programs, and creative projects that initiate international exchanges.
The young artists' perspectives certainly are vastly different, which makes the exhibit intriguing – and impossible to stereotype any of these women.
Latfal Al-Ghandi, one of the artists whose work is on display, said this is her first time in the US. Her hope is that her art "will help Americans understand that the Islamic religion is very unique and spiritual. Mosques represent the identity of Muslims," which is the subject of her display.
A recent graduate, Malath Al-Nemari created her series for a commercial photography class on the theme of the exhibition. Her artwork focuses on a series of photos of a young woman engrossed in reading a book.
"I want to show educated Saudi women who know the power of books — which encourages creativity."
The best way to accomplish this, she said, is through the use of visual communications. "I wanted to deliver visuals without explaining anything; just 'as you see it, and as you feel it,' which I hope will cause the viewer to use their power of imagination."
"We started with the idea of the Saudi woman," said assistant professor Linda Schaefer, director of the exhibit that has been produced over the past two years. She emphasized that the artwork expresses "how they wanted the West to see them from a Saudi woman's point of view."
Rana Fatani created an online tour of old Jeddah, a UNESCO world heritage site, and is currently seeking approval of its use by the Saudi authorities.
"The whole purpose of this exhibit for me is that I wanted to give back to my country… which gave me both a scholarship and a way to create and accomplish this. I could never imagine that this would happen to me. It is a dream come true."
Dina Alttamrani's vivid pre-wedding photos display a bride resplendent in red. Her focus, she said, was to convey both old and new traditions in Al-Baha, her hometown, while also showing a thoroughly modern bride.
Asked about the use of gold leaf as a form of henna on the hands of her bride in her photos, Alttamrani explained: "It's something to please the traditional bride and her family while also adding the modern era into the mix."
Al-Ghamdi's work focuses on an orange-turbaned woman. "I want to highlight three main things in these photos. I want to show that Saudi women are strong, and that the hijab doesn't stop them achieving their goals and their dreams. And to show that a Saudi woman can be beautiful, fashionable, and modern — even if she covers her hair."
Sara Bokhary photographed her grandmother teaching her grandson the traditions of Islamic prayer.
Lama Al-Balawi is the only artist present at the exhibit who is a fashion designer and sketches hand-drawn faces using black charcoal.
Al-Balawi says she wanted to show the "imperfections and beauty of our culture, especially the Bedouin features. Every drawing shows a value in the Bedouin life: their courage, their hard life and how they overcome it and how they appreciate everything."
The organizers of Dar Al-Hekma's Women's Point of View exhibit said they hope Americans will be inspired by these students' artwork, as the exhibit highlights these young women's innovations and creativity.
They are also investing in the next generation of Saudi women. These young women are taking the lead in creativity, they explained, it is their hope this will encourage more Saudi women to follow their example and thus embolden other Saudi women to play a role in promoting art while connecting with a wider audience at home and abroad.
The embassy's Women's Point of View exhibition closes Friday, Jan. 26.
http://www.arabnews.com/node/1232126/art-culture
--------
'Suicide bomber': J&K Police on alert after input on teen girl
January 25, 2018
A Jammu and Kashmir police communication has alerted the force that an 18-year-old girl from Yerwada, Pune, may attempt a suicide attack on Republic Day.
In the communication from the Inspector-General of Police, Kashmir, to all the top police officers, the forces have been asked to be on high alert.
The police communication spoke about "a strong input" that the girl from Maharashtra who is "in the Valley may cause a bomb explosion near or inside the Republic Parade venue in the Kashmir Valley''.
The officials have been directed to ensure frisking of all women. They are tightlipped about other details of the girl or any militant outfit she could belong to. "Yes, we have received a communication about the possibility of the suicide attack by an 18-year-old woman. After the inputs, precaution is being taken at all the sensitive places,'' a senior police officer said.
Sources in investigating agencies in Pune confirmed that the girl went through counselling by the Maharashtra ATS in December 2015 after she was found to be mentally set to go to Syria and join the Islamic State. She had been influenced by online propaganda operatives. Attempts were made by the ATS to de-radicalise her with the help of Islamic clerics. But in July 2017, she was found in New Delhi by investigative agencies while she was on her way to meet some persons in Jammu and Kashmir.
After questioning, the investigators sent the girl back to her family with a warning that she was highly "radicalised" and for "de-radicalisation" she needed counselling by Islamic scholars. Investigators had found that she had gone to Delhi without informing her family.
http://indianexpress.com/article/india/suicide-bomber-jk-police-on-alert-after-input-on-teen-girl-5038244/
--------
Saudi girl gamers compete in Global Game Jam weekend
25 January 2018
RIYADH: The Global Game Jam (GGJ) is happening this weekend January 26-28, and Saudi Arabia is going all out this year with four registered locations in the running, including the first women-only event.
With two locations in Riyadh, one in Jeddah, and one in Al-Khobar, this marks the Kingdom's most active year in GGJ to date.
Founded by the International Game Developers' Association in 2009, GGJ holds a Guinness World Record for the largest game development event ever. Developers and game enthusiasts of all skill levels are invited to participate in the world's largest simultaneous game dev event, which will last the entire weekend.
Participants will be given the year's theme and, after being assigned to a team, they will work toward creating a finished, playable game before the event is over.
Abdulmalik Zubailah, a member of the Den of Devs group and one of the organizers of the Jeddah event said: "We're incredibly excited for this opportunity and can't wait to see how it turns out. Both we, the organizers, and the community have always wanted to do game jams in Jeddah, but they never really worked out. Then one of our members suggested GGJ, and now we're finally getting our chance."
This year's GGJ also boasts the first women-only event held at King Saud University's female campus in Riyadh. The event is being organized by Hackathon Arabia, who are hosting the male meet up in Riyadh, with GCON supervising the women's event.
"We are thrilled to be hosting over 100 female game developers this year," said Najla Al-Ariefy, organizing member of GCON. "We hope to create a collaborative and fun environment for our burgeoning community of female game devs."
http://www.arabnews.com/node/1232511/saudi-arabia
--------
New board of Dubai Foundation for Women and Children appointed
January 24, 2018
Dubai: Shaikh Hamdan Bin Mohammad Bin Rashid Al Maktoum, Crown Prince of Dubai and Chairman of the Dubai Executive Council, issued Executive Council Resolution No 4 of 2018 naming the board of directors of the Dubai Foundation for Women and Children chaired by Ahmad Darwish Al Qamah Al Muhairi.
Mona Eisa Al Bahar will be deputy chairman. Members include Hessa Abdul Rahman Tahlak, Aisha Ahmad Al Merri, Mohammad Ali Rustom, Khalid Yehia Al Hussaini and Dr Sultan Abdul Hamid Al Jamal, apart from the director-general of the Dubai Foundation for Women and Children.
The new board serves for a renewable term of three years.
http://gulfnews.com/news/uae/government/new-board-of-dubai-foundation-for-women-and-children-appointed-1.2162299
--------
Iran: Women stage protests in Yazd and Rasht
24 January 2018
The women teachers of Yazd continued their protest on Tuesday, January 23, 2018, for the second consecutive day outside the Governorate in the capital of this central Iranian province. They demanded receiving ten months of their unpaid salaries.
On the same day, the women and men cheated by the state-backed Caspian Credit Institute in Rasht, northern Iran, staged a protest on Tuesday, January 23, 2018, demanding reimbursement of their money and property plundered by the Revolutionary Guard Corps. The protesters chanted slogans accusing the institute and the government of stealing and abusing Islam.
http://women.ncr-iran.org/iran-women-news/4704-iran-women-stage-protests-in-yazd-and-rasht
--------
URL: https://www.newageislam.com/islam-women-feminism/educating-girls-collective-responsibility-says/d/114059
New Age Islam, Islam Online, Islamic Website, African Muslim News, Arab World News, South Asia News, Indian Muslim News, World Muslim News, Women in Islam, Islamic Feminism, Arab Women, Women In Arab, Islamophobia in America, Muslim Women in West, Islam Women and Feminism