New Age Islam News Bureau
4 May 2014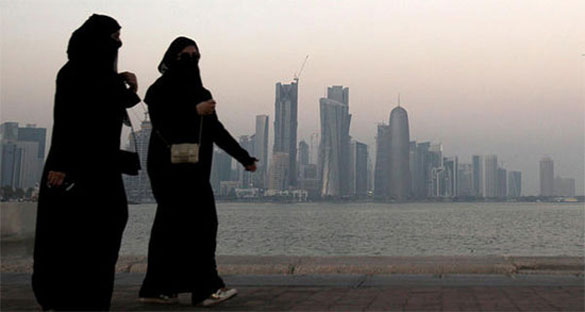 Educated and ambitious, Qatari women nudge their way into the office - CSMonitor.com
------------
• US To Do 'Everything Possible' To Help Rescue Abducted Nigerian Girls
• 26% Pregnant Saudi Women Are Victims of Domestic Violence
• Uniform School Education in KP Still a Far Cry
• Dr Mira for Working Women's Security in Paksitan
• Veena Malik Shows up as IHRC's Goodwill Ambassador
• Pakistani Women Journalists Demand Review of Working Conditions
• Malaysia's Silk Road Peace Runner Woman Crossing Iran
• 22 Saudi Women to Undergo 'Cloth Washing' Test
• Women Eye Seats On JCCI Commissions
• Indonesian Women Face Socioeconomic Problems Due To Early Marriage
• Nine Women Freed From Trafficking House in Sukabumi, West Java
• Women Must Have Access to Good Maternal Health: Nafsiah Mboi Indonesian Minister
• Eritrean Woman Asylum Seeker in Yemen
• 13 Shops in Riyadh Found Circumventing Feminization Regulations
Compiled by New Age Islam News Bureau
URL: https://newageislam.com/islam-women-feminism/educated-ambitious,-qatari-women-nudge/d/76862
-----------
Educated and ambitious, Qatari women nudge their way into the office
May 1, 2014
Tahani Al Marri, 23, has her future planned out. The Qatar University senior in communications is determined to work in public relations for the country's Olympic committee. And when she marries, she has just one demand: a husband who supports her career. "Of course when I get married I want to keep working," Ms. Al Marri says. "If he says he wants me to stay at home, I'll just show him the door."
The studious, confident women in Qatar's universities show how much has changed since Qatar's rapid development began in the 1970s. Women have yet to make equivalent gains in the workplace, even as their world has expanded.
"Before Qatari women were like a shell, totally closed. We were afraid to speak out and get involved in society, especially dealing with men," Al Marri explains. "But now the shell is open."
RECOMMENDED: International Women's day: Test your knowledge about women leaders
Women outperform the men at every level of education in Qatar and outnumber them in college classrooms by nearly two to one. High school and university instructors often complain male students seem bored and unmotivated.
Still, Qatar remains a patriarchal society in which boys grow up knowing that they will inherit family businesses or easily find high-paying government or military jobs that may not require a degree. Men have more social freedom than women, which helps explain their low university enrollment rates, says Moza Almalki, a Qatari psychologist.
"Boys have their cars, their friends, their own lives. Girls don't get that at all, so they have more time to study," she explains.
Signs of progress
For all their education, women remain underrepresented in the workforce: Only 35 percent of Qatari women work, compared with 68 percent of men. Qatar has a goal of bringing female participation up to 42 percent by 2016, but it's a hard sell because generous welfare benefits remove any financial incentive. For families, a second income is rarely necessary.
Then there's tradition. Shareefa Fadhel, founder of the Roudha Center, which trains women who want to start their own businesses, says that most families have no objection to their daughters working, but about 80 percent of them prefer that they work in gender-segregated offices. That limits promotion opportunities by preventing interaction with supervisors, who are usually men.
And men are still preferred for senior positions.
"There are not enough Qatari men that could be in leadership positions. So when a potential leader or manager is identified, firms and companies, including government entities, hold on to them tightly and promote frequently, even if that means this man is moving from one organization to another," Ms. Fadhel explains. "Consequently women are forgotten and left behind in the development and leadership ladder."
Among younger Qataris, there are signs of progress: More than 60 percent of women between the ages of 25 and 34 work.
Aysha Erbad, 30, says all of her friends work. The instruments engineer at Maersk Oil Qatar acknowledges that some industries, like hers, are difficult to mesh with local customs, but that companies are trying to strike a balance.
Many families don't want their daughters to work on offshore oil rigs overnight or for extended periods of time away from home, as workers often do in the oil and gas sector, she notes. So Maersk allows women to conduct day visits to offshore sites.
Michael Ross, author of "The Oil Curse," says the Gulf's dependency on oil explains why there are so few women working in the region. Rapid oil-driven wealth means that countries skip stages of industrialization that would normally bring more women into the workforce.
Moreover, most available jobs in Qatar are in construction and petroleum industries, which are male-dominated around the world, says Prof. Ross, who teaches political science at the University of California at Los Angeles.
Changing expectations
Many young Qatari men say they expect to marry women with jobs.
Mohammed Al Mulla, a 29-year-old who co-founded a local coffee shop, is married with two young sons. His wife works as a legal assistant at Qatar Petroleum.
"Let's be honest, most Qataris don't really need the money from the wife working," he says. "But I think it's almost an expectation that if a man marries, the woman would be working because Qatari women want to have a career and a professional network."
His wife's experience has been transformative, he says. He guesses that many men would be prepared to do more childcare and housework to make it work.
"She even has more energy for the kids because she has more personal goals outside of the family to focus on," Mr. Al Mulla says. "It will definitely be a good thing. I mean, this is basically more equality in a relationship instead of just dumping everything on the mom."
Khalifa Al'Attiyah, a 26-year-old who runs his own marketing company, reckons that at least half of Qatari men would be fine with a working wife. He says he wouldn't mind marrying a fellow entrepreneur.
"Does she have money? We could pull resources!" he says jokingly. "I would never force her to stay at home. Because then it's not like a relationship – it's more like slavery."
http://www.csmonitor.com/World/Middle-East/2014/0501/Educated-and-ambitious-Qatari-women-nudge-their-way-into-the-office
-----------
US to do 'everything possible' to help rescue abducted Nigerian girls
4 May 2014
ADDIS ABABA: US Secretary of State John Kerry on Saturday vowed that Washington will do "everything possible" to help Nigeria deal with Boko Haram militants, following the kidnapping of scores of schoolgirls.
"Let me be clear. The kidnapping of hundreds of children by Boko Haram is an unconscionable crime," Kerry said in a policy speech in the Ethiopian capital Addis Ababa.
"We will do everything possible to support the Nigerian government to return these young women to their homes and hold the perpetrators to justice. That is our responsibility and the world's responsibility," he said.
The US, he added, was "working to strengthen Nigeria's institutions and its military to combat Boko Haram's campaign of terror and violence."
Gunmen stormed the girls' boarding school in the country's northeast nearly three weeks ago, forcing them from their dormitories onto trucks and driving them into the bush after a gun battle with soldiers.
Nigerian police on Friday said Boko Haram militants were holding 223 girls of the 276 seized from the school, revising upwards the number of youngsters abducted.
The girls' abduction has triggered global outrage and prompted protests in a number of Nigerian cities, as desperate parents call on the government to secure their release.
Nigerian mothers on Saturday vowed to hold more protests to push a greater rescue effort from authorities.
"We need to sustain the message and the pressure on political and military authorities to do everything in their power to ensure these girls are freed," protest organizer Hadiza Bala Usman told AFP.
She said that women and mothers will on Tuesday march to the offices of the defense minister and chief of defense staff "to ask them what they are doing to rescue our daughters."
"We believe there is little or no effort for now on the part of the military and government to rescue these abducted girls, who are languishing in some dingy forest," she said.
Information Minister Labaran Maku said on Friday that President Goodluck Jonathan had chaired a top-level meeting with military and security chiefs about a possible rescue mission.
The mass kidnapping is one of the most shocking attacks in Boko Haram's five-year extremist uprising, which has killed thousands across the north and center of the country, including 1,500 people this year alone.
A car bombing in Nigeria's capital Abuja on Thursday that killed 19 has fueled fears that the militant group may be shifting its focus outside of its historic base in Nigeria's remote northeast.
http://www.arabnews.com/news/565136
-----------
26% Pregnant Saudi Women Are Victims of Domestic Violence
May 04, 2014
DAMMAM — Shoura member Nehad Al-Hebshi said from 21 to 26 percent of pregnant women are victims of domestic violence.
She said in most reported cases of domestic violence, children, and women aged between 20 and 32 and the elderly were the victims. She pointed out that there are protection centers in the different parts of the Kingdom, staffed by experienced doctors and specialists.
Al-Hebshi believes forcing adolescent girls to get married is a type of violence. She said 70 percent of women worldwide are victims of some of violence. — SG
http://www.saudigazette.com.sa/index.cfm?method=home.regcon&contentid=20140504204010
-----------
Uniform school education in KP still a far cry
Mohammad Ashfaq
May 04, 2014
PESHAWAR: Textbooks of around 15 publishers are being taught in private schools of Khyber Pakhtunkhwa contrary to the provincial government's repeated claims of bringing uniformity in the government and private schools' education system, it is learnt.
Even the Elementary and Secondary Education (E&SE) Department was caught unaware when its officials were asked whether the textbooks of different publishers being taught in the private schools were in accordance with the existing curricula or not. The officials said that the textbooks being taught in private schools were yet to be approved by the Directorate of Curricula and Teachers Education (DCTE).
The Pakistan Tehreek-i-Insaf-led provincial government has changed the medium of instruction from Urdu to English in the government schools from grade-1 in the ongoing academic year. The language of the textbooks in private and government schools is uniform, but the teaching material in the textbooks is not uniform.
"There is no uniformity in the textbooks, teaching methodologies and classrooms' environment, etc," MPA Ms Miraj Humayun, who is former provincial education minister, told Dawn.
The education in government and private schools is not uniform rather PTI has been deceiving masses by claiming on every available forum that it has introduced a uniform education system in the province, she said, adding that the PTI leadership didn't know what to do.
The officials said that the textbooks taught in the government schools were published by the Khyber Pakhtunkhwa Textbooks Board (KPTB), Peshawar.
According to several owners of private schools, they had the choice to select textbooks from one of the private publishers for their schools. Sometimes, the private schools select different books of different publishers, they said.
The publishers whose books are being taught in private schools include Afaq Publishers, Nayab Publishers, Jamal Publishers, Javed Publishers, Star Publishers, Gaba Publishers, Oxford Publishers, Millat Publishers, Khalid Publishers, Taj Publishers, Royal Publishers, Oxon Publishers, Gohar Publishers, etc, sources in the Board of Intermediate and Secondary Education, Peshawar, told Dawn.
Asked whether the books taught in private schools are in accordance with the curricula, additional secretary E&SE Qaiser Alam Khan said that the books should be according to the curricula. "Books can be of different publishers, but the text inside cannot be different," he said.
Asked if the private publishers take approval from the education department to introduce their textbooks for teaching in private schools, the additional secretary said that earlier it was responsibility of the federal education department's curriculum wing to approve books of private publishers before their sale in the market.
He said that following devolution of the education ministry under the 18th amendment it was now the responsibility of DCTE to approve books of private publishers. "The DCTE will take action against the publishers if their textbooks are found deviating from the officially approved curricula," he said.
DCTE director Bashir Hussain Shah, when contacted, said that the private publishers had so far not taken approval from his department. "The formulation of rules and regulations is underway to make it binding on the private schools to introduce the books published by the textbook board," he said.
He said that the establishment of examination commission was also in process which would conduct examinations of grade-5 and grade-8 of the government and private schools.
The examinations conducted by the commission would be from the textbooks developed by the KPTB, Peshawar, he said, adding this way the private schools would be encouraged to introduce the board's textbooks. "The education will be uniform only when the textbooks, teaching methodologies and facilities in the private and government schools would be same," said an educationist.
http://www.dawn.com/news/1104088/uniform-school-education-in-kp-still-a-far-cry
-----------
Dr Mira for Working Women's Security in Paksitan
May 03, 2014
LAHORE - First woman ombudsperson Dr Mira Phailbus has said that the women cannot work if they are harassed at work place. The Protection against Harassment of Women at the Workplace Act is for the protection of working women in government and private organisations alike. She was speaking at a meeting held under the aegis Sorosptimist International at Ali Institute on Friday. She briefed the participants on Protection against the Harassment of Women Act. She underlined the need that each organisation should constitute harassment committees to listen to the complaints lodged by the women employees of that organization. Dr Maria said that office of Woman Ombudsperson is fully authorised to order the concerned department to proceed against the person if found guilty of harassment. The penalties range from minor to major penalties that include dismissal from job and paying the compensation money to the victim.
Responding to a query, she said that if the concerned department ignores the order passed by woman ombudsman, it may be issued contempt of court notice.
Dr Mira told the participants that the department started from the scratch and limited manpower. She said that the working women should raise their voice against this harassment instead of keeping mum.
http://www.nation.com.pk/lahore/03-May-2014/dr-maria-for-working-women-s-security
-----------
Veena Malik Shows up as IHRC's Goodwill Ambassador
May 03, 2014
ISLAMABAD - The International Human Rights Commission (IHRC) has appointed actress Veena Malik as goodwill ambassador.
Veena Malik was appointed during a ceremony held here on Friday and joined her husband who was appointed as a goodwill ambassador earlier. Venna Malik told media of adjusting to marital life saying that her husband bought her a diamond ring every time the couple fights. Her husband Asad Bashir Khan said Veena had several film offers and would act if a good role came along.
http://www.nation.com.pk/islamabad/03-May-2014/veena-malik-shows-up-as-goodwill-ambassador
-----------
Pakistani Women Journalists Demand Review of Working Conditions
May 4, 2014
LAHORE:
The Women for Independent and Responsible Media conference was organised by the Pakistan Federal Union of Journalists (PFUJ) in collaboration with Individual land and Friedrich Neumann Foundation on Saturday.
The women journalists demanded a review of the salary structure for media people, especially for Urdu print media journalists.
Women journalists from all over the country attended the conference where they discussed issues pertaining to women in media organisations, unions and during field work. The journalists shared inspiring stories of struggle in three interactive sessions and spoke of issues that have hitherto not been raised.
The women journalists said that those who raised their voices for the rights of others almost never had the opportunity to highlight their own. They condemned the practice of firing women employees when they demanded maternity leave.
The participants demanded proper representation of women at decision taking levels and said they too should be considered for administrative posts in media houses on merit. They regretted that several organisations were reluctant to consider women for the Wage Board and urged unions to take up the issue with the government.
The participants demanded that unions provide women journalists council membership so that they could vote in union elections. They highlighted differences in issues faced by electronic media anchors and field reporters of print and electronic media. Unfortunately there is lack of resolve in addressing the issues faced by print reporters, they said.
The issues of journalists who had been let go due to downsizing had not been addressed at any level, the participants said. They demanded welfare schemes and monthly stipends for them and urged the media community to address the issue of retention of women journalists as well.
The participants also shared stories of harassment they had faced at the work place and demanded the effective implementation of the Protection against Harassment of Women at Workplace Act and harassment committees in all media organisations and elected bodies.
PFUJ President Afzal Butt said the union leadership was aware about the lack of representation of women in decision making bodies. He announced that the National Press Club's constitution would be amended to include women journalists at four decision making positions who would be selected through elections.
Published in The Express Tribune, May 4th, 2014.
http://tribune.com.pk/story/703818/seminar-women-journalists-demand-review-of-working-conditions/
-----------
Malaysia's Silk Road Peace Runner Woman Crossing Iran
29 April 2014
Suwaibah Muhammad Nasir, a 40-year-old Malaysian runner who started her journey for peace in Beijing, arrived in Tehran on Monday.
She will cover 3,333 kilometers in a run across the Silk Road to promote peace and will finish her journey in Venice, Italy.
Along the way, Nasir ran through China, Kyrgyzstan, Kazakhstan, and Uzbekistan, and is now in Iran. She will then cross Turkey, Bulgaria, Serbia, Croatia, Slovakia, and Italy.
The run is scheduled to end on June 3 in Italy, with the wife of the Malaysian prime minister waiting to greet her.
On Tuesday, Nasir made a symbolic run with four Iranian women runners in Tehran.
"Iran is one of the countries on my way, and I had a great experience here. I have passed through four countries so far, but none of their runners ran with me. It's a pleasure to meet Iranians, and due to this experience I will definitely come back to Iran in the near future," the Malaysian peace runner told reporters.
She also visited an Iranian charity institution for disabled people called Ra'ad.
Suwaibah Muhammad Nasir was the first Malaysian woman to run 1,111 kilometers across the Sahara.
http://tehrantimes.com/sports/115431-malaysias-silk-road-peace-runner-crossing-iran
-----------
22 Saudi Women to Undergo 'Cloth Washing' Test
4 May 2014
A popular restaurant chain in Jeddah stipulated 22 Saudi applicants to undergo a test as "tablecloth washers." Open only for the Saudi women, the job starting next week requires them to meet specific qualifications and conditions.
The job description entails working at the chain's laundry to wash and prepare the restaurants' tablecloths and napkins. Automatic washing machines are set in the laundry that has a special entrance.
A SR3, 000 monthly wage, travelling costs, medical insurance and social security registration will be offered to the employees in exchange for six hours of work per day.
An official at the restaurant said the four successful candidates would need to know how to read and
write.
"We opened this job only for the Saudis because the laws prevent women from working inside the restaurants," the official said on condition of anonymity. Saudisation laws require companies to include a quota of Saudi workers and another quota for them in order to be able to bring in foreign labour.
http://www.arabnews.com/news/565401
-----------
Women Eye Seats On JCCI Commissions
3 May 2014
There are 19 businesswomen competing for the membership of various commissions at the Jeddah Chamber of Commerce and Industry (JCCI), sources said.
Some of them are also vying for the chairs of these commissions, they said.
Members were elected to the chamber's board four months ago for a four-year term.
Many of the chamber's commissions used to be chaired and occupied exclusively by men in the past.
Adnan Mandourah, secretary-general of the chamber, said that there are at least 370 contestants running for the commissions.
Women are now trying to run for membership after failing to win any seat on the board, he said.
Elections for memberships in 19 sectoral commissions will be held on May 11.
Muhyi Hikami, deputy secretary-general of the chamber, said that the elections for the commissions will be conducted electronically.
Competition is particularly fierce for membership of commissions dealing with contractors, lawyers, private schools, real estate, public transport, fabrics and ready-made clothes, marketing and advertising, printing houses, livestock trading, engineering houses, auctions, electrical and house appliances, jewelry, foodstuff trading and car exhibits.
"There are 14 men and 12 women running for the commission dealing with private schools," he said. "Abir Salamah, a businesswoman, is the only female candidate among 34 contestants competing for a spot at the contracting commission."
"In addition, there are 19 merchants running for a seat on the livestock trading commission. Danya Al-Alami is the only woman running against 14 men for the membership of the jewelry and precious stones commission, while there are 18 contestants, six of them women, competing for a spot in the employment and training commission."
http://www.arabnews.com/news/564921
-----------
Indonesian Women Face Socioeconomic Problems Due To Early Marriage
May 03 2014
Women in West Nusa Tenggara (NTB) suffer from poverty, low education and a high rate of early marriage, says government data.
Data at the NTB Central Statistics Agency (BPS) in 2013 showed more than 61,000 women were susceptible to such problems.
Based on Social Ministerial Decree No. 24/1996, women facing socioeconomic problems are defined as widows with children, women between the ages of 18 and 59 who are not yet married and cannot meet their daily basic needs and those women without adequate earnings.
Widespread cases of early marriages, low levels of education and a high poverty rate have been highlighted, as well as failed poverty alleviation efforts.
Data at the BPS NTB branch showed that 61,533 women facing socioeconomic problems were found in Mataram city, Bima city and the regencies of North Lombok, West Lombok, Central Lombok, East Lombok, Sumbawa, West Sumbawa, Dompu and Bima.
"The number of women prone to socioeconomic problems in NTB is quite high, but in terms of percentage, it's only 2.5 percent of the female population in the province. Early marriage and low education levels are still the main factors," said NTB Women's Rights Protection and Empowerment Agency head T. Wismaningsih.
"Women in this group are not very poor and not yet affected by social issues, such as human trafficking and prostitution, but in general they are susceptible and could become embroiled in them," said Wismaningsih.
She cited the Malaysian widow issue in Lombok and Sumbawa, where women were left behind by their husbands who became migrant workers in Malaysia.
These women had to support several children alone and could fare better if their husbands sent them money. However, if their husbands were illegal migrant workers, sending back money could become problematic.
Wismaningsih deemed the high rate of early marriage in Lombok and Sumbawa to be the main trigger for the growing number of women with this issue in the province.
Based on data at the NTB Women's Rights Protection and Empowerment Agency, the rate of early marriages of women below the age of 15 was 5.8 percent of the 5.4 million population of NTB.
"This is quite high compared to the national level of only 3.5 percent," she added.
Many parents, especially in rural areas, prefer to immediately marry their children at a young age to prevent premarital sex.
"Early marriage is prone to divorce because they are emotionally, mentally and economically unprepared," said Wismaningsih.
The high rate of women prone to socioeconomic problems in NTB also has an impact on the high level of child neglect cases, she went on.
Based on data announced by the BPS NTB in 2013, the number of neglected toddlers and children in NTB stood at 21,418 and 205,116 respectively, in 10 regencies and cities across the province.
"Directly and indirectly, there's a correlation between these issues and child neglect," said Wismaningsih.
NTB Child Protection Agency legal division head Warniyati said her agency received at least 20 reports of child neglect annually.
Generally, she explained, they were the children of migrant workers who left the country and entrusted their children to relatives and even neighbors, who were unrelated.
http://www.thejakartapost.com/news/2014/05/03/women-face-socioeconomic-problems-due-early-marriage.html
-----------
Nine Women Freed From Trafficking House In Sukabumi, West Java
May 03 2014
Police in Sukabumi, West Java, recently raided a house in the city that was allegedly used as a base for human trafficking. They rescued nine women from the property, which was located on Jl. Goalpara.
Head of the Sukabumi Police rescue operation, Comr. Suwardi, said the police had been alerted by two women who had managed to escape from the building, Antara news agency reported,
"We went straight to the location and found nine other women from different areas in eastern Indonesia, namely Sulawesi, East Nusa Tenggara [NTT], Lombok and other districts in West Nusa Tenggara [NTB]," Suwardi said on Saturday.
He added that based on statements given by the women, the house's owner had told them they would be sent to Saudi Arabia as migrant workers. However, after several weeks, they were still being kept in extremely poor conditions with no sign of overseas job prospects.
Suwardi said the Sukabumi Police were still investigating the case and had yet to name any suspects.
"We arrested the owner of the house while he was at his second wife's house in Jalur Lingkar Selatan in the Baros area, and he is now under investigation," he said.
The International Organization for Migration (IOM) estimates that around 3 to 4 million Indonesian migrant workers have been victims of human trafficking. (fss)
http://www.thejakartapost.com/news/2014/05/03/nine-women-freed-trafficking-house-sukabumi.html
-----------
Women Must Have Access to Good Maternal Health: Nafsiah Mboi Indonesian Minister
May 04 2014
Health Minister Nafsiah Mboi says mothers must be given access to adequate sexual and reproductive health services so that they can give birth to healthy children.
"Every woman has the right to decide when she wants to become pregnant," she said in a campaign rally about children and women's health in Jakarta on Sunday, as quoted by Antara.
The "Survive Five" campaign, held by Wahana Visi Indonesia, is aimed at promoting awareness on the need to ensure that all children survive and pass their fifth birthday.
Hundreds of activists wearing purple-colorued T-shirts walked arm in arm around the Hotel Indonesia traffic circle.
Nafsiah said although Indonesia's infant mortality rate had fallen, the government would continue its efforts to push the rate down even further.
"Most child deaths occur in remote areas where women face difficulties in accessing healthcare services and where some women become pregnant outside marriages or have unwanted pregnancies," she said.
The Indonesian Demographic and Health Survey (SDKI) showed that the infant mortality rate in 2012 stood at 32 per 1,000 live births, of which 19 deaths per 1,000 live births occurred during the neonatal period, namely the first 28 days of a child's life.
The government aims to reduce the infant mortality rate to 23 per 1,000 live births by 2015. (ebf)
http://www.thejakartapost.com/news/2014/05/04/women-must-have-access-good-maternal-health-minister-says.html
-----------
Eritrean woman asylum seeker in Yemen
May 04, 2014
An Eritrean woman asylum seeker sits along with her family on the sidewalk in Sana'a, Yemen, on Saturday. More than 200 Eritrean asylum seekers including women and children living in the streets of Sana'a wait to be resettled to a third country. – AP
http://www.saudigazette.com.sa/index.cfm?method=home.regcon&contentid=20140504203932
-----------
13 Shops in Riyadh Found Circumventing Feminisation Regulations
May 04, 2014
RIYADH – The Ministry of Labour has found at Taibah Market in northern Riyadh 13 stores violating the decision to feminize shops for women's items.
The shops – 10 selling lingerie and three meant for cosmetics products – were found employing expatriates, the Saudi Press Agency (SPA) reported on Saturday.
Director of Follow up of Inspection in the Ministry of Labour Ahmed Saud Al-Malki said inspection teams noticed that expatriate workers were trying to flee the shops.
Meanwhile, the Women's Supervision Administration in the Eastern Province Municipality has detected 673 violations during inspection tours of women's facilities in Dammam, Al-Khobar and Dhahran.
Last July, the Ministry of Labour started intensive inspections on shops selling women's accessories to check whether they are complying with the ministry's decision to employ Saudi female staff.
There were three phases of feminization of shops. The first stage was the feminizing lingerie shops. In the second stage, the stores selling women's dresses, abayas and accessories were feminized. In the third stage of the feminization scheme, the ministry identified the sectors suitable for women to work by creating proper conditions for them in the private sector.
http://www.saudigazette.com.sa/index.cfm?method=home.regcon&contentid=20140504203991
-----------
URL: https://newageislam.com/islam-women-feminism/educated-ambitious,-qatari-women-nudge/d/76862