New Age Islam News Bureau
18 May 2020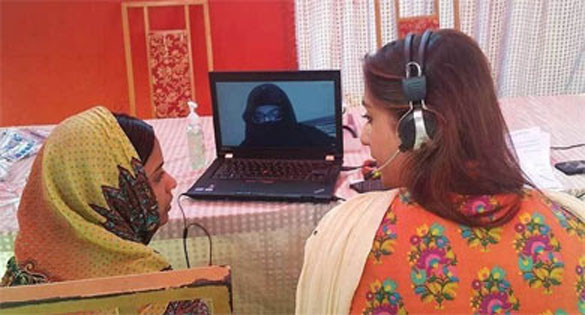 The eDoctor project: More than 400 Pakistani female doctors in over 15 countries and different cities of the country have joined hands with the provincial government in fight against the coronavirus by round-the-clock monitoring
-----
• eDoctorProject: Over 400 Women Doctors Monitor from Abroad Covid-19 Patients In Sindh
• North Waziristan:Two Pakistani Girls Killed For 'Honour' Over Leaked Mobile Video with Man
• Two Digital Colleges in Saudi Arabia To Provide Vocational Training to Girls
• COVID‐19: A Threat to Educated Muslim Women's Negotiated Identity in Pakistan
• Muslim Women's Group Makes Generous Donation to The Airdrie Food Bank During Ramadan
• Meet the Saudi Woman Nominated by Cartier Women's Initiative for Combating Childhood Obesity
• Covid-19 Hampers Govt's Plan to Rescue Bhutanese Women in Iraq
• Academicin Istanbul Sacked for Comments Over Teenage Girls' Fertility
Compiled By New Age Islam News Bureau
URL; https://www.newageislam.com/islam-women-feminism/edoctorproject-400-women-doctors-monitor/d/121881
-------
eDoctor Project: Over 400 Women Doctors Monitor from Abroad Covid-19 Patients In Sindh
Imran Ayub
May 18, 2020
KARACHI: More than 400 Pakistani female doctors in over 15 countries and different cities of the country have joined hands with the provincial government in fight against the coronavirus by round-the-clock monitoring and assisting some 8,000 patients in Sindh who are in home isolation through technology-driven and IT-enabled facilities, officials and experts said on Sunday.
They said that the female doctors were brought back to the provincial health system through a technology-driven initiative by one of the oldest public sector medical universities in the country, which has so far succeeded in bringing back to the profession over 800 Pakistani lady doctors in different countries, who have resumed professional practice within the past two years after they had quit the profession due to family or social issues.
"The Dow University of Health Sciences (DUHS) some two years ago initiated its eDoctor project for around 35,000 female doctors who had completed their medical education at the expense of the state or privately but are no longer associated with the profession so that they could once again become part of the country's medical workforce," said an official.
"The project has successfully brought back hundreds of doctors into the health system. The concept was designed to use the innovative technological tools in reconnecting these out-of-work lady doctors on a single platform, provide them virtual-based teaching of new and updated medial education in the form of a reach programme covering all aspects required to be general physician. Right now, eDcotor project has hundreds of doctors who are working from home in Pakistan and different parts of the world offering their services to contribute in the health system."
The success of the project inspired the challenges-stuck Sindh administration which finds it best possible choice to engage these doctors for monitoring of thousands of Covid-19 patients who are not in touch with any physicians and require regular consultancy despite mild or no symptoms for better recovery, precautions and diet plan during the days of their isolation.
"The Sindh chief minister led the initiative and immediately drew a plan to connect some 8,000 patients in home isolation across the province with the doctors through IT-enabled services, telephones and other technology-driven facilities," said the official. "The recently-launched initiative is proving success. It would further improve with the passage of time. Sindh has become the first province to launch this initiative. And mark my words; this pandemic is not going anytime soon. So each and every province and region would have to replicate this model for thousands of patients in home isolation."
Abdullah Butt, the founder of Educast — the technology partner of the eDoctor project — said there were thousands of Pakistani lady doctors who after completing their medical education were just raising their children and looking after their families and they were not contributing to society through their skills and expertise.
"In a few months, hundreds of such lady doctors have been brought back to their profession through the use of latest EdTech platform, using Flip Model teaching and interactive digital trainings over newer healthcare models and updated medical practices taught by top medical faculty from DUHS," he said.
Through 'eDoctor,' hundreds of out-of-work lady doctors from Pakistani cities and rural areas as well as foreign countries, including Bahrain, Greece, the United States and Indonesia, were motivated to once again join their profession.
"Such lady doctors, who are willing after getting awareness, go through latest educational and virtual digital technology, where they are also required to conduct live video-based patient consultations, clinical rotations with medical consultants in Pakistani hospitals," said Mr Butt.
"They are equipped with hands on trainings on basic life-support and obstetrics and gynaecology, attachments with clinics, use of electronic medical records and handling of a video-assisted mobile health assessment collaborative platform. They are awarded online certification programme of six months enabling them to get updated knowledge in various fields under certification with 30-CME credit hours as the family medicine certificate that enables them to provide basic healthcare advisory even from their home," he added.
In its partnership with the Sindh government, he said that the 'eDoctors' team from 15 countries and from different cities of Pakistan had been assigned a very crucial job, which remained ignored in other provinces.
"With a network of over 400 females doctors, who have volunteered their services for this cause, patients of coronavirus in home isolation are monitored round the clock," said Mr Butt. "The data of these patients are shared with these doctors and also the details of the relevant district and health administrations. Our doctors constantly remain in touch with the patients through phones and keep record of their conditions. They also keep the relevant district and health administrations informed and seek their help if required."
https://www.dawn.com/news/1557886/over-400-women-doctors-monitor-from-abroad-covid-19-patients-in-sindh
--------
North Waziristan: Two Pakistani Girls Killed For 'Honour' Over Leaked Mobile Video with Man
May 18, 2020
The clip shows a young man recording himself with three young girls in a secluded area outdoors.
Two teenage girls were killed in the name of 'honour' allegedly by a family member in a village located on the border of Pakistan's North and South Waziristan tribal districts after a short mobile video of them with a young man surfaced on social media, police said.
The Razmak police station in North Waziristan, in whose jurisdiction the murders were reported, on Friday registered an FIR of the incident with the state as the complainant and started an investigation, Dawn news said in a report on Sunday.
"A confirmed report was received that two girls aged 16 and 18 were killed in the name of honour by their paternal cousin, whose name and address is not known, in Shaam Plain Garyom," the FIR said.
It said the reason behind the killings was believed to be a video which shows a young man recording himself with three young girls in a secluded area outdoors.
A senior police officer in Waziristan told Dawn newsthat two of the three girls seen in the 52-second mobile clip have been killed.
According to the police official, it appeared that the video in question was shot nearly a year ago and most probably went viral on social media only a few weeks ago.
The area where the incident took place is far-flung and considered risky in terms of security, the police official said, adding: "At the moment, our topmost priority is to secure the life of the third girl and the man before taking any action."
The incident comes nearly eight years after the 2012 Kohistan video scandal, in which three women were killed for honour after a grainy video showing them singing and clapping while two boys danced had gone viral in the ultra-conservative and remote district.
https://www.khaleejtimes.com/world/pakistan/2-pakistani-girls-killed-for-honour-over-leaked-mobile-video-with-man
--------
Two Digital Colleges In Saudi Arabia To Provide Vocational Training To Girls
May 17, 2020
RIYADH – The Technical and Vocational Training Corporation (TVTC) has set up two digital colleges for girls, where training is scheduled to begin at the start of the new academic year, Saudi Press Agency (SPA) cited the Governor of TVTC Dr. Ahmed Bin Fahd Al-Fuhaid as disclosing on Saturday.
The colleges in Riyadh and Jeddah will offer diploma and bachelors programs in digital fields, like data technologies, network systems management, software, multimedia, e-marketing and web technologies.
Al-Fuhaid said: "This trend to set up digital technology colleges has come so as to keep abreast with the labor market needs for digital jobs and to empower women in this field. We will have qualified graduates having the experience and competence required by the labor market in future."
These projects come within the scheme to expand girls' training, through which TVTC seeks to expand qualitatively in the field of technical and vocational training and to include the various regions of the Kingdom, he said.
Al-Fuhaid appreciated the efforts of the prudent leadership in supporting the technical training sector to take confident steps toward launching of quality technical and technological training and expanding in this direction so that it can meet the training needs of the Saudi young men and women as well as the present and future requirements for national development.
The new digital technology colleges have been designed according to the latest engineering needs. They bring together the needed training facilities and add new technical specializations. The capacity of the two colleges is estimated at 4,000 trainees, Dr. Al-Fuhaid added.
He praised the efforts of TVTC, which come within its strategic goals to create a safe and environment for training, based on performance evaluation indicators such as professional expansion, assimilation, qualification and development of national cadres, and the use of optimal resources to implement development training projects that are in line with the Kingdom's Vision 2030.
The TVTC recently announced dates for admission and registration in various specializations and programs at its colleges and institutes in all regions of the Kingdom.
https://saudigazette.com.sa/article/593229/SAUDI-ARABIA/Two-digital-colleges-to-providevocational-training-to-girls
--------
COVID‐19: A threat to educated Muslim women's negotiated identity in Pakistan
17-05-2020
This study attempts to explore how the lockdown/containment measures taken by the government during the COVID‐19 pandemic have threatened educated Muslim women's negotiated identity regarding wifehood and motherhood in urban Pakistan and how they struggle to reposition to reconstruct it. Through semi‐structured interviews, making an in‐depth comparative study of three differently situated cases (Muslim women), this study argues that the abnormal situation that has ensued from the pandemic has reinforced the vulnerability of women's nascent negotiated identity by landing them in a space where they are supposed by the normative structures to step back to carrying out their traditional responsibilities as 'good' wife and mother during the crisis. It has found that the pandemic has similarity in its impacts for the women in their familial lives, despite their being variously situated and resistive, due to the general religio‐culturally defined patriarchal social behaviour of the place (Pakistan) toward women and lack of action on the part of the state for implementing its laws of women's empowerment.
https://ifp.nyu.edu/2020/journal-article-abstracts/gwao-12457-2/
-----
Muslim Women's Group Makes Generous Donation To The Airdrie Food Bank During Ramadan
17 May 2020
The COVID-19 pandemic has been a very difficult time for the Airdrie Food Bank but their load was just made a little lighter by a group of generous Muslim women.
On Thursday (May 14) Food Bank Executive Director Lori McRitchie was presented with a cheque for $1,000 by Sairah Khan, the Volunteer Organizer for the Ahmadiyya Muslim Women.
The presentation took place during Ramadan, considered the most sacred month by the Muslim faith. It's the ninth month of the Islamic calendar and lasts this year until Saturday, May 23rd. It is observed by Muslims around the world as a month of fasting, prayer, and community. Muslims fast every day of the month, from dawn to sunset. Ramadan is also a time of deep contemplation of a follower's relationship with God, extra prayer, increased charity, generosity, and study of the Quran. This year, the COVID-19 pandemic has made for a very different month of Ramadan with rules in place over gatherings and social-distancing.
Those restrictions also made it impossible for the women's group to collect food donations from the community, as they usually do. Because of that, Khan came up with another idea. "I asked if everybody could give a monetary donation, so it's contactless," she explains. "We all got together and donated and humbly we collected $1,000. Because we wanted to help our local community, we thought about the Airdrie Food Bank at this time."
Khan says the Ahmadiyya Muslims are a worldwide movement, but this particular group is based in Airdrie. During normal times, they regularly meet at the Nose Creek Museum. The women's group that raised the money for the Airdrie Food Bank, consists of around 100 women. There are also about 150 men and children. "We are a peaceful group," Khan says. "Our motto is 'love for all, hatred for none' We're different from the other Muslims. We believe the Messiah came, so we had the revival of Islam."
Khan says the Ahmadiyya Muslim Women are very involved and they help charities in any way they can. "For coronavirus, we're also helping YYC Masks. We're making masks for them. On a regular basis, we volunteer for the Food Bank as well, reshelving their products. We do blood donations, we do other charitable work, we do Run for Calgary. There's many things that we do because we just want to help charities."
The end of Ramadan next Saturday is known as Eid al-Fitr and Khan wishes all Muslims in Airdrie a very happy Eid Mubarak. Eid celebrates the return to a more natural disposition (fitr) of eating and drinking The people who use the services of the Airdrie Food Bank may just celebrate Eid al-Fitr along with them because of the Muslim women's generosity.
https://discoverairdrie.com/local/muslim-women-s-group-makes-generous-donation-to-the-airdrie-food-bank
--------
Meet The Saudi Woman Nominated By Cartier Women's Initiative For Combating Childhood Obesity
May 18, 2020
Every year, the Cartier Women's Initiative nominates committed women entrepreneurs across the globe, providing them with the support and encouragement they need to continue driving change. This year, CEO and founder of Blooming Bs, RihabHasanain, made the top 21 finalists for her efforts to combat childhood obesity in Saudi Arabia. She was picked out of 1,200 applicants from 162 countries, a selection that is in itself a landmark achievement. This year, more than $1.1 million in prize money will be distributed among the finalists.
As a working mother and as a holder of a Ph.D. in health services management in Australia, Hasanain understands all too well the challenges that busy parents face today when it comes to providing their children with healthy meals. That is why she created Blooming Bs (brain, body, and box), a social enterprise devoted to providing school children with healthy and delicious food as a way to combat childhood obesity in Saudi Arabia and beyond. A health-conscious menu is delivered to schools and homes across the country, and provides work opportunities for Saudi women as well.
Today, the Kingdom has one of the highest rates of obesity in the world and the second highest in the Middle East. In fact, a recent report by "The Lancet," a British medical journal, ranked the Saudi Arabia as the third worst in the world for obesity, triggering warnings from Saudi experts. Soon after that report was published, US scientists from Stanford University ranked Saudi Arabia one of the world's least active countries, with obesity higher among women than men in the country.
Aside from the diligent efforts being made through private initiatives such as Blooming Bs, Saudi Arabia has also been undertaking nationwide initiatives to bring the people of the Kingdom back to better health. In 2017, for instance, Dow Saudi Arabia Company and Eta'am (the Saudi Food Bank), signed a Memorandum of Understanding that aims to encourage food preservation and healthier eating across the Kingdom, as well as reducing food waste.
https://www.abouther.com/node/29036/people/leading-ladies/meet-saudi-woman-nominated-cartier-women%E2%80%99s-initiative-combating
--------
Covid-19 hampers govt's plan to rescue Bhutanese women in Iraq
May 18, 2020
Thirteen Bhutanese women who were sent to Iraq through unregistered agents and were reportedly abused and harassed were rescued so far.
These women were sent to Iraq to work through private individuals, claiming to be employment agents. Of the 13, four women had managed to return on their own after paying the agents in Iraq.
The government managed to rescue nine girls through a "diplomatic process" with the help of International Organisation of Migration (IOM) in Baghdad, Iraq's capital city, on March 13, according to foreign minister Dr TandiDorji.
However, while returning to Bhutan, one of the women was detected with fever and in the wake of Covid-19 pandemic in India, they were kept under quarantine for 21 days in Delhi.
On April 7, the women were brought to Bhutan and were quarantined for 21 days. After completing their quarantine period on April 30, the women are now back home with the families.
Lyonpo Dr TandiDorji said that the Covid-19 pandemic has disrupted the rescue process. "It is likely to take time to save the rest of them, as the rescue operation is on halt right now," Lyonpo said. "This is because many offices are closed and there are lockdowns."
However, lyonpo said that they are continuing to work on this case and getting help from IOM to identify the women, locate and rescue. There is also a representative that is helping to locate the Bhutanese in Iraq.
"We're trying to be in touch with all the girls. Embassies are also helping and had it not been for Covid-19, we could have helped a few more girls."
Lyonpo said that from the identified, they have listed women in two categories like urgent and very urgent. The very urgent list includes women who were threatened, in danger, physical or sexually abused, harassed, no payment or not well.
"We're working to rescue the ones in this category first," Lyonpo added. Lyonpo said that they managed to locate some Bhutanese women in Kurdistan, but were not abused. They have told government officials that they are being treated well, paid on time and are in good situation.
However, a majority of Bhutanese in Iraq had been requesting to return home and shared the torture they are going through with the government.
The Royal Bhutan Police is also investigating the case based on some of the Bhutanese agents they have identified. Most of these agents had sent the women to earn money where they (agents) earned about USD 1,200 to 3,000 for each girl just for sending them to Iraq.
It was also found that earlier victims have turned agents and sent other women to Iraq. Police are investigating the case based on "debt bondage" and trafficking.
A police source said that there are three women with the IOM currently but are stuck in Iraq and they could not return to Bhutan due to Covid-19 situation.
Meanwhile, The Office of Attorney General charged two women last month to Thimphu dzongkhag court for the attempt of trafficking. The two unregistered agents tried to send three Bhutanese to Iraq, with the promise of better jobs in 2018.
The three Bhutanese women were rescued from Delhi airport while planning to fly to Baghdad, Iraq. The two agents were also arrested.
The two women who are related to the Iraq case are charged for trafficking based on six elements, which are recruitment, transportation, threat, deceptive, and illegal purpose.
https://kuenselonline.com/covid-19-hampers-govts-plan-to-rescue-bhutanese-women-in-iraq/
--------
Academic in Istanbul Sacked for Comments Over Teenage Girls' Fertility
May 17 2020
A university in Istanbul has fired one of its staff after his televised comments about teenage girls' potential for fertility caused public outrage.
During a TV show, Professor MuttalipKutlukÖzgüven, from the computer engineering department at Aydın University, claimed that the age range between 12 to 17 is an ideal period for girls to give birth to their first child.
"There is no 'Superman,' it is all imaginary. But there is such a race called 'superwomen.' Between the age 12 and 17, they have immense regeneration capacity, their body is in perfect shape. Go ask any doctor," Özgüven said.
"The views Professor Özgüven expressed in the TV show are his own and totally unacceptable. We strongly condemned him. Legal actions have been taken against this particular staff. Such a mindset can not have a place in our institution," the university said in a statement.
The Turkish Women's Associations Federation has lashed out at Özgüven, saying that his views are not scientific but politically motivated.
"This person defends child molestation. Women will always stand up against those who defend sexual harassment, rape and child abuse," said CananGüllü, the head of the federation.
Doctor PınarKadiroğulları, a gynecologist, stressed that pregnancy poses great risks to girls in the age group between 12 and 17 because their bodies are prone to many illnesses.
"The body's self-defense mechanism is not well developed at those ages and sexually transmitted infections are seen very often. The World Health Organization classifies girls aged 12 to 17 as adolescents," Kadiroğulları said.
https://www.hurriyetdailynews.com/academic-sacked-for-comments-over-teenage-girls-fertility-154845
--------
URL: https://www.newageislam.com/islam-women-feminism/edoctorproject-400-women-doctors-monitor/d/121881
New Age Islam, Islam Online, Islamic Website, African Muslim News, Arab World News, South Asia News, Indian Muslim News, World Muslim News, Women in Islam, Islamic Feminism, Arab Women, Women In Arab, Islamophobia in America, Muslim Women in West, Islam Women and Feminism