New Age Islam News Bureau
02 December 2021
• All Out Efforts to Ensure Women Empowerment In Balochistan, Says Dr Rubaba Buledi
• Cairo World Premiere for Jordanian Film Highlighting Arab Women's Issues
• Film Festival Celebrates Extraordinary Women in Film
• Violence against Women Increases Due To COVID-19: UN Women Report
Compiled by New Age Islam News Bureau
URL: https://www.newageislam.com/islam-women-feminism/dying-divorce-turkish-domestic-violence/d/125887
--------
'Dying To Divorce:' UK Documentary On Turkish Domestic Violence In Oscars Race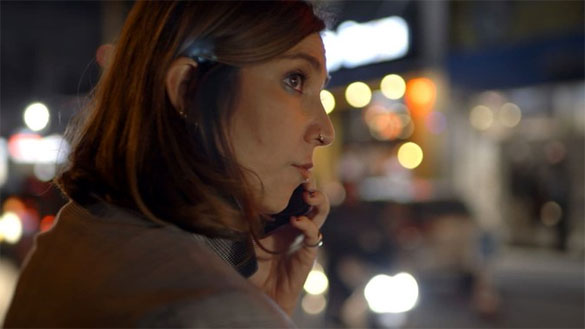 A movie highlighting domestic violence in Turkey has been nominated as the UK's official entry for the Best International Feature Film award at the Oscars. (Supplied)
-----
December 02, 2021
ANKARA: A movie highlighting domestic violence in Turkey has been nominated as the UK's official entry for the Best International Feature Film award at the Oscars.
The five candidates for Best International Feature Film are set to be announced in February, before the Academy Awards take place on March 27.
Although one film cannot decrease domestic violence and murder figures overnight, "Dying to Divorce" has already triggered a global public debate about the issue that has universal relevance.
Filmed over five years by producer Sinead Kirwan and director Chloe Fairweather the film revolves around the testimonies of two Turkish female victims of abuse, Arzu Boztas and Kubra Eken.
The documentary also follows Ipek Bozkurt, a defiant female lawyer in Turkey fighting the culture of violence through the courts, and Aysen Kavas, a women's rights activist. The personal narratives and a critical eye on the systemic shortcomings give the movie further emotional impact.
Mother-of-six Boztas, a housewife married at 14 in central Anatolia in a conservative milieu, was left disabled after being shot at close range six times in her arms and legs when she asked her husband for a divorce.
In the film, her conservative father who gave permission for the marriage, said: "I ruined the lives of my children just to keep with tradition."
Eken, a successful TV presenter at Bloomberg News in London, was struck several times on the head by her producer husband two days after giving birth to their daughter. She suffered a serious brain hemorrhage in the attack that for years prevented her from speaking and walking, although her husband blamed her situation on the Caesarean section operation she had.
Both victims had difficulties claiming justice for what had happened to them and securing custody for their children. But with the help of lawyers and activists in Turkey they finally won legal victories following years of battling through the courts.
Despite coming from different socio-cultural environments, the women were united in wanting to tell their stories to the world.
The film, now showing in UK cinemas, has already received several prizes and nominations at European film festivals and was nominated for a British Independent Film Award.
Figures show that in recent years, more than 400 women have been murdered annually by either their partners or family members with some attackers even getting their sentences reduced by claiming provocation or for showing good behavior during their trial.
Domestic violence and femicide remains a major problem in Turkey where 38 percent of women experience abuse by their partner, according to World Health Organization data.
Bozkurt, who will be attending a number of special screenings of the documentary in Scotland, is part of the We Will End Femicide platform that has been monitoring cases of violence and murder on a daily basis for 11 years.
The lawyer told Arab News that the power of the documentary came from its elaboration of the issue from a global perspective without reducing it to a mere domestic problem for Turkey.
She said: "Domestic violence is also a major problem in many Western countries, including the UK. We tried to demonstrate the inner strength of these two ladies and their relentless fight to stay alive by using the power of the media. And I believe such a narrative will inspire many women around the world."
Bozkurt pointed out that gender inequality penetrated across various social segments and was not restricted to disadvantaged communities.
"However, fighting against it requires a holistic and integrated approach. Not only politicians, but also media and activists have a key responsibility. This documentary, by not using the pornography of violence, emphasized the core of their fight against impunity and tried to show that these women have a cause to defend not only for themselves but also for the rights of their fellows," she added.
In recent years, more women in Turkey have come forward to fight for justice over domestic violence and for changes in legislation to protect them.
Kavas, a representative of the We Will End Femicide platform, noted that the movement had empowered women to speak up.
She told Arab News: "We gave them a boost for not giving up from the struggle for their rights. But we, the women of Turkey, prefer to have more descent lives rather than being the subject of Oscar-nominated documentaries.
"I'm not fighting because this is something that can happen to me. I'm fighting because it can happen to anyone."
On Nov. 9, 28-year-old Basak Cengiz, a young architect, was stabbed to death by a man wielding a samurai sword when she was walking down a street in one of Istanbul's crowded districts. Her attacker admitted he was simply out to kill someone. "I preferred to kill a woman because I thought she would be an easier target," he said.
Kavas helped Boztas with her legal case. "She is now living with prosthetic legs and had several operations after the violence she endured. However, she always says that in the past she was feeling herself less free when she was married with her ex-husband.
"With the campaigns that we have been carrying out for years, women are not quiet anymore on the subject of violence. We made a lot of noise, and they no longer feel alone," Kavas said.
Further information on the documentary can be found at http://dyingtodivorce.com
Source: Arab News
https://www.arabnews.com/node/1979441/lifestyle
--------
All Out Efforts to Ensure Women Empowerment In Balochistan, Says Dr Rubaba Buledi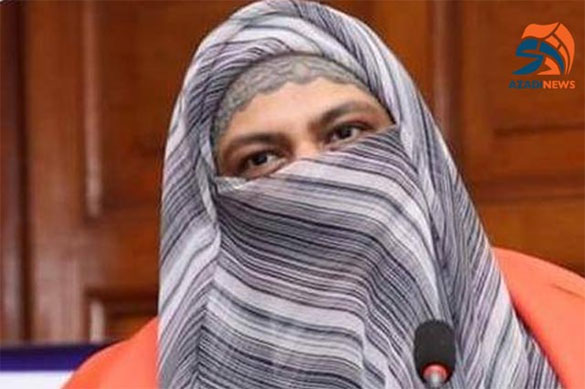 Dr Rubaba Buledi, Women Parliamentarians Forum's Chairperson
----
December 02, 2021
QUETTA - Women Parliamentarians Forum, Women Ombudsman Secretariat and FDI Pakistan have agreed to take joint steps for effective implementation of anti-harassment laws and code of conduct in the workplaces in Balochistan.
Women Parliamentarians Forum's Chairperson Dr. Rubaba Khan Buledi and head of the Forum for Dignity Initiatives (FDI) Pakistan Azami Yaqoob met with Provincial Women Ombudsman Sabira Islam on Wednesday to discuss the implementation of anti-harassment laws in Balochistan and to provide a safe and conducive environment for women in the workplaces gave suggestions for improvement.
On the occasion, Provincial Women Ombudsman Sabira Islam said that a conducive and safe environment should be created in all government and private offices of Balochistan and places where women would be working.
Therefore, the code of conduct of the Provincial Women Ombudsman Secretariat has been posted in a clear place and instructions have been given to set up committees for its implementation, she said.
She said that in the context of tribal traditions of Balochistan, the affected women have to face strict social attitudes and difficulties in taking action under anti-harassment laws. Efforts are being made to provide all possible legal assistance to the affected women keeping in view their privacy, she added. Sabira Islam also appreciated the offer of cooperation from Women Parliamentarians Forum Balochistan and FDI and hoped that the implementation of anti-harassment laws and code of conduct would yield effective results under comprehensive measures.
On the occasion, Chairperson of Women Parliamentarians Forum Dr. Rubaba Khan Baludi while praising the performance and initiatives of Provincial Women Ombudsman Sabira Islam in Balochistan said that legal action against those involved in serious moral crime like harassment would discourage and root out such incidents from the area.
She said that the Balochistan Assembly was working on effective legislation for the collective welfare of women including protection of women saying member of provincial assembly (MPAs) women are committed to continuing the legislation to empower women in Balochistan economically and in the decision-making process.
On the occasion, FDI Pakistan's head Azami Yaqoob said her organization would provide all possible support for the proposed feasible projects including Awareness and Training of Trainers.
Source: News Nation Pakistan
https://nation.com.pk/02-Dec-2021/all-out-efforts-to-ensure-women-empowerment-in-balochistan-says-dr-rubaba-buledi
--------
Cairo world premiere for Jordanian film highlighting Arab women's issues
29/11/2021
CAIRO -
After five short films and a long career in TV production, Jordanian director Zaid Abu Hamdan decided to embark upon his first fictional experience with the long feature "Daughters of Abdul-Rahman", which took seven years to produce.
The film, which mainly addresses Arab women's issues, stars Saba Mubarak, Hanan Helou, Farah Bseiso, Maryam Pasha, Khaled Al-Tarifi and the child Yasmina Al-Abed.
It has been premiered abroad at the forty-third Cairo International Film Festival, taking part in the official competition.
The film tells the story of an older man, Abdul- Rahman, who owns a small library in the Ashrafieh district of the Jordanian capital, Amman. His late wife gave birth to four daughters, while he always dreamt of having a boy.
Each of Abdul-Rahman's daughters lives a completely different life from the others. The eldest is Zainab, who dreamed of entering a music institute. Instead, staying unmarried, she takes care of her father, who has limited means, burying her talent behind the piles of clothes she sews after she turned herself into a neighbourhood seamstress.
The second daughter is Amal, who married young, wears the niqab and has given birth to a number of children. She is physically abused by her husband who wants to marry off their youngest daughter at the age of fifteen.
The third is Samah, who was able to marry a wealthy man who gave her a decent standard of living, but for years she has failed to have children from him. She eventually discovers he is gay.
As for the fourth, Khitam, she caused great heartbreak for her father after she travelled to Dubai to live with her boyfriend outside marriage, which made the whole family live with a sense of shame.
When the four daughters have their first reunion in years at their father's home, they discover that he has upped and left leaving no sign of where he has gone. This compels them to start searching for him. Their search becomes an opportunity for the daughters to look back at their lives and make bold adjustments.
The story raises issues of family life, customs and traditions and specifically the upbringing of girls in Arab societies. It also deals with thorny issues such as domestic violence, under-age marriage, gender discrimination and the wearing of the niqab.
Zaid Abu Hamdan says that he was inspired by his social environment and the life he led during his youth in Jordan before living for many years in the United States.
He adds that he spent over five years working on the film, while production took two years before its world premiere at the Cairo Film Festival, which opened last Friday.
He points out: "There was no intention to disparage men in the film. This is not our goal in writing, directing or production, but we tell the story of girls and if there are negative male role models, perhaps this is an opportunity for some to reconsider the role of men in society."
He adds, "I wish everyone who watches the film to look at himself for a moment and think of his mother in a different way, not as a loving woman who takes care of him, but think of her as a human being … and wonder if she was happy, if her dreams came true and if she loved her life."
Source: The Arab Weekly
https://thearabweekly.com/cairo-world-premiere-jordanian-film-highlighting-arab-womens-issues
--------
Film Festival Celebrates Extraordinary Women in Film
December 01, 2021
JEDDAH — The Red Sea International Film Festival (RedSeaIFF), which will have its inaugural edition from Dec. 6-15, is Wednesday announcing a number of celebrations in honor of the ground-breaking contribution of women to cinema, including tributes and masterclasses from some of the most inspiring female names in cinema.
The Festival will honor the first female Saudi filmmaker Haifaa Al Mansour, who is not only one of the most significant names in the Saudi film industry, but has lead the way in championing female empowerment across the region.
Her feature debut, Wadjda, was the first film to ever be shot in the Kingdom, and was nominated for numerous international awards, including the BAFTA Award for Best Film not in the English language. She has since gone on to direct numerous TV shows and films internationally, including Mary Shelley and Nappily Ever After, and continues to break ground in filmmaking.
Al Mansour explained: "I am incredibly honoured to return home to Saudi Arabia for the first edition of the Red Sea International Film Festival. Those of us who worked tirelessly with dreams of cinema finding a home here know what a truly monumental event this is for the Kingdom, the region and the world.
"I believe strongly in the power of art to foster positive development and opportunity in our community and hope that this festival serves as a strong foundation for a burgeoning industry that will nurture and amplify our stories and dreams well into the future."
When I started making films years ago, the idea of working as a director seemed outlandish. But I knew that the world was curious to hear from us, to hear our side of the story, and that films from our part of the world would strike a chord with audiences around the world. Now, returning home as an honoree at our first film festival, seems just as unbelievable.
It is an incredible honor for me, and such a wonderful opportunity to see the best of up-and-coming talent from the region. The world is still eager to hear from us, and I am so excited to see the infrastructure of a cinematic industry being built to help realize our cinematic visions. I am so excited to see what comes next!"
Academy Award and BAFTA nominated French actress Catherine Deneuve will also be honored by the Festival. Deneuve is widely considered to be one of the greatest European actresses of all time, and is renowned for her extraordinary contributions to film, most notably her performances in 8 Women, Repulsion, Belle de Jour, Dancer in the Dark and Indochine, for which she was nominated for the 1992 Academy Award for Best Actress.
She is a multiaward-winning actress, having won two of her native France's César Awards, amongst 14 nominations, and has won Venice Film Festival's prestigious Volpi Cup for Best Actress, as well as many other international awards.
Deneuve said: "It is always an honor to have your work recognized by the industry, and I am especially grateful for this honour, and the opportunity to be a part of this wider celebration of the contribution of women to cinema.
"I hope that my work can help inspire young women to chart their own successful careers in this industry, and I hope that this acknowledgement of the contribution of women in cinema in general continues to underscore the importance of having a strong female presence both in front of and behind the camera."
The Festival will honor Egyptian actress Laila Eloui, who is one of the most respected and prolific actresses in the region, having starred in more than 70 films. Perhaps best known for her roles in I Love Cinema, Kalil Mina Al-Hob Kathir Mina Al-Unf and Girl's Love, she has been universally recognized for her work, and is the recipient of both awards in her native Egypt and from international festivals worldwide.
Her onscreen presence has continued to delight and uplift audiences, and festivalgoers of the RedSeaIFF will have the unique opportunity to join Eloui in a masterclass where she will discuss her extensive and storied career.
Festivalgoers will also not want to miss the masterclass delivered by a true Egyptian cinema legend, Yousra. The actress, singer and all-around megastar, is not only one of the most recognisable names in the region, but is widely considered to be one of the most exceptional and talented actors of her generation.
Her fascinating career has seen her appear in over 80 films, and she has received more than 50 awards worldwide, from local, regional and international festivals.
Alongside these tributes and masterclasses, the Festival will be screening 135 films of which 38% are directed by women.
Shivani Pandya, managing director of the RedSeaIFF, said: "Celebrating the contribution of women to cinema is central to the mission of the Festival. We are honored to be able to give a platform to local emerging female directors, writers and actors, who have been crucial in the development and progression of the Saudi film industry.
"Beyond this, we are thrilled to be able to honor the contribution of women to Arab and international cinema, through specific tributes and masterclasses, and are inspired by these women and the work they have done to lead the empowerment of women in our industry." — SG
Source: Saudi Gazette
https://saudigazette.com.sa/article/614217
--------
Violence against women increases due to COVID-19: UN Women report
November 25, 2021
Almost half of women reported that they or a woman they knew experienced a form of violence since the start of the COVID-19 pandemic, according to the report, "Measuring the shadow pandemic: Violence against women during COVID-19," which is based on survey data from 13 countries.
About a quarter of women were feeling less safe at home while existing conflict increased within households since the pandemic started, according to the report, released on the eve of the International Day for the Elimination of Violence Against Women, which falls on Nov. 25.
When women were asked why they felt unsafe at home, they cited physical abuse as one of the reasons (21 percent). Some women specifically reported that they were hurt by other family members (21 percent) or that other women in the household were being hurt (19 percent).
Outside their homes, women were also feeling more exposed to violence, with 40 percent of respondents saying they felt less safe walking around alone at night since the onset of COVID-19. About 3 in 5 women also thought that sexual harassment in public spaces worsened during COVID-19.
Socio-economic stress factors such as financial pressure, unemployment, food insecurity and tense family relations stood out as having a significant impact not only on experiences of safety (or violence), but also on women's well-being overall.
"Violence against women is an existing global crisis that thrives on other crises. Conflict, climate-related natural disasters, food insecurity and human rights violations all contribute to women and girls living with a sense of danger, even in their own homes, neighborhoods, or communities," said UN Women Executive Director Sima Bahous in a press release.
"The COVID-19 pandemic, which necessitated isolation and social distancing, enabled a second, shadow pandemic of violence against women and girls, where they often found themselves in lockdown with their abusers. Our new data underlines the urgency of concerted efforts to end this." – Agencies
Source: Saudi Gazette
https://saudigazette.com.sa/article/613990
--------
URL: https://www.newageislam.com/islam-women-feminism/dying-divorce-turkish-domestic-violence/d/125887
New Age Islam, Islam Online, Islamic Website, African Muslim News, Arab World News, South Asia News, Indian Muslim News, World Muslim News, Women in Islam, Islamic Feminism, Arab Women, Women In Arab, Islamophobia in America, Muslim Women in West, Islam Women and Feminism