Age Islam News Bureau
20 May 2017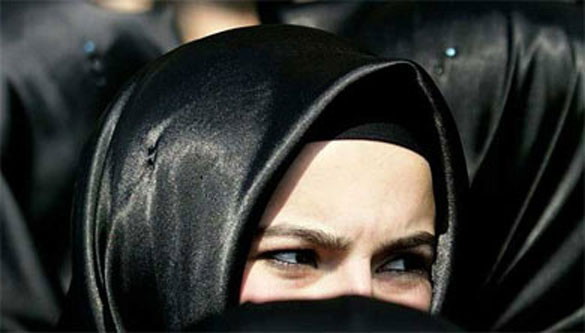 Dutch lawmakers have voiced opposition to a proposal by Amsterdam's top police official to consider allowing female Muslim agents to wear headscarfs
-----
• Afghan Women Break Ground With TV Station Launch
• Indian Muslim Board Takes Steps to Dissuade Men from Triple Talaq
• Indian Woman, Dr Uzma, Rejects Tahir's Claims in Islamabad High Court
• Mother Waits to Unite With 3 Daughters Abducted By Pakistani Husband from Dubai
• A Policewoman to Lead Rang Mahal Police, Lahore
• Women's Development Remains 'Most Neglected Sector' In Sindh
Compiled by New Age Islam News Bureau
URL: https://www.newageislam.com/islam-women-feminism/dutch-mps-oppose-headscarfs-amsterdam/d/111224
--------
Dutch MPs Oppose Headscarfs for Amsterdam Police
May 20, 2017
THE HAGUE: Dutch lawmakers have voiced opposition to a proposal by Amsterdam's top police official to consider allowing female Muslim agents to wear headscarfs, Dutch media reported Friday. At least six major political parties are against plans from Commissioner Pieter-Jaap Aalbersberg to introduce Islamic headscarfs to women's uniforms as part of a recruitment drive to diversify law enforcement in the Dutch capital.
Aalbersberg on Thursday said he wanted to boost multiculturalism among Amsterdam's police, saying he wanted at least half of all new recruits in the tourist hotspot to come from a non-Dutch background. His proposal also included allowing police officers to wear religious symbols such as crosses, Jewish yarmulkes or Islamic headscarfs.
"Amsterdam's population is changing in terms of its make-up. It has to be debated," he told the daily tabloid Algemeen Dagblad in an interview.
Aalbersberg said 52 percent of Amsterdam's residents were from a non-Dutch background, but that was not reflected in the composition of the city's police force, in which only 18 percent of officers have more diverse roots.
Major political parties however including the Liberal VVD party - which won the most seats during March elections - the progressive D66 and left-wing Socialist Party are against the idea, the daily tabloid De Telegraaf said.
Dutch police in 2011 adopted a code of conduct that bars the wearing of any religious symbols "as it does not fit in with the neutrality of the police."
"It's important for a police officer to project an image of neutrality for his or her authority and safety," outgoing Safety and Justice Ministry Stef Blok told the paper.
"We support a drive towards more diversity, but allowing headscarfs is not the right way to do it," added VVD parliamentarian Ockje Tellegen. "It's not true that heaps of women rule out a career in the police just because they're not allowed to wear headscarfs," she said.
Socialist Party lawmaker Ronald van Raak told the paper "police wear a uniform because they're neutral." "Amsterdam cannot decide to do things differently. The same police uniform is worn across the country," he said.
The papers pointed out that headscarfs are worn by Muslim policewomen in many countries including Australia, Britain, Canada and in some parts of the United States.
http://nation.com.pk/international/20-May-2017/dutch-mps-oppose-headscarfs-for-amsterdam-police
--------
Afghan women break ground with TV station launch
May 20, 2017
A new TV channel dedicated to women is set to begin broadcasting in Afghanistan, the first of its kind in a country whose media industry, like many areas of society, remains dominated by men.
Zan TV ("Women's TV") launches on Sunday with a staff of all female presenters and producers, following a high-profile marketing campaign on billboards in Kabul and on social media.
Female newsreaders appear regularly on many Afghan channels, but an entire station for women is a novelty. Its arrival highlights the fact that behind the daily stories of violence, change is taking place in Afghanistan, even if it is often slow and patchy.
"I am so happy that this TV station has been created for women because there are women in our society who are not aware of their rights," said 20-year-old Khatira Ahmadi, a producer at the station.
"So this station represents women and we work to raise the voice of women so they can defend their rights," she said.
Women's rights and education as well as media freedom are often cited by the government and foreign aid organisations as among the biggest achievements in the country since the Taliban were toppled in 2001.
Still, Afghanistan is one of the most difficult places in the world for women in the media, and in a poor and war-ravaged country - with a crowded TV landscape of around 40 stations - there is no guarantee of success.
Media entrepreneur Hamid Samar, the founder of Zan TV, said he was banking on potentially large female audiences in big cities like Kabul who are hungry for news and discussion that reflect their own experiences.
"There has been a lot of talk about women's rights and media rights," he said. "But we've never seen anything special for women and that's why we've done this."
Zan TV runs on a shoestring using low-cost digital technology and operating out of a basic studio in Kabul, focusing on talk shows along with some programmes on health and music.
It relies heavily on a team of mainly young women, many of them students. Youth and enthusiasm make up for what it lacks in experience.
Around 16 male technicians work behind the scenes in areas like graphics, camera operation and editing, as well as teaching female colleagues who have little access to media training.
Some of the female staff like Ahmadi have had to cope with disapproving family members or even brush aside threats in order to pursue their media careers.
But for Ahmadi, among the few staff members with prior television experience, giving a new generation of women a chance to work in media is a major benefit of the station.
"I came to share my experience with colleagues here and I am really happy working along with the other girls," she said.
http://nation.com.pk/international/19-May-2017/afghan-women-break-ground-with-tv-station-launch
--------
Indian Muslim board takes steps to dissuade men from triple talaq
19 May 2017
By HARISH V NAIR
The All India Muslim Personal Board will soon issue a circular that seek to persuade husbands from considering triple talaq, after coming under fire from the Supreme Court.
The cornered Muslim Board on Wednesday told the Supreme Court that it has decided to issue a circular to all qazis across the country that while finalising 'nikahnama' (marriage contract) they must take an oath from the husband that he will not give triple talaq to his wife.
There will also be a provision in the nikahnama allowing the wife to say no to the triple talaq practice.
The announcement was made by Kapil Sibal, the lawyer representing the board before a five-judge constitution bench which is hearing petitions challenging the validity of triple talaq.
After hearing the petitions for six continuous days, the bench reserved its verdict.
Sibal's statement comes a day after the bench questioned how the Muslim community could claim it was fundamental to the religion, when they themselves admitted it was 'sinful' and the 'worst form of divorce'.
Picking up an Islamic religious text during the high-voltage hearing and reading it, Chief Justice J S Khehar said: 'Somebody gave this book to us. It says Talaq-e-biddat is a deviation from the right path. And now this is read and re-read during every Friday afternoon prayers. So during every prayer you say triple talaq is bad, sinful.'
Earlier the CJI also questioned the claim of another lawyer that triple talaq was sacrosanct and court could not interfere asking: 'You yourself say it is the worst kind of divorce, sinful then how can triple talaq be sacrosanct and fundamental to religion and if it is not fundamental to religion, article 25 (freedom of religion) and 26 (freedom to manage religious affairs) will not come in.'
The CJI then too perused a copy of Quran and told the advocate that triple talaq was 'mentioned nowhere in the book'.
The bench had also asked why India cannot do away with triple talaq when it is banned in 20 out 22 Muslim countries including Pakistan, Bangladesh and Afghanistan.
During Wednesday's hearing, when Justice Kurian Joseph asked Sibal if 'triple talaq was not theologically bad and sinful?', he retorted, saying: 'Lots of sinful things are happening in the society protected by customs'.
When Sibal said: 'It may be bad, it may be sinful but women accept it', a large number of women lawyers appearing for aggrieved women petitioners protested loudly saying: 'No ..No…No'.
Sibal also said: 'Your Lordship's job is not sit in a Constitution Bench and decide what all are sinful in society', adding: 'Your lordship is sitting on a slippery slope as demands for banning many more practices will soon arises after the court allows this one. All these are not in the court's domain. Please do not venture into it'.
http://www.dailymail.co.uk/indiahome/indianews/article-4523402/Muslim-board-takes-steps-dissuade-men-triple-talaq.html
--------
Indian Woman, Dr Uzma, Rejects Tahir's Claims in Islamabad High Court
May 20, 2017
ISLAMABAD - The Indian woman Dr Uzma, who claims she was forced to marry a Pakistani Tahir Ali, yesterday submitted her reply before the Islamabad High Court (IHC).
In her reply, she has fully rejected Tahir Ali's statement and maintained that she had never agreed to turn her acquaintance into marriage.
In the petition moved by Tahir Ali before the IHC, the petitioner's husband, sought court's intervention to meet his wife in a free atmosphere while alleging that Uzma had reverted her promises under pressure from his brother and officials of Indian High Commission in Islamabad.
Dr Uzma submitted her detailed reply before the IHC through Indian High Commission Islamabad.
Ali who is a resident of Buner had said in his petition that both became friends in Malaysia and decided to get married and from Uzma's arrival in Pakistan to her Nikah in the district courts of Daggar Buner, everything happened with mutual consent and understanding.
On the other hand, Dr Uzma in her reply to the IHC said that after she arrived in Pakistan through Wagha border, she was sternly and mercilessly deadened and sedated through sleeping pills and was sexually assaulted by the petitioner in connivance with his friends.
The Indian woman alleged that she was compelled to marry Tahir at gun-point.
She also rejected Tahir Ali's claim that she invited him to India for getting married. Uzma, however, said that she was thrashed and badly humiliated and Tahir Ali forced her to sign Nikahnama (marriage certificate). Therefore, she prayed to the court to dismiss Tahir Ali's petition.
She claimed that Indian High Commission has provided her with shelter and security till her safe return to India. She also denied any kind of pressure developed on her by the Indian High Commission.
Ali in his petition has been praying to the court to let him meet his wife while Dr Uzma has been praying to facilitate her departure to India providing her duplicate immigration sheets. Both these petitions will be jointly heard on May 22 by the court of Justice Mohsin Akhtar Kayani. Meanwhile, an IHC single bench deferred hearing in Tayyaba torture case as a new counsel of Raja Khurram Ali Khan has sought time to prepare the case.
Therefore, the court adjourned hearing in this matter till May 23 for further proceedings.
http://nation.com.pk/national/20-May-2017/indian-woman-rejects-tahir-s-claims-in-court
--------
Mother waits to unite with 3 daughters abducted by Pakistani husband from Dubai
May 20, 2017
DUBAI: According to Gulf News, taking a leaf from Zainab Fawad's book, a Dubai-based divorcee has resumed her fight to wrest custody of her three minor daughters from her Pakistan-based husband.
Lithuanian Maimouna Liskaus-kaite, 36, has not seen her girls since April 4, 2011 when her husband of seven years took their daughters out on the pretext of taking them to Safa Park but instead flew with them to Pakistan and disappeared.
Maimouna was still reeling from the shock when she was couriered divorce papers from Pakistan four days later and her in-laws asked her to vacate their Jumeirah villa.
"Like Zainab, I also went through hell but never lost hope. Our stories are similar. We were both abandoned by our husbands and separated from our children. So I thought if an Indian woman can get her kids back from Pakistan then why can't I?" she said, referring to the November 17, 2016 XPRESS story which helped Zainab reunite with her twin boys, Muzammil and Mustafa after nearly three years.
The reunion is now the subject of an upcoming Bollywood movie.
Maimouna said the dramatic turnaround in Zainab's life has steeled her resolve to continue her fight for justice.
Maimouna said she is planning to travel to Multan in Pakistan's Punjab province and look for her daughters Mariam, 13, Aisha, 11, and Amna, 9 where the Lithuanian passport-holders are believed to be living with their father and stepmother.
"Let's not forget that the kids are Lithuanian nationals. They can't be living in Pakistan and I will do whatever it takes to get them back as I have a court order granting me their custody.
"My visa application to Pakistan was rejected so I am applying all over again. I have had several meetings with officials at the Pakistan consulate in Dubai in recent days and am hopeful of a positive outcome," said Maimouna as she wiped tears and flipped through a photo album of her daughters.
"See how they bedraggled they look," she said pointing to a group photograph of Mariam, Aisha, Amna sent to her by an anonymous source from Pakistan a few years ago.
"This is the only image I have of them after their abduction," added Maimona who now teaches at pre-school in Dubai.
"The pain of separation from my girls was so intense, I almost lost my sanity. But being in the midst of children helped. Some of the kids are the age of Amna who was just three years old when she was snatched away," added Maimouna who also runs a Facebook group 'Looking for My 3 Daughters' to drum up support for her cause.
THE STORY SO FAR:
1996: Maimouna, formerly known as Edita, meets Dubai-born Pakistan national J.S. while he is studying medicine in her home country Lithuania.
January 2, 2003: She embraces Islam and her husband gives her a new name — Maimouna
January 17, 2004: The couple get married in Lithuania
October 2004-April 2008: The couple has three daughters
— Mariam, Aisha and Amna
December 2010: The family travels to Dubai to live with
J.S.' father in his Jumeirah villa
April 4, 2011: Maimouna's hubby tells her he's taking their
daughters to a park but instead flies with them to Pakistan
April 8, 2011: Maimouna is divorced from Pakistan
December 17, 2013: Dubai Court grants her custody of her kids.
http://nation.com.pk/international/20-May-2017/mother-waits-to-unite-with-3-daughters-abducted-by-pakistani-husband-from-dubai
--------
A Policewoman to Lead Rang Mahal Police, Lahore
May 20, 2017
LAHORE - City police department Friday posted a policewoman as station house officer in a bid to build soft image of the law enforcement agency.
Sub-inspector Ghazala will work as in-charge of the Rang Mahal police station in Lahore, an official said. She becomes the first female SHO in the metropolis where only male officers are running the affairs of more than 100 police stations.
The rare move comes as the corruption-riddled police are struggling to win the confidence of the people amid growing criticism from the opposition parties. In recent years, the department introduced multiple schemes to improve police working. As the government pumped billions into police pocket, the department also raised special patrolling units to fight street criminals more effectively.
Only in 1997, a policewoman Bushra Ghani had been posted as SHO of a police station by the then Lahore SSP Ahmed Raza Tahir. Ghazala is among dozens of officers who recently completed two-week grooming course at the police headquarters.
Women make up less than five percent of the police population. No less than 4000 female officers are serving in the 180,000 strong Punjab police. In this male dominated society, they are rarely given important positions due to one or another reason. Out of more than 700 police stations in the Punjab province there are only three women police stations.
http://nation.com.pk/lahore/20-May-2017/ghazala-to-lead-rang-mahal-police
--------
Women's development remains 'most neglected sector' in Sindh
May 20, 2017
KARACHI - The fiscal year 2016-17 witnessed an increase of 149 percent in the budget for the Women's Development Department. It was expected that the provincial government of Sindh led by the Pakistan People's Party (PPP), which talks about increasing women's role in every sector, would achieve some better results in terms of women's development by the end of the year. However, with almost a month of the ongoing fiscal year left behind, spending on women's development initiatives has been dismal.
The budget for 2016-17 was announced by Chief Minister Syed Murad Ali Shah, who was finance minster of Sindh at that time. However, with all resources at hand and despite tall claims made by him, only 0.8 percent of the development budget was utilised in more than 10 months. The government announced an allocation of Rs426 million for the department, but released only Rs78 million till May 5, 2017. Only four percent of the released amount, which is Rs3.201 million, was spent. This amount makes just 0.8 percent of the total allocation for the Women's Development Department.
Not a single penny was spent on eight of the 11 development projects initiated by the Women's Development Department. Of these projects, four are ongoing and four are new.
The ongoing development schemes where no amount was spent by the provincial government are working women's hostels, Women's Development Complex in Shaheed Benazirabad District, Advocacy for Women Empowerment in Sindh programme and the programme for mediation for women at all divisional headquarters in Sindh through the Alternate Dispute Resolution (ADR).
An amount of Rs79.104 million was allocated for these projects, but just Rs31.439 million was released for two projects. However, no amount was spent on these projects.
All newly announced projects by the provincial government were not approved and no amount was released for them. An amount of Rs223.396 million had been allocated for these projects. These include Women's Development Complex in Karachi, Complaint Cells in 16 cities in the province, a project for improvement in livelihood and wellbeing of Female Home Based Workers (FHBWs) with the help of JICA and establishment of Skill Development Centre for Women with disabilities in Karachi.
There were only a few projects, which got some attention and money from the provincial government. An amount of Rs 0.817 million was spent from the total released amount of Rs17.977 million on Implementation of Gender Reforms Action Plan for Sindh. An amount of Rs0.843 million out of the released amount of Rs10 million was spent on establishment of Women's Development Complex in Sukkur and an amount of Rs1.541 million out of Rs19.532 million was spent on establishment of three Day Care Centres in Karachi and one each at divisional headquarters in Karachi, Hyderabad, Sukkur, Larkana, Shaheed Benazirabad and Mirpurkhas.
When contacted, Women's Development Department Secretary Mudassir Iqbal said that spending by the department had been on the lower side because projects were in the pipeline. He said that allocation for the department was likely to be increased by 50 percent, as some major projects involving advocacy and women's development complexes at district headquarters were in the pipeline.
http://nation.com.pk/karachi/20-May-2017/women-s-development-remains-most-neglected-sector-in-sindh
--------
URL: https://www.newageislam.com/islam-women-feminism/dutch-mps-oppose-headscarfs-amsterdam/d/111224
New Age Islam, Islam Online, Islamic Website, African Muslim News, Arab World News, South Asia News, Indian Muslim News, World Muslim News, Women in Islam, Islamic Feminism, Arab Women, Women In Arab, Islamophobia in America, Muslim Women in West, Islam Women and Feminism