New Age Islam News Bureau
31 May 2019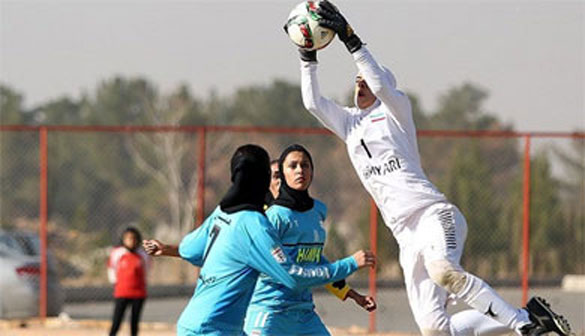 Male security guards entered the locker room of female footballers, using verbal and physical violence against the players and their head coach in the course of a women's football match in Shiraz.
----
• How Did Saudi Women Respond to a Ban on Shorts for Men?
• Female Footballers of Ilam, Shiraz, Attacked By Male Security Guards
• Sudan Women Protest Amid Calls For Mass Demo To Pressure Generals
• Meet Zoha Rahman - Spiderman's First Ever Hijabi Character
• British Muslim Women's Football Club Kicks Off in Ramadan
• Security Forces Free Yazidi Female from ISIS in Anbar
• Muslim Women Are Avoiding Public Transport and Keeping Children Away From • School as the 'Disease of Racism' Spreads In Islington
• Iranian MPs Move To Grant Citizenship To Children Of Foreign Fathers
Compiled by New Age Islam News Bureau
URL: https://www.newageislam.com/islam-women-feminism/drop-fertility-rate-among-indian/d/118761
--------
Drop In Fertility Rate among Indian Muslims and the Impact of Girls' Education
31.05.19
There is some smoke in the world with no fire to match. The reiterated notion that the largest minority community in India is producing so many children that they will overtake the majority community's produce creates smoke of this kind, obscuring facts. The National Family Health Survey-4 for 2015-16 records a notable drop in the fertility rate of Muslim women. Globally, people are producing fewer children, and this decline is reflected among both Hindus and Muslims in India. But what is important is that the gap between the fertility rates of the two communities here has narrowed after 40 years. After Independence, the difference between the two rates was 10 per cent. That increased and stabilized at around 30 per cent when population control programmes were taken up by the government from the 1970s because of the greater use of contraception by Hindus. But now, from 30.8 per cent in 2005-06, the gap in fertility rate has dropped to 23.8 per cent in 2015-16, with the Hindu fertility rate being 2.1 and the Muslim 2.6.
This is good news, but not in the way paranoid members of the majority community would want. A lower birth rate suggests that education is finding greater spread among Muslim girls, and perhaps Muslim women are being able to make decisions about their own health and their children's well-being more than before. Reports show that the country's largest minority community often has poorer access to health care than most. This has two direct effects on fertility rates. Higher infant mortality induces higher fertility rates, so a decline in the rate may suggest that healthcare access is improving. Besides, access to healthcare helps community exposure to modern methods of contraception: that may have become helpful too. Change has its own pace; it happens in spite of those who would cling to old, prejudiced myths. Experts expect a further drop in the community's fertility rate by the 2021 census. By the expected time that the Muslim population stabilizes in 2101, about 40 years after the Hindus, its share in the Indian population will be 18.8 per cent. Even if these estimates are off the mark, there is no way that the myth-fed paranoia can come anywhere close to facts. And in the present environment, even the premises may change.
https://www.telegraphindia.com/opinion/drop-in-fertility-rate-among-indian-muslims-and-the-impact-of-girls-education/cid/1691530
--------
How Did Saudi Women Respond to a Ban on Shorts for Men?
May 30th, 2019
According to authorities, the law that was imposed on Saturday aimed at ensuring that people will adhere to the strict social restrictions in public. Breaking the law would lead to fines of 5,000 Saudis riyals ($1,334).
Saudis went online to express their anger and opposition to the law, despite the fact that shorts were already socially unacceptable in Saudi Arabia, however, it was not criminalized until this law came up.
On hashtag #الشورت_لايخدش_الذوق_العام [Shorts Don't Offend Public Taste], Saudis discussed the law and expressed their criticism. The hashtag had climbed the trending topics shortly after it was first launched.
Translation: "I don't wear anything except shorts. What should I do? Leave Saudi Arabia for you?"
The Saudi government's newly-found "Public Decency Agency" has been under heavy criticism for coming up with the law and justifying it.
The head of the agency was cited responding to the public anger on the law saying shorts will be banned only in public spaces, yet it is still allowed on beaches and sports clubs.
Translation: "Saudi Arabia has taken it to another level and banned shorts."
Many Saudis went to point out the fact that Saudi Airlines have had this law for so long now. They don't allow any man wearing shorts from boarding into their flights.
Translation: "By the way, Saudi Airlines have been banning anyone wearing shorts from boarding into their flights."
Meanwhile, Saudi women, who for the most were critical of the law, took the chance and mocked the men's response to this ban while Saudi women have been for so long suffering from the laws that control their clothes.
https://www.albawaba.com/node/how-did-saudi-women-respond-ban-shorts-men-1288954
--------
Female Footballers of Ilam, Shiraz, Attacked By Male Security Guards
May 30, 2019
Male security guards entered the locker room of female footballers, using verbal and physical violence against the players and their head coach in the course of a women's football match in Shiraz.
During the football match between Zagros of Shiraz and Gas Refinery of Ilam which took place in the Pars stadium of Shiraz on May 25, 2019, one of the female footballers of the team from Ilam, was verbally assailed and subsequently punched in the stomach by a male security guard as she was entering the locker room. This according to the Foot Lady, the website reporting on Iranian women's football and futsal. Sarina Farajollahi was hurt so much that she had to be taken to hospital.
The head coach of Ilam's football team, Fatemeh Hayati, reacted by trying to push the guard out of the locker room, but she was also punched in the chest and thrown to the ground. Another female footballer, Neda Azizpour, tried to record the scene by filming it, but her mobile was snatched away from her by another male security guard. (The state-run ISNA news agency – May 28, 2019)
The women's football team of Ilam submitted the relevant documents on the physical assault on Sarina Farajollahi to the Football Federation of Iran.
Security guards are not allowed to deal with athletes and physically punish them. In the meantime, no one has accounted on why the male security guards had entered the locker room, while even the fathers and husbands of female footballers are not allowed in the stadium.
The clerical regime does not respect female athletes and does not support their activities. While according to the rules of the misogynous clerical regime, no men are allowed inside the stadium when women are playing, male agents are green lighted to brutalize women under various pretexts.
https://women.ncr-iran.org/2019/05/30/female-footballers-of-ilam-attacked-by-male-security-guards/
--------
Sudan Women Protest Amid Calls For Mass Demo To Pressure Generals
May 31, 2019
Hundreds of women marched towards Sudan's military headquarters in Khartoum after calls from protest leaders for a mass march to pressure the country's ruling generals to cede power.
Bearing Sudanese flags and banners calling for civilian government, they walked through central Khartoum on Thursday before joining protesters who have staged a weeks-long sit-in outside the sprawling complex.
The site has become the focal point of the country's protest movement, which saw longtime autocrat Omar al-Bashir ousted in April and has since been calling for the generals who replaced him to hand power to civilians.
"The Sudanese woman demands... justice, equality democracy, a civil government and fair government," said Hoyam al-Taj, a journalist in her thirties taking part in the march.
Nada Hashem, a young mother in brightly coloured traditional Sudanese dress, agreed.
"We want a civil state that will guarantee our rights as women and guarantee us a dignified life," she told AFP.
As they made their way through the capital to the sit-in, they chanted: "freedom, peace, justice, civil government is the people's choice!".
The Alliance for Freedom and Change protest movement had called for people to gather at the site later on Thursday for a "million-strong march".
The women's march comes the day after the end of a two-day general strike to pressure military council, which took power after ousting Bashir, into resuming suspended talks over the future shape of a transitional authority.
The army ousted Bashir on April 11 after months of protests against his autocratic, three-decade rule.
Thousands of protesters have remained camped outside the sprawling Khartoum compound ever since.
The generals, backed by key Arab powers, have resisted calls from African and Western governments to step down.
The two sides had agreed on many aspects of the political transition, including its duration and the bodies to oversee it.
But negotiations broke down over the question of whether a planned transitional body would be headed by a civilian or military figure.
The head of the Transitional Military Council, Abdel Fattah al-Burhan, was in Saudi Arabia on Thursday to attend several summits with Arab and Muslim leaders.
A statement from the council said that "several bilateral meetings are planned".
https://www.business-standard.com/article/pti-stories/sudan-women-protest-amid-calls-for-mass-demo-to-pressure-generals-119053100077_1.html
--------
Meet Zoha Rahman - Spiderman's First Ever Hijabi Character
by Sami Rahman
May 31, 2019
The first ever hijabi character will appear in Marvel's latest blockbuster, Spider-Man: Far from Home, this summer. Al Jazeera caught up with Zoha Rahman to talk about her iconic role as Peter Parker's Muslim friend and how featuring the hijab in Hollywood is helping to break barriers.
When the trailer for the latest Spider-Man film was released back in January, fans were quick to spot the appearance of a hijabi character, leading to a social media frenzy.
The excitement wasn't without reason - before that, Muslim representation in Hollywood films had been scarce or reserved for more stereotypical roles depicting Middle Eastern villains. So, for a character to wear the hijab - a headscarf worn by many Muslim women who feel it is part of their religion - in a blockbuster film was a big deal.
Plucked from obscurity
Before landing this career-defining role, Pakistani-born Rahman was a relatively unknown actress and model. She moved to the United Kingdom to study law but took a year out to pursue acting and modelling - her true passion.
"My background always surprises people," Rahman tells Al Jazeera. "I grew up in Pakistan and immigrated to the UK with my family, where I studied towards becoming a barrister. But halfway through my Masters, I decided to take this huge leap of faith and change my career path."
The risk paid off and Rahman landed several high-profile campaigns working with brands such as Qatar Airways, the FIFA World Cup, Acuvue and Wagamama, before being chosen to play the role of Peter Parker's friend in the latest film from the Marvel-Sony Spider-Man franchise.
Combatting conservatism
However, Rahman's catapult into fame wasn't straightforward. Coming from a conservative Pakistani Muslim background, her family had their doubts about the suitability of what was considered an untraditional career route in the community.
"The first few times I was scouted, my father said I should focus on my studies and not get involved," she says. "And when I got offered my first movie role, my mother was completely against it, so I used to hide my projects."
Although they had their reservations at first, Rahman says her parents eventually accepted her acting career once they saw how seriously she took it. "Because I worked so hard and persevered, they began to realise that this wasn't a distraction, it really was a career I wanted to pursue.
"We are a people who have known centuries of strife, constant readjustment and continuous scrutiny, so it's no surprise that the community wants stability and prosperity for their children and will always encourage a more secure career path. A safer option.
"Now they have magazines that I'm featured in on their coffee table and they proudly show them to their friends! It was a journey of growth and understanding for us all."
The role of a lifetime
Until the role in Spider-Man came about, Rahman had only starred in a handful of small films. By chance, her modelling agency sent over her profile for a top-secret role in a film.
"Marvel and Sony take their confidentiality very seriously, so I only found out five minutes before what the part was for and I didn't have time to fully process it," she explains.
Luckily, the casting team liked what they saw and Rahman was immediately hired. "I was at a train station when I got the call from production telling me I got the part," she explains. "I felt so many emotions at once - shock, happiness, nervousness, gratefulness."
Working on a Hollywood set felt surreal to Rahman: "In all my years of dreaming about working on a Hollywood set, I never thought it would become a reality," she says. "It's a sad by-product of the lack of representation on screen that actors like myself never truly believe in themselves.
"The set embodied everything I love about working as an actor and because of how fast paced it was, I got a wealth of experience in just a few months. It was a lot of hard work, very long days and nights, but it was so worth it."
Rahman kept tight-lipped about her role in the film due to strict confidentiality clauses in her contract. "I'm not allowed to elaborate much on my role - all I can say is that I'm Peter Parker's friend and we are all on this amazing European trip. You'll have to catch us in the cinemas to find out more!"
Working alongside actors like Zendaya, Samuel L Jackson and Jake Gyllenhaal also didn't faze Rahman, who says even the biggest stars were friendly and approachable. "When you're on set, everyone is professional and nice, so it felt completely normal to work with them.
"We'd be in hair and wardrobe, joke about, have lunch and get the scenes done. It was only when I got home that I'd think to myself: 'Did I really just do that? Did I really hang out with so-and-so today like it was nothing!?'"
Changing Hollywood
Last year, the film Crazy Rich Asians made history by becoming the first Hollywood blockbuster to have an all-Asian cast. This year, we will see a hijabi character star alongside Peter Parker in Spider-Man, but Rahman still believes that ethnic minority actors struggle in Hollywood.
"The roles that are on offer for actors of colour, like me, are limited," she says. "It's always a sidekick, or a best friend or a shopkeeper. I want to work towards getting into audition rooms where I am seen as an actor who can play any role, not just the 'South Asian woman' or the 'Muslim woman'."
Rahman also believes that the representation of Muslims on the big screen is negative. "I feel like the Muslim identity is used as an agenda in the media, we rarely see someone who is going about their life and just happens to be a Muslim. I do see a change, but it needs to get better on a much larger scale."
After Rahman's whirlwind year, we want to know how she plans to top it and what the future holds.
"I will continue to grasp every opportunity that comes my way," she says. "I want to create more space for underrepresented actors because this isn't just about me. I want to colour in every screen I can - literally!"
Spider-Man: Far from Home will be out in cinemas this July.
https://www.aljazeera.com/news/2019/05/meet-zoha-rahman-spiderman-hijabi-character-190530054057924.html
--------
British Muslim Women's Football Club Kicks Off in Ramadan
May 31, 2019
Saltley Stallions has launched a 12 week football initiative which will encourage young British Muslim women in Birmingham to take part in the sport.
Launched in May during the month of Ramadan, the pilot programme will run until late August and provide both football training and coach-player mentoring.
Saltley Women's Football Club was brought to fruition by Obayed Hussain, Imam and founder of the Saltley teams, and Shannie Jennings, semi-professional footballer for Birmingham and West Midlands Ladies and coach at West Bromwich Albion, following enthusiasm from Muslim women in the local community to play football.
The pilot programme will culminate with a special event in August where the participants will have the chance to meet and speak with some of the country's most inspirational women who have overcome diversity and succeeded in moving positively past negative preconceptions to prosper in their personal and professional lives.
Obayed Hussain, co-founder of Saltley Women's Football Club and founder of the UK's first Ramadan Midnight Football League in 2018, said, "I am really proud to have helped make Saltley Women's Football Club a reality.
"The young Muslim women of Birmingham have very few sporting outlets that are set up with them in mind and I hope that this pilot will provide a fun space where they can enjoy football but also develop as people.
"I believe strongly in the power that football holds in encouraging social cohesion and with my team at Saltley I have worked hard to make this programme the most enriching and helpful experience I can both on and off the field."
Shannie Jennings, co-founder of Saltley Women's Football Club and coach for the team said, "This is a really exciting time for women's football and I'm excited to be working with Saltley WFC to help inspire a new generation of female Muslim footballers. It has been fantastic to see the great level of football talent among these young women and I look forward to helping them develop further in the coming weeks."
Yasmin Nessa, captain of the women's team and Masters Student at the University of Birmingham, said, "This initiative has come at a great time because during Ramadan it can be difficult to remain active. It has given us a great sporting outlet but also the opportunity to meet others from the community.
"Beyond Ramadan, I know there has been a huge demand for more women's football because of the World Cup and I'd like to extend a huge thank you to Obayed and Shannie for making it happen.
"I've grown up playing football on the street with my neighbours and I truly believe the spirit of football is unique in its capacity to bring people together and to create a lively and vibrant atmosphere amongst different groups of people."
https://www.asianimage.co.uk/sport/17674945.muslim-womens-football-club-kicks-off-in-ramadan/
--------
Security Forces Free Yazidi Female from ISIS in Anbar
by Loaa Adel
May 30, 2019
Anbar (IraqiNews) The Security Media Cell announced, on Thursday, freeing a Yazidi female from a hideout belonging to the Islamic State group in Anbar desert.
In a statement, the cell said that Iraqi intelligence forces freed a Yazidi female from the Islamic State's grip. The female was imprisoned in one of the terrorist group's hideouts in Anbar desert.
Earlier, Iraqi security forces stormed the hideout and killed 7 terrorists; the statement added.
It further explained that the operation was carried out based on accurate intelligence information from the Federal Police Directorate.
It is noteworthy that the IS militants have abused many Yazidi women after capturing their areas. Large number of Yazidi girls in Iraq allegedly raped by IS fighters have committed suicide.
The Islamic State militants treated the women they captured as sex slaves or spoils of war. Women and girls who convert to Islam are sold as brides, those who refuse to convert are tortured, raped and eventually murdered.
https://www.iraqinews.com/iraq-war/security-forces-free-yazidi-female-from-isis-in-anbar/
--------
Muslim Women Are Avoiding Public Transport and Keeping Children Away From School as the 'Disease of Racism' Spreads In Islington
31 May, 2019
By Calum Fraser
MUSLIM women are avoiding public transport and keeping children away from school as the "disease of racism" spreads in Islington, community leaders warn­ed this week.
Mohammed Kozbar, chief executive at Finsbury Park Mosque, told the Tribune that the issue of Islamophobia was now "very urgent", with wom­en being "particularly vulnerable".
Islington's Rakhia Is­mail, the UK's first mayor to wear a hijab, blamed national politicians for stoking anti-Muslim sentiment with degrading language.
She added: "There are so many woman who are sometimes too scared to go out of the house, I have that myself sometimes. People like me wearing a hijab are a clear target for the far-right. There are so many woman who are even too scared to go to the mosque.
Councillor Ismail said Conservative leadership contender Boris Johnson's article in the Daily Telegraph which compared woman who wear burkas to "letter boxes" was an example of how language could be divisive. She also cited Donald Trump's anti-immigration rhetoric at public rallies.
"The British community is amazing," she said. "We never had Islamophobia before. Now it is a trend, it's becoming normal. I feel sorry for the people who have been fed these lies. It's like giving a child junk food. It's unhealthy and it makes them worse but they can't stop."
The comments came in the week that police revealed that nine examples of "far-right" graffiti have appeared across the borough in the past six months, with mosques receiving an increasing number of threats.
Mr Kozbar said: "Our community is scared. Women are particularly vulnerable here. Some of them come in here saying they can't take children to school or use public transport because they don't feel safe. It is not acceptable. We must tackle the disease of racism and Islamophobia."
Paul Holborow, Islington's Stand Up to Racism convener, warned that a "fraying of the fabric of society" was to blame for the return of "far-right" sentiment.
He added: "I know it is the same old answer, but austerity has created this poisonous environment. For every overcrowded classroom, for every overcrowded house, it makes people angry.
"Their life is worse than their parents, so people are susceptible to arguments of the far-right. And a tiny minority are lured by the accompanying violence."
Mr Holborow added: "We are calling on the whole of Islington to deface any racist graffiti they see and to call out every incident of racism they come across."
http://islingtontribune.com/article/muslim-women-too-scared-to-leave-house
--------
Iranian MPs Move To Grant Citizenship To Children Of Foreign Fathers
Maysam Bizaer
May 31, 2019
Javad is a 30-year-old architect and photographer in Iran. Born to an Iranian mother and an Afghan father in Iran, he has not yet been granted Iranian citizenship due to the country's nationality law, which only gives children of Iranian fathers automatic citizenship.
As a result, Javad has faced plenty of hurdles and has been deprived of many services, including four years of primary school, insurance and a driver's license. He also faces the annual extension of his father's legal residence in Iran. Hundreds of thousands of children in Iran find themselves in a similar situation. It's mainly seen in the eastern regions of the country, where the population of Afghan refugees is the greatest.
According to a 2019 report by the UN Refugee Agency (UNHCR), Iran is among the seven countries in the world, including Lebanon, Kuwait and Qatar, that "do not allow mothers to confer their citizenship on their children with no or very limited exceptions."
Lawyer Shahnaz Sajadi, an assistant to Iran's vice president for women and family affairs, told Al-Monitor, "Our current legislation dates back to 1934, when Iran was not faced with refugees. But the situation has changed over the past three to four decades, and Iran has been home to millions of refugees, mainly from Afghanistan and Iraq."
Sajadi said that, since many Iranian women have married foreign migrants over the past decades, Iran is "facing a phenomenon in which thousands of children are not recognized as Iranian nationals and they can't apply to become Iranian nationals until reaching 18 years of age. This has led to many challenges for governments, especially in the education and health systems."
To address these challenges, Iran's parliament scored a landmark victory by overwhelmingly passing a bill on May 12 to bring an end to the nationality law. This came almost two decades after the judiciary raised the issue of gender inequality in its nationality law in 2001, after the census revealed that a significant number of children with Iranian mothers and foreign fathers were not considered Iranian citizens. Five years later, parliament passed a bill making these children eligible for Iranian citizenship after reaching the age of 18. But the law gave them a single year to apply for citizenship, and mandated that they would also have to give up the nationality of their fathers. These conditions made the application a difficult and lengthy process, if not impossible.
Two proposed bills in 2012 and 2015 to amend the nationality law failed. The Guardian Council rejected the first bill, and the latter did not pass parliament. But government efforts and the support of women's rights activists paid off last week when parliament passed the bill allowing all children of Iranian mothers and foreign fathers to obtain citizenship at birth, regardless of whether the couple has a marriage permit from the government. (According to Iranian law, Iranian women need to obtain governmental permission to register their marriage with a foreign man.)
The new bill further mandates that children of mixed marriages can also apply for citizenship after reaching the age of 18. Such a request requires approval from the Ministry of Intelligence, but applicants no longer need to give up their other nationality to become Iranian citizens. The security inquiry process should not exceed more than three months, according to the bill, and the Iranian police should issue a residence visa for the foreign father during this period.
Although the bill passed with 188 votes in favor, 20 parliamentarians voted against it and three others abstained. Lawmakers cited several reasons for their opposition, including the sudden population increase amid high unemployment and economic downturns; the urging of refugees from neighboring countries to marry Iranian girls to obtain residency permits; and security or cultural threats against Iran.
While the exact number of people without national IDs in Iran is unknown, Iranian parliamentarian Reza Shiran Khorasani said last year that around 1 million children lack national IDs.
Sajadi said, "What's more important than the correct figure is the reality that these children are going through and the social harm that their situation is inflicting on society. With the new law, these children will be eligible for citizenship and will have access to education, health and other public services like every other Iranian citizen. It is considered a major achievement with regard to the rights of women, children and mothers."
Human Rights Watch, among others, has welcomed the passing of the bill, but the Guardian Council — a powerful conservative body of senior clerics and judges — must approve the bill before it becomes law. "It is very unlikely that the Guardian Council approves the bill, citing contradictions with Sharia law," Sajadi said. Yet Sajadi believes the bill will be passed once it is sent to the Expediency Council, the body tasked with mediating disputes between parliament and the Guardian Council.
https://www.al-monitor.com/pulse/originals/2019/05/iran-nationality-law-citizenship-foreign-fathers-bill-mps.html
--------
URL: https://www.newageislam.com/islam-women-feminism/drop-fertility-rate-among-indian/d/118761
New Age Islam, Islam Online, Islamic Website, African Muslim News, Arab World News, South Asia News, Indian Muslim News, World Muslim News, Women in Islam, Islamic Feminism, Arab Women, Women In Arab, Islamophobia in America, Muslim Women in West, Islam Women and Feminism