New Age Islam News Bureau
29 June 2022
• Nelly Attar, Lebanese Mountaineer, Climbing For Women In Pakistan, Middle East
• Iran Intensifies Social Restrictions, Harassment of Women For Hijab
• Tributes to Jordanian Lubna Mansour Pour In Following Her Murder In Sharjah
• Asian Taekwondo C'ships: Iran Women's Team Win Title in S Korea
Compiled by New Age Islam News Bureau
URL: https://newageislam.com/islam-women-feminism/mona-khashwani-uae-robotic-emirati/d/127357
--------
Dr. Mona Khashwani Becomes UAE's First Emirati Physician to Perform Robotic Surgery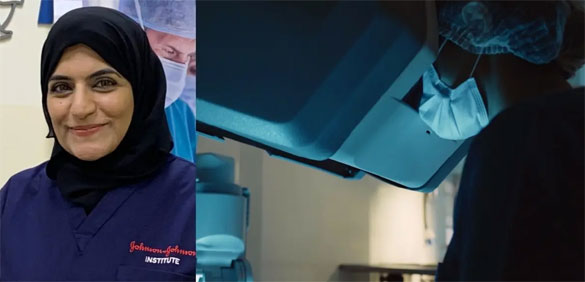 Dr. Mona Khashwani
----
29 June, 2022
Dr. Mona Abdulaziz Khashwani from Sharjah's Al Qassimi Women and Children's Hospital in the United Arab Emirates has become the country's first Emirati physician to perform robotic surgery.
Khashwani, a specialist in obstetrics and gynaecology, performed the robotic surgery using the advanced Da Vinci system, Emirates Health Services said in a statement on Wednesday.
"I sincerely thank the wise leadership, who gave me the opportunity to be one of the few citizens who carry out this type of high-precision operations for patients using a robot," she said.
Khashwani is one of the UAE's most experienced doctors in the robotic surgery field. She graduated from London's Queen Mary University in 2005 and was then nominated by the hospital's Director of Laparoscopic Operations and Robotic Surgery Program, Dr. Zaki al-Mazki al-Shamsi, to join the women robotics surgeons' program.
The Emirati doctor performs total hysterectomy, supra-cervical hysterectomy and the operations to remove of fibroid tumors, ovarian cysts, and adhesions, among others.
"I have spent countless hours after my shift using the surgical simulator for training and studying how the robotic system operates," she said.
"This qualified me to receive a license to perform gynaecologic robotic surgery using the advanced Da Vinci surgical robot from the IRCAD Training Center in Strasbourg, France," Khashwani added.
Launched in 1999, Da Vinci is an automated surgical system that performs minimally invasive procedures and is considered to be one of the most accurate systems of its kind in the world. It is the first FDA recognized safe and effective surgical tool that performs complex surgeries, often involving small incisions, which shortens patients' hospital stays, ensures faster recovery, and reduces the need for pain killers after operation.
Source: Al Arabiya
https://english.alarabiya.net/News/gulf/2022/06/29/Dr-Mona-Khashwani-becomes-UAE-s-first-Emirati-physician-to-perform-robotic-surgery
--------
Nelly Attar, Lebanese Mountaineer, Climbing For Women In Pakistan, Middle East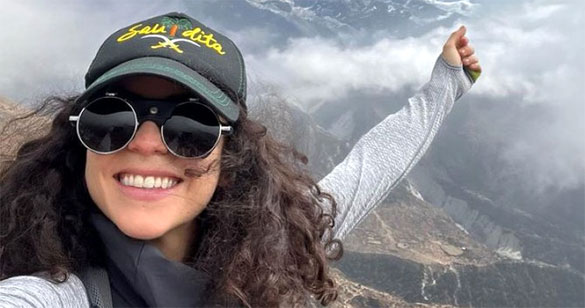 Nelly Attar with Ama Dablam mountain, in Nepal, in the background, Nov. 29, 2021. (Courtesy: @nellyattar/Instagram)
-----
Revathi Krishnan
27 June, 2022
Pakistan is witnessing its busiest mountaineering season since the 9/11 attacks with summiteers from across the world — US, Europe, China, Russia etc — attempting to set new records. Among these, is also the first Arab woman to attempt to scale K2.
Nelly Attar, a Lebanese mountaineer, raised in Saudi Arabia, began her journey to the second highest mountain on 20 June and wants to use her climbs as a way to inspire women in Pakistan and across the Middle East.
"I am embarking on the most challenging journey to climb K-2…I feel like there's so much unknown, there's so much to this journey that we will be embarking on, so I'm very excited", Attar said in an interview to an Arab news channel in Islamabad. She also said that she had been planning to summit the mountain for the past three years.
Standing at 8,610m, K2 is also called the 'Savage Mountain' and regarded to be among the most difficult climbs. Till now, less than 20 women across the world have submitted K2. Attar summited Mount Everest in 2019.
The tourist department of Gilgit Baltistan has already issued over 700 permits to climbers, according to the secretary of Pakistan's Alpine Club Karrar Haidri. Pakistan has a vibrant mountaineering culture, as it is home to five of the world's 14 eight-thousander peaks, including K2. Besides K2, which is the second-highest peak in the world, Pakistan is also home to Nanga Parbat, Gasher­brum-I, Gasherbrum – II and Broad Peak.
Pakistan expects to host over 1,400 mountaineers from across the globe. This is a marked rise from the 550 climbers last year.
The summer alpine
Haidri credited this busy mountaineering season to the introduction of online visas and the peaceful conditions in Pakistan. Speaking to Dawn, home secretary Iqbal Hussian said that the Gilgit-Baltistan government and army had multiple arrangements in place in case of an emergency, to rescue climbers.
For this extremely busy mountaineering season, over 3,000 porters have also been hired by several expedition teams.
In the busy mountaineering season, Pakistan's very own mountaineers will also be participating, including the likes of Sajid Ali Sadpara, who lost his father and famous mountaineer Ali Sadpara to K2 last year. Besides Sadpara, there are about 40 other local mountaineers such as She­roze Kashif, Samina Baig, Naila Kiani, Sir­baz Khan and Abdul Joshi.
The current season is known as the summer alpine, and regarded to be the most popular season to climb in. Pakistan also made news in the winter climbing season, when an all Nepalese team of 10 climbers, most of them sherpas, summited K2 in the winter for the first time, in January 2021.
Source: The Print
https://theprint.in/go-to-pakistan/nelly-attar-lebanese-mountaineer-climbing-for-women-in-pakistan-middle-east/1014192/
--------
Iran Intensifies Social Restrictions, Harassment Of Women For Hijab
6/27/2022
The government in Iran is intensifying social restrictions, including closing cafés and detaining women for "improper" hijab, reports on social media indicate.
Latest news received from the southern historic city of Shiraz say that security forces and 'morality police' shut down several cafés and are pressuring others to strictly enforce hijab rules. The same process is taking place in other cities, including Tehran.
The hijab or morality police have also expanded patrols in streets, stopping women they believe are not wearing their headscarves properly or for other dress code violations. These law enforcement units are all accompanied by special vans, and they push women into these vehicles for further questioning, admonishment, or arrest.
There have been many recorded incidents in recent months showing women resisting the morality police who use force to push them into their patrol vans. One journalist in Tehran tweeted on Monday that morality police are using new tactics to convince women to enter the vans without making a bigger scene in public. Reportedly, authorities while they have decided to harass citizens are also concerned about a backlash and incidents that could lead to street protests.
A video that went viral on June 23 showed dozens of teenage boys and girls in Shiraz congregating in a park and mingling freely, which is forbidden according to the Islamic rules in the country. Most of the girls had no headscarves and the incident turned into a major issue.
The government immediately announced that the organizers of the gathering were arrested while many ordinary Iranians on social media expressed satisfaction that teenagers defy the religious rules.
One Shiraz resident complained on social media that authorities are taking away what little exists for relaxation and socializations, by closing down cafés.
Another viral video on Sunday [June 26] showed a woman screaming profanities at a cleric who stopped her in a supermarket to admonish her for inadequate hijab. Some on social media commented that clerics do not object to doubling and tripling of prices in a matter of weeks but are upset by hijab infringements.
Young people in Tehran are also complaining about increasing pressure on café owners not to force clients with loose headscarves to cover their heads properly. There are also reports about taxi drivers telling women to cover themselves properly, out of concern that they would be stopped by the police.
In recent weeks, the economic situation in Iran has deteriorated with prices of daily necessities doubling and tripling almost overnight and protests breaking out around the country.
No one knows if the enforcement of strict religious rules is related to the authorities trying to show force, but some citizens see the effort as a scheme to pit people against one another.
Massoud Jafari, a café owner twitted that he is constantly harassed by morality police who walk in anytime they want and accuse him of running a business promoting "prostitution", insulting him and his customers.
Last week, 120 people touring a nature reserve were arrested and accused of dancing and drinking alcohol.
There is also pressure on female singers who entertain in private wedding parties. One local prosecutor in Hormozgan province on Sunday announced the arrest of four female singers. "If these acts continue, both the performers and persons organizing the wedding party will be arrested," he announced.
Source: Iran Intl
https://www.iranintl.com/en/202206271624
--------
Tributes to Jordanian Lubna Mansour Pour In Following Her Murder In Sharjah
28 June, 2022
Tributes have been pouring in for a Jordanian woman of Palestinian origin who was stabbed to death by her husband in Sharjah on Friday afternoon.
The woman, identified on social media as Lubna Mansour, was stabbed several times in a parking lot near her residence in the United Arab Emirates' city of Sharjah. Her husband was identified as the suspect and caught by Sharjah Police within two hours of the murder.
Her picture was widely shared on social media following the incident, and her name has been trending since. Hundreds of tributes have poured in for the victim, who was a graduate from Jordan's University of Science and Technology.
The police did not publicly identify the victim or her attacker and have not yet confirmed Jordanian media reports that claimed her husband was the murderer.
According to Jordanian media, the woman in her 20s was killed due to a family dispute. A relative of the victim published a statement about the crime, confirming her identity.
Lyaz Mansour, the victim's sister, shared a picture of Mansour on Instagram with the caption: "With all my sadness and sorrow, we mourn my dear sister Lubna Waleed Mansour, asking Allah Almighty to rest her in peace and grant us patience."
"Lubnah Mansour was stabbed by her husband 15 times in the UAE. Femicide is horrible and the death penalty should be used. The days of our silence and suppression are numbered. Our lives are not as cheap as you make them to be," a Twitter user said.
"Going to sleep now. Wondering whose name we're hearing on the news tomorrow. Wondering which girl amongst us is having her last day, today," said another Twitter user.
Mansour's murder comes within a week after two similar crimes were committed in Jordan and Egypt.
Jordanian university student Iman Arsheed was fatally shot at her university campus in Jordan, and in Egypt, Nayiera Ashraf was slaughtered at the gate of her university in Mansourah.
The horrific crimes have sparked uproar on social media, raising awareness on the increase in violence against women.
Source: Al Arabiya
https://english.alarabiya.net/News/gulf/2022/06/28/Tributes-to-Lubna-Mansour-pour-in-following-her-murder-in-Sharjah
--------
Asian Taekwondo C'ships: Iran women's team win title in S Korea
28 June 2022
The Iranian Women's Taekwondo Team have made History by winning the 25th edition of the Asian Championships in South Korea.
Having won three gold medals, two silvers and one bronze, the Iranian Women's team concluded the event with 500 points for their 1st title.
Nahid Kiani won gold in the minus 53 weight class, while Akram Khoda-bandeh, and Zahra Pour-Esmail also snatched gold.
Mobina Ne'mat-zadeh and Nastarn Valizadeh settled for Silver in the minus 49 and minus 62 kg categories, and Zahra Sheidaee picked-up Iran's only bronze.
China finished second with 379 points, 32 points clear of the host nation South Korea. In the men's event, Team Iran finished 5th, with three silver medals and one bronze.
Source: Press TV
https://www.presstv.ir/Detail/2022/06/28/684713/Iran-women-win-taekwondo-title
--------
URL: https://newageislam.com/islam-women-feminism/mona-khashwani-uae-robotic-emirati/d/127357
New Age Islam Islam Online, Islamic Website, African Muslim News, Arab World News, South Asia News, Indian Muslim News, World Muslim News, Women in Islam, Islamic Feminism, Arab Women, Women In Arab, Islamophobia in America, Muslim Women in West, Islam Women and Feminism