New Age Islam News Bureau
03 December 2020
• Aisha Al Qahtaniis , Qatari Woman, Who Fled Country Still Fears For Her Life
• A Safe Space For Women And Girls In Iraq
• Campaigners Press For Changes To Stop The Killing Of Women In Iraqi Kurdistan
• Sudan Says It Will Stamp Out Child Marriage And Enforce Ban On FGM
• Canadian Mental Health Association Study on Muslim Women's Mental Health in the Greater Toronto and Hamilton Area
• 'Love Jihad': Indian States Want To Pass Laws To Prevent Interfaith Marriages. The Move Is Unconstitutional And Misogynistic
Compiled by New Age Islam News Bureau
URL: https://www.newageislam.com/islam-women-feminism/dr-hanan-al-ahmadi-assistant/d/123653
--------
Dr. Hanan Al-Ahmadi, Assistant President of the Shoura Council, Makes History As First Woman To Chair Shoura Session
December 2, 2020
Fatimah Al-Debis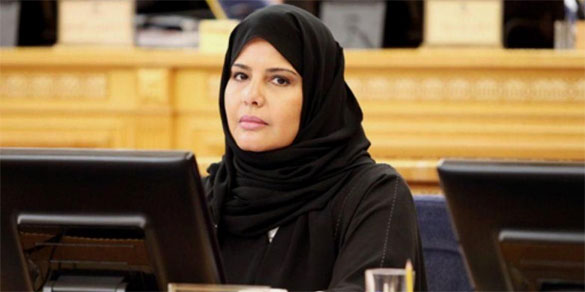 Assistant President of the Shoura Council Dr. Hanan Al-Ahmadi made history on Wednesday by becoming the first Saudi woman to chair a session of the Shoura Council.
-----
RIYADH — Assistant President of the Shoura Council Dr. Hanan Al-Ahmadi made history on Wednesday by becoming the first Saudi woman to chair a session of the Shoura Council.
She presided over the sixth regular virtual session of the Council held on Wednesday in the absence of President Sheikh Abdullah Al-Sheikh and Vice President Dr. Mishaal Al-Sulami. This is in accordance with Article six of the Shoura Council Bylaw.
Member of the Shoura Council Dr. Faisal Al-Fadel said that the chairing of the Council session by Dr. Hanan was considered a historic event. He expressed happiness over the landmark event in the history of Saudi women, saying that this comes as one of the fruits of the Kingdom's Vision 2030, and realization of one of its most important goals, which includes empowering women and investing their capabilities.
Meanwhile, a number of Shoura members, while taking part in deliberations, called on the Ministry of Foreign Affairs to reduce the number of staff working on a contract basis at the Saudi diplomatic missions abroad and convert the vacancies from the seventh rank and above to diplomatic posts. They also urged the ministry to find its own premises for diplomatic missions to replace the rented ones.
The Council approved the draft job discipline law, which aims to ensure the smooth functioning of the public offices and the good performance of employees. It also endorsed the proposal asking the General Organization for Social Insurance to carry out a study about various alternatives to facilitate the retirees having access to health insurance.
https://saudigazette.com.sa/article/600997/SAUDI-ARABIA/Dr-Hanan-makes-history-as-first-woman-to-chair-Shoura-session
--------
Aisha Al Qahtaniis , Qatari Woman, Who Fled Country Still Fears For Her Life
December 3, 2020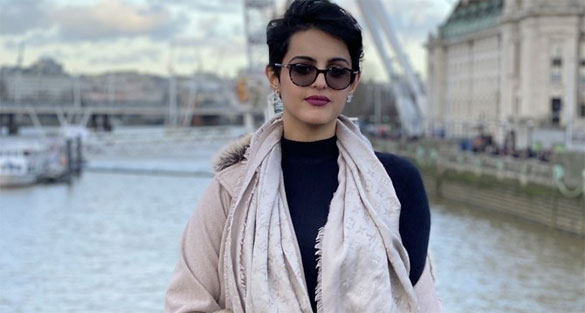 Aisha Al-Qahtani, 22, fled to London in December 2019 while on a trip to Kuwait. (Twitter)
----
Aisha says her homeland significantly supresses women's rights.
Aisha Al Qahtaniis still watching her back after she fled Qatar to London earlier this year. She says the country, which promotes itself as a progressive on the world stage, is unsafe for women. Aisha says her homeland significantly supresses women's rights.
The activist had planned her escape from Qatar for years, but she knew she couldn't fly out of there, because laws stipulate local women under 25 need a male guardian's permission to board a flight.
So, her bid for freedom actually came on a family holiday in Kuwait, where she snuck away to the airport on her own to catch a 3am flight to London.
"It was just like I needed someone to pinch me because I couldn't believe that I actually did this. I could have, if I got caught in Kuwait, I would have been murdered," she told 60 Minutes.
Aisha was gambling with her life, even trying drastic measures of dying her dark hair blonde to disguise herself from her searching family.
"I either ran away to have a new life or I stay and just basically emotionally and mentally die. If this blonde works and I get to live, great. If it doesn't, then it was worth it. At least I tried."
Not surprisingly, when she finally made it to London, Aisha embraced a new western wardrobe that gave her a sense of freedom that she was deprived from.
"I was telling myself if I was a blonde girl with blue eyes my family would just tell me bon voyage and that's it."
After landing in London, the 23-year-old has had to change locations a number of times, after her family managed to allegedly bribe officials to help track her down.
Now, she is always watching her back.
"It's just knowing that they're always gonna carry on looking for me," she said.
Aisha told 60 Minutes she felt like she was in a James Bond movie, having to hide in shadows.
"It's just intense to think about it again. The whole escape plan and the things that women have to go through just to have a normal life," she said.
"I was in Cardiff in the mall and I could see my brother at the end of the path. I thought I was hallucinating. I thought, how could my family find out I'm in Cardiff, there's no way… I've taken all the safety precautions."
For now, Aisha is safe in a secret hideout, but knows that continuing to paint a picture of what life's really like in Qatar makes her a target.
Still, she believes she's lucky to have escaped, and it's her duty to speak out on behalf of the women still there.
"I think it's very important for the world to see the real image of women's situation in Qatar," she said.
https://www.khaleejtimes.com/world/qatari-woman-who-fled-country-still-fears-for-her-life
--------
A safe space for women and girls in Iraq
3/12/2020
(LWI) - An open ear, support groups, legal counseling, and skills to earn their own money: For many women and girls in Iraq, these interventions mean the difference between continuing to live in an abusive family or partnership or starting a new life without violence. The Lutheran World Federation (LWF), together with the local Baghdad Women's Association (BWA), offers this kind of support to survivors of sexual and gender-based violence.
Millions of refugees and IDP
The Lutheran World Federation has worked in Iraq since 2014, supporting internally displaced people (IDPs), host communities, and Syrian refugees. As of September 2020, there are still close to 6.5 million persons in need of humanitarian assistance in Iraq, including 1.35 million internally displaced people and 4.7 million returnees. The political and security situation in Iraq remains precarious and has been further exacerbated by COVID-19.
"The situation for women and children is particularly dire. There is trafficking, child marriage, forced marriage, honor killings, female genital mutilation, and the double discrimination faced by survivors of sexual and gender-based violence. Many of these issues have become more frequent during the COVID-19 pandemic," says Caroline Tveoy, LWF World Service Regional Program Coordinator for the Middle East, and gender focal point.
LWF has focused its work on prevention and response to gender based-violence. To target hard-to-reach communities and individuals, LWF works with local partners, including the Baghdad Women Association (BWA) https://www.bwa-iraq.org/. With support from LWF and other partners, BWA provides psychosocial and legal advice to women and girl survivors of gender-based violence through five counseling centers in the Baghdad, Nineveh, and Dohuk governorates.
Violence already before displacement
For many women attending these centers, abuse did not start with being displaced in 2014. "The women have been living under difficult circumstances in their place of origin, and that keeps affecting them after their displacement," says Huda Rafid, Social Worker at the BWA center in Siji, Dohuk governorate.
The center in Siji offers women a safe space. It provides psychosocial and legal support, but also economic empowerment through small grants and cash-for-work. In the past months, the center also conducted awareness-raising sessions on COVID-19.
Other centers also provide awareness-raising sessions on reproductive health, referral pathway meetings with service providers, and gender-based violence sessions for men. They have been distributing hygiene kits to help vulnerable families protect themselves from COVID-19.
"I have been coming for two years now, to receive support," says Nora F., a home maker from the Dohuk region. "It has been good for my mental health and my well-being."
Student Remonda has also benefitted from vocational training and legal support. "It helped me to grow and develop my abilities," she says.
Recently, the BWA activated a referral pathway system. It enables them to refer survivors, with their consent, to governmental health care and other services. The referral support includes an ID, food supply and housing card, passport, humanitarian relief aid, and monthly salaries for widows and orphans.
COVID-19 and domestic violence
The COVID-19 pandemic has made the BWA work more complicated andeven more critical. With domestic violence cases increasing, the Baghdad Women Association has provided psychosocial services to women and girls remotely via Skype, WhatsApp, and Zoom. They also set up a health awareness campaign on Facebook, featuring short videos about proper hygiene and physical distancing. BWA has also produced brochures and information on COVID-19 and how to protect against the virus.
The work, which LWF and the BWA do together, is also supported by the English-speaking congregation of the Evangelical Lutheran Church in Geneva (ELCG). "Our congregation holds a Harvest Festival each year, where we raise funds for one or more projects outside our congregation. It's a way to practice giving thanks and giving back", says Rev. Andy Willis of the ELCG.
"We are all deeply concerned about the rise in sexual and gender-based violence during the pandemic, and so it means a lot to us to support the work of BWA and LWF. We are inspired by and grateful for their work of preventing and responding to GBV in communities throughout Iraq."
https://www.lutheranworld.org/news/safe-space-women-and-girls-iraq
--------
Campaigners press for changes to stop the killing of women in Iraqi Kurdistan
NOVEMBER 30, 2020
PRESIDENT of the Slemani Court of Justice Jasem Jazaa Jaafer agreed to work with those campaigning to stop the killing of women in the Kurdistan region of Iraq following a demonstration today.
Protesters gathered outside the court building for a press conference this morning before presenting a list of key demands to the court.
The number of women murdered in so-called "honour killings" is showing a worrying rise, campaigners warned.
Those gathered stood in silence, wearing scarves emblazoned with red hands, depicting the blood of the women that have been killed in the region.
On International Day for the Elimination of Violence Against Women in Slemani last week, spokeswoman for the Conscience Group Sakar Ebdullah said that more than 20,000 women have been killed since the 1991 uprising in the Kurdish region.
Violence against women is reaching "alarming levels" she said, adding: "The existing laws are not favourable to women."
Today's action was co-ordinated by the Stop Killing Women coalition, a broad-based campaign spearheaded by the Communist Party of Kurdistan – Iraq, but including local non-governmental organisations with the backing of the United Nations. The coalition is pressing for legislative changes.
Campaign spokesman Mohammed Sheeraz Talibani outlined the main demands to the Morning Star. One of the key changes is to a rule that allows parents, husbands, uncles or brothers to sign papers forcing women's shelters to release their daughters, wives or other female relatives into their care.
"After they are taken from the refuge, they kill them," Mr Talibani explained.
"In Chamchamal there was a case where two sisters were killed by their father. He started a new relationship, but their stepmother didn't like them and kicked them out of the house, saying they were 'bad girls.'
"They ended up in a shelter, but their father signed the papers two months later and they were forced to leave. His new wife told him that they had behaved 'dishonourably' in the refuge.
"He and two other men then shot the girls — and they have escaped punishment as the father has been sheltered by the community, moving from house to house.
"The authorities won't make arrests of the men as the father is a leading figure in the community — so they get away with murder," he said.
Mr Talabani said that the campaign's work is dangerous: workers have received death threats for supporting the refuges and have been warned many times to stay away.
"There are many cases like this. And if you help them, they kill you," he said.
The Stop Killing Women coalition has a project that aims to challenge the media narrative and is working with news organisations to ensure that they report on the killing of women responsibly.
"After a woman is killed, the media and television in Kurdistan spread propaganda making out that she deserved to die, blaming the victim for her death.
"She cannot respond — but it also helps men to escape justice," he said.
Mr Talabani said today's meeting was a sign of progress but added that much more needed to be done to change the situation.
"Hopefully we will meet with the government to force parliament to listen to our demands and take action," he said.
https://morningstaronline.co.uk/article/w/campaigners-press-changes-stop-killing-women-iraqi-kurdistan
--------
Sudan Says It Will Stamp Out Child Marriage And Enforce Ban On FGM
27 Nov 2020
Sudanese authorities have announced they will end child marriage and enforce the country's ban on female genital mutilation (FGM), in a major step forward for the rights of women and girls.
Police officers were told on Wednesday they must inform local communities that FGM is illegal following new laws passed in July that make it punishable by up to three years in jail.
"Police officers will have a major responsibility to intervene and curb this crime against humanity," said the director general of police, Ezzeldin El Sheikh, adding that religious leaders in the largely Muslim country would play a key role in ending the practice.
The move should go some way to allay concerns the practice was so deeply entrenched in society the law could not be enforced.
According to the UN, 87% of Sudanese women have undergone FGM, which involves the partial or total removal of the female external genitalia for non-medical reasons. Girls are typically cut between the ages of just five and 14.
The council of ministers also announced this week it is to end child marriage and adopt all articles of the African charter on the rights and welfare of the child, which came into force in 1999.
Previously Sudan had resisted moves to ban marriage before the age of 18, despite supporting UN human rights council resolutions to end child marriage.
About a third of girls in Sudan are married before they turn 18.
Niki Kandirikirira, Equality Now's director of programmes, said: "The work [to end child marriage] now awaits the government to implement the law through programmes addressing social norms and through making it clearly punitive to breach the law."
She added: "We welcome comments by police chief Lt Gen Ezzeldin El Sheikh in highlighting that FGM is now forbidden by law in Sudan and those involved can face arrest, and we hope that his words will translate into action by the police force."
Following the ousting of Omar al-Bashir last year, Sudan's civilian-led transition government has set about reforming the country, departing from almost four decades of hardline Islamist policies.
As well as FGM and child marriage, the government has ended prohibitions against religious conversion from Islam, permitted non-Muslims to drink alcohol and stipulated that women will no longer need permission from a male member of their family to travel with their children.
World leaders have pledged to eliminate FGM and end child marriage by 2030.
https://www.theguardian.com/global-development/2020/nov/27/sudan-says-it-will-stamp-out-child-marriage-and-enforce-ban-on-fgm
--------
Canadian Mental Health Association Study on Muslim Women's Mental Health in the Greater Toronto and Hamilton Area
December 03, 2020
The community-based research project, Muslim Women's Mental Health, asked Muslim women in the Greater Toronto and Hamilton Area (GTHA) to describe their first-hand experiences of mental health and mental health services.
This kind of qualitative research is based on the wisdom that if you want to know how – and if – services and supports are working, you ask the service users and the service providers. [This study was prepared by Ruby Latif, MA; Doctor of Social Science Candidate (ABD), Royal Roads University; Research Associate, Diversity Institute, Ryerson University; Sara Rodrigues, PhD, Centre of Excellence on PTSD; and Andrew Galley, PhD, Canadian Mental Health Association, National.]
In Canada, Muslims are the targets of significant hate crime, aggression and discrimination. Muslim women in particular face discrimination and ill-treatment, even more so than Muslim men. This may be because the practice of wearing the hijab is a visible expression of Muslim women's religion. It is not surprising that experiencing aggression and discrimination can go hand and hand with mental health difficulties. This study suggests that this is true for Muslim women in the GTHA.
The researchers in this study hosted focus groups with 13 Muslim women and interviewed 10 mental health professionals in order to understand how to improve mental health services and supports for Muslim women. The study also looked at why Muslim women may not be accessing services, and how to encourage them to seek support.
The women in the study revealed that they faced stigma and discrimination – both within and outside the Muslim community. There were cultural, religious or family stigmas about mental health that prevented women from accessing much needed mental health care. The women also faced service providers who didn't understand their culture and faith, and who judged them. They spoke about the importance of having service providers who are sensitive to their life experiences and culture. This "cultural competency" and an increase in the cultural diversity of service providers would go a long way to improving the therapeutic experience for Muslim women.
The women in the study also mentioned the high cost of treatment and a lack of services in their community as obstacles to getting the mental health help they need.
CMHA is pleased to present this valuable research, which offers a clear vision for mental health services that respect and understand the specific needs of Muslim women. CMHA thanks the Women's College Hospital for the grant that made it possible.
https://muslimlink.ca/news/canadian-mental-health-association-study-on-muslim-women-s-mental-health-in-the-greater-toronto-and-hamilton-area
--------
'Love Jihad': Indian States Want To Pass Laws To Prevent Interfaith Marriages. The Move Is Unconstitutional And Misogynistic
December 2, 2020
(CNN)Daily, being a woman in India feels like an achievement. If friends and relatives don't concern themselves with who my significant other is, it seems the state does.
Currently, marriage laws between India's majority Hindu population and minority Muslims are being drafted in five states, all of which are led by the right-wing, Hindu nationalist, Bharatiya Janata Party (BJP).
All of them seek to ban something that doesn't actually exist: "love jihad," an Islamophobic term referring to a purported phenomenon in which Muslim men marry women of other faiths — especially Hindu women — to convert them to Islam. Some right-wing Hindus claim that this alleged "conversion" results in a threat to women's safety, citing tragedies like the reported murder of a Hindu woman last month by a young Muslim man as proof of "love jihad." (In addition to murder, authorities have charged the young man with attempting to abduct the young woman to seek to compel her to marry him, The Indian Express reported; they noted he abducted her once before, in 2018.)
In Uttar Pradesh, authorities have just brought charges under one of these laws for the first time, accusing a male college student of threatening to kidnap a young woman and of trying to force her to convert to Islam, The Times of India reports. Despite this case, as the push for these new laws unfolded, the Hindu-nationalist BJP had admitted in Parliament that no case of "love jihad" had ever been identified.
As troubling as it is that an ethnonationalist conspiracy theory seems to have taken hold, the motivation behind it also ignores women as individuals, painting them as naive and incapable of thinking for themselves or making their own decisions.
Since its independence, India has seen religious animosity between its Hindu and Muslim communities. Starting with its partition from Pakistan, an Islamic republic, however, India has maintained, constitutionally, that it is a secular democracy. The topic of "love jihad" was revived in the national conversation on Oct. 9 after Tanishq, a jewelry company, was accused of "glorifying" Hindu-Muslim marriages, and subsequently "love jihad," in an ad. The ad was heavily trolled on social media, with right-wing Hindu fundamentalists promising to "boycott" the company. Eventually, the company pulled the ad, saying it feared for the "well being" of its employees.
Since then, BJP state leaders have chimed in, proposing laws that would ban the practice of "love jihad," mandating government permission for recent religious converts to marry.
The government will "work to curb 'love-jihad,'" said Uttar Pradesh Chief Minister Yogi Adityanath, on Oct. 31, adding, "We'll make a law." BJP politicians in the states of Haryana, Madhya Pradesh, Karnataka and Assam followed suit, pushing similar proposals.
On Nov. 24, the Uttar Pradesh government cleared an ordinance to check "unlawful conversions," saying that, in "cases of forced mass conversions," it would enforce a jail term of three to 10 years with a penalty of up to Rs. 50,000 ($675) for mass conversions, The Hindu reported; where women converted just for the purpose of marriage, marriages would be invalidated. "If a person wants to perform marriage after converting into any other religion, they will need to take permission from the district magistrate two months before marriage," said state Cabinet Minister Siddharth Nath Singh.
I cannot help but see a double standard at play here, given the real issues that surround marriage in India. Arranged marriages, which still dominate, work to ensure that inter-caste unions are prevented. Child marriage is illegal in India, with the marriageable age being 18, but the country has the highest total number of child brides globally, according to the civil-society partnership Girls Not Brides. Nearly 27% of women ages 20 to 24 reported having been married before their 18th birthday, according to a 2015-16 survey by the Indian government.
And yet, "love jihad" laws are being pushed by a government seen by some as striving toward a "Hindu rashtra," or Hindu nation-state.
The right to marry is a part of the right to life and liberty under Article 21 of the Indian Constitution, as affirmed by India's Supreme Court in 2018. The right to marriage is also stated under the United Nations' Universal Declaration on Human Rights, of which India is a signatory and which calls for a "free and full choice" in decisions on when and whom to marry.
It's 2020, and rather than shedding our oppressive, archaic ideas about marriages based on caste, or progressing toward giving everyone — including the LGBTQIA+ community — the right to marry, we're degenerating as a nation. This is a country in which victim blaming is prevalent in cases of sexual violence and assault, and in which one minister now keen to pass laws on "love jihad" alleged that conspirators were fomenting the riots that unfolded after the rape and murder in September of a 19-year-old Dalit woman.
In February this year, the BJP's own junior home minister, G. Kishan Reddy, said in Parliament: "The term 'love jihad' is not defined under law. Article 25 of the Constitution provides for freedom to freely profess, practice and propagate religion subject to public order, morality and health." And while Indians, and Indian women, can find comfort in court rulings like the recent Allahabad High Court's quashing of a formal complaint that accused a Muslim man of abducting and forcibly marrying a Hindu woman after converting her to Islam (the ruling categorically stated that "two adults are free to choose their partner"), this law, like others, first and foremost serves those on a quest to build a Hindu nation-state. It ignores India's constitution.
Violent crimes against women are concerning. Yet, when we talk about "love jihad" laws, we're not talking about women's safety — rather, we're talking about taking away a woman's right to choose her spouse. We're talking about communalizing a marriage, distilling it into the faiths of the respective parties, rather than looking at two adults as individuals.
https://edition.cnn.com/2020/12/02/opinions/india-love-jihad-laws-akanksha-singh/index.html
--------
URL: https://www.newageislam.com/islam-women-feminism/dr-hanan-al-ahmadi-assistant/d/123653
New Age Islam, Islam Online, Islamic Website, African Muslim News, Arab World News, South Asia News, Indian Muslim News, World Muslim News, Women in Islam, Islamic Feminism, Arab Women, Women In Arab, Islamophobia in America, Muslim Women in West, Islam Women and Feminism